event History
Sydney Royal History – Most Successful Girl Rider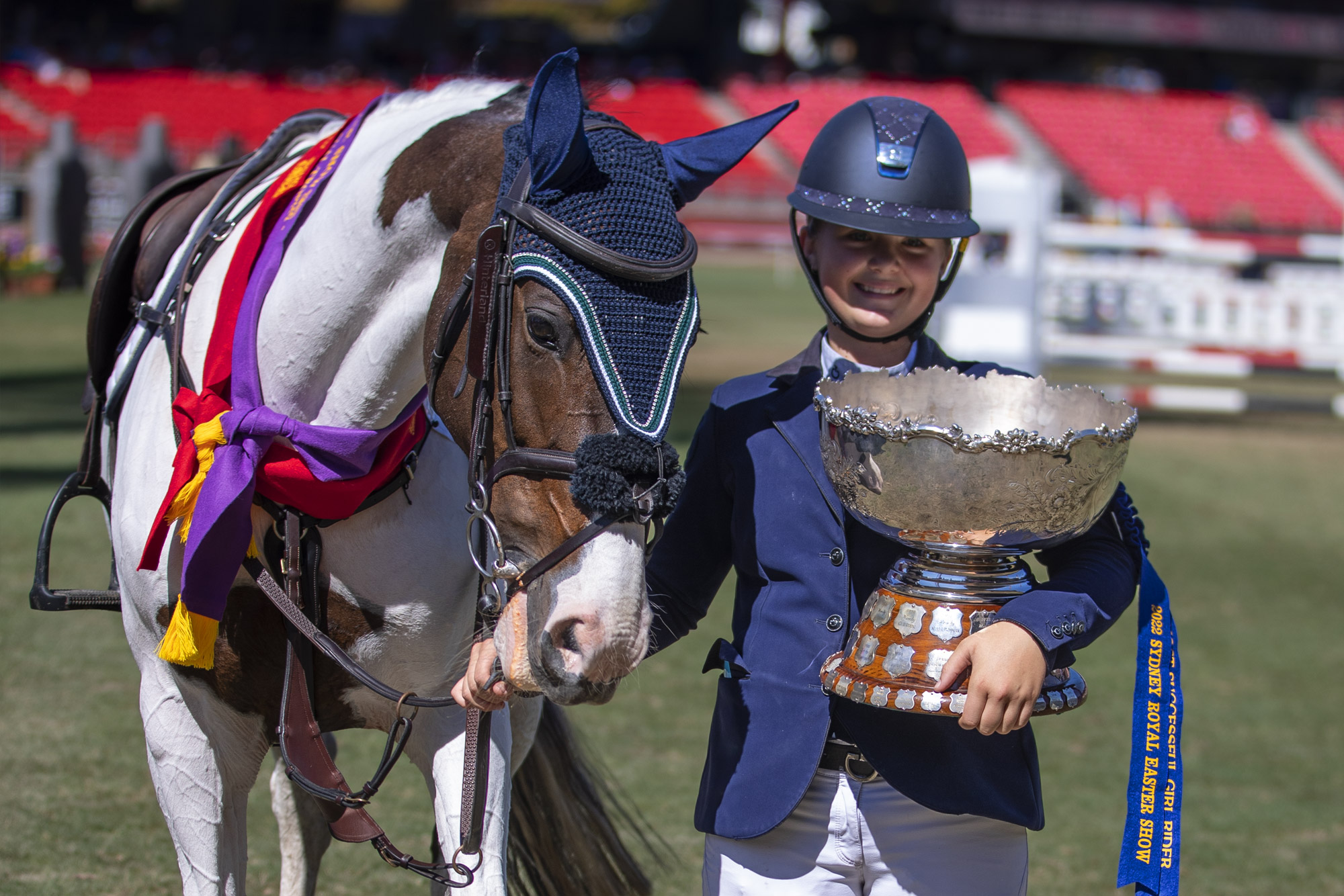 Australian Jumping
Above: Emily Lang-McMahon – Most Successful Girl Rider 2022.
First presented in 1964, a trophy is awarded annually to the most successful girl rider in Group B jumping contests. Take a look at some of the names on this list!
The trophy was donated by Mr KC Murchison who served on the RAS Council from 1968 and was appointed an Honorary Councillor in December 1983. The trophy is a large electroplated silver punch bowl with embossed floral and foliate decoration, raised on a tapering circular plinth.
Advertisement


Ella Hayward won the award in 2023
The previous winners are listed below. If you can clarify any names on this list where initials are provided please don't hesitate to contact us.
LIST OF PREVIOUS WINNERS

| | |
| --- | --- |
| YEAR | RIDER |
| 1964 | Helen Rose |
| 1965 | S Nott |
| 1966 | S Rose |
| 1967 | Y Pearson |
| 1968 | Mary Asimus |
| 1969 | Jane Benn |
| 1970 | C Brook |
| 1971 | Cheryl Plowman |
| 1972 | Cheryl Plowman |
| 1973 | Judy Kelly |
| 1974 | Judy Kelly |
| 1975 | Amanda Turnidge |
| 1976 | Jenelle Waters |
| 1977 | Sally Boyle |
| 1978 | Belinda Jackson |
| 1979 | Chrissy Shugg |
| 1980 | Tanya Everingham |
| 1981 | Kim Chaffey |
| 1982 | Francis Moller |
| 1983 | Lisa Costello |
| 1984 | L Wilson |
| 1985 | Carrie McInnes |
| 1986 | Melissa Webster |
| 1987 | Melissa Webster |
| 1988 | Melissa Webster |
| 1989 | Natalie Webster |
| 1990 | T Priestley |
| 1991 | K Radnidge |
| 1992 | Melissa Froesch |
| 1993 | C Koffell |
| 1994 | Melissa Froesch |
| 1995 | SK Satchell |
| 1996 | MJ Laboyrie |
| 1997 | KB Bennett |
| 1998 | Brooke Sexton |
| 1999 | Brooke Sexton |
| 2000 | N Schuessler |
| 2001 | JB Harker |
| 2002 | A Cale |
| 2003 | E L Felmingham |
| 2004 | Emily Blinkworth |
| 2005 | Hayley Coman |
| 2006 | A Warne |
| 2007 | Monique Barrett |
| 2008 | Monique Barrett |
| 2009 | Olivia Hamood |
| 2010 | Sarah-Louise McMillan |
| 2011 | Jessica Knox |
| 2012 | Kate Hinschen |
| 2013 | Jessica Tripp |
| 2014 | Jessica Tripp |
| 2015 | Madeline Sinderberry |
| 2016 | Jessie Rice-Ward |
| 2017 | Madeline Sinderberry |
| 2018 | Amelia Douglass |
| 2019 | Jessie Rice-Ward |
| 2020 | Cancelled due to COVID-19 |
| 2021 | Chloe Versteegen |
| 2022 | Emily Lang-McMahon |
| 2023 | Ella Hayward |
View Comments