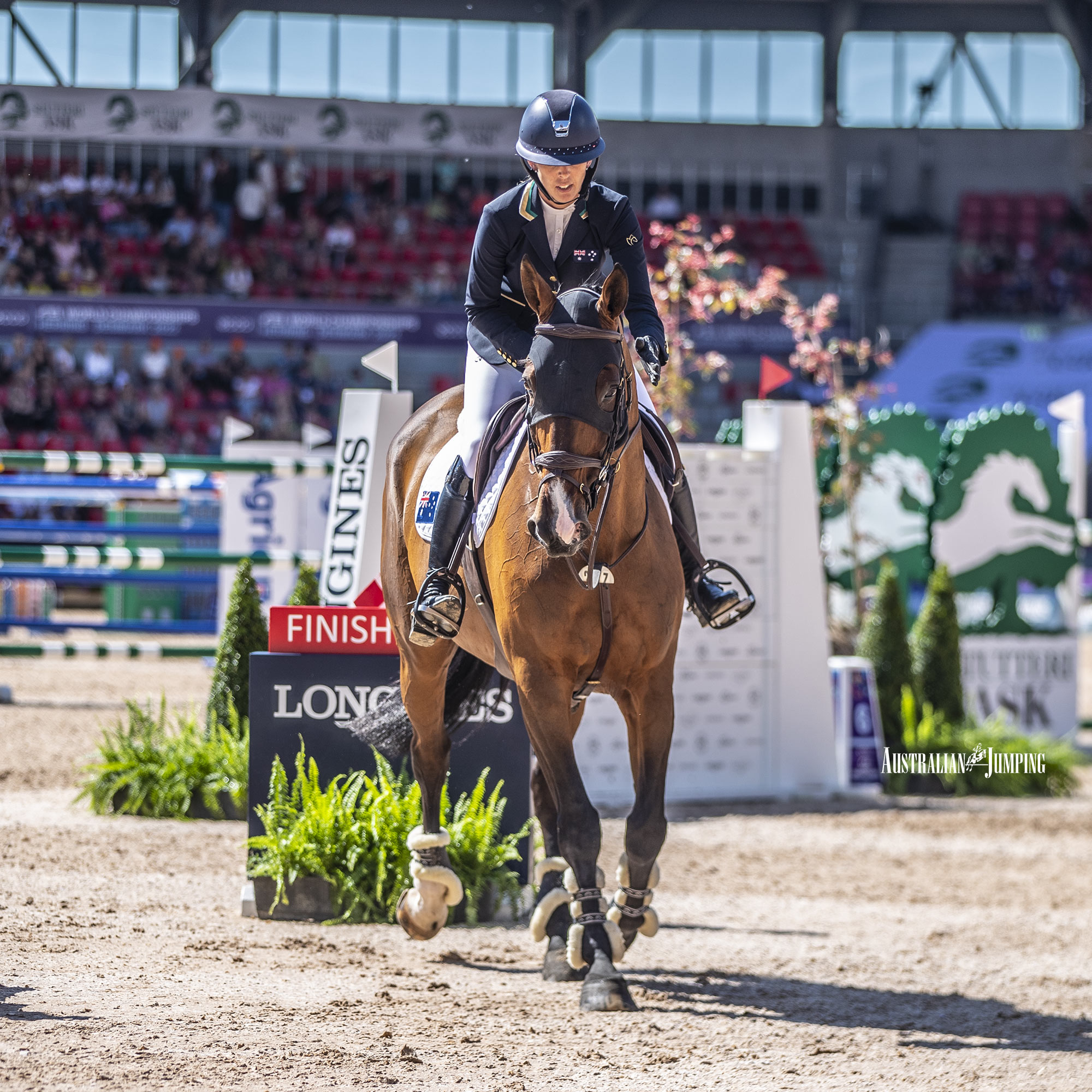 FEI Rankings
The FEI Rider rankings for the end of October have been released with no change at the top of the Australian list. Katie Laurie remains our highest ranked rider, improving four places to now rank at 177th. Edwina Tops-Alexander, our second highest ranked rider was up six places to 203rd, while Rowan Willis improved eight places to 314th which was enough for him to return to third place on the Australian rankings.
The biggest improver for the month of October was Grace Long, who did not have an FEI ranking just four months ago. Grace's ranking improved 511 places to now rank 1,965th. Matt Williams was also up 276 places to now rank 1,699th.
Advertisement


There has been a change at the top of the Australian Under 25 rankings. Improving three places to 326th on the Young Rider rankings was Australian based rider, Madeline Sinderberry, who now takes over the top spot from US based Zoe Brown, who's ranking dropped 60 places to 329th.
Full tables of rankings over the past 12 month for all riders and under 25 riders appear below:
The table below presents FEI Rankings for Australian riders from November 2022 – October 2023
First Name
Surname
NOV
DEC
JAN
FEB
MAR
APR
MAY
JUN
JUL
AUG
SEP
OCT
Katie
Laurie
157
258
263
194
133
129
147
146
167
174
181
177
Edwina
Tops-Alexander
161
218
191
187
220
239
185
207
184
188
209
203
Rowan
Willis
91
119
121
122
126
137
145
135
157
203
322
314
Thaisa
Erwin
966
942
802
709
575
569
539
484
449
431
479
478
Lauren
Balcomb
217
217
245
263
271
271
240
269
311
302
298
495
Scott
Keach
1218
1216
1225
1234
1058
1017
670
581
582
581
541
612
James
Arkins
395
294
300
294
313
321
438
554
716
713
705
697
Christopher
Burton
1251
1240
1248
1234
1704
1254
1309
962
968
905
806
844
Hilary
Scott
1103
1098
1095
1130
1222
975
979
979
1003
999
803
868
Maddison
Stephen
1064
1088
1086
1073
1075
Amber
Fuller
2417
1780
1793
1818
1528
1281
1275
1288
1312
1142
1123
1135
David
Cameron
895
894
902
998
922
917
1058
1064
1088
1086
1123
1190
Thomas
McDermott
1617
1570
2293
2322
1772
1531
1529
1589
1600
1334
1313
1293
Jamie
Kermond
2060
2075
1356
1335
Madeline
Sinderberry
2457
2455
2445
1870
1878
1451
1439
1420
Zoe
Brown
1275
1125
1114
1099
1114
1240
1218
1429
Sam
Overton
1370
1213
1222
1231
1440
1443
1435
1064
1088
1456
1445
1429
Michelle
Lang-McMahon
1542
1552
1533
1524
1499
Sarah-Louise
McMillan
2799
2791
2806
2832
2124
2017
2014
1642
1655
1642
1639
1619
Matt
Williams
715
702
701
691
700
759
765
865
1041
1302
1975
1699
Izabella
Stone
2284
2293
2322
1861
1864
1866
1873
1881
1884
1787
1773
Billy
Raymont
1305
1306
1312
1326
2131
2122
3272
2628
2648
1789
1790
1776
Ally
Lamb
1947
1938
1935
1948
1966
1972
1973
1963
Lane
Clarke
1941
1940
1953
1970
1977
1975
1965
Grace
Long
2502
2507
2476
1965
Amanda
Madigan
2289
2072
2080
2114
2129
1707
1716
1727
1720
2071
2064
2051
Aaron
Hadlow
1564
1568
1580
1600
1703
1575
1584
1875
1882
2164
2153
2159
Mattea
Davidson
2409
2406
2411
2444
2463
2334
2340
2358
2379
2167
2156
2163
Emma
Smith
3225
3219
3240
3249
2124
2117
2111
2129
2153
2170
2159
2166
Gemma
Creighton
3244
2823
2824
2230
2255
2268
2258
2259
Stuart
Jenkins
3231
3252
3260
3274
3244
3243
3270
3293
2268
2258
2259
Jake
Hunter
1617
1688
1699
1726
1778
1779
1717
1729
1722
2277
2268
2271
Paige
Jardine
2569
2562
2571
2602
2335
2245
2231
2240
2264
2277
2268
2271
Olivia
Hamood
1413
1306
1312
1326
1778
1779
1796
2354
2373
2387
2366
2378
Harley
Brown
2476
2494
James
Mooney
3281
3309
2659
2635
2646
Laura
Sloey
2633
2651
2659
2635
2646
Jennifer
Wood
3254
3247
3268
3275
2849
2840
2839
2870
2898
2659
2635
2646
Brooke
Dobbin
2792
2775
2790
2816
2612
2607
2599
2628
2648
2895
2869
2869
Jessica
Pateman
2417
2409
2413
2446
3274
2834
2834
2859
2884
2895
2869
2869
Gabrielle
Chugg
1251
1240
1248
1265
1281
1281
1796
2870
2898
2906
2880
2883
Conor
Reed
2849
2840
2839
2870
2898
2906
2880
2883
Sally
Simmonds
3244
3226
3224
3249
3272
2906
2880
2883
Brad
Frankum
3254
3231
3252
3260
3274
3258
3256
3270
3293
3269
3244
3254
Clem
Smith
2167
2178
2180
2216
2239
2237
2221
2229
2254
3269
3244
3254
Amelia
Douglass
3201
2785
2800
2826
3262
3244
3243
3270
3293
3284
3258
3269
Rebecca
Jenkins
3219
3240
3249
3262
3244
3243
3270
3293
3284
3258
3269
James
Paterson-Robinson
3284
3258
3269
Jamie
Winning-Kermond
3201
3199
3219
3228
2849
2827
2829
2859
2884
3284
3258
3269
Jessie
Rice-Ward
3274
3258
3256
3281
3309
3302
3279
3286
Christopher
Holland
3238
3231
3252
3260
3274
3244
3243
3281
3309
3316
3291
3296
Philip
Lever
2561
2554
2562
2593
3290
3271
3272
3295
3325
3316
3291
3296
Emily
Patterson
3254
3247
3268
3275
3290
3271
3272
3295
3325
3316
3291
3296
Shane
Rose
3316
3291
3296
Advertisement

The table below presents FEI Rankings for Australian Under 25 riders from November 2022 – October 2023
First Name
Surname
NOV
DEC
JAN
FEB
MAR
APR
MAY
JUN
JUL
AUG
SEP
OCT
Madeline
Sinderberry
625
627
626
463
467
341
329
326
Zoe
Brown
260
220
228
226
229
272
269
329
Conor
Reed
742
749
752
780
797
808
805
810
Sally
Simmonds
866
867
870
903
927
808
805
810
Amelia
Douglass
923
784
706
722
873
874
877
909
933
933
937
942
Jessie
Rice-Ward
876
877
881
912
938
939
944
948
Christopher
Holland
937
933
842
853
876
874
877
912
938
941
946
949