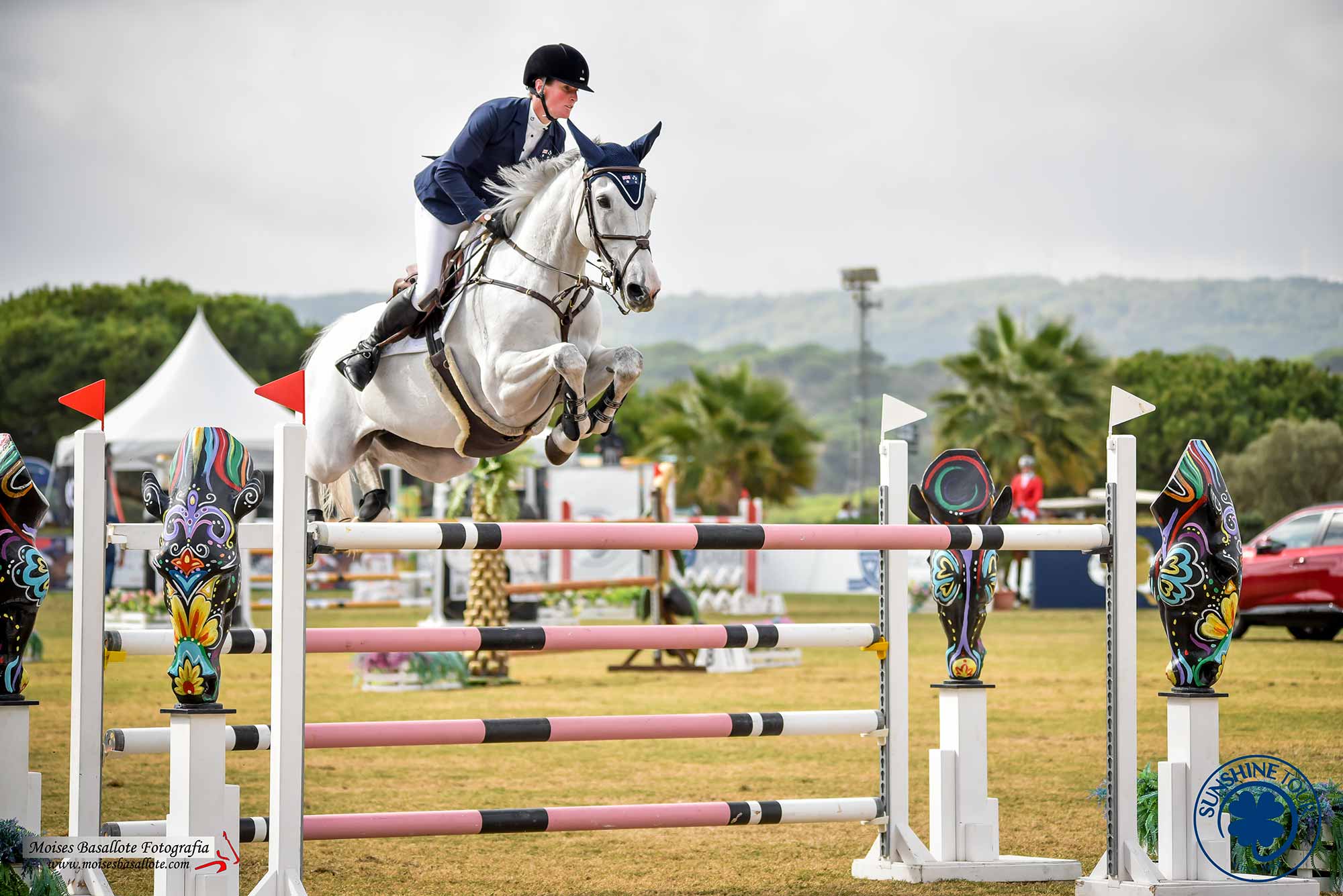 Above: Hilary Scott and
Oaks Milky Way.
Photo: Moises Bassalotte
FEI Rankings
The latest FEI Rider rankings for the end of October are out and once again there is little change in the order. Rowan Willis retains his position as Australia's highest ranked rider at position 62. Hilary Scott and Amy Graham, who both recently represented Australia in a Nations Cup event have improved their placings to 376th and 709th respectively. After not appearing in the rankings for the previous 2 months Lauren Balcomb reappears in 883rd place.
Below is the rankings table of Australian Under 25 riders, where Jake Hunter retains his place at the top, with a current ranking of 100.
Advertisement

Advertisement


The table below presents FEI Rankings for Australian riders from November 2020 – October 2021

| | | | | | | | | | | | | | |
| --- | --- | --- | --- | --- | --- | --- | --- | --- | --- | --- | --- | --- | --- |
| First Name | Surname | NOV | DEC | JAN | FEB | MAR | APR | MAY | JUN | JUL | AUG | SEP | OCT |
| Rowan | Willis | 55 | 55 | 55 | 56 | 58 | 62 | 59 | 63 | 132 | 125 | 62 | 62 |
| Katie | Laurie | 857 | 868 | 725 | 689 | 531 | 541 | 469 | 216 | 198 | 172 | 136 | 136 |
| Edwina | Tops-Alexander | 201 | 205 | 209 | 223 | 229 | 233 | 311 | 276 | 177 | 147 | 166 | 174 |
| Hilary | Scott | 837 | 846 | 863 | 891 | 906 | 911 | 1004 | 938 | 996 | 583 | 447 | 376 |
| Jake | Hunter | 670 | 676 | 681 | 696 | 709 | 725 | 584 | 559 | 698 | 550 | 578 | 588 |
| Scott | Keach | 196 | 202 | 206 | 222 | 228 | 231 | 274 | 500 | 448 | 635 | 670 | 599 |
| Amy | Graham | 507 | 512 | 519 | 538 | 547 | 559 | 499 | 548 | 688 | 905 | 911 | 709 |
| Matt | Williams | 1658 | 1672 | 1690 | 990 | 1005 | 993 | 939 | 822 | 747 | 702 | 696 | 734 |
| Lauren | Balcomb | 2453 | 2475 | 2493 | 2542 | 2561 | 2597 | 2411 | 2200 | | | | 883 |
| Billy | Raymont | 820 | 827 | 839 | 867 | 880 | 896 | 804 | 742 | 945 | 1109 | 1154 | 1154 |
| Thomas | McDermott | 1063 | 1072 | 1082 | 1106 | 1050 | 1067 | 949 | 923 | 1132 | 1431 | 1470 | 1473 |
| Amber | Fuller | 1907 | 1921 | 1936 | 1976 | 1633 | 1655 | 1503 | 1551 | 1446 | 1722 | 1755 | 1766 |
| James | Arkins | 3749 | 3775 | 3801 | 3864 | 2842 | 2880 | 2700 | 2075 | 1897 | 1819 | 1847 | 1860 |
| Harley | Brown | 3206 | 3227 | 3249 | 3305 | 3328 | 3380 | 3164 | 2874 | | | 1851 | 1864 |
| Maddison | Stephen | 2574 | 2592 | 2615 | 2664 | 2690 | 2727 | 2544 | 1673 | 1901 | 1823 | 1851 | 1864 |
| Aaron | Hadlow | 2574 | 2592 | 2615 | 2664 | 2690 | 2727 | 2544 | 2084 | 1994 | 1918 | 1960 | 1979 |
| Gabrielle | Chugg | 1910 | 1924 | 1939 | 1979 | 1688 | 1713 | 1588 | 1760 | 1997 | 1920 | 1963 | 1981 |
| James | Paterson-Robinson | | | | | | | | 2200 | 1997 | 1920 | 1963 | 1981 |
| David | Cameron | 2712 | 2735 | 2758 | 2810 | 2834 | 2871 | 2692 | 1977 | 1994 | 2014 | 2068 | 2094 |
| Olivia | Hamood | 1910 | 1924 | 1939 | 1979 | 1997 | 2030 | 1848 | 1499 | 1394 | 2018 | 2073 | 2100 |
| Izabella | Stone | | | | | 3041 | 3086 | 2892 | 2587 | 2353 | 2266 | 2340 | 2366 |
| Stephen | Dingwall | 2718 | 2740 | 2762 | 2814 | 2684 | 2722 | 2539 | 2200 | 2221 | 2285 | 2363 | 2382 |
| Julia | Lynch | 1846 | 1860 | 1876 | 1914 | 1935 | 1966 | 1784 | 1673 | 2369 | 2285 | 2363 | 2382 |
| Christopher | Burton | 2453 | 2475 | 2493 | 2407 | 2422 | 2457 | 2276 | 2200 | 1997 | 1920 | 2601 | 2610 |
| Shimona | Fraid | 3184 | 3204 | 3226 | 3282 | 3304 | 3355 | 3140 | 2839 | 2584 | 2518 | 2601 | 2610 |
| Georgina | Harvey | | | | 3305 | 3328 | 3380 | 3164 | 2874 | 2612 | 2518 | 2601 | 2610 |
| Paul | Brent | | | | | 3819 | 3872 | 3638 | 3317 | 3018 | 2926 | 2999 | 3009 |
| Ally | Lamb | 3730 | 3756 | 3781 | 3843 | 3322 | 3373 | 3157 | 2864 | 2605 | 2926 | 2999 | 3009 |
| Clem | Smith | 3684 | 3710 | 3733 | 3796 | 3819 | 3872 | 3638 | 2859 | 3018 | 2926 | 2999 | 3009 |
| Kate | Hinschen | 1994 | 2016 | 2032 | 2073 | 2088 | 2123 | 1938 | 2195 | 2100 | 2943 | 3020 | 3036 |
| Sam | Overton | | | | | | | | 3333 | 3036 | 2943 | 3020 | 3036 |
| Jamie | Priestley | 3684 | 3710 | 3733 | 3796 | 3819 | 3872 | 3638 | 2859 | 3036 | 2943 | 3020 | 3036 |
| Amanda | Ross | | | | | 3844 | 3896 | 3661 | 3333 | 3036 | 2943 | 3020 | 3036 |
| Georgia | Siciliano | 3206 | 3227 | 3249 | 3305 | 3328 | 3380 | 3164 | 2844 | 2592 | 2943 | 3020 | 3036 |
| Andrew | Lamb | | | | | 3868 | 3921 | 3685 | 3356 | 3056 | 2963 | 3044 | 3056 |
| Jessica | Pateman | 2319 | 2342 | 2356 | 2407 | 2417 | 2451 | 2271 | 2075 | 2604 | 2963 | 3044 | 3056 |
| Tallara | Cameron | 3749 | 3775 | 3801 | 3864 | 3889 | 3943 | 3708 | 3356 | 3070 | 2974 | 3055 | 3067 |
| Katrina | Hope | 3730 | 3756 | 3781 | 3843 | 3868 | 3921 | 3685 | 3333 | 3070 | 2974 | 3055 | 3067 |
| Adam | Johnstone | | | | | 3889 | 3943 | 3708 | 3380 | 3070 | 2974 | 3055 | 3067 |
| Amanda | Madigan | | | | | | | | 3380 | 3070 | 2974 | 3055 | 3067 |
| Jennifer | Wood | 3749 | 3775 | 3801 | 3864 | 3889 | 3943 | 3708 | 3380 | 3070 | 2974 | 3055 | 3067 |
The table below presents FEI Under 25 Rankings for Australian riders from November 2020 – October 2021
| | | | | | | | | | | |
| --- | --- | --- | --- | --- | --- | --- | --- | --- | --- | --- |
| First Name | Surname | FEB | MAR | APR | MAY | JUN | JUL | AUG | SEP | OCT |
| Jake | Hunter | 97 | 99 | 102 | 85 | 86 | 128 | 97 | 105 | 100 |
| Izabella | Stone | | 777 | 802 | 758 | 697 | 651 | 638 | 665 | 668 |
| Kate | Hinschen | 471 | 481 | 498 | 447 | 566 | 566 | 846 | 888 | 884 |
| Jamie | Priestley | 1017 | 1029 | 1055 | 1001 | 778 | 868 | 846 | 888 | 884 |
Advertisement