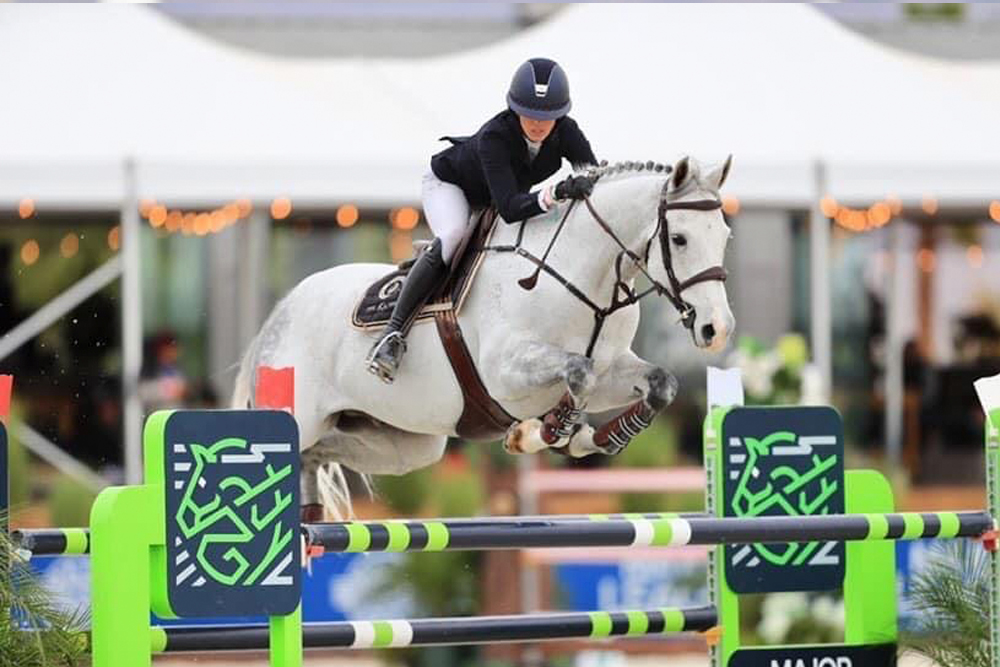 Above: Katie Laurie and
McCaw MVNZ
.
FEI Rankings
The latest FEI Rider rankings for the end of December have been released and while there is little change in the ranking order of the Australian riders, there have been some significant movements. Rowan Willis retains his position as Australia's highest ranked rider on the basis of a slight improvement in his ranking, up three places to 55th.
Australia's two 2020 Tokyo Olympians have both broken into the top 100. Canadian based Katie Laurie, on the back of some strong results in late 2021, has improved 42 places to now sit in 92nd place, while Netherlands based Edwina Tops-Alexander is up a massive 80 places to sit just inside the top 100 at 98th. The lack of recent World Cup competition in Australia means that our domestic based riders have seen their rankings remain relatively stagnant.
Jake Hunter remains our top ranked Under 25 rider, up just one place to 86th.
Below are tables of rankings for Australian Rider and Australian Under 25 riders.
Advertisement


The table below presents FEI Rankings for Australian riders from January 2021 – December 2021

First Name
Surname
JAN
FEB
MAR
APR
MAY
JUN
JUL
AUG
SEP
OCT
NOV
DEC
Rowan
Willis
55
56
58
62
59
63
132
125
62
62
58
55
Katie
Laurie
725
689
531
541
469
216
198
172
136
136
134
92
Edwina
Tops-Alexander
209
223
229
233
311
276
177
147
166
174
178
98
Hilary
Scott
863
891
906
911
1004
938
996
583
447
376
381
395
Jake
Hunter
681
696
709
725
584
559
698
550
578
588
553
555
Matt
Williams
1690
990
1005
993
939
822
747
702
696
734
634
654
Scott
Keach
206
222
228
231
274
500
448
635
670
599
655
676
Amy
Graham
519
538
547
559
499
548
688
905
911
709
711
726
Lauren
Balcomb
2493
2542
2561
2597
2411
2200
883
817
833
Billy
Raymont
839
867
880
896
804
742
945
1109
1154
1154
1392
1409
Thomas
McDermott
1082
1106
1050
1067
949
923
1132
1431
1470
1473
1395
1412
Amber
Fuller
1936
1976
1633
1655
1503
1551
1446
1722
1755
1766
1685
1708
James
Arkins
3801
3864
2842
2880
2700
2075
1897
1819
1847
1860
1785
1808
Harley
Brown
3249
3305
3328
3380
3164
2874
1851
1864
1789
1812
Maddison
Stephen
2615
2664
2690
2727
2544
1673
1901
1823
1851
1864
1789
1812
Aaron
Hadlow
2615
2664
2690
2727
2544
2084
1994
1918
1960
1979
1901
1929
Gabrielle
Chugg
1939
1979
1688
1713
1588
1760
1997
1920
1963
1981
1903
1931
James
Paterson-Robinson
2200
1997
1920
1963
1981
1903
1931
David
Cameron
2758
2810
2834
2871
2692
1977
1994
2014
2068
2094
2007
2028
Olivia
Hamood
1939
1979
1997
2030
1848
1499
1394
2018
2073
2100
2011
2032
Izabella
Stone
3041
3086
2892
2587
2353
2266
2340
2366
2256
2281
Stephen
Dingwall
2762
2814
2684
2722
2539
2200
2221
2285
2363
2382
2276
2302
Christopher
Burton
2493
2407
2422
2457
2276
2200
1997
1920
2601
2610
2499
2515
Shimona
Fraid
3226
3282
3304
3355
3140
2839
2584
2518
2601
2610
2499
2515
Georgina
Harvey
3305
3328
3380
3164
2874
2612
2518
2601
2610
2499
2515
Paul
Brent
3819
3872
3638
3317
3018
2926
2999
3009
2867
2884
Ally
Lamb
3781
3843
3322
3373
3157
2864
2605
2926
2999
3009
2867
2884
Clem
Smith
3733
3796
3819
3872
3638
2859
3018
2926
2999
3009
2867
2884
Kate
Hinschen
2032
2073
2088
2123
1938
2195
2100
2943
3020
3036
2890
2908
Sam
Overton
3333
3036
2943
3020
3036
2890
2908
Jamie
Priestley
3733
3796
3819
3872
3638
2859
3036
2943
3020
3036
2890
2908
Amanda
Ross
3844
3896
3661
3333
3036
2943
3020
3036
2890
2908
Georgia
Siciliano
3249
3305
3328
3380
3164
2844
2592
2943
3020
3036
2890
2908
Andrew
Lamb
3868
3921
3685
3356
3056
2963
3044
3056
2903
2922
Jessica
Pateman
2356
2407
2417
2451
2271
2075
2604
2963
3044
3056
2903
2922
Tallara
Cameron
3801
3864
3889
3943
3708
3356
3070
2974
3055
3067
2918
2938
Katrina
Hope
3781
3843
3868
3921
3685
3333
3070
2974
3055
3067
2918
2938
Adam
Johnston
3889
3943
3708
3380
3070
2974
3055
3067
2918
2938
Amanda
Madigan
3380
3070
2974
3055
3067
2918
2938
Jennifer
Wood
3801
3864
3889
3943
3708
3380
3070
2974
3055
3067
2918
2938
The table below presents FEI Under 25 Rankings for Australian riders from February 2021 – December 2021
| | | | | | | | | | | | | |
| --- | --- | --- | --- | --- | --- | --- | --- | --- | --- | --- | --- | --- |
| First Name | Surname | FEB | MAR | APR | MAY | JUN | JUL | AUG | SEP | OCT | NOV | DEC |
| Jake | Hunter | 97 | 99 | 102 | 85 | 86 | 128 | 97 | 105 | 100 | 87 | 86 |
| Izabella | Stone | | 777 | 802 | 758 | 697 | 651 | 638 | 665 | 668 | 628 | 632 |
| Kate | Hinschen | 471 | 481 | 498 | 447 | 566 | 566 | 846 | 888 | 884 | 843 | 845 |
| Jamie | Priestley | 1017 | 1029 | 1055 | 1001 | 778 | 868 | 846 | 888 | 884 | 843 | 845 |
Advertisement