WA State Titles a resounding success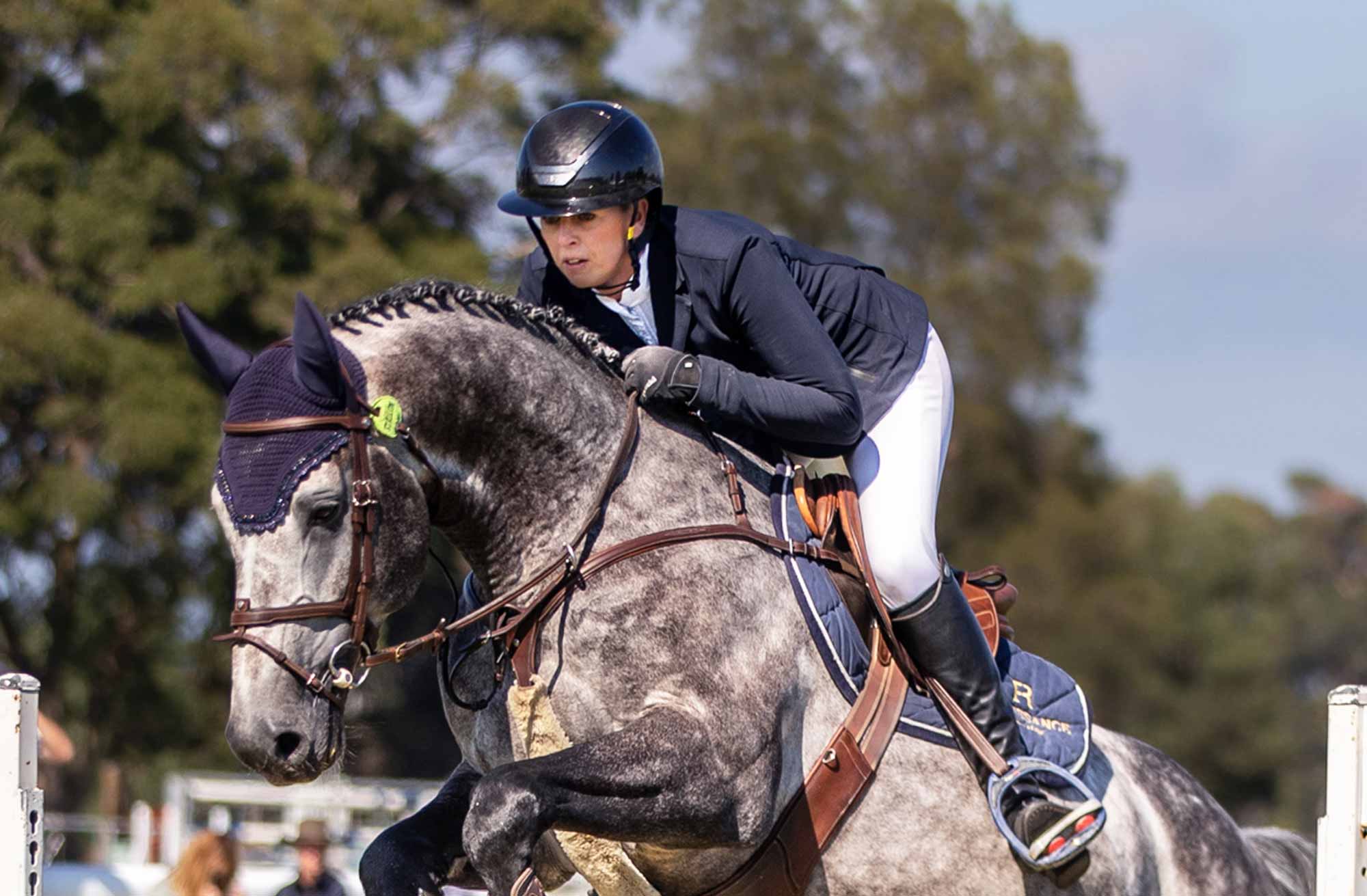 Australian Jumjping
Above: Caitlin Bolger and Yalambis Messiah.
Jumping Promotions Events WA once again took on the challenge of hosting the prestigious WA State Jumping Titles. In conjunction with Serpentine Horse and Pony Club at the sensational Serpentine grounds the three days of jumping was packed with 1500 rounds, 260 registrations, 40 embroidered rugs, over $40,000 in prize money and prizes, 145 VIP guests and three sensational rings of Jumping. An addition to the program was the inclusion of the first State Children's Championship and Derby Challenge set for some exciting new competition. For the first time in 3 years an eastern states course builder was able to attend and David Sheppard worked his usual magic to give riders and horses in Ring One fantastic tracks all show.
Advertisement


Congratulations to all the winners and placegetters in particular to Chloe Gee and Torridon Limited Edition who took out the Junior Title, Olivia Shore and Eliva Castana the Young Rider Title, Caitlin Bolger and  Yalambis Messiah the winners of the Gaenor McInnes Memorial and Tessa Lill and Yalambis key Largo who took out the Senior Final.
The available results are presented below:
FRIDAY
WORKFORCE SOLUTIONS – ARENA 1
CLASS 1: SYMMETRY GROUP – OPEN – 1.10m
| | | |
| --- | --- | --- |
| PLACE | RIDER | HORSE |
| 1st | Rosie Oliver | Carina |
| 2nd | Shawn Squire | Kentaur Airbourne |
| 3rd | Rebecca Donovan | JEP Diadora |
| 4th | Debbie Greenwood | Patangas Crackup |
| 5th | Chloe Gee | Barz Open |
| 6th | Rosie Oliver | Finch Farm Milan |
CLASS 2: KENTUCKY EQUINE – Jumping WA Bronze Series – 1.15m
| | | |
| --- | --- | --- |
| PLACE | RIDER | HORSE |
| 1st | Brittany Fairhall | Yalambi's Limoncello |
| 2nd | Georgina Abbott | Pennyroyal |
| 3rd | Rebecca Donovan | JEP Diadora |
| 4th | Stef Tucker | YPH Clementine |
| 5th | Caitlin Bolger | Oaks Etna |
| 6th | Emily Gray | Canterbury Tradesman |
CLASS 3A: EVOLUTION ANIMAL CARE – OPEN – 1.20m
| | | |
| --- | --- | --- |
| PLACE | RIDER | HORSE |
| 1st | Spook March | Caracos |
| 2nd | Rick Dabner | Afrodizijak E |
| 3rd | Gemma Alexander-Gonzalez | Noblewood Park Contessa |
| 4th | Olivia Shore | Eliva Castana |
| 5th | Tessa Lill | Yalambi's Hugo Boss |
| 6th | Chaise Sattler | Barrabadean Authentic |
CLASS 3B: SNS EQUEST EARTH – Jumping WA Amateur Series – 1.20m
| | | |
| --- | --- | --- |
| PLACE | RIDER | HORSE |
| 1st | Jemma Read | Mystique Overtime |
| 2nd | Nikki Oliver | Centime |
| 3rd | Sophie Stott | Allwest |
| 4th | Nellandra Henry | Noblewood Park Corsair |
| 5th | Madison Gielen | Kentaur Baloona |
| 6th | Sophie Pope | King's Titanium |
CLASS 4: KOHNKE'S OWN – Jumping WA HOTY – 1.35m
| | | |
| --- | --- | --- |
| PLACE | RIDER | HORSE |
| 1st | Stephanie Tucker | Oaks Zena |
| 2nd | Emily Hovell | Yalambi's Finnigan |
| 3rd | Rachel Yovich | Benson's Cat Balou |
| 4th | Leon Carroll | YPH Picasso |
| 5th | Sophie Ahmat | Yalambi's Fiorenzo |
CLASS 5A: PRYDES FEEDS – Jumping WA Silver Series – 1.30m
| | | |
| --- | --- | --- |
| PLACE | RIDER | HORSE |
| 1st | Rachel Yovich | Yalambi's Kilimanjaro |
| 2nd | Spook March | Caracos |
| 3rd | Chaise Sattler | Barrabadean Authentic |
| 4th | Tahlia Baxter | Icarus Blue Diamond |
| 5th | Sophie Ahmat | Sovereign's Rolls Royce |
| 6th | Gemma Alexander-Gonzalez | Noblewood Park Contessa |
CLASS 5B: QUICKMAIL – Jumping WA Young Rider Series – 1.30m
| | | |
| --- | --- | --- |
| PLACE | RIDER | HORSE |
| 1st | Mischa Hartley-Auguste | Kentaur Coralline |
| 2nd | Olivia Shore | Eliva Castana |
| 3rd | Ellie Gough | Don J'Amee |
| 4th | Izabelle Dobson | Smiling Assassin |
KENTAUR AUSTRALIA – ARENA 2
CLASS 6A: SNS EQUEST EARTH – OPEN – 0.95m
| | | |
| --- | --- | --- |
| PLACE | RIDER | HORSE |
| 1st | Mike Bennett | Palm Springs |
| 2nd | Spook March | Glenara Emelyne |
| 3rd | Elli Gough | GSH Azugo |
| 4th | Lauren Errington | Joshua Brook Blue Denim |
| 5th | Rick Dabner | Pablo Rabanne |
| 6th | Savanah Beveridge | Hillside William |
CLASS 6B: YALAMBI FARM – CHILDRENS – 0.95m
| | | |
| --- | --- | --- |
| PLACE | RIDER | HORSE |
| 1st | Matilda March | Maxi Mouse |
| 2nd | Charlotte Caldwell | Charlotte Caldwell Snow View Royal Rose |
| 3rd | Senae Marriott | Equus Hooroo |
| 4th | Jack Bennett | Belcam Charlotte |
| 5th | Isobel Egan | Orange Hill Lautree |
| 6th | Portia Lee Freeman | Tiimli Enzo |
CLASS 7A: EVOLUTION ANIMAL CARE – OPEN – 1.05m
| | | |
| --- | --- | --- |
| PLACE | RIDER | HORSE |
| 1st | Hannah Reay | Princess Fantasia |
| 2nd | Casey Gill | Lakesides Cadence |
| 3rd | Rick Dabner | Noblewood Park Argentina |
| 4th | Jessie Davis | Truie |
| 5th | Ingrid Manson | Yalambi Lolanda |
| 6th | Jorga Brown | Party Time |
CLASS 7B: SADDLES PLUS – Horses 4 and 5 years old – 1.05m
| | | |
| --- | --- | --- |
| PLACE | RIDER | HORSE |
| 1st | Leon Carroll | Concordes Balou |
| 2nd | Lucy Pearson | Lucinda Corylus |
| 3rd | Lauren Errington | Joshua Brook Blue Denim |
| 4th | Mike Bennett | Palm Springs |
| 5th | Madison Gielen | Kantou |
CLASS 8A: CTCA – OPEN – 1.10m
| | | |
| --- | --- | --- |
| PLACE | RIDER | HORSE |
| 1st | Berlin De Waal | Mapindyzis Contesta |
| 2nd | Sara Mullins | Contarli Castillo |
| 3rd | Ingrid Manson | Yalambis Iolanda |
| 4th | Charli Brajkovich | Kings Basil Brush |
| 5th | Debbie Greenwood | Willow Tree Serenity |
CLASS 8B: CTCA – Horses under 7-years-old – 1.10m
| | | |
| --- | --- | --- |
| PLACE | RIDER | HORSE |
| 1st | Spook March | Glenara Manhattan |
| 2nd | Tahlia Baxter | KE Torneschca |
| 3rd | Tessa Sharman | Cuba RL |
| 4th | Leon Carroll | Concordes Balou |
| 5th | Rick Dabner | Noblewood Park Argentina |
| 6th | Chanelle Condren | Carten |
CLASS 9: THOMPSON & REDWOOD – OPEN – 1.15m
| | | |
| --- | --- | --- |
| PLACE | RIDER | HORSE |
| 1st | Celia Lecumberri | Barrabadeen Cognac |
| 2nd | Sara Mullins | Contarli Castillo |
| 3rd | Spook March | Glenara Manhattan |
| 4th | Amelia Radford | Hava Little Faith |
| 5th | Berlin De Waal | Mapinduzis Contesta |
| 6th | Mikayla Veran | Brooklyn Back |
ANITONE – ARENA 3
CLASS 10A: TOM HAMILTON – OPEN – 0.60m
| | | |
| --- | --- | --- |
| PLACE | RIDER | HORSE |
| 1st | Sandra Llewllyn | Beauriuah |
| 2nd | Chelsea Whittington | Yellowstone |
| 3rd | Emma Truss | Molly |
| 4th | Charlotte Caldwell | Pumpkin |
| 5th | Lexi Caldwell | Harrington Park Carousel |
CLASS 10B: TOM HAMILTON – PCAWA – 0.60m
| | | |
| --- | --- | --- |
| PLACE | RIDER | HORSE |
| 1st | Kate Banner | Over The Rainbow |
| 2nd | Isobel Ellis | Joshua Brooks Hearts On Fire |
| 3rd | Hannah Duncan | Wesswood I Believe |
| 4th | Lily Jones | Jimble Bar Ricochet |
CLASS 10C: RAWA – OTT – 0.60m
| | | |
| --- | --- | --- |
| PLACE | RIDER | HORSE |
| 1st | Bree Lyons | AC Expressions |
| 2nd | Gillian Ingham | Bass Strait |
| 3rd | Sonia Wilson | Mankind |
| 4th | Sonya Liddell | Sun North Chantilly Lace |
| 5th | Amy Baxter | Emberly Park Charlie Brown |
CLASS 11A: BUBBLES AND BITES – OPEN – 0.70m
| | | |
| --- | --- | --- |
| PLACE | RIDER | HORSE |
| 1st | Matilda March | Judaroo Espionage |
| 2nd | Tabitha Gazeley | Rayne Park Rising Sun |
| 3rd | Chelsea Whittington | Yellowstone |
| 4th | Kenzie Manson | Glowmax Royal Roulette |
| 5th | Natasha Baker | Noah Genda |
CLASS 11B: BUBBLES AND BITES – PCAWA – 0.70m
| | | |
| --- | --- | --- |
| PLACE | RIDER | HORSE |
| 1st | Lilly Bennett | Rox My Socks |
| 2nd | Kate Banner | Over The Rainbow |
| 3rd | Lilly Bennett | Krystell Park Impressions |
| 4th | Milla Vukelic | Wonderfella |
| 5th | Saphyre Tikao | Destian |
CLASS 11C: RAWA – OTT – 0.70m
| | | |
| --- | --- | --- |
| PLACE | RIDER | HORSE |
| 1st | Bree Lyons | AC Expression |
| 2nd | Michaela Koch | Aspiring Chatter |
| 3rd | Jasmin Holland | Mankind |
| 4th | Anastasia Breach | Nyambs Avenger |
| 5th | Cathy Smyth | Pushin Shapes |
CLASS 12A: SPOOKS RIDING – OPEN – 0.80m
| | | |
| --- | --- | --- |
| PLACE | RIDER | HORSE |
| 1st | Penelope Freeman | Springwater Park Dustin |
| 2nd | Hannah Henry | Corvair |
| 3rd | Mia Senior | Chelleason Gold Emblem |
| 4th | Chayse Kelly | Cera Diarada |
| 5th | Marine Tinguely | Clare Downs Guns n Roses |
CLASS 12B: SPOOKS RIDING – PCAWA – 0.80m
| | | |
| --- | --- | --- |
| PLACE | RIDER | HORSE |
| 1st | Lily Bennett | Rox My Socks |
| 2nd | Lilly Bennett | Krystelle Park Impressive |
| 3rd | Asha Wiegele | Southern Hills Serenity |
| 4th | Chloe Wood | Limehill Kochiece |
| 5th | Milla Vukelic | Wonderflea |
CLASS 12C: RAWA – OTT – 0.80m
| | | |
| --- | --- | --- |
| PLACE | RIDER | HORSE |
| 1st | Taltarni Wevel Pyatt | CH Bendooley |
| 2nd | Holly McClune | Inverglen Topman |
| 3rd | Alison McLay | Admired |
| 4th | Monika Magalengo | Johnny Walker |
| 5th | Anastasia Breach | Nyambas Avenger |
CLASS 13A: JUMP4JOY – OPEN – 0.90m
| | | |
| --- | --- | --- |
| PLACE | RIDER | HORSE |
| 1st | Jane Barry | Equss Holiday |
| 2nd | Chayse Kelly | Cera Diaarada |
| 3rd | Mia Senior | Chelleason Gold Emblem |
| 4th | Indiana Freeman | Joshua Brook Casting Spells |
| 5th | Elizabeth Moore | Leedale Irish Sundal |
CLASS 13B: JUMP4JOY – PCAWA – 0.90m
| | | |
| --- | --- | --- |
| PLACE | RIDER | HORSE |
| 1st | Ava Tinsley | Inage of Pilatus |
| 2nd | Caitlin Pritchard | Montcalm Joe |
| 3rd | Lily Jones | Gibraltar |
| 4th | Asha Wiegele | Southern Hills Serenity |
CLASS 13C: RAWA – OTT – 0.90m
| | | |
| --- | --- | --- |
| PLACE | RIDER | HORSE |
| 1st | Monika Magalengo | Johnny Walker |
| 2nd | Taltarni Wevel Pyatt | CH Bendooley |
| 3rd | Tamika Wright | Sassos Circus |
| 4th | Holly McClune | Inverglen Topman |
| 5th | Michela Koch | United Again |
| 6th | Hannah Reay | Peko Train |
SATURDAY
WORKFORCE SOLUTIONS – ARENA 1
CLASS 14A: EQUISSAGE AUSTRALIA – OPEN – 1.15m
| | | |
| --- | --- | --- |
| PLACE | RIDER | HORSE |
| 1st | Tegan Lush | Touchstone Clover |
| 2nd | Julia Kershaw | Rogue Park Ruby Tuesday |
| 3rd | Breanna Possingham | Danson Furst Frost |
| 4th | Vaz McLaughlan | APH Rusulka |
| 5th | Emily Gray | Legal Chase |
| 6th | Nathan Riches | Tiaja Park Guliver |
CLASS 14B: OVARIT JUMPS – Jumping WA Junior Series – 1.15m
| | | |
| --- | --- | --- |
| PLACE | RIDER | HORSE |
| 1st | Leah Possingham | Barrabadean Centre Stage |
| 2nd | Allira Bond | Noblewood Park Concetta |
| 3rd | Indianna Clarke | When We Were Kings |
| 4th | Georgina Abbott | Pennyroyal |
| 5th | Chloe Gee | Barz Open |
| 6th | Scarlett Currey | Kdale Mr Collins |
CLASS 15: THE BIOMECHANIC VET – AMATEUR STATE FINAL – 1.20m
| | | |
| --- | --- | --- |
| PLACE | RIDER | HORSE |
| 1st | Madison Gielen | Kentaur Baloona |
| 2nd | Brittany Fairhall | Yalambi's Limoncello |
| 3rd | Sophie Stott | Allwest |
| 4th | Sophie Pope | King's Titanium |
| 5th | Nellandra Henry | Noblewood Park Corsair |
| 6th | Gail Hellier | B P Ringo Star |
CLASS 16: WEST COAST VETS – STATE MINI PRIX FINAL – 1.35m
| | | |
| --- | --- | --- |
| PLACE | RIDER | HORSE |
| 1st | Tessa Lill | Yalambi's Key Largo |
| 2nd | Breanna Possingham | Danson Furst Frost |
| 3rd | Spook March | Caracos |
| 4th | Stef Tucker | Oaks Zena |
| 5th | Rachel Yovich | Benson's Cat Balou |
| 6th | Sophie Ahmat | Sovereign's Rolls Royce |
CLASS 17: GVC LOGISTICS – RISING STARS – 1.20m
| | | |
| --- | --- | --- |
| PLACE | RIDER | HORSE |
| 1st | Rick Dabner | Luisianna E |
| 2nd | Chaise Sattler | Barrabadean Authentic |
| 3rd | Olivia Shore | Eliva Castana |
| 4th | Rachel Yovich | Yalambi's Kilimanjaro |
| 5th | Mischa Hartley-Auguste | Kentaur Coraline |
| 6th | Caitlin Bolger | Oaks Etna |
CLASS 18: DRIVE STRAIGHT AUSTRALIA – STATE SPEED FINAL – 1.20m
| | | |
| --- | --- | --- |
| PLACE | RIDER | HORSE |
| 1st | Emily Gray | Legal Chase |
| 2nd | Rosie Oliver | Carina |
| 3rd | Chloe Gee | Torridon Limited Edition |
| 4th | Laurelle Hayes | KDale Mr Knightly |
| 5th | Tahlia Baxter | Icarus Blue Diamond |
| 6th | Sarah Dawson | Imposing |
ANITONE – ARENA 3
CLASS 24A: EQUISSAGE – Riders under 18 years – 0.60m
| | | |
| --- | --- | --- |
| PLACE | RIDER | HORSE |
| 1st | Kenzie Manson | Glowmax Royal Roulette |
| 2nd | Sara Scott | Sailbury Magic Affair |
| 3rd | Jorja Brown | Ranger |
| 4th | Ruby Douglas | Secret Valley Rockstar |
| 5th | Lexi Caldwell | Harringston Park Carousel |
CLASS 24B: KELATO – Riders over 18 years – 0.60m
| | | |
| --- | --- | --- |
| PLACE | RIDER | HORSE |
| 1st | Olivia Smith | Light Up The Day |
| 2nd | Allison Wheatley | Firefox River |
| 3rd | Beth Shaw | Mia |
| 4th | Chloe Kenworthy | Clark Park Amortania |
| 5th | Bree Lyons | Cunnamore Cool Change |
CLASS 24C: TEX WEBSTER FARRIER – PCAWA – 0.60m
| | | |
| --- | --- | --- |
| PLACE | RIDER | HORSE |
| 1st | Sophie Ikenushi | Yartala Park Paparazzi |
| 2nd | Jazmyn Webb | Helpful Harry |
| 3rd | Emma Bennett | Kynwyn Foxy Lady |
| 4th | Emma Tomlinson | Lil Buzz |
| 5th | Mbakaya Mfune | Kintore Promising Scenario |
CLASS 27A: JAKOMA EQUESTRIAN – OPEN – 0.90m
| | | |
| --- | --- | --- |
| PLACE | RIDER | HORSE |
| 1st | Portia Lee Freeman | Tiimli Enzo |
| 2nd | Chaise Kelly | Cera Diarado |
| 3rd | Jane Barry | Equus Holiday |
CLASS 27B: RAWA – OTT – 0.90m
| | | |
| --- | --- | --- |
| PLACE | RIDER | HORSE |
| 1st | Kerry Long | Just Deek |
| 2nd | Michaela Koch | United Again |
| 3rd | Anthonia Hartley | To Bold To Reason |
CLASS 27C: SYMETRY GROUP – PCAWA – 0.90m
| | | |
| --- | --- | --- |
| PLACE | RIDER | HORSE |
| 1st | Lahnee Pozzebon | Glen Hardey Omega Cloud |
| 2nd | Nell Howorth | Flirt with Hal |
| 3rd | Ava Tinsley | Image of Pilatus |
SUNDAY
WORKFORCE SOLUTIONS – ARENA 1
CLASS 28: BENELL PARK – STATE JUNIOR FINAL – 1.20m
| | | |
| --- | --- | --- |
| PLACE | RIDER | HORSE |
| 1st | Chloe Gee | Torridon Limited Edition |
| 2nd | Leah Possingham | Barrabadean Centre Stage |
| 3rd | Chloe Gee | Barz Open |
| 4th | Charles Morton-Sharp | Impazzire |
| 5th | Georgina Abbott | Pennyroyal |
CLASS 29: THE GAENOR McINNES MEMORIAL – Horses under 40 points
| | | |
| --- | --- | --- |
| PLACE | RIDER | HORSE |
| 1st | Caitlin Bolger | Yalambis Messiah |
| 2nd | Rick Dabner | Afrodijiak E |
| 3rd | Bridget Kelly | Cornets Prinzess |
| 4th | Sophie Pope | King's Titanium |
| 5th | Brittany Fairhall | Yalambi's Limocello |
| 6th | Rick Dabner | Luisianna E |
CLASS 30: ELITE FLOATS AUSTRALIA – STATE YOUNG RIDER FINAL – 1.30m
| | | |
| --- | --- | --- |
| PLACE | RIDER | HORSE |
| 1st | Olivia Shore | Eliva Castana |
| 2nd | Ellie Gough | Don J'Amee |
| 3rd | Mischa Hartley-Auguste | Kentaur Coraline |
| 4th | Izabelle Dobson | Smiling Assassin |
| 5th | Georgina Abbott | Pennyroyal |
| 6th | Brooke Edwards | Isle of Rodrigo |
CLASS 31: WORKFORCE SOLUTIONS – STATE SENIOR FINAL – 1.40m
| | | |
| --- | --- | --- |
| PLACE | RIDER | HORSE |
| 1st | Tessa Lill | Yalambi's Key Largo |
| 2nd | Emily Hovell | Yalambi's Finnigan |
| 3rd | Sophie Ahmat | Yalambi's Fiorenzo |
| 4th | Leon Carroll | YPH Picasso |
| 5th | Stephanie Tucker | Oaks Zena |
| 6th | Spook March | Caracos |
CLASS 32: COMPLEAT ANGLER & CAMPING – DERBY CHALLENGE – 1.15m
| | | |
| --- | --- | --- |
| PLACE | RIDER | HORSE |
| 1st | Olivia Shore | Eliva Castana |
| 2nd | Kate Joyce | Bluefields Fernando |
| 3rd | Tegan Lush | Touchstone Clover |
| 4th | Sarah Dawson | Imposing |
| 5th | Tahlia Baxter | Icarus Blue Diamond |
| 6th | Charlee Morton-Sharp | Eliva Castana |
ANITONE – ARENA 3
CLASS 37A: JUMP4JOY – PCAWA – 0.60m
| | | |
| --- | --- | --- |
| PLACE | RIDER | HORSE |
| 1st | Sophie Ikenushi | Yartarla Park Paparazzi |
| 2nd | Emma Bennett | Kynwyn Foxy Lady |
| 3rd | Ruby Douglas | Secret Valley Rockstar |
CLASS 37B: 888 SCREENING – OPEN – 0.60m
| | | |
| --- | --- | --- |
| PLACE | RIDER | HORSE |
| 1st | Shannon Meakins | Karma Park Esprit |
| 2nd | Jorja Brown | Ranger |
| 3rd | Sara Scott | Sailsbury Magic Affair |
CLASS 38A: ACR AIRCON – PCAWA – 0.70m
| | | |
| --- | --- | --- |
| PLACE | RIDER | HORSE |
| 1st | Lily Bennett | KP Impressive |
| 2nd | Sophie Ikenushi | Yartarla Park Paparazzi |
| 3rd | Chloe Wood | Limehill Kochiece |
CLASS 38B: EC SOLUTIONS – OPEN – 0.70m
| | | |
| --- | --- | --- |
| PLACE | RIDER | HORSE |
| 1st | Shannon Meakins | Karma Park Esprit |
| 2nd | Matilda March | Judaroo Espionage |
| 3rd | Lily Bennett | Rox My Socks |
CLASS 39A: CHOICES FLOORING BY GUNDRY – PCAWA – 0.80m
| | | |
| --- | --- | --- |
| PLACE | RIDER | HORSE |
| 1st | Lahnee Pozzebon | Ekolee Crystal fire |
| 2nd | Lahnee Pozzebon | Glen Hardy Omega Cloud |
| 3rd | Asha Wiegele | Southern Hills Serenity |
CLASS 39B: SADDLED PLUS – OPEN – 0.80m
| | | |
| --- | --- | --- |
| PLACE | RIDER | HORSE |
| 1st | Holly McClune | Inverglen Topman |
| 2nd | Lexi Caldwell | Chase me Charlie |
| 3rd | Chayse Kelly | Cera Diarada |
View Comments