Adelaide Royal World Cup Qualifier – Tim's Tips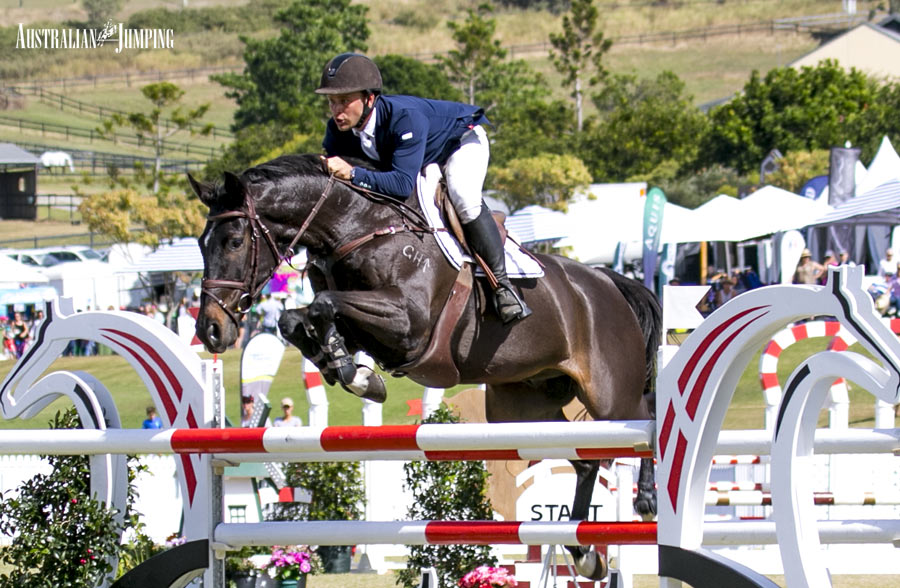 Australian Jumping
Source: Equestrian Australia.
Tomorrow the Adelaide Royal Show will host a leg of the World Cup. In Equestrian Australia's preview series "Tim's Tips", Tim Dreverman analyses the class and the form of some of the leading contenders plus he shares a great owner story. 
Advertisement

Top Pick
Clint Beresford on both or either of his horses. Clint won the WC series in 2016, his horses love the going in Adelaide he was winner. Finished 1st and 2nd in the 1st W/C at Caboolture and finished 6th in Gatton. Currently ranked 2nd in the WC series. Emmaville Jitterbug (Jason) is such a character, bred by Grant and Heather Hughes, owned by Clint's family, he is quick, he's careful and and has the runs on the board, give him a big track, which it'll be and he's going to be tough to beat.
Second Pick
Kristy Bruhn. This is her show, Kristy has been competing at Adelaide Royal since before she could walk. Such a competitive rider who never gives up, and if there was ever a crowd favourite then this would be it hands down. I've never met someone who doesn't like Kristy, but don't let the sweetness fool you, this girl can ride, she's won and placed in countless World Cups for over a decade now. Jack her horse has a super jump, will be fresh for this class and one to keep an eye on.
Third Pick
Kate Hinchen. One of the best horses in the country, looked amazing at both Gatton and Caboolture. Kate has flown over just for this class, Stephen Dingwall put the horse on his truck and drove it across the Hay plains to get there and Nicole Bruggerman looked after the horse so Kate could work at Sydney Jump club over the weekend, great to see other riders pitching in to help this girl reach her dreams. She is ready to win for and this kid has the goods, she might be young but boy can she ride, and the horse, well it's not the biggest in the class but it certainly has everything you've ever want in a jumping horse, both horse and rider are QLD bred and we know how tough they can be.
Advertisement

Wild Cards
Jasmine Dennison. Youngest rider in the class. Two time Australian Junior Champion. Starting in her first World Cup class. She did win the CSI* at Tonimbuk in January of this year. Trains with Olympian Laurie Leaver, so we know she won't be just making up the numbers and will be prepped for this class and will be wanting to put her best foot forward. Her horse Nicolossi certainly has the scope and ability.
Stephen Dingwall. Has two horses entered but I'm most excited to see his young horse step up to it's first World Cup. Cavalier De Rouet, (Balou De Rouet x El Bundy). This horse won the Silver Final at AQUIS in May. Stephen was sent this horse to break in as a 2 year old. He and his family fell in love with Memphis (Stable name) and bought him. Stephen has produced this horse to Grand Prix level, to see this combination jump their first World Cup is a great mile stone for any combination, particularly a pair that have been together from the start.
Owner Story
Wendel Keddell is the owner of Mount View Sport Horses in Tauranga New Zealand. She has spent a number of years breeding and producing European Quality horses here in the Southern Hemisphere. Now we are lucky enough to be seeing many of these horses in Australia. Brooke and Ange Dobbin from Glenwood Park, Yara Valley, have been working with Wendy and have 2 horses nominated for this week's World Cup. The sensational stallion Carrado MVNZ (Cassini II x Corrado) and Equador MVNZ (Chin Chin x Indoctro). Both these horses are showing the world what consistent breeding can do along with world class training.
The World Cup in Adelaide is always a great benchmark for the rest of the season, the footing is always sensational and it's a great chance to showcase the sport to a wider agricultural show audience. If you can make it to the grounds on Thursday you'll be treated to an amazing day of entertainment, if not make sure you tune into the live streaming to catch all the action from 11am via this link https://theshow.com.au/.
View Comments