A Magic $1,000,000 kick start to 2023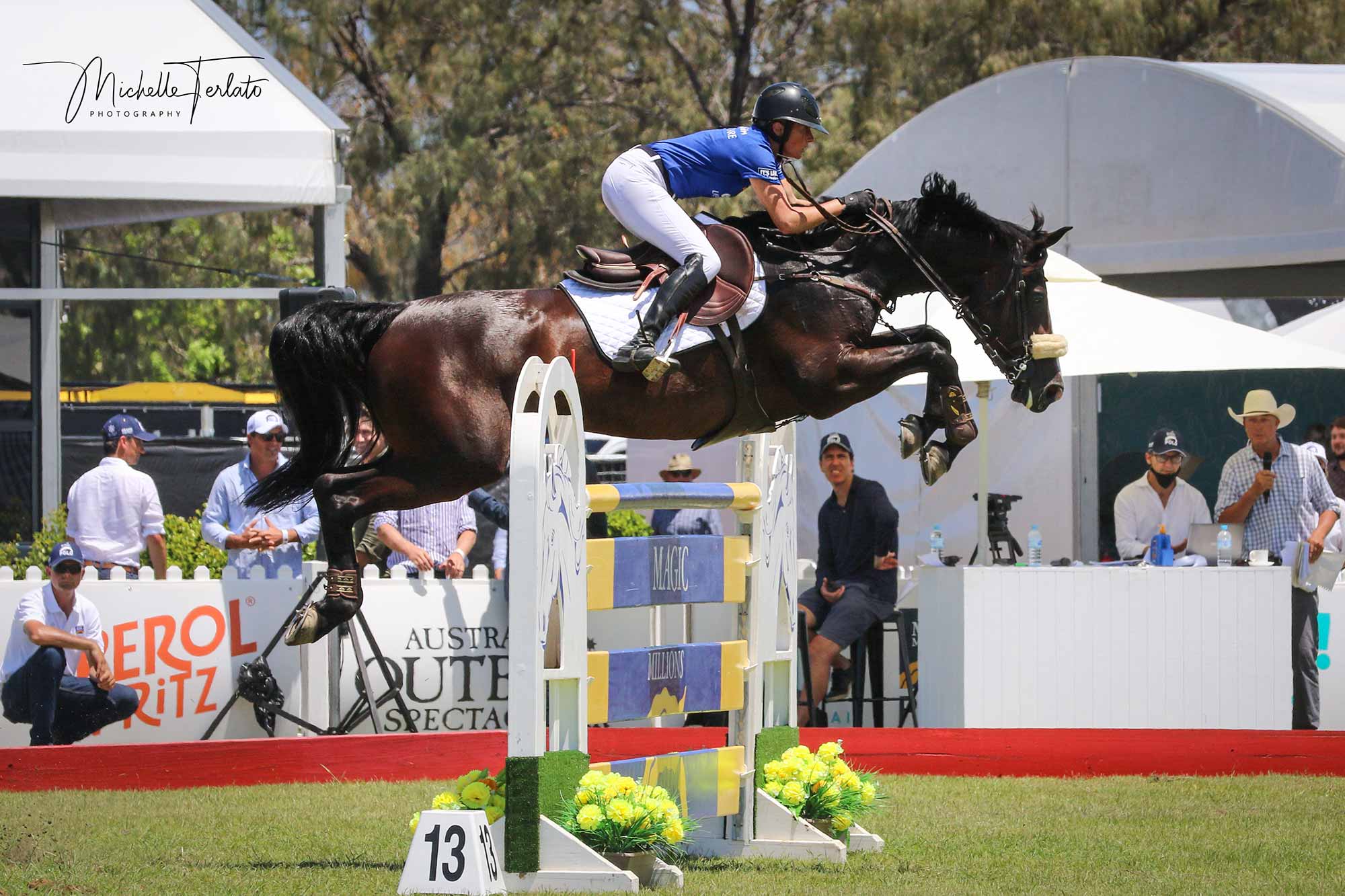 Michelle Terlato Photography
As 2022 wraps up we are already turning our sights towards 2023 and the extraordinary start to the year we have to look forward to.
In January 2022, as part of the Magic Millions Equine Festival on the Gold Coast, Jumping was introduced to accompany the Polo competition and the much more widely known Thoroughbred Racing and sales.
Advertisement


Both Senior and Junior events were held as a prelude to the Polo in the afternoon with a total of $100,000 prize money on offer. Cody Tincknell was successful in the Junior class while the eight team Senior Competition went to the The Godolphin Lifetime Care team, consisting of four female riders, namely, Frida Lindgren and Jess Pateman from Victoria and Gabi Chugg and Emma Smith from NSW.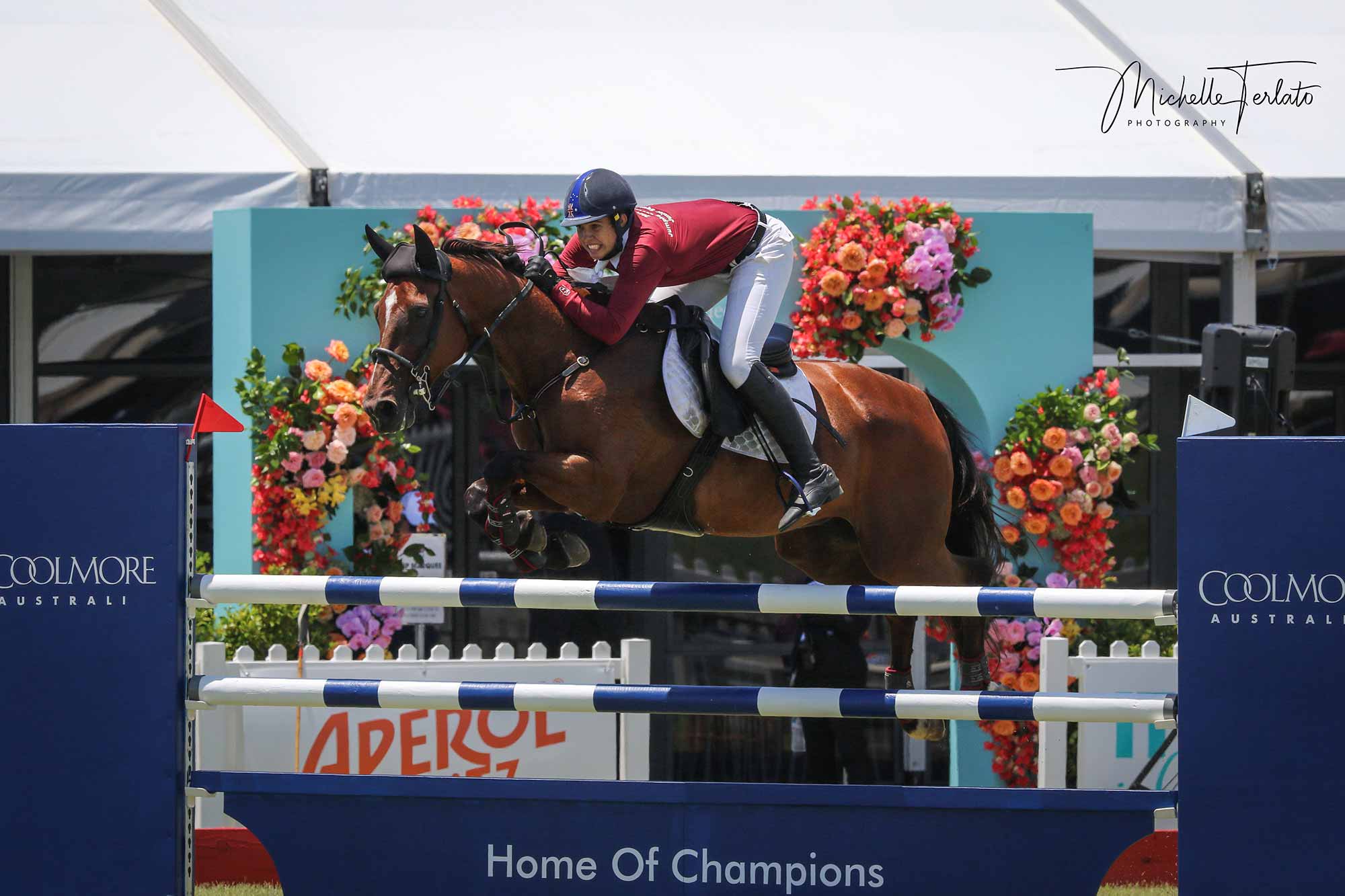 Above: Cody Tincknell. Photo Credi: Michelle Terlato Photography.
The event was deemed such a resounding success, that the organisers not only made sure that the Jumping was back on the program in 2023, but the event would be bigger and better. The Senior Competition has been extended to 12 teams, each with four combinations and prize money increased tenfold to $1,000,000. This means that it will be the richest event in the history of Jumping in Australia.
Advertisement


Entry to the Senior event was by expression of interest and the 48 competing combinations have been randomly assigned to teams.
Arrowfield Stud
Billy Raymont – Caprino
Phillip Lever – Lomachenko
Clem Hughes – YPH Capulet
Savanna Hopkinson – Bittern Park Karmen
Brisbane Racing Club
Gemma Creighton – Dada Des Brimbelles Z
Amelia Douglass – Finch Farm Cadel
Jamie Priestley – Oaks Diamantina
Andrew Jung – Big Dream Z
Coolmore
Josh Collins – Cornel
Shane Davidson – Jaybee Vigilante
Kate Hinschen – Conchita Van De Helle
Vicki Roycroft – Kenny Casino
Domeland
Tom McDermott – Coolie Gangster
Jamie Winning-Kermond – Tulara Stolensky
Jess Pateman – Celso
Suzie Williams – Commander NZPH
Equine International Airfreight
Ally Lamb – Eagle Rock
Robert Palm – Jaybee Vibrant
Katrina Hope – Oaks Gunn
Isabella Du Plessis – Onassis MVNZ
Godolphin Lifetime Care
Clem Smith – Oaks Conjuror
Rhys Stones – PSS Chantilly
Stuart Jenkins – Fairview Alicana
James Hetherington – Killara Park Sentaro
James Harron Bloodstock
Amber Fuller – Nopal Van Tallaert
Peter McMahon – KS Sovereigns Cadel
David Cameron – Yandoo Honolulu
Emily Patterson – Libertarian
Martin Collins Australia
Izabella Stone – Oaks Ventriloquist
Gabi Chugg – KG Queenie
Will Dight – Thea
Andrew Cooper – Sharvalley Thunder
Peachester Lodge
Sam Overton – Oaks Cassanova
Frida Lindgren – Mabori De Mabribo
Christopher Holland – Elsa
Will Mathew – KPH Maddison
The Australian
Becky Jenkins – Fairview Cambridge
James Paterson-Robinson – Dublin
Shane Rose – Virgil
Hayley Morris – Warrego Rueben
Unicornium
Amanda Madigan – Diamond B Vivienne
Brook Dobbin – Gina MVNZ
Emma Smith – Cordelia Ego Z
Tom Sedger – Casino Jack
Washpool Lodge
Olivia Hamood – Knock Out 111
Andrew Lamb – Denison Park Spartava
Jennifer Wood – Cocaine Ego Z
Clint Beresford – Emmaville Jitterbug
The Junior individual competition will have 20 of the country's top Junior riders selected to compete for $10,000 in prizemoney, thanks to sponsor partners Coolmore Australia, Peachester Lodge & Magic Millions. The entrants are as follows:
Elkee Lang-McMahon – Royal Talisman
Joel Lamb – Clasique Andor
Alexandra Inglis – Palm Beach
Charlee Dobbin – Glenshea Riversong
Emmy Ravenscroft – Sacrefeme
Charlie Magnier – Quinn Z
Alexandra Gostelow – Tulara Cristo
Jack Barker – Tulara Colchic
Olivia Price – Lafayette MVNZ
Jett Newman – Wanda
Charly Robinson-Smith – Martango
Elissa Stephens – Vertigo
Emily Lang-McMahon – Glenara Mudslide
Imogen Lindh – Licaviv
Ella Hayward – Edena DP
Cody Tincknell – James Continue
Holly Tomkins – Donegal Red
Simone Sorensen – Yalambi's Karijini
Charlie Richardson – Mavrick
Olivia Hewitt-Toms – Celerity Park LM Star
The event will take place on Sunday 8 January 2023 at Doug Jennings Park, right on the waterfront at The Spit. Along with the Jumping competitions and Polo matches, the day will have something for everybody with corporate hospitality available, a "Fashions on the Field" competition, musical entertainment, a kids club and more.
If you are interested in witnessing history, tickets are currently on sale at the magic millions polo website HERE.
We can't wait for this competition which should start off a cracking 2023 of Jumping competition in Australia and wish all the competitors the very best of luck.
View Comments