A weekend of champions at Sydney Showjumping Club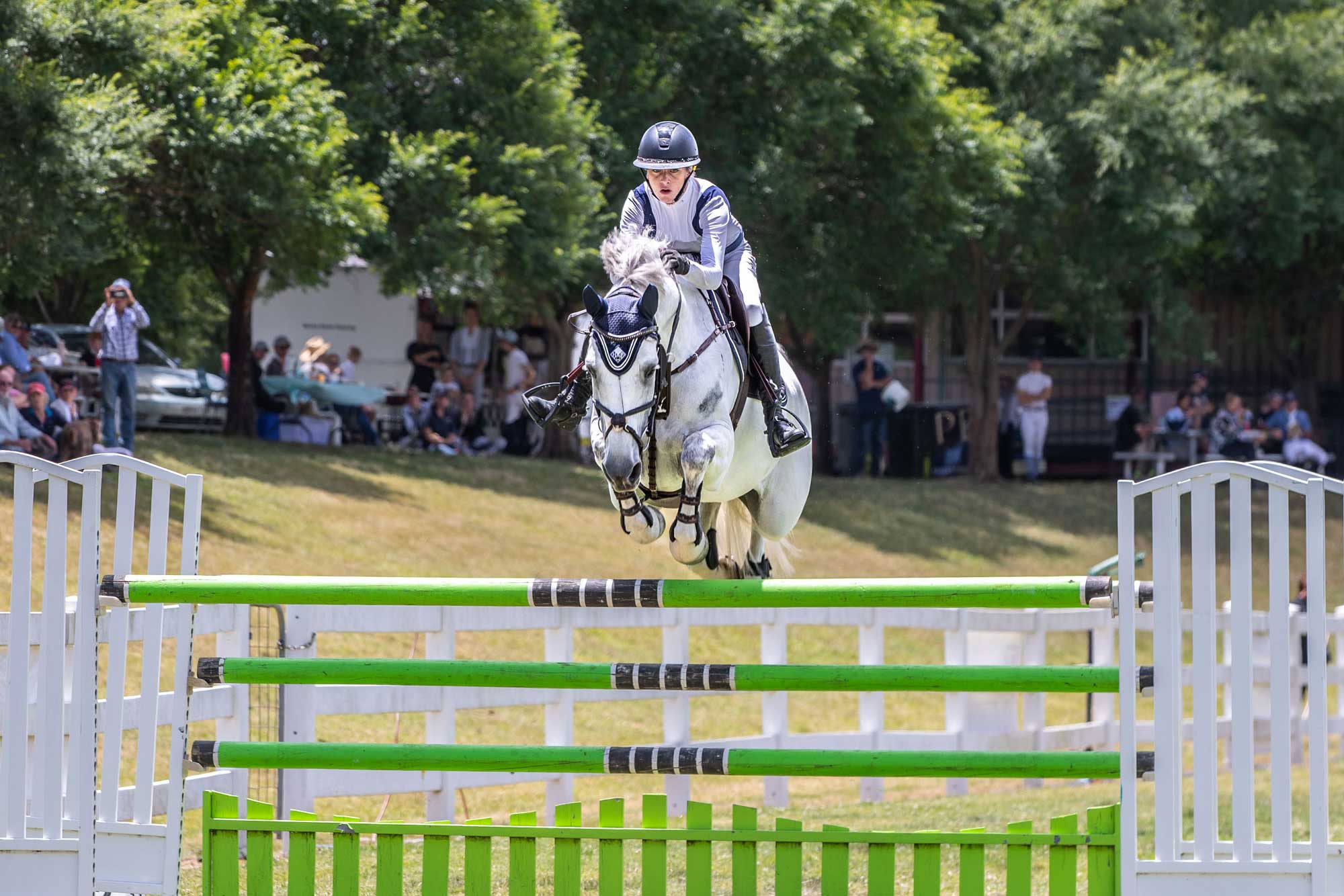 Australian Jumping
Above: Olivia Hamood and Knock Out 111.
A huge weekend of Jumping action was held last weekend when the Sydney Showjumping Club, the oldest club in Australia, held their Championship Show. While the weather this year has not been kind to them, with many training and competition days having to be cancelled, the warm sunny conditions over the two days provided perfect weather for great competition.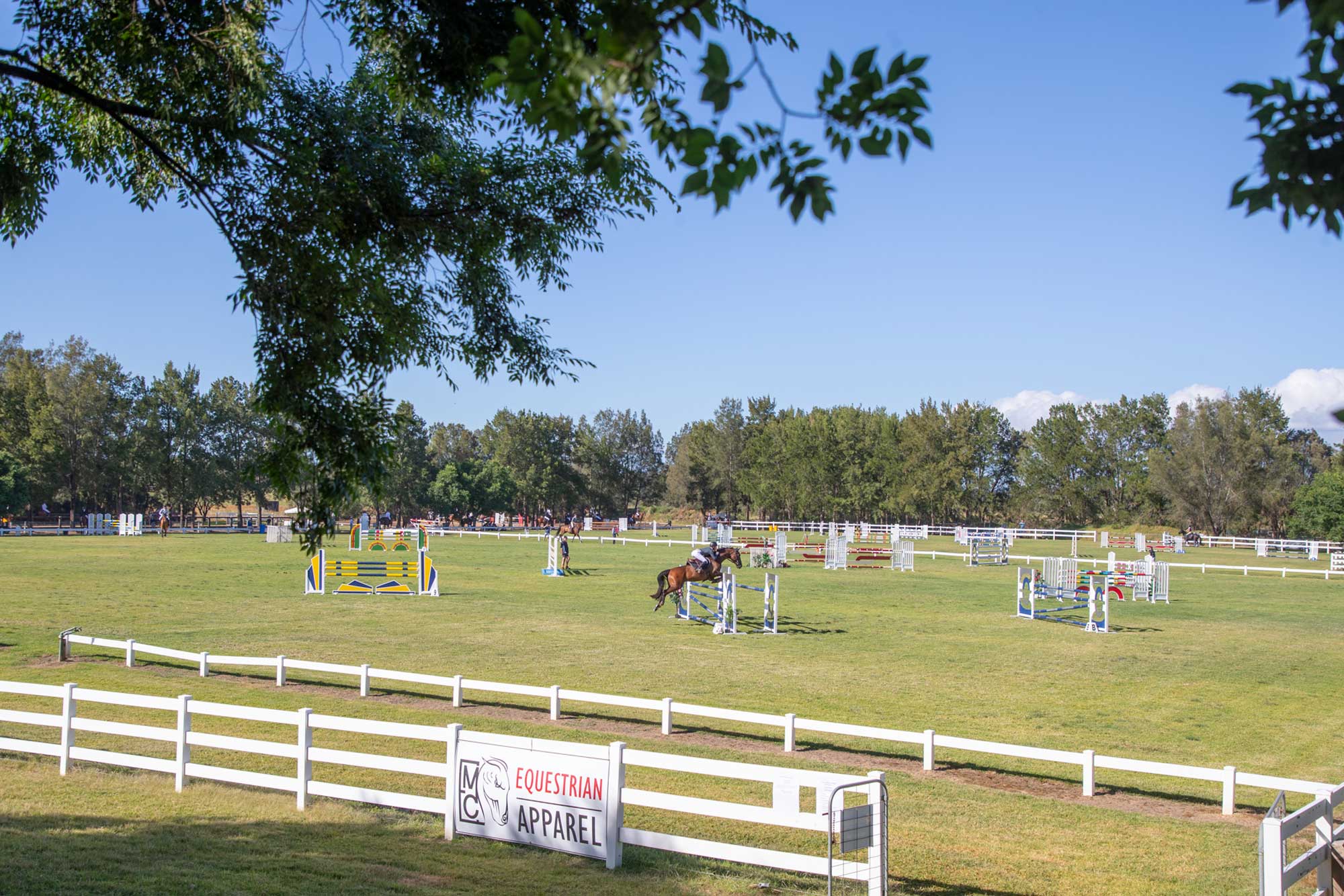 With show naming rights sponsor Emcee Apparel on board, the show saw over 500 horses and almost 350 riders competing in classes ranging from 0.55m, up to the feature class of the show, the 1.40m Grand Prix. In total there were well over 1,200 rounds of jumping over the two days, spread across four arenas. Spectators looked on from shady vantage points and enjoyed all that the competition had on offer.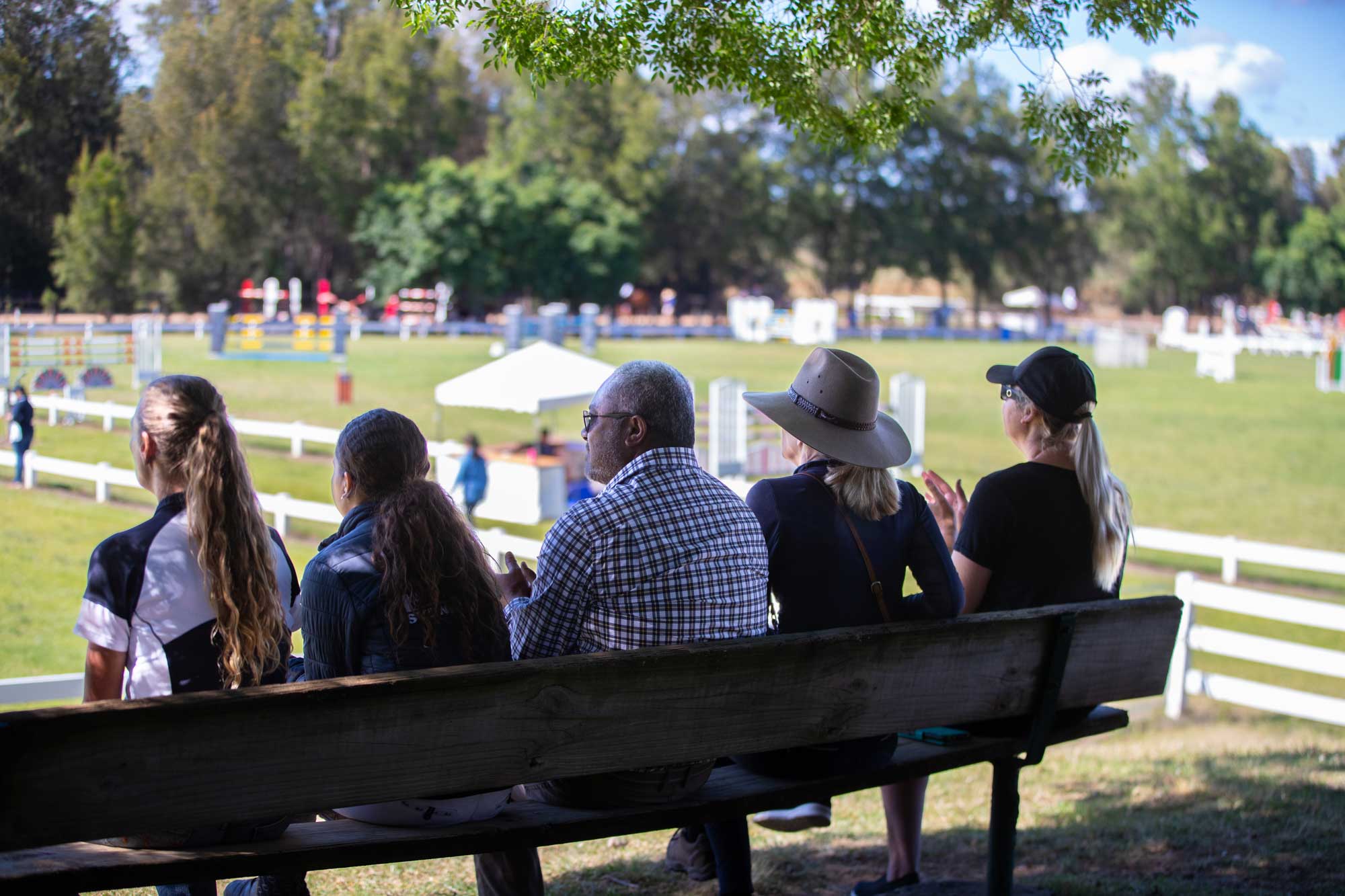 Not only were the numbers competing huge, so was the quality of riders involved. Olympic jumping representatives Vicki Roycroft and James Paterson-Robinson competed with Vicki just pipping James for a place on the podium in the 1.30m open class. In fact, the Boree Equine Mini Prix podium was packed with Olympians. David Cooper (Atlanta 1996) along with the very appropriately named Victory Day won the class, with James Paterson-Robinson (London 2012 and Rio 2016) and Monte Carlo MVNZ placed third. For good measure Eventing star Shane Rose (Beijing 2008, Rio 2016 and Tokyo 2020) finished in fourth place with Easy Turn. Kate Hinschen and Conchita Van De Helle were in great company finishing second.
The Hawkesbury Physiotherapy Grand Prix was not without its stars either with two of the last three names on the Australian Senior Champion Honour Roll featuring on the podium. Olivia Hamood who was the Australian Senior Champion in 2021 took out the Grand Prix, with a wonderful double clear performance on Knock Out 111. The 2018 Champion, Amber Fuller finished third with the ever- improving gelding Nopal Van Tallaert. Madeline Sinderberry and Gredstedgaards Number One were in second place.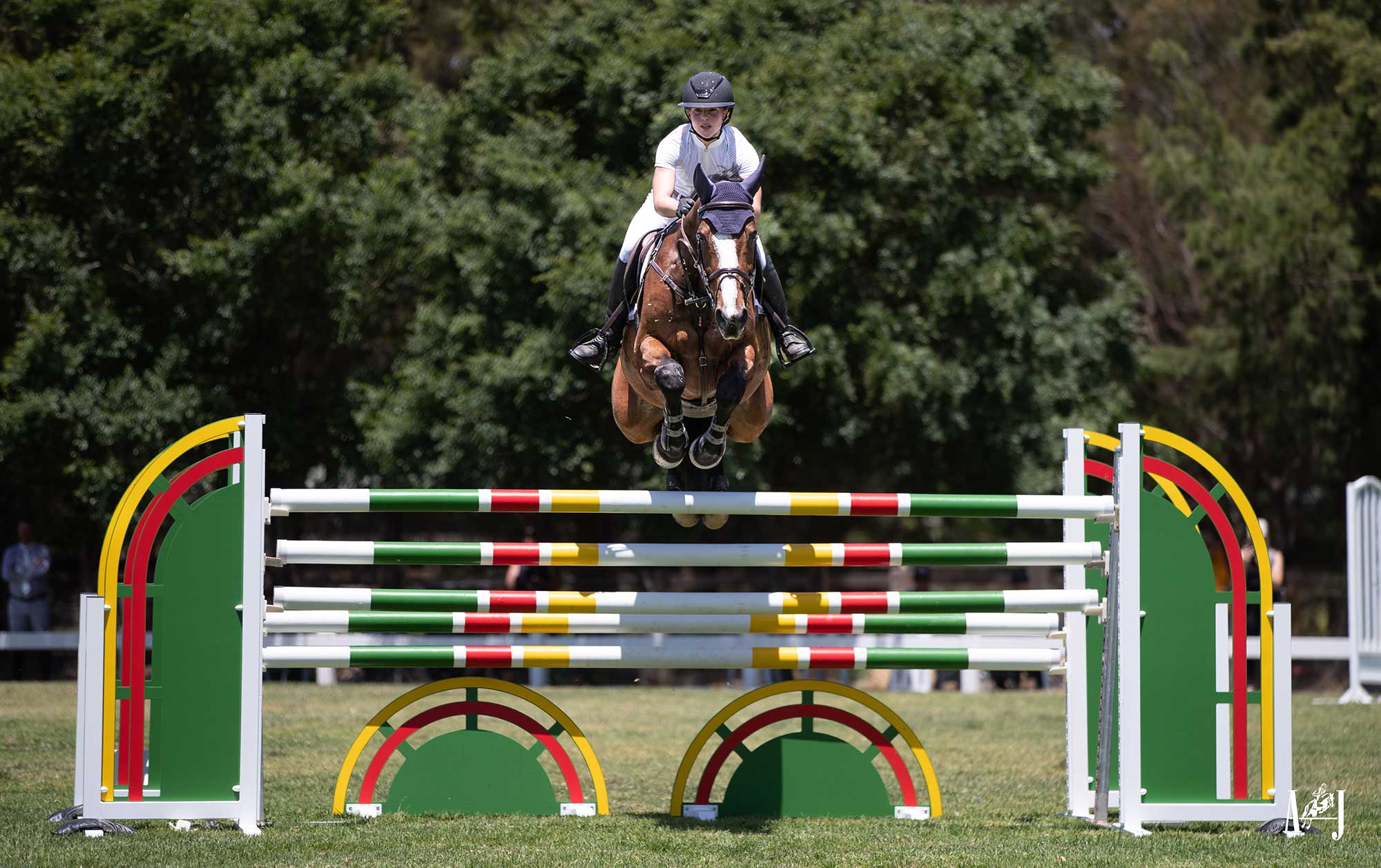 Madeline Sinderberry and Gredstedgaards Number One

Amber Fuller and Nopal Van Tallaert
With over 50 individual classes decided over the course of the show, there were champions declared and rugs distributed by the dozen, too numerous to go through here, however, our congratulations goes to all the winners and placegetters over the show, all of which are listed below:
SATURDAY RESULTS
GIDDIUP BUILDING FENCING & DESIGN – ARENA 1
CLASS 1A: FERNHILL AGISTMENT & EQUESTRIAN CENTRE: ADULT – 0.90m
| | | |
| --- | --- | --- |
| PLACE | RIDER | HORSE |
| 1st | Jamie Priestley | Team Priestley Bentley |
| 2nd | David Cooper | Habanero |
| 3rd | Emerson Stuchbery | Indiana Goodtimes |
| 4th | Karlee McKay | Chinook GHP |
| 5th | Krissy Harris | Blue Flame |
| 6th | Leo Tyndall | Bs On Air |
CLASS 1B: THE INGLIS FAMILY: JUNIOR – 0.90m
| | | |
| --- | --- | --- |
| PLACE | RIDER | HORSE |
| 1st | Jasmine Cook | Sherbert Wizz Fizz |
| 2nd | Isabella Vassallo | Emmaville Prince |
| 3rd | William Hodgekiss | Foxground Kanada DF |
| 4th | Lola Epthorp | Grand Andi |
| 5th | Georgia Cleary | Captain Tucker |
| 6th | Isla Fotofili | Tommy |
CLASS 1C: BTR PTY LTD: AMATEUR – 0.90m
| | | |
| --- | --- | --- |
| PLACE | RIDER | HORSE |
| 1st | Jane Hemingway-Mohr | Victoria D'Ivraie |
| 2nd | Sharon Beahan | Tichino Fiorucci |
| 3rd | Madaline Thornton | Bolong Park Ego Cyrano |
| 4th | Sarah Crossen | Exorcist |
| 5th | Ruth McMahon | Granite Belt |
| 6th | Bettina Lathwell | Chicago Grove GPF |
CLASS 2A: FERNHILL AGISTMENT & EQUESTRIAN CENTRE: ADULT – 1.00m
| | | |
| --- | --- | --- |
| PLACE | RIDER | HORSE |
| 1st | Emerson Stuchbery | Indiana Goodtimes |
| 2nd | Clair Ramsbotham | Cleuedon Oboe |
| 3rd | Caitlin Hawkins | Repeat After Me |
| 4th | David Cooper | Habanero |
| 5th | Nathan Carswell | Another Chapter |
| 6th | Hannah Rogers | Margarita |
CLASS 2B: RAINE & HORNE DOUBLE BAY: JUNIOR – 1.00m
| | | |
| --- | --- | --- |
| PLACE | RIDER | HORSE |
| 1st | Caitlin Biddle | Ballinton Summer Lady |
| 2nd | Isla Fotofili | Tommy |
| 3rd | William Hodgekiss | Foxground Kanada DF |
| 4th | Lola Epthorp | Grand Andi |
| 5th | Jada Burgun | Missile Higgins |
| 6th | Aria Baker | Solloway |
CLASS 2C: LEADING EDGE PROFESSIONAL DEVELOPMENT: AMATEUR – 1.00m
| | | |
| --- | --- | --- |
| PLACE | RIDER | HORSE |
| 1st | Jane Hemingway-Mohr | Victoria D'Ivraie |
| 2nd | Coralie Christie | Volt |
| 3rd | Shannon O'Meara | Isle Of D'Lago |
| 4th | Jeremy Williams | Betty Boo |
| 5th | Emma Brauer | A Hint Of Chilli |
| 6th | Angela McLeod | Sun And Stars |
CLASS 3A: EQUUS: ADULT – 1.05m
| | | |
| --- | --- | --- |
| PLACE | RIDER | HORSE |
| 1st | Claire Ramsbotham | Clevedon Oboe |
| 2nd | Victoria Hoy | LV Everest |
| 3rd | Maria Sorensen | PPP San Hai |
| 4th | Jessica Galea | Danni |
| 5th | Bonnie Martin | RR Absolutely Lisa |
| 6th | Jamie Priestley | Team Priestley Katniss |
CLASS 3B: WILLOW WOOD STABLES: JUNIOR – 1.05m
| | | |
| --- | --- | --- |
| PLACE | RIDER | HORSE |
| 1st | Valentina Hercus | Gold Play |
| 2nd | Bree Baker | It's All In The Timing |
| 3rd | Georgia Cleary | Sir Dumbledor |
| 4th | Jada Burgun | Missile Higgins |
| 5th | Aria Baker | Solloway |
| 6th | Madi Nolis | BP Spring Carnival |
CLASS 3C: JPR EQUESTRIAN: AMATEUR – 1.05m
| | | |
| --- | --- | --- |
| PLACE | RIDER | HORSE |
| 1st | Sarah Crossen | Vermoral RJ3 |
| 2nd | Eliane Robl | Sagesse |
| 3rd | Lori James | Bond Girl SHP |
| 4th | Megan Boyd | Duskardo |
| 5th | Clare Watkinson | Lots Of Love |
| 6th | Brianna Fish | Vision Vuitton |
CAMDEN HIRE – ARENA 2
CLASS 4A: McMILLAN FAMILY: ADULT – 1.20m
| | | |
| --- | --- | --- |
| PLACE | RIDER | HORSE |
| 1st | Andrew Inglis | Laracas |
| 2nd | Sophie Scarce | Christella |
| 3rd | Vicki Roycroft | Kenny Casino |
| 4th | Samantha Dernee | Raise An Angel |
| 5th | Karlee McKay | Centenda |
| 6th | Kathy O'Hara | Emissary Lass |
CLASS 4B: KOHNKE'S OWN: JUNIOR – 1.20m
| | | |
| --- | --- | --- |
| PLACE | RIDER | HORSE |
| 1st | Sophie Baldwin | CW Conquest |
| 2nd | Charly Robinson-Smith | Martango |
| 3rd | Jett Newman | Wanda |
| 4th | Chloe Versteegen | Cera Quattro |
| 5th | Ella Silk | Redgum Conan |
| 6th | Zara Ward Leahy | Boomberry |
CLASS 5A: EMCEE APPAREL: OPEN – 1.30m
| | | |
| --- | --- | --- |
| PLACE | RIDER | HORSE |
| 1st | Jamie Priestley | Oaks Diamantina |
| 2nd | Maverick Miles | Cavalier Ludicrous |
| 3rd | Vicki Roycroft | Kenny Casino |
| 4th | James Paterson-Robinson | Dublin |
| 5th | Samantha Dernee | Laurel Glen Quintessence |
| 6th | George Johnson | Dusky Farm Hope |
CLASS 5B: YIRRKALA STUD: YOUNG RIDER – 1.30m
| | | |
| --- | --- | --- |
| PLACE | RIDER | HORSE |
| 1st | Fuscia Criss | Dual Diamond |
| 2nd | Anneliese Wansey | Kolora Stud St Patrick |
| 3rd | Clemency Hughes | Diamond B Corvina |
| 4th | Kelly Bridgland | Showtym Burrow |
| 5th | Emily Baldwin | Twins Ava |
| 6th | Chloe Versteegen | Pico Bellini |
CLASS 6: EQUINE INTERNATIONAL AIR FREIGHT: OPEN – 1.35m
| | | |
| --- | --- | --- |
| PLACE | RIDER | HORSE |
| 1st | Andrew Ellis | Chumbawumba |
| 2nd | Madeline Sinderberry | Camie Z |
| 3rd | Brad Frankum | Oaks Calypso |
| 4th | Tom McDermott | WP Elegance |
| 5th | James Hetherington | Killara Park Sentaro |
| 6th | Charlie Eason | Oaks Coolangatta |
CLASS 7: WARATAH SHOWJUMPING: OPEN – 1.40-1.45m
| | | |
| --- | --- | --- |
| PLACE | RIDER | HORSE |
| 1st | Olivia Hamood | Jane Fonda DVD |
| 2nd | Amelia Douglass | Upper Class Z |
| 3rd | Brad Frankum | Oaks Calypso |
| 4th | Olivia Hamood | Knock Out 111 |
| 5th | Amelia Douglass | Finch Farm Cadel |
| 6th | Amber Fuller | Nopal Van Tallaert |
EMCEE APPAREL – ARENA 3
CLASS 8A: TEAM PRIESTLEY: ADULT – 1.10m
| | | |
| --- | --- | --- |
| PLACE | RIDER | HORSE |
| 1st | Thomas Sedger | Tulara For Cassini |
| 2nd | Krissy Harris | Corvette GHP |
| 3rd | Sophie Scarce | Christella |
| 4th | Isabella Hughes | Beethoven |
| 5th | Sarah Crossen | Vermoral Rj3 |
| 6th | Belinda Torrens | Bella Blu |
CLASS 8B: GIDDIUP BUILDING FENCING & DESIGN: JUNIOR – 1.10m
| | | |
| --- | --- | --- |
| PLACE | RIDER | HORSE |
| 1st | Emma Galea | Noonanah Valentina |
| 2nd | Molly Mooney | JB Evolution |
| 3rd | Chloe Copp | Hemsworth |
| 4th | Charly Robinson-Smith | GB Ruby |
| 5th | Jasmine Spira | Outlawed W |
| 6th | Katy Robinson-Smith | Our Peace Maker |
CLASS 8C: BE HAPPY, LOVE LIFE & DREAM BIG: AMATEUR – 1.10m
| | | |
| --- | --- | --- |
| PLACE | RIDER | HORSE |
| 1st | Paige McBain | Green Grove Hestia |
| 2nd | Elaine Robl | Sagesse |
| 3rd | Mark Atkins | Elite Partners |
| 4th | Sarah Dodd | Oaks Carmine |
| 5th | Abby West | Aniklas |
| 6th | Megan Boyd | Duskarado |
CLASS 9: EMCEE APPAREL: OPEN – 1.15m
| | | |
| --- | --- | --- |
| PLACE | RIDER | HORSE |
| 1st | Emma Galea | Noonanah Valentina |
| 2nd | Thomas Sedger | Tulara For Cassini |
| 3rd | Giorga Gall | Along Came Polly |
| 4th | Sienna Weir | Carisma |
| 5th | David Robertson | Quero 4 |
| 6th | Thomas Sedger | Stir It Up |
JUMPING NSW – ARENA 4
CLASS 10: ANNETTE KOHEN: OPEN – 0.55m
| | | |
| --- | --- | --- |
| PLACE | RIDER | HORSE |
| 1st | Victoria Tierney | Royal Hardhat |
| 2nd | Jenny Sheppard | Tommy |
| 3rd | Natalie Mohr | Beach Boy Bart |
| 4th | Natalie Razon | Glynyarra Park Libretto |
| 5th | Ellenore Stutsel | Zaphod |
| 6th | Toby Stutsel | Coco |
CLASS 11A: KOHNKE'S OWN: ADULT – 0.65m
| | | |
| --- | --- | --- |
| PLACE | RIDER | HORSE |
| 1st | Alyson Hodgekiss | Night Flash |
| 2nd | Emily Jones | Nep Vivacious |
| 3rd | Kirby Aylett | TF Crème Dela Crème |
| 4th | Peta White | Catrina |
| 5th | Emily Whitworth | Petal Bomb |
| 6th | Lisa Karklins | Star Seeker |
CLASS 11B: BERNADAT EQUESTRIAN: JUNIOR – 0.65m
| | | |
| --- | --- | --- |
| PLACE | RIDER | HORSE |
| 1st | Alexa Garcia | Spirit |
| 2nd | Victoria Tierney | Royal Hardhat |
| 3rd | Jacob Hodgekiss | Foxground Katarina |
| 4th | Ella Mifflin | Miss California |
| 5th | Rhys McEvoy | Royal Romance Jewels |
| 6th | Gracie Shields | Lexi |
CLASS 12A: ESSENTIAL EQUESTRIAN: ADULT – 0.75m
| | | |
| --- | --- | --- |
| PLACE | RIDER | HORSE |
| 1st | Athos Galassi | KS Double Dare |
| 2nd | Joanna Spira | Avenly Bundy |
| 3rd | Len Foster | Koonama Take A Bow |
| 4th | Megan Rogers | Vinnie |
| 5th | Joy Collins | Blackall Park Ravel |
| 6th | Asarri McPhee | Jimmy Hendrix |
CLASS 12B: ORANGEVILLE PERFORMANCE HORSES: JUNIOR – 0.75m
| | | |
| --- | --- | --- |
| PLACE | RIDER | HORSE |
| 1st | Jada Bergun | Little Revoli Star |
| 2nd | Alexa Garcia | Spirit |
| 3rd | Tyla Smith | Buddy |
| 4th | Iliana Hercus | Valentine |
| 5th | Gracie Shields | Lexi |
| 6th | Alexa Garcia | Canterbury Fair Lady |
CLASS 13A: DE LA COEUR AUSTRALIA: ADULT – 0.85m
| | | |
| --- | --- | --- |
| PLACE | RIDER | HORSE |
| 1st | Joanna Spira | Avenly Bundy |
| 2nd | Abigail Fuggle | Dynamite Diana |
| 3rd | Eden McMahon | Beatrix |
| 4th | Michelle Penza | Sherzando |
| 5th | Sarah Crossen | Exorcist |
| 6th | Samantha Vassallo | AB Coromandel |
CLASS 13B: AUSTRALIAN JUMPING: JUNIOR – 0.85m
| | | |
| --- | --- | --- |
| PLACE | RIDER | HORSE |
| 1st | Faith Banks | Touchstone Remedy |
| 2nd | Kelly Hall | Final Warning |
| 3rd | Isabella Vassallo | Emmaville Prince |
| 4th | Georgia Cleary | Captain Tucker |
| 5th | Yumi Folden | Jett Boy |
| 6th | Katrin Beedie | Valentine |
SUNDAY RESULTS
GIDDIUP BUILDING FENCING & DESIGN – ARENA 1
CLASS 14A: ORANGEVILLE PERFORMANCE HORSES: ADULT CHAMPIONSHIP – 0.90m
| | | |
| --- | --- | --- |
| PLACE | RIDER | HORSE |
| 1st | David Cooper | Habanero |
| 2nd | Jeremy Inglis | Sweet Dream Baby |
| 3rd | Jeanan Yasseen | Italian Bounty NZ |
| 4th | Nicole Kennedy | Astro |
| 5th | Karlee McKay | Chinook GHP |
| 6th | Evelyn Anderson | Sterntaler Ranga Roulette |
CLASS 14B: HAWKEBURY EQUINE VETS: JUNIOR CHAMPIONSHIP– 0.90m
| | | |
| --- | --- | --- |
| PLACE | RIDER | HORSE |
| 1st | Isabella Vassallo | Emmaville Prince |
| 2nd | William Hodgekiss | Night Flash |
| 3rd | Grace Wilton | Finch Farm Cracker |
| 4th | Isobel Chatterjee | Asham Iceman |
| 5th | Tyla Smith | Game Player |
| 6th | Jada Burgun | Little Revoli Star |
CLASS 14C: HONEYCOMB SALES & SERVICE: AMATEUR CHAMPIONSHIP – 0.90m
| | | |
| --- | --- | --- |
| PLACE | RIDER | HORSE |
| 1st | Kylie Howard | Claireveaux Dreams |
| 2nd | Athos Galassi | KS Double Dare |
| 3rd | Rachel Higgins | De Lago Resort |
| 4th | Alyce Stoeckl | Callister |
| 5th | Lita Hernandez | Dubendorf Xanda |
| 6th | Sharon Beahan | Tichino Fiorucci |
CLASS 15A: JUMPING NSW: ADULT CHAMPIONSHIP – 1.00m
| | | |
| --- | --- | --- |
| PLACE | RIDER | HORSE |
| 1st | Emerson Stuchbery | Indiana Goodtimes |
| 2nd | Sandra Tremier | TT Captain |
| 3rd | Krissy Harris | Blue Flame |
| 4th | Jess Stones | Chacco Star |
| 5th | Rhys Stones | Riverton Laut Royale |
| 6th | Rhys Stones | Riverton All-Star |
CLASS 15B: JUMPING NSW: JUNIOR CHAMPIONSHIP– 1.00m
| | | |
| --- | --- | --- |
| PLACE | RIDER | HORSE |
| 1st | Isla Fotofili | Tommy |
| 2nd | Caitlin Biddle | Ballinton Summer Lady |
| 3rd | Georgia Dale | Hashtag |
| 4th | Stephanie Saunders | Roseview Little Legend |
CLASS 15C: JUMPING NSW: AMATEUR CHAMPIONSHIP– 1.00m
| | | |
| --- | --- | --- |
| PLACE | RIDER | HORSE |
| 1st | Clare Watkinson | Lots Of Love |
| 2nd | Jane Hemingway-Mohr | Victoria D'Irvraie |
| 3rd | Ludovic Bernadat | Merlin |
| 4th | Shannon O'Meara | Isle Of D'Lago |
| 5th | Zoe McGrath | Glenwood Park Emily |
| 6th | Madeline Thorton | Bolong Park Ego Cyrano |
CLASS 16A: CURETON FAMILY: ADULT CHAMPIONSHIP – 1.05m
| | | |
| --- | --- | --- |
| PLACE | RIDER | HORSE |
| 1st | Jessica Galea | Danni |
| 2nd | Alicia Daly | Navarra Eclipse |
| 3rd | William Mathew | It's Canada |
| 4th | Jamie Priestley | Team Priestley Katniss |
| 5th | Mark Lindh | Kasbah |
| 6th | Nicholas Taliana | Puzzle Street |
CLASS 16B: SHARON & BILL SLATER: JUNIOR CHAMPIONSHIP – 1.05m
| | | |
| --- | --- | --- |
| PLACE | RIDER | HORSE |
| 1st | Valentina Hercus | Gold Play |
| 2nd | Aria Baker | Solloway |
| 3rd | Madi Nolis | BP Spring Carnival |
| 4th | Abbey Kuiper | VHP Positano |
CLASS 16C: ACSJ: AMATEUR CHAMPIONSHIP – 1.05m
| | | |
| --- | --- | --- |
| PLACE | RIDER | HORSE |
| 1st | Emma Brauer | Romac Pepe |
| 2nd | Mandy Stephens | Beethoven's Symphony |
| 3rd | Nathan Carswell | Another Chapter |
| 4th | Bonnie Martin | RR Absolute Lisa |
| 5th | Nadia Gronow | Oaks Cobalt |
| 6th | Brianna Fish | Vision Vuitton |
CAMDEN HIRE – ARENA 2
CLASS 17A: MT INVESTMENTS – CHATHAM PARK: YOUNG RIDER CHAMPIONSHIP – 1.30m
| | | |
| --- | --- | --- |
| PLACE | RIDER | HORSE |
| 1st | Emily Baldwin | Twins Ava |
| 2nd | Anneliese Wansey | Kolora Stud St Patrick |
| 3rd | Clemency Hughes | Diamond B Corvina |
| 4th | Clemency Hughes | YPH Capulet |
| 5th | Milly Fisher | Picableu |
| 6th | Georgia Apps | Finch Farm Viduka |
CLASS 17B: EDWENA MITCHELL CATERING: INTERMEDIATE CHAMPIONSHIP – 1.30m
| | | |
| --- | --- | --- |
| PLACE | RIDER | HORSE |
| 1st | Rod McQueen | Yirkala Cassey |
| 2nd | Aaron Hadlow | Cera Stiletto |
| 3rd | Andrew Inglis | Laracas |
| 4th | Karlee McKay | Centenda |
| 5th | Maverick Miles | Cavalier Ludicrous |
| 6th | George Johnson | Ducky Farm Hope |
CLASS 18: BOREE EQUINE: MINI PRIX CHAMPIONSHIP – 1.35m
| | | |
| --- | --- | --- |
| PLACE | RIDER | HORSE |
| 1st | David Cooper | Victory Day |
| 2nd | Kate Hinschen | Conchita Van De Helle |
| 3rd | James Paterson-Robinson | Monte Carlo MVNZ |
| 4th | Shane Rose | Easy Turn |
| 5th | Charlie Eason | Oaks Coolangatta |
| 6th | Jamie Priestley | Oaks Diamantina |
CLASS 19: HAWKESBURY PHYSIOTHERAPY & COLIN THOMPSON: GRAND PRIX CHAMPIONSHIP – 1.40m
| | | |
| --- | --- | --- |
| PLACE | RIDER | HORSE |
| 1st | Olivia Hamood | Knock Out 111 |
| 2nd | Madeline Sinderberry | Gredstedgaards Number One |
| 3rd | Amber Fuller | Nopal Van Tallaert |
| 4th | Jess Brown | Yirrkala Miss Darcy |
| 5th | Madeline Sinderberry | Camie Z |
| 6th | Olivia Hamood | Jane Fonda DVD |
CLASS 20A: LIZ WATSON: Horses 8 years & under – 1.20m
| | | |
| --- | --- | --- |
| PLACE | RIDER | HORSE |
| 1st | Olivia Hamood | Diamond B Bedazzled |
| 2nd | Thomas Sedger | Check It Out |
| 3rd | Samantha Dernee | Laurel Glen Quintessence |
| 4th | Samantha Dernee | Glenara Luxury Z |
| 5th | Olivia Hamood | Boseda |
| 6th | Sarah McMillan | Kakadu BHV |
CLASS 20B: OAKS SPORT HORSES: Horses 9 years & over – 1.20m
| | | |
| --- | --- | --- |
| PLACE | RIDER | HORSE |
| 1st | Jess Stones | PPP Seductor |
| 2nd | Zara Smith | Catena |
| 3rd | Rhys Stones | KG Queenie |
| 4th | Lauren Routledge | Tamingas Bellhaven Colletto |
| 5th | James Paterson-Robinson | Kolora Stud Capulet Ego Z |
| 6th | Leila Wyrill | Gigant Z |
CLASS 20C: HENDLER FAMILY: JUNIOR CHAMPIONSHIP – 1.20m
| | | |
| --- | --- | --- |
| PLACE | RIDER | HORSE |
| 1st | Charlie Magnier | Quinn Z |
| 2nd | Charlie Magnier | Master Stevie G |
| 3rd | Jett Newman | Wanda |
| 4th | Imogen Lindh | Blackall Park Koraleigh |
| 5th | Imogen Lindh | Licaviv |
| 6th | Molly Mooney | JB Evolution |
EMCEE APPAREL – ARENA 3
CLASS 21A: SYDNEY EQUINE VET: ADULT CHAMPIONSHIP – 1.10m
| | | |
| --- | --- | --- |
| PLACE | RIDER | HORSE |
| 1st | Emily Gobbe | Sterling's C'artagan |
| 2nd | Amanda Madigan | Diamond B Chinook |
| 3rd | Samantha Dernee | Glenara Leonardo Z |
| 4th | Sarah Crossen | Vermoral Rj3 |
| 5th | Jeremy Inglis | Porscha |
| 6th | Rod McQueen | Yandoo Baltimore |
CLASS 21B: CWD & MOONEY EQUESTRIAN: JUNIOR CHAMPIONSHIP – 1.10m
| | | |
| --- | --- | --- |
| PLACE | RIDER | HORSE |
| 1st | Charly Robinson-Smith | GB Ruby |
| 2nd | Teagan Mathews | Baloubell |
| 3rd | Mackenzie Patterson Hollibone | Vivajoy |
| 4th | Lascelle Haywood | Darkness |
| 5th | Jasmine Spira | Outlawed W |
| 6th | Katy Robinson-Smith | Our Peace Maker |
CLASS 22A: JUMPING NSW: AMATEUR CHAMPIONSHIP – 1.10-1.15m
| | | |
| --- | --- | --- |
| PLACE | RIDER | HORSE |
| 1st | Georgia Gall | Along Come Polly |
| 2nd | Ysolde Okumura-Jones | Valkyrja |
| 3rd | Lori James | Restauranter SHP |
| 4th | Isabelle Mirani | Red Leaf Cabbage |
| 5th | Sarah Crossen | Verdelho Rj3 |
| 6th | Sarah Dodd | Oaks Carmine |
CLASS 22B: HAWKESBURY RIVER SADDLE COMPANY: HEIGHT CHAMPIONSHIP – 1.10-1.15m
| | | |
| --- | --- | --- |
| PLACE | RIDER | HORSE |
| 1st | David Robertson | Quero 4 |
| 2nd | Nicole Kennedy | LT Holst Elsbeth |
| 3rd | Olivia Bridley | Rise Of Phoenix |
| 4th | Monet Stevenson | Dubendorf Xena |
| 5th | Thomas Sedger | Tulara For Cassini |
| 6th | Penelope Lancaster | AP Ninja |
JUMPING NSW – ARENA 4
CLASS 23: ANNETTE KOHEN: OPEN – 0.55m
| | | |
| --- | --- | --- |
| PLACE | RIDER | HORSE |
| 1st | Jenny Sheppard | Tommy |
| 2nd | Angelica Rose | Denver |
| 3rd | Alexa Garcia | VP Mercedes |
| 4th | Lilah Walley | KP Toy Time |
| 5th | Toby Stutsel | Coco |
| 6th | Lee Shepherd | Guinness MH |
CLASS 24A: RICE-WARD FAMILY: ADULT – 0.65m
| | | |
| --- | --- | --- |
| PLACE | RIDER | HORSE |
| 1st | Daisy Lewis | Carrie |
| 2nd | Angelica Rose | Denver |
| 3rd | Kirby Aylett | TF Crème Dela Crème |
| 4th | Amanda Madigan | Diamond B Blitzen |
| 5th | Nathan Carswell | Rafiki |
| 6th | Emily Whitworth | Petal Bomb |
CLASS 24B: LEADING EDGE PROFESSIONAL DEVELOPMENT: JUNIOR – 0.65m
| | | |
| --- | --- | --- |
| PLACE | RIDER | HORSE |
| 1st | Rhys McEvoy | Royal Romance Jewels |
| 2nd | Alexa Garcia | Yatarla Park Mercedes |
| 3rd | Wynter Schultz | Warrabeen |
| 4th | Rylie Watson-Gill | Maddie |
| 5th | Claudia Agnanos | Jasper |
| 6th | Ellie Clarke | Wynvale Park Sir Quin |
CLASS 25A: STERNTALER EQUESTRIAN: ADULT – 0.75m
| | | |
| --- | --- | --- |
| PLACE | RIDER | HORSE |
| 1st | Madisson Agius | TT Cedarhill Scooter |
| 2nd | Kylie Howard | Bernie |
| 3rd | Joanna Spira | Avenly Bundy |
| 4th | Kathy Ward | One Way Van De Kwakkelhoek |
| 5th | Emily Whitworth | Petal Bomb |
| 6th | Daisy Lewis | Carrie |
CLASS 25B: McKINLAY MORGAN & ANDREW EDWARDS: JUNIOR – 0.75m
| | | |
| --- | --- | --- |
| PLACE | RIDER | HORSE |
| 1st | Evie Magnier | Mirabelle Patterson |
| 2nd | Sarah Lenarcic | Dazzling Rosewood Rhythms |
| 3rd | Alexa Garcia | Spirit |
| 4th | Alexa Garcia | Canterbury Fair Lady |
| 5th | Jacob Hodgekiss | Foxground Katarina |
| 6th | Gabriella Imad | Peaceful Presence |
CLASS 26A: TEAM PRIESTLEY: ADULT – 0.85m
| | | |
| --- | --- | --- |
| PLACE | RIDER | HORSE |
| 1st | Kathy Ward | One Way Van De Kwakkelhoek |
| 2nd | Joanna Spira | Avenly Bundy |
| 3rd | Eden McMahon | Beatrix |
| 4th | Michelle Penza | Eli Lamar |
| 5th | Kylie Howard | Bernie |
| 6th | Samantha Vassallo | AB Coromandel |
CLASS 26B: TEAM PRIESTLEY: JUNIOR – 0.85m
| | | |
| --- | --- | --- |
| PLACE | RIDER | HORSE |
| 1st | Faith Banks | Touchstone Remedy |
| 2nd | Alexa Garcia | Canterbury Fair Lady |
| 3rd | Emily Platt | Tyson |
| 4th | Iliana Hercus | Valentine |
| 5th | Savannah Steel | Crestfield Waiting Game |
| 6th | Evie Magnier | Mirrabelle Patterson |
Results supplied by Sydney Showjumping Club
View Comments