A winning weekend for the Lambs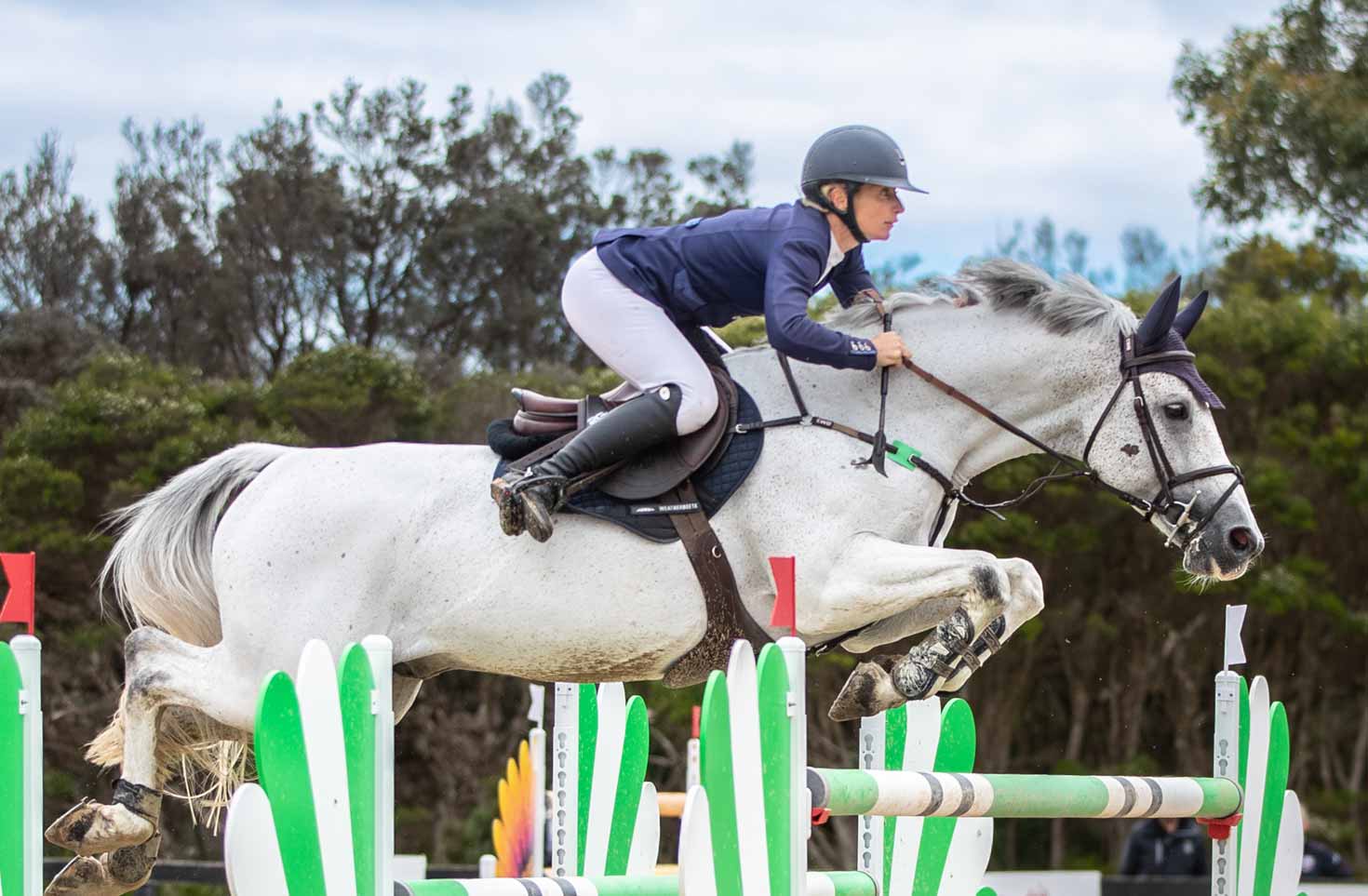 Australian Jumping
Above: Ally Lamb and Eagle Rock.
The Sale and District Showjumping Club held their Elms Showjumping Classic Show over the weekend. The three-day program might not have included a leg of the Australian World Cup series, like it has previously, however, this year the show incorporated the several classes in the Victorian Country Championships.
Advertisement


It was a great weekend for the Lamb family. Ally Lamb combined with her lovely grey Stallion Eagle Rock to record a fantastic double clear performance over the two rounds of the Brown Wigg sponsored Victorian Country Senior Championship. In second place, also double clear but with a round two time just 0.39 seconds slower than the winners were Frida Lindgren and Mabobri De Mabribo. There would certainly have been some boasting rights around the dinner table last night as Ally's husband Andrew Lamb and Spartava DP completed a trio of double clears, however, were two seconds slower than the winners and had to settle for third place. Keen followers of the sport would have suspected that Ally would have had a great chance in the feature class after she and Eagle Rock took out the open 1.40m class on Friday, which most of the combinations in the feature class had used as a warm-up. Ally also picked up another win on the Friday in the open 1.20m class with Glenara Chacco DP.
Also joining in the dinner table conversation would have been Andrew and Ally's son Joel. Joel took out two classes, with the most significant being his win with Clasique Andor in the Victorian Country Junior Championship. For good measure, Joel and Emcee Holly Go Lightly picked up the win in the 1.15m championship class on Sunday morning.
While the Lamb family did very well, there were plenty of other stars over the three days of competition. Skye Orchard and her gelding Blackwood Billabong picked up a pair of wins at 0.70m on Friday and 0.85m on Sunday, all done without dislodging a rail. Similarly, a pair of wins were claimed by local Gippsland rider Xanthe Wade and gelding Lakevale Tarwyn at 0.80m and 0.85m.
Advertisement


Airlie Robinson and her mare Yalambis Corlandia made the most of the weekend, also claiming a pair of wins. They took the win in the first class of the weekend on the main arena, before backing this up late on Saturday afternoon with an impressive display to take out the Kiernan Plant Hire Speed Championship. This pair were over two seconds clear of daughter Tanner Robinson and Bringmoore who filled second place. Also racking up a pair od trips to the top of the presentation dais was Clint Beresford who won the open 1.30m class on Friday with Emmaville Jitterbug, before winning an open 1.15m class on Saturday with his young mare Oaks Chingo.
Besides Ally Lamb, there was just one other rider to claim three victories over the course of the show. That honour went to Bek Carrolan who combined with CP Quigley to win a class on each day, which is a great performance from the pair who recently finished a very solid seventh in the Opal series at the Australian Championships.
They won at 1.00m on Friday and then 1.04m on Saturday, before taking out the very prestigious inaugural Vicki Greg Memorial Class on Sunday afternoon. In total, they had five rounds and everyone of them was clear. A fantastic effort.
It was a wonderful weekend of Jumping held in great conditions in a beautiful location. What more could lovers of Jumping ask for.
Congratulations to the winners and placegetters over all three days of the show, who are listed below:
FRIDAY RESULTS
RING 1
CLASS A1: SALE & DISTRICT SHOWJUMPING CLUB: OPEN – 1.10m
| | | |
| --- | --- | --- |
| PLACE | RIDER | HORSE |
| 1st | Airlie Robinson | Yalambis Corlandia |
| 2nd | Darcy Wade | Miss Delfyne |
| 3rd | Alice Lawrence | Mr Ali |
| 4th | Alice Lawrence | Mucho Mucho Deniro |
| 5th | Clyde Sherajones | Si Si Strike |
| 6th | Alyssa Greening | Cricky Mick |
CLASS A2: TRANSEDEL LIVESTOCK CARRIERS: OPEN – 1.20m
| | | |
| --- | --- | --- |
| PLACE | RIDER | HORSE |
| 1st | Ally Lamb | Glenara Chacco DP |
| 2nd | Jamie Ellis | Centaur MVNZ |
| 3rd | Grace Fuchbichler | Hero Chin P |
| 4th | Clyde Sherajones | Si Si Strike |
| 5th | Brook Dobbin | Devop GP |
| 6th | Anthony Bentley | Chickabe |
CLASS A3: SALE & DISTRICT SHOWJUMPING CLUB: OPEN – 1.30m
| | | |
| --- | --- | --- |
| PLACE | RIDER | HORSE |
| 1st | Clint Beresford | Emmaville Jitterbug |
| 2nd | Phillip Lever | BP Jedak Du Rouet |
| 3rd | Sally Simmonds | Chio MS |
| 4th | Russell Morrison | Ce Cajun |
| 5th | Ally Lamb | Glenara Chacco DP |
| 6th | Nina Griffiths | Zammorra S |
CLASS A4: SALE GREYHOUND CLUB: OPEN – 1.40m
| | | |
| --- | --- | --- |
| PLACE | RIDER | HORSE |
| 1st | Ally Lamb | Eagle Rock |
| 2nd | Brook Dobbin | Gina MVNZ |
| 3rd | Jess Pateman | Celso |
| 4th | Phillip Lever | Lomachenko |
| 5th | Georgie Siciliano | Gladiator P |
| 6th | Sally Simmonds | Oaks Charleville |
RING 2
CLASS B1: SALE & DISTRICT SHOWJUMPING CLUB: OPEN – 0.70m
| | | |
| --- | --- | --- |
| PLACE | RIDER | HORSE |
| 1st | Skye Orchard | Blackwood Billabong |
| 2nd | Portia Di Iorio | Val Vader |
| 3rd | Ava Harrington | Dunelm Night Show |
| 4th | Gracie Gartung | LV Jimmy Choo |
| 5th | Melissa Backman | Davren Park Sadie |
| 6th | Mady Arndt | Kenuni |
CLASS B2: SALE & DISTRICT SHOWJUMPING CLUB: OPEN – 0.80m
| | | |
| --- | --- | --- |
| PLACE | RIDER | HORSE |
| 1st | Xanthe Wade | Lakevale Tarwyn |
| 2nd | Gracie Gartung | Blackwood Bo Peep |
| 3rd | Grace Perkins | Mansfield Park Matrix |
| 4th | Ava Harrington | Razzmatazz |
| 5th | Emily Rerden | Ollie |
| 6th | Grace Leipa | Castleburn The Merc |
CLASS B3: SALE & DISTRICT SHOWJUMPING CLUB: OPEN – 0.90m
| | | |
| --- | --- | --- |
| PLACE | RIDER | HORSE |
| 1st | Jasmine Reynolds | Natto |
| 2nd | Gracie Gartung | Blackwood Bo Peep |
| 3rd | Jules Fulkerson | LH Voltaren |
| 4th | Emma Middleton | WEC In The Swing |
| 5th | Clint Beresford | ES Calandra |
| 6th | David Boulton | Calais |
CLASS B4: SALE & DISTRICT SHOWJUMPING CLUB: OPEN – 1.00m
| | | |
| --- | --- | --- |
| PLACE | RIDER | HORSE |
| 1st | Bek Carrolan | CP Quigley |
| 2nd | Sally Black | Jeronimo |
| 3rd | Georgia Solomon | Bensons Femme Fatale |
| 4th | Jasmine Reynolds | La Pazz |
| 5th | Emma Wall | Hello Darling |
| 6th | Marion Shears | Wilark Kannangaroo |
CLASS OTT: OFF THE TRACK – 0.90m
| | | |
| --- | --- | --- |
| PLACE | RIDER | HORSE |
| 1st | Megan Vistarini | Harley Quinn |
| 2nd | Grace Perkins | Jambaroo |
| 3rd | Amanda Ross | Romeo F |
| 4th | Clint Kelly | Two Shots |
| 5th | Kate Richards | Aim High |
| 6th | Estelle Landy | Bauhinia Sid |
SATURDAY RESULTS
RING 1
CLASS A5.1: SPORTING LEGENDS: OPEN – 1.15m
| | | |
| --- | --- | --- |
| PLACE | RIDER | HORSE |
| 1st | Clint Beresford | Oaks Chingo |
| 2nd | Clare Anderson | Tulara Congrini |
| 3rd | Damien Kiss | Corocat Extreme |
| 4th | Rhys Hamlyn | Finch Farm Carlton |
| 5th | Wesley Joyce | Cera Ducati |
| 6th | Georgie Siciliano | Honieke |
CLASS A5.2: GUILLOT ENTERPRISES: VICTORIAN COUNTRY JUNIOR CHAMPIONSHIP – 1.15m
| | | |
| --- | --- | --- |
| PLACE | RIDER | HORSE |
| 1st | Joel Lamb | Clasique Andor |
| 2nd | Elissa Stephens | Vertigo |
| 3rd | Tanner Robinson | Vidacious |
| 4th | Kaylee Stephens | Burnside |
| 5th | Joel Lamb | Emcee Holly Go Lightly |
| 6th | Alice Lawrence | Mucho Mucho Deniro |
CLASS A6.1: VOLPAIA PARK: OPEN – 1.25m
| | | |
| --- | --- | --- |
| PLACE | RIDER | HORSE |
| 1st | Brook Dobbin | Devos GP |
| 2nd | Ally Lamb | Glenara Chacco DP |
| 3rd | Jack Barker | Tulara Colchic |
| 4th | Clint Beresford | Oaks Chingo |
| 5th | Clint Beresford | Cera Brisbane |
| 6th | Melissa Backman | Blackall Park Coloe |
CLASS A6.2: ADVIKA PARK: VICTORIAN COUNTRY YOUNG RIDER CHAMPIONSHIP – 1.25m
| | | |
| --- | --- | --- |
| PLACE | RIDER | HORSE |
| 1st | Chase Naylor | Checkbook |
| 2nd | Tilley Fair | Oaks Constantino |
| 3rd | Kendall Richards | Bonita Aurelia |
| 4th | Chase Naylor | Misty Blue Ego Z |
| 5th | Lorna Reilly | Bellhaven Jazz |
| 6th | Ginger Jilly | Diamond B Vancouver |
CLASS A7: GBG CONCRETE & CONSTRUCTION: MINI PRIX – 1.35-1.40m
| | | |
| --- | --- | --- |
| PLACE | RIDER | HORSE |
| 1st | Phillip Lever | BP Jedak Du Rouet |
| 2nd | Clint Beresford | Emmaville Jitterbug |
| 3rd | Frida Lindgren | Van Damme |
| 4th | Phillip Lever | Cammander NZPH |
| 5th | Andrew Lamb | Oaks Ever Red |
| 6th | Courtney Shears | Alina |
CLASS A8: KIERNAN PLANT HIRE: SPEED CHAMPIONSHIP – 1.20m
| | | |
| --- | --- | --- |
| PLACE | RIDER | HORSE |
| 1st | Airlie Robinson | Yalambis Corlandia |
| 2nd | Tanner Robinson | Bringmoore |
| 3rd | Jess Kiernan | Amenadiel |
| 4th | Alice Murray | FP Outlaw |
| 5th | Molly Lawrence | Carabel P |
| 6th | Amanda Ross | Ramirus |
RING 2
CLASS B5: CLINT KELLY EXCAVATIONS: OPEN – 0.75m
| | | |
| --- | --- | --- |
| PLACE | RIDER | HORSE |
| 1st | Grace Perkins | Mansfield Park Matrix |
| 2nd | Portia Di Iorio | Blackall Park Charity |
| 3rd | Ava Harrington | Dunelm Night Show |
| 4th | Gracie Gartung | Blackwood Bo Peep |
| 5th | Skye Orchard | Blackwood Billabong |
| 6th | Gracie Gartung | LV Jimmy Choo |
CLASS B6: COTRELL TRANSPORT: OPEN – 0.85m
| | | |
| --- | --- | --- |
| PLACE | RIDER | HORSE |
| 1st | Xanthe Wade | Lakevale Tarwyn |
| 2nd | Ava Harrington | Miss Demeanor |
| 3rd | Skye Orchard | Blackwood Billabong |
| 4th | Ava Harrington | Razzmatazz |
| 5th | Emma Middleton | WEC In The Swing |
| 6th | Grace Liepa | Castleburn The Merc |
CLASS B7: MOODY RACING: OPEN – 0.95m
| | | |
| --- | --- | --- |
| PLACE | RIDER | HORSE |
| 1st | Emma Middleton | WEC In The Swing |
| 2nd | Xanthe Wade | Lakevale Tarwyn |
| 3rd | Zara Adnams | Dingmac Disco King |
| 4th | Emily Kelly | Bellbird |
| 5th | Sally Black | Jeronimo |
| 6th | Jasmine Reynolds | Natto |
CLASS B8: SALE & DISTRICT SHOWJUMPING CLUB: OPEN – 1.04m
| | | |
| --- | --- | --- |
| PLACE | RIDER | HORSE |
| 1st | Bek Carrolan | CP Quigley |
| 2nd | Clyde Sherajones | Koyuna Izzy |
| 3rd | Zara Adnams | Dingmac Disco King |
| 4th | Cindy Morrison | Morrfield Gloria |
| 5th | Steph Connley | Quintell |
| 6th | Greig Kelly | Royal Chanel |
SUNDAY RESULTS
RING 1
CLASS A9: WELLINGTON LIVESTOCK: 1.15m CHAMPIONSHIP – 1.15m
| | | |
| --- | --- | --- |
| PLACE | RIDER | HORSE |
| 1st | Joel Lamb | Emcee Holly Go Lightly |
| 2nd | Damien Kiss | Corocat Extreme |
| 3rd | Elissa Stephens | Da Vince |
| 4th | Elissa Stephens | Vertigo |
| 5th | Tilley Fair | Bella Bonita |
| 6th | Tanner Robinson | Vidacious |
CLASS A10: LEVER EQUESTRIAN: TALENT SPOTTER (Under 40 points) – 1.25-1.30m
| | | |
| --- | --- | --- |
| PLACE | RIDER | HORSE |
| 1st | Frida Lindgren | Van Damme |
| 2nd | Phillip Lever | Bonita |
| 3rd | Ally Lamb | Glenara Chacco DP |
| 4th | David Middleton | WEC In The Breeze |
| 5th | Brook Dobbin | Devos GP |
| 6th | Jess Kiernan | Amenadiel |
CLASS A11: BROWN WIGG: VICTORIAN COUNTRY SENIOR CHAMPIONSHIP
| | | |
| --- | --- | --- |
| PLACE | RIDER | HORSE |
| 1st | Ally Lamb | Eagle Rock |
| 2nd | Frida Lindgren | Mabobri De Mabribo |
| 3rd | Andrew Lamb | Spartava DP |
| 4th | Brook Dobbin | Gina MVNZ |
| 5th | Frida Lindgren | Ashleigh City Lights |
| 6th | Georgie Siciliano | Gladiator P |
RING 2
CLASS B9: JEREMY FLEMING JEWELLERS: OPEN 0.85m CHAMPIONSHIP – 0.85m
| | | |
| --- | --- | --- |
| PLACE | RIDER | HORSE |
| 1st | Skye Orchard | Blackwood Billabong |
| 2nd | Ava Harrington | Razzmatazz |
| 3rd | Grace Leipa | Castleburn The Merc |
| 4th | Gracie Gartung | Blackwood Bo Peep |
| 5th | Melissa Backman | Davren Park Sadie |
| 6th | Charlie Ross | Shelley |
CLASS B10: TWO HARVS: OPEN 0.95m CHAMPIONSHIP – 0.95m
| | | |
| --- | --- | --- |
| PLACE | RIDER | HORSE |
| 1st | Charley Beecroft | Wonder Flash |
| 2nd | Sally Black | Jeronimo |
| 3rd | Emma Wall | Hello Darling |
| 4th | Harry Gault | Havelock Mistletoe |
| 5th | Zara Adnams | Nicolette |
| 6th | Kate Richards | Aim High |
CLASS B11: VICKI GREIG MEMORIAL OPEN 1.04m CHAMPIONSHIP – 1.04m
| | | |
| --- | --- | --- |
| PLACE | RIDER | HORSE |
| 1st | Bek Carrolan | CP Quigley |
| 2nd | Zoe Waller | Dads Son 18 |
| 3rd | Greig Kelly | Royal Chanel |
| 4th | Steph Connley | Quintell |
| 5th | Samantha Richardson | Cadbury |
| 6th | Kate Beadel | Chunk E |
Results sourced from online.equipe.com
View Comments