After a soggy start GDP Classic is ready for a weekend of Finals.
One Eyed Frog Photography
Above: Zara Adnams and Dingmac Disco King. Photo Credit: One Eyed Frog Photography.
The halfway point in the GDP Classic four-day competition was reached yesterday afternoon when Day 2 competition wrapped up. Being held at the Boneo Park Equestrian centre on the Mornington Peninsula, it would be fair to say that the weather has not been as kind to the competitors as it might have been, however, the competition has continued, despite some classes being moved to preserve the main grass arena.
Advertisement


As we head into a weekend that will be full of exciting finals competition, we thought we would recap the action over the first two days of competition.
In the Premier Floats competition for 4-year-olds, wins in both rounds held so far by Brook Dobbin and Charlotte DP, a mare owned by himself and his wife Angela, have them well placed going into Sunday's final. They are the only combination in the 4-year-old competition yet to take a rail.
The Southern Cross Stables 5-year-old competition looks to be a little more open. The first round on Thursday went to Frida Lindgren and the Lever Equestrian owned mare Wondaree Colleen, before Round 2 was won yesterday by Charlee Dobbin and her mare Sweet Dreams. Amber Fuller and Bickley's Leviosa filled second place in both rounds and is also yet to take a rail, along with Dobbin and Sweet Dreams.
Advertisement


The JPR Equestrian competition for 6-year-olds has had just one round completed with the win going to Clyde Sherajones and his grey gelding Si Si Strike. The second round of this competition will open Saturday's proceedings.
The final of the Childrens competition will also be on Saturday after two rounds so far. In a very open competition, the first round saw a tie between Zara Adnams and Dingmac Disco King and Sienna Holdsworth-Rose and Atlas E, recording identical times in the jump-off on the way to double clear rounds. Round 2 went to Tanner Robinson and Vidacious. Joel Lamb and JB Little Gun have been the consistent combination as they are the only team to finish in the top six more than once with third and fourth placings.
The final of the Strathmerton Drilling Junior Competition will also be held on Saturday after wins in Round 1 to Jack Barker and Tulara Colchic and Round 2 to Tanner Robinson and Shady Creek Snickers. With the top five finishers in each round going clear, there looks to be plenty of contenders for today's final.
Other results include a win in the first round of the Homes and Acreage Amateur competition to Monique Johnstone and Winterwood Banjo, as well as open 1.00m classes going to going to Bek Carolan and That's Not It and Paris Wilkinson and Konquest K. There have been two open 1.10m classes won by Airlie Robinson and Tulara For Quinar and Jordyn Lee Madgwick and Copabella Cashmir. James Paterson-Robinson and Connollys Karuba won Friday's Open 1.25m class.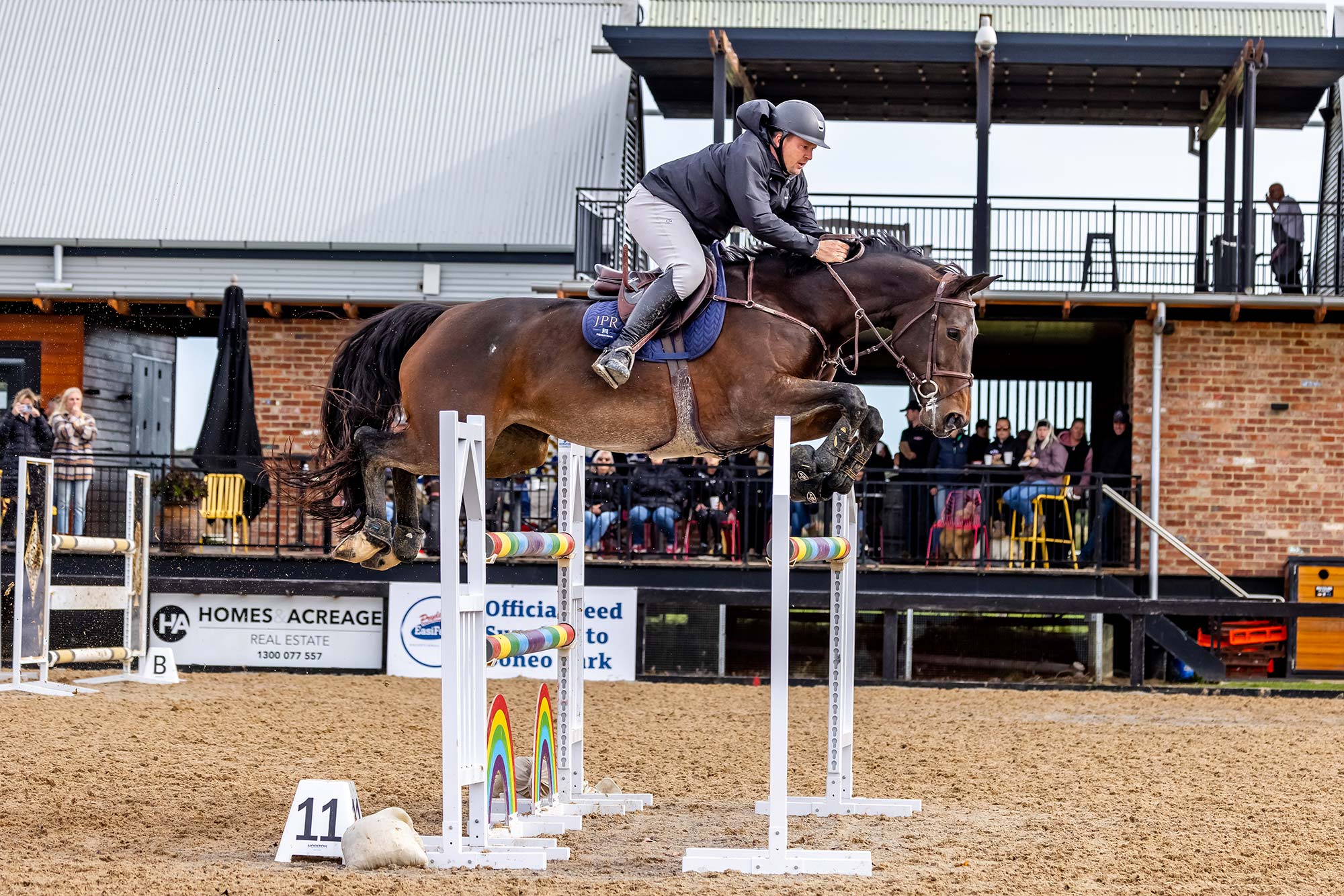 Above: James Paterson-Robinson and Connollys Karuba. Photo credit: OneEyedFrog Photography.
In the Sam Conway sponsored Open 1.30m class, the win went to Russell Morrison and CE Cajun, while on Friday, Phillip Lever and BP Jedak Du Rouet were successful in the Sinclair and Wilson Open 1.35m class.
In the lead up to Sunday's Martin Collins Grand Prix, there have been open classes over 1.40m and 1.45m to allow the aspirants to fine tune their preparations. Having travelled down from Sydney after an ultra-successful Sydney Royal campaign, Tom McDermott and his team have been a dominant force so far. Thursday saw the Amberwood Park 1.40m class won by Tom McDermott and Warraleigh Park Cortez, beating himself and Alpha Activity into second. On Friday in the Lachlan Manuel 1.45m Open, Tom and Warraleigh Park Cortez again led the field a merry chase, for the second day in a row leaving all the rails up to record a fine double clear win with a margin of more than four seconds back to second place.
The weekend program looks to be packed with great jumping, particularly on Sunday, which will see finals of the 4, 5 and 6-year-old competitions, as well as the Mini Prix and Grand Prix. The program will end with the first round of the Stal Tops Australian Young Rider Series.
Good luck to all and congratulations to all the winners and placegetters from the show so far. Placegetters in all classes from days 1 and 2 are listed below.
THURSDAY RESULTS
GDP ARENA – GRASS
CLASS 1A: STRATHMERTON DRILLING- JUNIOR – ROUND 1 – 1.20m
| | | |
| --- | --- | --- |
| PLACE | RIDER | HORSE |
| 1st | Jack Barker | Tulara Colchic |
| 2nd | Charlee Dobbin | Glenshea Riversong |
| 3rd | Tanner Robinson | Magnum MVNZ |
| 4th | Tanner Robinson | Bringmoore |
| 5th | Cecilia Clements | Southern Stars Ferrari |
| 6th | Charlee Dobbin | Yarra Valley Jelly Bean |
CLASS 1B: GAULT FAMILY – 1.20m
| | | |
| --- | --- | --- |
| PLACE | RIDER | HORSE |
| =1st | Jess Rice-Ward | Dusky Farm Cavalier |
| =1st | Teagan Chester | Callista |
| =1st | Megan Joyce | Denison Park Arnie |
| =1st | Phillip Lever | Bonita |
| =1st | Tyrone Latham | Arion Carasun |
| =1st | Sarah McMillan | Texas |
| =1st | Chase Naylor | Check Book |
ARENA 2 – MARTIN COLLINS ARENA
CLASS 4A: PREMIER FLOATS – 4YO – ROUND 1 – 1.00m
| | | |
| --- | --- | --- |
| PLACE | RIDER | HORSE |
| 1st | Brook Dobbin | Charlotte GP |
| 2nd | Sally Black | Jeronimo |
| 3rd | Angela Dobbin | Oaks Empire |
| 4th | Ally Lamb | Diamond B Franklin |
| 5th | Zoe Waller | Rasta D |
| 6th | Amanda Leyshan | Viva Glenara Caralline |
CLASS 4B: OPEN – 1.00m
| | | |
| --- | --- | --- |
| PLACE | RIDER | HORSE |
| 1st | Bek Carrolan | That's Not It |
| 2nd | Georgia Soloman | Dynamite Bay |
| 3rd | Sarah Duggan | Falcon Island |
| 4th | Jane Powell | Smooch |
| 5th | Teagan Chester | Quinrose |
| 6th | Alexandra Melville | Da Nuissance |
CLASS 4C: KWA CHILDRENS SERIES – ROUND 1 – 1.00m
| | | |
| --- | --- | --- |
| PLACE | RIDER | HORSE |
| =1st | Zara Adnams | Dingmac Disco King |
| =1st | Sienna Holdsworth-Rose | Atlas E |
| 3rd | Joel Lamb | JB Little Gun |
| 4th | Zara Adnams | Tally Ho Primrose |
| 5th | Sienna Holdsworth-Rose | Coolart Farm Short Torque |
| 6th | Lucy Borrack | Mighty Tosca |
CLASS 6: JPR EQUESTRIAN – 6YO – ROUND 1 – 1.10m
| | | |
| --- | --- | --- |
| PLACE | RIDER | HORSE |
| 1st | Clyde Sherajones | Si Si Strike |
| 2nd | Sam Conway | Karlotta DP |
| 3rd | Brooke Hickey | Tulara Flare |
| 4th | Chloe Hughes | Christalou |
| 5th | Paul Brent | Chloe Portrait |
| 6th | Brook Dobbin | Devos GP |
CLASS 2: SAM CONWAY – 1.30m
| | | |
| --- | --- | --- |
| PLACE | RIDER | HORSE |
| 1st | Russell Morrison | CE Cajun |
| 2nd | Russel Morrison | GP Quigley |
| 3rd | Andrew Lamb | Spartava DP |
| 4th | Jess Stones | PPP Seductor |
| 5th | Clem Hughes | Diamond B Corvina |
| 6th | Frida Lindgren | Big Dream Z |
CLASS 3: AMBERWOOD PARK – 1.40m
| | | |
| --- | --- | --- |
| PLACE | RIDER | HORSE |
| 1st | Tom McDermott | Warraleigh Park Cortez |
| 2nd | Tom McDermott | Alpha Activity |
| 3rd | Brook Dobbin | Gina MVNZ |
| 4th | Rhys Stones | Othelo MVNZ |
| 5th | Tom McDermott | Cachassini II |
| 6th | Robert Palm | Koko Story |
ARENA 3 – FIBRE
CLASS 5A: SOUTHERN CROSS STABLES – 5YO – ROUND 1 – 1.10m
| | | |
| --- | --- | --- |
| PLACE | RIDER | HORSE |
| 1st | Frida Lindgren | Wondaree Colleen |
| 2nd | Amber Fuller | Bickley's Leviosa |
| 3rd | Charlee Dobbin | Sweet Dreams |
| 4th | Adelyn Fallon | Carousel |
| 5th | Jess Brown | Oaks Sierra |
| 6th | Jamie Winning-Kermond | Yandoo Providence |
CLASS 5B: OPEN – 1.10m
| | | |
| --- | --- | --- |
| PLACE | RIDER | HORSE |
| 1st | Airlie Robinson | Tulara For Quinar |
| 2nd | Ally Wake | Glenwood Park Catie |
| 3rd | Max Height | Snow Valour |
| 4th | Vanessa Weir | Jaybee Artiste B |
| 5th | Mia McNaught | Tulara Forpaccio |
| 6th | Stuart Brennan | SV Little Lady |
FRIDAY RESULTS
ARENA 1 – MARTIN COLLINS ARENA
CLASS 7: SPOOKS – CHILDRENS ROUND 2 – 1.00m
| | | |
| --- | --- | --- |
| PLACE | RIDER | HORSE |
| 1st | Tanner Robinson | Vidacious |
| 2nd | Imogen Lindh | Blackall Park Koraleigh |
| 3rd | Tanner Robinson | Cracker |
| 4th | Joel Lamb | JB Little Gun |
| 5th | Lucy Borrack | Might Tosca |
| 6th | Kaylee Stephens | LH Beckham |
CLASS 8: OPEN – 1.25m
| | | |
| --- | --- | --- |
| PLACE | RIDER | HORSE |
| 1st | James Paterson-Robinson | Connollys Karuba |
| 2nd | James Paterson-Robinson | Diamond B Baton Rouge |
| 3rd | Andrew Lamb | Janory DP |
| 4th | Phillip Lever | Bonita |
| 5th | Frida Lindgren | Velvet Cate |
| 6th | Rod McQueen | Yirrkala Chester |
CLASS 9: SINCLAIR AND WILSON – OPEN – 1.35m
| | | |
| --- | --- | --- |
| PLACE | RIDER | HORSE |
| 1st | Phillip Lever | BP Jedak Du Rouet |
| 2nd | Amelia Douglass | Sirius Du Granit |
| 3rd | Max Height | Castlederg |
| 4th | Frida Lindgren | Big Dream Z |
| 5th | Tom McDermott | YPH Capulet |
| 6th | Tom McDermott | Cooley Gangster |
CLASS 10: LACHLAN MANUEL – OPEN – 1.45m
| | | |
| --- | --- | --- |
| PLACE | RIDER | HORSE |
| 1st | Tom McDermott | Warraleigh Park Cortez |
| 2nd | Robert Palm | Koko Story |
| 3rd | Robert Palm | Jaybee Vibrant |
| 4th | Amelia Douglass | Upper Class Z |
| 5th | Amber Fuller | Nopal Van Tallaert |
| 6th | Will Dight | Thea |
ARENA 2 – GDP ARENA FIBRE
CLASS 11A: PREMIER FLOATS – 4YO – ROUND 2 – 1.00m
| | | |
| --- | --- | --- |
| PLACE | RIDER | HORSE |
| 1st | Brook Dobbin | Charlotte GP |
| 2nd | Angela Dobbin | Oaks Empire |
| 3rd | Ally Lamb | Diamond B Franklin |
| 4th | Amanda Leyshan | Viva Glenara Caralline |
| 5th | Zoe Waller | Rasta D |
| 6th | Seamus Marwood | Born To Be Wild |
CLASS 11B: OPEN – 1.00m
| | | |
| --- | --- | --- |
| PLACE | RIDER | HORSE |
| 1st | Paris Wilkinson | Konquest K |
| 2nd | Georgia Soloman | Dynamite Bay |
| 3rd | Zoe Waller | Kanfly GHP |
| 4th | Bek Carrolan | That's Not It |
| 5th | Mathew Chase | Nows The Time |
| 6th | Emma Mantello | Noblewook Park Contendra |
CLASS 12: STRATHMERTON DRILLING- JUNIOR – ROUND 2 – 1.20m
| | | |
| --- | --- | --- |
| PLACE | RIDER | HORSE |
| 1st | Tanner Robinson | Shady Creek Snickers |
| 2nd | Tilley Fair | Bella Bonita |
| 3rd | Jack Barker | Tulara Colchic |
| 4th | Tanner Robinson | Bringmoore |
| 5th | Cecilia Clements | Southern Stars Ferrari |
| 6th | Tansy Sagar | Helsinki |
CLASS 13A: SOUTHERN CROSS STABLES – 5YO – ROUND 2 – 1.10m
| | | |
| --- | --- | --- |
| PLACE | RIDER | HORSE |
| 1st | Charlee Dobbin | Sweet Dreams |
| 2nd | Amber Fuller | Bickley's Leviosa |
| 3rd | Jess Rice-Ward | Al Fonso |
| 4th | Adelyn Fallon | Carousel |
| 5th | Jess Brown | Oaks Sierra |
| 6th | Anthony March | Desert Sands Kapow |
CLASS 13B: OPEN – 1.10m
| | | |
| --- | --- | --- |
| PLACE | RIDER | HORSE |
| 1st | Jordyn Lee Madgwick | Copabella Cashmir |
| 2nd | Jane Powell | Dynamite |
| 3rd | Teagan Chester | Quinrose |
| 4th | Megan Joyce | Sadie Greig |
| 5th | Kate Beadel | Flex E |
| 6th | Alyssa Ho | Cha Ching BE |
CLASS 13C: HOMES AND ACREAGE – AMATEUR – ROUND 1 – 1.10m
| | | |
| --- | --- | --- |
| PLACE | RIDER | HORSE |
| 1st | Monique Johnstone | Winterwood Banjo |
| 2nd | Cindy Morrison | Chatham Park Richard |
| 3rd | Sarah Moody | Cavalier Cudos |
| 4th | Jessica Grant | For Fly Heldenlaan Z |
| 5th | Andrew Long | Hidden Option |
| 6th | Sarah Moody | Bellhave Chicago |
Results sourced from online.equipe.com
View Comments