Aquis Champions Tour Results after Day 1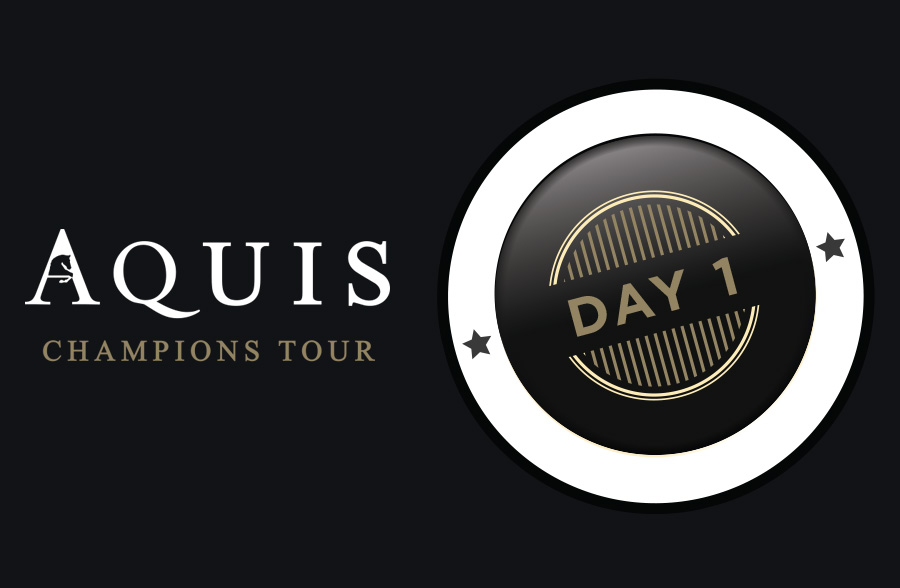 AUSTRALIAN JUMPING
START LIST – The draws for all arenas can found HERE
LIVE RESULTS  from the Greg Grant Saddlery Arena can be found HERE
---
DAY 1 – FRIDAY 27thAPRIL
Congratulations to the team at Elysian Fields for once again bringing together all the elements that make up a wonderful show.
The first day of competition kicked off the Aquis Champions tour in style.
The Greg Grant Arena showcased the Embrook Stables 1.25m height class (For horses with less than 40 points) and the 1.35m class, these classes were heavily contested with over 185 riders competing in these two classes alone. The 1.25m height class was taken out by Olivia Hamood on Alan 111Z closely followed by Paula Hamood riding Dada Des Brimbelles Z. The 1.35m Class was won by Ron Easey on Port O Call with Stephen Dingwall taking second place on Cavalier Du Rouet.
Over in the Fiber Fresh Arena, the Junior riders, Amateur, Progressive and Super Junior Riders shone around an exciting course and really showcased the up and coming riders in the sport.
There were also large numbers across rings 3 & 4 with competitors tackling courses from 80cms right through to 1.25m.
Congratulations to all the place-getters from Day 1 – keep up the great work!
Results from Day 1 are as follows:
GREG GRANT SADDLERY ARENA
Class 1.01a EMBROOK STABLES 1.25m Height Class (for horses with less than 40 points)
| | | |
| --- | --- | --- |
| PLACE | RIDER NAME | HORSE NAME |
| 1st | Olivia Hamood | Alan III Z |
| 2nd | Paula Hamood | Dada des Brimbelles |
| 3rd | David Goodwin | Benson's Femme Fatale |
| 4th | Sam Overton | Oaks Casanova |
| 5th | Paula Hamood | Knock Out III |
| 6th | Patrick Everingham | Bellhaven Catani |
Class 1.01b 1.25m Open Height Class
| | | |
| --- | --- | --- |
| PLACE | RIDER NAME | HORSE NAME |
| 1st | Brooke Langbecker | Flowervale Diamond |
| 2nd | Kerry Langbecker | Phantom Vortex |
| 3rd | Jess Stones | Chatina JRE |
| 4th | Anthony Murray | Murray Equine Bizarre |
| 5th | Elliott Reeves | Connie |
| 6th | Gemma Creighton | Its Silkbridge  |
Class 1.02 1.35m Height Class
| | | |
| --- | --- | --- |
| PLACE | RIDER NAME | HORSE NAME |
| 1st | Ron Easey | Port O Call |
| 2nd | Stephen Dingwall | Cavalier du Rouet |
| 3rd | Rhys Stones | Tulara Colmar |
| 4th | Olivia Hamood | Carado GHP |
| 5th | Matthew Afford | Kaluna Salute |
| 6th | Tom Tarver-Priebe | Popeye |
FIBER FRESH ARENA
Class1.03a HAWKESBURY RIVER SADDLE COMPANY 1.10m Junior
| | | |
| --- | --- | --- |
| PLACE | RIDER NAME | HORSE NAME |
| 1st | Bree Wiblen | Holmwood Flare |
| 2nd | Madeline Sinderberry | JT Valentina |
| 3rd | Madeline Sinderberry | VL Deja Vu |
| 4th | Madison Cicala | Somersby Park Carrassino |
| 5th | Grace Fuchsbichler | Devereaux Sea Salt |
| 6th | Bronte Hutchinson | Pollyanna |
Class 1.03b 1.10m Amateur
| | | |
| --- | --- | --- |
| PLACE | RIDER NAME | HORSE NAME |
| 1st | Holly Penfold | Gold King |
| 2nd | Elizabeth Koob | Lady Vivacious |
| 3rd | Morgan Daniel | Aladino |
| 4th | Hollie Spence | Bolong Park Ego Cyrano |
| 5th | Maria Doricht | Esscort Dominator |
| 6th | Johanna Barnes | Quick As Air |
Class 1.04a 1.15-1.20m Progressive Rider
| | | |
| --- | --- | --- |
| PLACE | RIDER NAME | HORSE NAME |
| 1st | Krissy Harris | HPS Minou |
| 2nd | Belinda Torrens | Johnny B Good |
| 3rd | Gail Hellier | BP Ringo Starr |
| 4th | Nathan Carswell | Master Footloose |
| 5th | Eva Rassmussen | Devil Wears Prada |
| 6th | Shannon Bates | Full Tilt |
Class 1.04b 1.15-1.20m Super Junior
| | | |
| --- | --- | --- |
| PLACE | RIDER NAME | HORSE NAME |
| 1st | Millie Fisher | Yandoo Pasadena |
| 2nd | Sally Simmonds | Oaks Chifley |
| 3rd | Lucie Aldridge | Ollie Olae |
| 4th | Sophia Carlon | Renovator |
| 5th | Maleah Lang-McMahon | KS Eric |
| 6th | Sam Watson | Monty Who |
RING 3
Class 1.05 80cm Height Class
| | | |
| --- | --- | --- |
| PLACE | RIDER NAME | HORSE NAME |
| 1st | Elkee Lang-McMahon | KS Pepper |
| 2nd | Charlee Dobbin | Lady of Diamonds |
| 3rd | Talia Pearce | Glenelgs Hand Painted |
| 4th | Brianna Lutwyche | Lyngara Fontana |
| 5th | Emily Stewart | Apache Walk |
Class 1.06 90cm Height Class
| | | |
| --- | --- | --- |
| PLACE | RIDER NAME | HORSE NAME |
| 1st | Kathy Ward | Nimcerto |
| 2nd | Elkee Lang-McMahon | KS Pepper |
| 3rd | Tahli Hendler | Flowervale Maserati |
| 4th | Brianna Lutwyche | Lyngara Fontana |
| 5th | Karen Higgins | Magnum Starblaze |
Class 1.07 100cm Height Class
| | | |
| --- | --- | --- |
| PLACE | RIDER NAME | HORSE NAME |
| 1st | Jasmine Holland | Tornado |
| 2nd | Marliese Schippani | Sharaton |
| 3rd | Kathy Ward | Nimcerto |
| 4th | Kayla Hogg | Alcheringa Tradition |
| 5th | Ellie Harvey | Knickers in a Twist |
RING 4
Class 1.08 1.10m Height Class (for horses with less than 16pts)
| | | |
| --- | --- | --- |
| PLACE | RIDER NAME | HORSE NAME |
| 1st | Emily Bradford | Laurelglen EC Garnet |
| 2nd | Mattea Davidson | Channelled |
| 3rd | Kirstie Ansell | Vakarra Cayadero |
| 4th | Emma Smith | Emma Smith Emma Peel |
| 5th | Sam Williams | Sam Williams Osprey |
| 6th | Sam Williams | Sam Williams Yandoo Pennsylvania |
Class 1.09 1.15m Height Class (for horses with less than 20pts)
| | | |
| --- | --- | --- |
| PLACE | RIDER NAME | HORSE NAME |
| 1st | James Arkins | Lemondale Bewitched |
| 2nd | Jamie Raymont | Bewitched |
| 3rd | Rhys Stones | Riverton Rose Royale |
| 4th | Holly Penfold | Just Dutch |
| 5th | Samantha Dernee | KWL Lady Gaga |
| 6th | Olivia Hamood | Sundance GHP |
View Comments