Aussies are brilliant on Day 1 of World Championships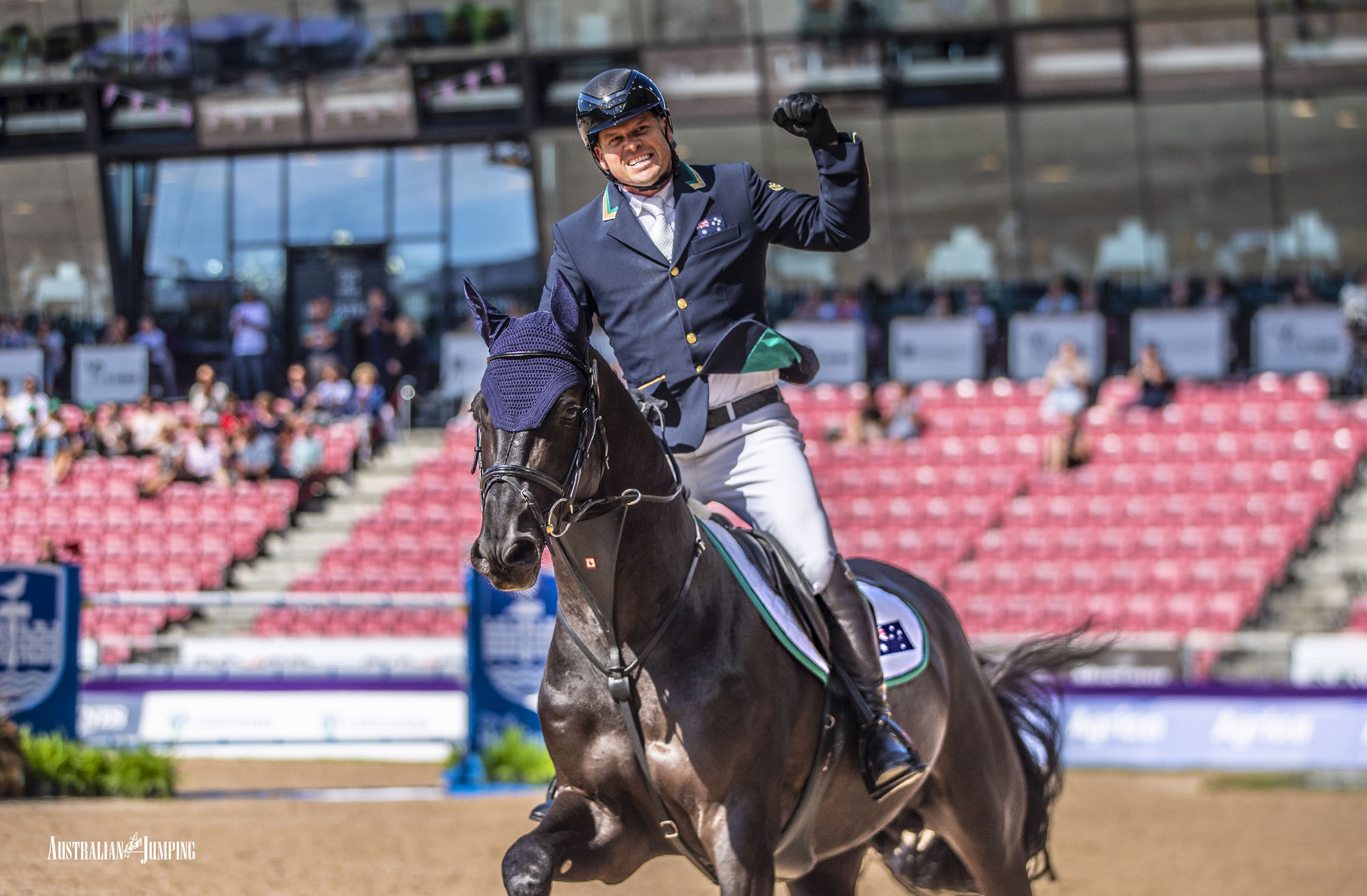 Australian Jumping
Above: Billy Raymont and Black Jack IXE.
It was four long years ago, in Tryon in North Carolina, that four Aussies did us proud by finishing in sixth place in the World Championships Jumping Teams Event. Much has changed in the world over those four years, but one thing that has remained unwavering is the fighting spirit of the Australian Jumping Team. Only one of the heroic four from Tryon is back to represent us in Herning in 2022, namely, Queensland's own Billy Raymont. This time, he is joined by Canadian-based dual Olympian Katie Laurie, European-based Hilary Scott and Australian-based James Arkins.
Advertisement


With a massive start list of 103 combinations, it was always going to be difficult to stand out at the head of the field, however, the Australian combinations all rode fantastically.
We didn't have to wait long in the start list to see the first of our combinations, Billy Raymont and 11-year stallion, Black Jack IXE. The pair had a tremendous round and if there were nerves, they certainly did not show. They had a clear round in a steady time of 88.34 seconds, which was enough, although, after just five combinations, to slot into second place. After the round, Raymont described their performance as a "fantastic start" and that they were not at Herning to "make up the numbers". He also explained how he has focussed the horse on Herning, having competed in just one show over the past eight weeks. Billy said the horse felt "amazing" and "absolutely perfect". He described the course as a "nice one, that didn't require thinking about too much as there were few options to consider and was looking forward to relaxing now and watching the rest of the team."

Above: Billy Raymont and Black Jack IXE.
The second Australian combination on course in 30th place on the draw were Katie Laurie and the 11-year-old gelding she owns, Django II. By now, Billy and 'Black Jack' had drifted down the leaderboard to a still very creditable 12th position, which gave Laurie the chance to re-establish the Australians near the top of the table. They completed the course just a little quicker than Raymont and Black Jack did, recording a raw time of 85.40 seconds, however a rail down saw a time of 89.40 seconds recorded, placing them in 15th position, exactly half way down the leader board to date. After the round Laurie said Django II was "not a naturally fast horse, so they needed to minimise the number of strides around the course." She was very happy with the way he went, and that he used to be a bit of a "problem child" as a young horse, but he has grown into a wonderful competitor.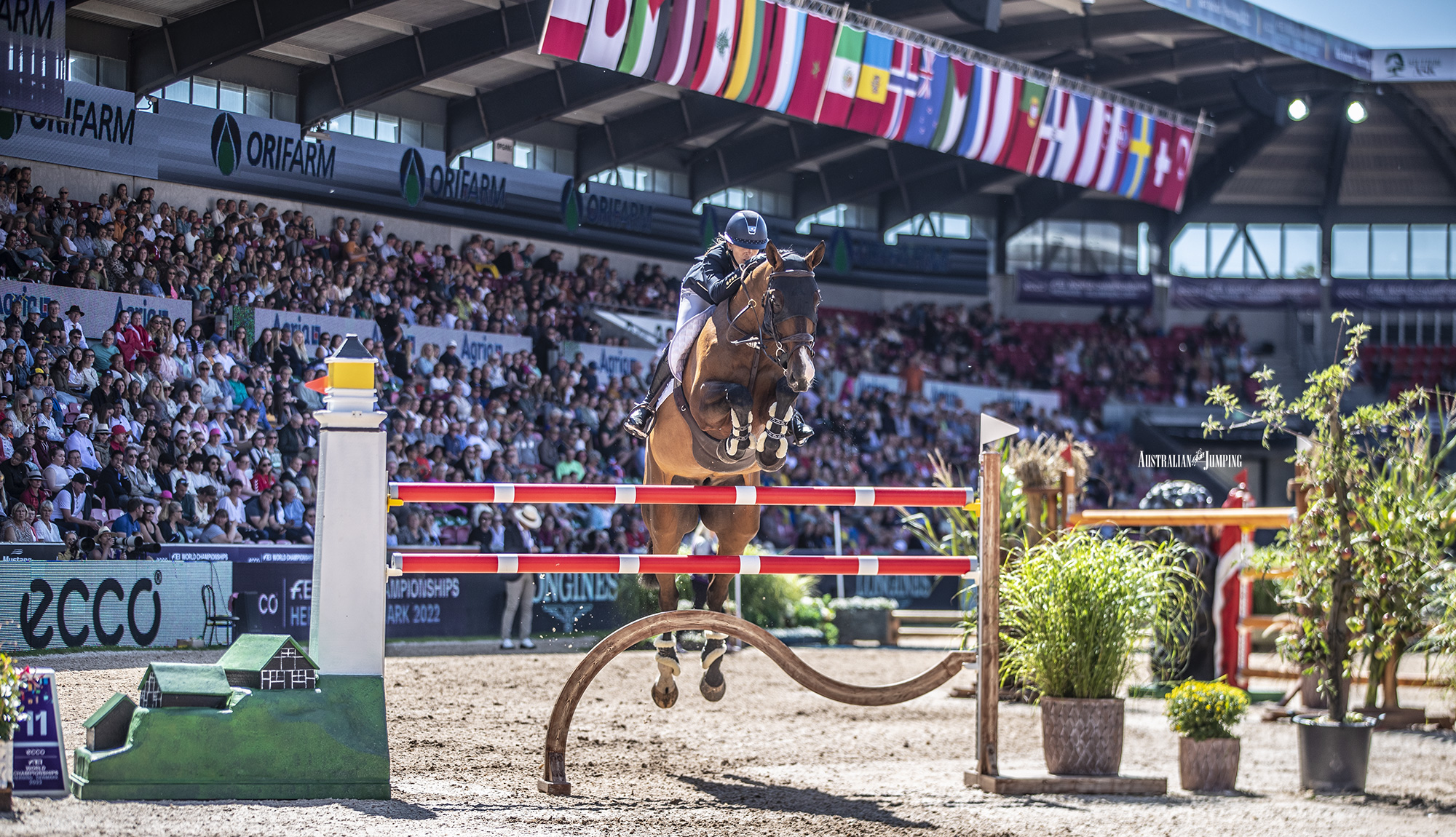 Above: Katie Laurie and Django II
Out at number 59 in the draw were James Arkins and the stallion he part owns, Eurostar 1. They attacked the course and finished in a very fast time of just 82.50 seconds, which as a raw score, would have been enough to slot into second place at this point in the day. However, after 8 seconds were added for the two late rails down, they finished on 90.50 seconds, which saw them into 37th, just four places behind Katie Laurie and a further nine behind Billy Raymont, who was now in 24th place. He said 'Euro felt fantastic and he surprised himself how fast he was' and they are "looking forward to the Nations Cup tomorrow".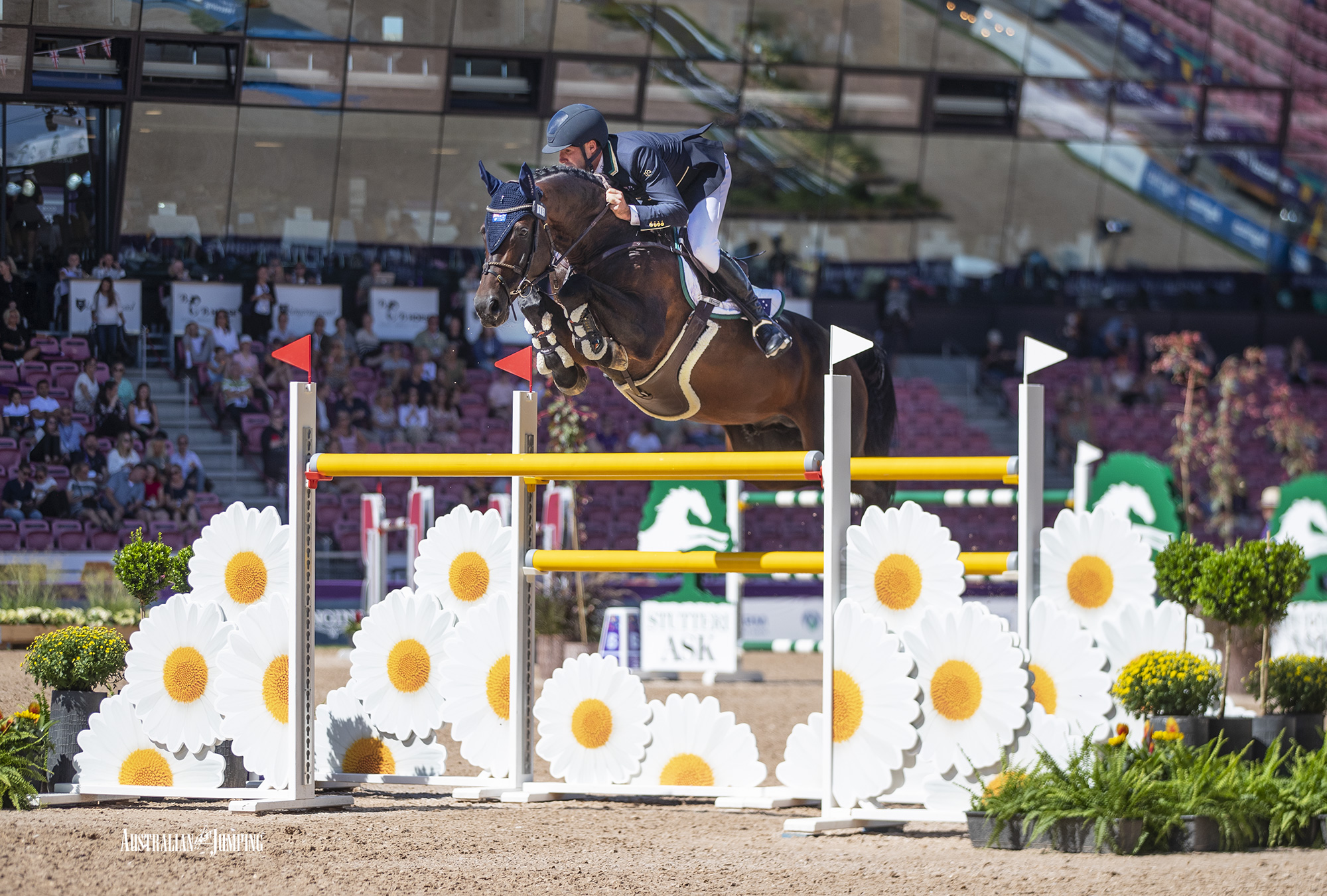 Above: James Arkins and Eurostar 1
Advertisement


Our anchor combination, out 86th in the start order, were Hilary Scott and the 15-year-old mare Oaks Milky Way, who had a brilliant clear round. While the time was not exceptionally fast, 89.30 seconds was enough to put them in 43rd place, with just 17 combinations to come.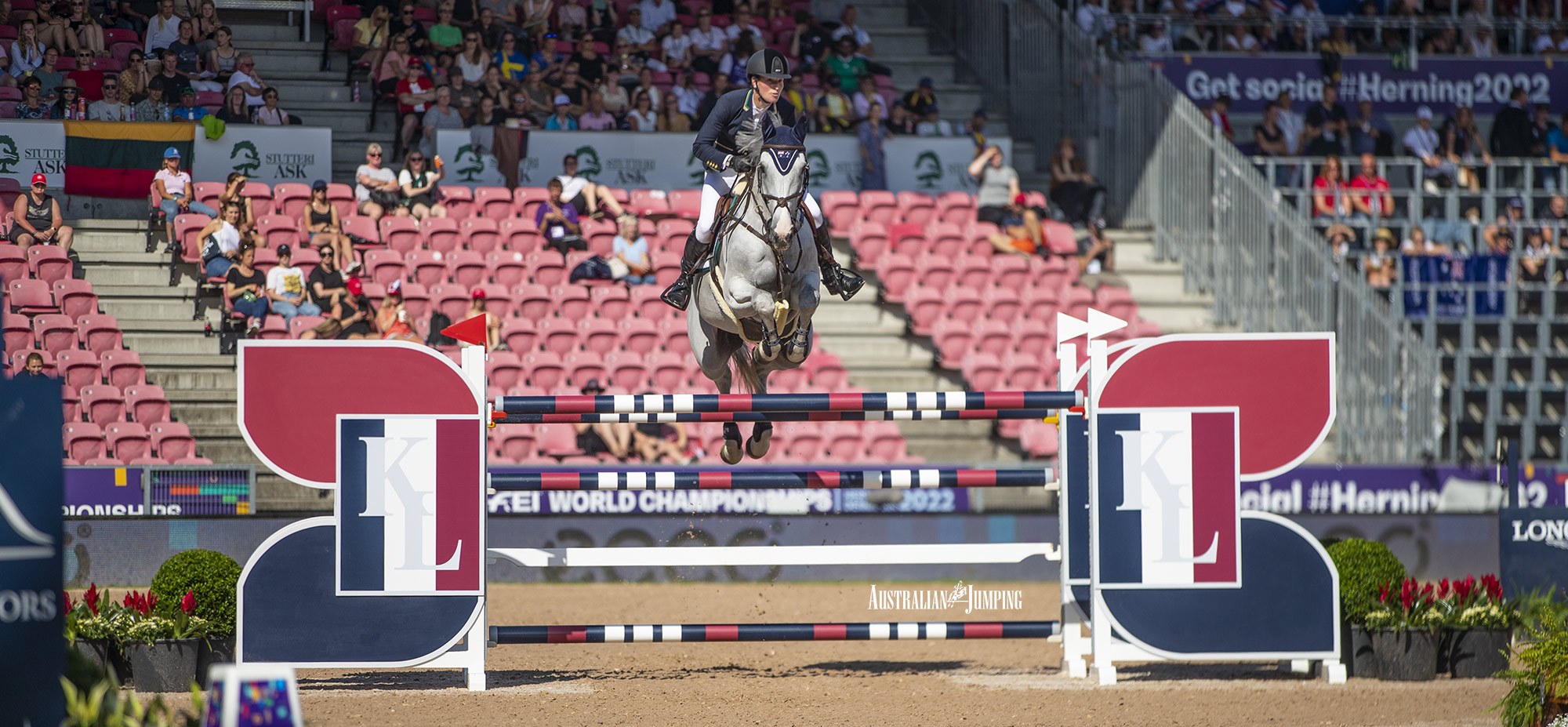 Above: Hilary Scott and Oaks Milky Way
When the dust settled at the end of the class, the Australians, as individuals, were left in the following positions.
| | | | | |
| --- | --- | --- | --- | --- |
| Place | Rider | Horse | Score | Calculated Faults* |
| 43rd | Billy Raymont | Black Jack IXE | 88.34 | 4.63 |
| 55th | Hilary Scott | Oaks Milky Way | 89.30 | 5.11 |
| 57th | Katie Laurie | Django II | 89.40 | 5.16 |
| 62nd | James Arkins | Eurostar 1 | 90.50 | 5.71 |
*this is the score which each rider will carry forward into the rest of the competition, based on their margin from the leader.
We have all four combinations going into Day 2 competition tomorrow, just over a rail behind the current competition leader, Frenchman Julien Epaillard and Caracole de la Roque, who is the only combination starting tomorrow on zero.
It was a very consistent performance by the Australians, with just a little over two seconds separating them. As a team, where the top three scores from each country count, our total, after the first competition today sits on 267.04, which places us in 15th position, behind some of the bigger names in the Jumping World.
| | | |
| --- | --- | --- |
| Place | Country | Score |
| 1st | Sweden | 244.61 |
| 2nd | France | 248.10 |
| 3rd | Belgium | 248.21 |
| 15th | Australia | 267.04 |
It was a fantastic start to the World Championships for the Australians. We have our fingers crossed that one or more of our team produce something extraordinary tomorrow to challenge the top of the leaderboards. In any case, the team will be aiming to sneak into the top 10 on the teams standing tomorrow, with a view to making the teams final on Friday. Currently 10th position is held by Italy with a score of 256.75, so the Aussies have a bit of ground to make up.
We know they will be having a red-hot go and that all of Australia will be behind them!
View Comments