Rowan Willis and Everse W finish on high note at Tryon Spring 4 CSI 3*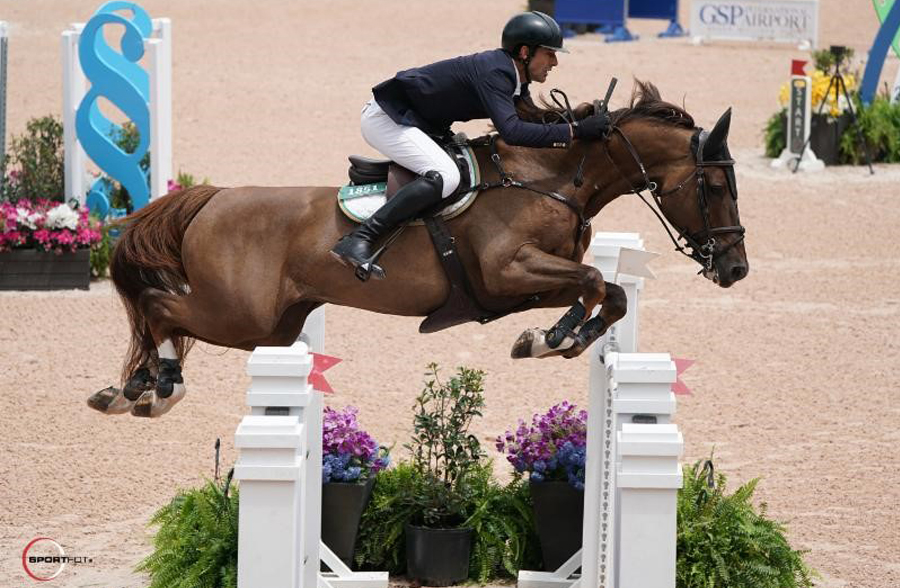 Sport FQT
Source: Tryon International Equestrian Centre
The Tryon Spring 4 competition concluded Sunday at Tryon International Equestrian Center (TIEC) with a win for Australia's Rowan Willis aboard Everse W in the $35,000 1.45m Sunday Classic CSI 3*, stopping the short-course timers in 40.162 seconds. Daniel Bedoya (BOL) claimed second place honors with Carolyn M. Elsey's 2004 Zangersheide mare, Quilona V Z (Quasimodo Z x Nimmerdor), clearing the course in 41.6 seconds, while Deborah Stephens (USA) rode Cairo B, a 2007 Dutch Warmblood gelding (Vermont x Mr. Blue) owned by Centennial Farm Inc., to third place after their 41.865-second performance on the short track.
Willis and Dinah Posford's 2009 Dutch Warmblood gelding (Lexicon x Carthago) were last to go after 16 entries toured the first round and six pairs returned to test the short track. Willis also achieved eighth place aboard his own Shark, a 2008 Anglo European Sport Horse gelding (Arko x Pilot), after a speedy four-fault first round.
"The course was strong enough, actually, and it rode how it walked for me," Willis said of the track set by Hector Loyola (PRI). "I thought it was going to be a little bit easier being a 1.45 meter on Sunday, but [Hector] builds a tough, but nice course. It was a competitive enough jump-off. I was lucky to go last because Everse W has been drawn first all week, so that was nice. When you let him off and go fast he's got such a big stride and just covers the ground easily."
Entering today's class with two mounts that also tested the $70,000 Spy Coast Farm Grand Prix CSI 3* Saturday night was a last-minute, but fruitful decision, Willis explained, as he was hoping to improve his rides on both mounts before leaving the venue.
"I'm off to Spruce Meadows next. I was actually going to start driving there today, but after I didn't ride so well in the Grand Prix last night, I thought we had to stay and jump today," said Willis of his two mounts Everse W and Shark.
Willis has been named to the Short List for the Australian Jumping Team ahead of the FEI World Equestrian Games™ Tryon 2018 (WEG) hosted at TIEC September 11-23, 2018, and while he's not aiming Everse W at the Games, Willis commented that his first experience as a competitor at the venue was positive, and he hopes to carry this momentum forward.
"It's a great facility. I've been very impressed," he emphasized. "It's lovely, and I'm really excited about coming back in September. [Everse W] is a great horse, but I'm not aiming him at this WEG since he's only nine. I've got my older one Blue Movie here that I'm hoping to bring back. Maybe [Everse W] for the next one!"
Everse W started off Eventing before Willis acquired the ride for owner Dinah Posford and plans to continue building the gelding's experience at Spruce Meadows as he prepares for potential WEG contention, he noted. "Hopefully next time I'm back here I'll be winning, too!"
For full results from the $35,000 1.45m Sunday Classic CSI 3* CLICK HERE.
View Comments