Billy Raymont and 'Anton' star in Shepparton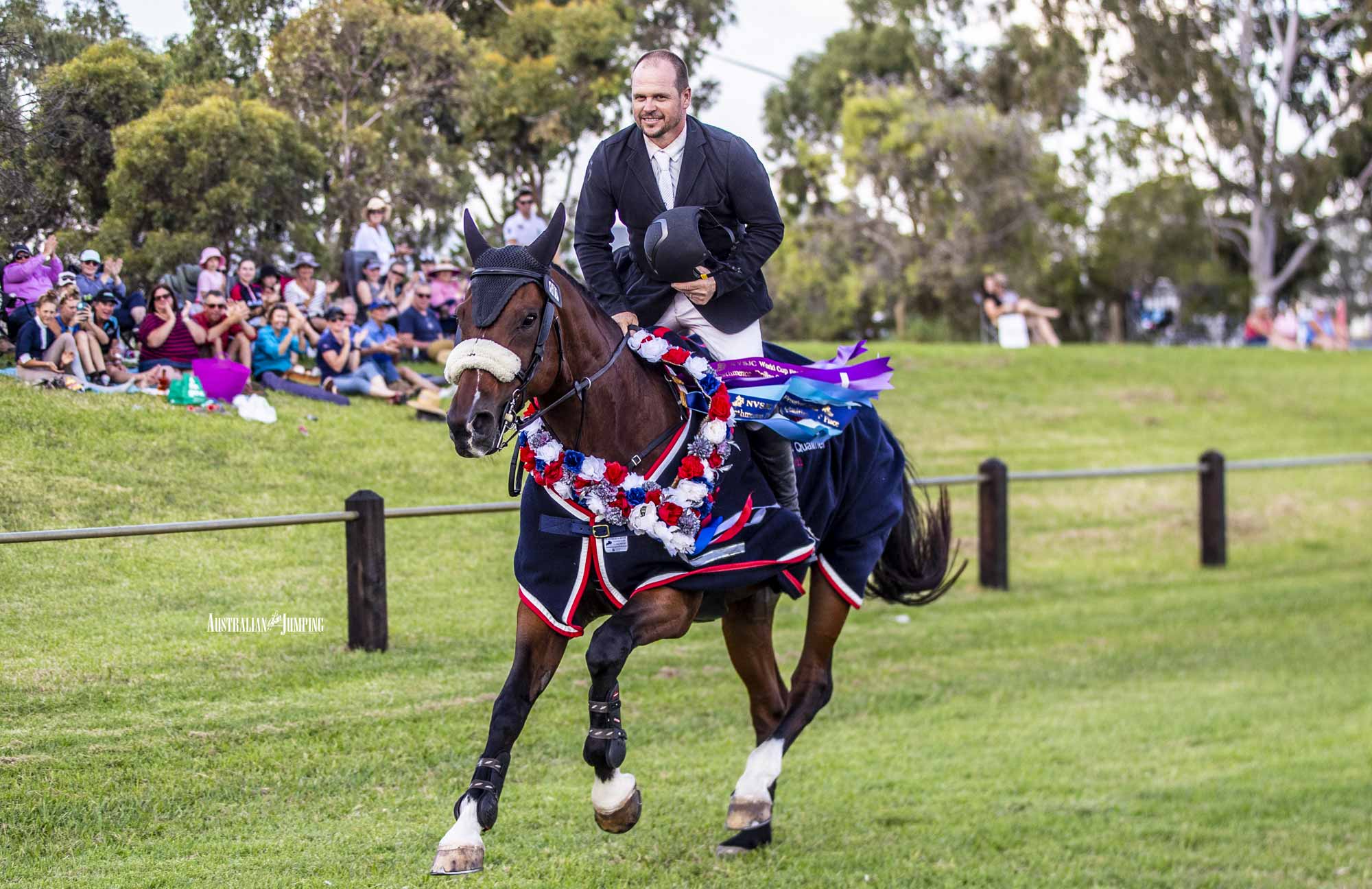 Australian Jumping
The first of 10 rounds in the Australian 2022 FEI World Cup Qualifying season was held this afternoon in Shepparton, Victoria, at the grounds of the Northern Victorian Show Jumping Club (NVSJC). Having not held a World Cup competition for a number of years, there was much excitement about being back at these wonderful grounds for such an important event.
Advertisement


Sponsored by Strathmerton Drilling, a large crowd assembled to watch an exciting and highly-skilled competition, held under sunny skies in warm conditions.
A total of 24 combinations, lined up to tackle the David Sheppard designed course and of these, five were able to record a clear first round, the fastest of which was by Billy Raymont and the majestic looking stallion Black Jack IXE.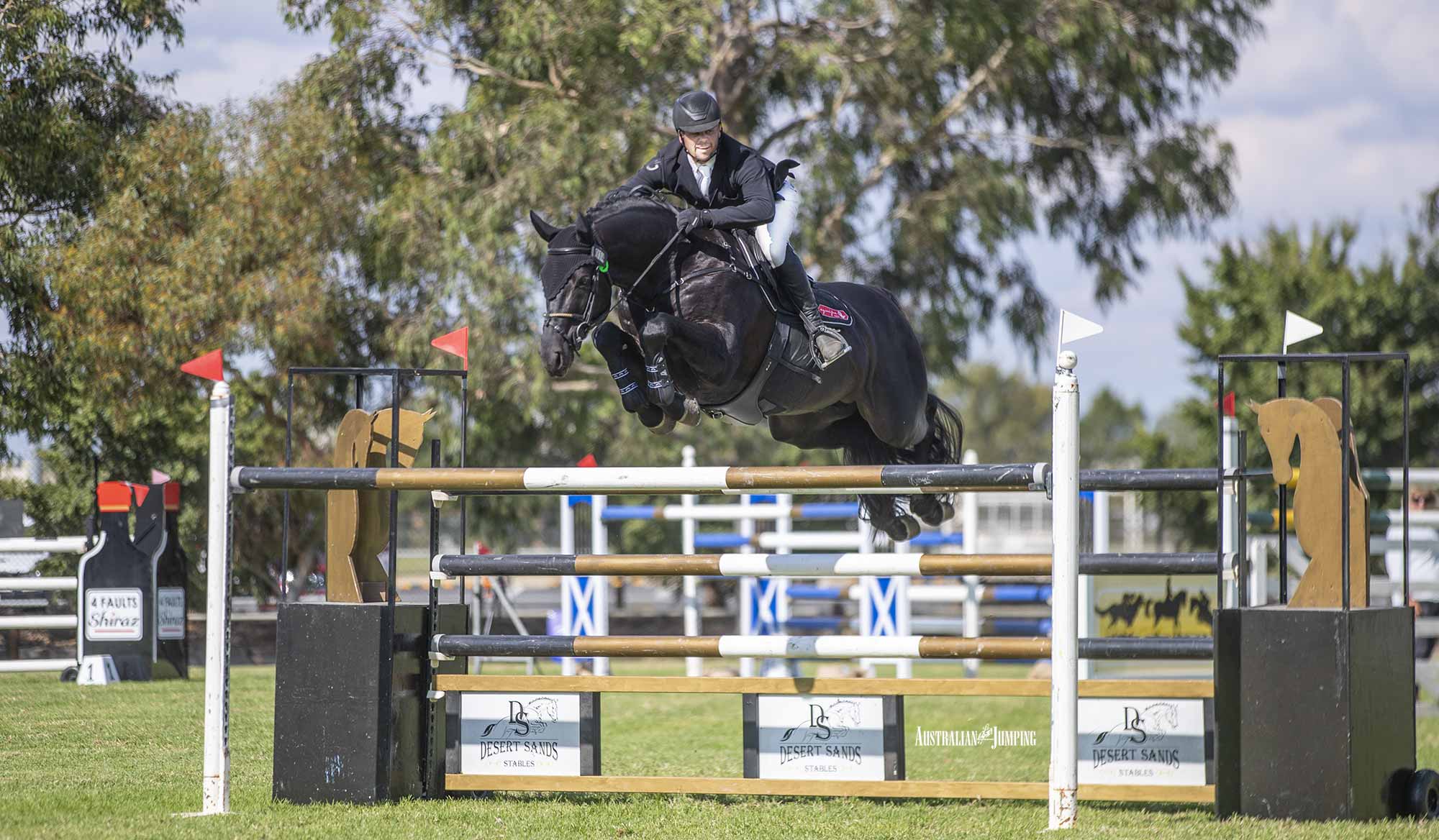 Billy Raymont and Black Jack IXE
Under the rules of World Cup Qualifiers, the judges invited back the top 12 first round combinations to contest a second round. Those invited back included the five clear round combinations, the five four-faulters, as well as two other combinations, who had incurred five and seven faults. With penalties incurred in the first round carrying forward, this pair were at an obvious disadvantage and would need a lot to go their way to feature on the podium.
The second round was highlighted by an extraordinary quality of jumping, where only three of the 12 combinations incurred any further penalties, which meant that round 2 course completion times became critical.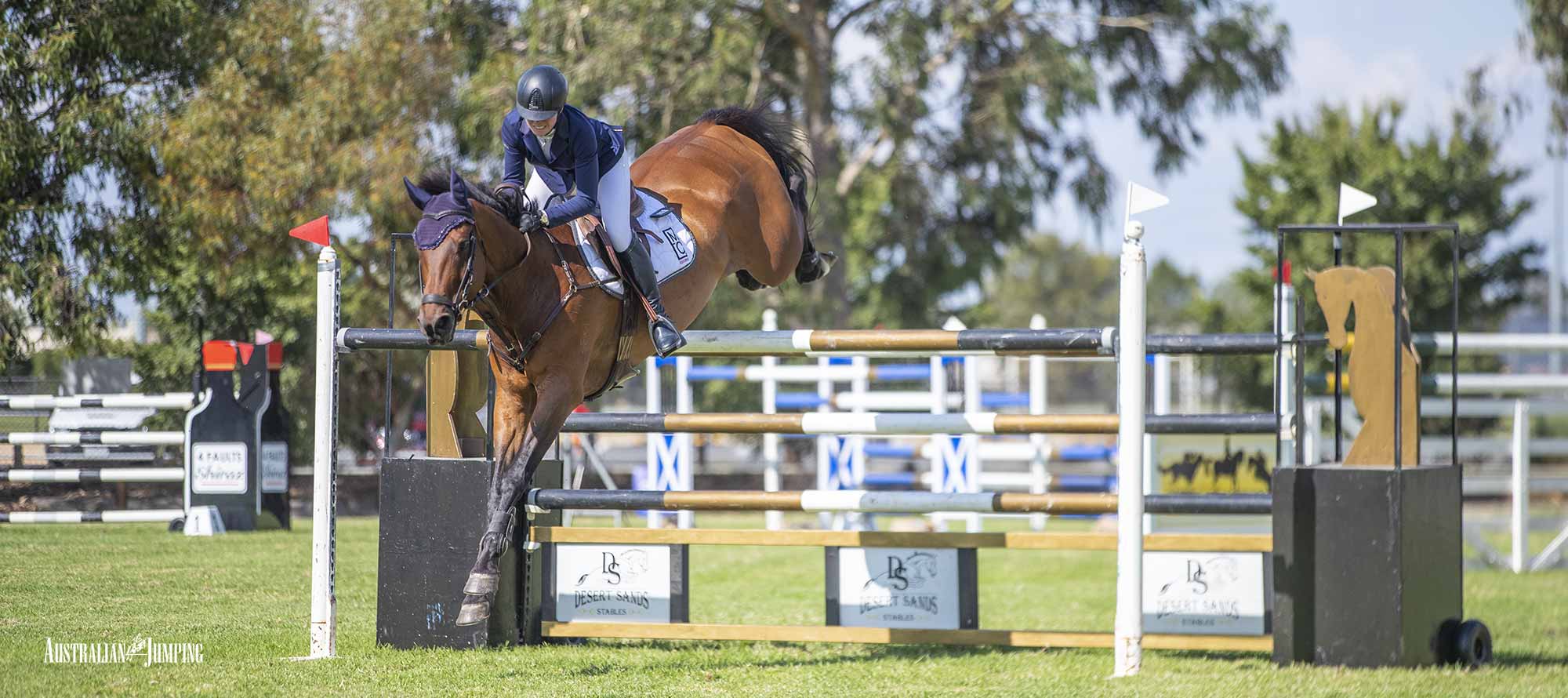 Above: Jess Pateman and Celso
The first combination to attempt the Round 2 course were Katrina Hope and Oaks Gun. They cleared all the fences, but incurred eight time penalties to end up on a total of 15. Next came Sam Overton and Yirrkala Cameron who had a perfect second round to finish on a total of five and put some pressure on those yet to come
Next out were the five combinations who had finished the first round on four faults. Except for Brook Dobbin and Gina MVNZ who took a rail to finish on eight, all the others went clear to finish with a total of four. These were Anthony Thomas and SL Donato, Olivia Hamood and Knock Out 111, Sarah McMillan and Tyrone VDL and Phillip Lever and Lomachenko, who were the fastest in 58.24 seconds, leaving them in the lead with 5 combinations to come.
First of the Round 1 clear combinations out in Round 2 were Jess Pateman and Celso who recorded a second clear round and with a time of 60.82 seconds, they took over the lead. Next was the experienced Russell Johnstone and Daprice who repeated Pateman's effort to go double clear and with a time of  57.53 seconds. Next came the reigning Australian Senior Champion combination Olivia Hamood and Jane Fonda DVD. In a repeat performance of the previous two combinations, they too went double clear, but a time of 58.70 saw them slot into second place for the time being.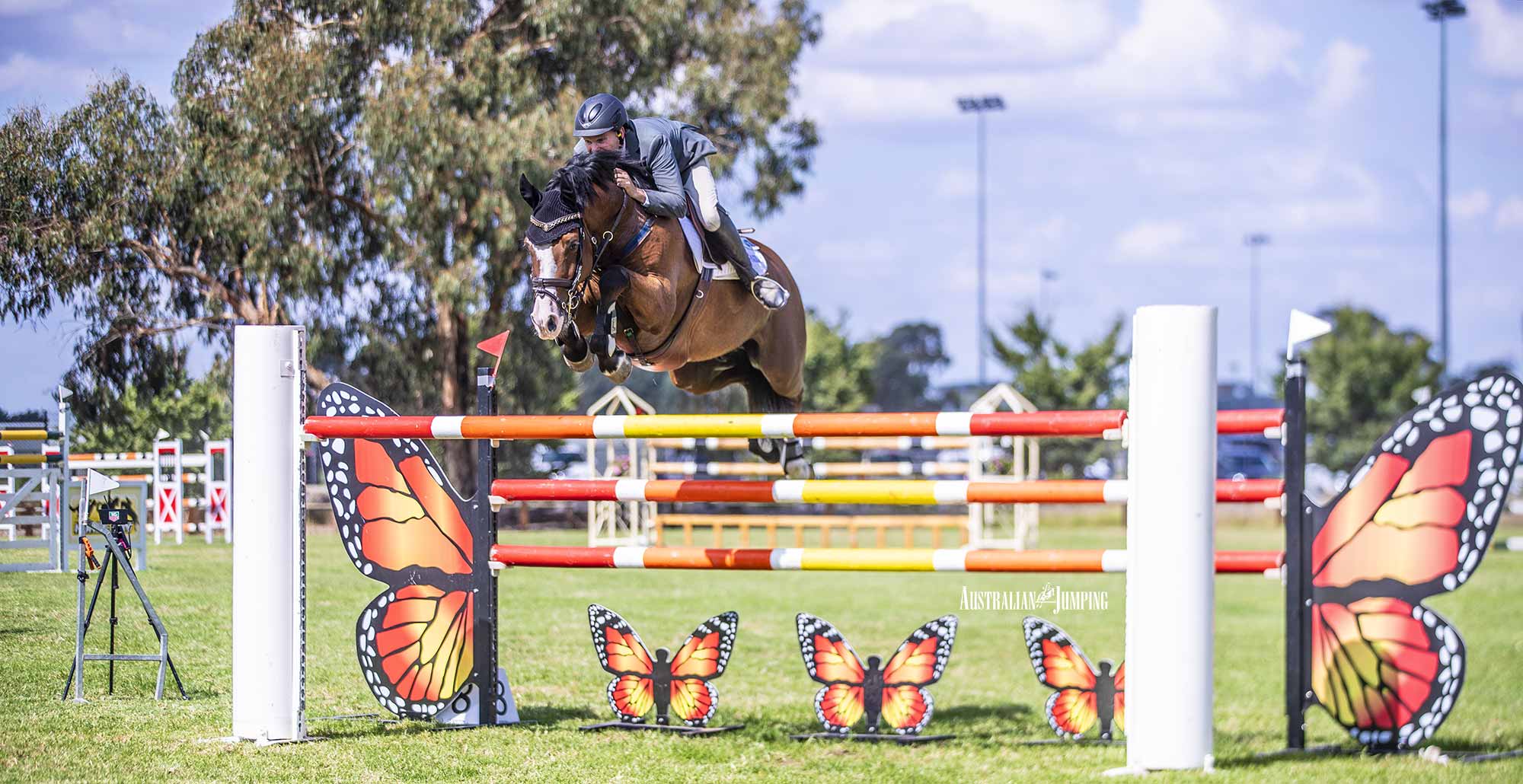 Above: Russell Johnstone and Daprice
Not to be outdone the second last combination out, Billy Raymont and Anton also went double clear and with a time of 54.61 second went to the top of the leaderboard pushing everybody down one place. There was only one rider left to come who could take the win from Raymont and that was Billy himself.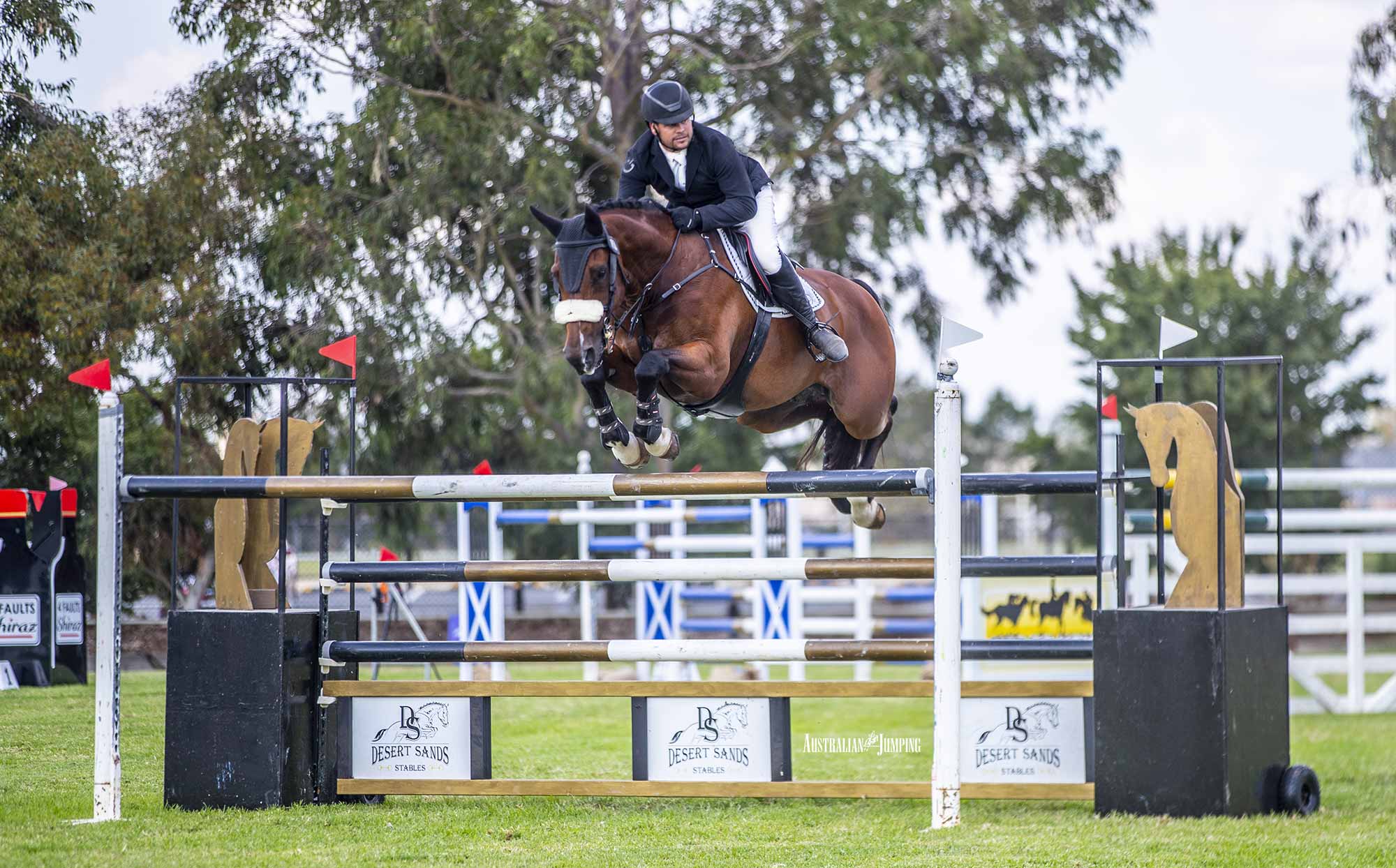 Above: Billy Raymont and Anton
After a short break to let them warm up, Billy Raymont and Black Jack IXE entered the arena in front of a crowd silent with anticipation, however, for this combination, it was not to be. A rail down saw them end up on a total of four and with a time of 61.08 seconds, they had to settle for sixth.
It was a thrilling contest and the crowd appreciated seeing the veteran Anton, show the younger horses how it is done.
After the presentation, we caught up with Billy who said  "We always expect it of this guy (Anton) because he is so amazing. He is nearly 19-years-old and I had been hoping to get another win before we finish him. We have been planning and hoping for today and everything went perfectly".  About their future plans, Billy said that they were "trying to make plans to take a couple of horses over to Europe in April" and the fact that Black Jack got his half MER today is "a really nice piece of the puzzle which is very encouraging and we can confidently push forward with that plan."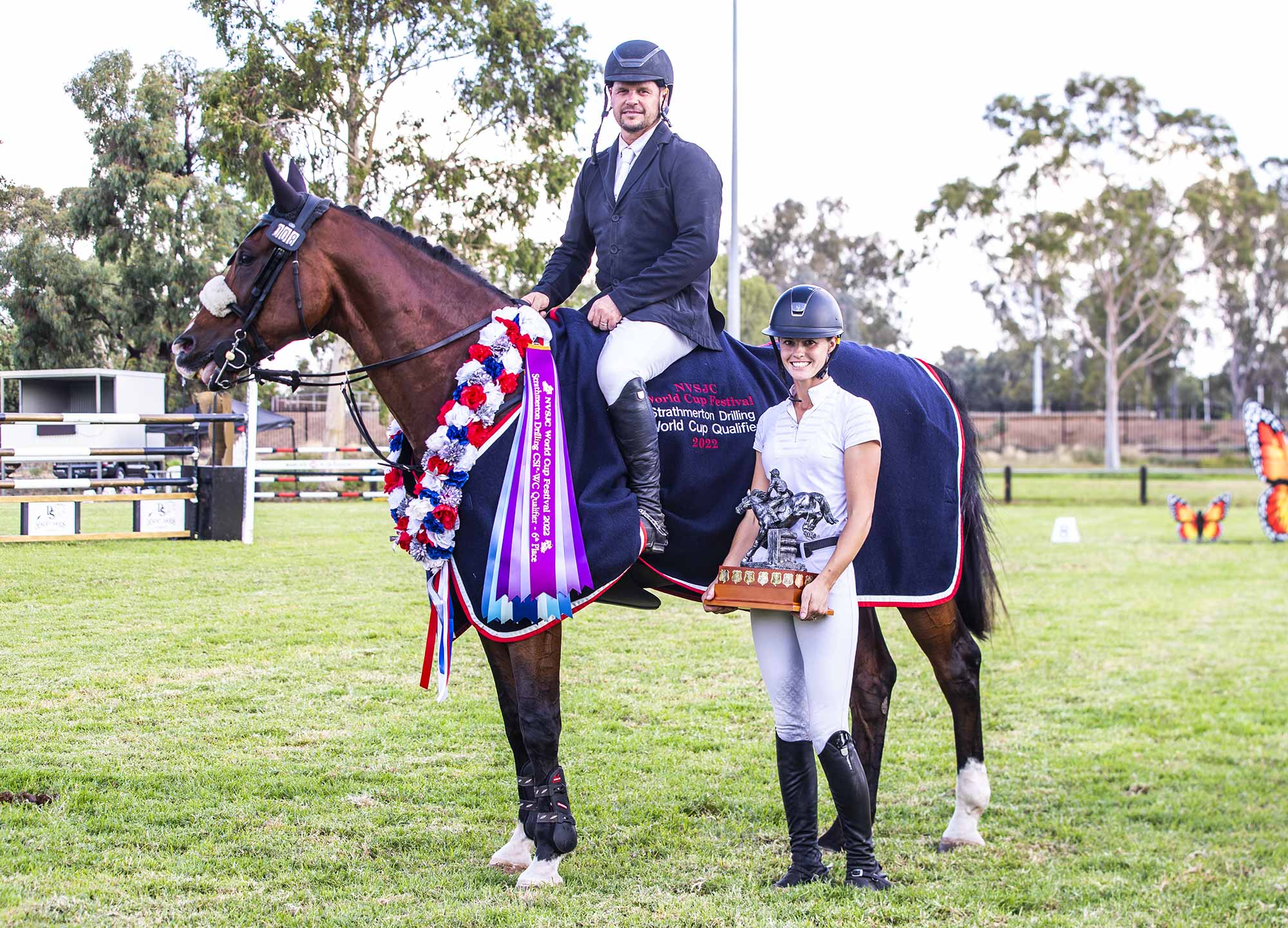 Billy and Tesse Raymont with Anton.
It was a fantastic start to the 2022 World Cup and if today was anything to go by, it is going to be a wonderful season.
Advertisement


All the placings in the class are listed below:
CLASS 10: STRATHMERTON DRILLING NVSJC WORLD CUP – ART 273.3.3.1 – 1.50-1.60m
| | | |
| --- | --- | --- |
| PLACE | RIDER | HORSE |
| 1st | Billy Raymont | Anton |
| 2nd | Russell Johnstone | Daprice |
| 3rd | Olivia Hamood | Jane Fonda DVD |
| 4th | Jess Pateman | Celso |
| 5th | Phillip Lever | Lomachenko |
| 6th | Billy Raymont | Black Jack IXE |
| 7th | Anthony Thomas | SL Donato |
| 8th | Olivia Hamood | Knock Out 111 |
| 9th | Sarah McMillan | Tyrone VDL |
| 10th | Sam Overton | Yirrkala Cameron |
| 11th | Brook Dobbin | Gina MVNZ |
| 12th | Katrina Hope | Oaks Gunn |
View Comments