Breathtaking conclusion to 2021 Australian Jumping Championships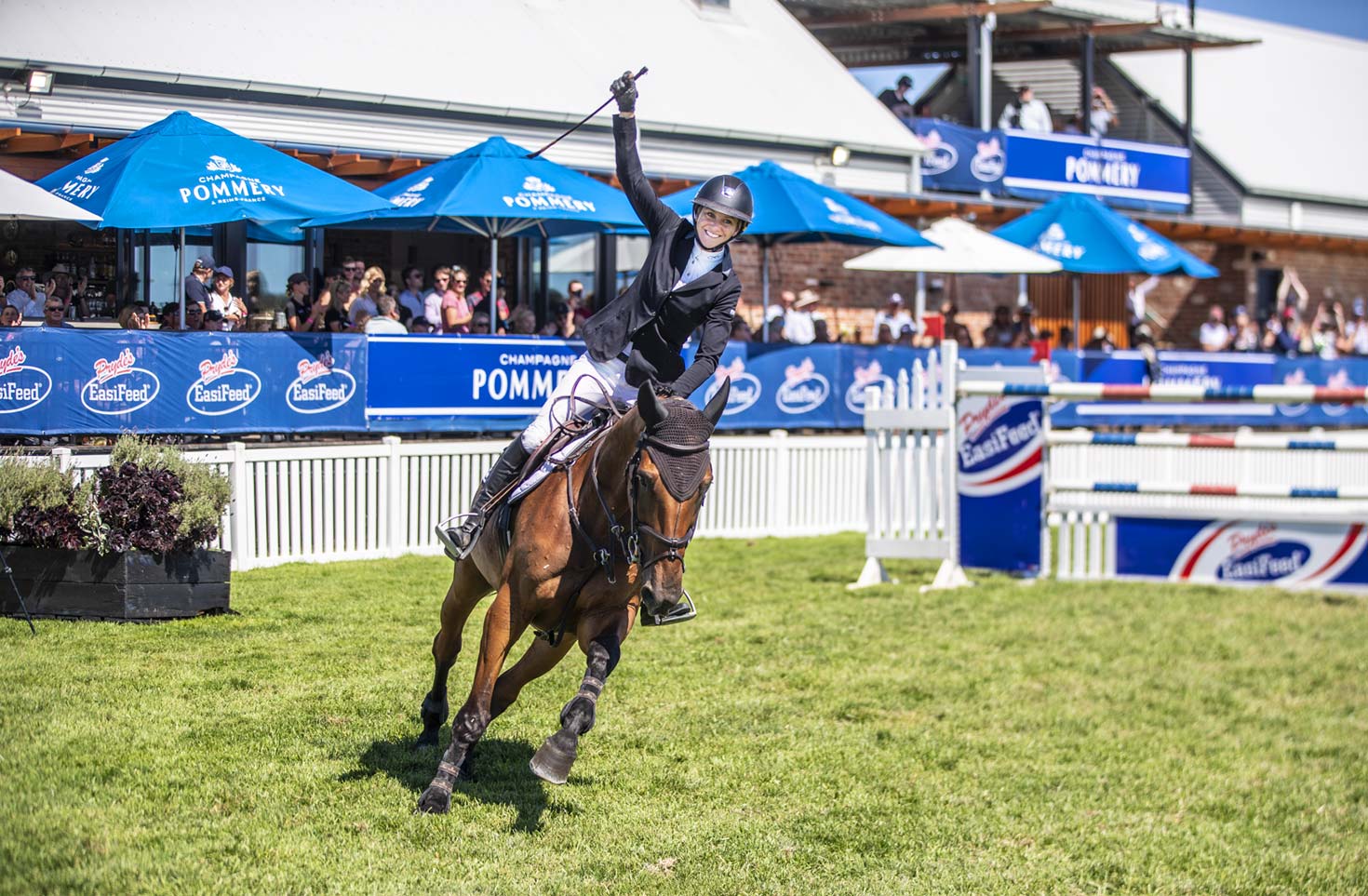 Australian Jumping
After 4 days of incredible competition, the final day of the 2021 Pryde's EasiFeed Australian Jumping Championships arrived on a sunny Boneo day. Excitement was in the air as competitors and spectators alike anticipated the final rounds of competition and wondered who would take out the major championships.
Boneo Park had done an outstanding job in putting this show together, with fantastic surfaces and facilities which provided riders and horses with the opportunity to shine during the week.
Advertisement


The first class on main arena was the final of the Horseland Australian Junior Championship. Earlier in the week there had been two qualifying rounds of fierce competition, leaving just 28 combinations to contest the final over the David Sheppard designed course. Based on their finishing positions in each of the rounds, combinations were ranked and after a few calculations, each combination started the final with a penalty score based on their relative position down the leaderboard. The combination which headed the leaderboard went into the final carrying the minimum number of penalties being zero. That combination was the NSW based Anneliese Wansey and Grandiamo. Following closely behind, them were Clemency Hughes and Diamond B Corvina on just one penalty, while in equal third with two penalties were Anneliese Wansey and Aveden Indigo and Ella Hayward and Edena DP.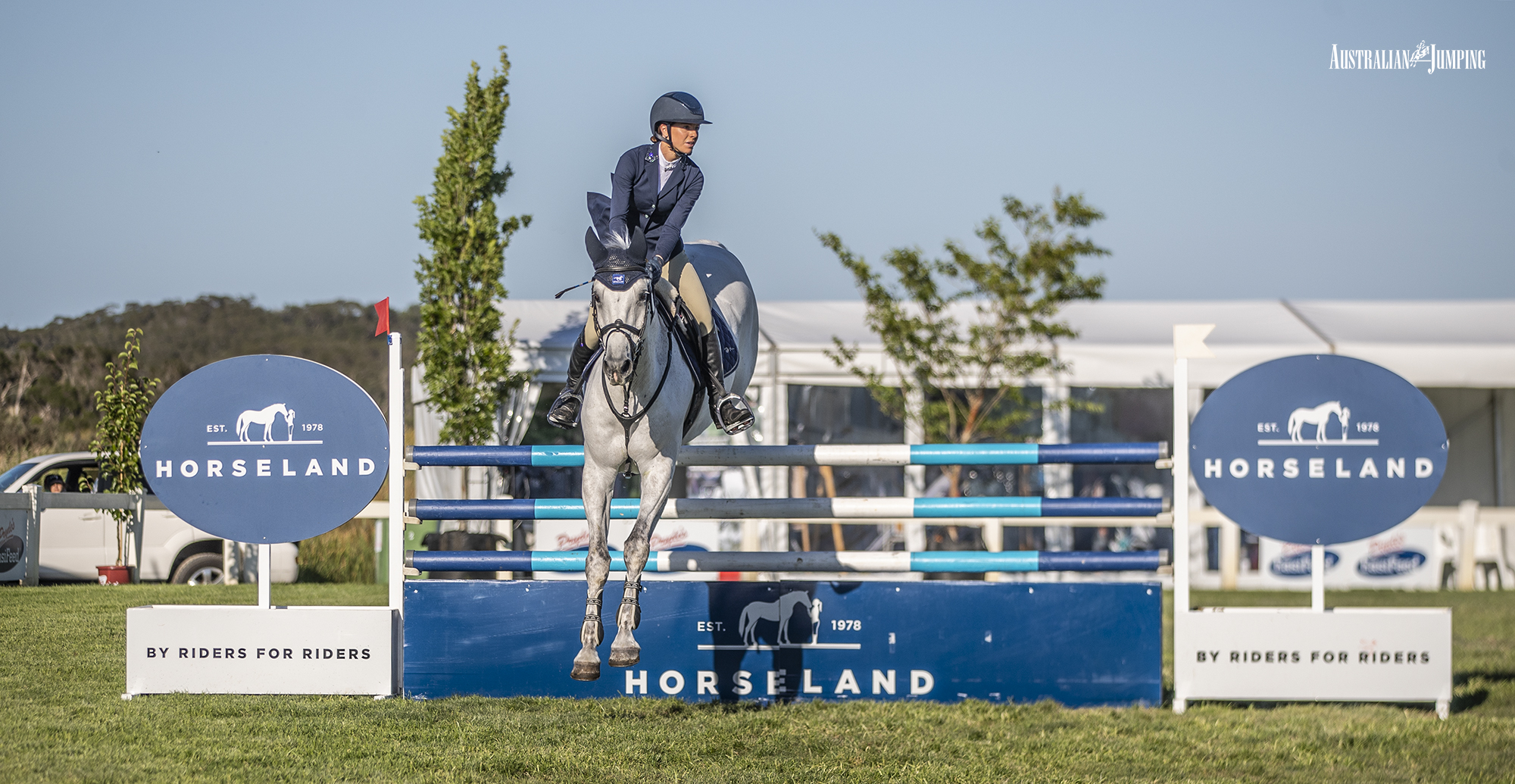 Above: Anneliese Wansey and Grandiamo
In today's first round, each of these four combinations took a rail except for Clemency Hughes and Diamond B Corvina, who were left in the lead on one penalty. Anneliese Wansey and Aveden Indigo and Ella Hayward and Edena DP went to six penalties and Anneliese Wansey and Grandiamo went to four. This brought into play two other combinations who had gone clear this morning Georgia Price and Zara PPH on three and Lorna Reilly and Bellhaven Jazz on four. With one ride remaining for each, it looked like a battle between these top four, with the slightest slip up likely putting them out of contention.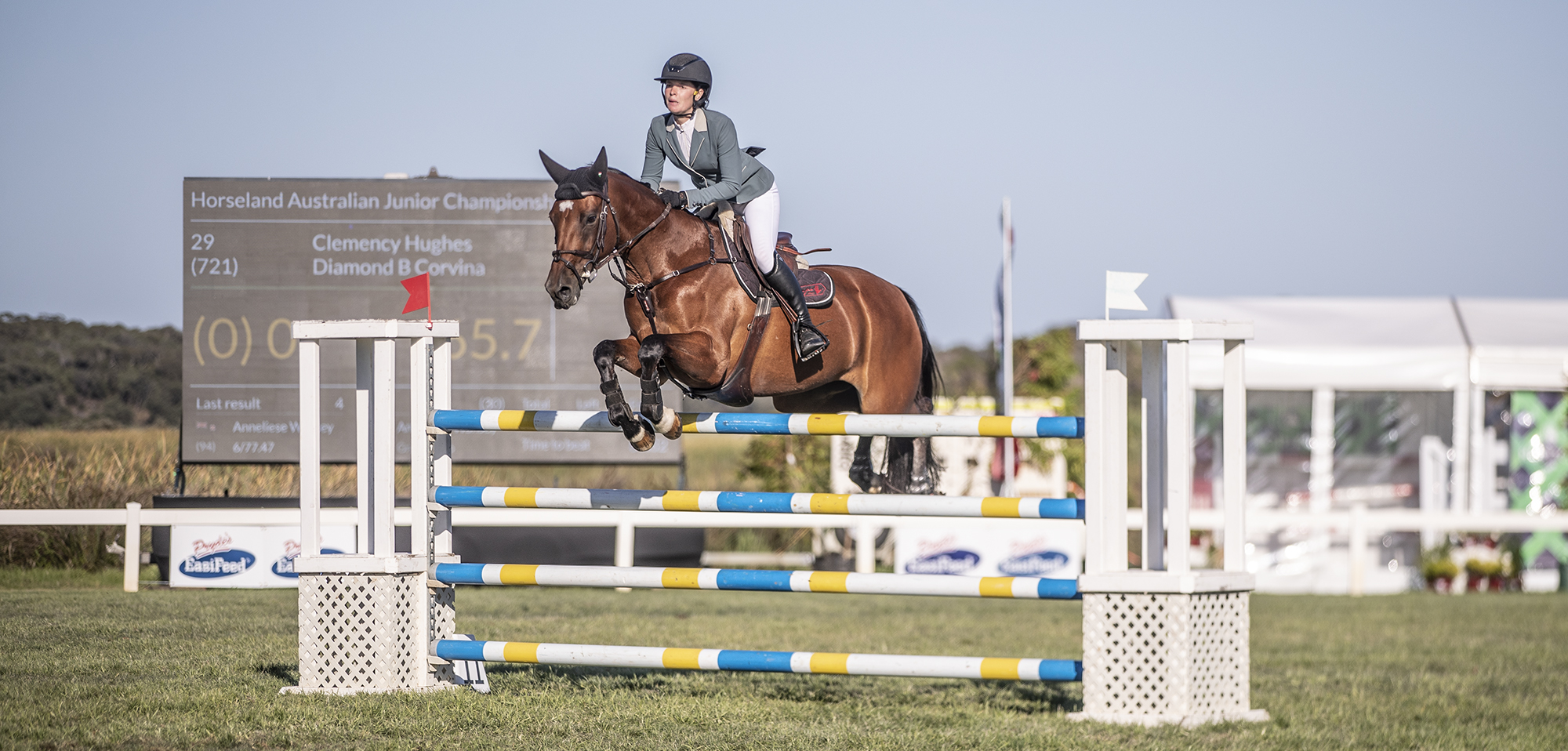 Above: Clemency Hughes and Diamond B Corvina
Coming out in reverse ranking order, the top 15 combinations qualified for a second round today. The first 11 came and went. Some were clear and stayed on their current score, however, most took rails and dropped further out of contention. Finally we were down to the last four, all within a rail of the title. First of these out were Anneliese Wansey and Grandiamo, however, unfortunately for them, they took another rail to finish on eight. Then Lorna Reilly and Bellhaven Jazz, took a pair of rails to finish on 12. Georgia Price and Zara PP followed, but again, a pair of rails placed them on a total of 11. So Clemency Hughes and Diamond B Corvina were the last out, with just the single penalty. They were seven penalties ahead of Anneliese Wansey and Grandiamo, so could spare a rail but no more, however she did not need it. What followed was a perfect clear round to remain on just one penalty and the title was hers. It was a great performance of calm riding in a pressure situation. While others were taking rails, she was going clear and was a clear winner.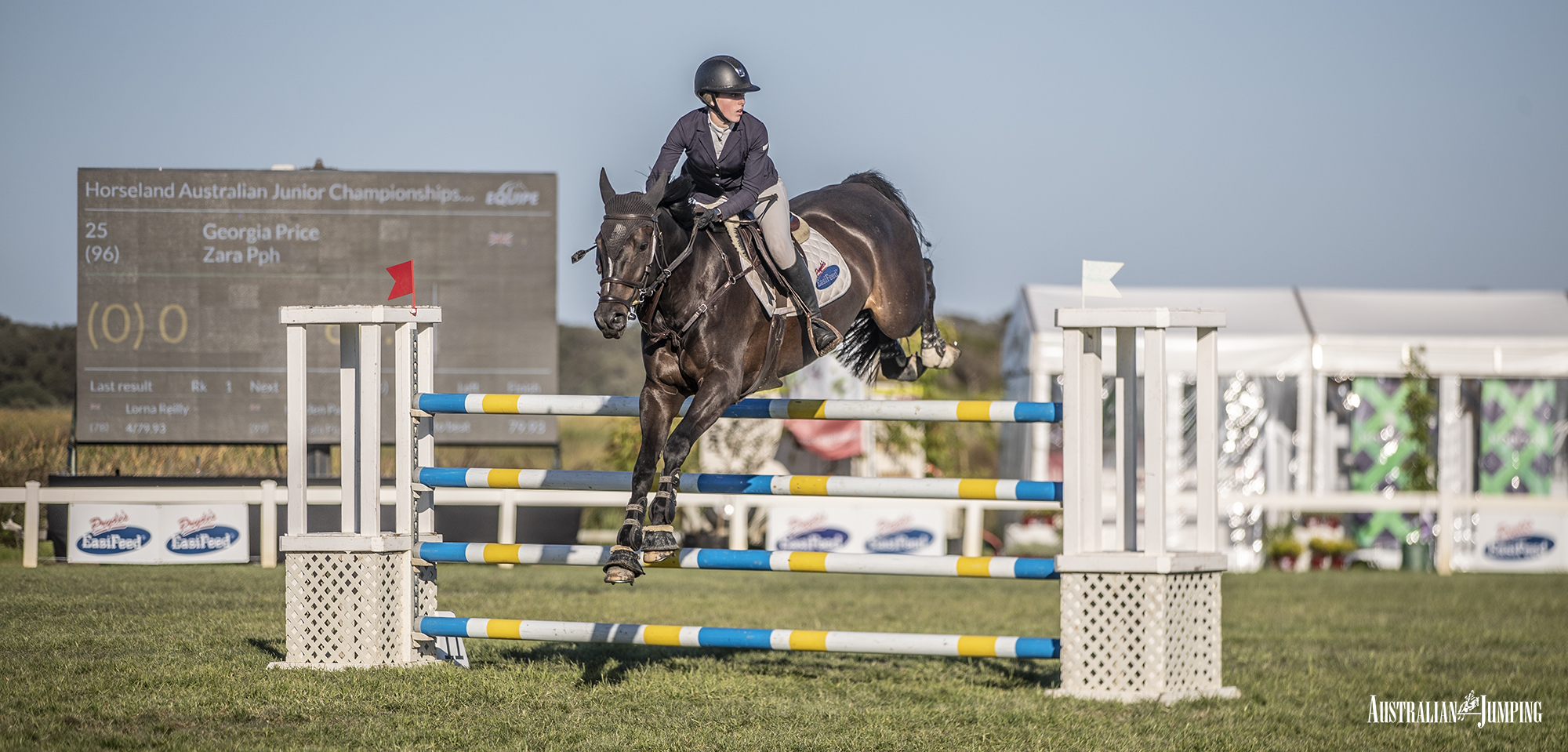 Georgia Price and Zara PP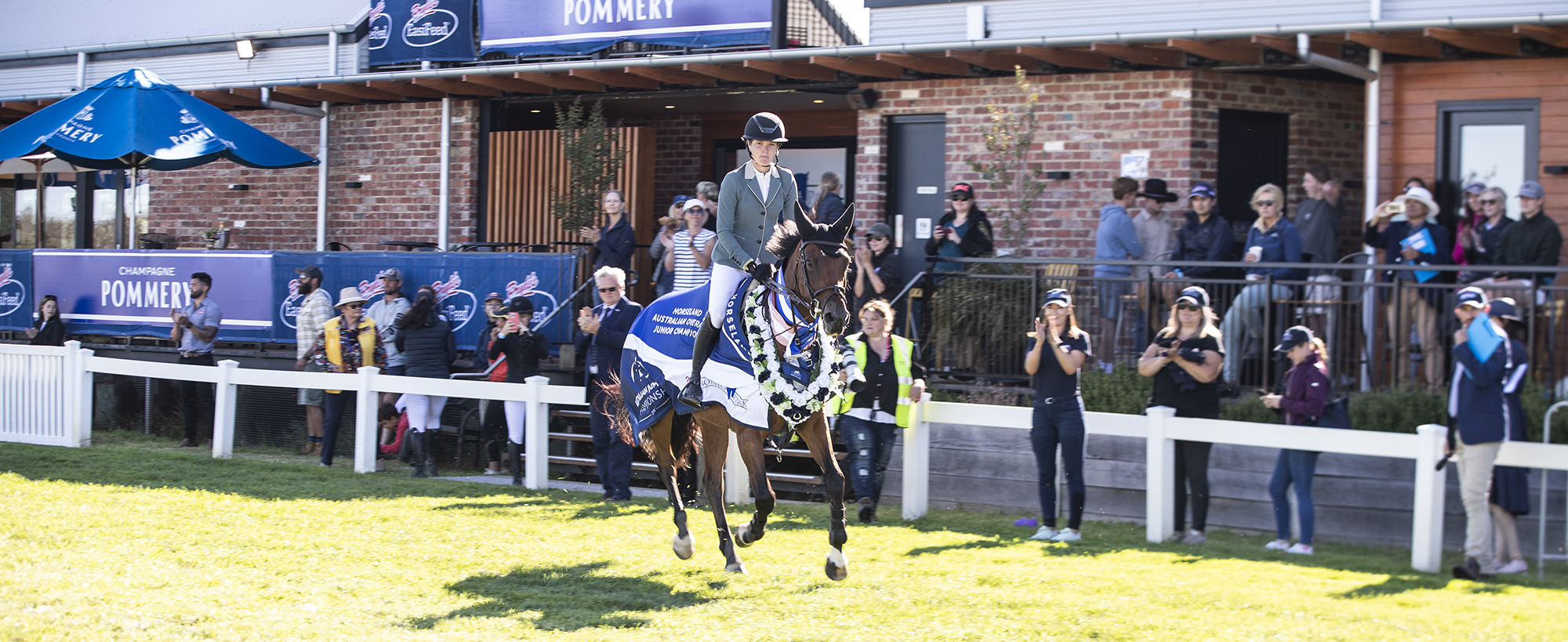 Next on the main arena was the Racing Hearts Australian Young Rider Championship Final. Amelia Douglass and Sirius Du Granit came into today's finals as the only combination on zero penalties, however, after todays first round, NSW's Madeline Sinderberry and Camie Z, and South Australians, Conor Reed and Leopoldo MVNZ, were tied on 4 penalties with third back on 12 penalties.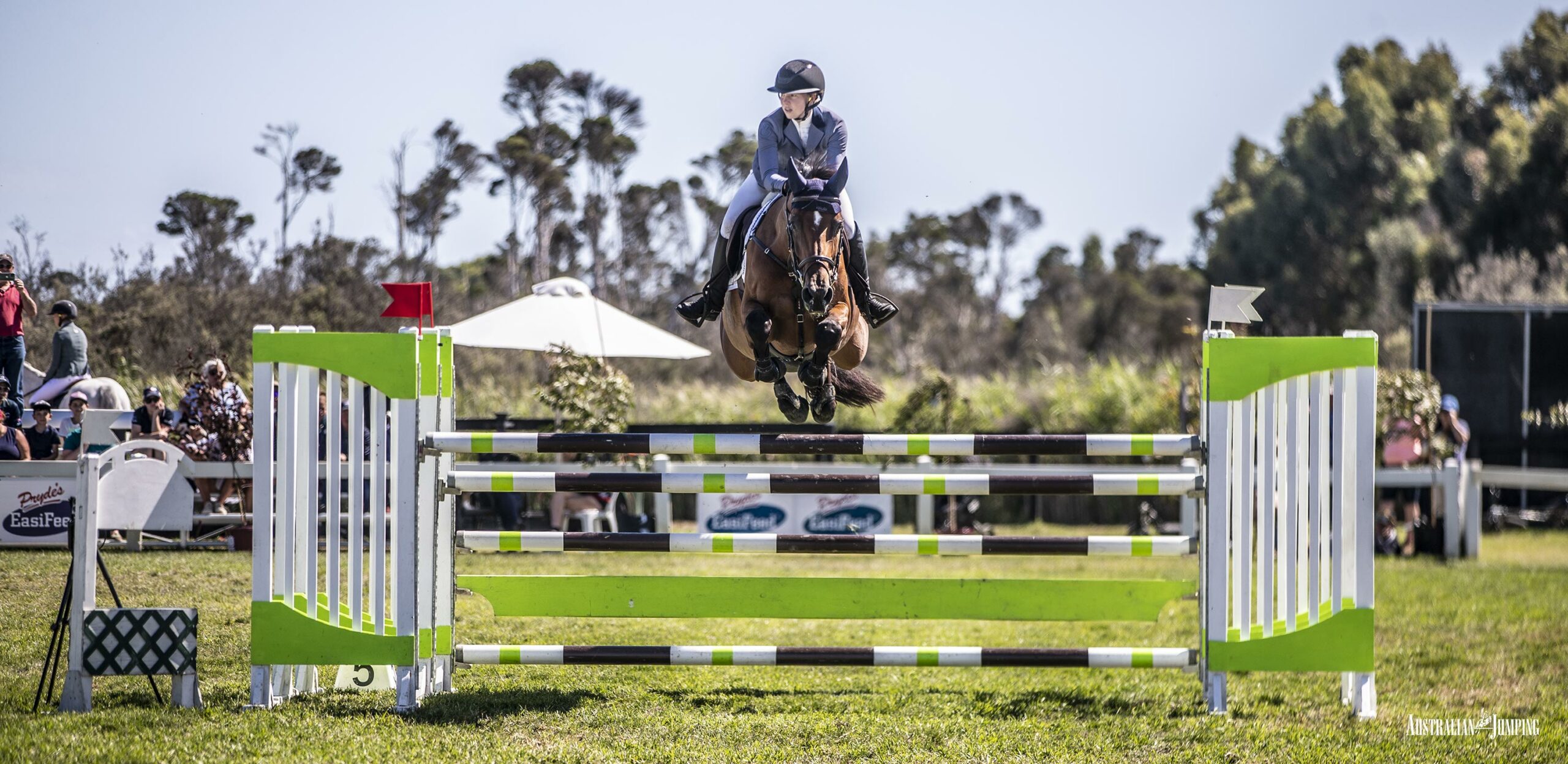 Above: Madeline Sinderberry and Camie Z
In the second round, they again both went clear, which means we had a tie for first place and a requirement for them both to go around again, this time against the clock to sort out the championship. Sinderberry and Camie Z went first and had a great round again going fast and clear. The pressure was on Reed and Leopoldo MVNZ and they rose to it. They attacked the course at a pace that seemed to be faster than their rivals. Just when it looked as if they would do it, they clipped the rail at the last and as it fell, so did their hopes of taking the title. They had to settle for second, leaving Sinderberry and Camie Z to claim the title. It was Sinderberry's second big win of the weekend after taking the Kiernan Plant Hire Future Stars class yesterday with Balentino.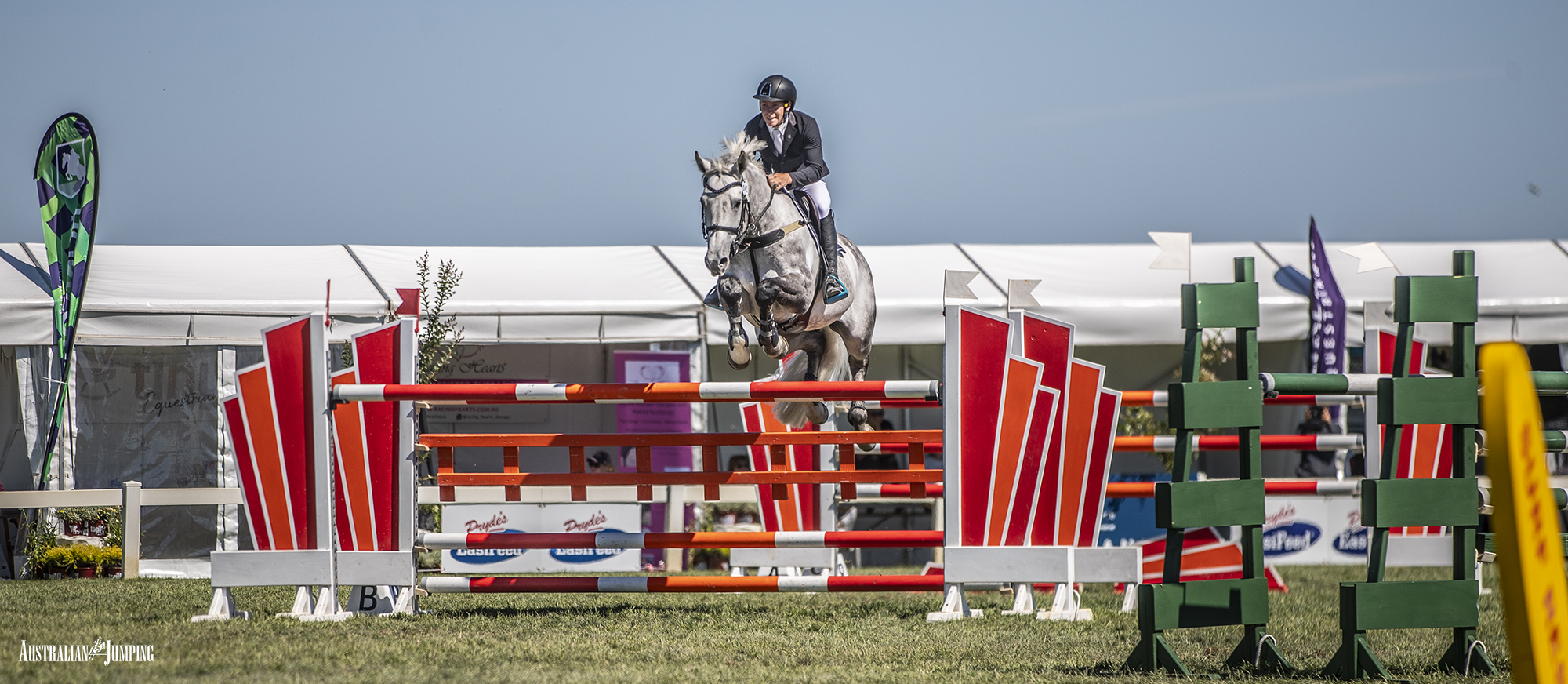 Above: Conor Reed and Leopoldo MVNZ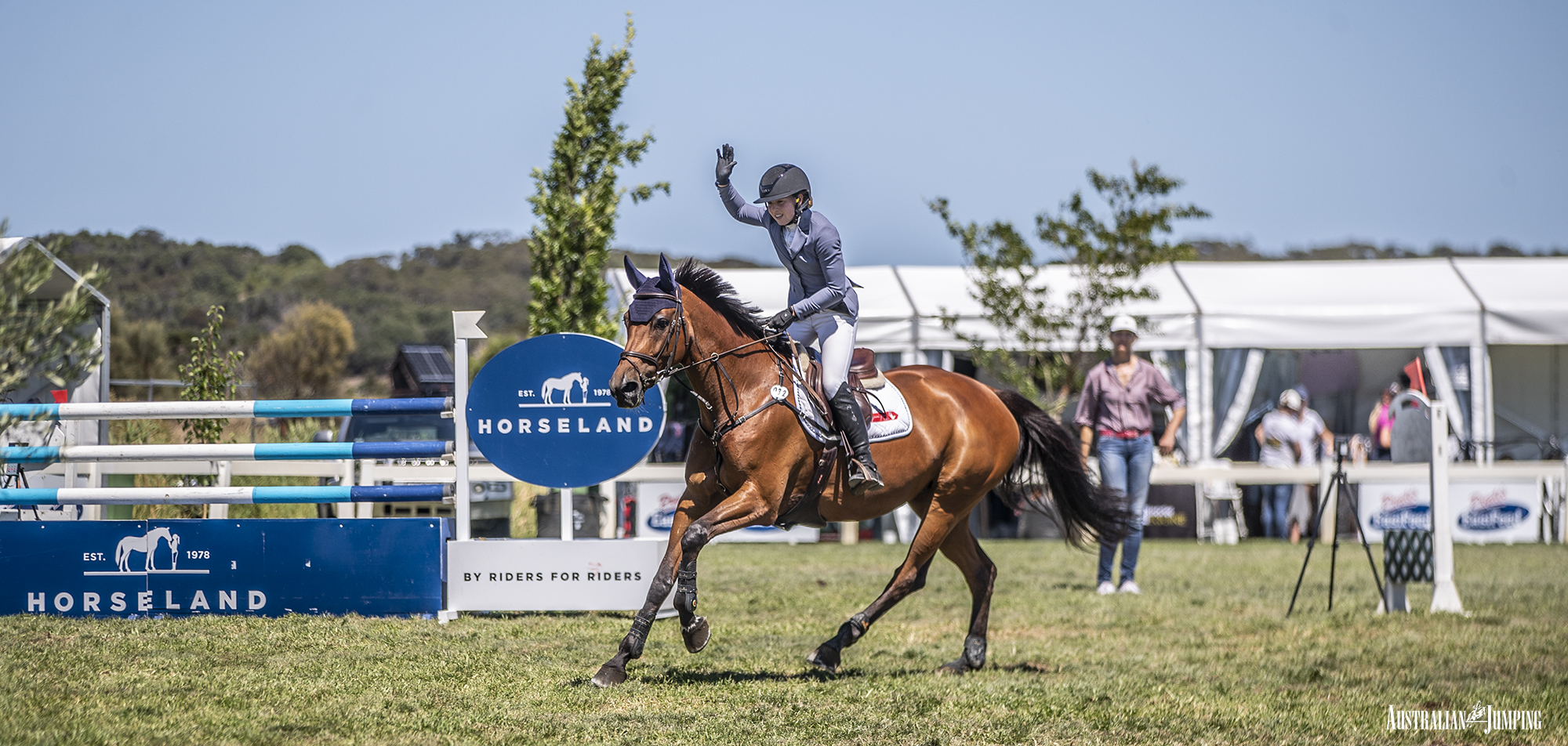 The final class of the championship was the big one, the Final of the Pryde's EasiFeed Australian Senior Championship. With Chris Chugg and Cera Cassiago going into the final on zero penalties, it was up to the rest to catch him. The course was a challenging one, (as it should be for a class like this). Of the 16 combinations on the start list, there was only one clear round and only another four combinations who took just a single rail. That clear round belonged to Queenslanders Olivia Hamood and Jane Fonda DVD, so while everybody else as slipping back, she stayed still. Having come int the final on three penalties, they stayed on three, while Chugg and Cera Cassiago had slipped back to 12, thanks to a trio of rails.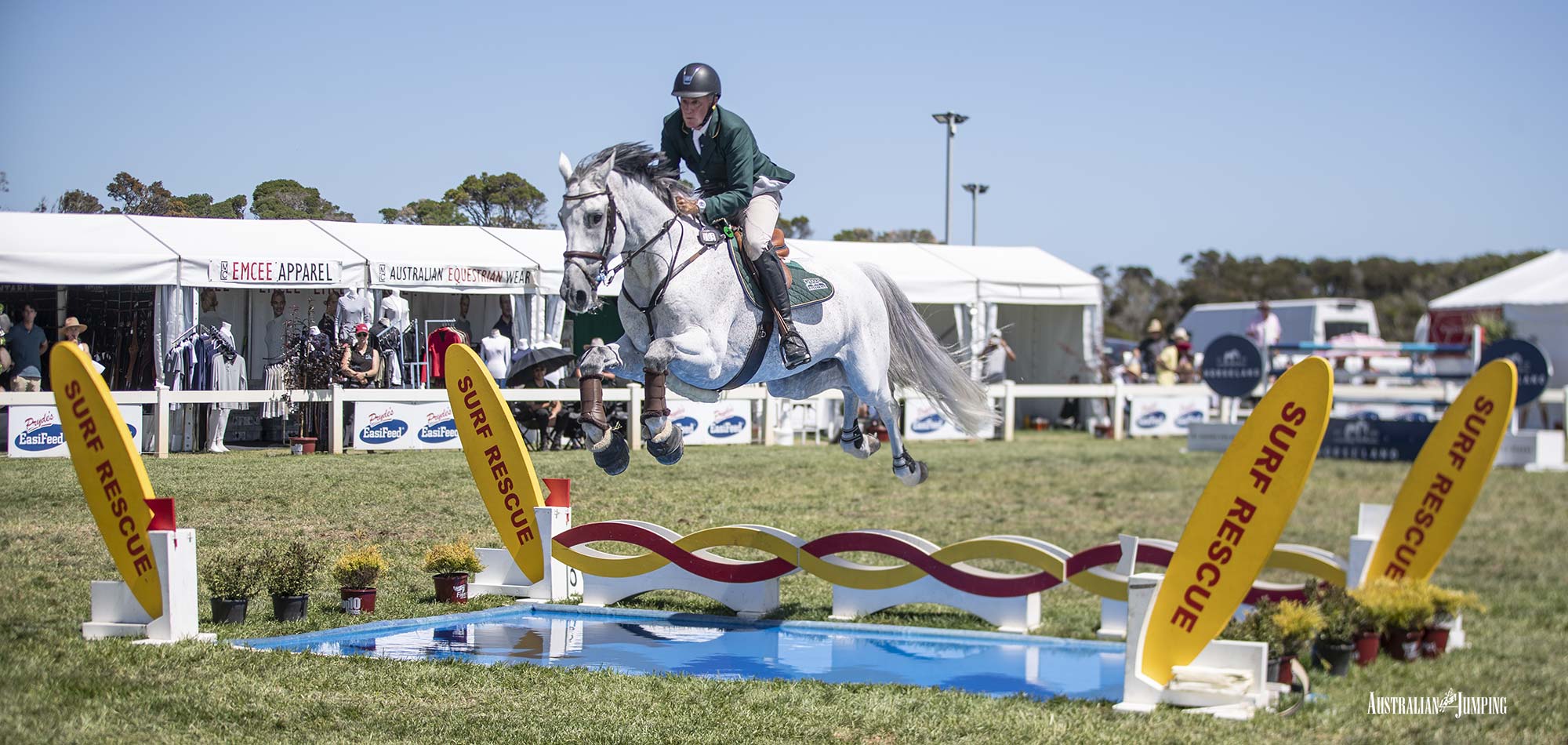 Chris Chugg and Cera Cassiago
All but one of the contestants were invited back for the second round and despite Chugg and Cera Cassiago having a brilliant clear round, he was still in second place, nine penalties behind Hamood and her mare. As the leaders they entered the ring in front of an excited crowd. With two rails up their sleeves, the job might have seemed easy, but it still had to be done. There was one slip up half way through the round when a rail fell, however that was last one, and they made it home without any further disturbances. Hamood and Jane Fonda DVD were crowned as the new Australian Senior Champions, while Chugg and Cera Cassiago had to settle for second.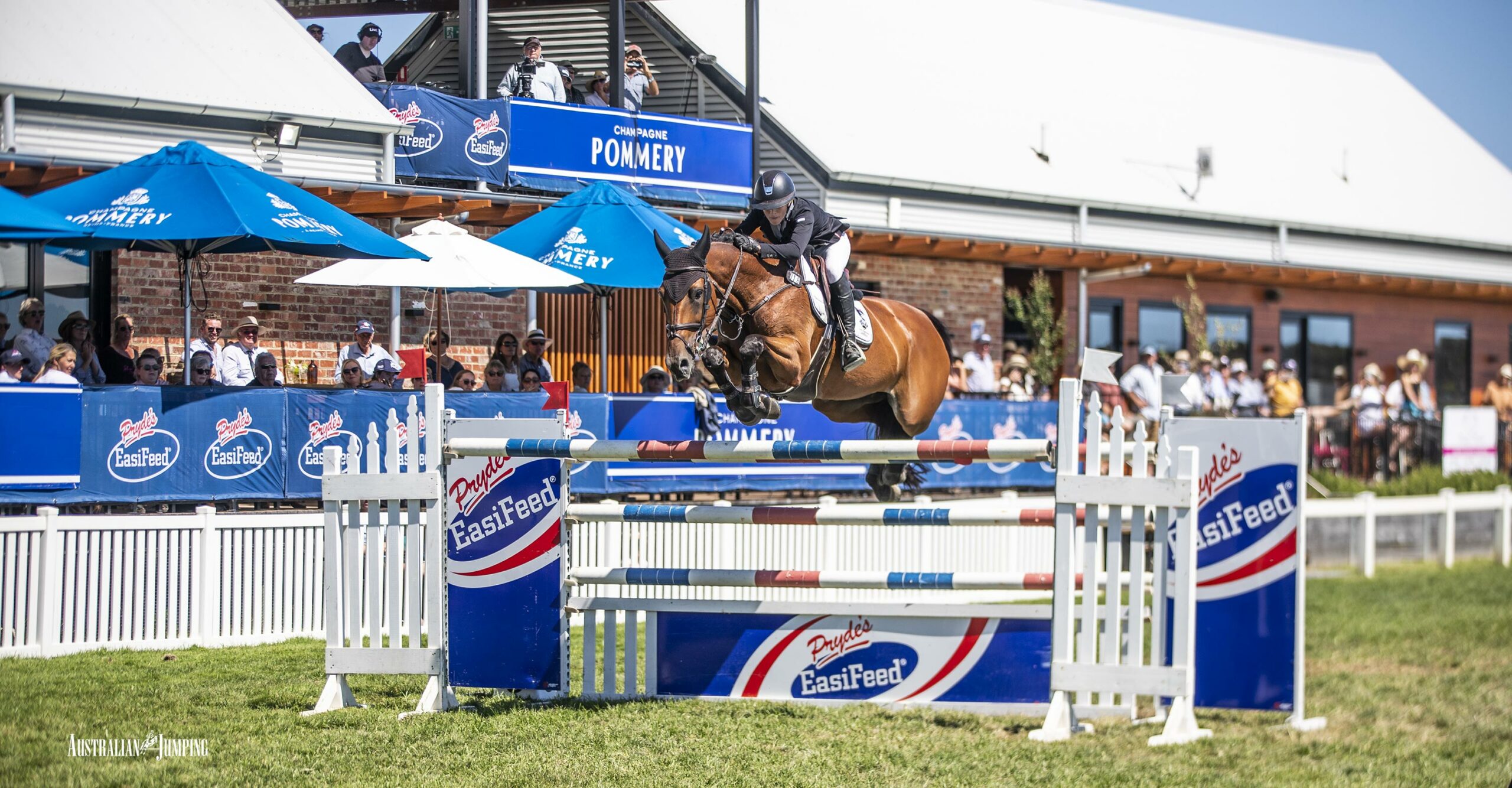 Above: Olivia Hamood and Jane Fonda DVD
Third place went to Sam Overton and Oaks Cassanova. Having started the day on nine penalties, they managed to take just one rail over today's two rounds to finish on 13, just one behind Chugg. As the winner of the Senior title, Hamood was presented with Len McVean Memorial Trophy. She also, thanks to Mark Fraser and Tulara Warmbloods, has one a young horse. Bred in the purple, the bay colt Tulara Zinouni (Tulara Ziniero/Balous Bellini/Colman/Carpaccio) will be picked up by the deserving winner once weaned.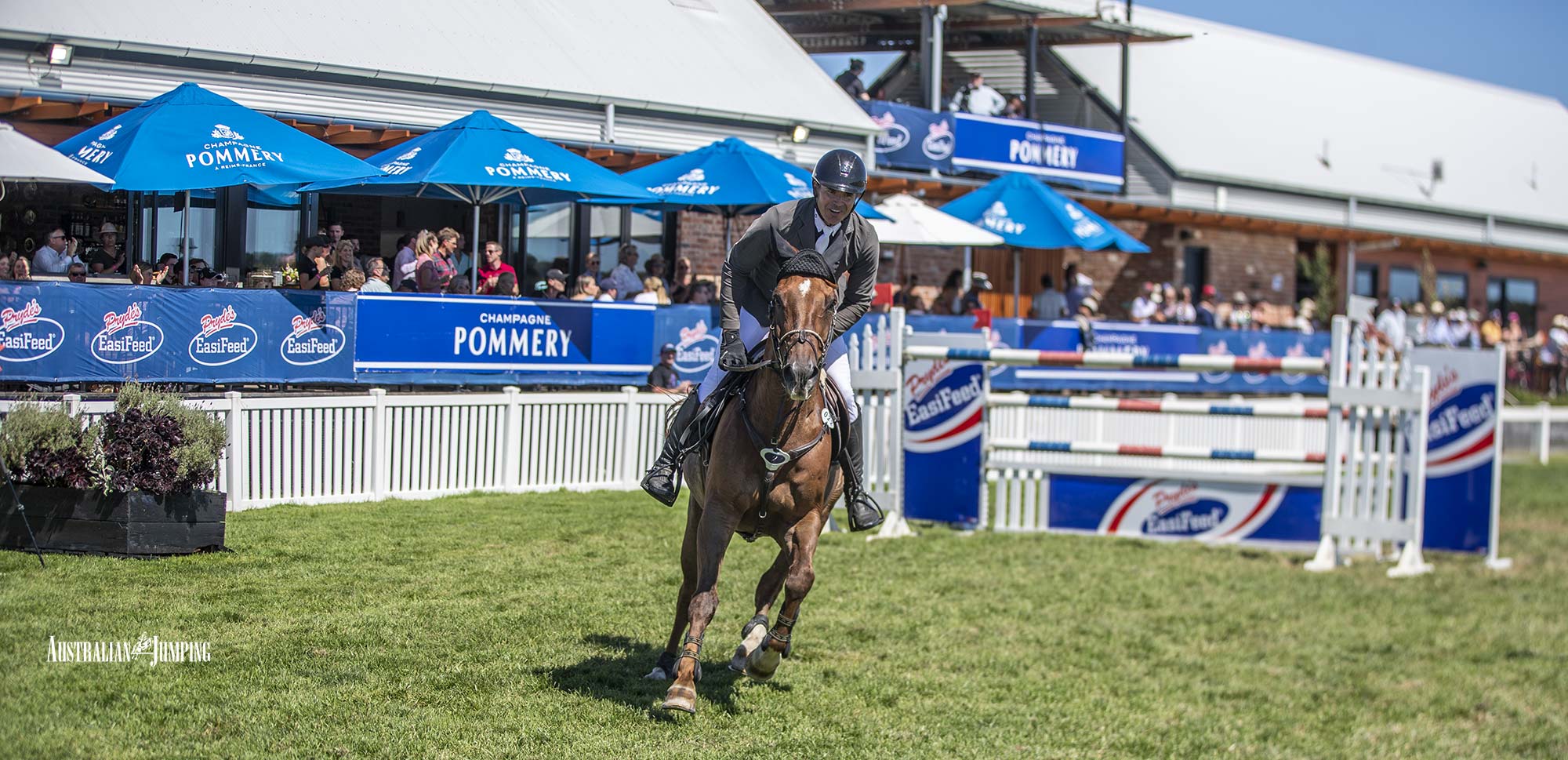 Above: Sam Overton and Oaks Cassanova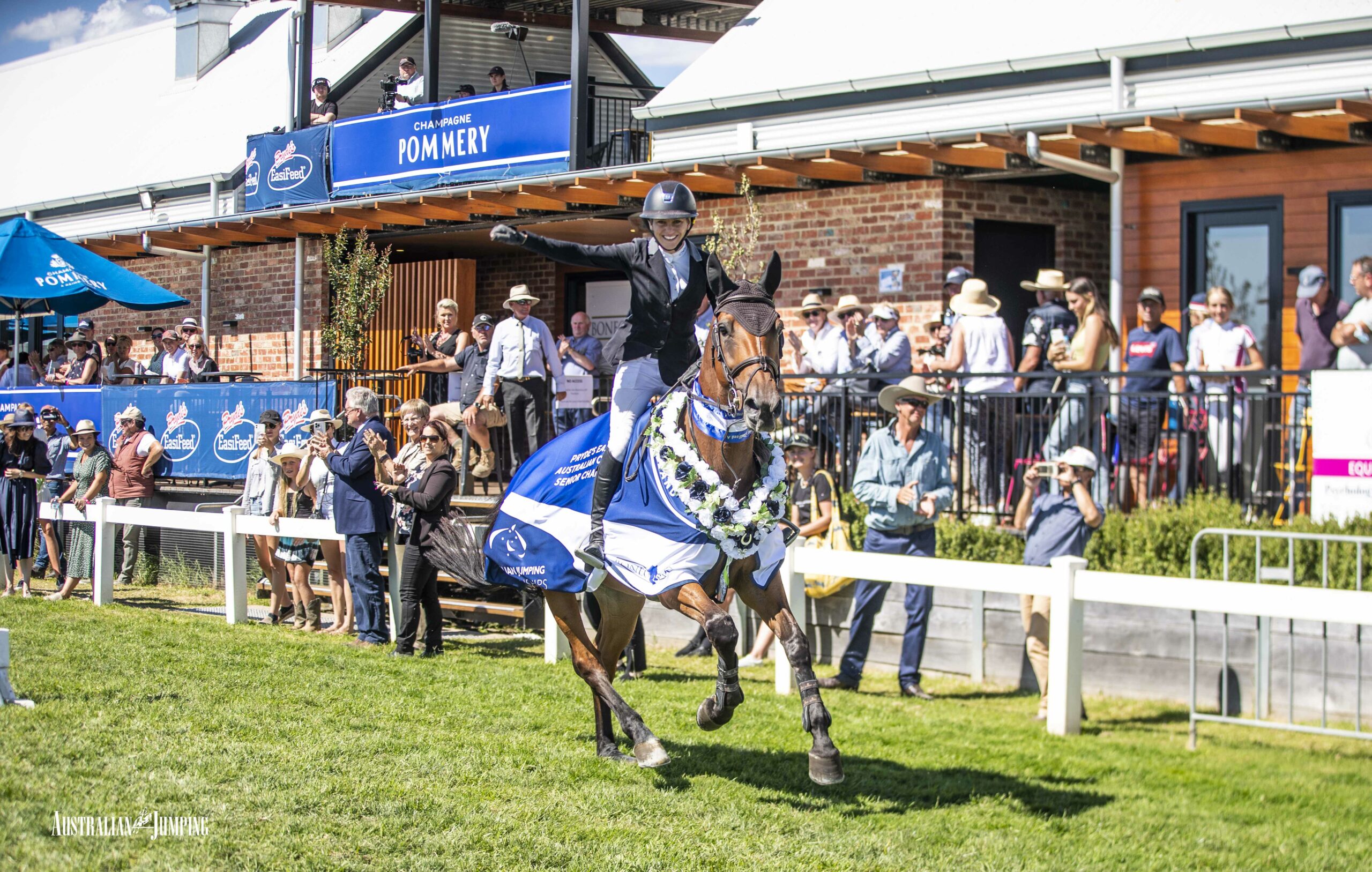 It was also a day full of finals action on the Arilla Sand Arena 2. The first class was the final of the Chase Equestrian Opal Series. There were 39 combinations entered, producing a massive 23 clear rounds. The jump off saw eight combinations go double clear which perfectly filled the eight placings in the final. First place went to Round 1 winners, Nellie Rogers and Rocket Rod, completing the jump off in 35.36 seconds. Zara Adnams and Dingmac Disco King, round 3 winners, were second in 36.93 seconds, with third place also going to Nellie Rogers, this time in combination with Valiant Star, in a jump off time of 39.73.
Next we saw the final of the Vranken Pommery Australia Ruby Series. Twenty combinations were entered for the final, eight of which were able to complete their round clear. Taking the win was Victorian rider Robert Palm and Halcyons Total Joy in a jump off time of 47.11 seconds. Second went to NSW visitor Sarah McMillan and Texas in 48.23 seconds with Megan Joyce and Blackall Park Cha Cha stopping the clock in 49.57 seconds for third.
Advertisement


The last class on Ring 2 was the final of the Racing Victoria Off The Track Championship, which saw an exciting two horse jump off. After the 19 combinations that started were done, there were only two clears and in the jump off, they both took a rail. Coming down to time, the win went to Sarah Weiss and Waratone, taking 47.79 seconds. Waratone had quite a successful racing career, winning six of 22 starts and recording another six placings. At one stage he won four races in succession and won almost $250K prize money. Possibly his best performance was a second placing in the Adelaide Cup after which he retired from racing. Second went to Lauren Bolzon and Madagascar, stopping the clock at 49.04 seconds. Fastest of the four-faulters in the first round was awarded third, going to Cassie Palm and Honey Steels Gold.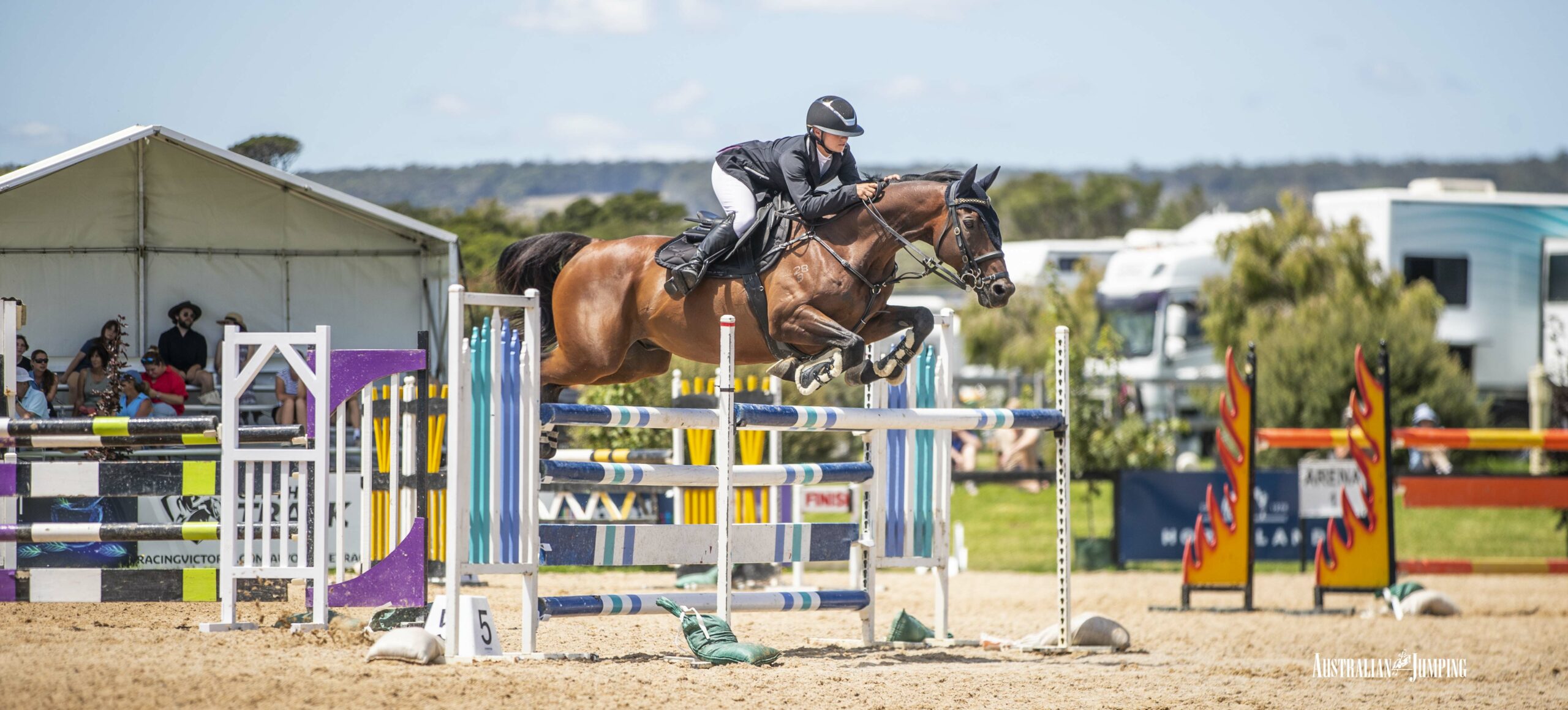 Above: Sarah Weiss and Waratone
The Tulara Warmbloods Arena 3 saw three classes of Open height action. First was the Emcee Apparel 115cm class. Run as a single round class, the 29 combinations entered produced 10 clear rounds. The fastest of these were Joy Collins and Old Red from the ACT in 69.24 seconds. They were over four seconds clear from Kendall Richards and Bonita Aurielawho stopped the clock at 73.63 seconds in second place. Third place went to Sarah Weiss and Waratone in 78.88 seconds who was to go onto better things later in the Off The Track Championship.
The second class decided was the Victorian State Government Open 125cm. There were just seven combinations entered in this single round class, win the fastest clear round, and the win going to Alison Ford and Elijah in 75.26 seconds. Also clear in seconds were Paige Johnson and Lilyvale Falks Prince. Third place, after taking a single rail, was Tori Glass and Bonnie Valley Nobuck Boris in the fastest time of all seven contestants, 68.71 seconds.
The action wrapped up on Arena 3 with the running of the Orangeville Performance Horses Open 135cm class. There were only three entered in the class yet it was still a very close run thing. The win went to Caitlin Bolger and Caprino, clear in 85.08 seconds, just beating Courtney Shears and Alina, also clear in 85.40 seconds. Third went to Tahlia Spagnadi and Sunday Rhatigan after they took a couple of rails.
There were just two finals set for decision on arena 4 today. The Heiniger Ivory Series was the first class on Arena 4 this morning. The top 23 combinations after three qualifying rounds saw 15 clears and an exciting jump off followed. An even dozen produced double clear performances, but the fastest of these went to Kaya Zielinski and Lady Of Diamonds in a time of 26.88 seconds. It was their first win of the series after twice finishing in second place in the rounds. Second place, stopping the clock in 27.02 seconds were the winners of Round 3, Ave Kennedy and Piper Arrow. Third place went to Lorna Cliford and Kahean Trooper Nelson in 28.54 seconds.
The action wrapped up on arena 4 with the final of the Yandoo Equestrian Pearl Series. There were 22 combinations entered, which saw nine clears. In the jump off, four managed double clear performances, with a convincing win by almost a three second margin by Emmy Fraser and Cp Capulet Grey Rose Z in 33.45 seconds, who's best placing in the three qualifying rounds had been fifth. Second place went to Olivia Osborne and Volador in 36.23 seconds. A very close third was Simone Tanis and Somerwaters Elite in 36.31 seconds.
Prior to the running of the Senior Final, there was a very special presentation. The 'Katherine Quilty Memorial Leading Lady Rider Award' is presented to the leading lady rider each year at the Pryde's EasiFeed Australian Jumping Championships. It is in memory and honour of Katherine, much loved mother, partner, daughter, sister and dearest of friends. Winners of the award so far have been: 2014 Brooke Campbell, 2015 Ally Lamb, 2016 Vicki Roycroft, 2017 Rebecca Jenkins, 2018 Katie Laurie and  2019 Katie Laurie and this year the very deserved winner was Olivia Hamood, which on top of her Senior Title made it a very special weekend for her.
Thank you to all our incredible sponsors and to everyone that has helped pull this event together and make it such a great experience. We look forward to the 2022 edition, which we only have to wait nine months for!
Below is a listing of all the placegetters in all today's classes.
PRYDE'S EASIFEED MAIN ARENA
CLASS 44: HORSELAND – AUSTRALIAN JUNIOR CHAMPIONSHIP (FINAL) – 1.25-1.35m
| | | |
| --- | --- | --- |
| PLACE | RIDER | HORSE |
| 1st | Clemency Hughes | Diamond B Corvina |
| 2nd | Anneliese Wansey | Grandiamo |
| 3rd | Georgia Price | Zara PPH |
| 4th | Aria Baker | That's Limo |
| 5th | Lorna Reilly | Bellhaven Jazz |
| 6th | Jack Barker | Yandoo Zenzel HBC |
| 7th | Lucy Locke | Quero Quero |
| 8th | Anneliese Wansey | Aveden Indigo |
| 9th | Ella Hayward | Edena DP |
| 10th | Jack Barker | Tulara Colchic |
| 11th | Dakota Pinton | Heartline NZ |
| 12th | Clemency Hughes | Nicolette |
CLASS 45: RACING HEARTS – AUSTRALIAN YOUNG RIDER CHAMPIONSHIP (FINAL) – 1.35-1.45m
| | | |
| --- | --- | --- |
| PLACE | RIDER | HORSE |
| 1st | Madeline Sinderberry | Camie Z |
| 2nd | Conor Reed | Leopoldo MVNZ |
| 3rd | Jessie Rice-Ward | Dusky Farm Cavalier |
| 4th | Amelia Douglass | Upper Class Z |
| 5th | Amelia Douglass | Yalambi's J'adore |
| 6th | Lucie Aldridge | Ollie Olae |
| 7th | Hayden Parker | Tulara Spangenburg |
| 8th | Madeline Sinderberry | Keilor Bamboo |
| 9th | Samantha Sant | Blackall Park Clarence |
| 10th | Conor Reed | Calypso 419 |
| 11th | Bella Du Plessis | Monte Carlo MVNZ |
| 12th | Tessa Lill | Yalambi's Hugo Boss |
CLASS 46: PRYDE'S EASIFEED – AUSTRALIAN SENIOR CHAMPIONSHIP (FINAL) – 1.50-1.65m
| | | |
| --- | --- | --- |
| PLACE | RIDER | HORSE |
| 1st | Olivia Hamood | Jane Fonda DVD |
| 2nd | Chris Chugg | Cera Cassiago |
| 3rd | Sam Overton | Oaks Cassanova |
| 4th | Gabrielle Chugg | PSS Levilensky |
| 5th | Amanda Madigan | Diamond B Vivienne |
| 6th | Kate Hinschen | Oaks Ventriloquist |
| 7th | Billy Raymont | Black Jack IXE |
| 8th | Frida Lindgren | Ashleigh City Lights |
| 9th | Robert Palm | Jaybee Vibrant |
| 10th | Billy Raymont | Fontaine Blue VDL |
| 11th | Phillip Lever | Lomachenko |
| 12th | Anthony Thomas | SL Donato |
| 13th | Josh Collins | Cornel |
| 14th | Amanda Ross | RLE Poynstown Will |
| 15th | Shane Davidson | Jaybee Vision |
ARILLA – RING 2
CLASS 47: CHASE EQUESTRIAN – OPAL SERIES (FINAL) – 1.04m
| | | |
| --- | --- | --- |
| PLACE | RIDER | HORSE |
| 1st | Nellie Rogers | Rocket Rod |
| 2nd | Zara Adnams | Dingmac Disco King |
| 3rd | Nellie Rogers | Valiant Star |
| 4th | Holly Bolzon | Affresco |
| 5th | David Boulton | Cascade |
| 6th | Steph Connley | Quintell |
| 7th | Caitlin Bolger | Oaks Etna |
| 8th | Jane Powell | Dinomite |
CLASS 48: VRANKEN-POMMERY AUSTRALIA – RUBY SERIES (FINAL) – MINIMUM 1.25m
| | | |
| --- | --- | --- |
| PLACE | RIDER | HORSE |
| 1st | Robert Palm | Halcyons Total Joy |
| 2nd | Sarah McMillan | Texas |
| 3rd | Megan Joyce | Blackall Park Cha Cha |
| 4th | Jane Wilcox | Miss Pippa |
| 5th | Kate Beadel | Lily Elmare |
| 6th | Rhys Stones | ES Ella |
| 7th | Kate Rowe | Tulara Connekta |
| 8th | Carly Overton | Pabello |
| 9th | Clara Palm | Dutch Man Rhetto |
| 10th | Jessica Kent | Denison Park Cassisi |
| 11th | Georgia Bouzaid | Vitess |
| 12th | Mattea Davidson | Jaybee Vigilante |
CLASS 49: RACING VICTORIA – OFF THE TRACK CHAMPIONSHIP (FINAL) – 1.20m
| | | |
| --- | --- | --- |
| PLACE | RIDER | HORSE |
| 1st | Sarah Weiss | Waratone |
| 2nd | Lauren Bolzon | Madagascar |
| 3rd | Cassie Palm | Honey Steels Gold |
| 4th | Louise Abbey | Sail On By |
| 5th | Strobe Knox | Summer Delago |
| 6th | Katie Clark | Katelle Grand |
| 7th | Isabella Lloyd | Bashboy |
| 8th | Bridgette Thompson | Magic Option |
TULARA WARMBLOODS – RING 3
CLASS 50: EMCEE APPAREL – OPEN – 1.15m
| | | |
| --- | --- | --- |
| PLACE | RIDER | HORSE |
| 1st | Joy Collins | Old Red |
| 2nd | Kendall Richards | Bonita Auriela |
| 3rd | Sarah Weiss | Waratone |
| 4th | Courtney Shears | Karinga |
| 5th | Christopher Ledger | Docs Park Ash |
| 6th | Brook Dobbin | Velvet Cate |
| 7th | Olivia Price | Valeska |
| 8th | Simone Sorensen | Viva Blue |
CLASS 51: VICTORIAN STATE GOVERNMENT – OPEN – 1.25m
| | | |
| --- | --- | --- |
| PLACE | RIDER | HORSE |
| 1st | Alison Ford | Elijah |
| 2nd | Paige Johnson | Lilyvale Falks Prince |
| 3rd | Tori Glass | Bonnie Valley Nobuck Boris |
| 4th | Tim Wilson | Vivarchi |
| 5th | Melissa Backman | Blackall Park Coloe |
| 6th | Amanda Madigan | Diamond B Beyonce |
| 7th | Emma Smith | Calabasas G |
CLASS 52: ORANGEVILLE PERFORMANCE HORSES – OPEN – 1.35m
| | | |
| --- | --- | --- |
| PLACE | RIDER | HORSE |
| 1st | Caitlin Bolger | Caprino |
| 2nd | Courtney Shears | Alina |
| 3rd | Tahlia Spagnardi | Sunday Rhatigan |
RING 4
CLASS 53: HEINIGER – IVORY SERIES (FINAL) – 0.85m
| | | |
| --- | --- | --- |
| PLACE | RIDER | HORSE |
| 1st | Kaya Zielinski | Lady Of Diamonds |
| 2nd | Ava Kennedy | Piper Arrow |
| 3rd | Lorna Clifford | Kahean Trooper Nelson |
| 4th | Lucy Borrack | Tane Mahuta |
| 5th | Nakita Willis | Bella |
| 6th | Ava Harrington | Miss Demenor |
| 7th | Amy Bennett | River Song |
| 8th | Keren Bennett | LH Voleta |
CLASS 54: YANDOO EQUESTRIAN – PEARL SERIES (FINAL) – 0.95m
| | | |
| --- | --- | --- |
| PLACE | RIDER | HORSE |
| 1st | Emmy Fraser | CP Capulet Grey Rose Z |
| 2nd | Olivia Osborne | Volador |
| 3rd | Simone Tanis | Somerwaters Elite |
| 4th | Cameron Dougall | Bradgate Park Grafenhurst |
| 5th | Brad Cunningham | Alphabet Invention |
| 6th | Isobel Olivier | Hnnah's Quest |
| 7th | Simone Sorensen | Bayview Wish List |
| 8th | Aaron Mawhinney | Money Shot |
View Comments