Caitlin Bolger and Caprino – Success at NVSJC Summer Show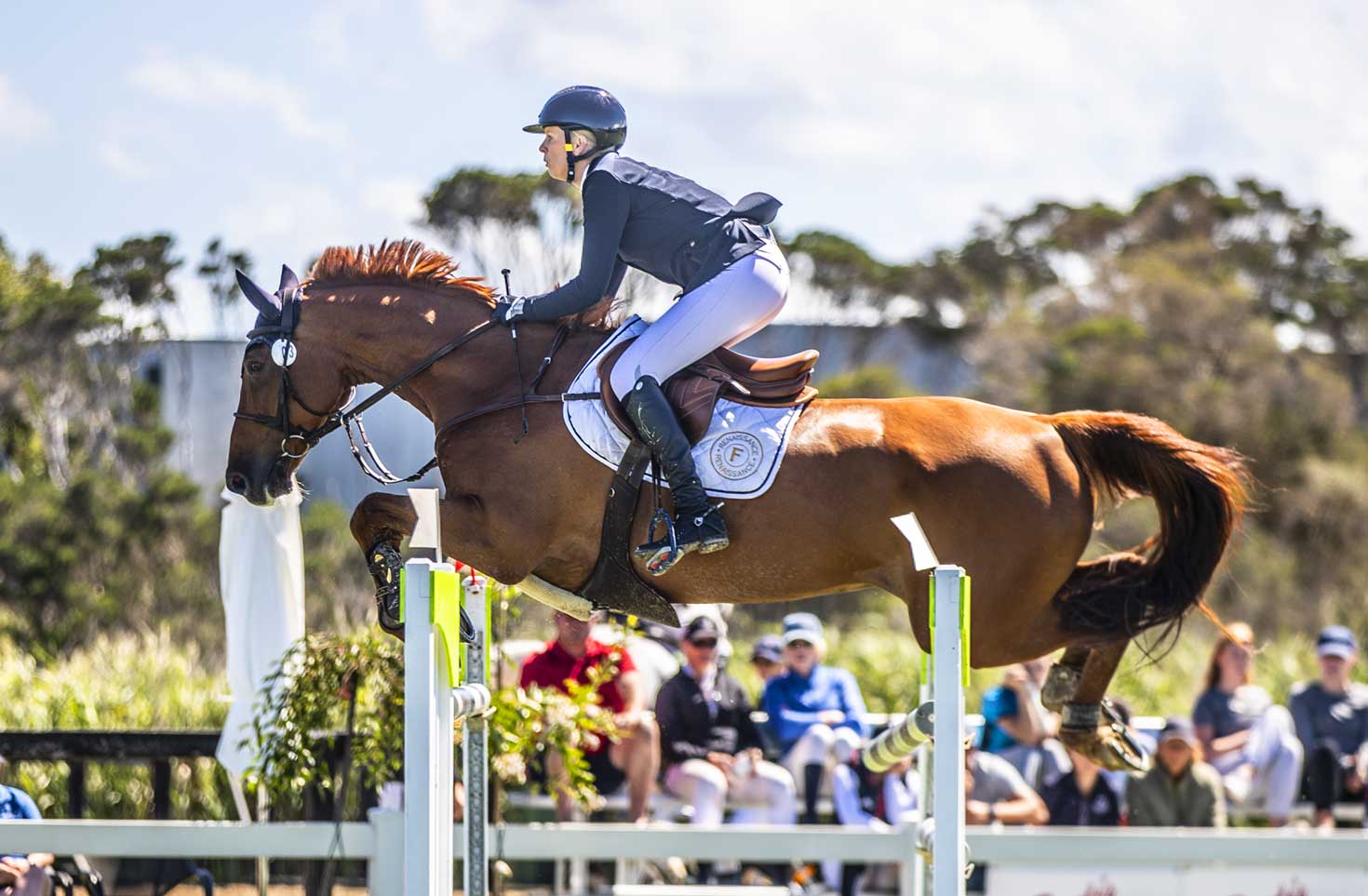 Australian Jumping
Above: Caitlin Bolger and Caprino. 
The Northern Victorian Show Jumping Club (NVSJC), based in Shepparton Victoria, held their Summer Show over the weekend, in what served as a warm-up for their upcoming World Cup Show, scheduled for 18-20 March 2022.
Advertisement


There were a large range of classes, with combinations competing at 0.50m through to 1.40-1.45m on both the grass and the sand arenas.
The highest class of the weekend, at 1.40-1.45m, was held on the grass arena on Saturday afternoon and although there were only six combinations entered, an exciting contest ensured. Held over just one round, the win went to the only clear combination, West Australian Caitlin Bolger and chestnut gelding Caprino. This is an in-form combination, with this win coming just two weeks after a win in an open 1.35m class at the Australian Championships at Boneo Park. In second place, with just the four penalties, were Tesse Raymont and Anton, a horse more frequently riden by Tesse's husband Billy! Tesse Raymont and a horse she usually competes on, Allwynds Valherro, were in third, also with four faults.
Advertisement


In other performances, both Phoebe Rathjen and Eliza Abrahams had great weekends. Rathjen, who was a member of the Jumping Victoria Squadette Program in 2021 combined with King Jester to win three classes (twice at 0.80m and once at 0.90m), while Shepparton local, Abrahams, also took out three classes, twice with Cody (0.60m and 0.70m) and once with Rocket Rod (0.60m). Mansfield based Sophia Landy combined with two different horses for a pair of wins. Her OTT thoroughbred, Humble Glory (or Hughie to his friends) won Saturday's 1.30m class, while Seattle Park, having placed third at 1.10m on Saturday, took out Sunday's 1.15m competition.
Greg Way also achieved a pair of wins with Alfi in the 0.50m class and with Waytogo Blues Shout at 0.70m
Congratulations to all the winners and placegetters from the show. Placegetters in all classes are listed below.
SATURDAY RESULTS
GRASS ARENA
CLASS 1: 1.00m
| | | |
| --- | --- | --- |
| PLACE | RIDER | HORSE |
| 1st | Chloe Lockwood | Mingara Panda |
| 2nd | Caleb Bertram | Ceejay Park Diamond |
| 3rd | Mikayla Curnow | Nawarrah Park Presley |
| 4th | Ruby Bryant | Tarburra Gold Nugget |
| 5th | Stuart Walker | Just Bobby |
| 6th | Clyde Sherajones | Si Si Strike |
CLASS 2: 1.10m
| | | |
| --- | --- | --- |
| PLACE | RIDER | HORSE |
| 1st | Airlie Robinson | Yalambis Corlandia |
| 2nd | Tinky Konecny | Hot And Spicey |
| 3rd | Sophia Landy | Seattle Park |
| 4th | Jena Bloomfield | Black N White |
| 5th | Tim Clarke | Kanntango |
| 6th | Paul Brent | Fifth Avenue LC |
CLASS 3: 1.20m
| | | |
| --- | --- | --- |
| PLACE | RIDER | HORSE |
| 1st | Kelly Lees | Ohio Silver |
| 2nd | Rachael Gane | Bandido |
| 3rd | Tinky Konecny | Hot And Spicey |
| 4th | Bryan Curnow | Queens Park Frenchman |
| 5th | Tanner Robinson | Shady Creek Snickers |
| 6th | Adam Prime | Saddle Up Balou |
CLASS 4A: 1.30m
| | | |
| --- | --- | --- |
| PLACE | RIDER | HORSE |
| 1st | Sophia Landy | Humble Glory |
| 2nd | Paul Brent | Kablese Kavita |
| 3rd | Rachael Gane | Minnamurra Park Amaya |
| 4th | Paul Brent | Fontaine Blue VDL |
| 5th | Sue Coman | Lizetta |
| 6th | Tesse Raymont | Anton |
CLASS 4B: 1.40-1.45m
| | | |
| --- | --- | --- |
| PLACE | RIDER | HORSE |
| 1st | Caitlin Bolger | Caprino |
| 2nd | Tesse Raymont | Anton |
| 3rd | Tesse Raymont | Allwynds Valherro |
| 4th | Adam Prime | Saddle Up Smudge |
| 5th | Tori Stuckey | Finch Farm Cab Sav |
| 6th | Jim Richards | Foreign Secret SB |
SAND ARENA
CLASS 5: 0.50m
| | | |
| --- | --- | --- |
| PLACE | RIDER | HORSE |
| 1st | Greg Way | Alfi |
| 2nd | Zoe Maksacheff | Bella |
| 3rd | Ruby Emanuelli | Wyann |
| 4th | Gregory Cochrane | Ruby |
| 5th | Isla Mealmaker | Creswell Snowden |
| 6th | Tori Glass | Glenara Miss Myka |
CLASS 6: 0.60m
| | | |
| --- | --- | --- |
| PLACE | RIDER | HORSE |
| 1st | Eliza Abrahams | Rocket Rod |
| 2nd | Zoe Maksacheff | Bella |
| 3rd | Annette Waddell | Sassy Sally |
| 4th | Marly Wright | Dream Time Soda Pop |
| 5th | Taylor Cameron | CBF Farn |
| 6th | Grace Ivill | RBH Premier |
CLASS 7: 0.70m
| | | |
| --- | --- | --- |
| PLACE | RIDER | HORSE |
| 1st | Greg way | Waytogo Blues Shout |
| 2nd | Caleb Bertram | Appoint Percy |
| 3rd | Louise Paton | Missy |
| 4th | Eliza Abrahams | Rocket Rod |
| 5th | Isabella Spence | Starsky |
| 6th | Taylor Cameron | CBF Farn |
CLASS 8: 0.80m
| | | |
| --- | --- | --- |
| PLACE | RIDER | HORSE |
| 1st | Phoebe Rathjen | King Jester |
| 2nd | Caleb Bertram | Appoint Percy |
| 3rd | Tim Haworth | Jingella Blueprint |
| 4th | Caleb Bertram | Ramacoin |
| 5th | Mietta Innes-Irons | Tanzenherz |
| 6th | Greg Way | Waytogo Blues Shout |
CLASS 9: 0.90m
| | | |
| --- | --- | --- |
| PLACE | RIDER | HORSE |
| 1st | Phoebe Rathjen | King Jester |
| 2nd | Bianca Welland | Snap Crackle and Pop |
| 3rd | Ava McKee | Gundowring Nebraska |
| 4th | Angus Williams | He's All White |
| 5th | Ava McKee | LV Buzz |
| 6th | Steph Waddell | Tulara Jindi |
SUNDAY RESULTS
GRASS ARENA
CLASS 10A: 1.05m
| | | |
| --- | --- | --- |
| PLACE | RIDER | HORSE |
| 1st | Tanner Robinson | Vidacious |
| 2nd | Louise Abey | Sail On By |
| 3rd | Clyde Sherajones | Si Si Strike |
| 4th | Stuart Walker | Exaggeration |
| 5th | Paul Brent | Fifth Avenue Lc |
| 6th | Fiona John | Valenti |
CLASS 10B: OFF THE TRACK 1.05m
| | | |
| --- | --- | --- |
| PLACE | RIDER | HORSE |
| 1st | Louise Abey | Sail On By |
| 2nd | Stuart Walker | Exaggeration |
| 3rd | Sue Coman | Goodspell Park Tommy |
CLASS 11: 1.15m
| | | |
| --- | --- | --- |
| PLACE | RIDER | HORSE |
| 1st | Sophia Landy | Seattle Park |
| 2nd | Bradley Hear | Rbh Chaccarla |
| 3rd | Airlie Robinson | Yalambis Corlandia |
| 4th | Tanner Robinson | Magnum Mvnz |
| 5th | Tim Clarke | Camacho |
| 6th | Christie Freeman | Quevida |
CLASS 12: 1.25m
| | | |
| --- | --- | --- |
| PLACE | RIDER | HORSE |
| 1st | Grace Ivill | Lamaz |
| 2nd | Tim Clarke | Camacho |
| 3rd | Adam Prime | Saddle Up Balou |
| 4th | Sophia Landy | Seattle Park |
| 5th | Jena Bloomfield | Slaash |
| 6th | Belle Morrow | Thru The Mist |
CLASS 13: 1.35m
| | | |
| --- | --- | --- |
| PLACE | RIDER | HORSE |
| 1st | Paul Brent | Kablesse Kavita |
| 2nd | Tesse Raymont | Allwynds Valherro |
| 3rd | Tesse Raymont | Anton |
| 4th | Tori Stuckey | Finch Farm Cab Sav |
| 5th | Paul Brent | Fontaine Blue Vdl |
| 6th | Adam Prime | Saddle Up Smudge |
SAND ARENA
CLASS 14: 0.60m
| | | |
| --- | --- | --- |
| PLACE | RIDER | HORSE |
| 1st | Eliza Abrahams | Cody |
| 2nd | Sasha Topfer | Shae |
| 3rd | Greg Cochrane | Ruby |
| 4th | Caitlyn McAuliffe | Huntly |
| 5th | Keira Mathlin | Brookside Tinkabella |
| 6th | Lyla Ferrar | Autumn |
CLASS 15: 0.70m
| | | |
| --- | --- | --- |
| PLACE | RIDER | HORSE |
| 1st | Eliza Abrahams | Cody |
| 2nd | Greg Way | Blue |
| 3rd | Eliza Abrahams | Rocket Rod |
| 4th | Louise Paton | Missy |
| 5th | Millie Allen | Mamma Mia |
| 6th | Marly Wright | Dream Time Soda Pop |
CLASS 16: 0.80m
| | | |
| --- | --- | --- |
| PLACE | RIDER | HORSE |
| 1st | Phoebe Rathjen | King Jester |
| 2nd | Mila Armstrong | Parkiarrup |
| 3rd | Ava McKee | Gundowring Nebraska |
| 4th | Tim Haworth | Jingella Blueprint |
| 5th | Lauren Sheridan | Edoras Park Brego |
| 6th | Charli Hill | Annie Wonder |
CLASS 17: 0.90m
| | | |
| --- | --- | --- |
| PLACE | RIDER | HORSE |
| 1st | Kristy Haworth | Wondaree Spice |
| 2nd | Ruby Bryant | Tarburra Gold Nugget |
| 3rd | Ava McKee | LV Buzz |
| 4th | Mietta Innes-Irons | Tanzenherz |
| 5th | Paige Cooper | Janeil Galaxy |
| 6th | Keira Methlin | Brookside Bria |
CLASS 18: 0.90m
| | | |
| --- | --- | --- |
| PLACE | RIDER | HORSE |
| 1st | Angus Williams | He's All White |
| 2nd | Rochelle Adams | Mr O'Postrophe |
| 3rd | Lachlan Waddell | Willie |
Results sourced from the Northern Victoria Show Jumping Club facebook page
View Comments