Christmas comes early to Boneo with GDP Classic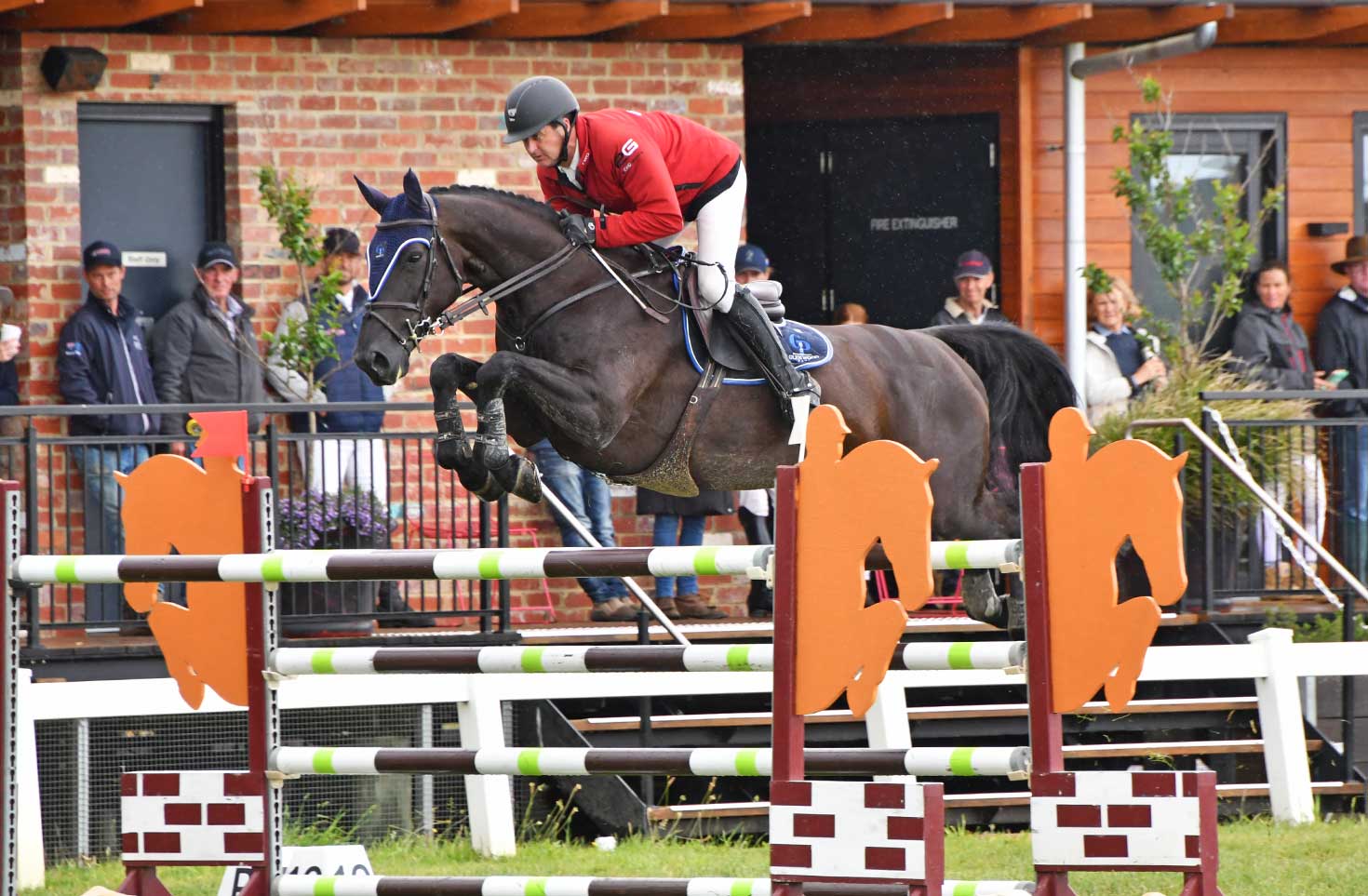 Tazzie Eggins Photography
Above: Brook Dobbin and Gina MVNZ. Photo credit: Tazzie Eggins Photography.
A fantastic four days of jumping was held at Boneo Park over the weekend, with the running of the GDP Christmas Classic. While the fields were not overly large, most of the top riders in Victoria were present, some of which had made the dash back to Victoria after competing in the Sydney Summer Classic and the Australian Jumping Teams League, (AJTL), the previous weekend in Sydney.
Advertisement


The feature series was the Grand Prix with the first round held on Thursday. Sponsored by Gaults, the Round 1 win went to Brook Dobbin and Gina MVNZ, who went double clear, just ahead of the only other double clear performance by Ally Lamb and Eagle Rock.
Fultons sponsored the second Round on Friday, which saw Ally Lamb and Eagle Rock go one better to take the win, with Frida Lindgren and Ashleigh City Lights filling second place, up four places from their sixth place finish in Round 1.
When it came to the Martin Collins Australia sponsored final on Sunday, it was all about Brook Dobbin and Gina MVNZ. They recovered from their two rails in Round 2 to be the only combination out of 12 entrants to record a double clear performance in the final and take the well-deserved win. Second place went to Andrew Lamb and Spartava DP and third to Robert Palm and Jaybee Vibrant, both combinations taking a single rail in the jump-off after clear first rounds.
Other series winners over the weekend were
Childrens Series – Tanner Robinson and Shady Creek Bluefire
Junior Series – Elissa Stephens and Vertigo
Young Horse Series – Phillip Lever and Bonita
Amateur Series – Joyce Megan and Denison Park Corduroy
Open 1.20m Series – Airlie Robinson and Yalambi's Corlandia
Mini Prix Series – Kate Beadel and Lily Elmare
Future Stars Series – Brook Dobbin and Velvet Cate
Young Rider Series – Nina Griffiths and Zammora S
Congratulations to all the winners and placegetters from the show. Placegetters in all classes are listed below.
THURSDAY RESULTS
MARTIN COLLINS MAIN ARENA
CLASS 1A: BONEO PARK – Young Rider Series – ROUND 1
| | | |
| --- | --- | --- |
| PLACE | RIDER | HORSE |
| 1st | Georgia Price | Zara PPH |
| 2nd | Max Height | Castlederg |
| 3rd | Nina Griffiths | Mr Zizou |
| 4th | Nina Griffiths | Zammore S |
| 5th | Jack Barker | Tulara Colchic |
| 6th | Chase Naylor | Checkbook |
CLASS 1B: PALMS EQUESTRIAN – Future Stars Series – ROUND 1
| | | |
| --- | --- | --- |
| PLACE | RIDER | HORSE |
| 1st | Phillip Lever | BP Jedak Du Rouet |
| 2nd | Andrew Lamb | Janory DP |
| 3rd | Ally Lamb | Glenara Chacco DP |
| 4th | Airlie Robinson | Magnum MVNZ |
| 5th | Mark Nicholls | Batman Xtreme |
| 6th | Brook Dobbin | Velvet Cate |
CLASS 2: SAM COMWAY – Mini Prix Series – ROUND 1
| | | |
| --- | --- | --- |
| PLACE | RIDER | HORSE |
| 1st | Adam Johnston | Up |
| 2nd | Kate Beadel | Lily Elmare |
| 3rd | Frida Lindgren | Big Dream Z |
| 4th | Russell Morrison | Ce Cajun |
| 5th | Amanda Leyshan | Viva Unique |
| 6th | Teagan Chester | Shine On Me |
CLASS 3: GAULTS – Grand Prix Series – ROUND 1
| | | |
| --- | --- | --- |
| PLACE | RIDER | HORSE |
| 1st | Brook Dobbin | Gina MVNZ |
| 2nd | Ally Lamb | Eagle Rock |
| 3rd | Robert Palm | Jaybee Vibrant |
| 4th | Brook Dobbin | Gabriel MVNZ |
| 5th | Andrew Lamb | Spartava DP |
| 6th | Frida Lindgren | Ashleigh City Lights |
CLASS 4: KER – Junior Series– ROUND 1
| | | |
| --- | --- | --- |
| PLACE | RIDER | HORSE |
| 1st | Jack Barker | Mighty Tosca |
| 2nd | Hayden Parker | Myridersnota Roxstar |
| 3rd | Hayden Parker | Yirrkala Pippi Longstockings |
| 4th | Jack Barker | Yandoo Zenzel HBC |
| 5th | Georgia Price | Berlucci |
| 6th | Lorna Reilly | Bellhaven Jazz |
ARENA 2
CLASS 5: GDP – Children's Series – ROUND 1
| | | |
| --- | --- | --- |
| PLACE | RIDER | HORSE |
| 1st | Avril Charman | Annabella |
| 2nd | Avril Charman | Diamond B Conseal |
| 3rd | Tanner Robinson | Charlie |
| 4th | Zara Adnams | Tally Ho Primrose |
| 5th | Elissa Stephens | Noblewood Casharella |
| 6th | Alice Lawrence | Mucho Mucho Deniro |
CLASS 6A: QUALITY BREEDING SERVICES – Young Horse Series – ROUND 1
| | | |
| --- | --- | --- |
| PLACE | RIDER | HORSE |
| 1st | Ally Lamb | Chalina DP |
| 2nd | Phillip Lever | Bonita |
| 3rd | Ally Lamb | Kiara DP |
| 4th | Tori Stuckey | Tulara Colette |
| 5th | Sarah Cork | Christiano MS |
| 6th | Teagan Chester | Trump Card |
CLASS 6B: KWA BUILDING PERMITS – Amateur Series – ROUND 1
| | | |
| --- | --- | --- |
| PLACE | RIDER | HORSE |
| 1st | Chelsea Hair | Cheech BFD |
| 2nd | Joyce Megan | Denison Park Corduroy |
| 3rd | Robert Agnew | Fields Of Harvest |
| 4th | Daniel Leach | Killara Park Cassius Clay |
| 5th | Cindy Morrison | Noblewood Park Lucinda |
| 6th | Nicole Gibbs | Antara Park Baloushka |
CLASS 7: AEBC – Open 1.20m Series – ROUND 1
| | | |
| --- | --- | --- |
| PLACE | RIDER | HORSE |
| 1st | Airlie Robinson | Yalambi's Corlandia |
| 2nd | Murray Lampard | Sebastian |
| 3rd | Tansy Sagar | KS Snapchat |
| 4th | Abbey Page | Riverlad |
| 5th | Teagan Chester | Callista |
| 6th | Tim Eurell | Tulara For Chico |
FRIDAY RESULTS
MARTIN COLLINS MAIN ARENA
CLASS 8: CHASE EQUESTRIAN – Children's Series – ROUND 2
| | | |
| --- | --- | --- |
| PLACE | RIDER | HORSE |
| 1st | Sienna Holdsworth-Rose | Atlas E |
| 2nd | Kaylee Stephens | LH Beckham |
| 3rd | Alice Lawrence | Mucho Mucho Deniro |
| 4th | Ellissa Stephens | Noblewood Casharella |
| 5th | Tanner Robinson | Shady Creek Bluefire |
| 6th | Amelia Tsilfidis | Pride Of Gold |
CLASS 9: STERLEY FAMILY – Mini Prix Series – ROUND 2
| | | |
| --- | --- | --- |
| PLACE | RIDER | HORSE |
| 1st | Sally Simmonds | Chio MS |
| 2nd | Adam Johnston | Up |
| 3rd | Russell Morrison | Ce Cajun |
| 4th | Sam Conway | Kendalee Centaurus SHL |
| 5th | Frida Lindgren | Big Dream Z |
| 6th | Kate Beadel | Lily Elmare |
CLASS 10: FULTONS – Grand Prix Series – ROUND 2
| | | |
| --- | --- | --- |
| PLACE | RIDER | HORSE |
| 1st | Ally Lamb | Eagle Rock |
| 2nd | Frida Lindgren | Ashleigh City Lights |
| 3rd | Andrew Lamb | CP Argento |
| 4th | Robert Palm | Jaybee Vibrant |
| 5th | Amanda Ross | RLE Poynstown Will |
| 6th | Brook Dobbin | Gabriel MVNZ |
CLASS 11A: COOLDRIVE – Future Stars Series – ROUND 2
| | | |
| --- | --- | --- |
| PLACE | RIDER | HORSE |
| 1st | Andrew Lamb | Janory DP |
| 2nd | Phillip Lever | BP Jedak Du Rouet |
| 3rd | Ally Lamb | Glenara Chacco DP |
| 4th | Sally Simmonds | Oaks Kingfisher |
| 5th | Andrew Lamb | Oaks Ever Red |
| 6th | Mark Nicholls | Batman Xtreme |
CLASS 11B: LEVER EQUESTRIAN – Young Rider Series – ROUND 2
| | | |
| --- | --- | --- |
| PLACE | RIDER | HORSE |
| 1st | Nina Griffiths | Zammora S |
| 2nd | Georgia Price | Zara PPH |
| 3rd | Jack Barker | Tulara Colchic |
| 4th | Max Height | Castlederg |
| 5th | Nina Griffiths | Mr Zizou |
| 6th | Hayden Parker | Tulara Spangenberg |
ARENA 2
CLASS 12A: KIERNAN HAULAGE – Young Horse Series – ROUND 2
| | | |
| --- | --- | --- |
| PLACE | RIDER | HORSE |
| 1st | Ally Lamb | Chalina DP |
| 2nd | Phillip Lever | Bonita |
| 3rd | Damien Kiss | Tulara Congrini |
| 4th | Brooke Campbell | Tulara Flare |
| 5th | Caroline Price | Cera Cadbury Z |
| 6th | Ally Lamb | Kiara DP |
CLASS 12B: SOUTH EASTERN EQUINE HOSPITAL – Junior Series– ROUND 2
| | | |
| --- | --- | --- |
| PLACE | RIDER | HORSE |
| 1st | Grace Ivill | Lamaz |
| 2nd | Jack Barker | Mighty Tosca |
| 3rd | Jack Barker | Yandoo Zenzel HBC |
| 4th | Sienna Holdsworth-Rose | Coolart Farm Short Torque |
| 5th | Lorna Reilly | Bellhaven Jazz |
| 6th | Tilley Fair | Bella Bonita |
CLASS 13: MY BEST ME PSYCHOLOGY – Amateur Series – ROUND 2
| | | |
| --- | --- | --- |
| PLACE | RIDER | HORSE |
| 1st | Chelsea Hair | Cheech BFD |
| 2nd | Sophie Crooke | Finch Farm Queenie |
| 3rd | Samantha Richardson | Gold Play |
| 4th | Joyce Megan | Denison Park Corduroy |
| 5th | Robert Agnew | Fields Of Harvest |
| 6th | Daniel Leach | Killara Park Cassius Clay |
CLASS 14: 4 UP SKILLING – Open 1.20m Series – ROUND 2
| | | |
| --- | --- | --- |
| PLACE | RIDER | HORSE |
| 1st | Mark Nicholls | Diorite |
| 2nd | Airlie Robinson | Yalambi's Corlandia |
| 3rd | Russell Morrison | GP Quigly |
| 4th | Adam Prime | Saddle Up Balou |
| 5th | Brooke Campbell | Misty Blue |
| 6th | Kelvin Blumson | Springen Matilda |
ARENA 3
CLASS 15: OPEN – 0.90m
| | | |
| --- | --- | --- |
| PLACE | RIDER | HORSE |
| 1st | Darby Beadel | Jaybee Tarak |
| 2nd | Louise Abey | Sail On By |
| 3rd | Kate Beadel | Camilla Elmare |
| 4th | Charley Beecroft | Wonder Flash |
| 5th | Lucy Borrack | Tane Mahuta |
| 6th | Ivy Graham | Belcam Alaska |
CLASS 16: OPEN – 1.00m
| | | |
| --- | --- | --- |
| PLACE | RIDER | HORSE |
| 1st | Nellie Rodgers | Rocket Rod |
| 2nd | Ivy Graham | Belcam Alaska |
| 3rd | Darby Beadel | Jaybee Tarak |
| 4th | Louise Abey | Sail On By |
| 5th | William Tucker | Tamleugh Red |
| 6th | Charley Beecroft | Money And Power |
CLASS 17: OPEN – 1.10m
| | | |
| --- | --- | --- |
| PLACE | RIDER | HORSE |
| 1st | Murray Lamperd | Lushious Lourdes |
| 2nd | Damien Kiss | Tulara Congrini |
| 3rd | Kelvin Blumson | Springen Golly Gosh |
| 4th | Alanna Malkoc | Goodspell Park Loose Kannan |
| 5th | Stacey Briggs | Marengo Valentino |
| 6th | Anthony Bentley | Chickabe |
SATURDAY RESULTS
MARTIN COLLINS MAIN ARENA
CLASS 18: BARTON EQUINE AND PATEMAN RACING – Children's Series – FINAL
| | | |
| --- | --- | --- |
| PLACE | RIDER | HORSE |
| 1st | Tanner Robinson | Shady Creek Bluefire |
| 2nd | Evanna Malkoc | Sol Invictus |
| 3rd | Alice Lawrence | Mucho Mucho Deniro |
| 4th | Tanner Robinson | Charlie |
| 5th | Ava Martin | Secret Sensations |
| 6th | Kaylee Stephens | LH Beckham |
CLASS 19: BOSS DRAINAGE – Junior Series – FINAL
| | | |
| --- | --- | --- |
| PLACE | RIDER | HORSE |
| 1st | Elissa Stephens | Vertigo |
| 2nd | Hamish Prime | Diaritt |
| 3rd | Jack Barker | Yandoo Zenzen HBC |
| 4th | Lorna Reilly | Bellhaven Jazz |
| 5th | Tilley Fair | Bella Bonita |
| 6th | Tahlia Spagnardi | Sunday Rhatigan |
CLASS 20: WELLINGTON LIVESTOCK – Young Horse Series – FINAL
| | | |
| --- | --- | --- |
| PLACE | RIDER | HORSE |
| 1st | Phillip Lever | Bonita |
| 2nd | Ally Lamb | Chalina DP |
| 3rd | Brook Dobbin | Devos GP |
| 4th | Ally Lamb | Kiara DP |
| 5th | Damien Kiss | Tulara Congrini |
| 6th | Kate Beadel | Crackle E |
CLASS 21A: GDP – Amateur Series – FINAL
| | | |
| --- | --- | --- |
| PLACE | RIDER | HORSE |
| 1st | Joyce Megan | Denison Park Corduroy |
| 2nd | Cindy Morrison | Noblewood Park Lucinda |
| 3rd | Chelsea Hair | Cheech BFD |
| 4th | Sophie Crooke | Finch Farm Queenie |
| 5th | Stacey Briggs | Marengo Valentino |
| 6th | Samantha Richardson | Gold Play |
CLASS 21B: KAY & BURTON FLINDERS – Open 1.20m Series – FINAL
| | | |
| --- | --- | --- |
| PLACE | RIDER | HORSE |
| 1st | Airlie Robinson | Yalambi's Corlandia |
| 2nd | Russell Johnstone | Daprice |
| 3rd | Tori Glass | Bonnie Valley Nobuck Boris |
| 4th | Teagan Chester | Callista |
| 5th | Brooke Campbell | Misty Blue |
| 6th | Adam Prime | Saddle Up Balou |
ARENA 2
CLASS 22: PETSTOCK – OPEN – 0.90m
| | | |
| --- | --- | --- |
| PLACE | RIDER | HORSE |
| 1st | Kate Beadel | Camilla Elmare |
| 2nd | Kristy Haworth | Bee |
| 3rd | Sharon Ridgway | King Vassie |
| 4th | Tayla Anderson | Casino Nights |
| 5th | Caitlyn Duncan | Its Lux Nitro |
| 6th | Drew Crabbe | TC Phoenix |
CLASS 23: BARASTOC – OPEN – 1.00m
| | | |
| --- | --- | --- |
| PLACE | RIDER | HORSE |
| 1st | Nellie Rodgers | Rocket Rod |
| 2nd | Neve Bailey | Alpha Eco BMG |
| 3rd | Drew Crabbe | TC Phoenix |
| 4th | Kate Beadel | Camilla Elmare |
| 5th | Olivia Price | Victorious Hit |
| 6th | Molly Lawrence | Carabel P |
CLASS 24: KENTUCKY EQUINE RESEARCH – OPEN – 1.10m
| | | |
| --- | --- | --- |
| PLACE | RIDER | HORSE |
| 1st | Hannah Wigg | Clifton Court Luxardo |
| 2nd | Tim Eurell | Tulara For Chico |
| 3rd | Sam Conway | Denisen Park Arnie |
| 4th | Kate Bromley | Vanguard |
| 5th | Alanna Malkoc | Goodspell Park Loose Kannan |
| 6th | Danielle Marwood | Wild Child |
CLASS 25: 12 years and under – 6 bar
| | | |
| --- | --- | --- |
| PLACE | RIDER | HORSE |
| 1st | Ava Harrington | Miss Demeanor |
| 2nd | Harley McNaughton | Mobile App |
| 3rd | Grace Leipa | Castleburn The Merc |
| 4th | Harry Gault | Parklands Tiger Lilly |
| 5th | Lucy Borrack | Get Rhythm |
| 6th | Jack Eastley | Apache Walk |
CLASS 26: AE EQUESTRIAN AND FARMING PRODUCTS – OPEN 6 bar
| | | |
| --- | --- | --- |
| PLACE | RIDER | HORSE |
| 1st | Amanda Leyshan | Viva Unique |
| 2nd | Sally Simmonds | Oaks Charleville |
| 3rd | Elissa Stephens | Noblewood Casharella |
| 4th | Hayden Parker | Myridersnota Roxstar |
| 5th | David Boulton | Little Arrow |
| 6th | Daniel Leach | Killara Park Cassius Clay |
ARENA 3
CLASS 27: OPEN – 0.60m
| | | |
| --- | --- | --- |
| PLACE | RIDER | HORSE |
| 1st | Pamela Ormrod | Newbury Apollo |
| 2nd | Sally Black | Jeronimo |
| 3rd | Joyce Megan | Vont Vader |
| 4th | Ava Harrington | Dunelm Night Show |
| 5th | Nadia Serato | Highfield Summer Willow |
| 6th | Jaelina Kiley | Falcon Heavy |
CLASS 28: OPEN – 0.70m
| | | |
| --- | --- | --- |
| PLACE | RIDER | HORSE |
| 1st | Chloe Bell | Sunshine Lollipops and Rainbows |
| 2nd | Sunday Borrack | Benmore Pizazz |
| 3rd | Abigail Zammit | Fleur De Soleil |
| 4th | Chloe Fulkerson | Matuvu Cookies N Cream |
| 5th | Ava Harrington | Miss Demeanor |
| 6th | Ava Harrington | Dunelm Night Show |
CLASS 29: OPEN – 0.80m
| | | |
| --- | --- | --- |
| PLACE | RIDER | HORSE |
| 1st | Chloe Bell | Sunshine Lollipops and Rainbows |
| 2nd | Jaelina Kiley | Watch My Style |
| 3rd | Sophie Dillon | Epona D'artagnan |
| 4th | Sunday Borrack | Windward Kiri |
| 5th | Megan Vistarini | Beezie |
| 6th | Harry Gault | Parklands Tiger Lily |
SUNDAY RESULTS
MARTIN COLLINS MAIN ARENA
CLASS 30: PINKS HILLS PASTORAL – Mini Prix Series – FINAL
| | | |
| --- | --- | --- |
| PLACE | RIDER | HORSE |
| 1st | Kate Beadel | Lily Elmare |
| 2nd | Russell Johnstone | Cantara |
| 3rd | Adam Johnston | Up |
| 4th | Russell Morrison | Ce Cajun |
| 5th | Murray Lamperd | Sebastian |
| 6th | Amanda Leyshan | Viva Unique |
CLASS 32A: GRANDVIEW PARK EQUESTRIAN – Future Stars Series – FINAL
| | | |
| --- | --- | --- |
| PLACE | RIDER | HORSE |
| 1st | Brook Dobbin | Velvet Cate |
| 2nd | Andrew Lamb | Oaks Ever Red |
| 3rd | David Boulton | Little Arrow |
| 4th | Phillip Lever | BP Jedak Du Rouet |
| 5th | Ally Lamb | Glenara Chacco DP |
| 6th | Airlie Robinson | Magnum MVNZ |
CLASS 31: MARTIN COLLINS – Grand Prix Series – FINAL
| | | |
| --- | --- | --- |
| PLACE | RIDER | HORSE |
| 1st | Brook Dobbin | Gina MVNZ |
| 2nd | Andrew Lamb | Spartava DP |
| 3rd | Robert Palm | Jaybee Vibrant |
| 4th | Andrew Lamb | CP Argento |
| 5th | Adam Prime | Saddle Up Smudge |
| 6th | Ally Lamb | Eagle Rock |
CLASS 32B: EQUINE INTERNATIONAL AIRFREIGHT – Young Rider Series – FINAL
| | | |
| --- | --- | --- |
| PLACE | RIDER | HORSE |
| 1st | Nina Griffiths | Zammora S |
| 2nd | Jack Barker | Tulara Colchic |
| 3rd | Kendall Richards | Bonita Aurelia |
| 4th | Nina Griffiths | Mr Zizou |
| 5th | Max Height | Castlederg |
| 6th | Zoe Waller | Bequest |
ARENA 2
CLASS 33: OPEN – 0.95m
| | | |
| --- | --- | --- |
| PLACE | RIDER | HORSE |
| 1st | Kate Beadel | Camilla Elmare |
| 2nd | Joeleen Rohm | Kaluha T |
| 3rd | Isabella Lloyd | Phantom Vortex |
| 4th | Kristy Haworth | Bee |
| 5th | Tori Stuckey | 24 Karat |
| 6th | Lorna Reilly | Yalambi's Incantation |
CLASS 34: OPEN – 1.05m
| | | |
| --- | --- | --- |
| PLACE | RIDER | HORSE |
| 1st | Jazi French | Eurodel Du Texier |
| 2nd | Isabella Lloyd | Bashboy |
| 3rd | Danielle Marwood | Wild Child |
| 4th | Adam Prime | Saddle Up Budderball |
| 5th | Isabella Lloyd | Phantom Vortex |
| 6th | Hannah Bird | Emmaville Desire |
CLASS 35: OPEN – 1.15m
| | | |
| --- | --- | --- |
| PLACE | RIDER | HORSE |
| 1st | Isabella Lloyd | Bashboy |
| 2nd | Hannah Bird | Emmaville Desire |
| 3rd | Tim Eurell | Tulara For Chico |
| 4th | Robert Palm | Phantom Bronte |
| 5th | Robert Palm | Halcyons Dark Knight |
| 6th | Kate Wallis | Lord Rupert |
ARENA 3
CLASS 36: YARRA RANGES ANIMAL HOSPITAL – OPEN – 0.65m
| | | |
| --- | --- | --- |
| PLACE | RIDER | HORSE |
| 1st | Ava Harrington | Dunelm Night Show |
| 2nd | Felicity Devereux | Hitch Hiker Jamie |
| 3rd | Daniel Leach | Dizzy Success |
CLASS 37: YARRA RANGES ANIMAL HOSPITAL – OPEN – 0.75m
| | | |
| --- | --- | --- |
| PLACE | RIDER | HORSE |
| 1st | Sheridyn Witney | Lincoln |
| 2nd | Eliza-Jayne Sinclair | Warrior Of Fire |
| 3rd | Bella Naughton | Bad Romance |
| 4th | Grace Liepa | Castleburn The Merc |
| 5th | Sami Bell | Kung Fu Panda |
| 6th | Olivia Osborne | Belcam Alwina |
CLASS 38: YARRA RANGES ANIMAL HOSPITAL – OPEN – 0.85m
| | | |
| --- | --- | --- |
| PLACE | RIDER | HORSE |
| 1st | Sunday Borrack | Benmore Pizazz |
| 2nd | Ava Harrington | Miss Demeanor |
| 3rd | Jaelina Kiley | Falcon Heavy |
| 4th | Sophie Dillon | Epona D'artagnan |
| 5th | Emma Wall | Hello Darling |
| 6th | Ava Harrington | Razzmatazz |
Results sourced from online.equipe.com
View Comments