Chuggy Equestrian thrill the crowd at Willinga Park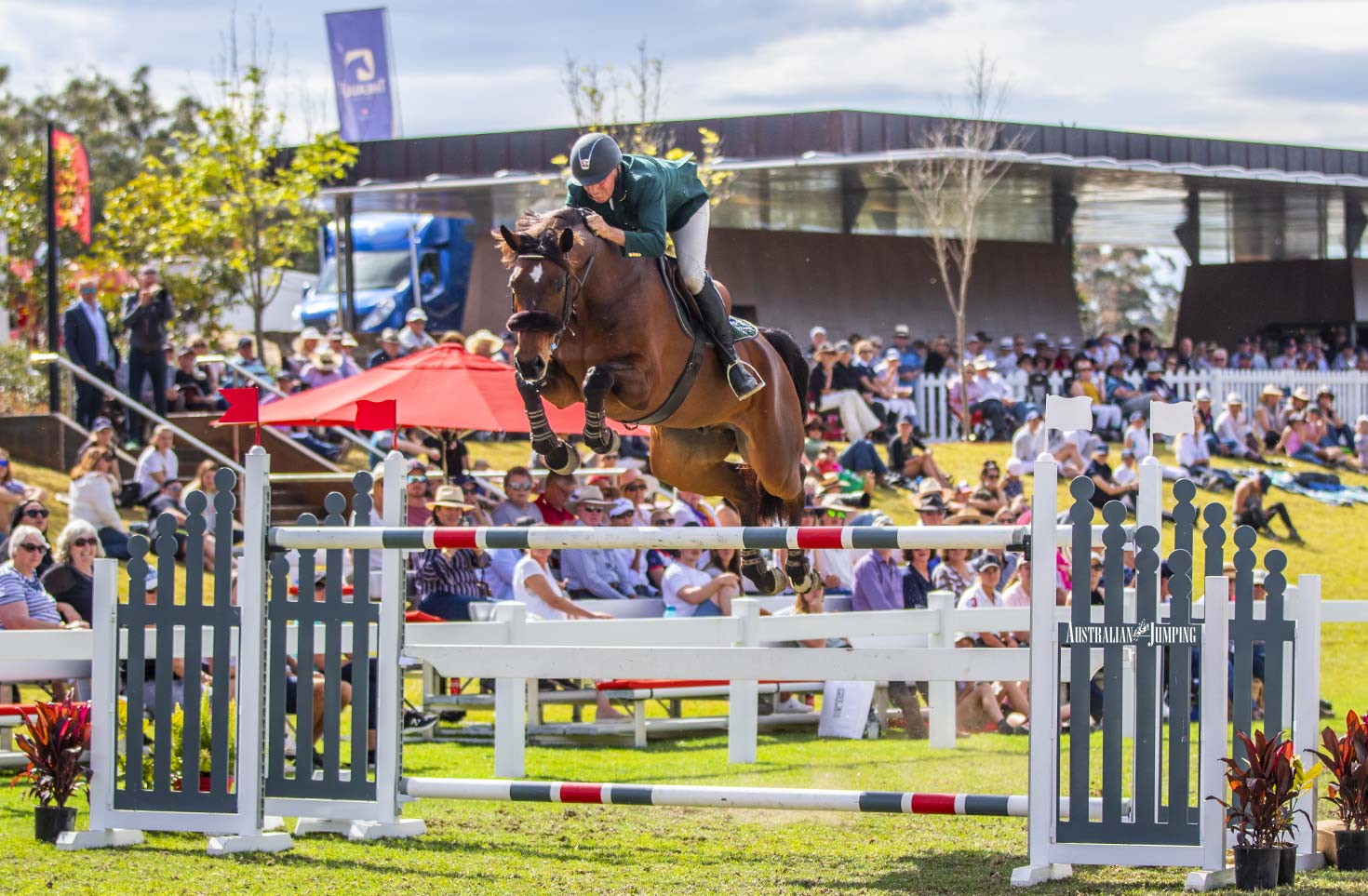 Australian Jumping
The most prestigious individual class on the Jumping @ Willinga program was held yesterday afternoon under a beautiful clear sky and in front of a large and excited crowd.
With total prize money of $70,000 and $25,000 to the winning combination, the Willinga Park Grand Prix attracted an ultra-high-quality field of riders and horses. With more than half of the riders involved in the Australian Jumping Teams League (AJTL) first event on Friday, backing up for another dip at the significant prize money on offer, the field was worthy of a World Cup Qualifying round. With WEG representatives, Olympians, Australian Champions, winners of numerous World Cup classes and one of New Zealand's brightest young stars all competing, the crowd could not have wished for a better spectacle.
Advertisement

What could be better for the jumping enthusiast? A beautiful day, a stunning venue, a fantastic course built by Graeme Watts and the best riders and horses that this country has to offer soaring over 1.50m fences in a thrillingly close competition.
After all the preliminaries were done, the first combination took to the course to the amazed gasps of the spectators, many of which may not have seem jumping of this standard before. We only had to wait until the fifth combination on course until rapturous applause rang out in appreciation of the first clear round of the competition, produced by Gabrielle Kuna and Cera Cassiago in 73.69 seconds, well under the time allowed of 80 seconds.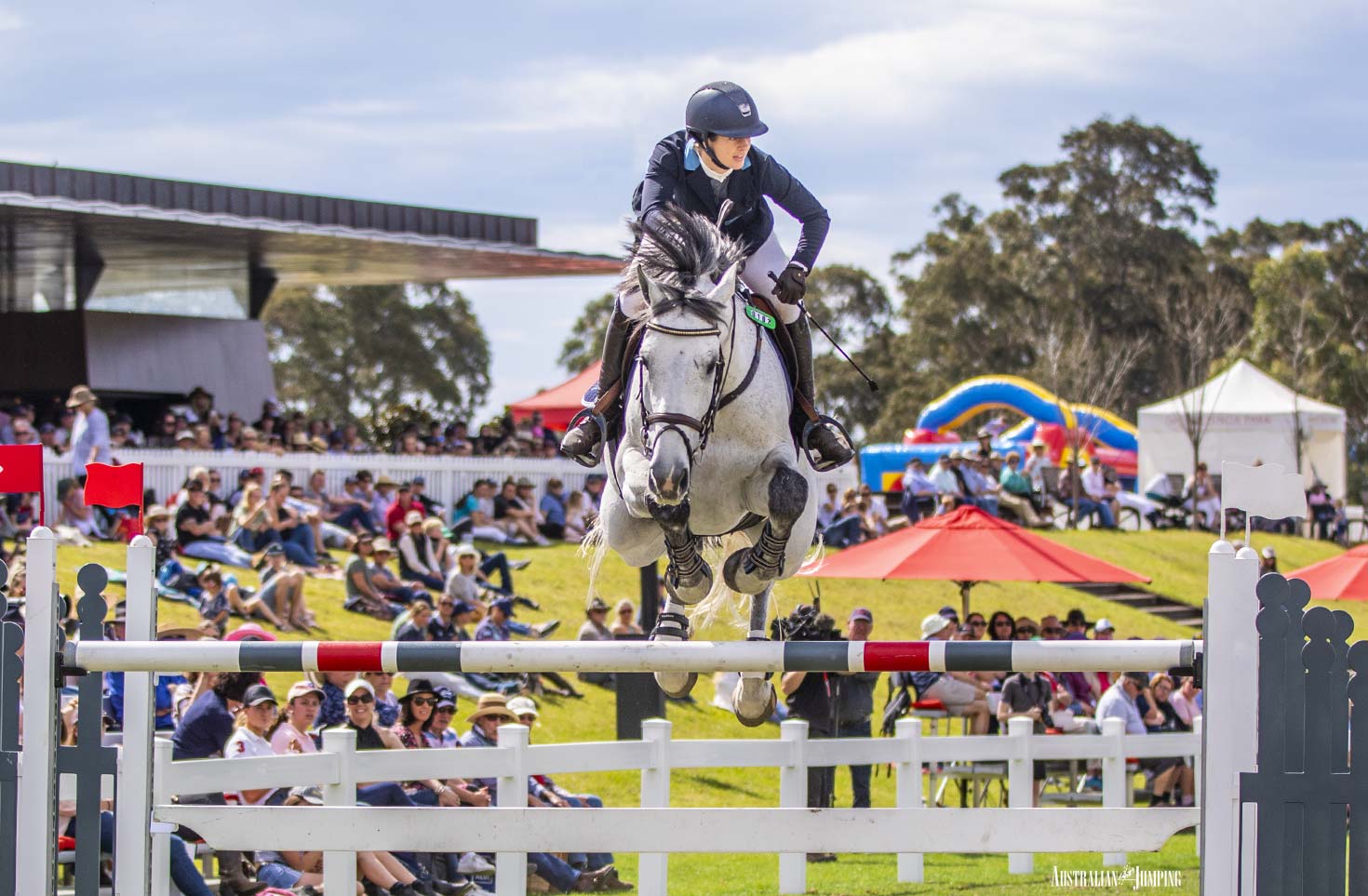 Gabrielle Kuna and Cera Cassiago
This turned out to be the quickest of the six Round One clears, the others being achieved by Chris Chugg and PSS Levilensky, Olivia Hamood and Jane Fonda DVD, Gabrielle Kuna, this time with her stunning mare Flaire, Billy Raymont and Anton and the last combination out on course, Kate Hinschen and Finch Farm Cadel. Six out of 31 is possibly a little fewer than we might have expected, however the triple at 11 caused its fair share of trouble for a number of combinations. In addition to the six clears there were a further nine combinations who recorded a single rail, many of which would have been the third of the triple that fourteen combinations could not clear.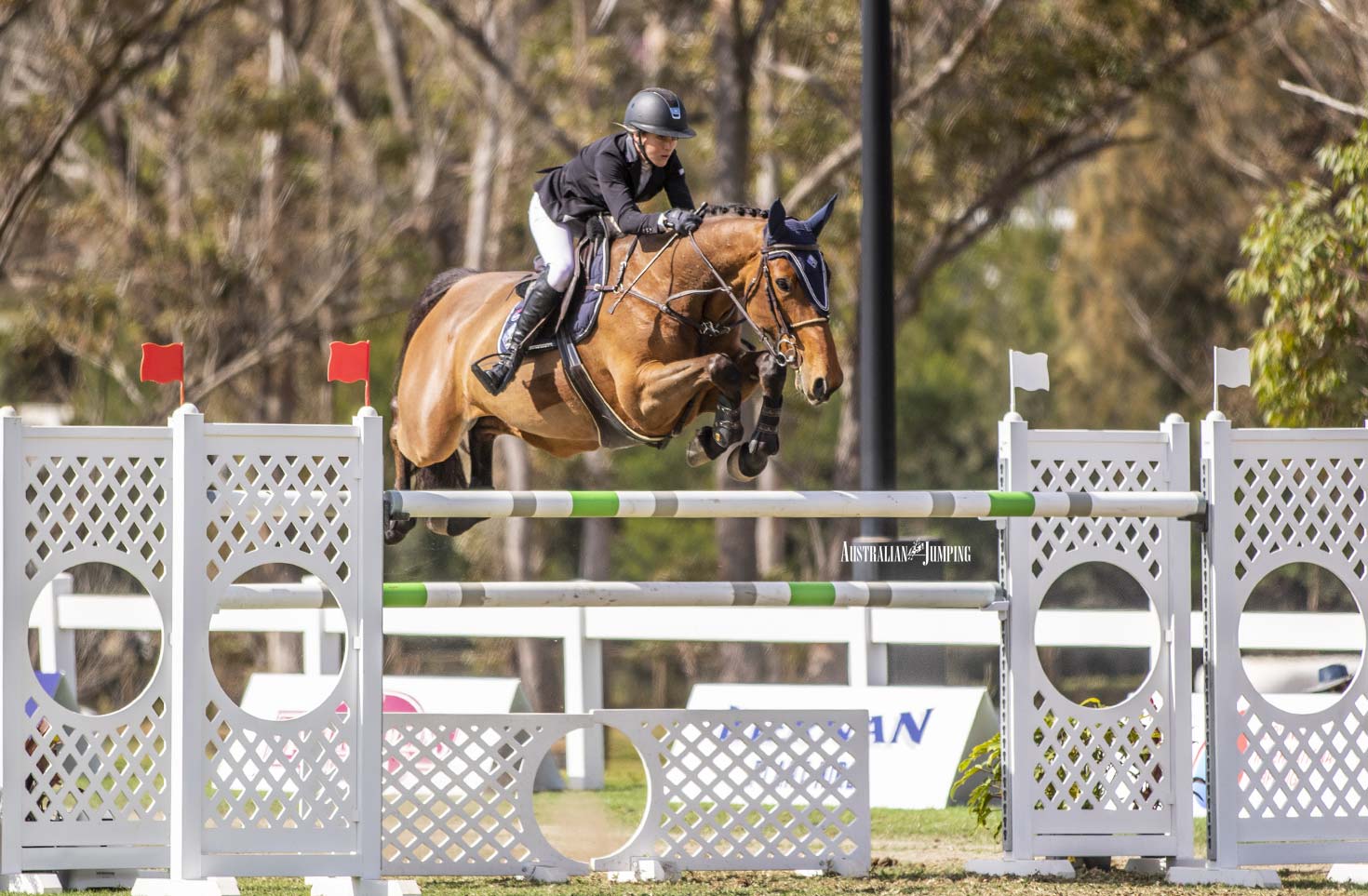 Olivia Hamood and Jane Fonda DVD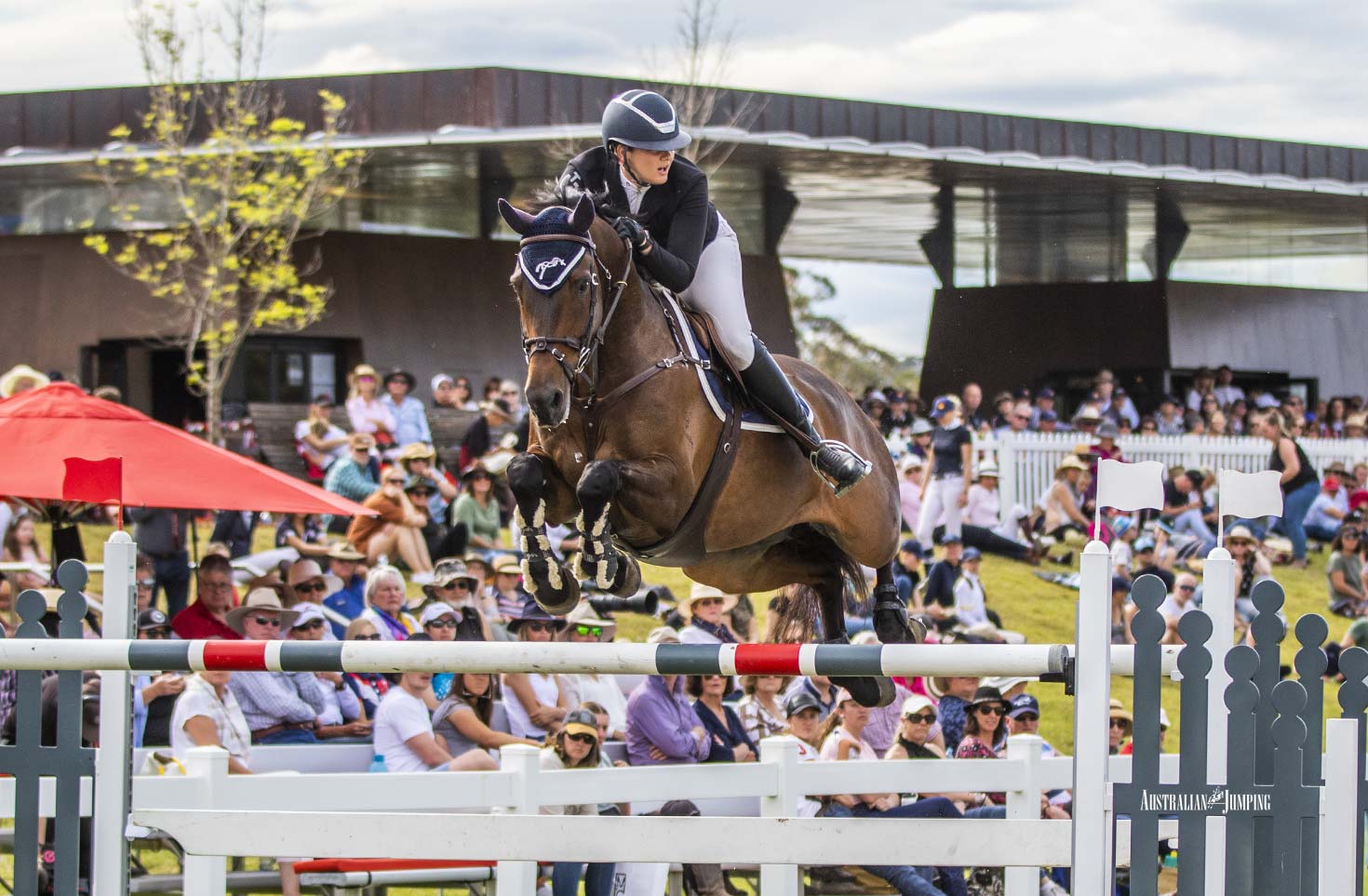 Kate Hinschen and Finch Farm Cadel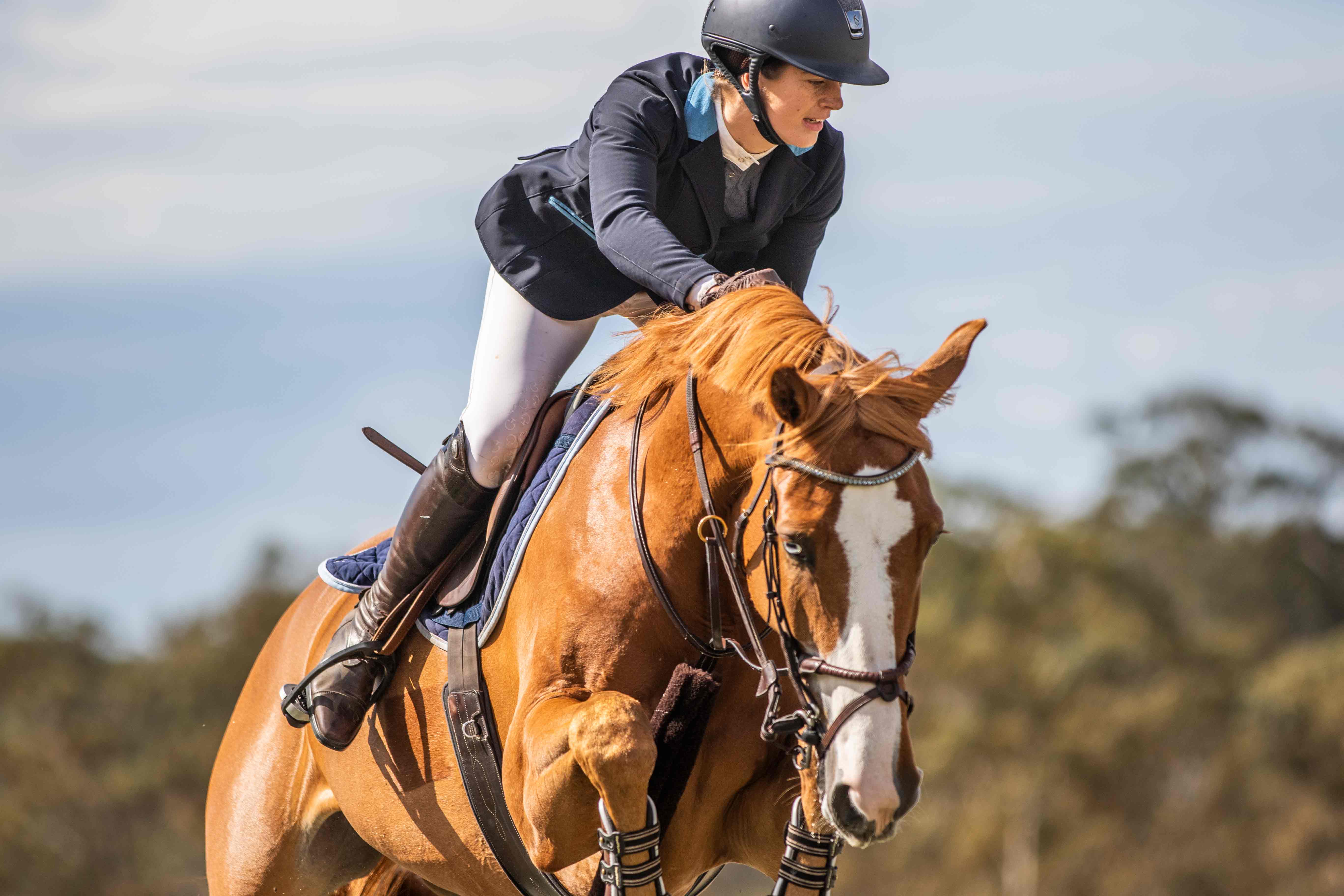 Gabrielle Kuna and Flaire
The six clear combinations were joined in a second round by the six fastest combinations that took 4 faults in Round One, to form a crack field of twelve in Round Two. With Round One faults carrying forward to Round Two, the Round One clears had a distinct advantage, however with only one rail between first and twelfth, we all knew it was going to be a tight contest.
Round Two started with the slowest of the 4-faulters, Katie Laurie and Cera Caruso, who put the pressure on the rest of the field by going clear. Not to be outdone, next out, were Tom McDermott and Alpha Activity who also went clear to finish on a total of 4 penalties, but in a slightly quicker time to take the lead at this early stage of Round Two.
Advertisement

The next two combinations on course, Queenslander, Brooke Langbecker and Quintago 1 and Aaron Hadlow and Vahlinvader each took a rail to put them out of contention. Next out was Katie Laurie with her other horse, Casebrooke Lomond. Laurie repeated her clear from a few minutes earlier but in a slightly slower time to slot into third. They were followed by Tom McDermott on his second horse, Elegance De La Charmille. They emulated Laurie by also going clear, however they were faster than all the previous Round Two combinations and so took the lead. With Round Two now half over, four of the six completed combinations had a total of four penalties and with some fast times recorded, the pressure was immense on those yet to come. Just one rail would bring times into it and then, they might struggle to beat McDermott who was in first and second place with some hot times in the bank.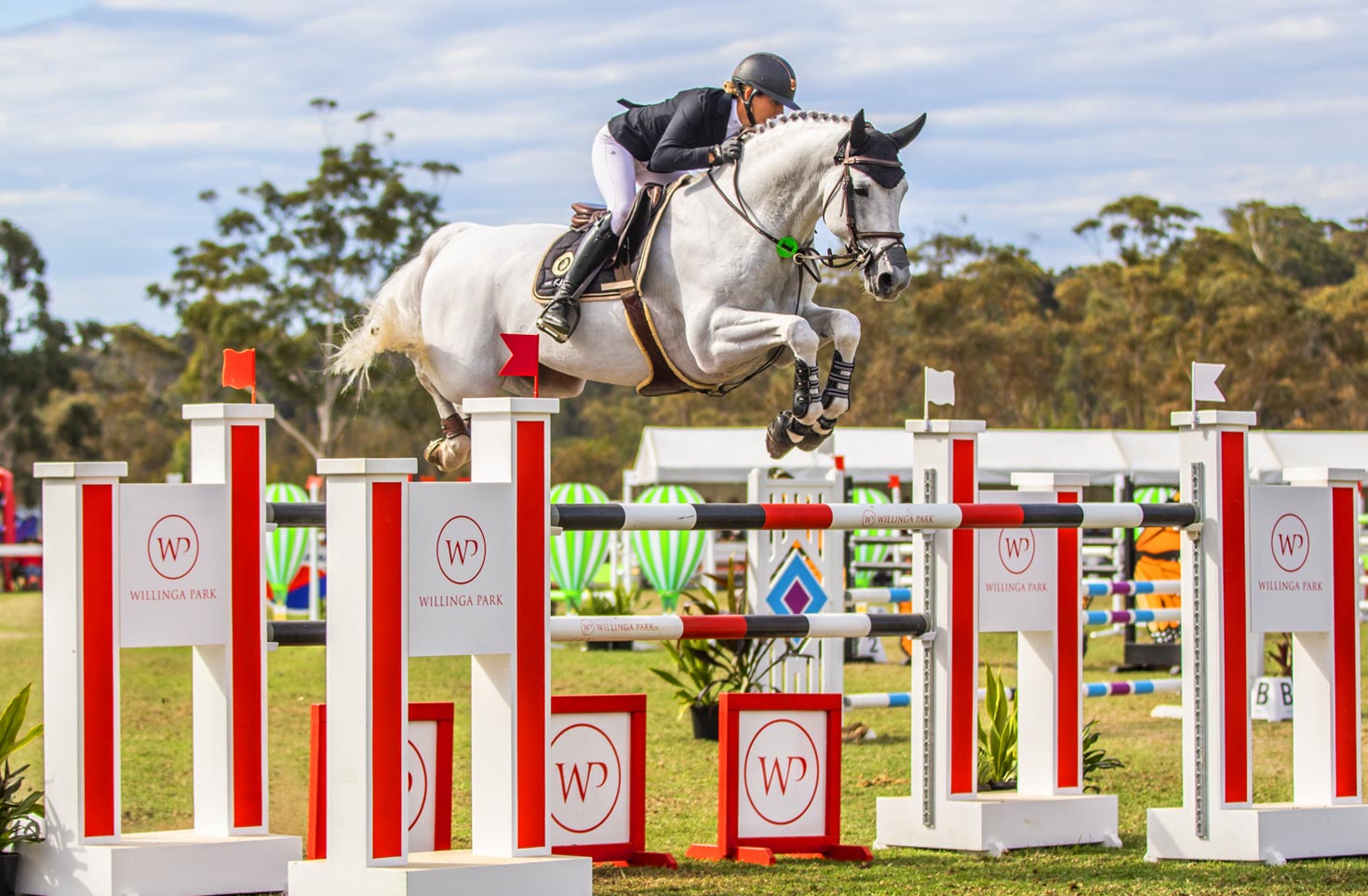 Katie Laurie and Casebrooke Lomond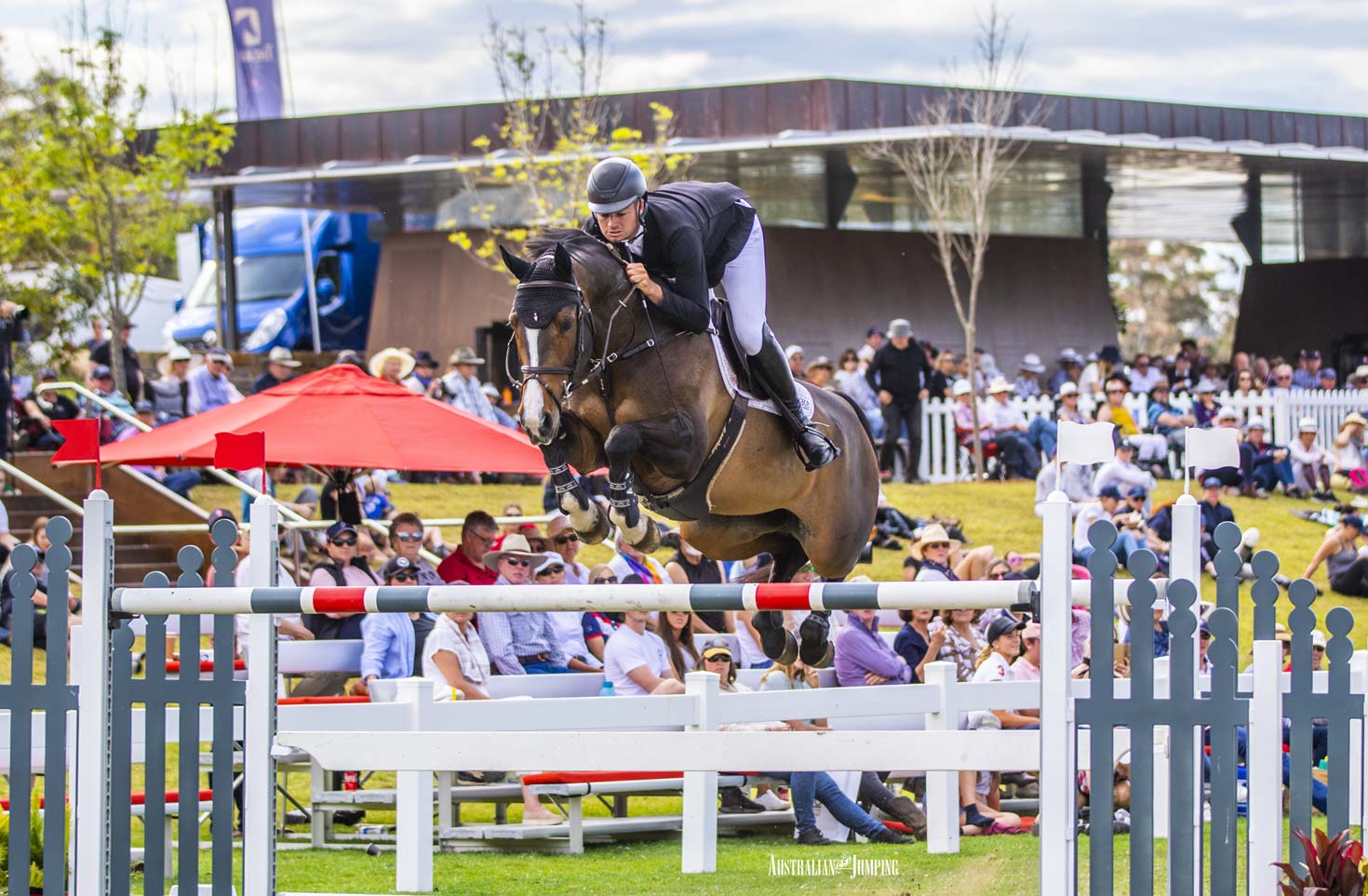 Tom McDermott and Elegance De La Charmille.
First of the Round One clears to hit the track was Gabrielle Kuna and Flaire. They took a rail and with a time slower than the other current 4 fault total combinations, dropped into fifth spot. Finch Farm Cadel and Kate Hinschen were next, but two rails put them out of contention.
The experienced Chris Chugg and PSS Levilensky were next to tackle the Round Two course. Chugg has said that PSS Levilensky could be the best horse he has ever ridden and 'Levi' certainly did not let him down today. This combination were able to record the first double clear of the class, slotting them into the lead. The pressure now went to another level as the three combinations to follow knew that nothing short of double clear would challenge for the win.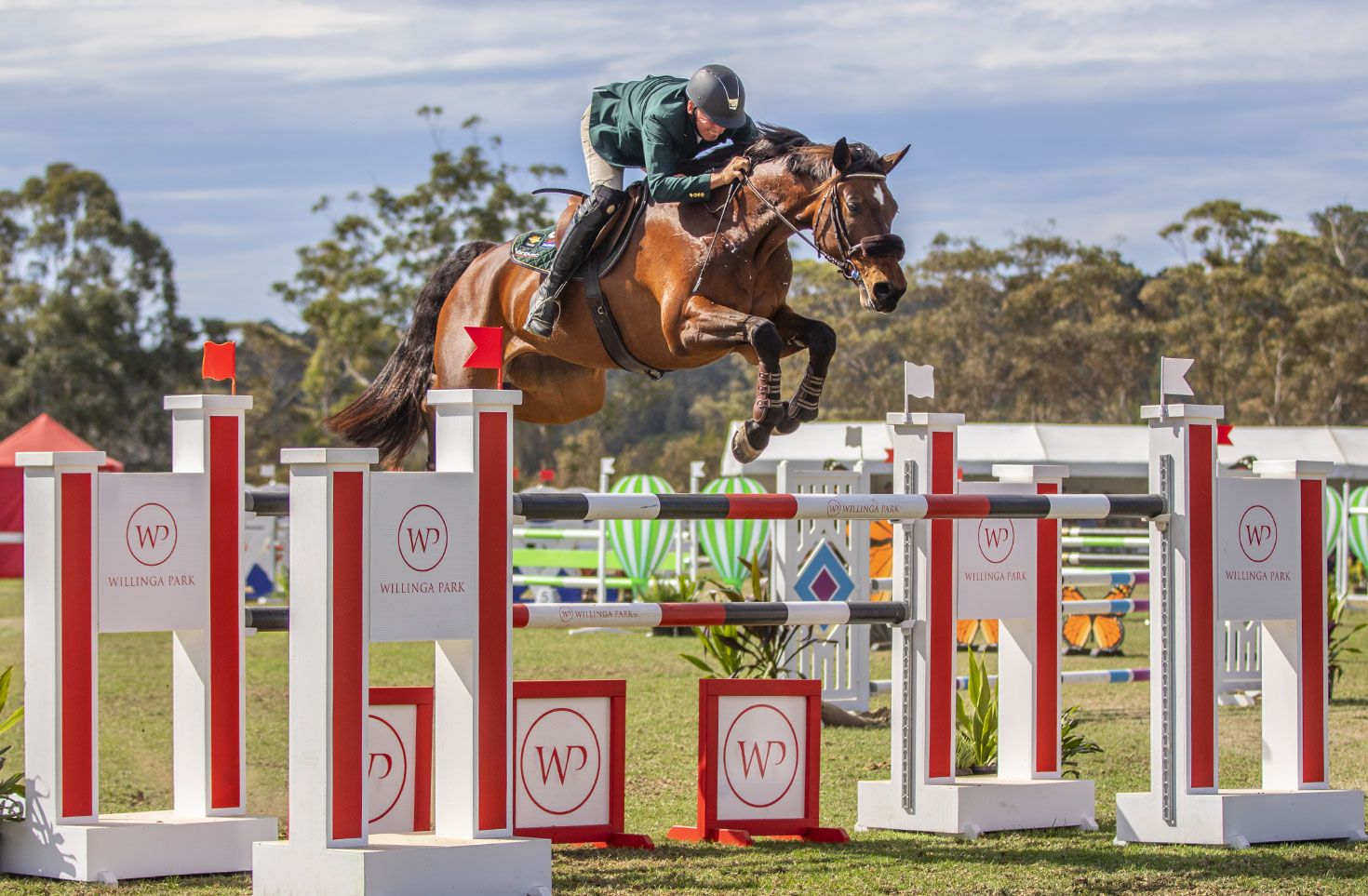 Chris Chugg and PSS Levilensky
Australian WEG hero, Billy Raymont and Anton, were first to take up this new challenge. After taking out the Mini Prix in the previous class, we knew that Raymont was in fine form, however, it was not to be, as they took two rails to finish with a total of 8 and eventually fill ninth spot.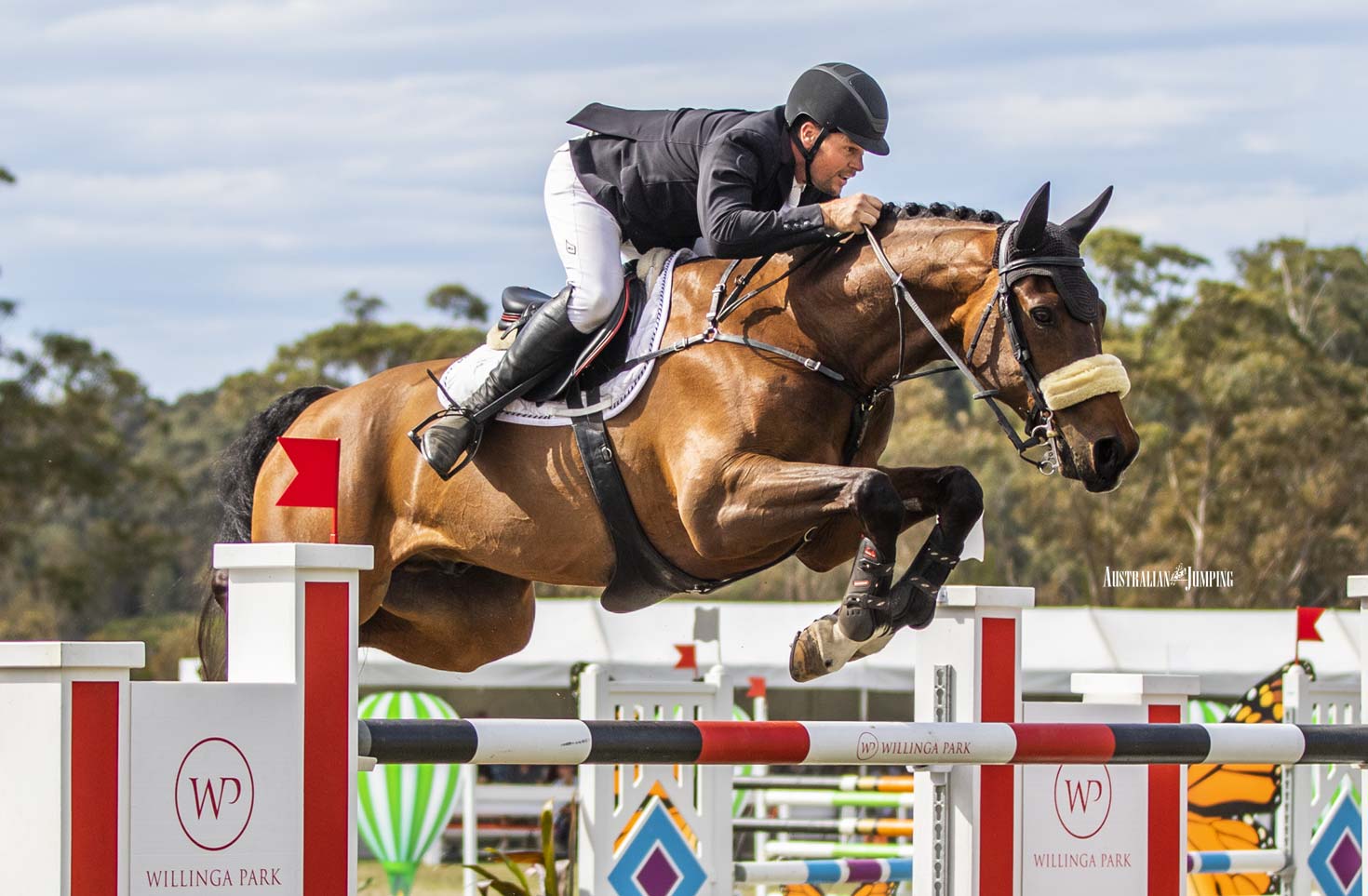 Billy Raymont and Anton
Young Queensland rider Olivia Hamood and Jane Fonda DVD were next in the order. As the crowd watched on in near silence, they matched the performance of Chugg, by going double clear, however, a time more than 4 seconds slower put them into second. They had secured at least third place, meaning that with a minimum of $11,000 in the bank the Hamoods had probably covered the cost of their trip south.
Now it came down to the last pair of Gabrielle Kuna and Cera Cassiago. Could they also go double clear and challenge for the $25,000 first prize money? If they could do so and quicker than 57.45 seconds, Kuna would knock her fiancée, Chris Chugg out of first place and take the victory for herself. As it turned out, Kuna and Cera Cassiago, rode a steady round, possibly a little slower than they otherwise might of, to record a clear round but with a single time penalty to secure third place – a smart ride by Kuna.
Advertisement

In the end, super high class jumping prevailed in a field of high class jumpers. Places on the podium were only for those who kept all the rails in place. Perhaps Tom McDermott could be considered just a touch unlucky, having significantly quicker times than the first three, but a rail on each of his horses, securing fourth and fifth for him.
To sum it all up, the crowd went home happy, having seen the best Australian Jumping has to offer, the Chuggy Equestrian Team went home happy, having secured between them the bulk of the prizemoney on offer and the rest of the competitors could go home happy, knowing that it would be only a 12 month wait until they could come back next year to the fantastic showcase equine property that is Willinga Park.
The first eight placegetters in this class were:
| | | | |
| --- | --- | --- | --- |
| PLACE | RIDER | HORSE | $ |
| 1st | Chris Chugg | PSS Levilensky | $25,000 |
| 2nd | Olivia Hamood | Jane Fonda DVD | $15,000 |
| 3rd | Gabrielle Kuna | Cera Cassiago | $11,000 |
| 4th | Tom McDermott | Elegance De La Charmille | $8,000 |
| 5th | Tom McDermott | Alpha Activity | $5,000 |
| 6th | Katie Laurie | Casebrooke Lomond | $3,000 |
| 7th | Katie Laurie | Cera Caruso | $2,000 |
| 8th | Gabrielle Kuna | Flaire | $1,000 |
View Comments