First 2021 Australian Jumping Championships decided at Boneo Park
Australian Jumping
Above: Sarah Duggan and Dublin.
The first class scheduled for decision this morning on the first day of finals at the Pryde's EasiFeed Australian Jumping Championships was the Beaconhills College Australian Children's Championship. After two exciting qualifying rounds through the week, 34 combinations fronted up to tackle the David Sheppard designed course on a beautiful clear Boneo Park morning.
Advertisement


Based on their finishing positions in each of the rounds, combinations were ranked and after a few calculations, each combination started the final with a penalty score based on their relative position down the leaderboard. The combination which headed the leaderboard went into the final carrying the minimum number of penalties being zero. That combination was the Yarra Glen based Charlie Dobbin and Lovegrove.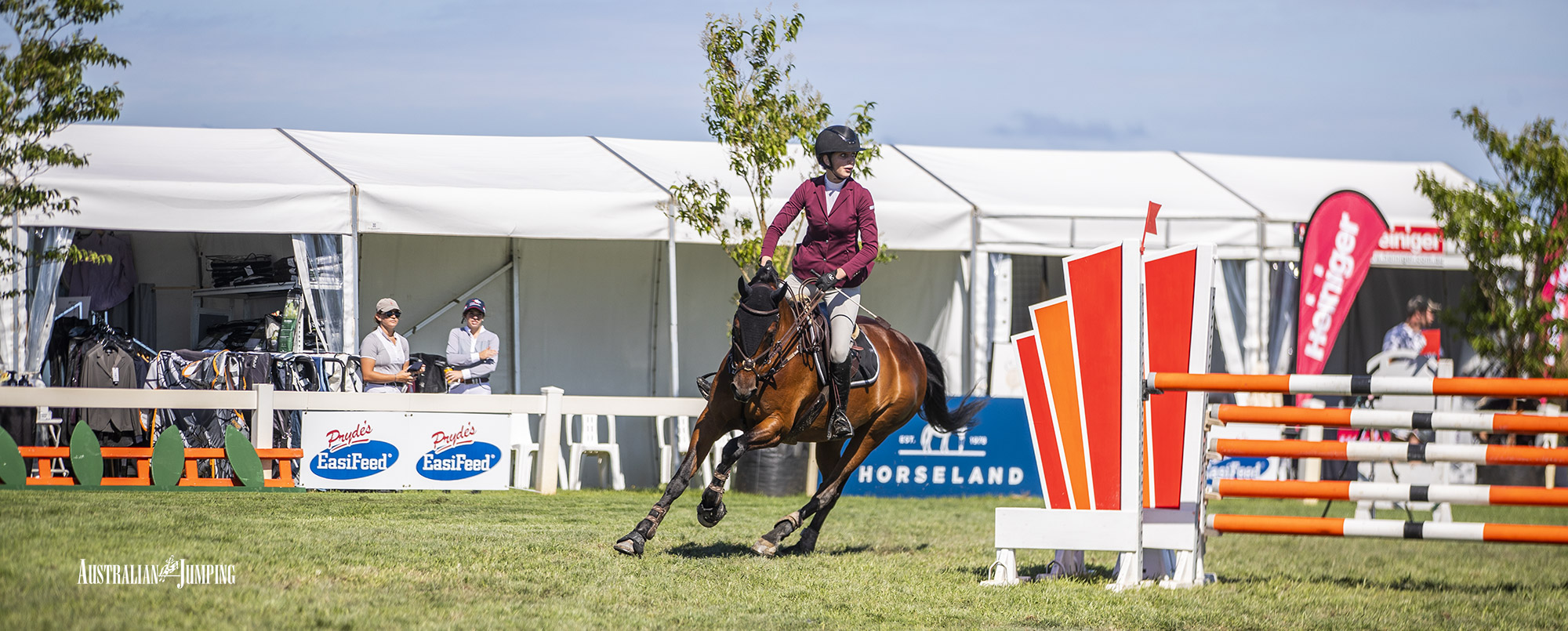 Above: Charlie Dobbin and Lovegrove
During the first round today, Dobbin and Lovegrove managed a clear round to remain on zero penalties. At the end of the round their nearest competitors were Imogen Lindh and Blackall Park Koraleigh on five penalties and Jack Barker and Mighty Tosca on six. The top 15 combinations were invited back for a second round, where the pressure was really on.
The first 12 combinations came and went. Some went clear while others took rails to add their score, but the top three were safe for now. Jack Barker and Mighty Tosca were third last out and went clear to remain in third. At the least they had a place on the podium secured. Next out was Imogen Lindh and Blackall Park Koraleigh. Again, they absorbed the immense pressure to go clear and remain on five penalties. It was all now up to Charlie Dobbin and Lovegrove.
They had a rail up their sleeve, but two would see them drop back to third. All went well until near the end of their round, when a rail toppled. The large crowd held their breath as they raced to the last. There had been more than 130 rounds ridden over the course of the championship and the whole competition came down to the last rail. The anticipation grew with each stride, but if Dobbin felt the pressure, she did not let it show. Clear it and they win, take a rail and come third
Wild cheers rang out around the arena when they left the rail up and crossed the finish line. Congratulations to Charlee Dobbin and Lovegrove, the New Australian Children's champions.
Above: Jack Barker and Mighty Tosca
After a short break, it was time for Future Stars of a different kind. The final of the Kiernan Plant Hire Future stars bring together the best 6, 7 and 8-year-old horses in the nation. After two rounds through the week, Madeline Sinderberry and Balentino had set the pace finishing third in the first round and then following it up with a win in Round 2. A total of 31 combinations entered today's final and over a track which challenged the riders, there were just four clear rounds. The first clear round in the jump off was recorded by Phil Stephens and Baluce in a competitive time of 49.04 seconds. They were in the lead until second last out, Josh Collins and Yalambi's Ikon had a fantastic round. They went fast and clear in 47.53 seconds and looked set for the win. It was going to take an extraordinary performance by the last combination on course, Madeline Sinderberry and Balentino. Extraordinary they were! They managed to get around the course more than a second quicker and the title was theirs. Future Stars was the name of the class and there is no doubt that future stars were on display.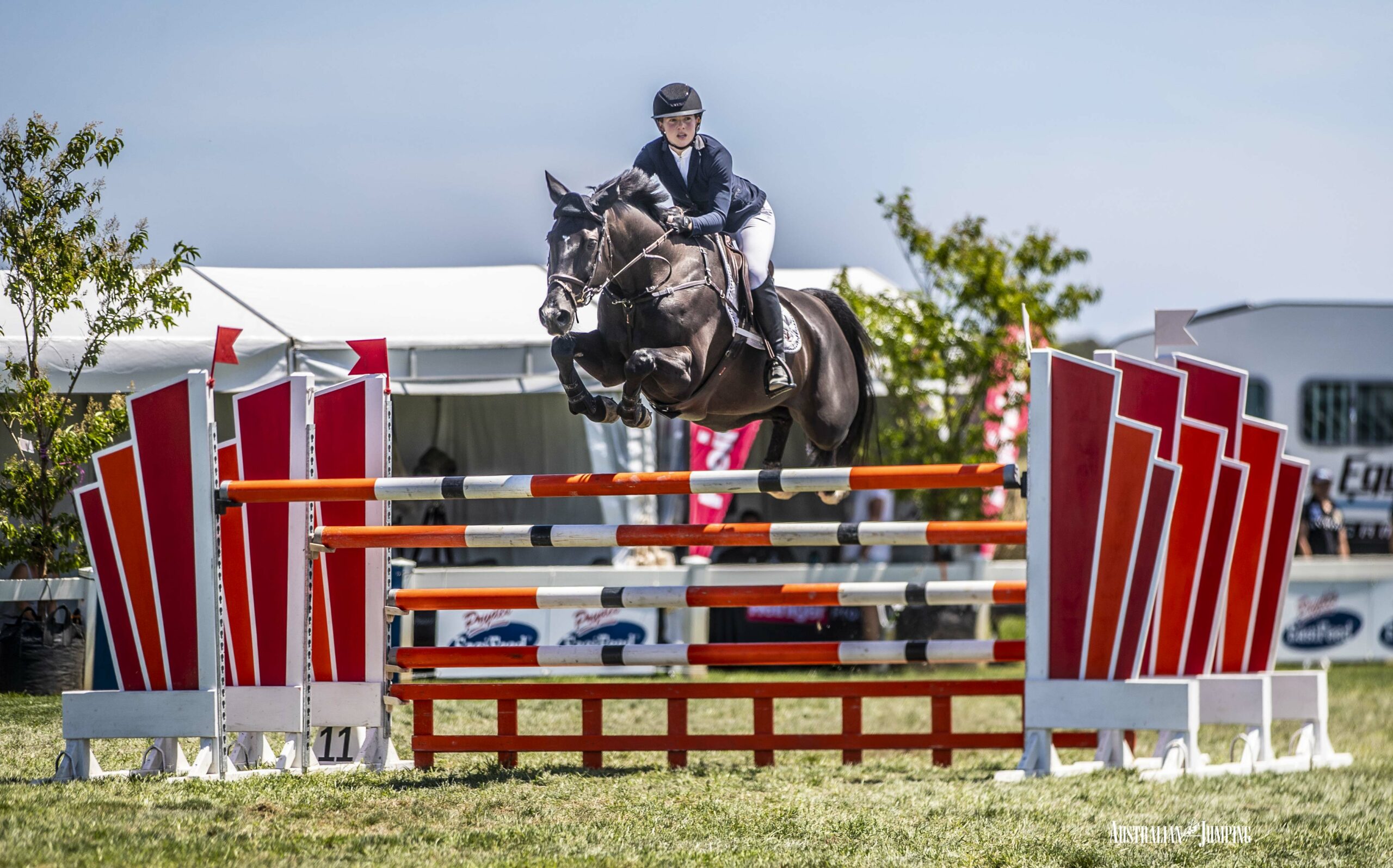 Above: Madeline Sinderberry and Balentino
Next we saw the Interpath Mini Prix final. Victorian legend of Jumping Russell Johnstone, after a third and a second placing in the rounds went into today's final at the top of the leaderboard, however, it was not to be their day. Once again, for the 30 starting combinations, clear rounds were at a premium with only four combinations able to leave all the rails in place. The pair of Queensland combinations in the jump off, Rebecca Jenkins and Lola HH and Mattea Davidson and Checkamour D each took a rail. Melissa Blair and Gigant Z managed a clear round in 46.01 seconds to put the pressure on the last pair. Sarah Duggan and Dublin knew what they had to do and that is exactly what they did. They went fast and clear and with a time of 44.21, were 1.8 seconds faster than they needed to be.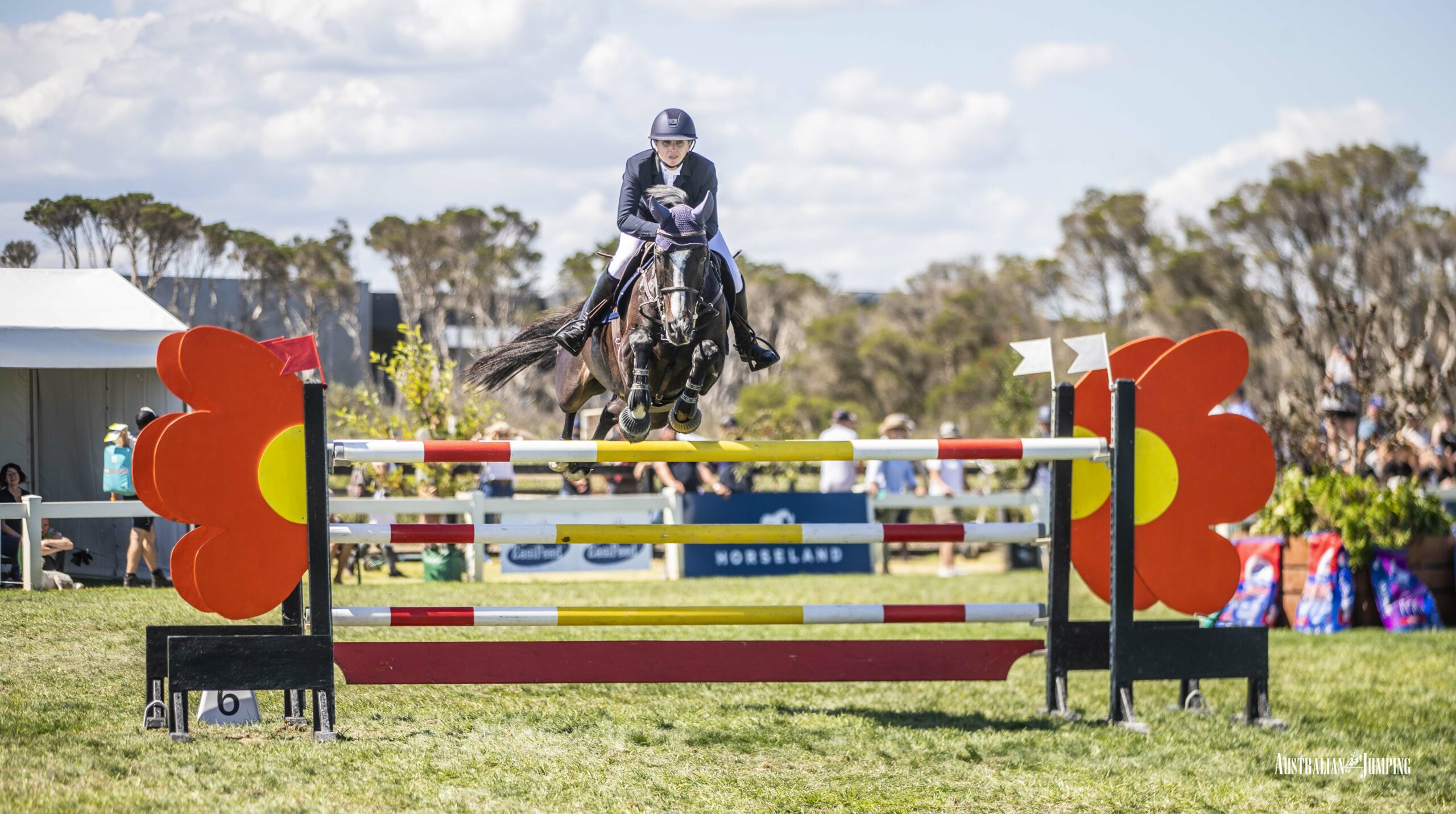 Above: Melissa Blair and Gigant Z
Three championships were decided today on the Arilla Sand Arena 2. There were 41 combinations entered in the Volpaia Park Emerald Series final, which saw 10 clear rounds and an exciting jump off. Of these, six went on to record double clear, however, the fastest of which, and therefore the win, went to Teagan Chester and Callista in a time of 37.91 seconds. Second place, taking 38.82 seconds to complete the course were Jess Kiernan and Amenadiel. To complete a Victorian podium, James Harvey and Yirrkala Celeste were third in 39.97 seconds. Chester and Callista are worthy winners of the Emerald Series, having placed third in Round 1 before winning Round 2.
Next was the final of the Equestrian Victoria Amateur Series. After two qualifying rounds through the week, there were 23 combinations competing in the final, which produced a seven-way jump off. There were five double clear performances, the fastest of which by Paige Cartwright and Kitara Boizel in 37.15 seconds. Second place went to Nina Griffiths and Zamorra S in a time of 39.15 seconds which was enough to beat herself and Mr Zizou into third in 39.36 seconds.
The highlight of the day on Arena 2 was the Racing Hearts Australian Speed Championships. Held in the early evening, with a large crowd gathered around the arena, it is a spectacle not to be missed. The first few riders struggled with the course with two of the first five either being eliminated or retired and the other three taking at least two rails. It wasn't until the sixth combination out, Western Australians Tessa Lill and Yalambi's Hugo Boss, that the crowd got what they came for. In an aggressive, powerful and confident display, they surged around the course, clear, in a time of just 61.25 seconds. More than 11 seconds faster than any pair which had gone before them. The "Western Express" was in the lead and it was going to take a brilliant ride to take the lead off them. The rest of the field came and went and they were barely  challenged. Clem Smith and Quantico 12 were clear, but about five seconds off the pace. Robert Goodwin and Warrego Simone were fast, taking an identical time to Lill's, but a rail added four seconds, however he was in second. When the last combination on the start list entered the arena, the crowd's excitement grew. It was none other than Australian WEG representative Billy Raymont and his old champion, Anton, making his only appearance of the championships. Raymont and Anton attacked the course as if their life depended on it and soon it was clear that they were on pace to threaten for the win. Soon the crowd had one eye on the horse and another on the clock as the cheering and shouts of encouragement grew to fever pitch. Raymont and Anton gave it all and as they flashed through the finish gate, all eyes turned to the clock. It had stopped at 61.32 seconds, just 0.07 seconds more than they needed. It was speed jumping at its finest and something tells us we are going to hear much more of Tess Lill and 'Hugo' in the future.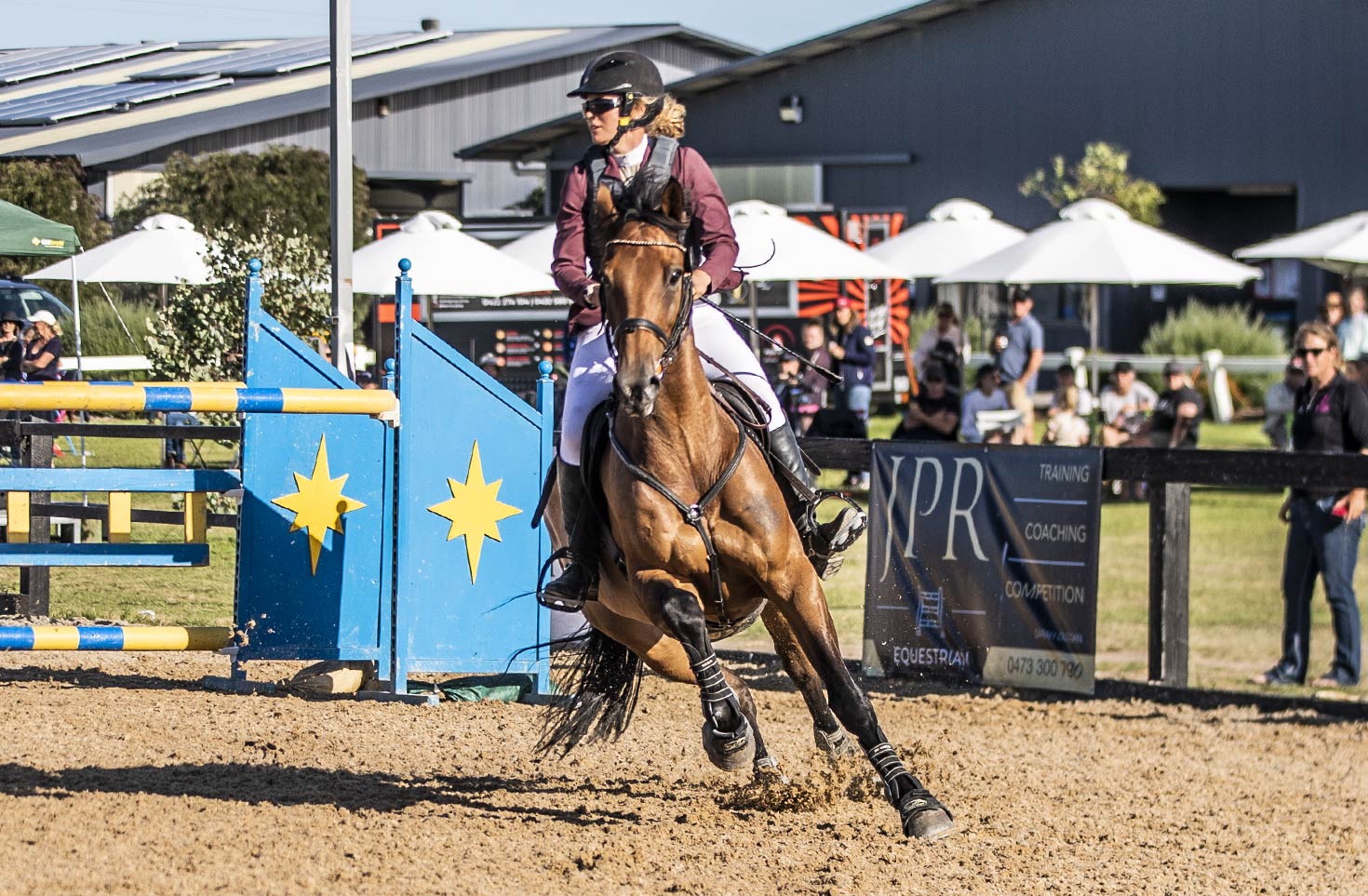 Above: Tessa Lill and Yalambi's Hugo Boss
Out on the Tulara Warmbloods Arena 3 the action was a little more subdued. Three Open height classes were conducted, each with relatively small start lists. The first class was sponsored by the Victorian State Government and was over 110cm. First place went to Billy Raymont and Tulara For Quinar, clear in 65.50 seconds. Second went to Victoria Hoy and Tulara Forini also clear in 69.41 seconds, while a time of 69.98 seconds saw Hannah Lamb and RBH Mr Image. It is good to see Tulara Warmblood bred horses doing so well in a class sponsored by them.
The second Open height class was the Griffiths Equestrian Team 120cm class. Run as a single round class, the winners, in a time of 61.93 seconds were James Harvey and Patangas Hiccup. They were over four seconds clear of second placed Katrina Silk and Dunrostan who finished in 66.51 seconds. Third place went to ACT's Maggie MacDonald and Harlequin Dream, finishing in 71.43 seconds.
The third class on this arena was The Burdettes Sand and Soil Open 130cm. There were just five combinations entered, with a clear round by Melissa Backman and Blackall Park Coloe in 73.08 being enough to take the win. In second, also clear in 77.67 seconds were Courtney Shears and Alina. Joining the Victorians on the podium were Kylie Hawkins and Callidor, having taken a rail, in a time of 81.71 seconds.
Three separate Series continued on Arena 4 today
The first class scheduled on Arena 4 this morning was Round 3 of the Heiniger Ivory Series. It was won by Ava Kennedy and Piper Arrow, clear in a time of 44.16 seconds, going one better than their second placing yesterday. Second place, in 44.95 seconds were Kaya Zielinski and Lady Of Diamonds, after finishing second in Round 1. Third place went to Sunday Borrack and Benmore Pizazz in 46.66 seconds. Youngster Zara Adnams and Elcarium Starlight will go into tomorrow's final atop the leaderboard after winning the first two rounds and a fourth place today.
The third and final round before tomorrow's final of the Yandoo Equestrian Pearl Series was the next class. Fourty-four combinations started the class and 21 of these recorded clear rounds. Even after the jump-off, there were still an even dozen double clear. The fastest of these and the win went to the very consistent Ava Kennedy and Piper Arrow in a jump off time of 31.39 seconds. Second place went to Tayla Anderson and Casino Nights placed second today in 32.00 seconds, one place better than their third place in Round 1. Third went to Nora Palasthy and Kahean Trooper Diamond in 32.31 seconds. Ava Kennedy and Piper Arrow will go into tomorrow's final heading the leaderboard thanks to a second place in Round 1 and wins in both rounds 2 and 3.
Advertisement


The final class of the day was the third round of the Chase Equestrian Opal Series. Run as a speed class, there was no keeping up with Zara Adnams and Dingmac Disco King, who stopped the clock at 50.96. It was a well deserved win for this pair after second placings in both Round 1 and Round 2. Second place today went to the winner of Round 1, Nellie Rogers and Rocket Rod in 51.73 seconds with third place going to Valiant Star, also ridden by Nellie Rogers in a time of 52.04 seconds. Zara Adnams and Dingmac Disco King will go into tomorrow's final at the head of the leaderboard.
It was a brilliant day of Jumping and if today is anything to go by, tomorrow will be exceptional.
Below are details of all the winners and placegetters for the day.
PRYDE'S EASIFEED MAIN ARENA
CLASS 32: BEACONHILLS COLLEGE – AUSTRALIAN CHILDREN'S CHAMPIONSHIP (FINAL) – 1.15-1.20m
| | | |
| --- | --- | --- |
| PLACE | RIDER | HORSE |
| 1st | Charlee Dobbin | Lovegrove |
| 2nd | Imogen Lindh | Blackall Park Koraleigh |
| 3rd | Jack Barker | Mighty Tosca |
| 4th | Tanner Robinson | Charlie |
| 5th | Joel Lamb | Emcee Holly Go Lightly |
| 6th | Charlie Magnier | Master Stevie G |
| 7th | Tanner Robinson | Magnum MVNZ |
| 8th | Elissa Stephens | Noblewood Casharella |
| 9th | Sienna Holdsworth-Rose | Coolart Farm Short Torque |
| 10th | Kaylee Stephens | LH Beckham |
CLASS 33: KIERNAN PLANT HIRE – FUTURE STARS (FINAL) – MINIMUM 1.30m
| | | |
| --- | --- | --- |
| PLACE | RIDER | HORSE |
| 1st | Madeline Sinderberry | Balentino |
| 2nd | Josh Collins | Yalambi's Ikon |
| 3rd | Phil Stephens | Baluce |
| 4th | Stuart Jenkins | Fairview Cambridge |
| 5th | Jamie W Kermond | Yandoo Honolulu |
| 6th | Emma Smith | Bittern Park Karmen |
| 7th | Stuart Jenkins | Fairview Alicana |
| 8th | Emma Smith | Lumi |
| 9th | Rhys Jones | Riverton Kanntador |
| 10th | Melissa Blair | Connollys Karuba |
| 11th | Tyrone Latham | Yirrkala Harriett |
| 12th | Steph Fenn | DF Balou Bird |
CLASS 34: INTERPATH – MINI PRIX (FINAL) – MINIMUM 1.40m
| | | |
| --- | --- | --- |
| PLACE | RIDER | HORSE |
| 1st | Sarah Duggan | Dublin |
| 2nd | Melissa Blair | Gigant Z |
| 3rd | Rebecca Jenkins | Lola HH |
| 4th | Mattea Davidson | Checkamour D |
| 5th | Izabella Stone | Tulara Stolzette |
| 6th | Jamie Priestley | Oaks Diamantina |
| 7th | Billy Raymont | Kablesse Kavita |
| 8th | Andrew Lamb | Denison Park Spartava |
| 9th | Russell Johnstone | Dondersteen |
| 10th | Olivia Hamood | Knock Out 111 |
| 11th | Tesse Raymont | Allwynds Valherro |
| 12th | Brook Dobbin | Gabriel MVNZ |
ARILLA – RING 2
CLASS 35: VOLPAIA PARK – EMERALD SERIES (FINAL) – MINIMUM 1.10m
| | | |
| --- | --- | --- |
| PLACE | RIDER | HORSE |
| 1st | Teagan Chester | Callista |
| 2nd | Jess Kiernan | Amenadiel |
| 3rd | James Harvey | Yirrkala Celeste |
| 4th | Olivia Hamood | Diamond B Bedazzled |
| 5th | Shane Davidson | Spectre D |
| 6th | Tori Stuckey | Jaybee Ballon D'or |
| 7th | Tyrone Latham | Arion Carasun |
| 8th | Chris Chugg | CF Camanche |
| 9th | Amber Fuller | Bickley's Leviosa |
| 10th | Jamie Coman | Marine Park Kanndoo |
| 11th | Russell Hearn | RBH Montpellier |
| 12th | Angela Dobbin | Diamond B Bonafides |
CLASS 36: EQUESTRIAN VICTORIA – AMATEUR SERIES (FINAL) – 1.20m
| | | |
| --- | --- | --- |
| PLACE | RIDER | HORSE |
| 1st | Paige Cartwright | Kitara Boizel |
| 2nd | Nina Griffiths | Zamorra S |
| 3rd | Nina Griffiths | Mr Zizou |
| 4th | Sarah Weiss | Twins Delux |
| 5th | Katie Clark | Katelle Grand |
| 6th | Stuart Abrahams | Vainquer |
| 7th | Simar Singh | Bolong Park Cervarchi |
| 8th | Gaby Herbosa | Kaloona Virago |
| 9th | Kelly Lees | Ohio Silver |
| 10th | Chelsea Hair | Cheech BFD |
CLASS 37: RACING HEARTS – AUSTRALIAN SPEED CHAMPIONSHIP – 1.30m
| | | |
| --- | --- | --- |
| PLACE | RIDER | HORSE |
| 1st | Tessa Lill | Yalambi's Hugo Boss |
| 2nd | Billy Raymont | Anton |
| 3rd | Robert Goodwin | Warrego Simone |
| 4th | Clem Smith | Quantico 12 |
| 5th | Tori Stuckey | Finch Farm Cab Sav |
| 6th | James Harvey | Patangas Hicup |
| 7th | Grace Ivill | Lamaz |
| 8th | Zoe Waller | Bequest |
TULARA WARMBLOODS – RING 3
CLASS 38: VICTORIAN STATE GOVERNMENT – OPEN – 1.10m
| | | |
| --- | --- | --- |
| PLACE | RIDER | HORSE |
| 1st | Billy Raymont | Tulara For Quinar |
| 2nd | Victoria Hoy | Tulara Forini |
| 3rd | Hanna Lamb | RBH Mr Image |
| 4th | Sarah Weiss | Waratone |
| 5th | Teagan Chester | Trump Card |
| 6th | Ava Walker | Con Brio |
| 7th | Danielle Marwood | Wild Child |
| 8th | Rachael Lovett | Valedictory |
CLASS 39: GRIFFITHS EQUESTRIAN TEAM – OPEN – 1.20m
| | | |
| --- | --- | --- |
| PLACE | RIDER | HORSE |
| 1st | James Harvey | Patangas Hiccup |
| 2nd | Katrina Silk | Dunrostan |
| 3rd | Maggie MacDonald | Harlequin Dream |
| 4th | Tahli Hendler | Black Currency |
| 5th | Megan Joyce | Denison Park Arnie |
| 6th | Jordyn Lee-Madgwick | Copabella Cashmir |
| 7th | Abbey Kuiper | Cera Carlina |
| 8th | Paige Johnston | Lilivale Falks Prince |
CLASS 40: BURDETTS SAND AND SOIL – OPEN – 1.30m
| | | |
| --- | --- | --- |
| PLACE | RIDER | HORSE |
| 1st | Melissa Backman | Blackall Park Coloe |
| 2nd | Courtney Shears | Alina |
| 3rd | Kylie Hawkins | Callidor |
| 4th | Kendall Richards | Flint Hill |
| 5th | Tansay Sagar | Helsinki |
RING 4
CLASS 41: HEINIGER – IVORY SERIES (ROUND 3) – 0.80m
| | | |
| --- | --- | --- |
| PLACE | RIDER | HORSE |
| 1st | Ava Kennedy | Piper Arrow |
| 2nd | Kaya Zielinski | Lady Of Diamonds |
| 3rd | Sunday Borrack | Benmore Pizazz |
| 4th | Zara Adnams | Elcarium Starlight |
| 5th | Lucy Borrack | Tane Mahuta |
| 6th | Ava Harrington | Miss Demenor |
| 7th | Evie Magnier | Mirabel Patterson |
| 8th | Hayley Dalton | Lily Stardust |
CLASS 42: YANDOO EQUESTRIAN – PEARL SERIES (ROUND 3) – 0.90m
| | | |
| --- | --- | --- |
| PLACE | RIDER | HORSE |
| 1st | Ava Kennedy | Piper Arrow |
| 2nd | Tayla Anderson | Casino Nights |
| 3rd | Nora Palasthy | Kahean Trooper Diamond |
| 4th | Louise Abey | Leminx |
| 5th | Simone Tanis | Somerwaters Elite |
| 6th | Olivia Osborne | Volador |
| 7th | Emmy Fraser | CP Capulet Grey Rose Z |
| 8th | Anastasia Minter | Silverlyn Percy |
CLASS 43: CHASE EQUESTRIAN – OPAL SERIES (ROUND 3) – 1.00m
| | | |
| --- | --- | --- |
| PLACE | RIDER | HORSE |
| 1st | Zara Adnams | Dingmac Disco King |
| 2nd | Nellie Rogers | Rocket Rod |
| 3rd | Nellie Rogers | Valiant Star |
| 4th | Lorna Clifford | Ngahiwi Possum |
| 5th | Holly Bolzon | Affresco |
| 6th | Emily Mohrmann | The Radish |
| 7th | Nora Palasthy | Kahean Trooper Diamond |
| 8th | Chelsea Hair | Cassillis |
View Comments