First Championships decided at the Victorian State Titles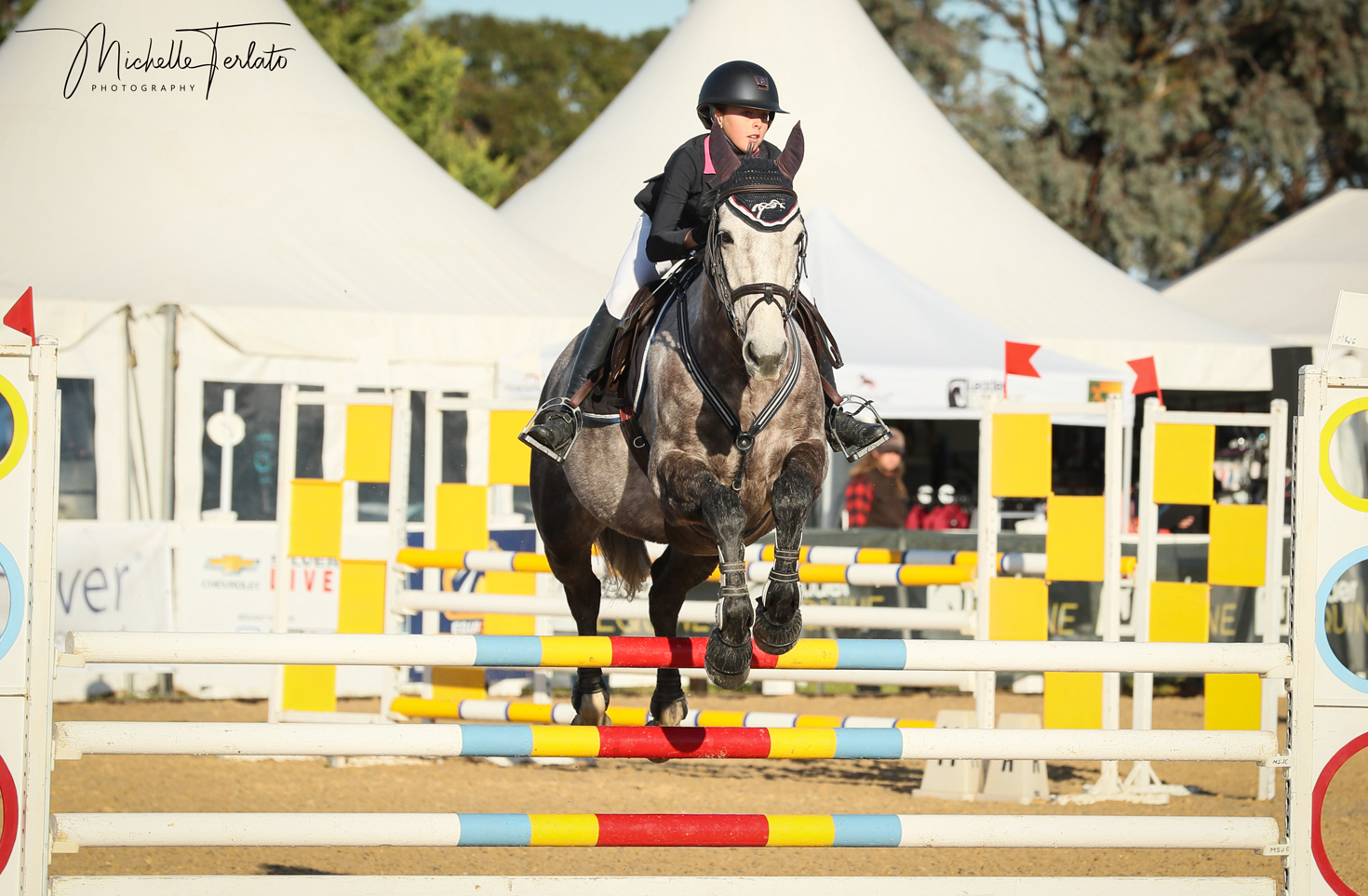 Michelle Terlato
Above: Tanner Robinson and Charlie crowned the Victorian Childrens Champio. Photo Credit: Michelle Terlato Photography.
Day Three of the Cavalor Equicare Victorian State Jumping Titles has wrapped up yesterday  afternoon at the Werribee Park National Equestrian Centre with the first of the Series finals completed.
Advertisement


Joel Lamb and JB Little Gun were the winners of the Leader Equine Victorian Childrens Series Final, but it wasn't enough for them to take out the championship. Tanner Robinson and the grey Charlie were rewarded for their consistency being crowned the Victorian Childrens Champion after finishing fourth in Round 1, third in Round 2 and second in today's final. Joel Lamb and JB Little Gun were second in the Championship, while third place went to the winners of Rounds 1 and 2, Imogen Lindh and Nightwish, who could only finish 14th in yesterday's final.
After watching the riding stars of the future in the Childrens Title final, it was time for Stars of The Future of a different type – the horses! The winners of the IHB Stars Of the Future Final were NSW based Madeline Sinderberry and Balentino. The win here follows on from their victory in the Future Stars final at the Australian Championships at Boneo Park, just 3 months ago. Surely, this is a horse going places. Second place in the final went to the winning combination from Round 1, Jamie Winning-Kermod and Yandoo Honolulu with a jump-off time of 45.12 seconds, almost 1.5 seconds slower than the winning time of 43.71. Local combination, Phillip Lever and Bellhaven Chanceux were third, also double clear in a jump-off time of 46.03 seconds.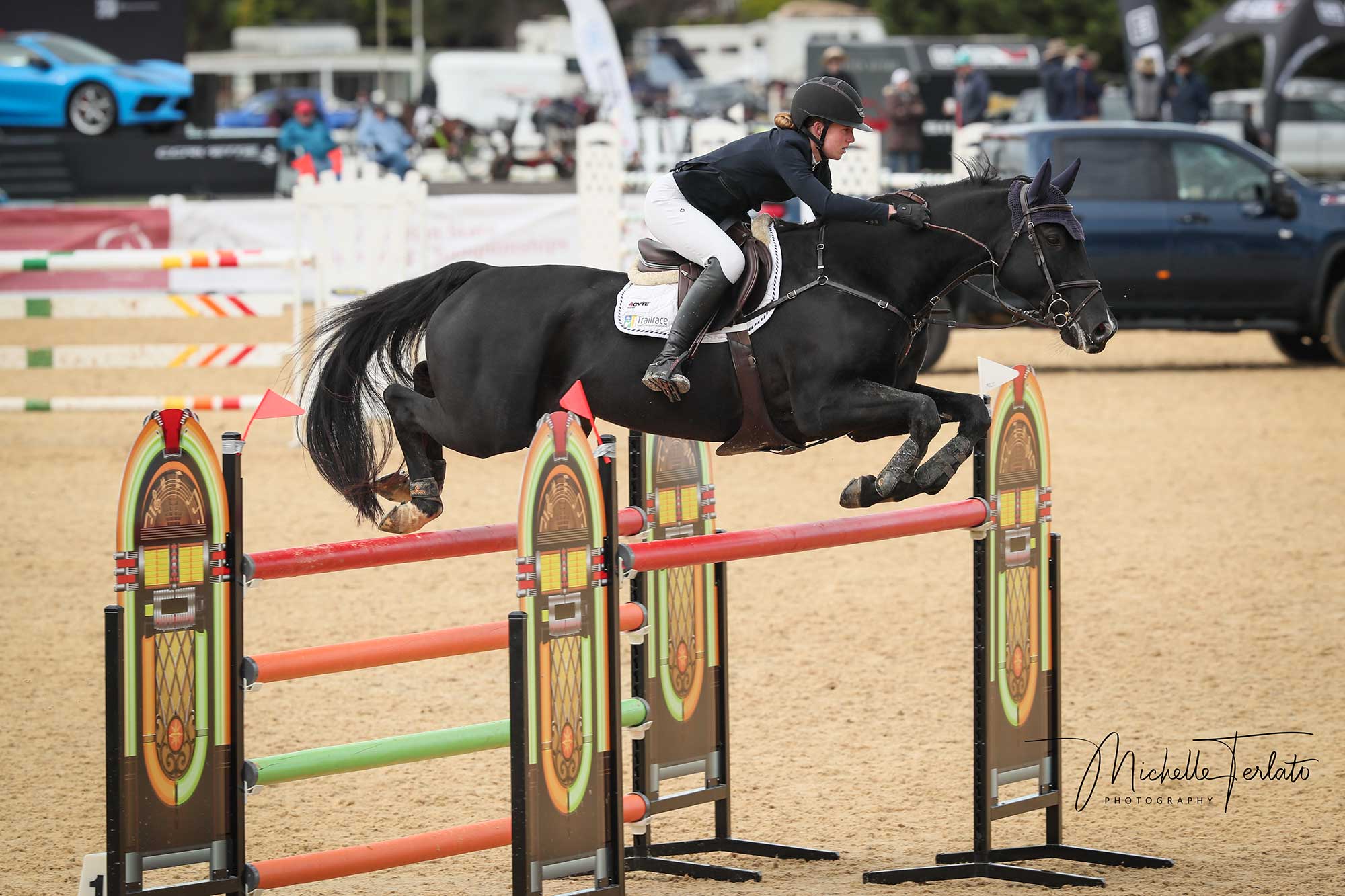 Above: Madeline Sinderberry and Balentino. Photo Credit: Michelle Terlato Photography.
While Balentino's work was done for the day Madi's was not. Combining with Camie Z, with whom she won the Australian Young Rider Championship back in February, they won the final of the Kiernan Plant Hire Mini Prix Championship, with a marvellous double clear performance. Taking 36.51 seconds in the jump-off, they were almost a second faster than second placed Melissa Blair and Gigant Z in 37.32 seconds. Frida Lindgren and Mabobri De Mabribo filled third place, also double clear, in 37.89 seconds.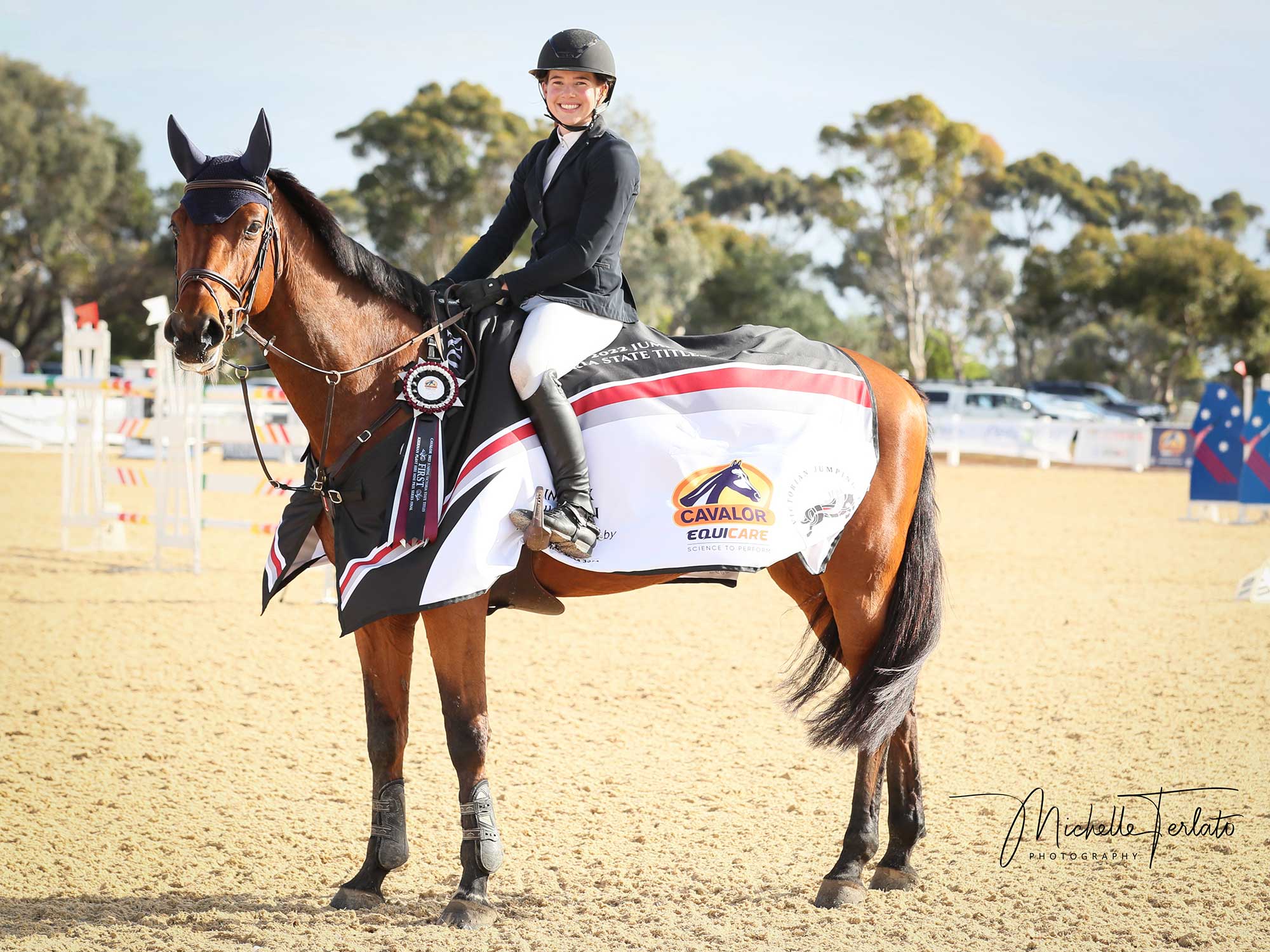 Madeline Sinderberry and Cami Z. Photo Credit: Michelle Terlato Photography.
The last class on the Cavelor Arena yesterday was the Victorian Speed Championship which was won by almost three seconds by James Harvey and Patangas Hiccup in a time of 70.70 seconds. A time of 73.57 seconds was enough to secure second place by the newly crowned Victorian Childrens Champion, Tanner Robinson, this time pairing with Yalambis Corlandia. Dave Middleton and WEC In The Money were third in 78.80 seconds.
On other arenas, the Amateur and OTT titles were also decided.
The Eaton Square Amateur Series Title Final saw six clear rounds and three of those recording double clears after a very close jump-off. It was Chelsea Hair and Cheech BFD who took the win in a jump-off time of 40.66 seconds, relegating Bradley Hearn and RBH Chaccarla, with a time of 41.56 seconds into second place. Taliah Daniels and Lamperds Stella were third with a time of 45.61 seconds
The Racing Victoria Off The Track Series Final saw the win go to ex-track star Bashboy, the winner of over $1M and 15 races, including the Grand National Steeple twice. Bashboy was expertly piloted by Isabella Lloyd in a double clear performance and a scintillating jump-off time of 38.42 seconds. Also double clear, but with a jump-off time of 44.13 seconds were Anthony Bentley and Aleksandr Meerkat, filling second place. With a time that would have taken the win, (36.58 seconds) a single rail down in the jump-off saw Alice Lawrence and Mucho Mucho Deniro have to settle for third.
It was a great day of jumping and if today is half as good, we are in for a real treat.
Advertisement


Congratulations to all the winners and placegetters from Day 3 of the titles and we look forward to seeing how today's finals pan out.
The placegetters in all classes held on Day 3 are listed below:
CAVELOR ARENA
CLASS 27: LEADER EQUINE – VICTORIAN CHILDRENS SERIES – FINAL
| | | |
| --- | --- | --- |
| PLACE | RIDER | HORSE |
| 1st | Joel Lamb | JB Little Gun |
| 2nd | Tanner Robinson | Charlie |
| 3rd | Amelia Tsilfidis | Pride Of Gold |
| 4th | Imogen Lindh | Blackall Park Koraleigh |
| 5th | Kaylee Stephens | LH Beckham |
| 6th | Zara Adnams | Dingmac Disco King |
CLASS 28: IHB – STARS OF THE FUTURE SERIES – FINAL
| | | |
| --- | --- | --- |
| PLACE | RIDER | HORSE |
| 1st | Madeline Sinderberry | Balentino |
| 2nd | Jamie Winning-Kermond | Yandoo Honolulu |
| 3rd | Phillip Lever | Bellhaven Chanceux |
| 4th | Andrew Lamb | Janory DP |
| 5th | Melissa Blair | Connollys Karuba |
| 6th | Phillip Lever | Bonita |
CLASS 29: KIERNAN PLANT HIRE – MINI PRIX SERIES – FINAL
| | | |
| --- | --- | --- |
| PLACE | RIDER | HORSE |
| 1st | Madeline Sinderberry | Camie Z |
| 2nd | Melissa Blair | Gigant Z |
| 3rd | Frida Lindgren | Mabobri De Mabribo |
| 4th | Phillip Lever | BP Jedak Du Rouet |
| 5th | Nina Griffiths | Zamorra S |
| 6th | Sam Conway | Kendalee Centaurus SHL |
CLASS 30: VICTORIAN SPEED CHAMPIONSHIP – FINAL
| | | |
| --- | --- | --- |
| PLACE | RIDER | HORSE |
| 1st | James Harvey | Patangas Hiccup |
| 2nd | Tanner Robinson | Yalambis Corlandia |
| 3rd | Dave Middleton | WEC In The Money |
| 4th | Dave Middleton | WEC In The Breeze |
| 5th | Elissa Stephens | Da Vince |
| 6th | James Arkins | Yalambi Jaguar |
GM SPECIALTY VEHICLES ARENA
CLASS 37: SNOWMAN – ROUND 3 – 1.35m
| | | |
| --- | --- | --- |
| PLACE | RIDER | HORSE |
| 1st | Troy Woollard | Centago |
| 2nd | Jess Stones | PPP Seductor |
| 3rd | Jess Stones | PPP Vive Le Mop |
| 4th | Courtney Shears | Alina |
| 5th | Rod McQueen | Yirrkala Edward |
| 6th | Murray Lamperd | Sebastian |
CLASS 35: HICKSTEAD – ROUND 3 – 1.15m
| | | |
| --- | --- | --- |
| PLACE | RIDER | HORSE |
| 1st | Andrew Lamb | Springen Matilda |
| 2nd | Tori Stuckey | 24 Karat |
| 3rd | Anthony March | Desert Sands Kapow |
| 4th | Chloe Hughes | Christalou |
| 5th | Tim Haworth | Wondaree Sparkle |
| 6th | Nellie Rogers | Valiant Star |
CLASS 32: RACING VICTORIA – OFF THE TRACK SERIES – FINAL
| | | |
| --- | --- | --- |
| PLACE | RIDER | HORSE |
| 1st | Isabella Lloyd | Bashboy |
| 2nd | Anthony Bentley | Aleksandr Meerkat |
| 3rd | Alice Lawrence | Mucho Mucho Deniro |
| 4th | Louise Abey | Sail On By |
| 5th | Brad Cunningham | Stellaluna |
| 6th | Alice Lawrence | Mr Ali |
CLASS 36: MILTON – ROUND 3 – 1.25m
| | | |
| --- | --- | --- |
| PLACE | RIDER | HORSE |
| 1st | Jamie Coman | Marine Park Kanndoo |
| 2nd | Megan Joyce | Chickabe |
| 3rd | James Lang | LP Nicosia |
| 4th | Russell Hearn | RBH Monte Pellier |
| 5th | Murray Sproull | Wild Kard |
| 6th | Murray Lamperd | Lushious Lourdes |
RACING VICTORIA ARENA
CLASS 31: EATON SQUARE – VICTORIAN AMATEUR SERIES – FINAL
| | | |
| --- | --- | --- |
| PLACE | RIDER | HORSE |
| 1st | Chelsea Hair | Cheech BFD |
| 2nd | Bradley Hearn | RBH Chaccarla |
| 3rd | Taliah Daniels | Lamperds Stella |
| 4th | Katelin Clark | Katelle Grand |
| 5th | Stuart Abrahams | Vainqueur |
| 6th | Adelyn Fallon | Carousel |
CLASS 33: AE EQUESTRIAN – GEM TWIST – ROUND 3 – 0.95m
| | | |
| --- | --- | --- |
| PLACE | RIDER | HORSE |
| 1st | Eliza Abrahams | Rocket Rod |
| 2nd | Caleb Bertram | Ceejay Park Private Buddy |
| 3rd | Valentina Hercus | Gold Play |
| 4th | Millie Allen | Mamma Mia |
| 5th | Abbie Lewis | Miss Visage |
| 6th | Bianca Welland | Snap Crackle And Pop |
CLASS 34: STROLLER – ROUND 3 – 1.05m
| | | |
| --- | --- | --- |
| PLACE | RIDER | HORSE |
| 1st | Courtney Shears | Karinga |
| 2nd | Steph Connley | Quintell |
| 3rd | Abby Coates | Wafula Nulla |
| 4th | Lucy Borrack | Get Rhythm |
| 5th | Ashlee Magnusson | Superfine Gizmo |
| 6th | Lolita Moran | Trafalga Twist |
Results sourced from online.equipe.com
View Comments