Five Teams and $100,000 in prizemoney. Australia, get ready to Jump Off!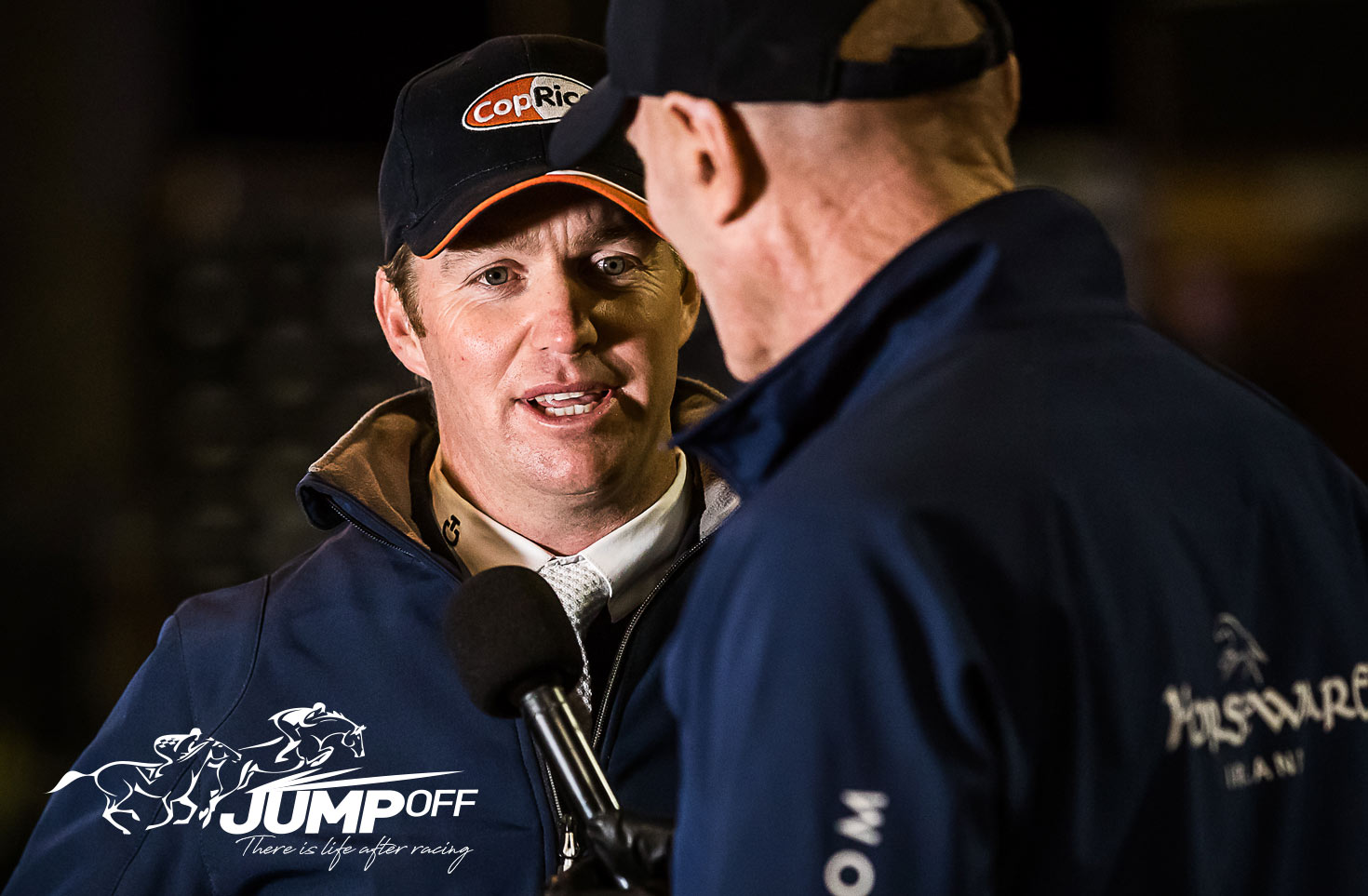 Stephen Mowbray
Last week we introduced the new television series, Jump Off, which pairs an experienced showjumping rider with a well-known thoroughbred racing trainer in a challenge to re-train former racehorses as showjumpers and compete for a massive with $100,000 in prizemoney.
This week, in the lead up to the program airing, Australian Jumping takes a looks at the five teams involved and some details about the main players in this competition.
TEAM JOHNSTONE/HAYES – Sponsored by Barastoc Horse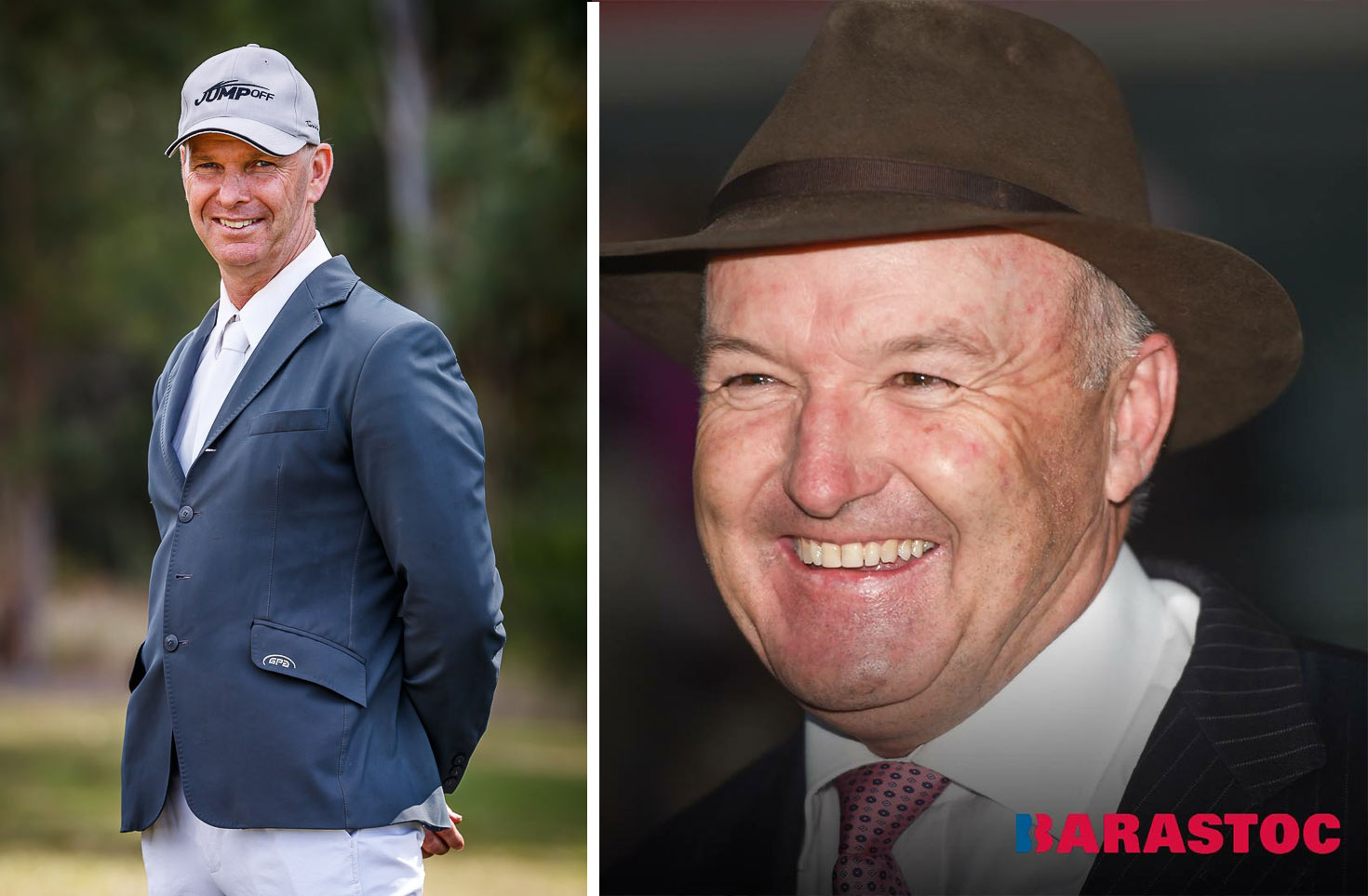 Russell Johnstone
Johnstone has an unparalleled list of successes in the world of jumping. He was a member of the 1996 Olympic jumping team in Atlanta, has been the Victorian Senior Champion on three occasions and was the first rider to win a CSI2* event in Australia. He has also competed across the world in the Nations Cup in Finland, Norway and Sweden. Johnstone now spends his days breeding and training the very best horses and riders and still competes at an elite level in Australia. Johnstone is a masterful horseman and undoubtedly has the skills, knowledge and experience to take out this competition.
David Hayes
Hayes knows what it takes to make a winner. He has created over 2800 of them over the course of his unstoppable career as an Australian racehorse trainer. Hayes, son of legendary trainer Colin Hayes, has impressive statistics, with more than 90 Group One winners, including the Melbourne Cup, Cox Plate, Caulfield Cup and Golden Slipper Stakes. In 2008, Hayes became the youngest inductee to the Australian Racing Hall of Fame. Hayes has the pedigree and resources to be a formidable combatant in this competition.
Advertisement

TEAM ROYCROFT/CUMMINGS – Sponsored by Pryde's Easifeed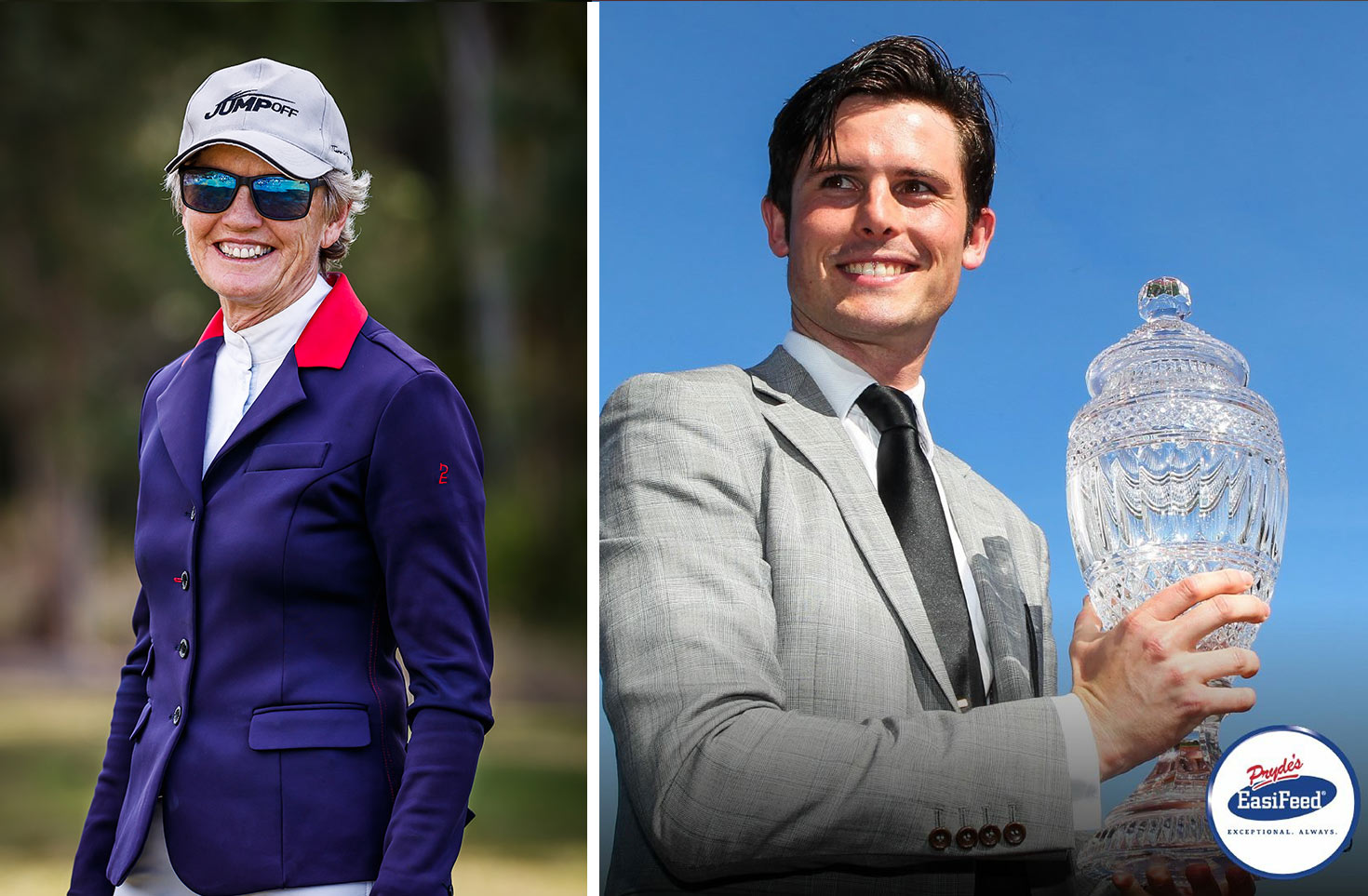 Vicki Roycroft
Roycroft is an Australian equestrian legend whose career has gone the distance. In 1987, she won the Rome Grand Prix and was the first woman and the first Australian to do so. She has been a member of three Olympic and World Championship teams. Locally, she has been crowned the Australian Jumping Champion on no less than three occasions. In 2000, she received an Australian Sports Medal. Now Roycroft works as a highly sought after riding and jumping instructor, both in Australia and overseas. As the only female member of the five teams, Roycroft, will no doubt be out to prove that that gender indeed makes no difference in the world of jumping.
James Cummings
Cummings hails from iconic horse racing stock. A fourth-generation trainer and the grandson of the legendary Bart Cummings, he is now carving out his own unique identity in Australian racing. In mid 2017, he became the head trainer for Godolphin in Australia. Last season the Cummings stable trained a remarkable 71 winners. With horses well and truly in his genes, Cummings has the pedigree to go a long way in this competition.
TEAM CAMERON/PRICE  – Sponsored by Coprice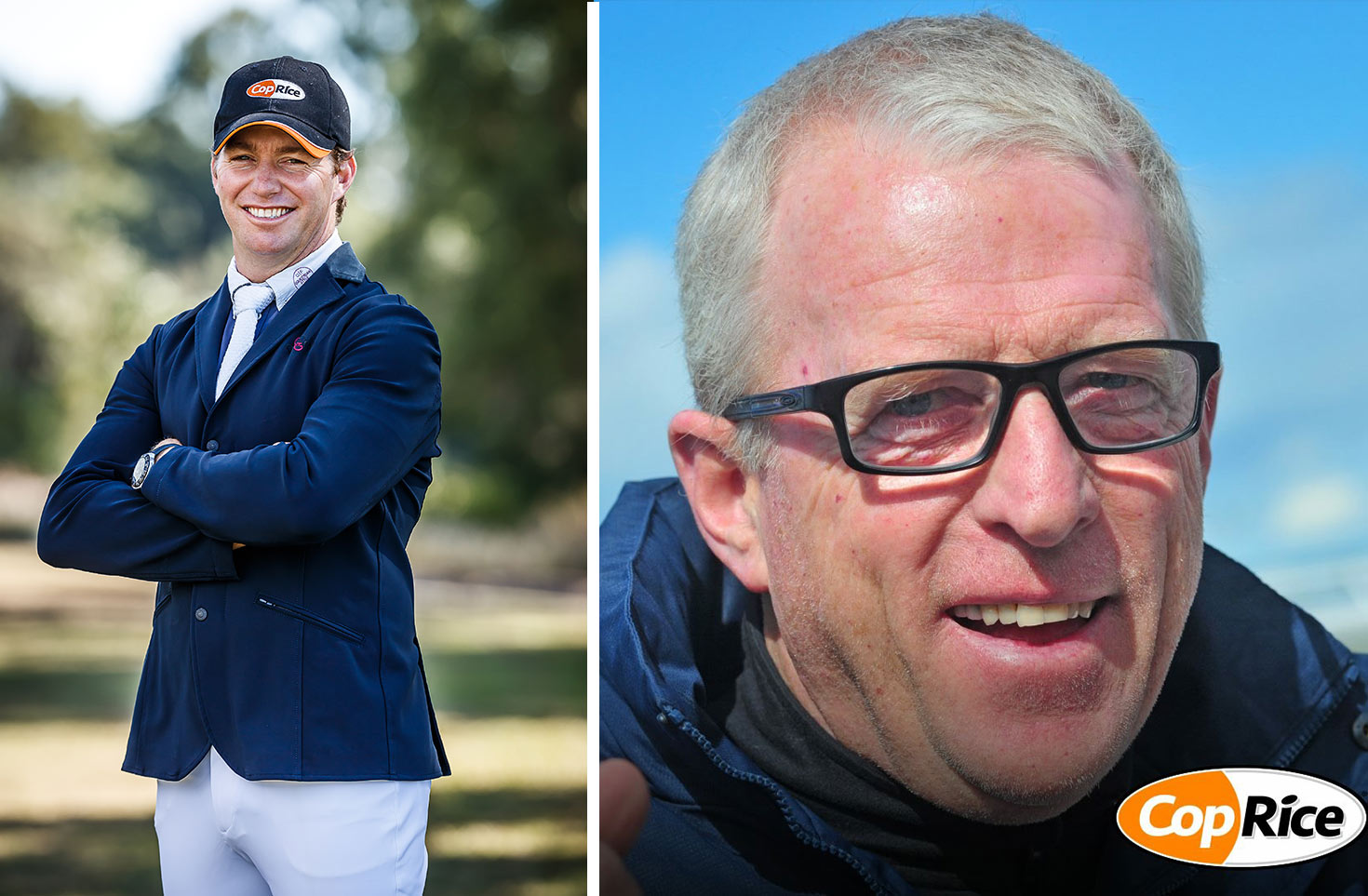 David Cameron
Two-time Australian Senior Jumping Champion and World Cup competitor, Cameron, has equestrian in his blood. Raised in Forbes NSW, Cameron's love of jumping developed from a young age, taking after his father who was a successful competitor. He has risen through the ranks to successfully compete across the globe with wins and placings on the World Cup circuit. He is ably supported by his wife Tallara and together they run a successful coaching and training business in Wilberforce, near Sydney, where they produce many elite horses and riders. He is not just a star in the arena either. Dave has ridden as a stunt double in the film and television industry with roles in Wild Boys and Pirates of the Caribbean. His experience of what it takes to ride at an elite level both in Australia and internationally should take him a long way in this competition.
Mick Price
Price is a trainer whose standards for success are as exceptional as the thoroughbreds he trains. In an impressive career spanning over 20 years, he has firmly established himself as one of the leading racehorse trainers in the nation. Price boasts an illustrious list of 162 stakes winners across Australia as well as over 2,000 career winners. Based at Caulfied in Melbourne, Price has built a reputation founded on hard work and exceptional standards. All of which should hold him in good stead throughout this competition.
Advertisement

TEAM McMAHON/WEIR – Sponsored by Horsewear Australia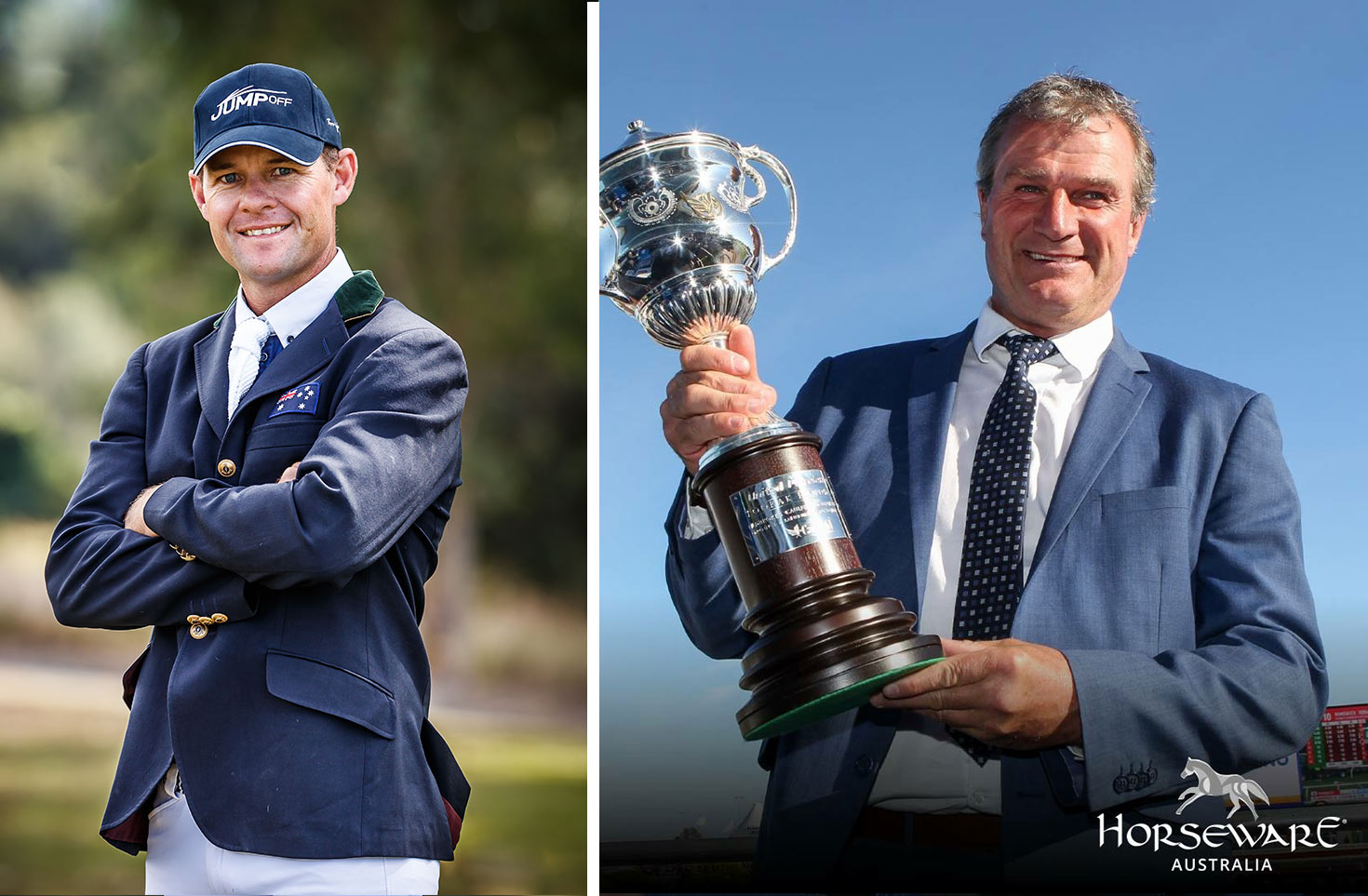 Peter McMahon
Peter is one of Australia's finest showjumpers of recent times. He has travelled across the globe to compete – representing Australia at the World Equestrian Games in Germany and making his Olympic debut in the individual and team jumping events at the age of 26 at the Beijing Games. Following a dangerous fall in Beijing, he came back the next year to take out the coveted Olympic Cup at the prestigious New Zealand Horse of the Year Show. Peter has a wealth of experience and is a fierce competitor on the jumping circuit. Together with his wife Michelle, Pete also runs Kolora Lodge in Queensland, a first-class destination for breaking, pre-training and spelling of racehorses.
Darren Weir
Weir is a perfectionist who leaves no hoof unturned to ensure each horse he trains reaches their greatest potential. He became the leading Victorian Country Trainer in 2005 and holds the Commonwealth training record for the most number of wins in a season.With over 3,200 career wins including the 2015 Melbourne Cup to his name, Weir is a race trainer who needs no introduction. In June 2018 he broke his own training record for most Victorian Metropolitan winners in a season. The big question is can he convert this unrivalled level of success to the Jump Off arena.
TEAM KERMOND/PAYNE  – Sponsored by Horsepower Feeds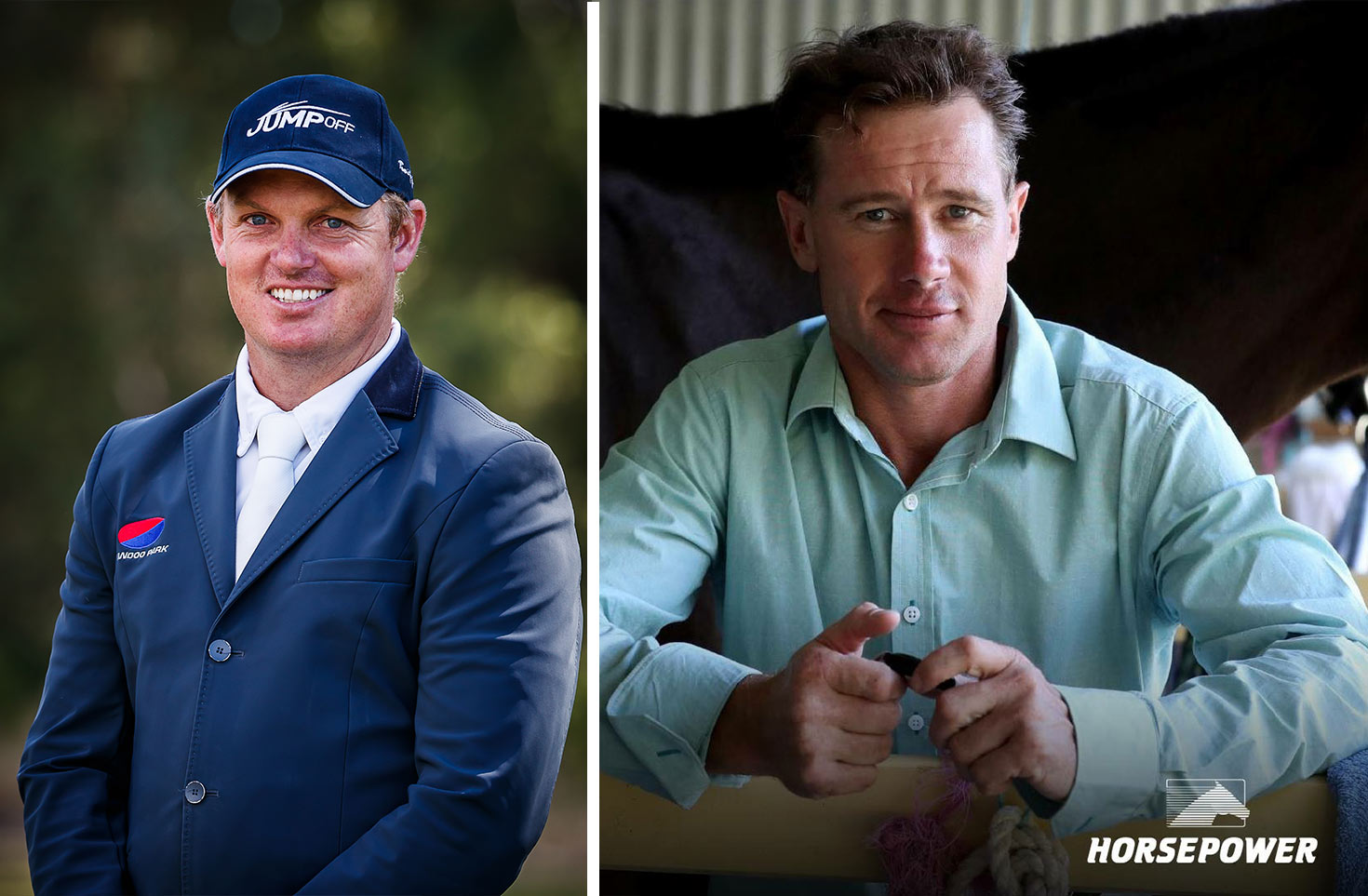 Jamie Kermond
Kermond is the current Australian Senior Jumping Champion and has just last week represented Australia with distinction as part of the Australian team who finished a record breaking 6th at the 2018 FEI World Equestrian Games and by coming 29th in the individual competition. It has been a great year for Kermond as he has placed fourth at the Hong Kong Masters Grand Prix and finished in the top 30 at the World Cup Final in Paris in April. A perfectionist, with a distinct and elegant style of riding, Kermond is expected to be highly competitive in this competition.
Patrick Payne
The Payne family are synonymous with horse racing success. Patrick Payne had his first ride at 14 and enjoyed a very successful career as a flat and jumps jockey before making a smooth transition into training full time in 2007. Payne has prepared more than 330 winners (including 58 last season) with the range of his success showing the Plumpton (Vic) trainer's talent with all kinds of horses including hurdlers. Payne, the older brother of Melbourne Cup winning jockey Michelle, has 7 other sibling who at some stage of their lives were jockeys and well as a horse trainer father. There is no doubt thy have the experience – but will the Payne family success extend to Jump Off?
With only 6 days to go, which team do you think has what it takes to win this exciting competition? Jump Off premiers this Sunday (30th September) on Seven Network at 3pm in Sydney and Brisbane and 3.30pm in Melbourne, Adelaide, Perth and Hobart. Please double check your TV guide to confirm times in your region. Replays of Jump Off will also air on Racing.com (Ch 78) three times a week – Monday evening at 6:30pm, Saturday at 8:30pm and Sunday mornings at 8:30am.
Australia, get ready to Jump Off!
View Comments