Great performance by Aussies for 3rd in Nations Cup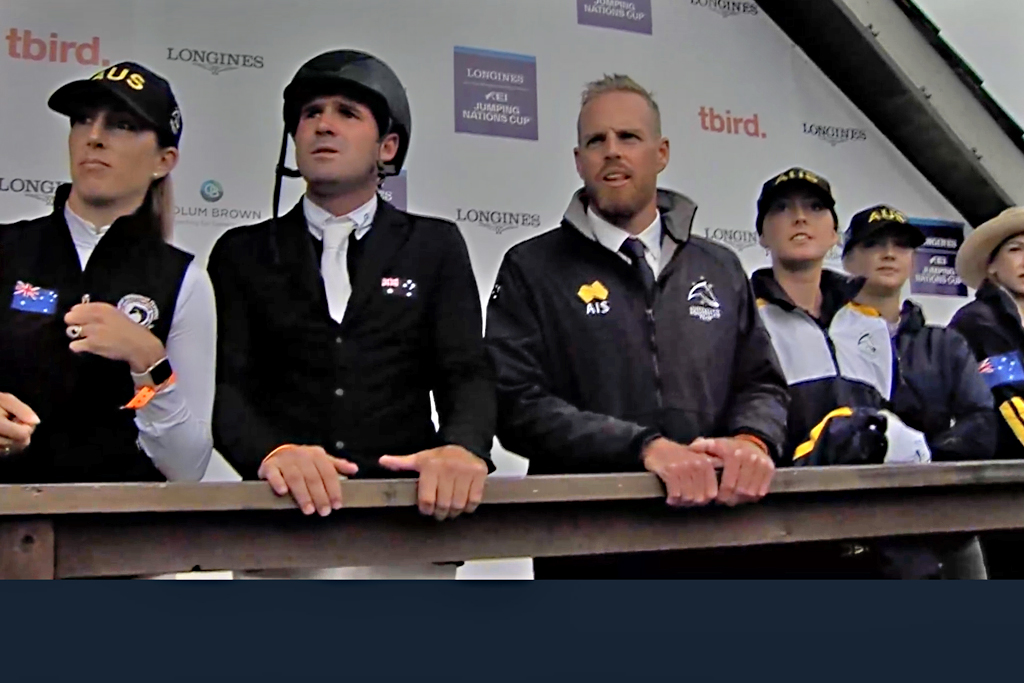 FEI TV
Under the guidance of Chef D'Equipe Todd Hinde, four Australian combinations took to the course this morning at the Thunderbird Show Park in Vancouver as part of the CSIO5* Longines FEI Jumping Nations Cup of Canada. It was a small but elite field of nations with just six competing, in which Australia can feel proud of our third place finish.
Our first rider out was Canada based Katie Laurie and her 11-year-old gelding Django II who set the standard with a great round, which left all the rails in place, however, their time of 80.68 incurred just a single time penalty. James Arkins, who had travelled back over to North America to compete, had a fantastic round with Eurostar 1, going clear in 77.24 seconds, which kept the possibility of the team achieving the perfect score of zero alive. Our third combination out was Matt Williams and 11-year-old gelding Dandy, who took three rails in a time of 78.28 seconds. Their 12 penalties would, in the end, not count in Round 1, as only the best three performances for each team count. Our final combination were Rowan Willis and Billy Guilder, who took two rails on the way around, but just scrapped in under the time allowed with a time of 79.96 seconds.
Advertisement


This left Australia in a strong position after Round 1, with a total of 9 (Arkins 0, Laurie 1 and Willis 8), only placed behind Ireland, which had two of its team go clear. Unfortunately, Israel who started with just the three combinations had a rider eliminated and could take no further part in the competition. The scores after round 1 were as follows:
| | | |
| --- | --- | --- |
| PLACE | COUNTRY | SCORE |
| 1st | Ireland | 4 |
| 2nd | Australia | 9 |
| 3rd | Mexico | 12 |
| 4th | United States | 16 |
| 5th | Canada | 24 |
| 6th | Israel | ELIM |
After a short break to reset the course, the second round commenced over a course which was becoming increasingly wet due to the persistent rain. Coming out in reverse seedings in Round 2, Australia were the fourth country to tackle the course. Katie Laurie and Django II again were just a little outside the time allowed of 80 seconds finishing in 81.10, this time incurring two time penalties, however a late rail in their round gave them a total score of six. James Arkins and Eurostar 1 were the next Australians on course and in a fantastic performance, they again went clear and with a time of 77.10 they could do no better. At this stage, due to a pair of clear rounds in Round 2 by Mexico, Australian were in third place.
Our third combination were Matt Williams and Dandy, who were looking to do better than their three rails down in Round 1. They achieved this, however one rail and three time penalties with a time of 82.13 seconds was not what the team would have been hoping for. Their total of seven meant that Laurie's score of six would now count and with Mexico doing well, second place was looking doubtful. Meanwhile, the team from Ireland were powering ahead and with three near perfect rounds in Round 2, put themselves in a position where they could not be caught.
Advertisement


The final Australian combination took to the course knowing that even a perfect round would not be enough to claim second place. Rowan Willis and Billy Guilder finished on a time of 81.67 seconds incurring a pair of time penalties, however three rails gave them a total of 14. This became our second round drop score, however it meant that our second round score was 13 (Arkins 0, Laurie 6 and Williams 7) and with nine from round 1 we finished on 22 points. With the competition wrapped up, Ireland did not send out their fourth rider.
So Australian had to be content with third place. It was a very solid performance and we did well to leave both the USA and the home country in our wake. Without doubt, the stars of the team were James Arkins and Eurostar 1, with their pair of clear rounds, something that only one other combination (Ireland's Andrew Bourns and Sea Topblue) could achieve on the day. We look forward to early July when the Australian selectors will name our team for the World Equestrian Games coming up in Herning in Denmark in early August.
Full placings for the competition are listed below:
| | | | | |
| --- | --- | --- | --- | --- |
| PLACE | COUNTRY | R1 | R2 | TOTAL |
| 1st | Ireland | 4 | 1 | 5 |
| 2nd | Mexico | 12 | 1 | 13 |
| 3rd | Australia | 9 | 13 | 22 |
| 4th | Canada | 24 | 4 | 28 |
| 5th | United States | 16 | 20 | 36 |
| 6th | Israel | ELIM | | |
View Comments