Harvey takes Hunter Region Grand Prix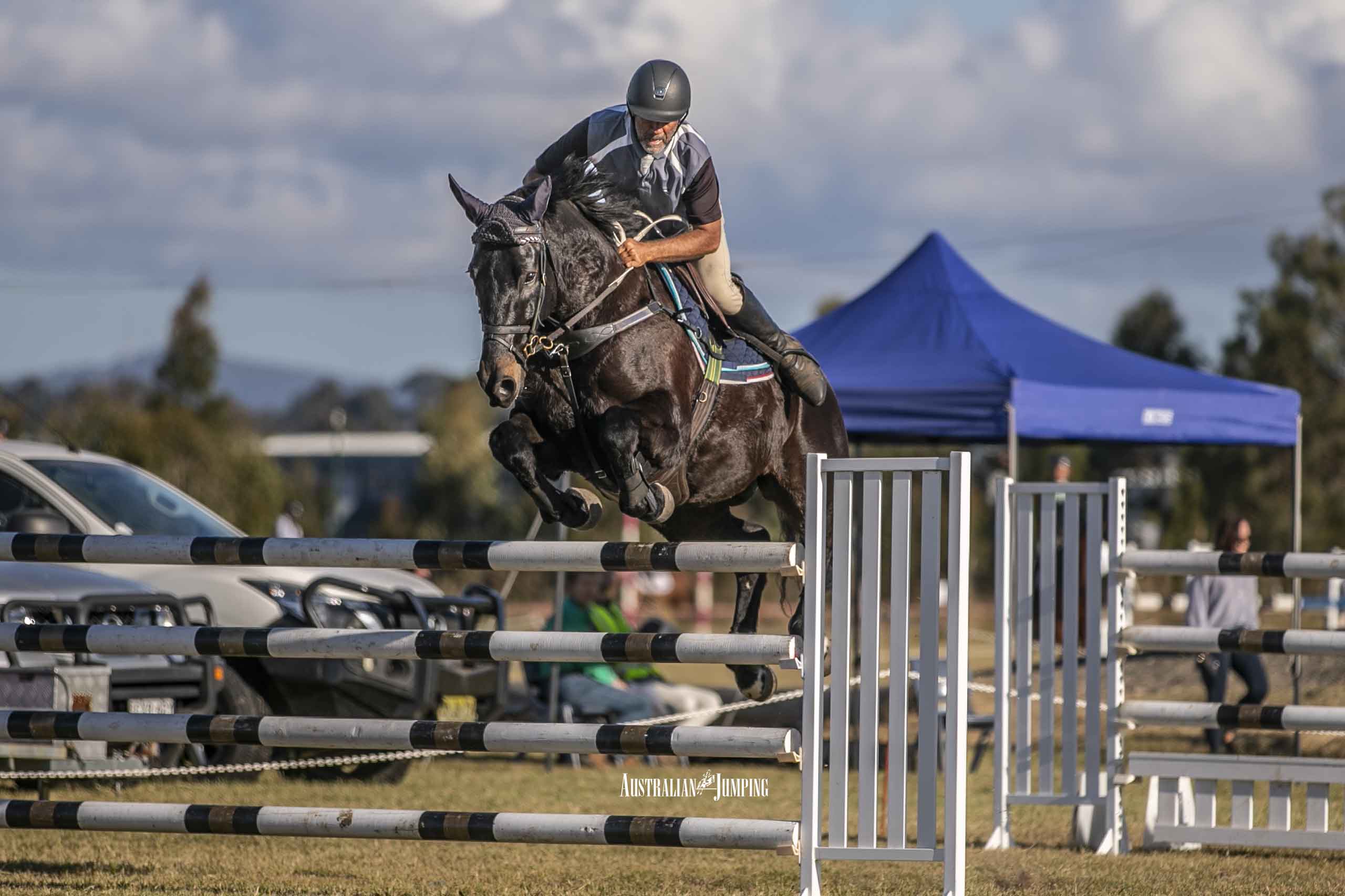 Australian Jumping
Above: Brock Harvey and Powerhouse Park Ego Roc
While many were enjoying the Victorian State Championships over the weekend, the Hunter Valley Showjumping Club were conducting the 2021 Hunter Region Mitchell Integrated Therapy Showjumping Championships. Held at Bradley Park in Rutherford, about 40 km north-west of Newcastle, the show was held across three days and two arenas with competitors traveling from far and while to take part.
Advertisement

The feature event on Saturday was an Open 1.30m class, sponsored by Mitchell Integrated Therapy. High quality performances saw 11 of the 20 combinations entered go clear and seven of the other nine take just a single rail. Just over half a second separated the top three with the win going to Jumping legend Vicki Roycroft who travelled up from the Central Coast and Dynamite Bay in 58.42 seconds. Second place went to William Wood and Dusky Farm Comtess in 58.50 seconds with Vicki Roycroft and the Andrew Inglis bred mare Licaviv third in 58.94.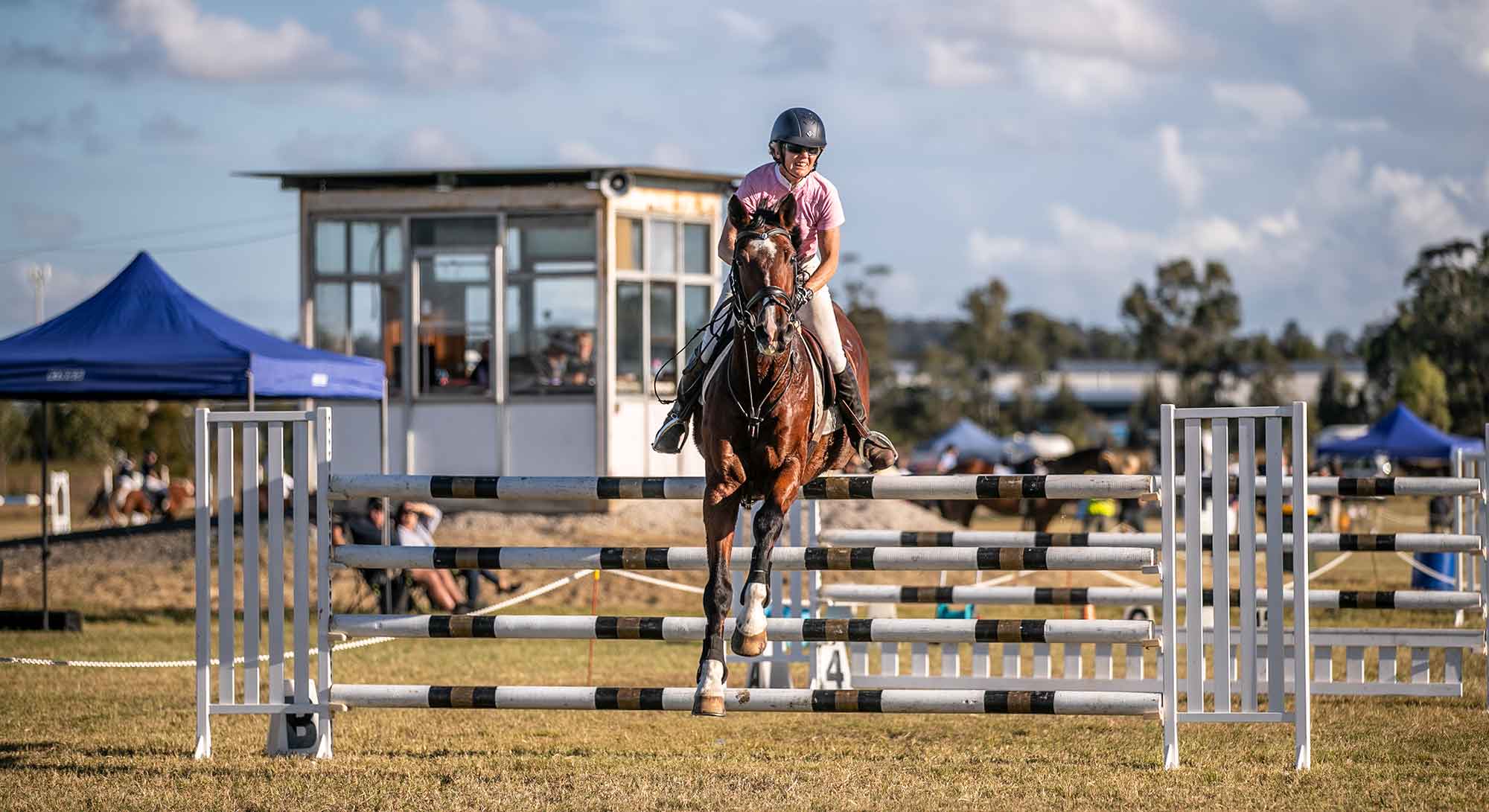 Vicki Roycroft and Dynamite Bay
Sunday saw the feature class of the show, the Mitchell Integrated Therapy Hunter Region Championship Grand-Prix take place over rails from 1.30m to 1.40m. Thirteen combinations were clear in the first round and were invited back for a jump-off. In the jump-off, there were seven clears with only five seconds separating first and seventh place. After finishing fourth in the Saturday 1.30m Open class it was Armidale's Brock Harvey and Powerhouse Park Ego Roc who powered to victory in a jump-off time of 32.74 seconds. Just 0.7 seconds behind in second place were the Tamworth based combination of Samantha Dernee and Diamond B Casanova. The Saturday Open 1.30m winners Vicki Roycroft and Dynamite Bay were a further 0.4 seconds off the pace in third.
Advertisement


Other highlights of the weekend were the Alan Hodge Memorial 1.20m which was the class following the Grand Prix in Arena 1. In a remarkable repeat double clear performance, this class was also won by Brock Harvey and Powerhouse Park Ego Roc.
Sean Geraghty with Bellhaven Sanskrit took out the Tuffrock sponsored Amateur class, which was a round of the JNSW Amateur of the Year Series.
The Thoroughbred Sport Horse Association sponsored a number of classes across the three days. The tallest track for them was over 1.20m and saw Emily Pursehouse in combination with Keilor Canny Ever take the win. Keilor Canny Ever is a 17-year-old gelding by Canny Lad, which won two races with the name Canny Prophet.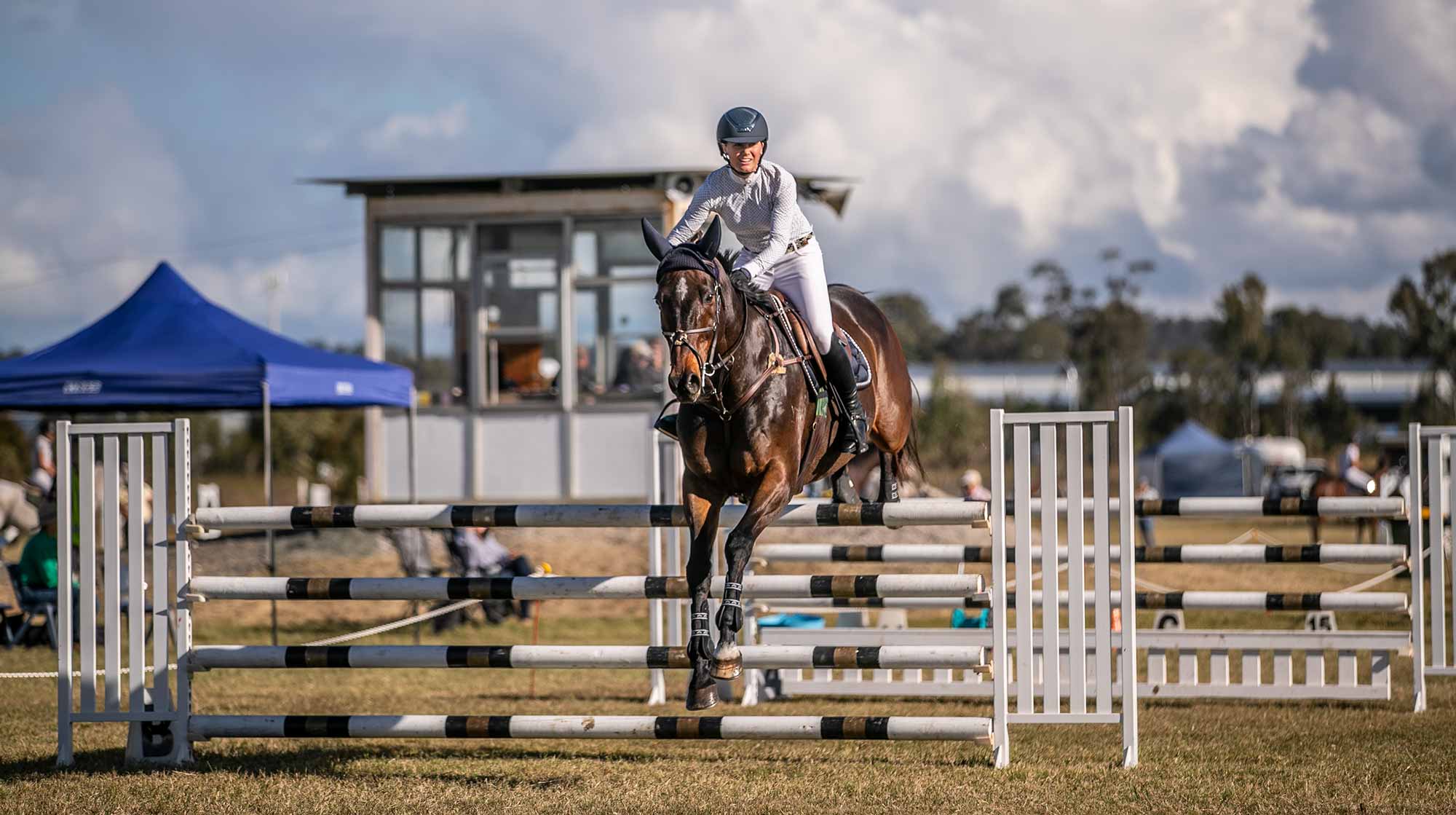 Emily Pursehouse and Keilor Canny Ever
Below are the first six placegetter in all classes conducted.
Congratulations to all the winners and placegetters.
FRIDAY
ARENA 1
CLASS 111: Open – (245.3) – 1.05m
| | | |
| --- | --- | --- |
| PLACE | RIDER | HORSE |
| 1st | Elodie Emmett-Mourlet | Fly Too High |
| 2nd | Chloe Palmer | Woodburys Lost In The Moment |
| 3rd | William Wood | Joselands Cosmic Star |
| 4th | David Robertson | Queno 4 |
| 5th | Brooke Richardson | Finch Farm Fed X |
| 6th | Jacqui Kennett | Oaks Kenya |
CLASS 112: Mitchell Integrated Therapy – (245.3) – 1.10-1.15m
| | | |
| --- | --- | --- |
| PLACE | RIDER | HORSE |
| 1st | Chloe Palmer | Woodburys Lost In The Moment |
| 2nd | Paton Simpson | Port Command |
| 3rd | Brooke Richardson | Laurel Glen Lucky Time |
| 4th | David Robertson | Queno 4 |
| 5th | Sean Geraghty | Bellhaven Sanskrit |
| 6th | Vicki Roycroft | Tulara Wat Colblensky |
CLASS 113: Open – (245.3) – 1.20m
| | | |
| --- | --- | --- |
| PLACE | RIDER | HORSE |
| 1st | Brock Harvey | Powerhouse Park Ego Roc |
| 2nd | Ashley Cutler | Emcee Vagabond |
| 3rd | William Wood | Dusky Farm Comtess |
| 4th | Ashley Cutler | Kinnordy Rhena |
| 5th | Vicki Roycroft | Converse |
| 6th | Emily Gobbe | Belcam Cachi |
CLASS 114: Open – (245.3) – 1.30m
| | | |
| --- | --- | --- |
| PLACE | RIDER | HORSE |
| 1st | William Wood | Dusky Farm Comtess |
| 2nd | David Cooper | Victory Day |
| 3rd | Samantha Dernee | Diamond B Casanova |
| 4th | James Mooney | KPH Cavatina |
| 5th | Emily Gobbe | Belcam Cachi |
| 6th | Emily Pursehouse | Keilor Canny Ever |
ARENA 2
CLASS 211A: Mitchell Integrated Therapy – Open – (245.3) – 0.60m
| | | |
| --- | --- | --- |
| PLACE | RIDER | HORSE |
| 1st | Kirsty Douglas | Liam |
| 2nd | Elodie Emmett-Mourlet | Thomson River |
| 3rd | Sarah Bagley | The Great Archer |
| 4th | Emma Bickley | Ollie |
| 5th | Hannah Hopkins | Found Out |
| 6th | Simone Monaghan | Wild At Heart |
CLASS 211B: Horseland Maitland – Junior – (245.3) – 0.60m
| | | |
| --- | --- | --- |
| PLACE | RIDER | HORSE |
| 1st | Holly Pulford | Magic Blur |
| 2nd | Sascha Blefari | Henry's Dream |
| 3rd | Paige Hill | Rowling In Riches |
| 4th | Macey Howlett | Roys Command |
| 5th | Tayla Ryan | Charlie Brown |
| 6th | Hayley Cox | Louie |
CLASS 212A: Biomec Equine & Alkapellets PH Plus – Open – 0.70m
| | | |
| --- | --- | --- |
| PLACE | RIDER | HORSE |
| 1st | Elizabeth Stokes | Mystery Diva |
| 2nd | Elizabeth Stokes | A Question Of Time |
| 3rd | Paton Simpson | Wards Traveller |
| 4th | Olivia Lamaro | Bezel |
| 5th | Hannah Hopkins | Found Out |
| 6th | Grace Maher | Mr Softy |
CLASS 212B: Junior – 0.70m
| | | |
| --- | --- | --- |
| PLACE | RIDER | HORSE |
| 1st | Holly Pulford | Magic Blur |
| 2nd | Kyah James | Spartan |
| 3rd | Macey Howlett | Roys Command |
| 4th | Sandie Lea McMeekin | Buckwell Park Kappuccino |
| 5th | Paige Hill | One More Woody |
| 6th | Emily Worgan | Stella |
CLASS 213A: Oakwood Products – Open – 0.80m
| | | |
| --- | --- | --- |
| PLACE | RIDER | HORSE |
| 1st | Elizabeth Stokes | Mystery Diva |
| 2nd | Elizabeth Stokes | A Question Of Time |
| 3rd | Kristy-Lee Hogan | BB Albury |
| 4th | Vicki Roycroft | Rainwood Park Thomas |
| 5th | Kristy-Lee Hogan | Yarramalong Georgi |
| 6th | Courtney Lutovac | Absolute Royalty |
CLASS 213B: Indibell Farm – Junior – 0.80m
| | | |
| --- | --- | --- |
| PLACE | RIDER | HORSE |
| 1st | Emma Davidge | Kentucky Dableo |
| 2nd | Kyarne Sampson | Morton |
| 3rd | Paige Hill | One More Woody |
| 4th | Grace McGimpsey | Zero Hedge |
| 5th | Katrina Geerarts | Chester River |
| 6th | Emma Davidge | Satirical Magic |
CLASS 214A: Farmland Co – Open – 0.95m
| | | |
| --- | --- | --- |
| PLACE | RIDER | HORSE |
| 1st | Jodie Hollis | Grand Quest |
| 2nd | Ava Winter | Welcome Stranger |
| 3rd | Kim Jozic-Pryor | Cassiver |
| 4th | Sarah Munro | Ornum Fortunato |
| 5th | Ludovic Bernadat | Merlin Junior |
| 6th | Samantha Dernee | Glenara Luxury Z |
CLASS 214B: Tuffrock – Junior – 0.95m
| | | |
| --- | --- | --- |
| PLACE | RIDER | HORSE |
| 1st | Kyarne Sampson | Morton |
| 2nd | Holly Pulford | Master Spook |
| 3rd | Katrina Geerarts | Chester River |
| 4th | Shelley Cox | Riverside Gareth |
| 5th | Emma Davidge | Kentucky Dableo |
| 6th | Emma Davidge | Stan The Ultimate Man |
SATURDAY
ARENA 1
CLASS 121A: Life & Style Properties – (238.2.1) – 1.05m
| | | |
| --- | --- | --- |
| PLACE | RIDER | HORSE |
| 1st | William Wood | Joselands Cosmic Star |
| 2nd | Jade McCusker | Queen Of Hearts NZPH |
| 3rd | Shannon O'Meara | CP Starlights Murphy |
| 4th | David Robertson | Queno 4 |
| 5th | Rod Mcqueen | Greengrove Calle I |
| 6th | Anna Thian | Cushavon Lilibet |
CLASS 121B: Thoroughbred Sport Horse Association – (238.2.1) – 1.05m
| | | |
| --- | --- | --- |
| PLACE | RIDER | HORSE |
| 1st | Jodie Hollis | Grand Quest |
| 2nd | Paton Simpson | Port Command |
| 3rd | Elodie Emmett-Mourlet | Fly Too High |
| 4th | Tayla Norley | Luck In Toyland |
| 5th | Helen Diacono | Lola Way |
| 6th | Holly Pulford | Master Spook |
CLASS 122A: Open – 1.10-1.15m
| | | |
| --- | --- | --- |
| PLACE | RIDER | HORSE |
| 1st | Natalie De Souza | Romley Corsair |
| 2nd | William Wood | Joselands Mumbles |
| 3rd | Jade Middleton | Evenescence |
| 4th | Vicki Roycroft | Tulara Wat Colblensky |
| 5th | Anna Thian | Cushavon Lilibet |
| 6th | Allan Mccusker | WF Highlight |
CLASS 122B: Thoroughbred Sport Horse Association – 1.10-1.15m
| | | |
| --- | --- | --- |
| PLACE | RIDER | HORSE |
| 1st | Jodie Hollis | Grand Quest |
| 2nd | Elodie Emmett-Mourlet | Fly Too High |
| 3rd | Phoebe McIntyre | Success Dostta |
| 4th | Brooke Richardson | Laurel Glen Lucky Time |
| 5th | Vicki Roycroft | The Dood |
| 6th | Jessica Bott | Raise An Angel |
CLASS 123A: Open – 1.20m
| | | |
| --- | --- | --- |
| PLACE | RIDER | HORSE |
| 1st | Cade Hunter | Vasari NZPH |
| 2nd | Krissy Harris | Corvette GHP |
| 3rd | Tylah Studdert | Noonamah Valentina |
| 4th | Caitlin Bolger | Caprino |
| 5th | Sean Geraghty | Bellhaven Sanskrit |
| 6th | David Cooper | WPH Chaccaro |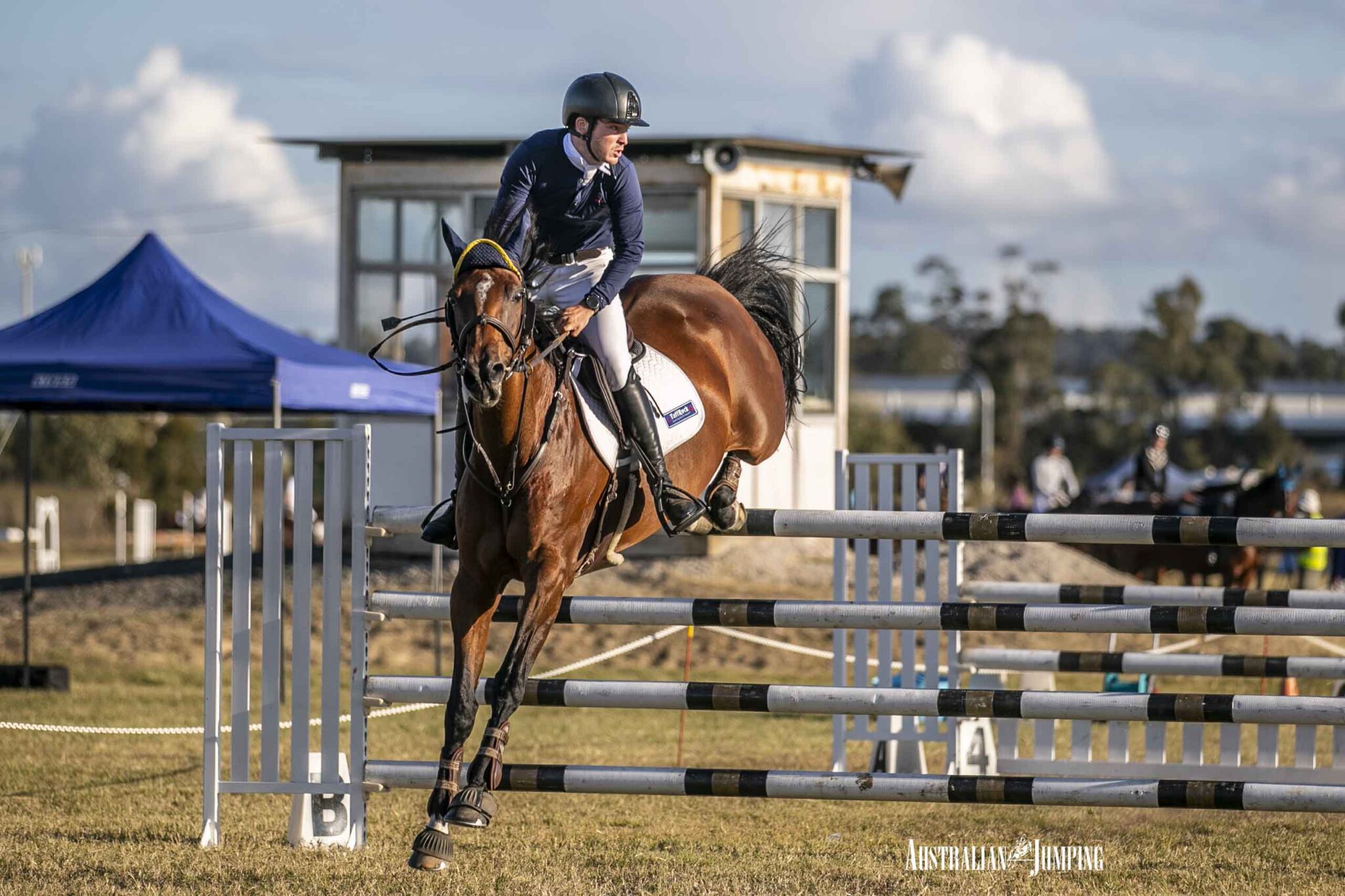 Cade Hunter and Vasari NZPH
CLASS 123B: Thoroughbred Sport Horse Association – 1.20m
| | | |
| --- | --- | --- |
| PLACE | RIDER | HORSE |
| 1st | Emily Pursehouse | Keilor Canny Ever |
| 2nd | Jessica Bott | Raise An Angel |
| 3rd | Georgia Van Der Drift | Regal |
| 4th | Cade Hunter | Boombenny |
| 5th | Claudia Fuerschke | Hathras |
| 6th | Brooke Richardson | Laurel Glen Lucky Time |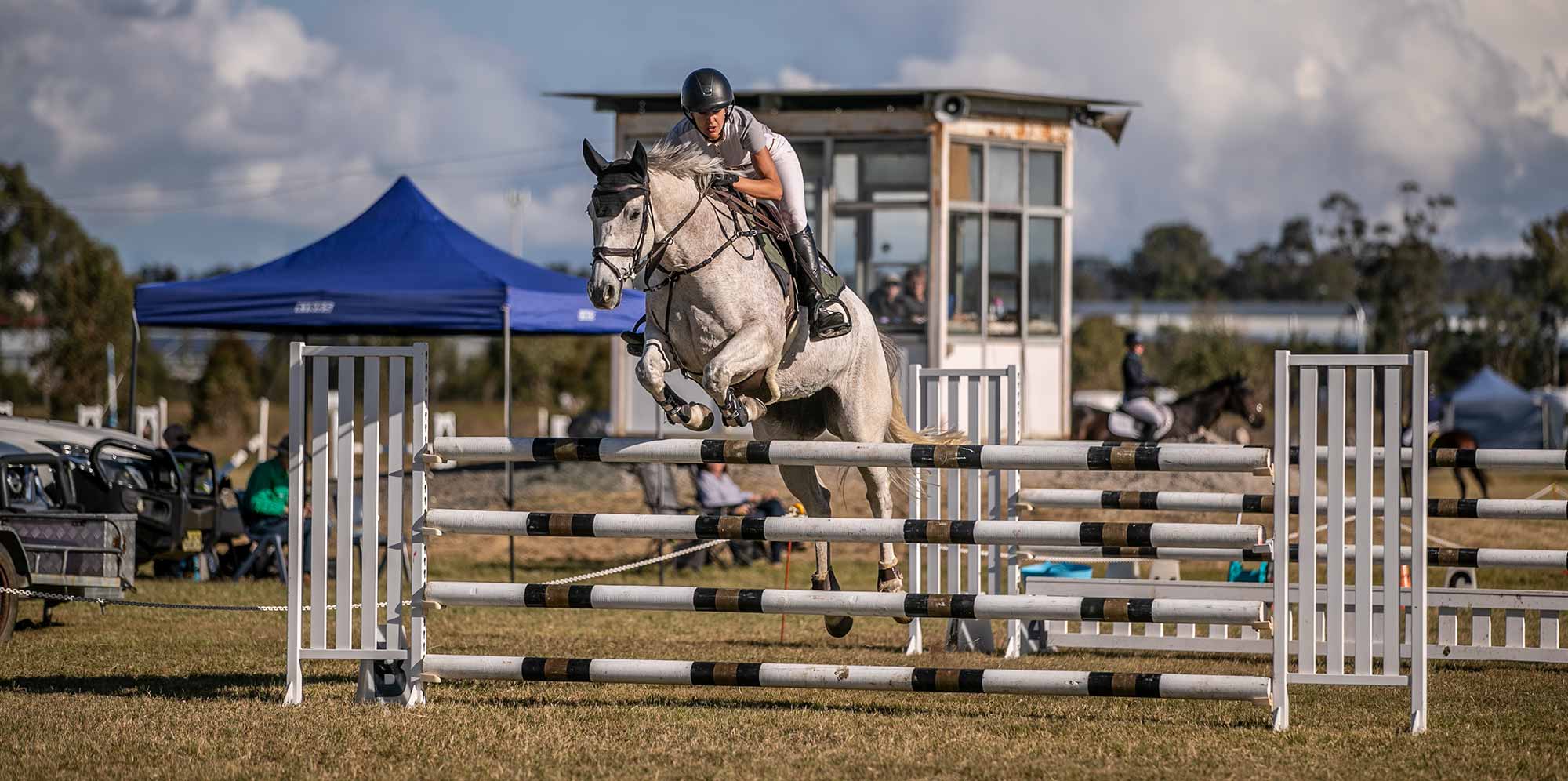 Above: Jessica Bott and Raise An Angel
CLASS 124: Mitchell Integrated Therapy – Open – 1.30m
| | | |
| --- | --- | --- |
| PLACE | RIDER | HORSE |
| 1st | Vicki Roycroft | Dynamite Bay |
| 2nd | William Wood | Dusky Farm Comtess |
| 3rd | Vicki Roycroft | Licaviv |
| 4th | Brock Harvey | Powerhouse Park Ego Roc |
| 5th | Krissy Harris | Corvette GHP |
| 6th | Jess Brown | Oaks Belize |
ARENA 2
CLASS 221A: Farmland Co – Open – 0.60m
| | | |
| --- | --- | --- |
| PLACE | RIDER | HORSE |
| 1st | Paton Simpson | Wards Traveller |
| 2nd | Annette Rahn | The Cat Factor |
| 3rd | Annette Rahn | Starbug |
| 4th | Sarah Bagley | The Great Archer |
| 5th | Elodie Emmett-Mourlet | Thomson River |
| 6th | Stephanie Fenwick | Matilda |
CLASS 221B: Oakwood Products – Junior – 0.60m
| | | |
| --- | --- | --- |
| PLACE | RIDER | HORSE |
| 1st | Tayla Ryan | Chick Chick Boom |
| 2nd | Sandie Lea McMeekin | Buckwell Park Kappuccino |
| 3rd | Erin Kroef | Sublime |
| 4th | Lillian Forrester | JV Maximus |
| 5th | Regan Duggan | Storm |
| 6th | Teah Ginns | Ali |
CLASS 222A: Newcastle Fire Extinguisher Service – Open – 0.70m
| | | |
| --- | --- | --- |
| PLACE | RIDER | HORSE |
| 1st | Elizabeth Stokes | A Question Of Time |
| 2nd | Tennille McFadyen | Argo |
| 3rd | Elizabeth Stokes | Palazzo |
| 4th | Annette Rahn | Starbug |
| 5th | Annette Rahn | The Cat Factor |
| 6th | Arthur McCabe | Mr Manhattan |
CLASS 222B: Mitchell Integrated Therapy – Junior – 0.70m
| | | |
| --- | --- | --- |
| PLACE | RIDER | HORSE |
| 1st | Emily Worgan | Stella |
| 2nd | Holly Pulford | Magic Blur |
| 3rd | Sandie Lea McMeekin | Buckwell Park Kappuccino |
| 4th | Regan Duggan | Storm |
| 5th | Poppy Loveland | Setco Delight |
| 6th | Paige Hill | One More Woody |
CLASS 223A: Horseland Maitland – Open – 0.80m
| | | |
| --- | --- | --- |
| PLACE | RIDER | HORSE |
| 1st | Jodie Hollis | Kaywana Crown Jewel |
| 2nd | Tennille McFadyen | Sonny |
| 3rd | Kim Jozic-Pryor | Cassiver |
| 4th | Craig Barrett | Bloomsbury's Jack Flash |
| 5th | Emma Bickley | Buckwell Park Destiny GS |
| 6th | Kristy-Lee Hogan | BB Albury |
CLASS 223B: Tuffrock – Junior – 0.80m
| | | |
| --- | --- | --- |
| PLACE | RIDER | HORSE |
| 1st | Emily Worgan | Stella |
| 2nd | Makaylah Fenwick | Danish Spell |
| 3rd | Zara Sampson | Arden Elsa |
| 4th | Belle Lambeth | Lottie |
| 5th | Jesper Barrett | Fots Farm I Spy |
| 6th | Kyarne Sampson | Morton |
CLASS 223C: Thoroughbred Sports Horse Association – 0.80m
| | | |
| --- | --- | --- |
| PLACE | RIDER | HORSE |
| 1st | Sarah Steel | Grey Consul |
| 2nd | Georgia Van Der Drift | Giddy Up Venice |
| 3rd | Lucy Larkins | Broadside |
| 4th | Mia Chrimes | HL Renaissance |
| 5th | Sue Coonan | Closing Time |
| 6th | Angelica Pickup | Paratai Finn |
CLASS 224A: Canter-On – Open – 0.95m
| | | |
| --- | --- | --- |
| PLACE | RIDER | HORSE |
| 1st | Madelene Hansen | Wollundry Mission From God |
| 2nd | Sarah Munro | Ornum Fortunato |
| 3rd | Vicki Roycroft | Rainwood Park Thomas |
| 4th | Craig Barrett | Bloomsbury's Jack Flash |
| 5th | Kristy-Lee Hogan | BB Albury |
| 6th | Kyarne Sampson | Morton |
CLASS 224B: Good Call Communications – Junior – 0.95m
| | | |
| --- | --- | --- |
| PLACE | RIDER | HORSE |
| 1st | Hayley Mcleod | Texas |
| 2nd | Makaylah Fenwick | Kilarie |
| 3rd | Zara Sampson | Arden Elsa |
| 4th | Jesper Barrett | Fots Farm I Spy |
| 5th | Holly Stott | Kentaur Pia Bella |
| 6th | Adelaide Swanson | SR Athena |
CLASS 224C: Thoroughbred Sports Horse Association – 0.95m
| | | |
| --- | --- | --- |
| PLACE | RIDER | HORSE |
| 1st | Robyn Parker | Street Wise |
| 2nd | Jodie Hollis | Lena |
| 3rd | Georgia Van Der Drift | Giddy Up Venice |
| 4th | Sarah Steel | Grey Consul |
| 5th | Angelica Pickup | Paratai Finn |
| 6th | Mia Chrimes | HL Renaissance |
SUNDAY
ARENA 1
CLASS 131: Oakwood Products – Open – 1.05m
| | | |
| --- | --- | --- |
| PLACE | RIDER | HORSE |
| 1st | David Robertson | Queno 4 |
| 2nd | Brooke Richardson | Finch Farm Fed X |
| 3rd | James Mooney | JB Delightful |
| 4th | Andrew Barnett | Oscar Park Deluge |
| 5th | Jess Brown | Oaks Cryptic |
| 6th | Samantha Dernee | Glenara Luxury Z |
CLASS 132: Tuffrock – Amateur (JNSW Amateur of the Year Series) – 1.15m
| | | |
| --- | --- | --- |
| PLACE | RIDER | HORSE |
| 1st | Sean Geraghty | Bellhaven Sanskrit |
| 2nd | Jim Scobie | Fernhill Aussie Balou |
| 3rd | Jeff Penza | Fireball |
| 4th | Jim Scobie | Soxdown |
| 5th | Bree Bate | Ezicome |
| 6th | Brooke Richardson | Laurel Glen Lucky Time |
CLASS 133: Mitchell Integrated Therapy – Hunter Regional Championship Grand Prix – 1.30-1.40m
| | | |
| --- | --- | --- |
| PLACE | RIDER | HORSE |
| 1st | Brock Harvey | Powerhouse Park Ego Roc |
| 2nd | Samantha Dernee | Diamond B Casanova |
| 3rd | Vicki Roycroft | Dynamite Bay |
| 4th | Caitlin Bolger | Caprino |
| 5th | James Mooney | KPH Cavatina |
| 6th | David Robertson | Luis 95 |
CLASS 134: Alan Hodge Memorial – 1.20m
| | | |
| --- | --- | --- |
| PLACE | RIDER | HORSE |
| 1st | Brock Harvey | Powerhouse Park Ego Roc |
| 2nd | Vicki Roycroft | Converse |
| 3rd | Brooke Richardson | Laurel Glen Lucky Time |
| 4th | Ashley Cutler | Emcee Vagabond |
| 5th | James Mooney | KPH Carousel |
| 6th | Jeff Penza | Fireball |
CLASS 135: HVSJC – Open – 1.10-1.15m
| | | |
| --- | --- | --- |
| PLACE | RIDER | HORSE |
| 1st | Andrew Barnett | Petros |
| 2nd | Heath Ryan | Bronze Boy |
| 3rd | Vicki Roycroft | Kenny Casino |
| 4th | Rod McQueen | El Dorado |
| 5th | Ashley Cutler | Licandro |
| 6th | Jess Brown | Oaks Burgundy |
ARENA 2
CLASS 233A: Mitchell Integrated Therapy – Open – 0.85m
| | | |
| --- | --- | --- |
| PLACE | RIDER | HORSE |
| 1st | Jodie Hollis | Kaywana Crown Jewel |
| 2nd | Madelene Hansen | Wollundry Mission From God |
| 3rd | Makaylah Fenwick | Danish Spell |
| 4th | Makaylah Fenwick | Grace And Glory |
| 5th | Georgia Fenwick | The Garrett |
| 6th | Kristy-Lee Hogan | BB Albury |
CLASS 233B: Farmland Co – Junior – 0.85m
| | | |
| --- | --- | --- |
| PLACE | RIDER | HORSE |
| 1st | Zachary Irwin | Strawberry |
| 2nd | Holly Pulford | Magic Blur |
| 3rd | Molly Mooney | LC Texas Ranger |
| 4th | Kyarne Sampson | Morton |
| 5th | Gemma Stevenson | Glenormiston Silver Seamus |
| 6th | Hayley Mcleod | Texas |
CLASS 234A: Jester Park – Open – 1.00m
| | | |
| --- | --- | --- |
| PLACE | RIDER | HORSE |
| 1st | Robyn Parker | Street Wise |
| 2nd | Ava Winter | Welcome Stranger |
| 3rd | Jodie Hollis | Lena |
| 4th | Sarah Munro | Ornum Fortunato |
| 5th | Kristy-Lee Hogan | BB Albury |
| 6th | Jenna Davey | Aaberdeen Armada |
CLASS 234B: Goodwoods Sadlery – Junior – 1.00m
| | | |
| --- | --- | --- |
| PLACE | RIDER | HORSE |
| 1st | Kyarne Sampson | Morton |
| 2nd | Makaylah Fenwick | Danish Spell |
| 3rd | Georgia Fenwick | The Garrett |
| 4th | Zara Sampson | Arden Elsa |
| 5th | Thomas Irwin | Wilson |
| 6th | Zachary Irwin | Strawberry |
Results sourced from Global Entries Online
View Comments