James Arkins claims Victorian State Title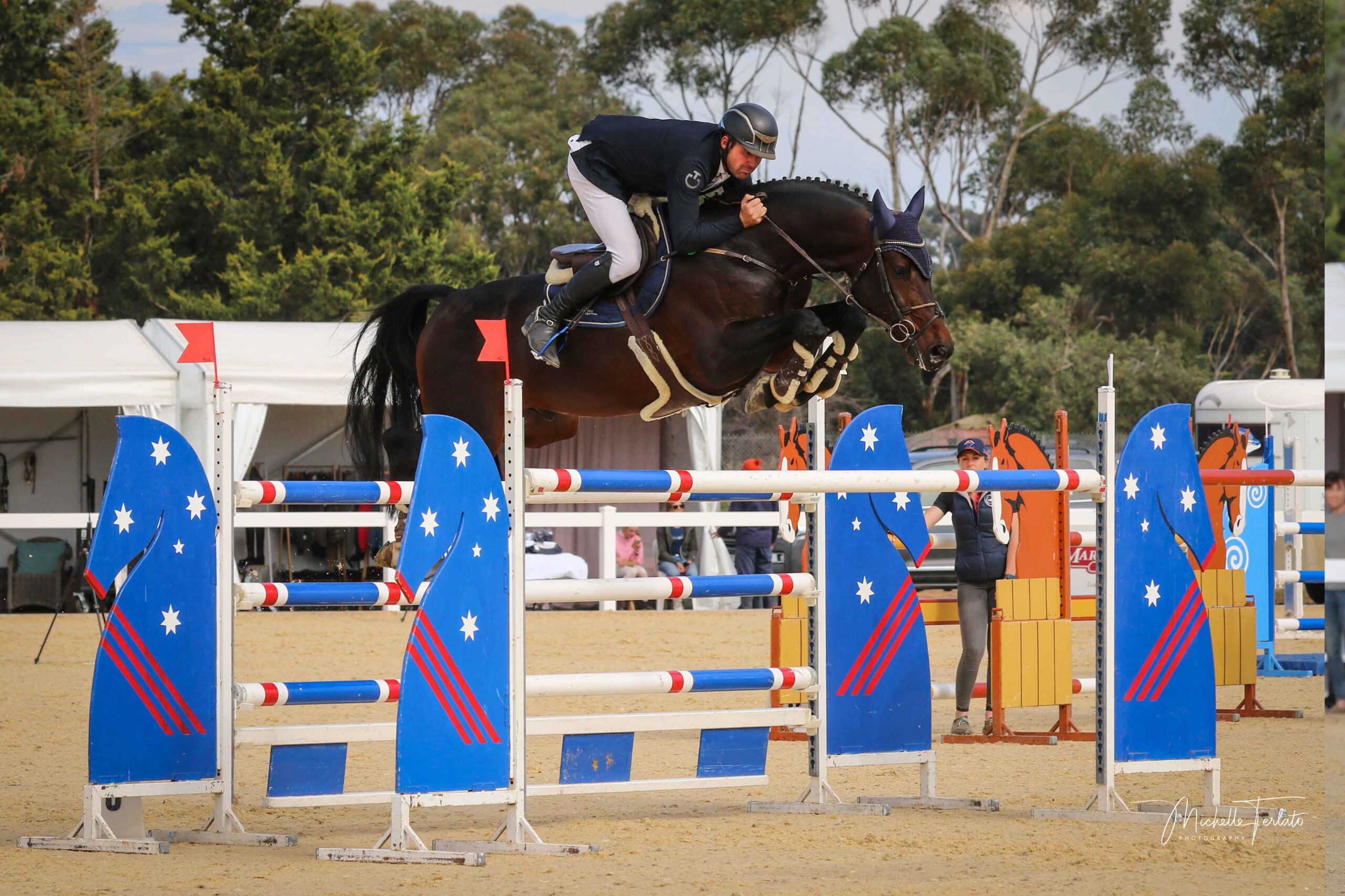 Michelle Terlato Photography
Above: James Arkins and Eurostar. Photo credit: Michelle Terlato Photography
The Victorian State Jumping Championships wrapped-up yesterday with winners being declared in the three main championship classes.
Glenwood Park were the sponsors of the Victorian Junior Championship, done so in memory of Dreamtime Invader. Toddy, as he was known at home, sadly passed away recently. Ridden by James Arkins with great success in his early days, Toddy spent his latter years at Glenwood Park as a much loved member of the Dobbin family and was a great equine partner for Charlee Dobbin with their successes including a third placing in the 2019 Australian Children's Championship.
Advertisement

The final round of the Glenwood Park Victorian Junior Championship was won by Lucy Locke and Diamont, which, when combined with their second placing in Round One and their win in Round Two saw them awarded the Victorian Junior Championship. Second place in the final round went to Zoe Waller and Bequest, who were the only combination to beat Locke this weekend, by winning the first round, however an 18th placing in Round Two put a dampner of their title chances.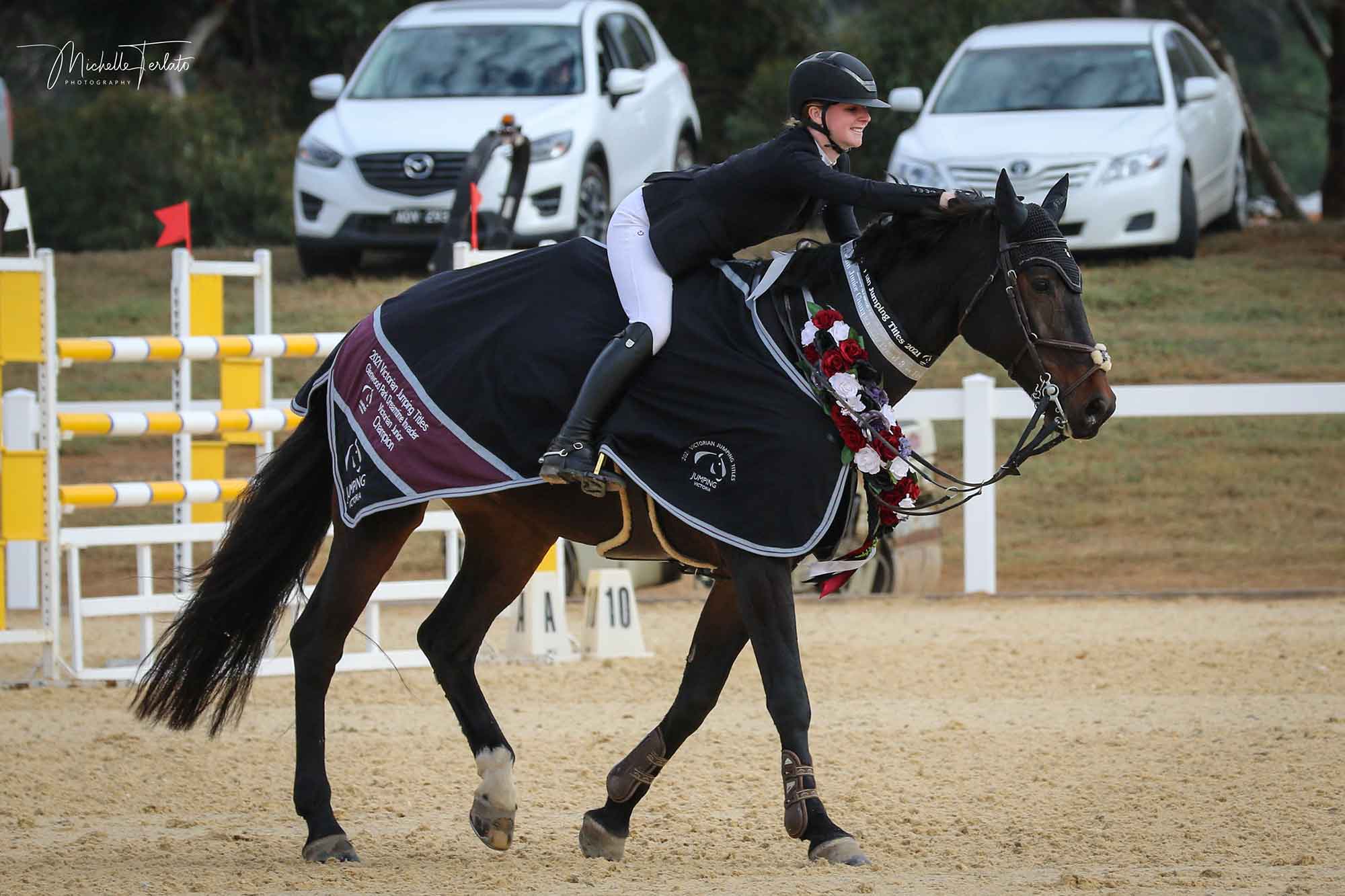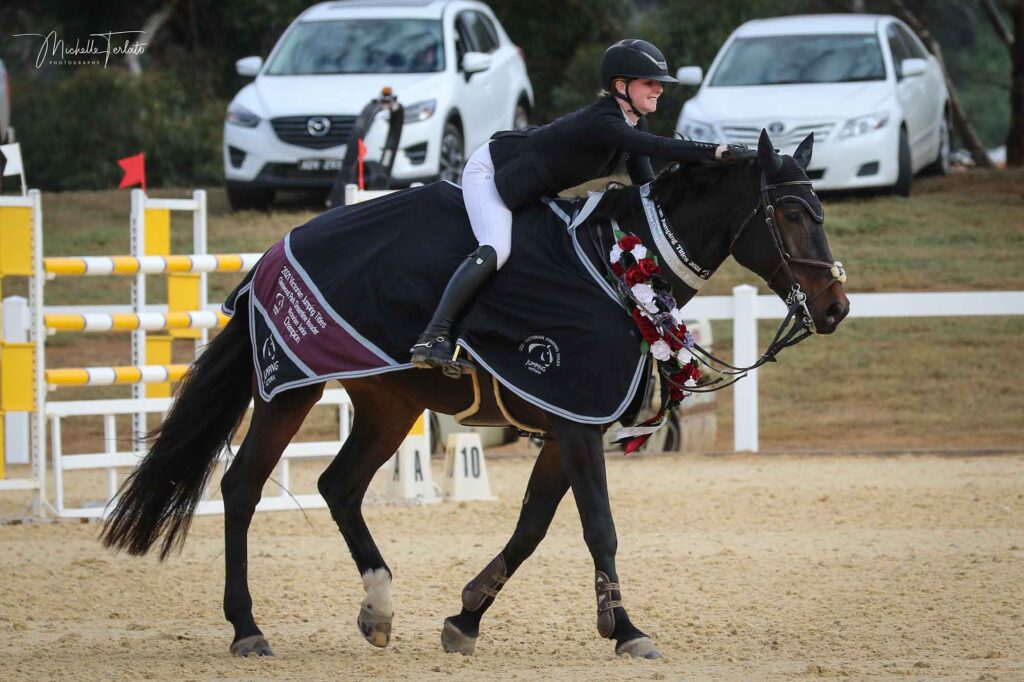 Lucy Locke and Diamont. Photo credit: Michelle Terlato Photography
The final round of the Tri Flexx Victorian Young Rider Championship was dominated by Anneliese Wansey filling first and second placings. A double clear effort on Kolora Stud St Patrick saw this combination take the win, while just a single time penalty on Aveden Indigo relegated this pair into second. However, it was not enough to take the championship title. The NSW based pair of Jess Rice-Ward and CP Southern Cross, were rewarded for their consistency and crowned Victorian Young Rider Champions. Rice-Ward, who did not win any of the three rounds, finishing third, second and then fifth, was able to capitalise on the inconsistency of her competitors, especially Wansey and Kolora Stud St Patrick, who despite great wins in rounds two and three, could not make up for the lost ground their 13th place in Round One created.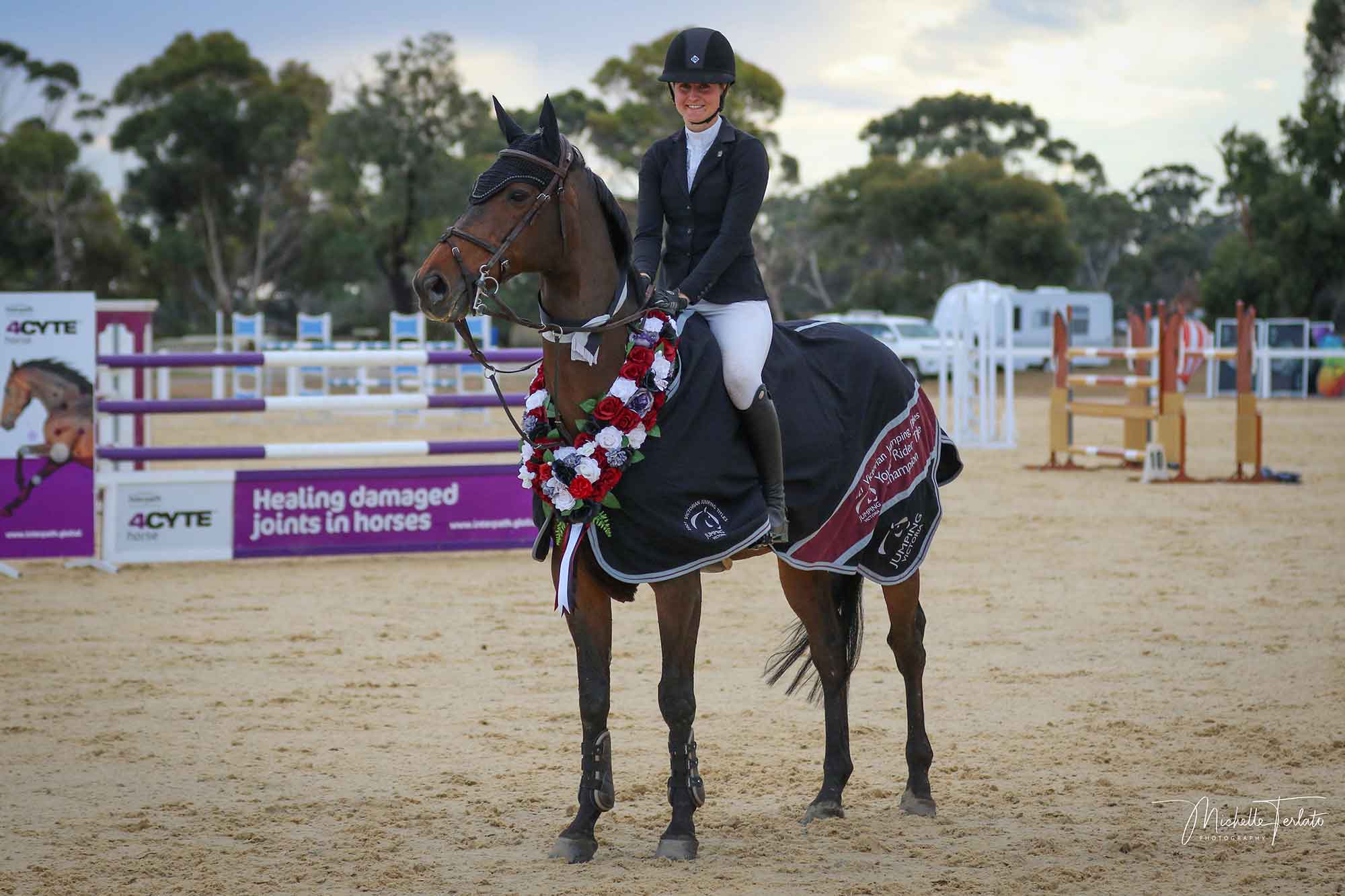 Jess Rice-Ward and CP Southern Cross
The final round of the Martin Collins Australia Victorian Senior Championship was won by Jamie Kermond and MS Galliano, with the only double clear performance of the field, however, it was not enough to take the championship title. That honour was bestowed on James Arkins and Eurostar who followed up their win in round two, with a second placing behind Kermond in the final round. For Arkins and Eurostar, the 2019 Australian Mini-Prix champions, it was a breakthrough win at this level, after their recent strong performances in the first world cup qualifier of the season, here at Werribee in March (fourth place) and being named the best performed Section 2 horse at Sydney Royal last month.
Congratulations goes to all the winners and placegetters over the course of the show.
Below is a list of the first six placegetters in all classes conducted yesterday.
RING1
CLASS 34: Glenwood Park – Victorian Junior Championship (FINAL) – 1.15m
| | | |
| --- | --- | --- |
| PLACE | RIDER | HORSE |
| 1st | Lucy Locke | Diamont |
| 2nd | Zoe Waller | Bequest |
| 3rd | Jordyn Lee-Madgwick | Copabella Cashmir |
| 4th | Dakota Pinton | Heartline NZ |
| 5th | Lorna Reilly | Bellhaven Jazz |
| 6th | Anneliese Wansey | PP Master Class |
CLASS 35: Tri Flexx – Victorian Young Rider Championship (FINAL) – 1.30m
| | | |
| --- | --- | --- |
| PLACE | RIDER | HORSE |
| 1st | Anneliese Wansey | Kolora Stud St Patrick |
| 2nd | Anneliese Wansey | Aveden Indigo |
| 3rd | Chloe Versteegen | Diamond B Vigo |
| 4th | Bella Du Plessis | Monte Carlo MVNZ |
| 5th | Jess Rice-Ward | CP Southern Cross |
| 6th | Madeline Sinderberry | Keilor Bamboo |
CLASS 36: Martin Collins Australia – Victorian Senior Championship (FINAL) – 1.40m
| | | |
| --- | --- | --- |
| PLACE | RIDER | HORSE |
| 1st | Jamie Kermond | Galliano MS |
| 2nd | James Arkins | Eurostar |
| 3rd | Ally Lamb | Eagle Rock |
| 4th | Paul Brent | Kablesse Kavita |
| 5th | Anthony Thomas | SL Donato |
| 6th | Brook Dobbin | Gabriel MVNZ |
RING 2
CLASS 37: Barton Equine – Hickstead Series Championship – 1.10m
| | | |
| --- | --- | --- |
| PLACE | RIDER | HORSE |
| 1st | Jess Kiernan | Cera Cascaletto |
| 2nd | Ally Lamb | Chalina Dp |
| 3rd | Jena Bloomfield | Slaash |
| 4th | Charlie Magnier | Master Stevie G |
| 5th | Brook Dobbin | Riccardo Mvnz |
| 6th | Jena Bloomfield | Black N White |
CLASS 38: IRT – Amateur Series (FINAL) – 1.15m
| | | |
| --- | --- | --- |
| PLACE | RIDER | HORSE |
| 1st | Paige Cartwright | Kitara Boizel |
| 2nd | Daniel Leach | Killara Park Cassius Clay |
| 3rd | Jessica Grant | For Fly Heldenlaan Z |
| 4th | Lachie Wake | Byron |
| 5th | Robert Agnew | Fields Of Harvest |
| 6th | Estelle Landy | El Nino Vivace |
CLASS 39: Premier Floats – Milton Series Championship – 1.20m
| | | |
| --- | --- | --- |
| PLACE | RIDER | HORSE |
| 1st | Jena Bloomfield | Warnie |
| 2nd | Tori Glass | Bonnie Valley Nobuck Boris |
| 3rd | Tim Clarke | Camacho |
| 4th | Lucie Aldridge | Twins Royalty |
| 5th | Morris Clarke | Sacrefemme |
| 6th | Melissa Blair | Connollys Karuba |
PRYDE'S EASIFEED – RING 3
CLASS 40: KER – Gem Twist Series Championship – 0.90m
| | | |
| --- | --- | --- |
| PLACE | RIDER | HORSE |
| 1st | Lola Edwards | Viewmont Arni |
| 2nd | Lucy Peters | Smart Cookie |
| 3rd | Sunday Borrack | Benmore Pizzaz |
| 4th | Ashlee Magnusson | Boston |
| 5th | Jack Eastley | Secrets EJM |
| 6th | Tim Clarke | Yalambi's Lola |
CLASS 41: Carbine Chemicals – Stroller Series Championship – 1.00m
| | | |
| --- | --- | --- |
| PLACE | RIDER | HORSE |
| 1st | Nellie Rogers | Rocket Rod |
| 2nd | Abby Coates | Wafalu Nulla |
| 3rd | James Lang | Mousetang |
| 4th | Ingrid McElvaney | Everybody Tango |
| 5th | Ava Kennedy | Lee Ping Jay |
| 6th | Nellie Rogers | Atomic Annie |
Results sourced from www.equussentials.com and the Jumping Victoria Facebook Page
Advertisement


View Comments