Josh Collins and Cornel Win @ Willinga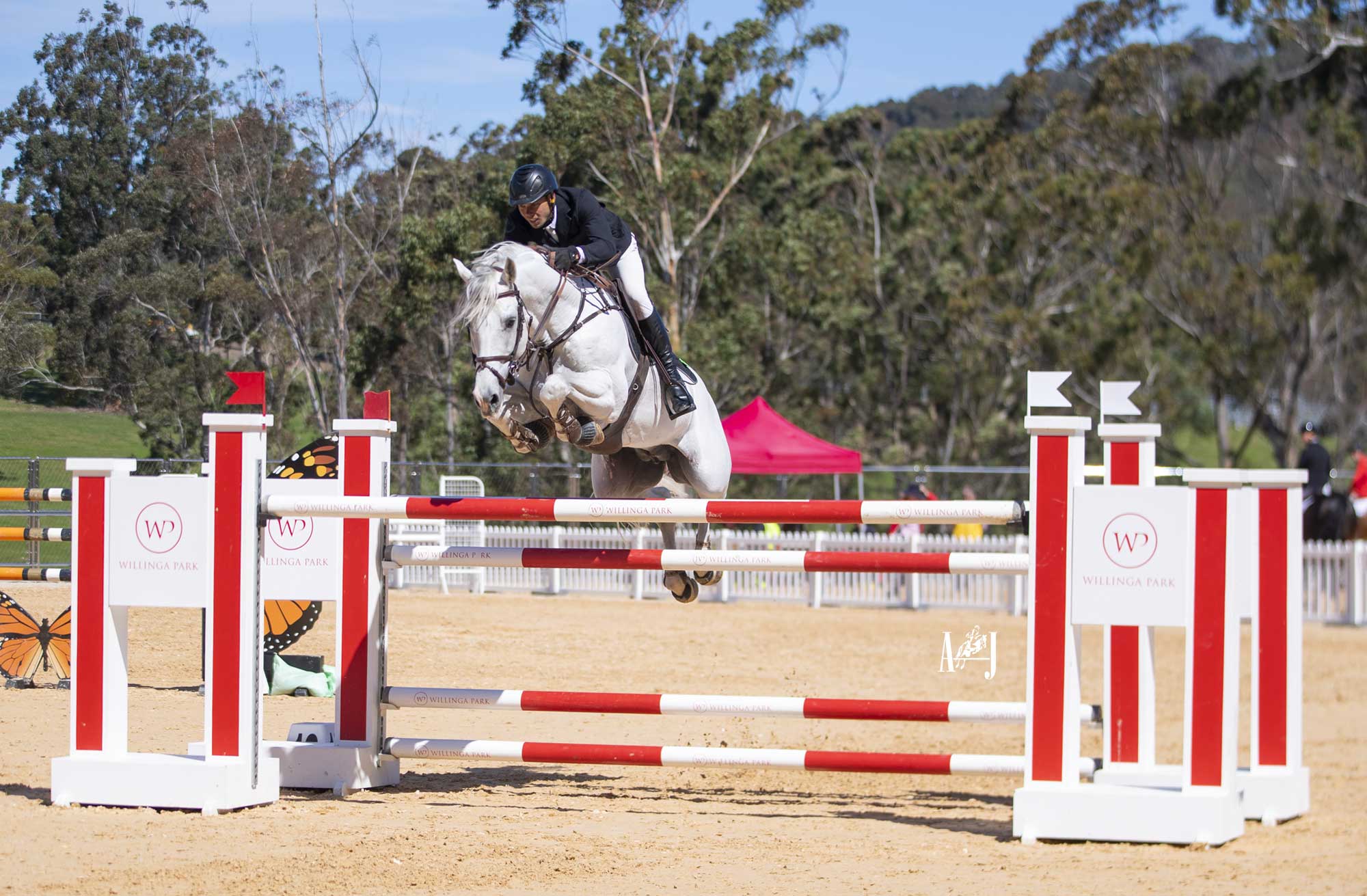 Australian Jumping
The final day of competition at the 4-day Jumping @ Willinga extravaganza wrapped up this afternoon at Willinga Park on the NSW South Coast. Terry Snow's property at Bawley Point has been described as "Horse Heaven" and under clear blue spring skies, the place buzzed with excitement as combinations vied for significant prize money and the honour of victory across two arenas.
Advertisement


The opening class on the Grandstand Arena 1 was the Shepherds Electrical Mini Prix Spectacular with over $20,000 prizemoney on offer. A total of 39 combinations were after a share of the cash, however, there were just 16 clear rounds and these combinations jumped off for the prize money. The first combination out in the jump off were Izabella Stone and Oaks Ventriloquist who set the standard with a cracking clear round. Quite a few combinations tried to beat them but they all failed and with the jump off more than half over, it was looking good for "Izzy" and "Venti"until the 'Tom McDermott show' rode into town.
McDermott had qualified three horses for the jump off and was out first on Warraleigh Park Cortez. They were the second combination to record double clear rounds and with a time three seconds faster than Stone, they leapt into the lead. Soon after, it was McDermott again, this time with Alpha Activity who Tom had piloted to victory twice already this weekend. This time Alpha Activity was a touch slower (half a second) than Cortez, however it was enough to have them settle in second for the time being. It wasn't long before McDermott was in the arena again, this time on the Donna Peulic owned Gredstedgaards Number One, which is a relatively new mount for him. Once again, McDermott rode with urgency and style, picking up his third double clear of the class in a time just 0.02 seconds slower than Alpha Activity's time. In the end, Izabella Stone and Oaks Ventriloquist had to settle for fourth place with Tom filling first (Warraleigh Park Cortez), second (Alpha Activity) and third (Gredstedgaards Number One).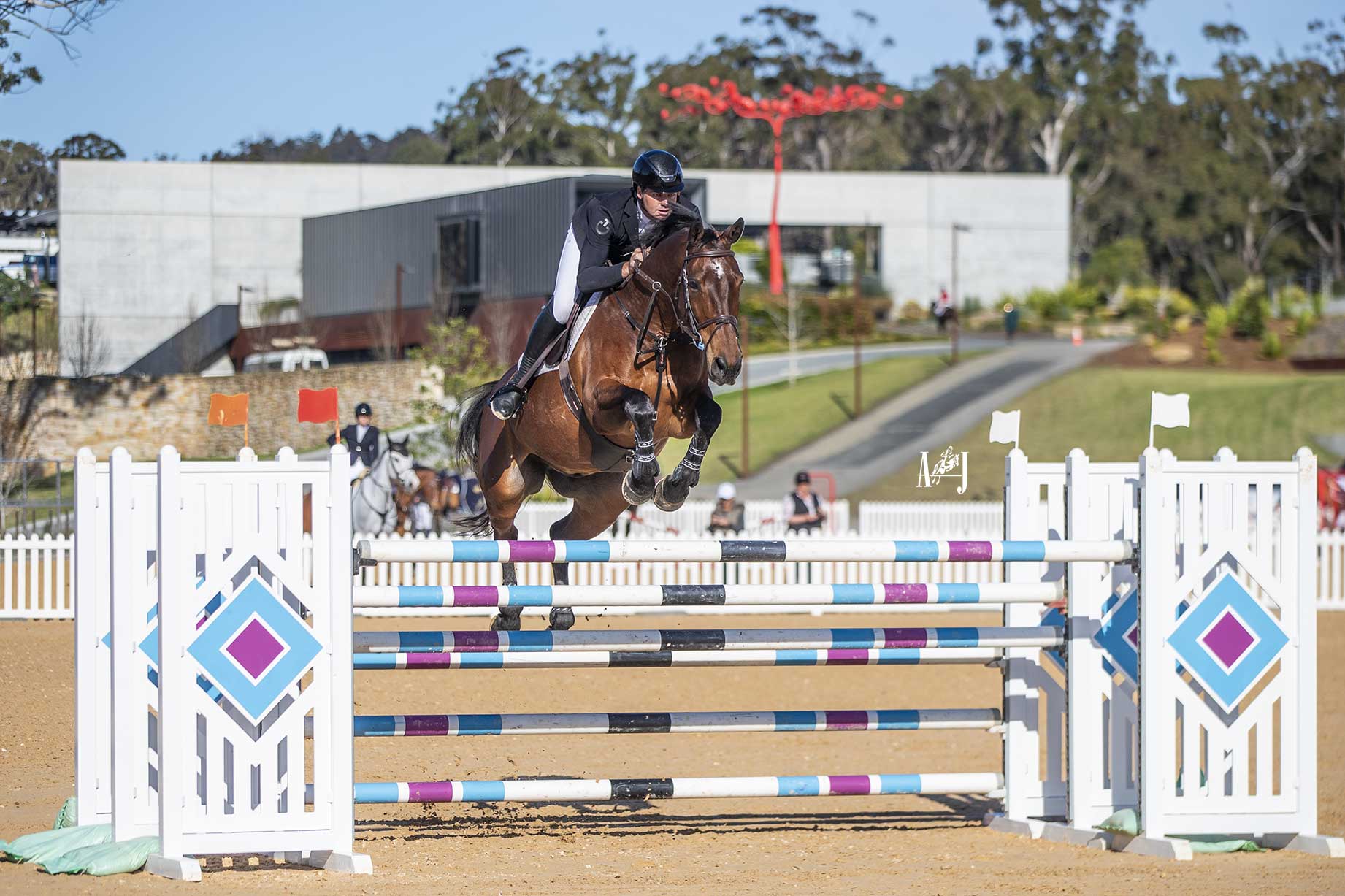 Above: Tom McDermott and Warraleigh Park Cortez.
The next class on the main arena was the 4Cyte Grand Prix, with over $40,000 on offer to the winner and placegetters. There were 29 combinations entered and each and every one of them contributed to a fantastic class which kept the spectators enthralled. Fifteen combinations were invited back for the second round and with faults being carried forward from the first round, it was the seven clears that enjoyed a distinct advantage. The first of these seven combinations to record a double clear was the experienced New Zealand visitor Phillip Steiner and Cassina Dior. Their time of 64.46 was then, in turn, beaten by a number of their rivals, however,  rails down in doing so meant that Steiner and Cassina Dior were still in the lead.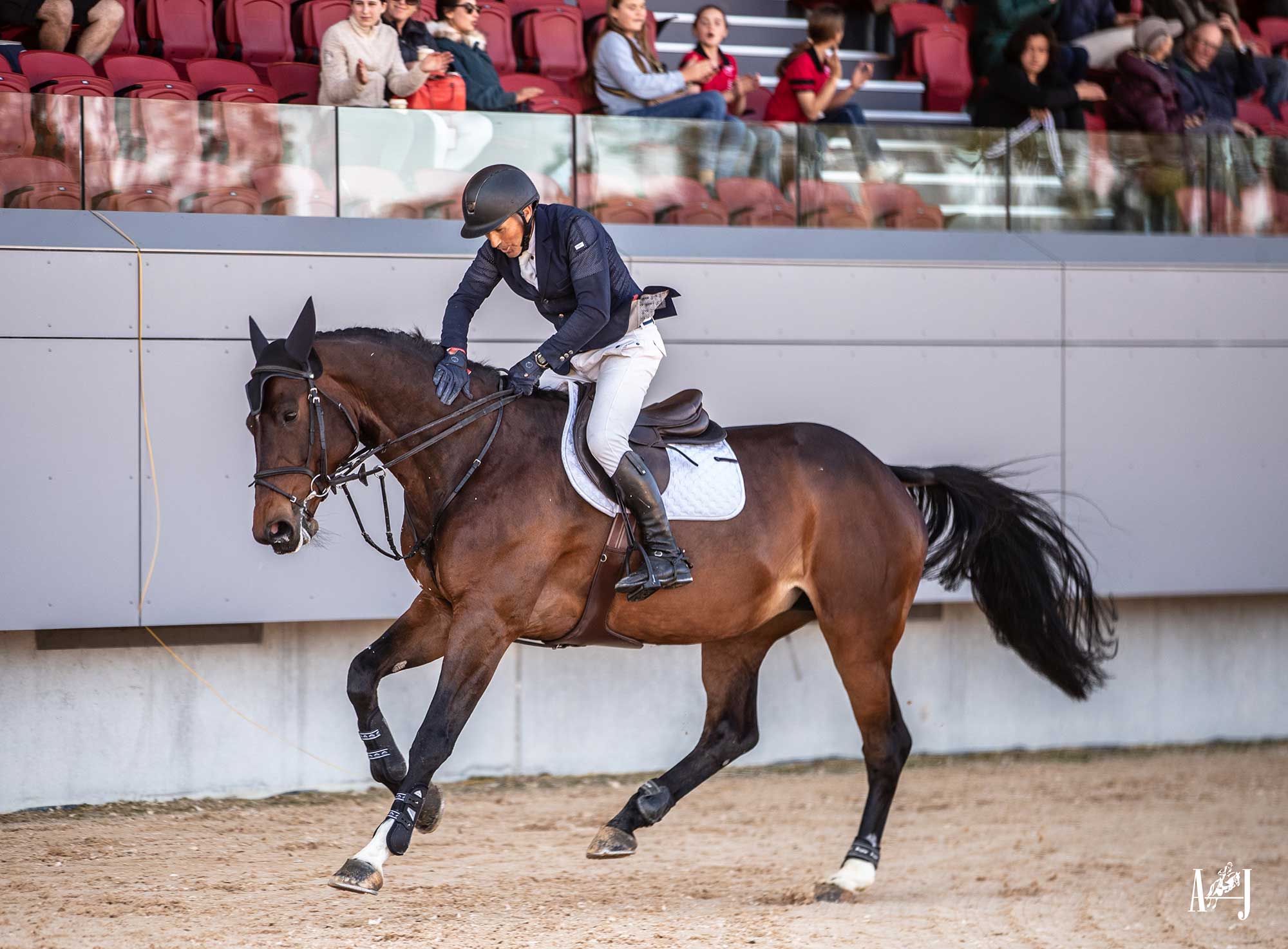 Above: Phillip Steiner and Cassina Dior.
That was until Josh Collins and the flashy stallion Cornel entered the arena. As it turns out, the story goes that Josh Collins had some of his very first riding lessons as a 10-year-old with Phillip Steiner in New Zealand. Collins and Cornel had a magnificent round, going clear and just on 2.5 seconds faster, which was enough to claim the victory and the largest share of the prize money. Tom McDermott filled the final spot on the podium after he and Cooley Gangster took a rail in the second round despite recording a time which would have won the class by about five seconds.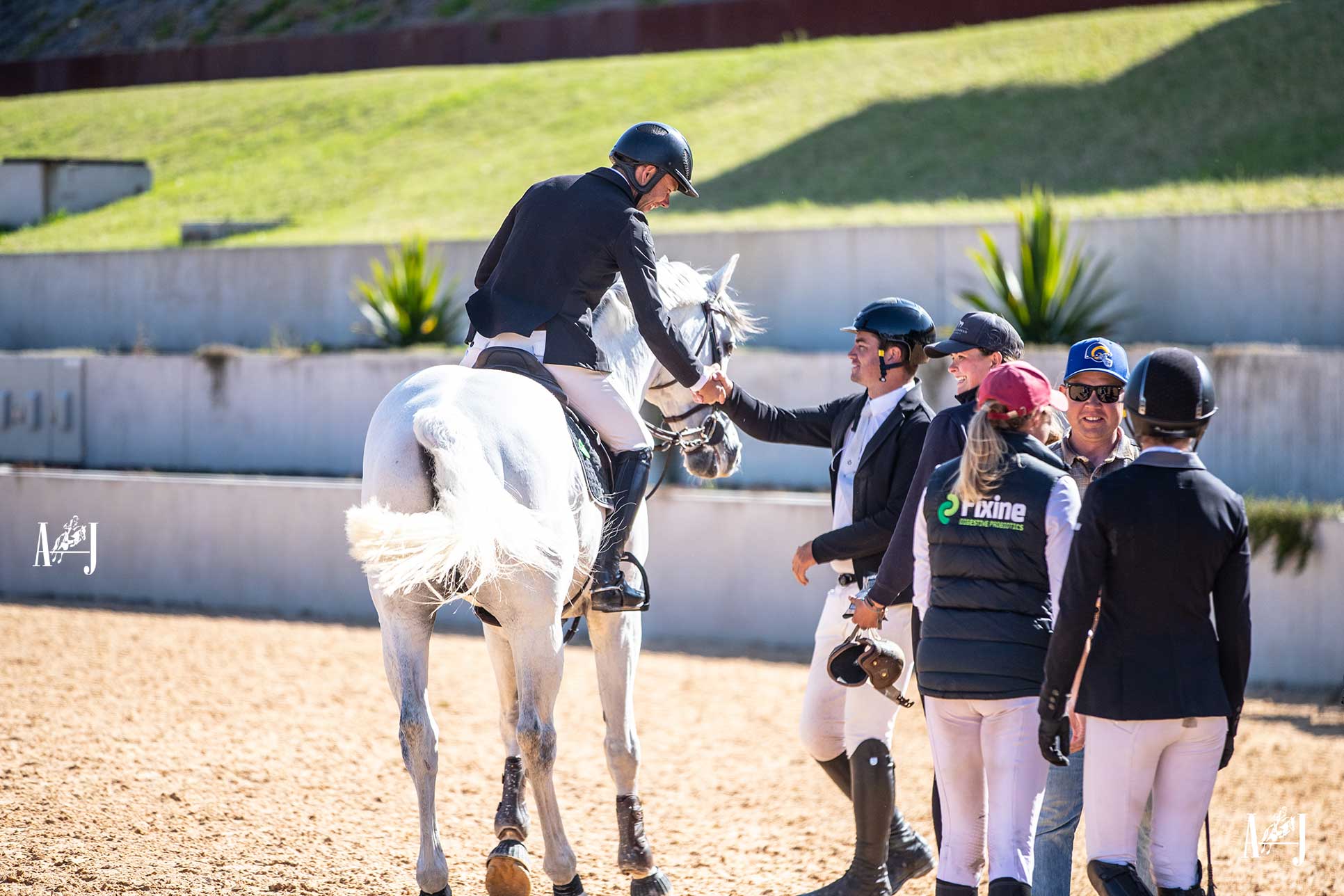 The final class of the show on the main arena was the Construction Control Junior Grand Prix. By now the wind had really got up and it presented some trying conditions for these Jumping stars of the future. There were 32 combinations on the start list, which saw just six go clear and qualify for a jump off. The fastest of these six were Scone based Charlie Magnier and Master Stevie G in 83.21 seconds, just 0.74 seconds quicker than Sophie Baldwin and CW Conquest, who had already won three classes in the show.
Advertisement


The first two combinations in the jump off each took a rail, but it was the third out combination of Aria Baker and That's Limo who went clear in 39.34 seconds to put the pressure on those to come. Ella Silk and Redgum Conan were next and they also went clear, however, slower than Baker's time.
The second last combination on course were Charlie Magnier and Master Stevie G who rocketed around the course clear in a time of 37.53 seconds, meaning they were in the lead with just the final combination to come. When Sophie Baldwin and CW Conquest hit the course, they knew they had to go fast and clear to snatch the win. They were clear and they were fast but not fast enough. Their time of 40.07 saw them slot into third, behind the winners, Charlie Magnier and Master Stevie G and Aria Baker and That's Limo in second. It was a great class and we look forward to these youngsters developing into very skilled senior riders in the years to come.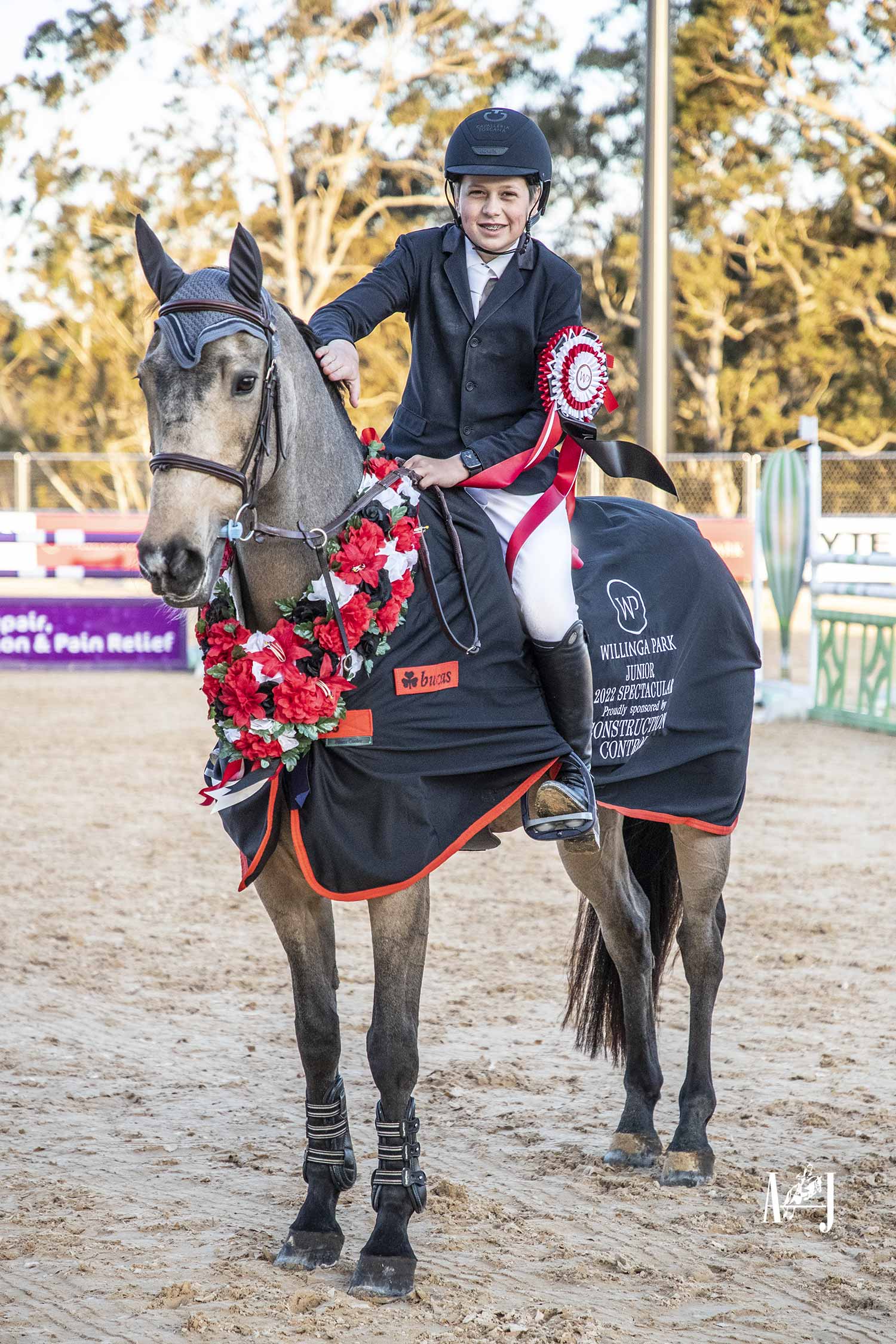 Above: Charlie Magnier and Master Stevie G.
The action, however, was not restricted to the main arena, with a healthy suite of classes held on the Yandoo Park Ring 2. The Kelvin Grove Equestrian Adult 1.05m went to Central Coast based Krissy Harris and the gelding Showem Flash, who had the quickest clear round. There were two other clears with Jessica Peters and APH Eclipse taking second and Aanika Grant riding Lumi into third.
The junior division of the class was won by Isobel Olivier and Redlands Hannahs Request, by about 1.5 seconds from the only other clear round by Ivy Bailey and Atlanta WWPH. Third place, with just two time penalties went to the Victorian combination of Jack Barker and Bellhaven Calisco.
Backing up their success from yesterday when they won the Amateur class, Alisa Williams and Willybling today won the Netier Amateur Grand Prix with a wonderful double clear performance and a time almost three seconds faster than their nearest rival. Tahli Hendler and Black Currency had to be content with second place, while Gaby Herbosa and Kaloona Virago took home the third-place prize money.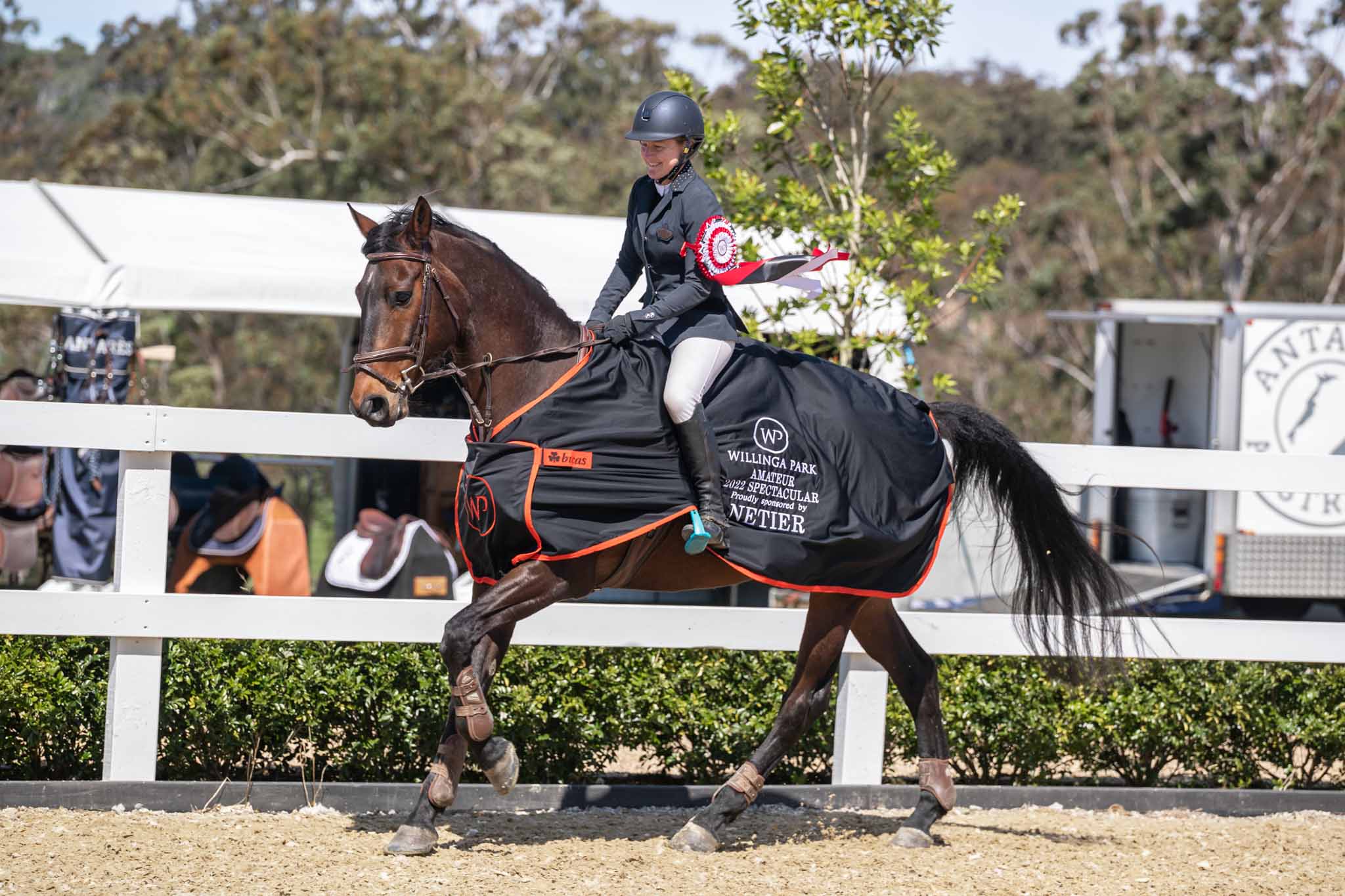 Alisa Williams and Willybling. Photo credit: Simon Sully Photography.
The final class on the Yandoo Park arena was the Tarraleah Park Open 1.15m class. There were just two clear rounds with a very clear- cut win going to the experienced Andrew Inglis and Cavalier Carolus. This combination, who had already won an Open 1.15m class yesterday scooted around the course in just 69.10 seconds, which was over eight seconds faster than the second placed Leila Wyrill and Gigant Z. Third place went to the fastest four fault combination, Bega's Deon Williams and Valley Girl.
And so a magnificent four days of Jumping concluded. Thanks should go to Terry Snow for building this world class equestrian facility for us all to enjoy as well as the lady who put the whole show together, jumping show organiser extraordinaire, Edwena Mitchell. Also thank you to the many sponsors, without whom there would be no show.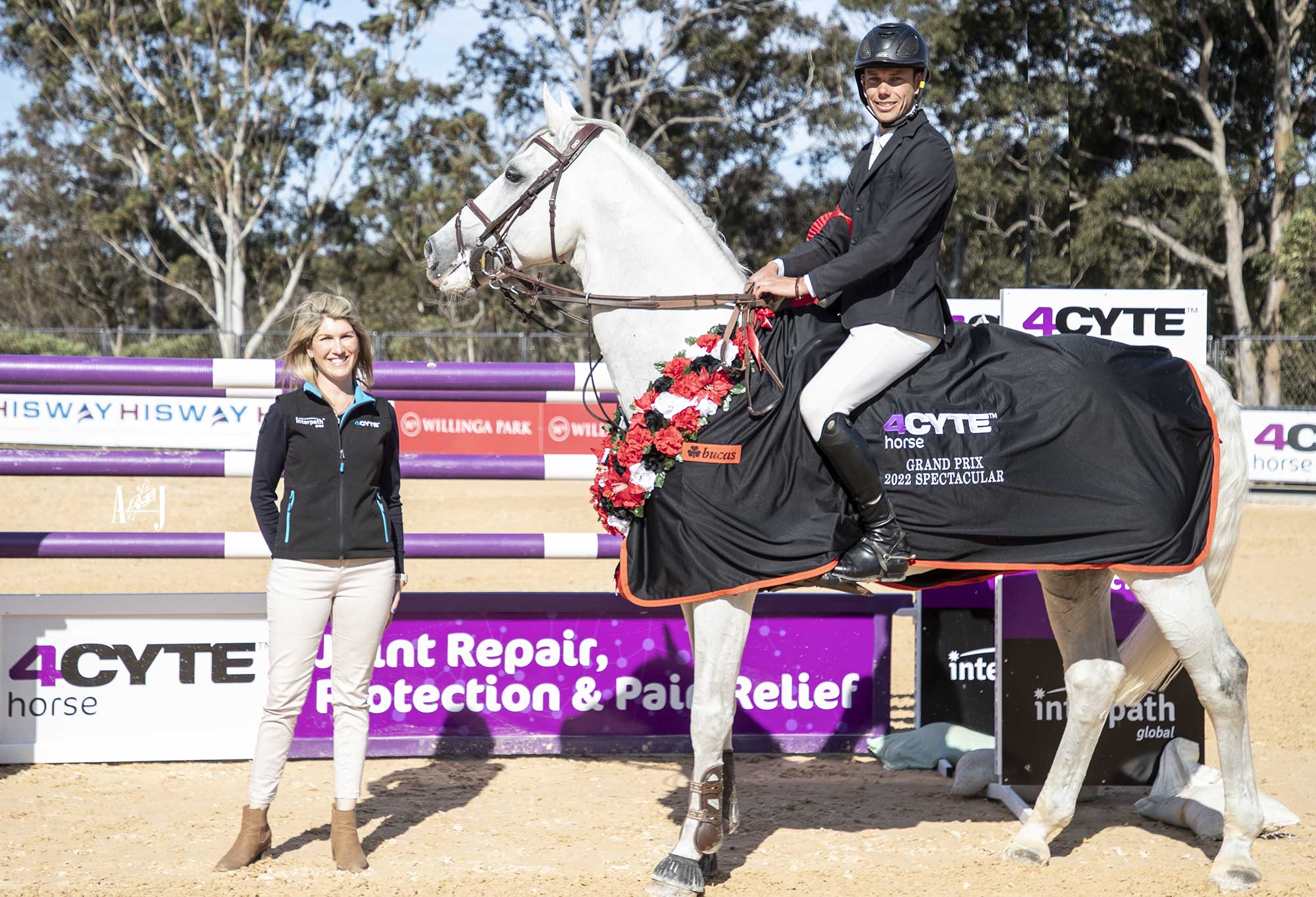 Congratulations to all the winners across the four days of competition. Below is a listing of all the winners and placegetters from Day 4.
GRANDSTAND ARENA – RING 1
CLASS 21: SHEPHERDS ELECTRICAL MINI PRIX SPECTACULAR – OPEN – 1.40m
| | | |
| --- | --- | --- |
| PLACE | RIDER | HORSE |
| 1st | Tom McDermott | Warraleigh Park Cortez |
| 2nd | Tom McDermott | Alpha Activity |
| 3rd | Tom McDermott | Gredstedgaards Number One |
| 4th | Izabella Stone | Oaks Ventriloquist |
| 5th | Rachael Lee | Amigo |
| 6th | Jamie Winning Kermond | Tulara Stolensky |
CLASS 22: WILLINGA PARK AND 4CYTE GRAND PRIX SPECTACULAR – OPEN – 1.50m
| | | |
| --- | --- | --- |
| PLACE | RIDER | HORSE |
| 1st | Josh Collins | Cornel |
| 2nd | Phillip Steiner | Cassina Dior |
| 3rd | Tom McDermott | Cooley Gangster |
| 4th | Russell Johnstone | Daprice |
| 5th | Tom McDermott | Cachassini II |
| 6th | Amanda Madigan | Diamond B Vivienne |
CLASS 23: CONSTRUCTION CONTROL JUNIOR GRAND PRIX SPECTACULAR – 1.20m
| | | |
| --- | --- | --- |
| PLACE | RIDER | HORSE |
| 1st | Charlie Magnier | Master Stevie G |
| 2nd | Aria Baker | That's Limo |
| 3rd | Sophie Baldwin | CW Conquest |
| 4th | Ella Silk | Redgum Conan |
| 5th | Jett Newman | Wanda |
| 6th | Jack Barker | Tulara Colchic |
YANDOO PARK – RING 2
CLASS 24A: KELVIN GROVE EQUESTRIAN – ADULT – 1.05m
| | | |
| --- | --- | --- |
| PLACE | RIDER | HORSE |
| 1st | Krissy Harris | Showem Flash |
| 2nd | Jessica Peters | APH Eclipse |
| 3rd | Aanika Grant | Lumi |
| 4th | Ally Lamb | Fantasia DP |
| 5th | Hollie Spence | Ego Miss Moet |
| 6th | Deon Williams | Kaluga |
CLASS 24B: KELVIN GROVE EQUESTRIAN – JUNIOR – 1.05m
| | | |
| --- | --- | --- |
| PLACE | RIDER | HORSE |
| 1st | Isobel Olivier | Redlands Hannahs Quest |
| 2nd | Ivy Bailey | Atlanta WWPH |
| 3rd | Jack Barker | Bellhaven Calisco |
| 4th | Amelia Tsilfidis | Pride Of Gold |
| 5th | Jasmine Spira | Avenly Bundy |
| 6th | Valentina Hercus | Gold Play |
CLASS 25: NETIER AMATEUR GRAND PRIX SPECTACULAR – AMATEUR – 1.15m
| | | |
| --- | --- | --- |
| PLACE | RIDER | HORSE |
| 1st | Alisa Williams | Willybling |
| 2nd | Tahli Hendler | Black Currency |
| 3rd | Gaby Herbosa | Kaloona Virago |
| 4th | Isabelle Mirani | Redleaf Cabbage |
| 5th | Abby West | Aniklas |
| 6th | Giorga Gall | Along Came Polly |
CLASS 26: TARRALEAH PARK – OPEN – 1.15m
| | | |
| --- | --- | --- |
| PLACE | RIDER | HORSE |
| 1st | Andrew Inglis | Cavalier Carolus |
| 2nd | Leila Wyrill | Gigant Z |
| 3rd | Deon Williams | Valley Girl |
| 4th | Ruby Conlon | Lamondale Mika |
| 5th | Lily-Rose Baxter | Foxhill Cruise |
| 6th | Sienna Bellis | Platinum Ego Z |
Results sourced from online.equipe.com
View Comments