Jumping back to Sydney 2000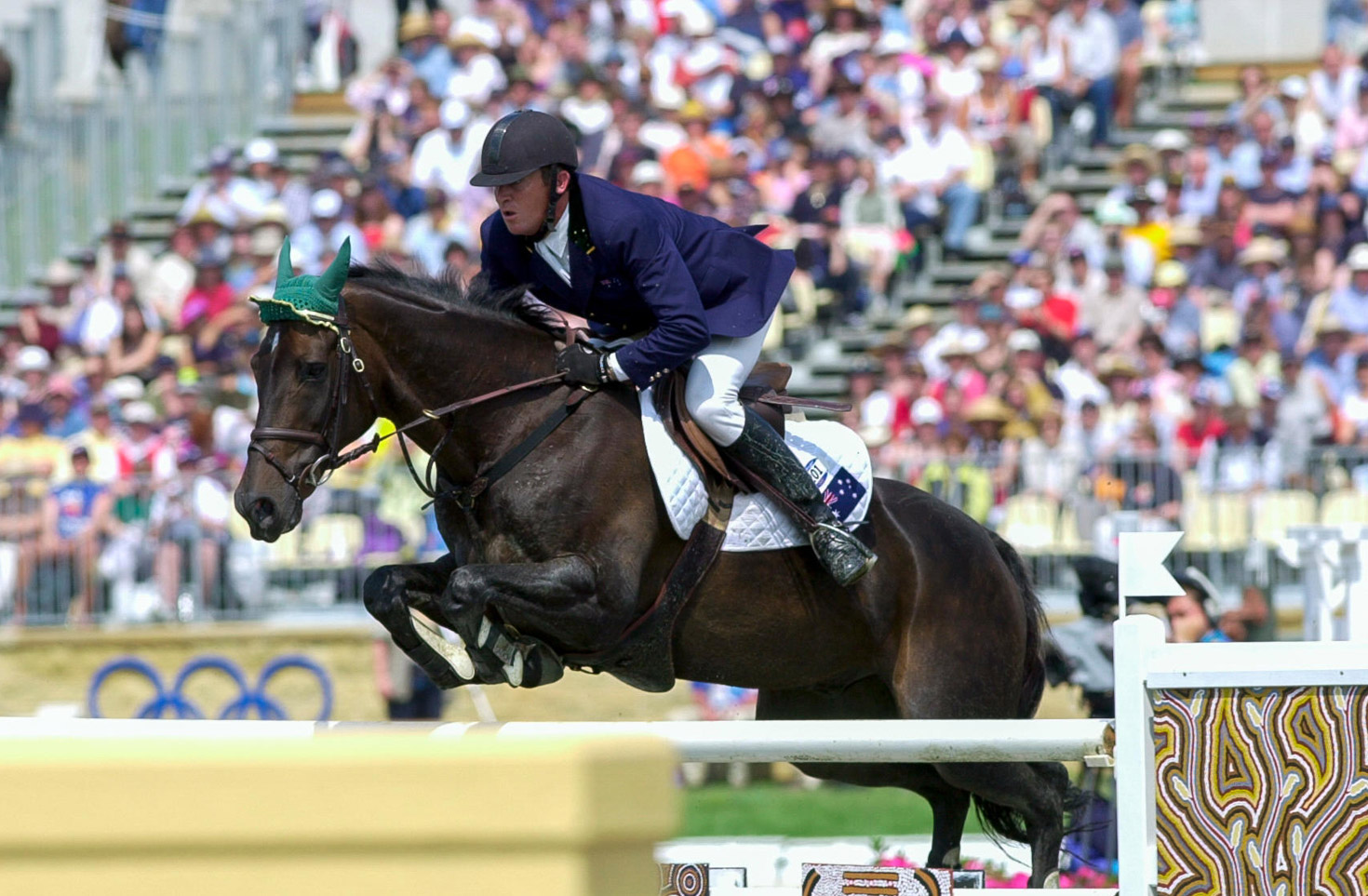 Alamy Stock
Above: Gavin Chester and Another Flood. Photo Credit: Alamy
Twenty years ago today, on the 25th of September 2000, the first day of the showjumping program at the Sydney Olympic Games was held. It was surely one of the most exciting times in the history of the sport in this country and Australian Jumping will take the opportunity to revisit the event and relive some of the highlights.
The event was proceeded by an enormous amount of work to establish the facility. Among a large number of new sporting facilities that the Games brought to Sydney, The Sydney International Equestrian Centre (SIEC) was born. A purpose-built multi-discipline equine facility set on almost 100 hectares of park land at Horsley Park, 45km west of the Sydney CBD, SIEC brought to the city something that had been lacking for decades.
Advertisement


The Australian Jumping team selected for these games were Jamie Coman and LL Zazu, Gavin Chester and Another Flood, Jeff Bloomfield and Money Talks and Ron Easey and Rolling Thunder. Andrew Inglis and Guesswork were the reserve combination.
Amongst the many people involved in making this such a successful event were two people who had key roles in the Showjumping Team leading up to and during the Games. In 1999 the Equestrian Federation of Australia (EFA) appointed a then 38-year-old Alexa Bell as the National Showjumping Coach and an even younger Stephen Lamb to the position of Chef d'Equipe. We have been chatting with both Alexa and Stephen to gain some insight into what it was like at the Games.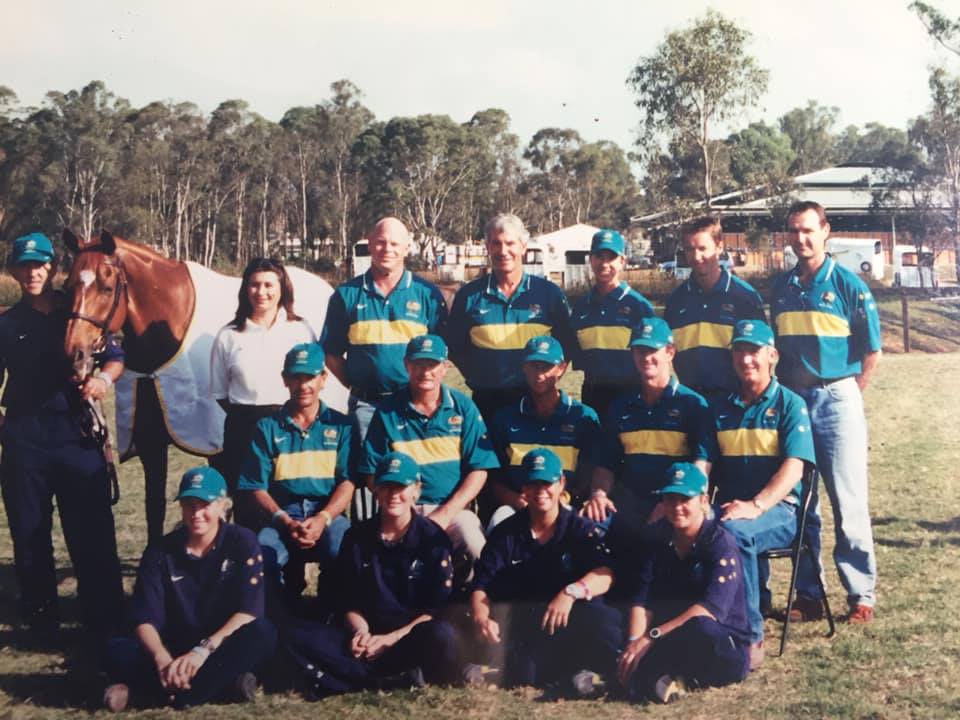 The Australian Jumping Team for the 2000 Sydney Olympic Games: Standing L-R: Andrew Keam (Jeff Bloomfield's Groom), Money Talks, Narelle Stubbs (Physio), Graeme Potts (Vet), Denis Goulding (Vet), Alexa Bell (National Showjumping Coach), Stephen Lamb (Chef d'Equipe), Gareth McKeen (High Performance Manager). Sitting on chairs (L-R): Jamie Coman, Ronnie Easey, Andrew Inglis (res), Jeff Bloomfield and Gavin Chester. Sitting on ground (L-R) Lu Baird (Andrew Inglis's Groom), Richelle Sugitani (Jamie Coman's Groom), Ali Mathews (Ron Easey's Groom) and Tinky Konecny (Gavin Chester's Groom).
Although the Australians had the home advantage and did not have to fly their horses around the world, it was going to be a challenge for our team. Most of the international riders had some serious international competition under their belts in the previous six months, competing at big shows in the United States and Europe. Alexa Bell recalls that "some of our team had not experienced a show of that magnitude, and certainly none of our team had experienced a crowd of that size cheering for them as hometown heroes!"
There is obviously something very special though about a home Games. Alexa Bell recalls that, "it was great for our team to have the event on home soil, with the familiar faces of friends and family cheering on the team and with us all knowing the officials."
Stephen Lamb also notes "what an incredible organisation the Australian Olympic Team is with the functions such as flag raising ceremonies and team receptions being phenomenal. As is the team camaraderie, basically everyone in team gear treats everyone else in team gear as family. You may just be walking past them in the village, or lined up beside them in the food hall – it seemed to be an unwritten rule that you acknowledged each other and said G'day. No matter how big their celebrity status may have been, even the likes of tennis stars Pat Rafter and Mark Phillippoussis, they all embraced the team ethos. I remember most mornings when I picked up my laundry, I seemed to be there at the same team as Olympic legend Herb Elliot. Each morning Herb would ask how my horses and riders were, was everything going OK, give them his best. It was surreal!!"
Advertisement

In the build-up to the Games, both Stephen and Alexa were involved in numerous training camps around the country and attendance at major competitions with an incredible amount of work put in to ensure we put forward the best team possible. In a media release post Games, the EFA stated that "Stephen has impressed many people with his methodical approach and attention to detail. Despite being one of the youngest Chef's in the world of Showjumping, the EFA believes that he brings vitality and enthusiasm to the role." and EFA High Performance Manager Gareth McKeen commented that "Alexa has brought a vitality and enthusiasm to the role of showjumping coach. Her positive attitude combined with her experience as a rider and coach have proven to be of great benefit to Australian showjumping".
The various authorities made sure that there was not going to be a repeat of the situation at the Melbourne Olympics 44 years earlier, where the equestrian events were held in Stockholm. The various authorities all worked together to overcome the issues, resulting in a top-class field of 74 combinations entering the qualifying round of the individual competition.
Held on the main outdoor arena, the jumping competition was a hit with the public. Every session of the equestrian events at the games were sold out and as the crowds (up to 25,000 per day) flocked into the stands, they were presented with a visual spectacle well before a horse was sighted. The course was designed and built by the renowned Venezuelan Leopoldo Palacios, who to this day, relives his Olympic experience every year by heading back to Sydney to build courses for the World Cup round held at SIEC every December. He was ably supported by Australian John Vallance, who had a magnificent range of fences from which to construct the course. Designed to reflect the host country, state and city, the fences were wonderfully designed with many reflecting the cultural heritage of our land including Surf Lifesaving, The Coral Reef and various indigenous designs.
At the end of the games, most of the jumps were sold off and they ended up in many corners of the globe. The course set by these two was a challenging test to the 74 participants, worthy of the highest calibre of entrants. Set over 14 fences, (including 3 doubles) and with heights up to 1.60m, a tight time allowed of 98 seconds was only beaten by five combinations. The Australians in the field were delighted by the enthusiastic support of the home-crowds.
The Individual Competition was held from 25th – 28th September 2000, over three rounds. The total score for all rounds determined placement and only the top 45 riders advanced to the final round, with a maximum three riders per nation.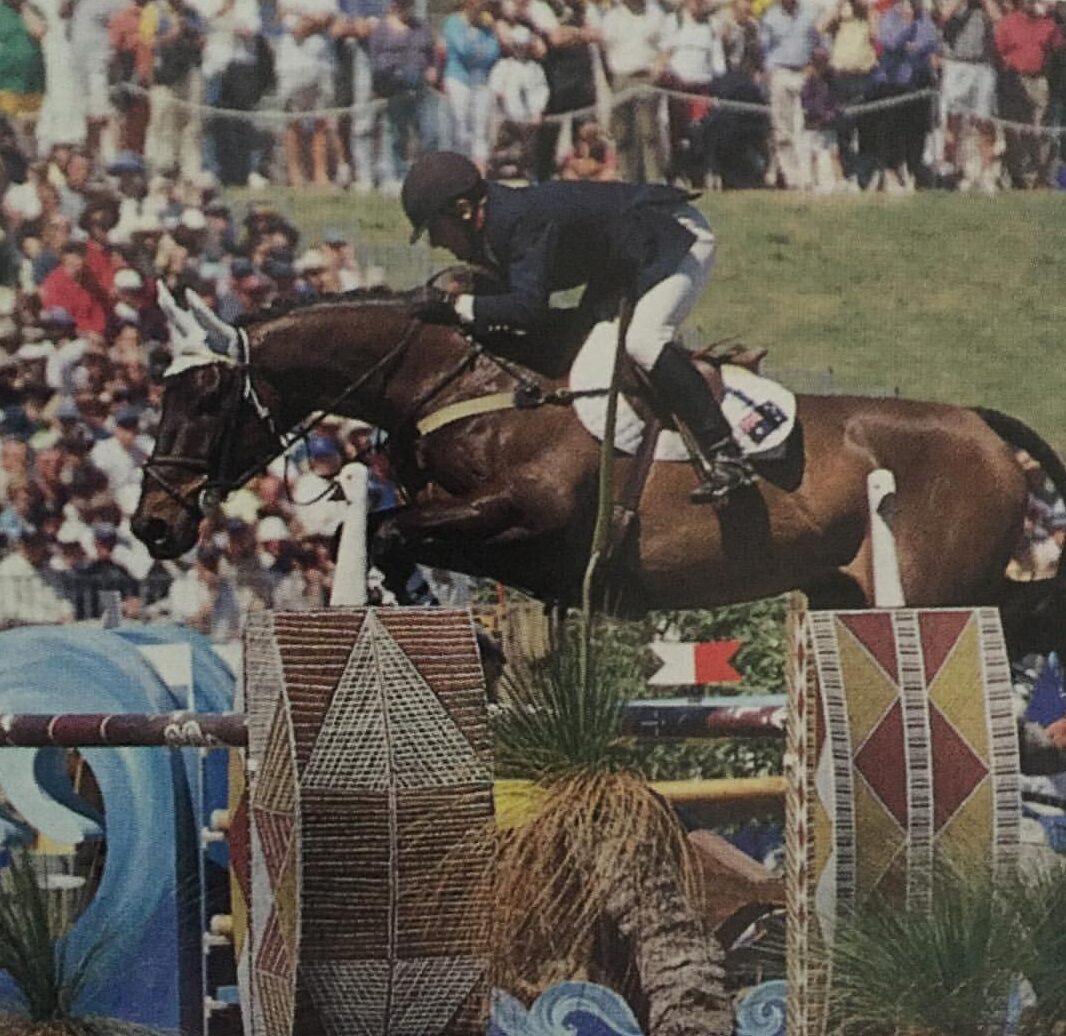 Jamie Coman and LL Zazu. Photo Credit: Julie Wilson
Only two of the Australian combinations were included in the 45 entrants for the Individual Final, Jamie Coman and LL Zazu and Jeff Bloomfield and Money Talks.
In Ted Dwyer's recount of the competition in his 2004 book "Showjumping in Australia" we have learned that "the track for the individual final was a big one, with 12 fences including a treble and a very open double of uprights, each with a liverpool. The first of these had water in front and was 1.53m high, it was 7.40m to the second which was 1.55m high with water underneath. This combination was preceded by a large triple bar and closely followed by an oxer 1.52m x 1.85m, the last fence on the course. The other difficult line was from the water at 4.30m, 20m to a very insubstantial looking narrow gate."
Jeff Bloomfield and Money Talks had just three fences down and qualified for the Second Round. Jamie Coman had a round of 19 faults plus three time faults for a total of 22 and finished in 43rd place.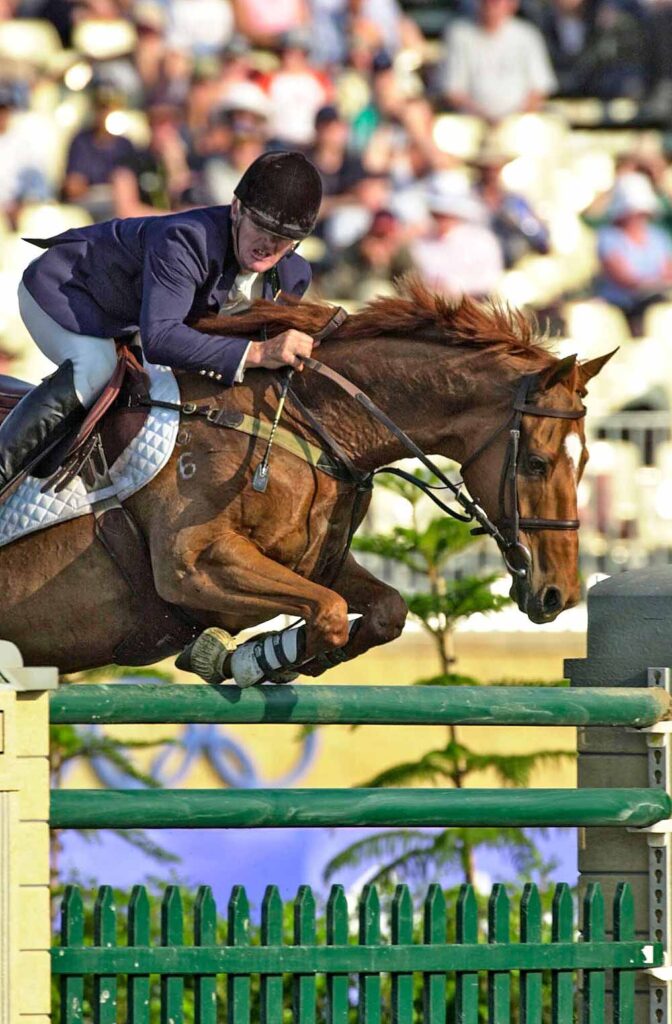 Jeff Bloomfield and Money Talks. Photo Credit Alamy.
There were no double clear rounds and it was left to the three riders who had collected only four faults to jump off for the medals: Jeroen Dubbledam and Sjiem won the Individual Gold Medal, Albert Voorn and Lando the Silver and Khaled Al Eid and Khashm Al Aan the Bronze.
Jeff Bloomfield and Money Talks were very consistent, finishing in 20th place. Bloomfield commented: "He just gets better every time he goes in. He was scopey and grabbed the reins out of my hand and bent his back at the big jumps; he was unbelievable. "In regard to his overall performances: "I finished 33rd in the Rome World Championships and I said if I finished in top 25 here I would be happy. You have to believe in yourself, you need the right horsepower but you have to believe you are as good as anyone".
Ted Dwyer writes "Certainly our riders were not disgraced, they put up very creditable performances over probably the biggest courses they have encountered. The horses were in great condition, looked terrific and were a credit to those looking after them."
On 28th September 2000, the teams competition followed the individual competition. Fourteen teams competed with the ten leading teams invited to jump a second round for medals. With the best horses in the world competing there was magnificent jumping, drama and excitement. At the conclusion of the first round Germany, France and Switzerland were equal on eight faults.
Jamie Coman and LL Zazu again had a great round of only four faults; both Money Talks and Another Flood had two fences down. Ron Easey and Rolling Thunder had the discard score of 16.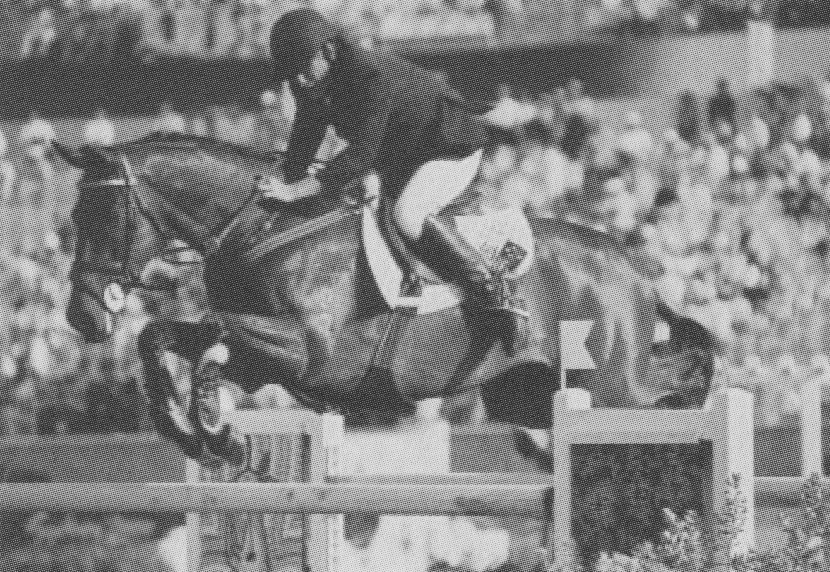 Ron Easey and Rolling Thunder. Sourced from Equestrian Memories Australia.
With the pressure on in the second round, the competition went right down to the wire and the Germans showed just how good they are in this type of competition. Jamie Coman once again had a very good round for eight faults, Ron Easey and Rolling Thunder had a great round for 12 faults, Jeff Bloomfield and Money Talks had 16 and Gavin Chester with Another Flood had a disappointing round of 28 (later determined to be due to an emerging foot abscess) to make a final score for Australia of 56 faults.
It was an impressive result of 1oth overall in the Team Competition. Alexa Bell recalls that "the team certainly gave it their all and did better probably than anyone expected." A fair point to make is that the majority of the international horses were big Warmbloods and three out of the four Australian horses were Thoroughbreds – small but full of heart!
The standard of jumping throughout the competition was very high. The Australian riders did well to finish ahead of Mexico, Spain, Japan, and Bulgaria but showed the gap between the best of the world and us. The impeccable skill of the German, Swiss and French riders was a pleasure to watch for all those present.
The Australians amongst the huge crowds that attended the jumping saw for the first time what the sport is like at World level. The skill and ability of the best jumpers in the world was demonstrated for them over the magnificent tracks designed by Leopoldo Palacios and it was a great credit to him that the competition came to such a thrilling conclusion.
All in all, it was a wonderful event that we are sure remains fresh in the memory of all those lucky enough to be present. There were so many Aussies in key roles including, but certainly not limited to, Jenny Sheppard as Jumping Manager for SOCOG, Graham Davey on the Ground Jury and David Sheppard, Richard Bruggerman  and Graeme Watts (amongst others) as Ring Crew.
Advertisement


Both Alexa Bell and Stephen Lamb continued their roles with the Australian Jumping Team for a number of years after the 2000 Olympics and we thank them for not only their incredible contribution to our sport but specifically for their help and input into this article.
We are delighted to finish off with some great memories from Stephen who answered a few questions for us about his experience at these Games – enjoy!
You were the Chef d'Equipe from 1999 through to 2012 so the Sydney Olympics was your first international event – it must have been quite a daunting task. What were your biggest concerns prior to the event? Sure it was daunting, but it was also incredibly exciting. The job of a Chef d'Equipe can be quite ambiguous at times, it's very much a leader/servant role. Its literal translation is "Head of team", but to do the job well, it's about doing everything in your power to allow your team members to perform at their best. So my biggest concern going in was making sure I had everything in place to provide that environment, so that all the riders and grooms had to do was concentrate on their jobs.
What were some of the unexpected challenges you faced? Unexpected challenges are par for the course. Former High Performance Manager Brett Mace (who had spent time in the Navy) and I used to joke that the US Marines' slogan of "Improvise, Adapt, Overcome" also applied to the Chef's role. Obviously you do meticulous planning, but by their very definition, unexpected challenges can pop up.
One such occasion was the morning we were due to leave Chris & Helen Chugg's Diamond B property to take the horses into the venue at SIEC. All Australian horses had to undergo PEQ (pre-export quarantine) as if they were going overseas, prior to going into the Olympic venue, which was essentially a quarantine bubble (a "hub" as we refer to things now in COVID-19 times). The jumpers did that at Diamond B. The Saturday morning we were scheduled to head to SIEC, Warwick Farm Racehorse Transport had been booked to transport the horses and gear. Being an Olympic venue, and a quarantine site, there was a lot of paperwork required beforehand so only pre-approved vehicles were allowed in and out.
The truck was due to arrive at 9am, the grooms had the horses ready, as well as their newly arrived Olympic team trunks with all the gear. 9am came and went, 9.05am, 9.10am – still no truck. At about 9.15am I rang the transport company and the gentleman I spoke to assured me everything had been arranged, maybe the driver was stuck in traffic. He assured me not to worry, but also said he would ring the driver and see how far away he was.
Ten minutes later I received a call from the same guy, however he was now fairly agitated and was being less than complimentary about the driver who was supposed to be picking up our precious cargo of team horses and gear. Apparently the driver had a big night on the sauce, had slept in, was hungover, and hadn't even left the depot yet.
Chris and Helen had been extremely accommodating during our PEQ training camp, and when this last-minute hiccup arrived, again they were keen to help out, and offered the use of their semi to take the horses and gear in. Everyone was chomping at the bit to get on site, so we made the decision to take them up on their generous offer. I rang Franz Venhaus, the Manager of Equestrian Events, and explained our dilemma and our proposed solution. As he was throughout the Games, Franz was extremely professional to deal with, but also very helpful. To bring a new vehicle on site would require some forms to fill in, security to be notified etc, etc. As I was talking through the process with Franz, he suddenly had a lightbulb moment, and asked if it was Chuggy's big semi, emblazoned with San Miguel signage that we were planning on using. Which it was. Unfortunately, that was a deal breaker, as the Foster's Sports Foundation (CUB) was a major sponsor of Sydney 2000 and the San Miguel truck simply wouldn't be allowed onsite.
So, we reverted back to Plan A and had to wait for the Warwick Farm Truck.
In hindsight it mightn't seem such a big deal – but at the time, it was a major inconvenience, given we had our departure planned down to the minute.
Did you feel like there was additional pressure with the Games being on home ground? There certainly was pressure, simply because for the first time, we (the Aussies) didn't have to send our horses halfway around the world – but just about everybody else did. So it was an opportunity that had to be capitalised on.
That said, that pressure was there all through the lead-up, and it was actually probably more of an issue in the build-up, making sure that we did everything possible to make the most of a domestic preparation.
The team must have been buoyed by the Eventers taking Gold – did you get to join in on any of their celebrations? Being there to see the eventers win gold was phenomenal – and certainly added to the buzz. But so far as celebrations went, that wasn't something we got involved with.
You have to appreciate our jumping team consisted of four married men with children, most of them 40 or older (Jamie Coman was 38), all of them fulfilling a life-long dream, knowing that the opportunity to compete at a home Games put them in a unique situation.
What for you personally was the most memorable moment from the Games? Sydney 2000 was truly a life-changing time for me. I feel like my life has literally been in two halves; pre-Sydney and post-Sydney. Undoubtedly, the major reason for that is I met the lady who I would go on to marry directly as a result of those Olympics.
Mel is a journalist who works for Fairfax (now Nine) and was covering the equestrian events at the Games. Part of the Chef d'Equipe's role is to deal with the media – so that's how I got to know her.
Eighteen months later I had moved to NSW to live with Mel (originally at James Mooney's place on the Central Coast where Mel was living at the time), before securing a job at Horsepower Feeds & Supplements, and moving to the Hawkesbury. When we got married in 2007 whilst in Las Vegas for the World Cup Final, our witness was Leopoldo Palacios who was the course designer at Sydney.
Advertisement

View Comments