Jumping for Youth Olympic Games Selection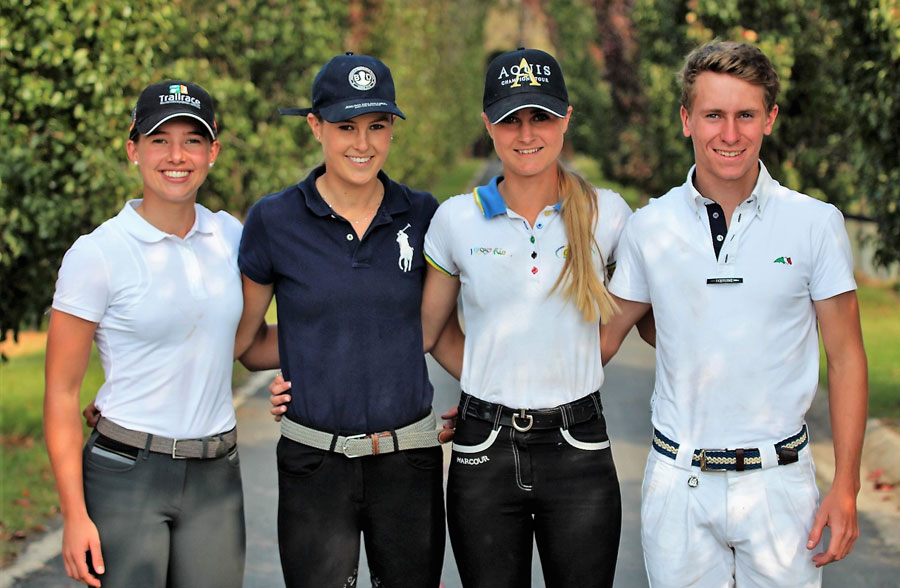 Jo McKinnon, Equestrian Australia
Source: Equestrian Australia
Photography: Jo McKinnon, Equestrian Australia
Four of Australia's top young Jumping riders gathered this week at a selection camp for the Buenos Aires 2018 Summer Youth Olympic Games that will be held in October.
Madi Sinderberry, Amelia Douglass, Conor Reed and Jess Rice-Ward were invited to participate in the camp that took place at Rio Olympics Eventing bronze medallist Shane Rose's property, Bimbadeen Park, in NSW.
This year's Youth Olympic Games will be held at the Argentine Equestrian Club from October 6-18 and are open to athletes born between January 1, 2000 and December 31, 2003 (aged 15-18).
Jumping (team and individual) is the sole Equestrian discipline of 32 sports at the Youth Olympic Games. They were first held in Singapore in 2010 and Australia has so far been well represented by talented young riders Tom McDermott and Jake Hunter.
Jake won individual bronze at the 2014 Youth Olympic Games held in Nanjing, China, and Tom was part of the silver medal-winning team in Singapore.
Advertisement

Attendance at this week's camp was compulsory for athletes wishing to be in contention for the Youth Olympics with one rider selected from the group to represent Australia.
Competition conditions were replicated as best as possible at the camp meaning that each rider was required to ride pool horses that were randomly drawn. The horses, all at different stages and levels of their own competition careers, were rotated between the riders to gauge adaptability and horsemanship of each of the athletes.
It was the first time each of the riders had ever participated in such an event and for emerging NSW based talent Amelia Douglass it was a huge thrill just to be involved.
Advertisement

"It's awesome fun I'm enjoying it so much and its good to be here with my friends and I feel like the atmosphere is great especially at Shane's with all the horse action that's going on," said Amelia.
The two-day camp also gave the group a rare chance to come together in a focussed environment and perform in front of Equestrian Australia's Jumping selectors including Graeme Watts, Stephen Lamb and Peter Winton plus key members of the High Performance team including Director Chris Webb.
"This event is important not just from a selection point of view but also it was an opportunity for our young riders to come together in circumstances that expose them to what it is required at the elite level. The more experience they can build in High Performance geared environments at a younger age, the better it will be for their long-term careers in the saddle," said Chris.
Advertisement

View Comments