Keach and Tops-Alexander EA PRESS RELEASE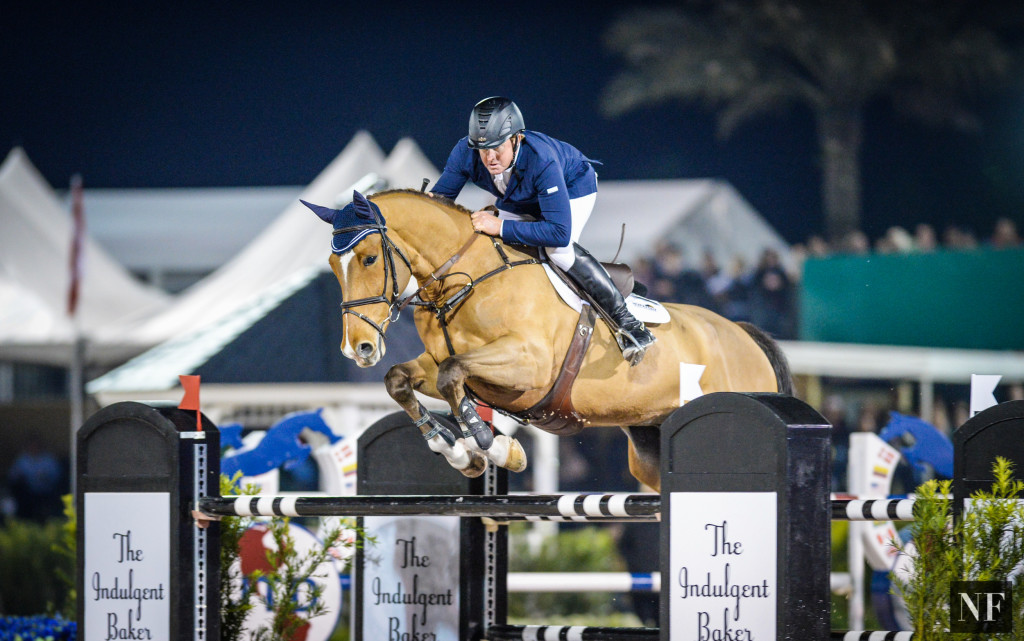 Noelle Floyd
Keach creates history with Rio selection alongside Tops-Alexander
Show jumpers Edwina Tops-Alexander and Scott Keach, along with their respective horses Caretina De Joter and Fedor, have earned early selection on the Rio 2016 Olympic Team with their outstanding performances.
For 51-year-old Keach, RIO is his second Olympics and remarkably 28 years since his Olympic debut at the Seoul Games in 1988.
He surpasses the Australian record for the longest time between competing at the Games. The previous record was held by sailors Karyn Davis-Gojnich and Nicky Bethwaite who competed in 1988 and 2004.
Keach was born in Tasmania, grew up in Western Australia, and lived in South Australia when he made his Games debut in the Eventing Team alongside Andrew Hoy, Barry Roycroft and David Green.
Although the result of finishing fifth in the Team and 23rd in Individual in 1988 was disappointing he has many fond memories.
"I remember the whole Olympic experience and I enjoyed it very much," Keach recalled.
"I remember going to the Opening Ceremony and Closing Ceremony and things like that. We had good horses and riders on our Team but in the end things didn't quite go our way.
"Looking back it would have been ideal to have another two years of competition under my belt. I was young and inexperienced for international competition. The end result was disappointing."
He is driven to leave Brazil feeling satisfied with how he and Fedor compete for Australia. They have won a high level 4 star event and he knows he has a horse that is well suited to the Olympic challenges.
"We bought Fedor in Europe three years ago as a fairly inexperienced horse and I've produced him up to Grand Prix level. Things started falling in to place two years ago and that is when the Rio Olympics became a real focus.
"The horse has the ability to jump any jump, and jumps at the Olympic Games are big and they jump several days in a row over big jumps, so a horse with scope that can jump these jumps without too much difficulty hopefully has an advantage as the Games go on. He also has a great mind in the ring and lifts to big occasions."
Keach had a big break from the sport from the early 90s to do other things in life and after moving to Florida seven years ago he started riding seriously again. He had always wanted to try show jumping again after loving it so much when he was younger.
His journey to get to a second Olympic Team has been relatively unknown compared with Tops-Alexander, who has 200,000 followers on social media and has won some of the most prestigious events in the world.
Rio will be the third Olympics for the two-time Global Champions Tour winner (2011, 2012) and she is confident with 99 days until the Opening Ceremony.
"Compared to Beijing and London I feel that I have a lot more experience under my belt and I feel more confident," Tops-Alexander said from Shanghai where she is competing on Caretina de Joter.
Tops-Alexander was Australia's best performed show jumping rider at the Beijing 2008 and London 2012 Games. She will captain the show jumping team for Rio 2016.
"I'm thrilled to be selected for the third time it's a great honour to represent Australia," Tops-Alexander said
"Considering I'm based in Europe I get a real Australian feel whilst competing which definitely gives me a lot of strength."
Tops-Alexander and Keach were both part of the Team that qualified Australia the four spots for the Games last year. She is very pleased to have him named with her as an early selection.
"I think it's fantastic and I think he deserved to be selected. He has experience on his side and he has also recently gained some very strong results."
The final two show jumping spots will be finalised in late June.
Tops-Alexander is very happy with Caretina de Joter. She has been riding her for the past eight months and was watching her for a year before she bought her.
"I knew already that she was amazing," Tops-Alexander explained.
"She has recently been in great shape. I'm saving her and making the best plan possible for her to peak at the Olympics.
"I'm myself keeping fit and competing every week at 5-star level. I recently won the Global Champions Tour 5 star Grand Prix of Miami on Lintea Tequila, who would be my second choice for the Olympics."
Tops-Alexander from Sydney, trains in the Netherlands with her husband Jan Tops. She moved to Europe in 1999 chasing success and she has definitely found it. Along with competing at two Olympic Games she was fourth at the World Equestrian Games in 2006 and won the Global Champions Tour in 2011 and 2012. She was the first rider to win a million euros prize money in a season.
She has a huge following.
"I think that a lot of people from all different sports can relate to me. My story is very simple starting from the bottom and I reach out to my fans as much as I can. I compete in over 45 competitions a year all over the world so my life is interesting and full of surprises.
"It's important to be able to give back to people experiences and I really enjoy inspiring people.  Of course I have regular TV coverage almost every week so it's easy to follow me but I think it's crucial never to forget your roots."
Australia has never previously won a medal in show jumping at the Games but that could change come August 2016.
View Comments