Kermond takes the MER and the win at Boneo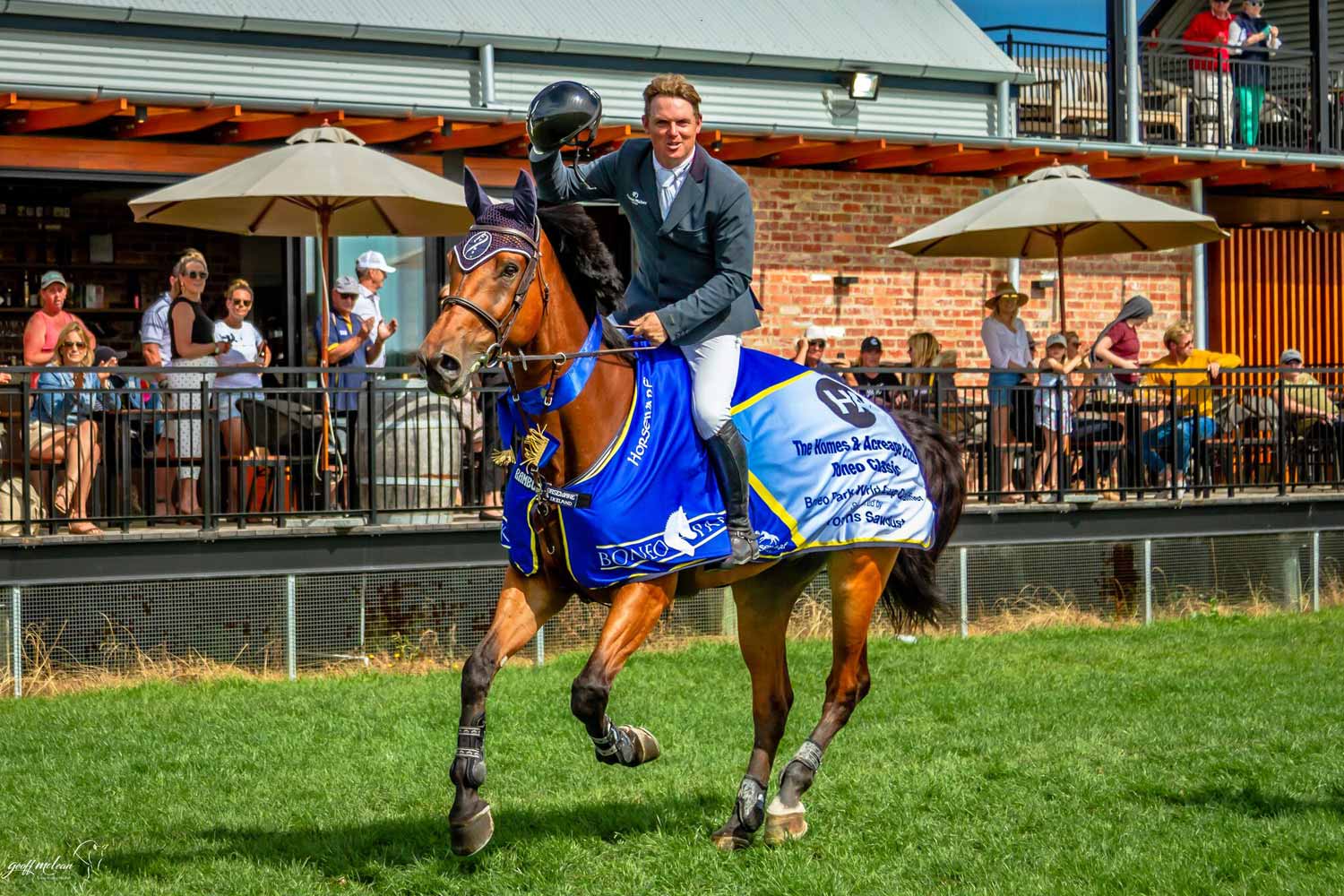 Gone Riding Media
Jamie Kermond and Yandoo Oaks Constellation
After a break of several weeks, the Australia World Cup Qualifying Series for 2019-20 resumed this afternoon with the penultimate round, held as part of the Boneo Classic event on the Mornington Peninsular, south of Melbourne. Sponsored by Browns Sawdust, the small number of combinations entered provided some top-class entertainment for the large appreciative crowd on a Gavin Chester built course that tested many of the combinations.
Advertisement


With the top four riders in the season points core all competing today, the pressure was on from the beginning, with a win in the series and a place at the World Cup finals at Las Vegas in April on the line.
Fifteen combinations were entered and while the first four combinations struggled to impress, it was the fifth out combination of reigning Australian Senior Champions Tom McDermott and Elegance De La Charmille who were the first to record a clear round in just 75.53 seconds, well under the time allowed of 80 seconds. Russell Johnstone and Daprice, who have already taken out two of the four rounds they have competed in this season, were the next to record a clear, but were not as fast (77.92 seconds) as McDermott. Two other combinations recorded clears in Round 1, those being James Harvey and Tyrone VDL a well as Jamie Kermond and Yandoo Oaks Constellation. Kate Hinschen and Finch Farm Cadel were a little unlucky not to join them, taking just 1.43 seconds more than the time allowed while completing the course without disturbing a rail.
Under the World Cup class rules, only the top 12 combinations are eligible to complete the second round, into which, the penalties incurred in the first round are carried forward.
Normally the order of go in Round 2 is seeded, however, as Elegance De La Charmille was McDermott's World Cup nominated horse today, the rules dictate that any rider with more than one horse in Round 2 has to ride that horse before their non-nominated horse. This meant that instead of riding the 12th seeded horse Alpha Activity first, McDermott and Elegance De La Charmille were first out in Round 2. Having already gone clear, this presented this combination with a fantastic chance to eliminate the winning chances of all the combinations that incurred penalties in Round 1 as well as put great pressure on the Round 1 clears. All they had to do was go clear themselves. However, a single rail meant that they finished on a total of four, which as it turned out, would be enough to keep them in the lead for a long time.
Second out in Round 2 were the Victorian combination of Ally Lamb and Denison Park Combat, who took three rails which added to their nine penalties from round 1 put them on a total of 21. Rhys Stones and Tulara Colmar were next, however a single rail in Round 2 took them to a total of 13.
Advertisement


Amber Fuller and CP Aretino were the first combination to conquer the Round 2 course, going clear in 66.71 seconds, meaning they stayed on their Round 1 score of eight. Immediately following, Billy Raymont and his World Cup nomination Anton, who won this event last year, took the lead from Fuller, recording a clear round to finish on a total of six. Not to be outdone, the current Series Leader, Chris Chugg who was next out on PSS Levilensky also went clear, allowing them to finish on a total of 4, tied with McDermott and "Charmille" in the lead on penalties, but slotting in just behind them on time. McDermott was still in the lead and we were half-way through Round 2.
Next to go were Billy Raymont and Anssioso Z, who repeated their Round 1 effort, taking a single rail to finish on a total of eight. Kate Hinschen and Finch Farm Cadel, unfortunately for them, took a rail to finish on five, which placed them in third place with just four combinations to come, three of which were coming into Round 2 on zero penalties.
Our 2018 WEG representative combination of Jamie Kermond and Yandoo Oaks Constellation were next to go. They completed a magnificent clear round in 58.94 seconds to take the lead. It was going to take a double clear performance (and a fast one at that!) to steal the win off them.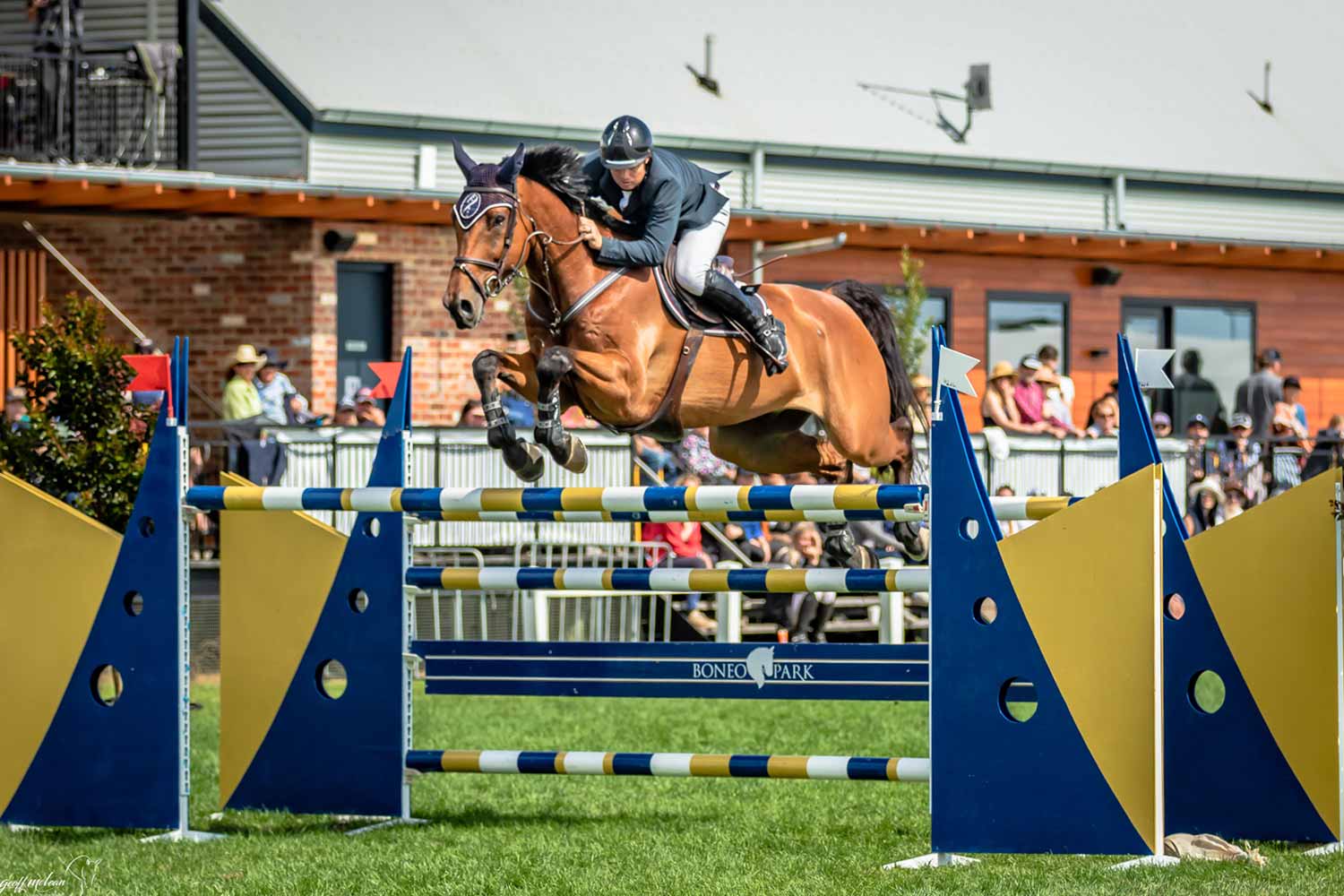 Jamie Kermond and Yandoo Oaks Constellation. Photo Credit: Gone Riding Media
First to try were James Harvey and Tyrone VDL, who missed out ever so narrowly. They recorded a clear round, but could not do so in less than the time allowed, so ended up with a total of just 1 penalty. The experienced Russell Johnstone on board the smallest horse in the event, Daprice, were second last out. The were able to match Kermond's double clear effort, however, took a little more than 3 seconds longer, meaning that second place was theirs.
Rounding out Round 2 was Tom McDermott and Alpha Activity, who did well and did not add to the twelve penalties they carried into Round 2.
So Jamie Kermond and Yandoo Oaks Constellation took out the win, meaning that for the second time this season they have taken out the maximum points. (They came second at the Melbourne Royal round, however, because the winner was not a World Cup nominated horse Kermond picked up the 20 points). The performance by Kermond would have been a relief as his first round clear means that he has now met the Minimum Eligibility Requirement (MER) to be considered for Olympic selection. Russell Johnstone and Daprice, the only other double clear combination, took second place and James Harvey and Tyrone VDL took out third.
Series Leader going into today's round, Chris Chugg finished in fifth place, which will be more than enough to keep him in the lead, given that his nearest rival, Billy Raymont finished in seventh today, however, today's win will see Kermond's late season charge continue and he will be well placed to strike should Chugg slip up in next week's final round.
Australian Jumping congratulates all the placegetters in today's class
The Browns Sawdust World Cup Qualifier.
| | | |
| --- | --- | --- |
| PLACE | RIDER | HORSE |
| 1st | Jamie Kermond | Yandoo Oaks Constellation |
| 2nd | Russell Johnstone | Daprice |
| 3rd | James Harvey | Tyrone VDL |
| 4th | Tom McDermott | Elegance De La Charmille |
| 5th | Chris Chugg | PSS Levilensky |
| 6th | Kate Hinschen | Finch Farm Cadel |
| 7th | Billy Raymont | Anton |
| 8th | Billy Raymont | Anssioso Z |
| 9th | Amber Fuller | CP Aretino |
| 10th | Tom McDermott | Alpha Activity |
| 11th | Rhys Stones | Tulara Colmar |
| 12th | Ally Lamb | Denison Park Combat |
View Comments