Lane Clarke & Balu U Win $75,000 HITS Grand Prix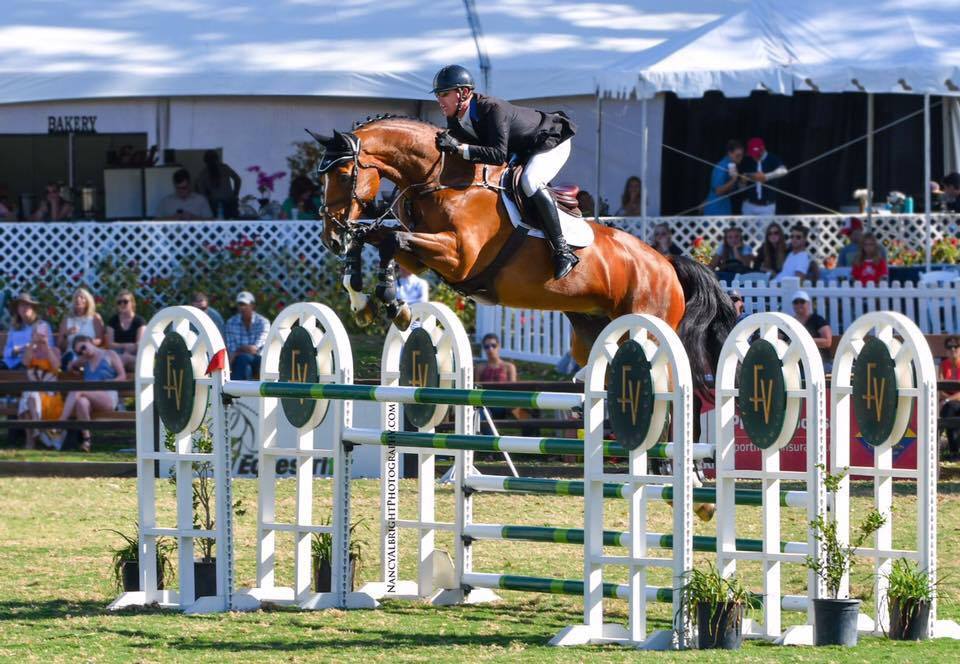 Nancy Albright Photography
Source: Noelle Floyd
Australian rider and trainer Lane Clarke secured a decisive victory over a field of talented riders in the $75,000 HITS Grand Prix on Sunday, March 12, 2017 at Week VII of the HITS Coachella Desert Circuit in Thermal, California.
Clarke, who is based in Laguna Hills at Hayden Show Jumping, is a long time fixture on the Southern California grand prix circuit. He piloted Balu U, a 12-year-old Holsteiner gelding (Baloubet du Rouet x Z-Cosmea) to victory in the class. His win is the culmination of a year's hard work with his mount, who is owned by Georgy Maskrey-Segesman.
Clarke began riding Balu U almost a full year ago during Week V of the 2016 HITS Coachella circuit. That made Sunday's win a fitting one, just after the one-year anniversary of their partnership. What's more,the victory served as a boost of confidence before the much anticipated AIG $1 Million Grand Prix on Sunday, March 19. With a recent grand prix win under their belts, the pair joins an elite group of riders with a serious shot at $350,000 in prize money in the annual West Coast winter circuit finale grand prix.
Bernardo Costa Cabral of Portugal designed the challenging grand prix course. Only five riders from a field of 38 starters entered the jump-off round. "I think Cabral did a fantastic job with the course," said Clarke.
He beat out 2nd place finisher Brenda Riddell of Canada and her mount Dutch Amouretta by almost a full second. Clarke crossed the timers with a jump-off time of 43.294 and Riddell with a time of 44.990.
"I have a huge stride and a really brave horse. He's ready to try anything. I wanted to cover as much ground as I could without being too risky at the jumps. Then just allow my horse's natural scope and stride to take advantage of it as much as we could," said Clarke.
Recent Coachella grand prix winners Ashlee Bond and Mandy Porter also had horses entered. Bond has made a consistent run for the top spot in recent grand prix classes. Not only has she scooped up two major grand prix wins this circuit, she's been consistently in the top placings aboard her two top mounts, Chela LS and Cornancer. In the Sunday class she secured 3rd aboard Cornancer. She had a winning jump-off time of 42.183, but a rail kept her from yet another grand prix win.
Looking past the HITS Coachella circuit, Clarke hopes to gain even more experience competing in the bigger grand prix classes. "I want to start doing more of the World Cup Qualifiers, the 1.60M at Spruce Meadows and Del Mar, and maybe try to gear Balu up for the [2018] WEG."
Clarke credits his win to the support of his team. His coach and business partner Mickey Hayden, his owner Georgy Maskrey-Segesman, and Samantha Bunda were just some of the supporters that he adamantly thanked.
The goal of Clarke and Balu U's 2017 HITS Coachella circuit was singular: "To peak for the million." It seems that Clarke is getting just what he asked for as he has successfully sealed his victory in the final Sunday grand prix before the AIG $1 Million Grand Prix.
The deja vu wins of rising rider Zazou Hoffman in both $25,000 SmartPak Open Prixs on Week III and VI and the comeback success of Ashlee Bond in the $100,000 FEI World Cup Jumping CSI3*-W and the $75,000 Osphos Grand Prix have proven momentum is the key ingredient for success this winter circuit. Will Clarke and Balu U peak at just the right moment to bring home the lion's share of the $1 Million prize? With so many double grand prix wins on the 2017 circuit, it seems history might just repeat itself on the most highly anticipated class on the west coast show circuit.
See the complete results list at this link.
View Comments