Lever and Lomachenko light up Boneo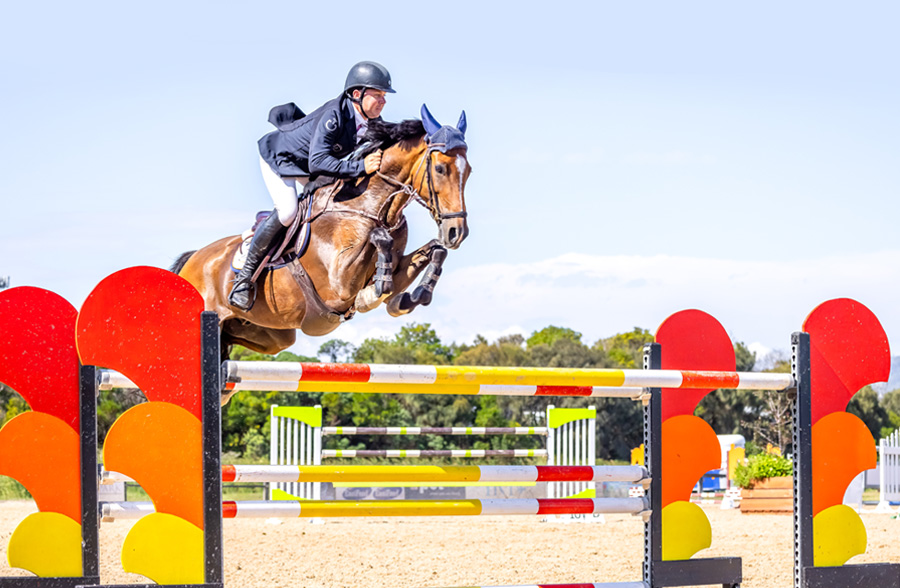 One Eyed Frog Photography
Phillip Lever and Lomachenko. Photo Credit: One Eyed Frog Photography.
World Wetlands Day Jumping wrapped up today after three fantastic days of competition. As a very important warm up for the Pryde's EasiFeed Australian Jumping Championships starting this week at Boneo Park, competition was held across four arenas. The feature class of the weekend was the Browns Sawdust Grand Prix today, taken out in style by Victorian Phillip Lever and his mount Lomachenko.
Advertisement


Thirty four combinations lined up to tackle the 1.45-1.50m track. Round One delivered 7 clears, with two 3 faulters (Clem Smith and Oaks Conjurer and Jessica Pateman and Celso) and the fastest of the 4 faulters (Russell Johnstone and Daprice) also invited back for the second round.
Amber Fuller and CP Aretino were the first combination to go clear in Round 2 in a time of 55.01. The next clear came from Sam Overton and Oaks Cassanova, slower though, in a time of 58.65. Amber Fuller with her second ride, Nopal Van Tallaert, proved she is in hot form with a second clear in 55.32 putting her into first and second spot at this stage in the competition with three combinations to come.
Queenslander Olivia Hamood with Knock Out 111 however soon slotted into a provisional second, a mere 0.06 seconds slower than CP Aretino, on 55.07.
With only 2 riders to go, Billy Raymont and Black Jack IXE flew around the course in a blistering 51.47 but unfortunately took a rail, excluding them from the podium.
Phillip Lever and Lomachenko knew they needed to go fast and clear to take the class and that is exactly what they did, leaving all the rails in place in a time of 50.99 – the fastest time of the day by over four seconds. No doubt Phillip will now be going into the upcoming Senior Australian Jumping Championship full of confidence in Lomachenko.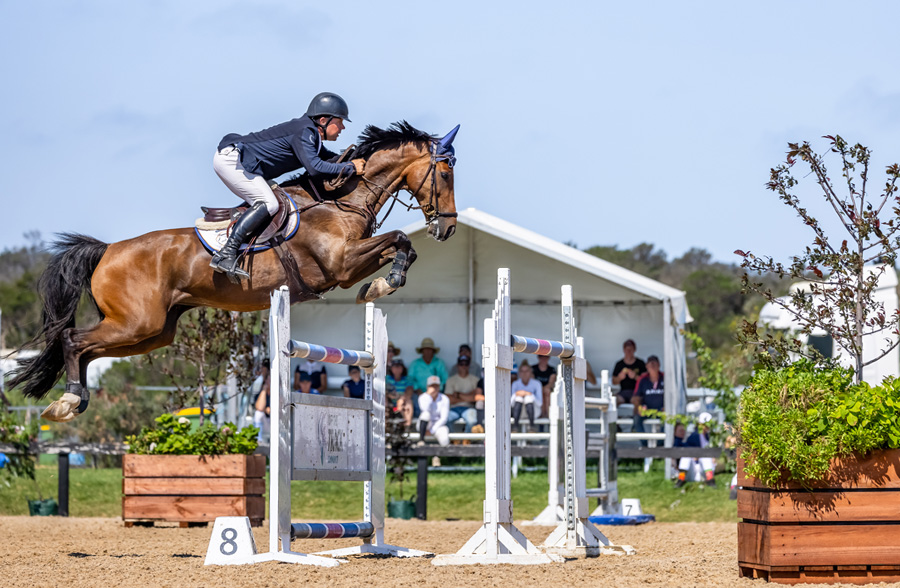 Phillip Lever and Lomachenko. Photo Credit: One Eyed Frog Photography.
Advertisement


Congratulations to all the winners and placegetters from the show. Placegetters in all classes are listed below.
FRIDAY RESULTS
RING 1 – GRASS
CLASS 1A: OPEN – DIV A – 1.20m
| | | |
| --- | --- | --- |
| PLACE | RIDER | HORSE |
| 1st | Kelly Lees | Ohio Silver |
| 2nd | Suzie Williams | Commander NZPH |
| 3rd | Jessie Rice-Ward | Dinero |
| 4th | Lucy Locke | Quero Quero |
| 5th | Grace Overton | Chironic Dominant Visage |
| 6th | Clemency Hughes | Diamond B Corvina |
CLASS 1B: OPEN – DIV B – 1.20m
| | | |
| --- | --- | --- |
| PLACE | RIDER | HORSE |
| 1st | Robert Goodwin | Simone |
| 2nd | James Harvey | Patangas Hiccup |
| 3rd | Tessa Lill | Yalambi's Hugo Boss |
| 4th | Stuart Jenkins | Adecci |
| 5th | Jane Wilcox | Miss Pippa |
| 6th | Jack Barker | Yandoo Zenzel HBC |
RING 2
CLASS 2: OPEN – 1.15m
| | | |
| --- | --- | --- |
| PLACE | RIDER | HORSE |
| 1st | Tyrone Latham | Arion Carasun |
| 2nd | Chloe Hughes | Deedle |
| 3rd | Tayla Parlevliet | Lorini C |
| 4th | Olivia Hamood | Diamond B Bedazzled |
| 5th | Alison Ford | Elijah |
| 6th | Conor Reed | ES Casello |
CLASS 3: OPEN – 1.25m
| | | |
| --- | --- | --- |
| PLACE | RIDER | HORSE |
| 1st | Sophia Hill | Humble Glory |
| 2nd | Sophia Hill | Jaybee Artiste B |
| 3rd | Clem Smith | Quantico 12 |
| 4th | Andrew Lamb | Oaks Ever Red |
| 5th | Carly Overton | Pabello |
| 6th | Conor Reed | Calypso 419 |
CLASS 4: OPEN – 1.35m
| | | |
| --- | --- | --- |
| PLACE | RIDER | HORSE |
| 1st | Clem Smith | Quantico 12 |
| 2nd | Billy Raymont | YPH Capulet |
| 3rd | Shane Davidson | Jaybee Vision |
| 4th | Hayley Cox | Eclipsis |
| 5th | Mattea Davidson | Jaybee Vigilante |
| 6th | Georgia Bouzaid | A P Ninja |
RING 3
CLASS 5: OPEN – 1.00m
| | | |
| --- | --- | --- |
| PLACE | RIDER | HORSE |
| 1st | Charli Murfett | Kanumera Butterfly |
| 2nd | Lorna Clifford | Ngahiwi Possum |
| 3rd | Joel Lamb | Emcee Holly Go Lightly |
| 4th | Bethany Van Barneveld | Decibel |
| 5th | Shelley Cox | Riverside Gareth |
| 6th | Simone Sorensen | Bayview Wish List |
CLASS 6: OPEN – 1.04m
| | | |
| --- | --- | --- |
| PLACE | RIDER | HORSE |
| 1st | Kate Beadel | Camilla Elmare |
| 2nd | Alice Lawrence | Mucho Mucho Deniro |
| 3rd | Sarah Weiss | Waratone |
| 4th | Billy Raymont | Tulara For Quinar |
| 5th | Kirsten Twining | KP D Danz |
| 6th | Monique Johnstone | Winterwood Banjo |
CLASS 7: OPEN – 1.10m
| | | |
| --- | --- | --- |
| PLACE | RIDER | HORSE |
| 1st | Neve Bailey | Alpha Echo BMG |
| 2nd | Mark Nicholls | Diorite |
| 3rd | Teagan Chester | Trump Card |
| 4th | Katie Clark | Katelle Grand |
| 5th | Bridgette Thompson | Magic Option |
| 6th | Molly Lawrence | Carabel P |
RING 4
CLASS 8: OPEN – 0.60m
| | | |
| --- | --- | --- |
| PLACE | RIDER | HORSE |
| 1st | Chelsea Parish | Tyabb Equestrian Larry |
| 2nd | Ella Santry | Kohdale Tinker |
| 3rd | Tess Runting | Merlin |
| 4th | Chantelle Humphries | Hobo |
| 5th | Skye Orchard | Benny |
| 6th | Eleri Dear | More Bounce Per Ounce |
CLASS 9: OPEN – 0.70m
| | | |
| --- | --- | --- |
| PLACE | RIDER | HORSE |
| 1st | Zara Adnams | Elcarium Starlight |
| 2nd | Skye Orchard | Blackwood Billabong Bill |
| 3rd | Jaelina Kiley | Falcon Heavy |
| 4th | Paul Ormrod | Superclass |
| 5th | Lachlan Harvey | Lilly |
| 6th | Ella Santry | Lakevale Stylish Century |
CLASS 10: OPEN – 0.80m
| | | |
| --- | --- | --- |
| PLACE | RIDER | HORSE |
| 1st | Kaya Zielinski | Lady Of Diamonds |
| 2nd | Amy Bennett | River Song |
| 3rd | Keren Bennett | LH Voleta |
| 4th | Michelle Frampton | Gidget |
| 5th | Sydney Wenn | Excusemwah |
| 6th | Charlotte Alexander | Leo |
CLASS 11: OPEN – 0.90m
| | | |
| --- | --- | --- |
| PLACE | RIDER | HORSE |
| 1st | Kaya Zielinski | Lady Of Diamonds |
| 2nd | Darby Beadel | Jaybee Tarak |
| 3rd | Crystal Blacker | Sak Sesa |
| 4th | Beau Cottrell | Spring Creek Pattern |
| 5th | Tayla Anderson | Casino Nights |
| 6th | Lucy Peters | Smart Cookie |
SATURDAY RESULTS
RING 1 – GRASS
CLASS 13: YOUTH CHALLENGE
| | | |
| --- | --- | --- |
| PLACE | RIDER | HORSE |
| 1st | Tilley Fair | Bella Bonita |
| 2nd | Hayden Parker | Tulara Spangenberg |
| 3rd | Chloe Versteegen | Diamond B Vigo |
| 4th | Zoe Waller | Bequest |
| 5th | Tansy Sagar | Helsinki |
| 6th | Elissa Stephens | Vertigo |
CLASS 12: OPEN – 1.35m
| | | |
| --- | --- | --- |
| PLACE | RIDER | HORSE |
| 1st | Sarah Duggan | Dublin |
| 2nd | Tess McInerney | Alpha Centauri |
| 3rd | Russell Johnstone | Dondersteen |
| 4th | Madeline Sinderberry | Balentino |
| 5th | Sam Overton | Yirrkala Cameron |
| 6th | Madeline Sinderberry | Keilor Bamboo |
RING 2
CLASS 14: CHILDREN'S CHAMPIONSHIP – 1.00m
| | | |
| --- | --- | --- |
| PLACE | RIDER | HORSE |
| 1st | Imogen Lindh | Nightwish |
| 2nd | Amelia Tsilfidis | Pride Of Gold |
| 3rd | Zara Adnams | Tally-Ho Primrose |
| 4th | Alice Lawrence | Mucho Mucho Deniro |
| 5th | Joel Lamb | Emcee Holly Go Lightly |
| 6th | Lily-Rose Baxter | Foxhill Cruise |
CLASS 15: TOTAL ANIMAL SUPPLIES – JUNIOR CHAMPIONSHIP – 1.20m
| | | |
| --- | --- | --- |
| PLACE | RIDER | HORSE |
| 1st | Lucy Locke | Quero Quero |
| 2nd | Anneliese Wansey | Kolora Stud St Patrick |
| 3rd | Jack Barker | Mighty Tosca |
| 4th | Aria Baker | That's Limo |
| 5th | Jack Barker | Tulara Colchic |
| 6th | Lorna Reilly | Bellhaven Jazz |
CLASS 16: LEADER EQUINE – YOUNG RIDER CHAMPIONSHIP – 1.30m
| | | |
| --- | --- | --- |
| PLACE | RIDER | HORSE |
| 1st | Jessie Rice-Ward | CP Southern Cross |
| 2nd | Amelia Douglass | Sirius Du Granit |
| 3rd | Conor Reed | Calypso 419 |
| 4th | Jessie Rice-Ward | Dinero |
| 5th | Fuschia Criss | Dual Diamond |
| 6th | Samantha Sant | Blackall Park Clarence |
CLASS 17: OPEN – 1.25m
| | | |
| --- | --- | --- |
| PLACE | RIDER | HORSE |
| 1st | Sophia Hill | Humble Glory |
| 2nd | James Harvey | Patangas Hiccup |
| 3rd | Emma Smith | Lumi |
| 4th | Billy Raymont | Tulara Forpaccio |
| 5th | Sam Williams | Oaks Kiribati |
| 6th | Sarah Duggan | Narrado MVNZ |
RING 3
CLASS 18: OPEN – 1.04m
| | | |
| --- | --- | --- |
| PLACE | RIDER | HORSE |
| 1st | Lorna Clifford | Ngahiwi Possum |
| 2nd | Sarah Weiss | Waratone |
| 3rd | Nora Palasthy | Kahean Trooper Diamond |
| 4th | Monique Johnstone | Winterwood Banjo |
| 5th | Sarah Duggan | Falcon Island |
| 6th | Caitlyn Duncan | It's Lux Nitro |
CLASS 19: OPEN – 1.10m
| | | |
| --- | --- | --- |
| PLACE | RIDER | HORSE |
| 1st | Billy Raymont | Tulara For Quinar |
| 2nd | Jane Powell | Sorento |
| 3rd | Billy Raymont | Castro |
| 4th | Sophia Hill | Seattle Park |
| 5th | Sarah Weiss | Waratone |
| 6th | Kirsten Twining | KP D Danz |
CLASS 20: OPEN – 1.15m
| | | |
| --- | --- | --- |
| PLACE | RIDER | HORSE |
| 1st | Neve Bailey | Alpha Echo BMG |
| 2nd | Sarah Moody | Bellhaven Chicago |
| 3rd | Darcy Wade | Miss Delfyne |
| 4th | Tyrone Latham | Christalou |
| 5th | Molly Lawrence | Carabel P |
| 6th | Sarah Moody | Cavalier Cudos |
RING 4
CLASS 21: OPEN – 0.65m
| | | |
| --- | --- | --- |
| PLACE | RIDER | HORSE |
| 1st | Ella Santry | Lakevale Stylish Century |
| 2nd | Ella Santry | Kohdale Tinker |
| 3rd | Lachlan Harvey | Lilly |
| 4th | Josh Harvey | Flick |
| 5th | Lola Moran | Trump |
| 6th | Taylor Cameron | CBP Farn |
CLASS 22: OPEN – 0.75m
| | | |
| --- | --- | --- |
| PLACE | RIDER | HORSE |
| 1st | Xanthe Wade | Lakevale Tarwyn |
| 2nd | Sunday Borrack | Benmore Pizazz |
| 3rd | Hannah Lionnet | Maple |
| 4th | Skye Orchard | Blackwood Billabong Bill |
| 5th | Charlotte Alexander | Leo |
| 6th | Amy Bennett | River Song |
CLASS 23: OPEN – 0.85m
| | | |
| --- | --- | --- |
| PLACE | RIDER | HORSE |
| 1st | Hannah Lionnet | Maple |
| 2nd | Lorna Clifford | Kahean Trooper Nelson |
| 3rd | Keren Bennett | LH Voleta |
| 4th | Amy Bennett | River Song |
| 5th | Michael Mordue | Jasmine De Alma Terra |
| 6th | Skye Orchard | Blackwood Billabong Bill |
CLASS 24: OPEN – 0.95m
| | | |
| --- | --- | --- |
| PLACE | RIDER | HORSE |
| 1st | Lorna Clifford | Ngahiwi Possum |
| 2nd | Lorna Clifford | Kahean Trooper Nelson |
| 3rd | Kaya Zielinski | Lady Of Diamonds |
| 4th | Beau Cottrell | Spring Creek Pattern |
| 5th | Cameron Dougall | Bradgate Park Grafenhurst |
| 6th | Lucy Coventry | Gangitano Zee |
SUNDAY RESULTS
RING 2
CLASS 25A: PRYDE'S EASIFEED – FUTURE STARS CHAMPIONSHIP – 1.25-1.30m
| | | |
| --- | --- | --- |
| PLACE | RIDER | HORSE |
| 1st | Phillip Lever | BP Jedak Du Rouet |
| 2nd | Brook Dobbin | Velvet Cate |
| 3rd | Josh Collins | Yalambi's Ikon |
| 4th | Tess McInerney | Quintation |
| 5th | Stuart Jenkins | Fairview Cambridge |
| 6th | Emma Smith | Bittern Park Carmen |
CLASS 25B: WESSELL DRILLING – OPEN CHAMPIONSHIP – 1.25-1.30m
| | | |
| --- | --- | --- |
| PLACE | RIDER | HORSE |
| 1st | Kate Beadel | Lily Elmare |
| 2nd | Sarah Duggan | Narrado MVNZ |
| 3rd | Jack Barker | Tulara Colchic |
| 4th | Nina Griffiths | Zamorra S |
| 5th | Nina Griffiths | Mr Zizou |
| 6th | Carly Overton | Pabello |
CLASS 26: JPR EQUESTRIAN – MINI PRIX – 1.35-1.40m
| | | |
| --- | --- | --- |
| PLACE | RIDER | HORSE |
| 1st | Billy Raymont | Kablesse Kavita |
| 2nd | Russell Johnstone | Dondersteen |
| 3rd | Suzie Williams | Commander NZPH |
| 4th | Sarah Duggan | Dublin |
| 5th | Andrew Lamb | CP Argento |
| 6th | Sam Overton | Yirrkala Cameron |
CLASS 27: BROWNS SAWDUST – GRAND PRIX – 1.45-1.50m
| | | |
| --- | --- | --- |
| PLACE | RIDER | HORSE |
| 1st | Phillip Lever | Lomachenko |
| 2nd | Amber Fuller | CP Aretino |
| 3rd | Olivia Hamood | Knockout 111 |
| 4th | Amber Fuller | Nopal Van Tallaert |
| 5th | Sam Overton | Oaks Cassanova |
| 6th | Billy Raymont | Black Jack IXE |
CLASS 28: RACING VICTORIA – OFF THE TRACK CHAMPIONSHIP – 1.05-1.10m
| | | |
| --- | --- | --- |
| PLACE | RIDER | HORSE |
| 1st | Katie Clark | Katelle Grand |
| 2nd | Robert Palm | Honey Steels Gold |
| 3rd | Isabella Lloyd | Bashboy |
| 4th | Alice Lawrence | Mucho Mucho Deniro |
| 5th | Darcy Wade | Miss Delfyne |
| 6th | Eliza-Jayne Sinclair | Double Dissolution |
RING 3
CLASS 29A: OPEN – 1.00m
| | | |
| --- | --- | --- |
| PLACE | RIDER | HORSE |
| 1st | William Tucker | Tamleugh Red |
| 2nd | Nora Palasthy | Kahean Trooper Diamond |
| 3rd | Georgia Solomon | Dynamite Bay |
| 4th | Simone Sorensen | Bayview Wish List |
| 5th | Isobel Olivier | Yandoo Aphrodite |
| 6th | Shannon Kelly | Splin |
CLASS 29B: FIVE-YEAR-OLDS – 1.00m
| | | |
| --- | --- | --- |
| PLACE | RIDER | HORSE |
| 1st | Caitlin Bolger | Yalambi's Messiah |
| 2nd | Billy Raymont | Jaheta Hazel |
| 3rd | Charlee Dobbin | Sweet Dreams |
| 4th | Phillip Lever | Fortini |
| 5th | Mattea Davidson | Capriati D |
| 6th | Shane Davidson | Spectre D |
CLASS 30A: OPEN – 1.10m
| | | |
| --- | --- | --- |
| PLACE | RIDER | HORSE |
| 1st | Alexandra Morris | Starlight Dazzle Razzle |
| 2nd | Sarah Weiss | Twins Delux |
| 3rd | Monique Johnstone | Winterwood Banjo |
| 4th | Josie Connors | Oaks Kestrel |
| 5th | Imogen Lindh | Blackall Park Koraleigh |
| 6th | Kate Beadel | Flex E |
CLASS 30B: SIX-YEAR-OLDS – 1.10m
| | | |
| --- | --- | --- |
| PLACE | RIDER | HORSE |
| 1st | Courtney Shears | Karinga |
| 2nd | Ally Lamb | Kiara DP |
| 3rd | Sophia Hill | Tulara Baltango |
| 4th | Brook Dobbin | Devos GP |
| 5th | Caroline Price | Cera Cadbury Z |
| 6th | Tess McInerney | Yalambi's Kandy Ripple |
CLASS 31: OPEN – 1.20m
| | | |
| --- | --- | --- |
| PLACE | RIDER | HORSE |
| 1st | Jordyn Lee-Madgwick | Cera Cadett |
| 2nd | Bella Du Plesis | Onessa MVNZ |
| 3rd | Sarah Moody | Bellhaven Chicago |
| 4th | Abbey Kuiper | KS Vakarra Champagne |
| 5th | Sarah Weiss | Twins Delux |
| 6th | Abigail Lewis | Tulara Wat Conikka |
RING 4
CLASS 32: OPEN – 0.70m
| | | |
| --- | --- | --- |
| PLACE | RIDER | HORSE |
| 1st | Xanthe Wade | Lakevale Tarwyn |
| 2nd | Skye Orchard | Blackwood Billabong Bill |
| 3rd | Hannah Lionnet | Maple |
| 4th | Taylor Cameron | CBP Farn |
| 5th | Tayla Anderson | Le Vale East Wind |
| 6th | David McCallion | Cavalier Clayton Charlie |
CLASS 33: OPEN – 0.80m
| | | |
| --- | --- | --- |
| PLACE | RIDER | HORSE |
| 1st | Lorna Clifford | Kahean Trooper Nelson |
| 2nd | Skye Orchard | Blackwood Billabong Bill |
| 3rd | Hannah Lionnet | Maple |
| 4th | Beau Cottrell | Spring Creek Pattern |
| 5th | Ivy Bailey | Atlanta WWPH |
| 6th | Charlotte Alexander | Leo |
CLASS 34A: OPEN – 0.90m
| | | |
| --- | --- | --- |
| PLACE | RIDER | HORSE |
| 1st | Jaelina Kiley | Watch My Style |
| 2nd | Beau Cottrell | Spring Creek Pattern |
| 3rd | Cassie Palm | Koko Jets |
| 4th | Sophie Veerman | Toss The Bouquet |
| 5th | Charlotte Alexander | Leo |
| 6th | Amy Bennett | River Song |
CLASS 34B: FOUR-YEAR-OLDS – 0.90m
| | | |
| --- | --- | --- |
| PLACE | RIDER | HORSE |
| 1st | Suzie Williams | VP Coralina |
| 2nd | Michael Mordue | Jasmine De Alma Terra |
| 3rd | Amanda Leyshan | Viva Luna |
| 4th | Kenneth Graham | Tulara Calliado |
| 5th | Adam Johnston | Wookiee |
| 6th | Rebecca Jenkins | Riverside Klint |
Results sourced from online.equipe.com
View Comments