Linz Nation Cup Team Announced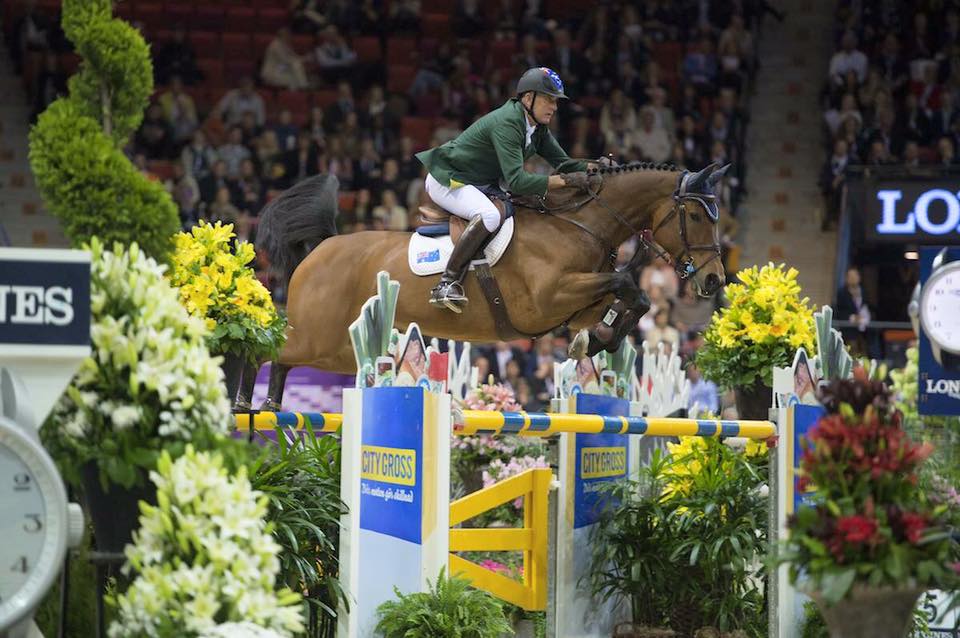 Chris Chugg
Australian riders are culminating to the CSIO4* Furusiyya Nations Cup in Linz this weekend for the Nations Cup event.
The Australian team that have been Selected is Phillip Lever, James Paterson-Robinson, Steven Hill, Chris Chugg and Merrick Ubank as individual.
Live Streaming for the event is available at FEI TV.
The Show Schedule is as follows:
CSIO4* Linzer Pferdefestival 2016

Wednesday, 04th May 2016
16.00 hrs
HORSE INSPECTION
Thursday, 05th May 2016
10.00 hrs
Prize PRO EQUUS
YOUNGSTER TOUR
Int. jumping competition against the clock (1.35/1.40 m)
Table A, FEI Art. 238.2.1 – CSIYH1* – 2 horses per athlete
12.00 hrs
Prize of BRAU UNION
EY-CUP U25
Int. jumping competition against the clock (1.35 m)
Table A, FEI Art. 238.2.1 – CSIU25 – 2 horses per athlete
14.00 hrs
Prize of AMEDIA HOTELS
SILVER TOUR
Int. jumping competition against the clock (1.40 m)
Table A, FEI Art. 238.2.1 – CSIO4* – 2 horses per athlete
17.00 hrs
Prize of MUKI VERSICHERUNGEN
GOLD TOUR
Int. jumping competition against the clock (1.50 m)
Table A, FEI Art. 238.2.1 – CSIO4* – 1 horse per athlete
Competition counts for the LONGINES ranking list
GRAND PRIX Qualifier
Friday, 06th May 2016
09.30 hrs
Prize of IHP*****
VIP SMALL TOUR
Int. jumping competition against the clock (1.15 m)
Table A, FEI Art. 238.2.1 – CSIAM-B – 3 horses per athlete
approx. 10.30 hrs
Prize of PARK INN HOTEL
VIP MEDIUM TOUR
Int. jumping competition against the clock (1.25 m)
Table A, FEI Art. 238.2.1 – CSIAM-B – 3 horses per athlete
approx. 11.30 hrs
Prize of SPITZ CATERING
VIP BIG TOUR
Int. jumping competition against the clock (1.40 m)
Table A, FEI Art. 238.2.1 – CSIAM-A – 3 horses per athlete
12.00 hrs
Prize of CHEM-WELD
SILVER TOUR
Int. jumping competition in two phases (1.45 m)
Table A, FEI Art. 274.5.3 – CSIO4* – 1 horse per athlete
Competition counts for the LONGINES ranking list
16.00 hrs
FURUSIYYA FEI NATIONS CUP™
Round 1
Int. teamcompetition over two rounds with jump-off (1.60 m)
Table A, FEI Art. 264 + Annex VIII, Art. 6 + Furusiyya FEI Nations Cup™ Rules
CSIO4* – 1 horse per athlete
Competition counts for the LONGINES ranking list
Qualifier for the Olympic Games Rio de Janeiro 2016 + European Championships Gothenburg 2017
18.30 hrs
FURUSIYYA FEI NATIONS CUP™
Round 2
Int. teamcompetition over two rounds with jump-off (1.60 m)
Table A, FEI Art. 264 + Annex VIII, Art. 6 + Furusiyya FEI Nations Cup™ Rules
CSIO4* – 1 horse per athlete
Competition counts for the LONGINES ranking list
GRAND PRIX Qualifier
Qualifier for the Olympic Games Rio de Janeiro 2016 + European Championships Gothenburg 2017
Saturday, 07th May 2016
08.30 hrs
Prize of UVEX
EY-CUP U25
Int. jumping competition against the clock (1.40 m)
Table A, FEI Art. 238.2.1 – CSIU25 – 2 horses per athlete
09.30 hrs
Prize of IHP*****
VIP SMALL TOUR
Int. jumping competition against the clock (1.15 m)
Table A, FEI Art. 238.2.1 – CSIAM-B – 3 horses per athlete
approx. 10.30 hrs
Prize of MERCEDES BENZ
VIP MEDIUM TOUR
Int. jumping competition against the clock (1.25 m)
Table A, FEI Art. 238.2.1 – CSIAM-B – 3 horses per athlete
approx. 11.30 hrs
Prize of SPORTHAUS VERDEN
VIP BIG TOUR
Int. jumping competition against the clock (1.40 m)
Table A, FEI Art. 238.2.1 – CSIAM-A – 3 horses per athlete
12.00 hrs
Prize of TIERÄRZTLICHE GEMEINSCHAFTSPRAXIS DR. SCHÖNBERG
YOUNGSTER TOUR
Int. jumping competition against the clock (1.35/1.40 m)
Table A, FEI Art. 238.2.1 – CSIYH 1* – 2 horses per athlete
16.00 hrs
Prize of NEWSPORT
GOLD TOUR
Int. jumping competition against the clock (1.55 m)
Table A, FEI Art. 238.2.1 – CSIO4* – 1 horse per athlete
Competition counts for the LONGINES ranking list
GRAND PRIX Qualifier
18.00 hrs
Prize of PAPPAS GRUPPE
SILVER TOUR FINAL
Int. jumping competition with jump-off (1.45 m)
Table A, FEI Art. 238.2.2 – CSIO4* – 1 horse per athlete
Competition counts for the LONGINES ranking list
Sunday, 08th May 2016
08.00 hrs
Prize of GESTÜT SPREHE
YOUNGSTER TOUR FINAL
Int. jumping competition with jump-off (1.40/1-45 m)
Table A, FEI Art. 238.2.2 – CSIYH1* – 2 horses per athlete
10.30 hrs
Prize of IHP*****
VIP SMALL TOUR FINAL
Int. jumping competition with jump-off (1.15 m)
Table A, FEI Art. 238.2.2 – CSIAM-B – 3 horses per athlete
approx. 11.30 hrs
Prize of MRK
VIP MEDIUM TOUR FINAL
Int. jumping competition with jump-off (1.25 m)
Table A, FEI Art. 238.2.2 – CSIAM-B – 3 horses per athlete
approx. 12.30 hrs
Prize of STECKENPFERD
VIP BIG TOUR FINAL
Int. jumping competition with jump-off (1.40 m)
Table A, FEI Art. 238.2.2 – CSIAM-A – 3 horses per athlete
14.00 hrs
GRAND PRIX of LINZ
presented by SPREHE FEINKOST
Int. jumping competition with jump-off (1.60 m)
Table A, FEI Art. 238.2.2 + Annex VIII, Art. 6 + Furusiyya FEI Nations Cup™ rules
Competition counts for the LONGINES ranking list
Qualifier for the Olympic Games Rio de Janeiro 2016 + European Championships Gothenborg 2017
16.15 hrs
Prize of LEXA
EY-CUP U25 FINAL-QUALIFICATION
Int. jumping competition with jump-off (1.45 m)
Table A, FEI Art. 238.2.2 – CSIU25 – 2 horses per athlete
Qualifier for the European Championships Millstreet 2016 for Juniors and Young Riders
View Comments