Oaks Young Horse Day kicks off Waratah World Cup Show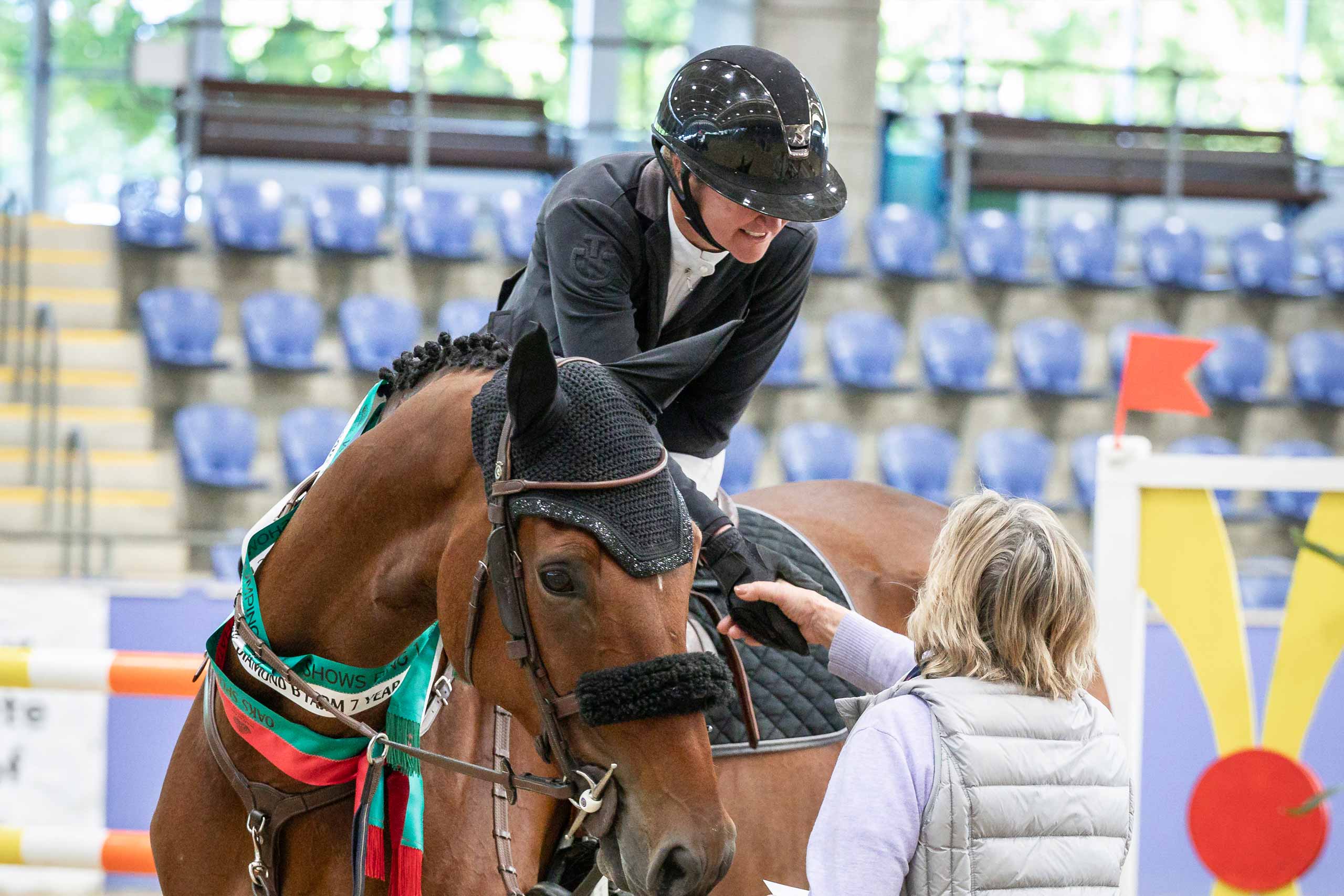 Australian Jumping
The Waratah Showjumping World Cup Show kicked off yesterday with a day of competition focusing on youth, of both equine and human varieties. Oaks Young Horse Day saw competitions for 4, 5, 6 and then 7-year-olds, where the combinations were also judged on style to produce a number of winners in each class. The day ended with the first round of the Trans-Tasman Young Rider Challenge, which saw an exciting class where four New Zealanders and four Australians did battle in a borrowed horse situation. The class ended with Australia taking a lead leading into today's second round. All this and there was still time for a thrilling 1.30m Open class in the late afternoon.
Advertisement


The day opened with a class for the 4-year-olds, sponsored by Calliera Performance Horses, where four of the 10 entrants produced double clear rounds and were declared joint winners. The winning combinations were Jack Barker and Tulara Karash, Alyse Maxwell and Koyuna Outback, Jennifer Wood and Bentleys Babe and Prue Barrett and Sandhills Spice.
An interesting feature of these Young Horse classes is an assessment of their style. Three style judges, Olympian and former National Coach Rod Brown, experienced coach and breeder David Finch as well as top rider Caitlyn Bolger made up the panel who assessed each combination regarding technique, scope and rideability. At the end of each class, the scores from each judge were weighted then averaged to come up with an overall percentage for each combination. The Style award for the 4-year-old class went to Jack Barker and his gelding Tulara Karash, with a score of 80.67%.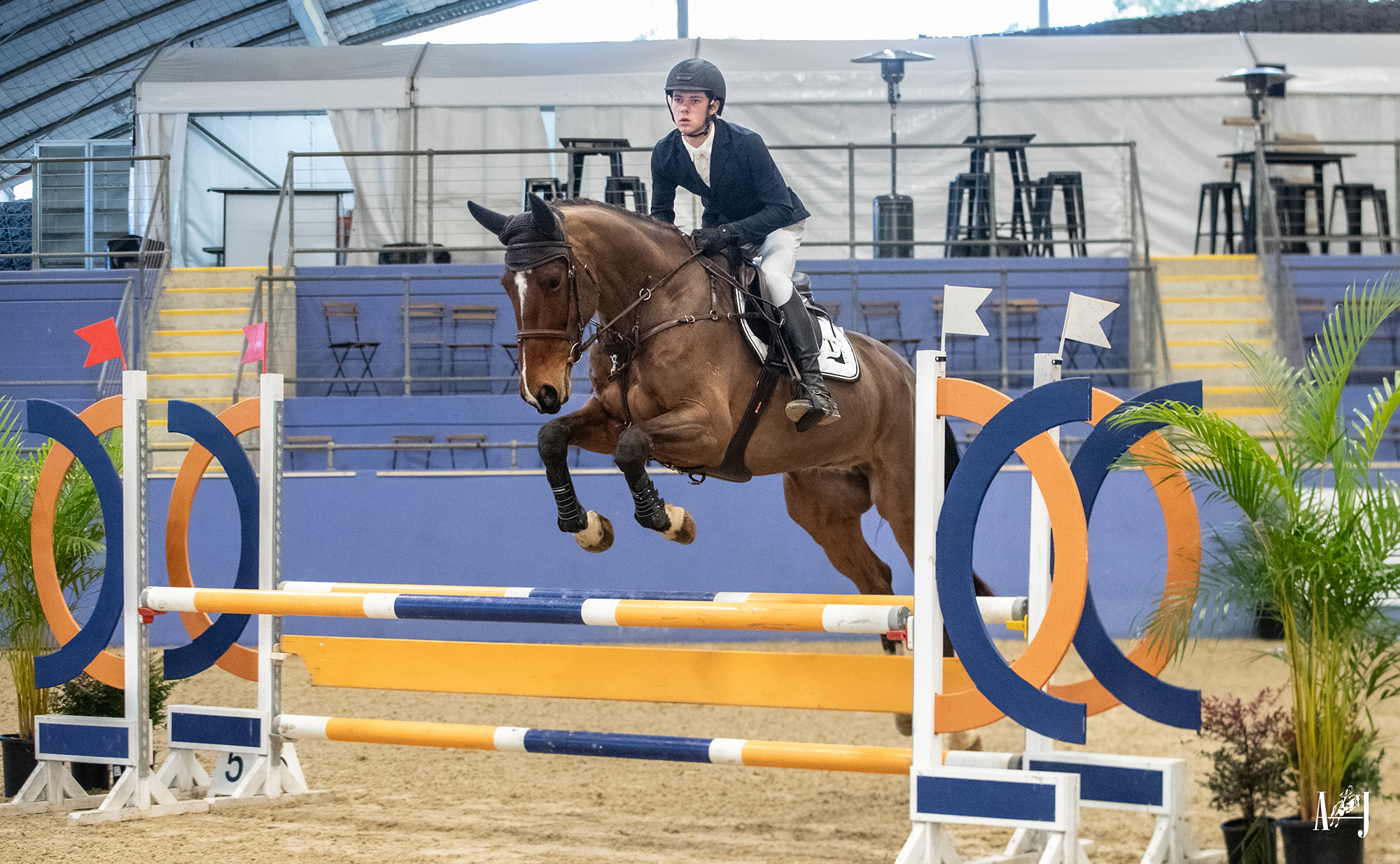 Above: Jack Barker and Tulara Karash
Next out were the 5-year-olds in a class sponsored by Greengrove Stud. Once again, as in the 4-year-old class, all double clear performances were declared joint winners. The five winning combinations were Tallara Cameron and La Traviata, Josh Collins and Glenara Starbucks, Jess Brown and Oaks Evita, Madeline Sinderberry and Chinook GHP and Matt Irvine and Chacalla MS. The Style award went to Olivia Hamood and her mare Diva Contina PJ who took a second round rail to finish equal sixth in the class.
The Bellhaven Stud 6-year-old class was the next decided. With the rails set at 1.15m, eight of the 28 combinations entered recorded a double clear performance around the Gavin Chester designed course. Fastest in the jump off were Frida Lindgren and the Lever Equestrian owned mare Wondaree Colleen, who scooted around the course in just 37.96 seconds. Second place went to Shane Davidson and young stallion Spectre D with a time of 41.16 seconds. The Cera Cassiago gelding SF Capricious was piloted into third place by Elizabeth Hoy with a time of 41.95 seconds.
Jess Rice-Ward and her gelding Al Fonso took out the style award with a score of 87.83%.

Above: Jess Rice-Ward and Al Fonso
The Young Horse classes wrapped up when the Diamond B Farm 7-year-old class featured an exciting jump off, which featured five double clear performances. Billy Raymont and Blue Balou PS, seemed to have the class won, with a jump off time of 36.24 seconds, until Brooke Hickey and her gelding Castleford Ace drew gasps from the crowd, with a very fast 34.38 second effort, to snatch victory just before to class completed. Third place, exactly three seconds behind went to Jessica Stalling and Kanntina JRE.
The style award went Jess Brown and Oaks Cryptic. This is a very impressive looking mare which scored 89.00% and is owned by Rod Brown and Alice Cameron
Late in the afternoon, it was the turn of the senior riders and horses to compete in the Honeycombes Machinery 1.30m open class, which was decided over a single round. While 27 of the large field of 53 combinations were able to produce clear rounds, it was one of the very early combinations in the draw which set a pace that all following them could not catch. Sarah Duggan and Oaks Diamantina rocketed around the course in a very swift 51.32 seconds and then had a nervous wait while the rest of the field tried to catch them, but failed. The combination which came closest were Victorians Phillip Lever and Lomachenko, finishing in 55.87 seconds. Third place went to Andrew Inglis and his mare Alillie, recording a time of 56.16 seconds.
The last class of the day was the first round of the Equine International Airfreight Trans-Tasman Young Rider Challenge. The competition was between four young Australians and four young New Zealanders competing over three nights in a Nations Cup style format on borrowed horses.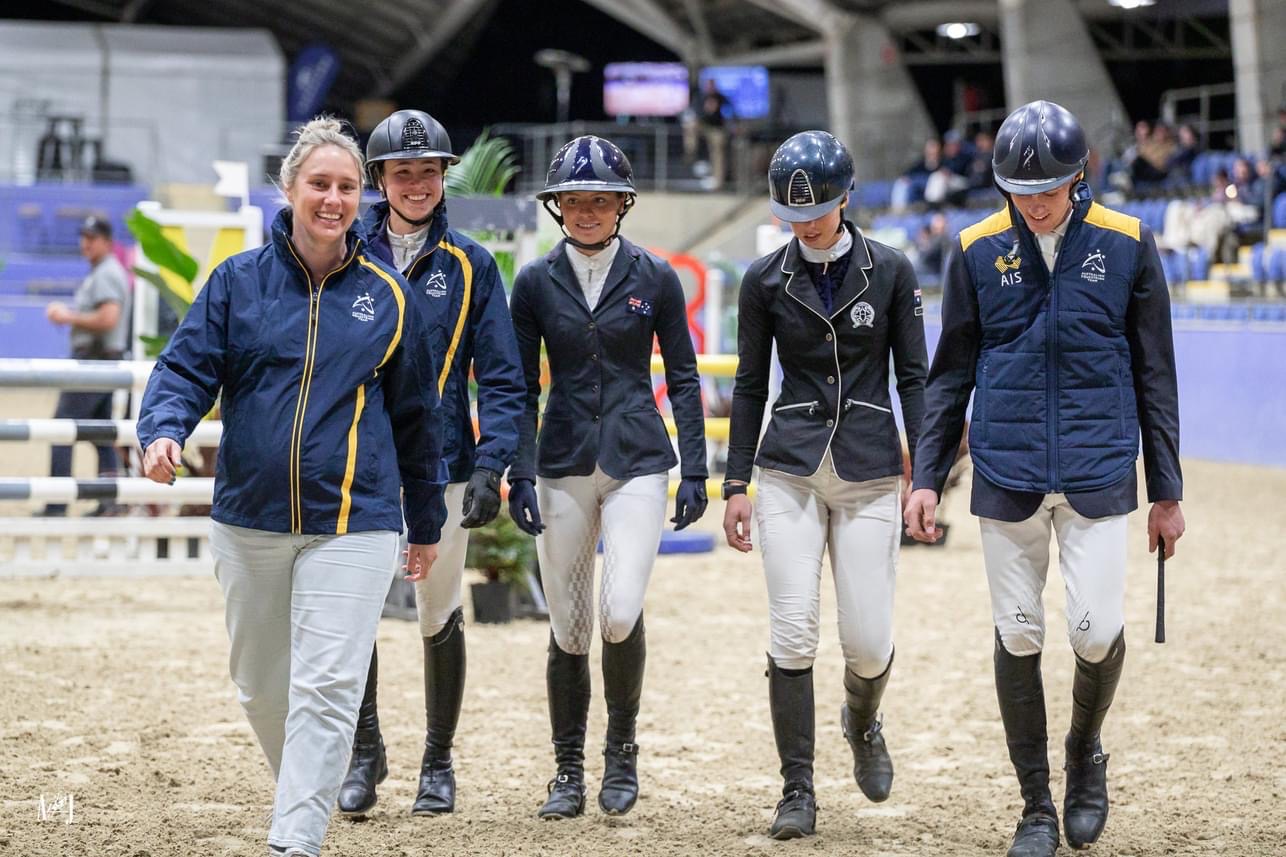 The first round last night saw some fantastic jumping, with six (three on each team) of the eight combinations recording clear rounds. A time fault to an Australian and a rail to a New Zealander, were both ignored as per the drop score format, only the best three results from each team were counted.
In the second round the Australians only sent out three combinations, all of which went clear. The New Zealanders did not fare quite as well with two combinations going clear, but another two taking a rail. So in the end it was the Young Australian team who won the first round and we look forward to what round two brings this evening.
Congratulations to all the winners and placegetters from Day 1 of the Waratah World Cup Show. The top six placegetters in all classes held yesterday are listed below.
CLASS 1: CALLIERA PERFORMANCE HORSES: 4-YEAR OLDS – 0.90m
| | | |
| --- | --- | --- |
| PLACE | RIDER | HORSE |
| =1st | Jack Barker | Tulara Karash |
| =1st | Alyse Maxwell | Koyuna Outback |
| =1st | Jennifer Wood | Bentleys Babe |
| =1st | Prue Barrett | Sandhills Spice |
| 5th | Olivia Price | Oaks Quokka |
| 6th | Tallara Cameron | Corylus Quinelle |
Style scores
| | | | |
| --- | --- | --- | --- |
| PLACE | RIDER | HORSE | SCORE |
| 1st | Jack Barker | Tulara Karash | 80.67% |
| 2nd | Alyse Maxwell | Koyuna Outback | 77.50% |
| 3rd | Jennifer Wood | Bentleys Babe | 75.83% |
| 4th | Alexandra Townsend | WHF Liqourice | 72.00% |
| 5th | Olivia Price | Oaks Quokka | 71.50% |
| 6th | Tallara Cameron | Corylus Quinelle | 69.00% |
CLASS 2: GREENGROVE STUD: 5-YEAR OLDS – 1.05m
| | | |
| --- | --- | --- |
| PLACE | RIDER | HORSE |
| =1st | Tallara Cameron | La Traviata |
| =1st | Josh Collins | Glenara Starbucks |
| =1st | Jess Brown | Oaks Evita |
| =1st | Matt Irvine | Chacalla MS |
| =1st | Madeline Sinderberry | Chinook GHP |
| = 6th | Olivia Hamood | Diva Contina PJ |
| = 6th | Angela Dobbin | Oaks Empire |
Style scores
| | | | |
| --- | --- | --- | --- |
| PLACE | RIDER | HORSE | SCORE |
| 1st | Olivia Hamood | Diva Contina PJ | 90.67% |
| 2nd | Rachael Lee | Neil Diamond VBT | 85.17% |
| 3rd | Jess Brown | Oaks Evita | 84.67% |
| 4th | Madeline Sinderberry | Chinook GHP | 81.83% |
| 5th | Matt Irvine | Chacalla MS | 80.17% |
| 6th | Josh Collins | Glenara Starbucks | 79.67% |
CLASS 3: BELLHAVEN STUD: 6-YEAR OLDS – 1.15m
| | | |
| --- | --- | --- |
| PLACE | RIDER | HORSE |
| 1st | Frida Lindgren | Wondaree Colleen |
| 2nd | Shane Davidson | Spectre D |
| 3rd | Elizabeth Hoy | SF Capricious |
| 4th | Carly Overton | Quintana ES |
| 5th | Amanda Madigan | Diamond B Chinook |
| 6th | Isabelle Mirani | Redleaf Cabbage |
Style scores
| | | | |
| --- | --- | --- | --- |
| PLACE | RIDER | HORSE | SCORE |
| 1st | Jess Rice-Ward | Al Fonso | 87.83% |
| 2nd | Jess Brown | Oaks Cascade | 87.00% |
| 3rd | Frida Lindgren | Wondaree Colleen | 85.00% |
| 4th | Jack Barker | Bellhaven Calisco | 82.33% |
| 5th | Carly Overton | Quintana ES | 82.00% |
| 6th | Elizabeth Hoy | SF Capricious | 81.67% |
CLASS 4: DIAMOND B FARM: 7-YEAR OLDS – 1.25m
| | | |
| --- | --- | --- |
| PLACE | RIDER | HORSE |
| 1st | Brooke Hickey | Castleford Ace |
| 2nd | Billy Raymont | Blue Balou PS |
| 3rd | Jessica Stalling | Kanntina JRE |
| 4th | Brooke Hickey | Kentaur Coconut |
| 5th | Jess Brown | Oaks Cryptic |
| 6th | Olivia Barton | APH Soduku |
Style scores
| | | | |
| --- | --- | --- | --- |
| PLACE | RIDER | HORSE | SCORE |
| 1st | Jess Brown | Oaks Cryptic | 89.00% |
| 2nd | Billy Raymont | Blue Balou PS | 88.17% |
| 3rd | Kate Hinschen | Calouandra | 87.17% |
| 4th | Rhys Stones | Ballentyne | 83.67% |
| 5th | Brook Hickey | Kentaur Coconut | 82.33% |
| 6th | Phillip Lever | Bonita | 81.33% |
CLASS 5: HONEYCOMBES MACHINERY: OPEN – 1.30m
| | | |
| --- | --- | --- |
| PLACE | RIDER | HORSE |
| 1st | Sarah Duggan | Oaks Diamantina |
| 2nd | Phillip Lever | Lomachenko |
| 3rd | Andrew Inglis | Alillie |
| 4th | Jennifer Wood | Ipod |
| 5th | Brook Dobbin | Gina MVNZ |
| 6th | Hannah Doolan | Ashleigh City Lights |
CLASS 6: EIAF TRANS-TASMAN YOUNG RIDER TEAMS CHALLENGE (ROUND 1)
PLACE
RIDER
HORSE
1st
Australia
Anneliese Wansey
Ashley Cutler
Alexandra Gostelow
Hayden Parker
Emcee Vagabond
Kinnordy Ronsard
Riverton Blueprint
Kinnordy Rhena
2nd
New Zealand
Johanna Wylaars
Samantha Gillies
Georgia Bouzaid
Liam Rutland
Macleay Corella
Myridersnota Rockstar
Caitano
Tulara Spangenberg
Results sourced from equipe.online.com
View Comments