Queenslanders back in action on the Gold Coast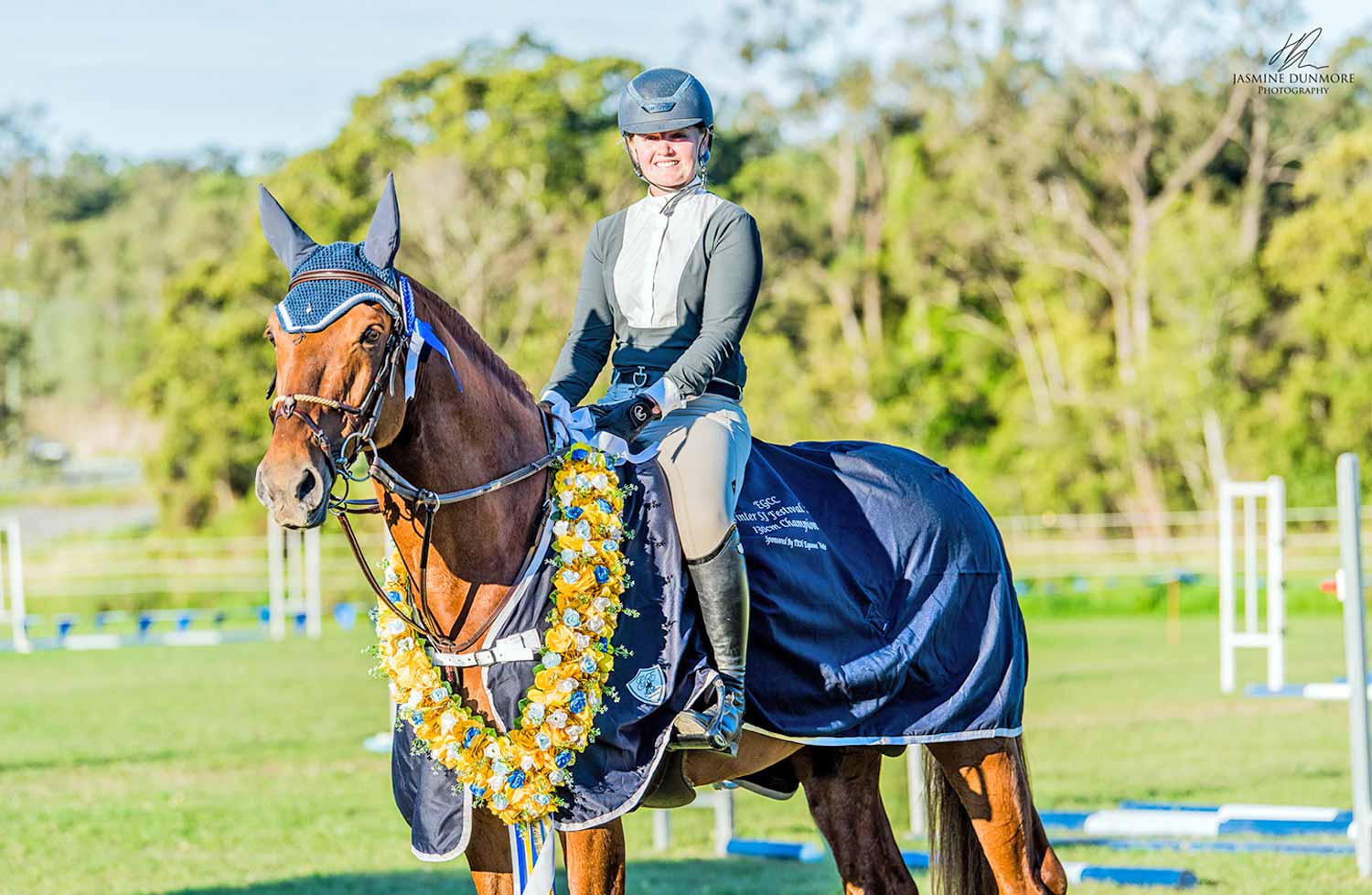 Jasmine Dunmore Photography
Above: Brooke Langbecker and Quintago 1. Photo credit: Jasmine Dunmore Photography
After the long, enforced break from shows, we are very excited to report that, in Queensland at least, riders have returned to competition. The Equestrian Gold Coast Club (EGCC) held their Winter Showjumping Festival last Sunday, 9th August at their lovely grounds at Oxenford.
In total 15 classes were held across two rings, with heights ranging from the 50cm-60cm class up to 1.30m.
Advertisement


The star of the day was undoubtedly Brooke Langbecker. Langbecker who last year was part of the victorious Willinga Park Team in the inaugural season of the Australian Jumping Teams League (AJTL), partnered with her 13 year old stallion Quintago 1, to take out the TRH Equine Vets 1.30m feature class of the day. Going double clear, Langbecker and "Quiny" were just 0.15 seconds quicker in the jump-off than the second placegetter, Beijing LS La Silla, also ridden by Langbecker. Just to top things off, Langbecker also filled the sixth placing in combination with another stallion Black Jack IXE, owned by her parents. The combination of Jamie Raymont and 10-year-old stallion, Just Dutch were third, topping off a great day for Raymont, who won two other classes on the day.
In the Thoroughbred Sport Horse Association (TSHA) classes, Anita Bridge excelled, taking out both the 0.80m and 1.00m classes in combination with Genuine Article, a 13-year-old gelding that she bred and owns.
A full listing of all the placegetters on the day are listed below:
CLASS 1: Greg Grant Saddlery – Maiden (Under 6 Points) – 0.90-1.05m
The first six placegetters in this class were:
| | | |
| --- | --- | --- |
| PLACE | RIDER | HORSE |
| 1st | Kirsty Batson | Sounds Of Crystal |
| 2nd | Jamie Raymont | Belcam Nicole |
| 3rd | Michelle Helmore | Calistus |
| 4th | Chloe Hughes | Nugget |
| 5th | Jamie Raymont | Cool Whisper |
| 6th | Natasha Nilsson | Castile |
CLASS 2a: Kolora Lodge – "Silvaneer" Super Two Phase – 1.10m
The first six placegetters in this class were:
| | | |
| --- | --- | --- |
| PLACE | RIDER | HORSE |
| 1st | Jamie Raymont | Lady Croft |
| 2nd | Blake Jones | Limo |
| 3rd | Phoebe Shannon | Warrego Julius |
| 4th | Ashleigh Lane | Anjarro Stud Sid |
| 5th | Odette Bell | Blue Jeans |
| 6th | Stuart Jenkins | Fairview Alicana |
Advertisement


CLASS 2b: TSHA – Group 2 Super Two Phase – 1.10m
The first six placegetters in this class were:
| | | |
| --- | --- | --- |
| PLACE | RIDER | HORSE |
| 1st | Peter McMahon | KS Wisdom |
| 2nd | Anita Bridge | Genuine Princess |
| 3rd | Nicole Condon | Magicians Secret |
| 4th | Lisa Jones | Electronic Fortune |
| 5th | Kirsty Batson | Wainui Gold |
| 6th | Paige Koroloff | Shadowfax |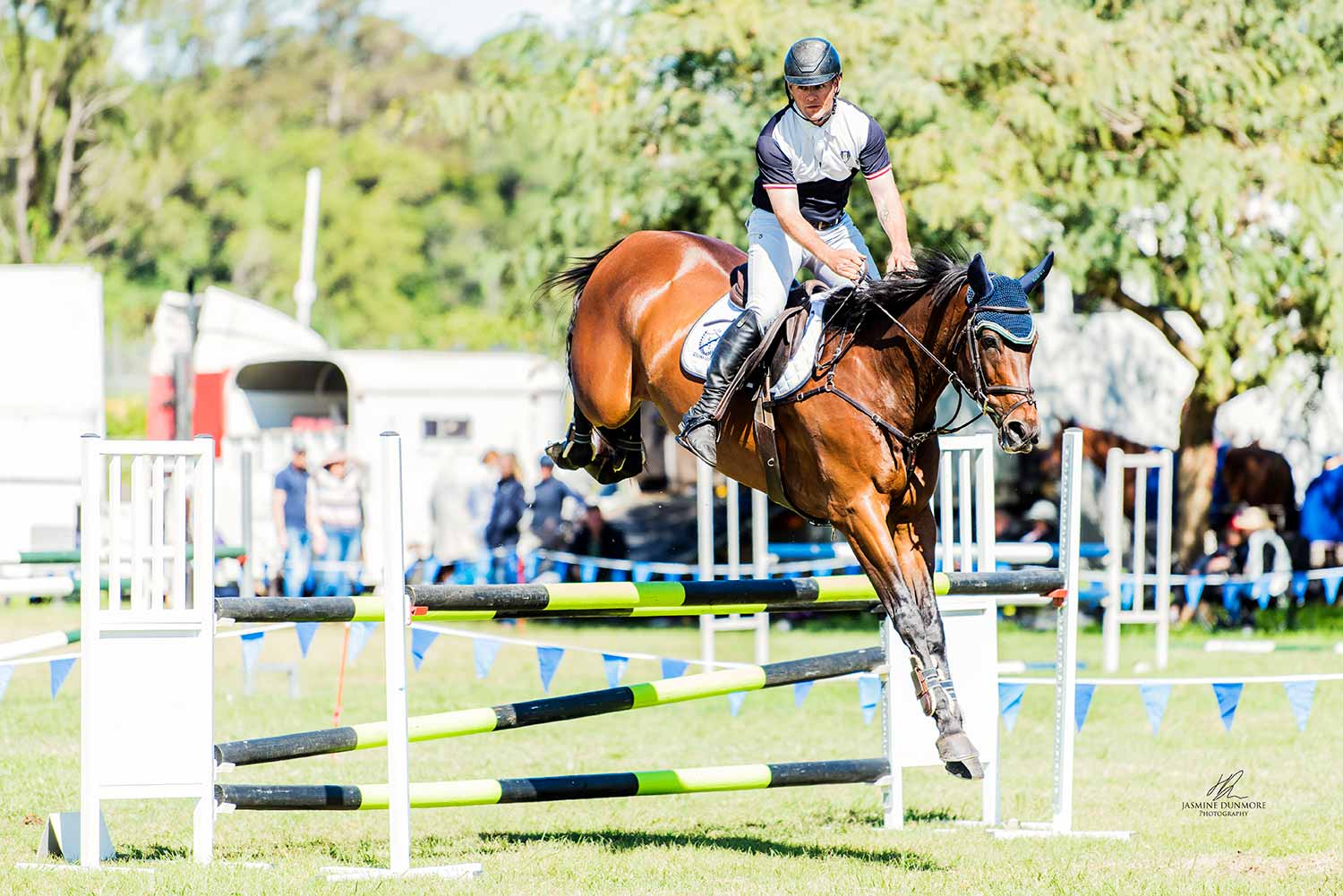 Peter McMahon and KS Wisdom. Photo credit: Jasmine Dunmore Photography
CLASS 3a: EuroFloat – Junior Super Two Phase – 1.15m
The first six placegetters in this class were:
| | | |
| --- | --- | --- |
| PLACE | RIDER | HORSE |
| 1st | Paige Johnston | CP Ellira |
| 2nd | Maleah Lang-McMahon | KS Vakarra Champagne |
| 3rd | Tayla Parlevliet | Flash Drive |
| 4th | Kaitlyn Parlevliet | Stella |
| 5th | Kaitlyn Parlevliet | Fairview Lorini C |
| 6th | Ashleigh Lane | Anjarro Stud Sid |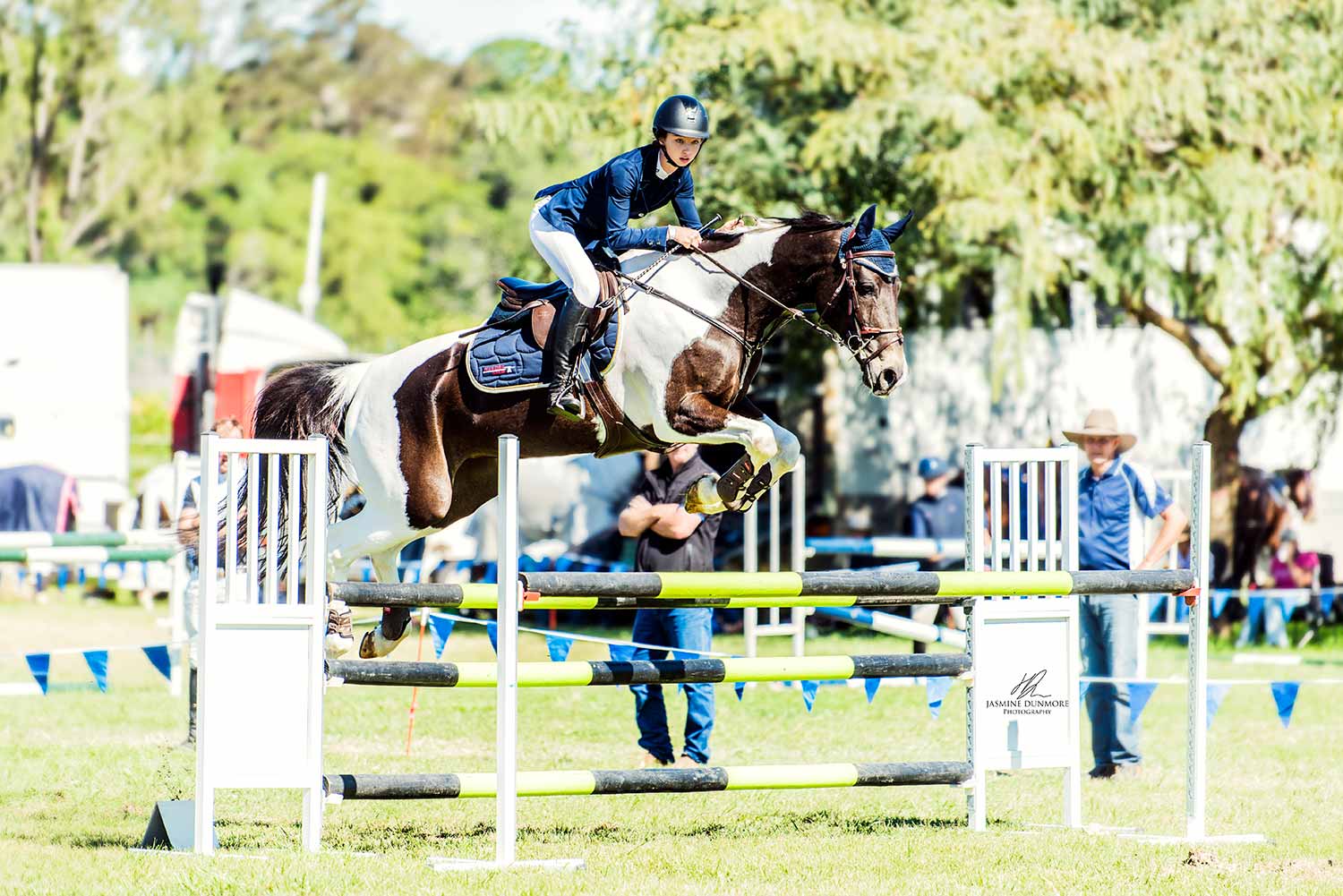 Paige Johnston and CP Ellira. Photo credit: Jasmine Dunmore Photography
CLASS 3b: Unimarket – Amateur Super Two Phase – 1.15m
The first six placegetters in this class were:
| | | |
| --- | --- | --- |
| PLACE | RIDER | HORSE |
| 1st | Megan Boyd | Ellesmere Amici |
| 2nd | Gemma Coleman | Mountain View Lady Balou |
| 3rd | Portia Wilson | AH Royal Seanna |
| 4th | Rebecca Bates | Full Tilt |
| 5th | Portia Wilson | Royal Grace |
| 6th | Lisette Schults-Rand | Barry |
CLASS 4a: Oxenford Valley Stockfeeds – Super Two Phase – 1.20m
The first six placegetters in this class were:
| | | |
| --- | --- | --- |
| PLACE | RIDER | HORSE |
| 1st | Jamie Raymont | Just Dutch |
| 2nd | Fuschia Criss | Dual Diamond |
| 3rd | Stuart Jenkins | Fairview Alicana |
| 4th | Rebecca Jenkins | Tullara Comet |
| 5th | Maleah Lang-McMahon | FF Carlsberg |
| 6th | Alicia Withers | DF Stella |
CLASS 4b: TSHA – Group 2 – Super Two Phase – 1.20m
The only two placegetters in this class were:
| | | |
| --- | --- | --- |
| PLACE | RIDER | HORSE |
| 1st | Chloe Hughes | Ned O'Reilly |
| 2nd | Anita Bridge | Genuine Princess |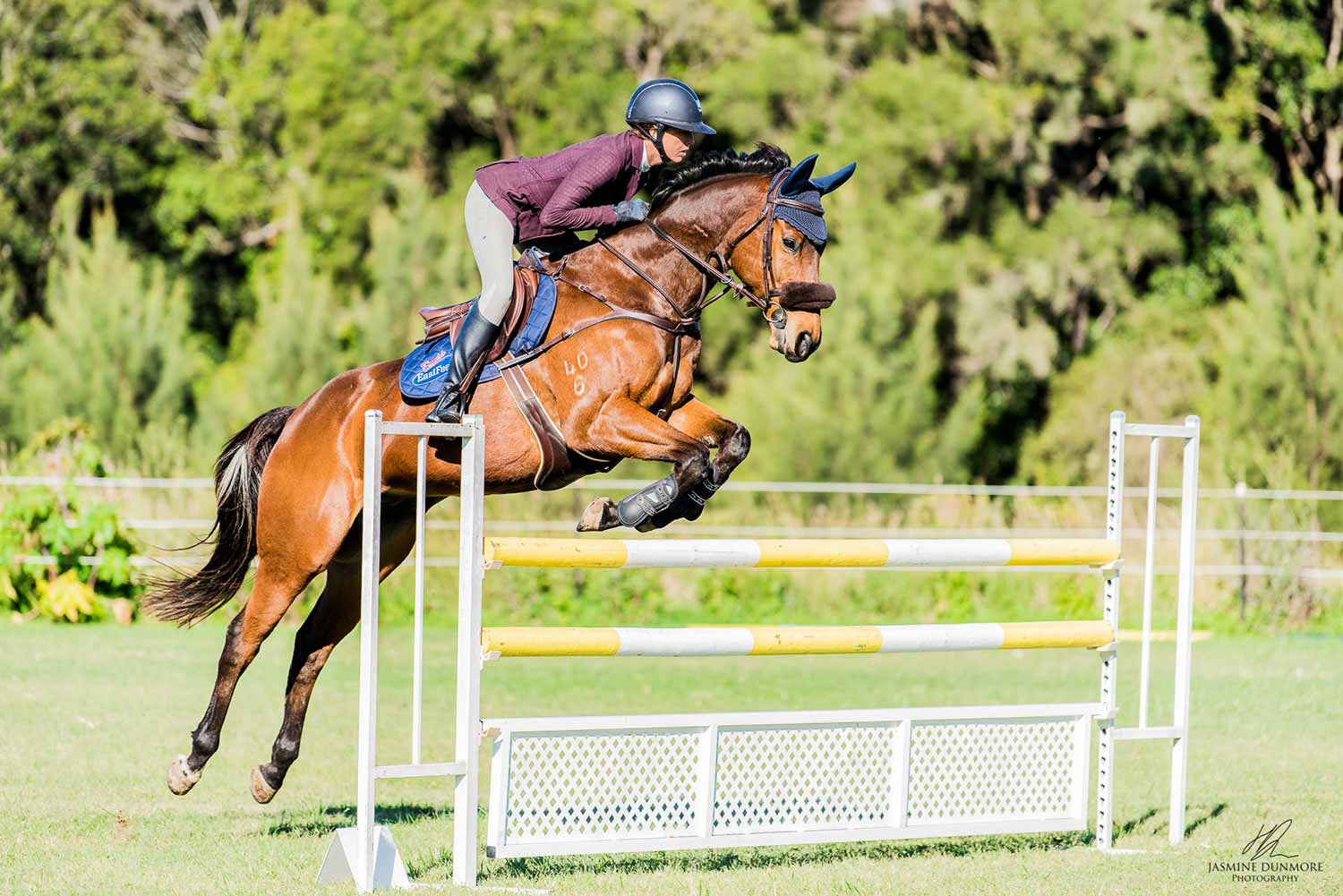 Chloe Hughes and Ned O'Reilly. Photo credit: Jasmine Dunmore Photography
CLASS 5: TRH Equine Vets – AM5 – 1.30m
The first six placegetters in this class were:
| | | |
| --- | --- | --- |
| PLACE | RIDER | HORSE |
| 1st | Brooke Langbecker | Quintago 1 |
| 2nd | Brooke Langbecker | Beijing LS La Silla |
| 3rd | Jamie Raymont | Just Dutch |
| 4th | Chloe Hughes | Watermark Farm Oz |
| 5th | Christopher Holland | Elsa |
| 6th | Brooke Langbecker | Black Jack IXE |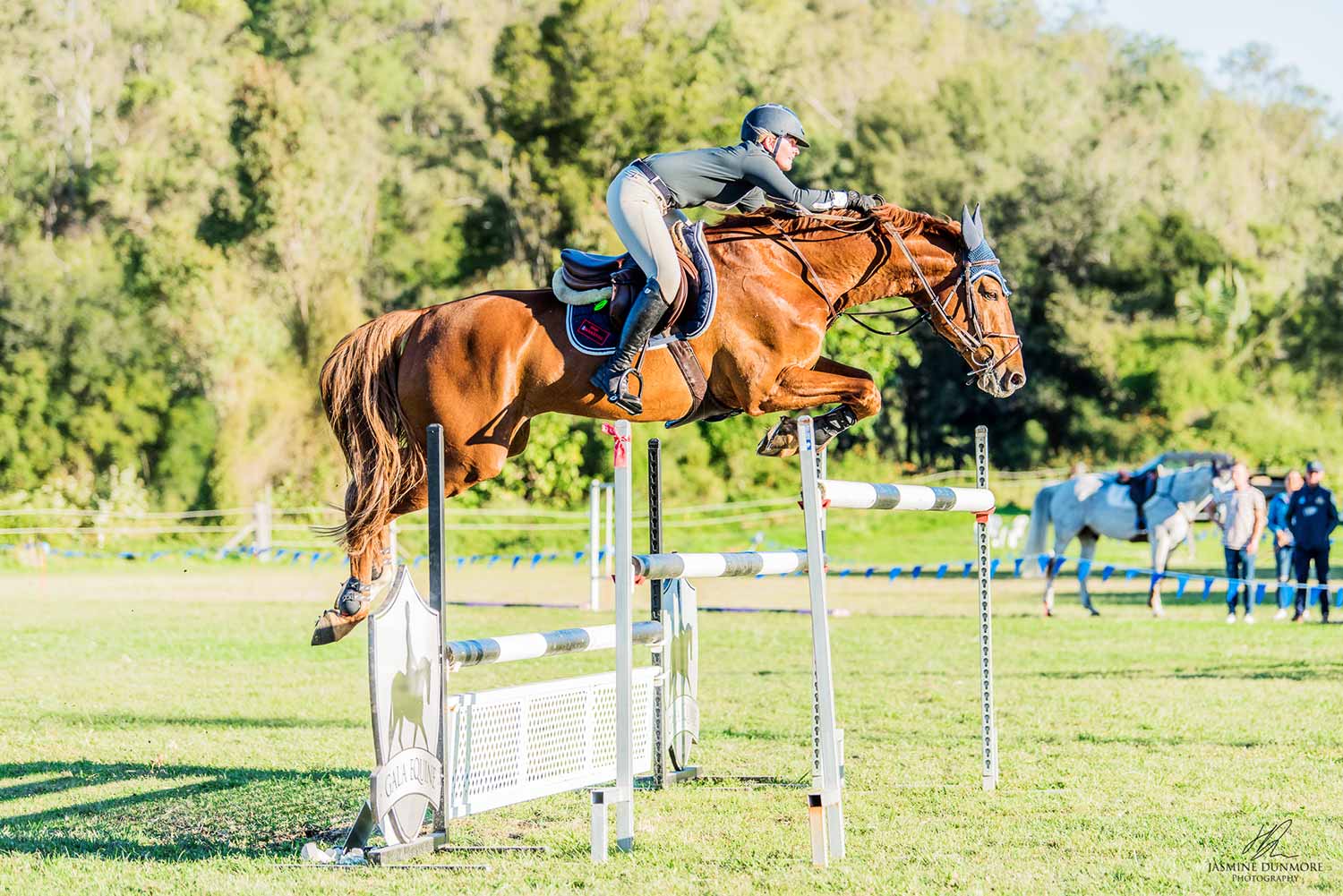 Brooke Langbecker and Quintago 1.Photo credit: Jasmine Dunmore Photography
CLASS 6: Albionshore Grooming – Super Two Phase – 0.50-0.60m
The first six placegetters in this class were:
| | | |
| --- | --- | --- |
| PLACE | RIDER | HORSE |
| 1st | Jenean Cooper | Titanium |
| 2nd | Rachel Lornie | Forever Blue |
| 3rd | Todd Lane | Topper |
| 4th | Rachel Lornie | Alani |
| 5th | Grace Penney | Cruise |
| 6th | Mardi Stevenson | Preferito |
CLASS 7: Calm Healthy Horses – Super Two Phase – 0.70m
The first six placegetters in this class were:
| | | |
| --- | --- | --- |
| PLACE | RIDER | HORSE |
| 1st | Rachel Lornie | Forever Blue |
| 2nd | Connor Lane | Roseagle Earl |
| 3rd | Zack Baldwin | EM Code Blue |
| 4th | Rachel Lornie | Miss Poppins |
| 5th | Blake Jones | Hermitage |
| 6th | Natalie Siiankoski | Alandi Heavens door |
CLASS 8: Bates Equine – Super Two Phase – 0.80m
The first six placegetters in this class were:
| | | |
| --- | --- | --- |
| PLACE | RIDER | HORSE |
| 1st | Anita Bridge | Genuine Article |
| 2nd | Zac Goodall | Peppercorn Park Bling |
| 3rd | Siobhan Dyson-Holland | Banksia Augustus Waters |
| 4th | Sarah Foster | Scooby Snax |
| 5th | Zack Baldwin | EM Code Blue |
| 6th | Lachlan Lane | Bindi |
CLASS 9a: Belle Ayre Agistment – Super Two Phase – 0.90m
The first six placegetters in this class were:
| | | |
| --- | --- | --- |
| PLACE | RIDER | HORSE |
| 1st | Nora Palasthy | Kahean Trooper Diamond |
| 2nd | Holly Taunton | Nawarrah Austin Powers |
| 3rd | Claudia Symes | Cash |
| 4th | John Broadbent | Wilma |
| 5th | Jessica Grout | Platinum Hawk |
| 6th | Stuart Jenkins | Belhaven Bondi |
CLASS 9b: TSHA Slipper (< 6 points) – Super Two Phase – 0.90m
The first six placegetters in this class were:
| | | |
| --- | --- | --- |
| PLACE | RIDER | HORSE |
| 1st | Penny Newbold | Sticks N Stones |
| 2nd | Kirsty Batson | Sounds Of Crystal |
| 3rd | Ava Wood | Sharatan |
| 4th | Vicky Hansen | Gabanna |
| 5th | Melanie Webb | Magic Springs |
| 6th | Nash McCaul | District Eleven |
CLASS 10a: Little Mizz Everything – Super Two Phase – 1.00m
The first six placegetters in this class were:
| | | |
| --- | --- | --- |
| PLACE | RIDER | HORSE |
| 1st | Caitlin Bischa | Haizum |
| 2nd | Nora Palasthy | Kahean Trooper Diamond |
| 3rd | Ashleigh Lane | LV Elf |
| 4th | Claudia Symes | Cash |
| 5th | Shelby Wayt | Little Miss Houdini |
| 6th | Sydnie Williams | Quintina |
CLASS 10b: TSHA Group 3 – Super Two Phase – 1.00m
The first six placegetters in this class were:
| | | |
| --- | --- | --- |
| PLACE | RIDER | HORSE |
| 1st | Anita Bridge | Genuine Article |
| 2nd | Ava Wood | Sharatan |
| 3rd | Penny Newbold | Mr Adams |
| 4th | Melanie Webb | Command Prince |
| 5th | Nash McCaul | District Eleven |
| 6th | Stephanie Kasper | Greenbow |
Results sourced from online.equipe.com
View Comments