Raymont Reigns at Boneo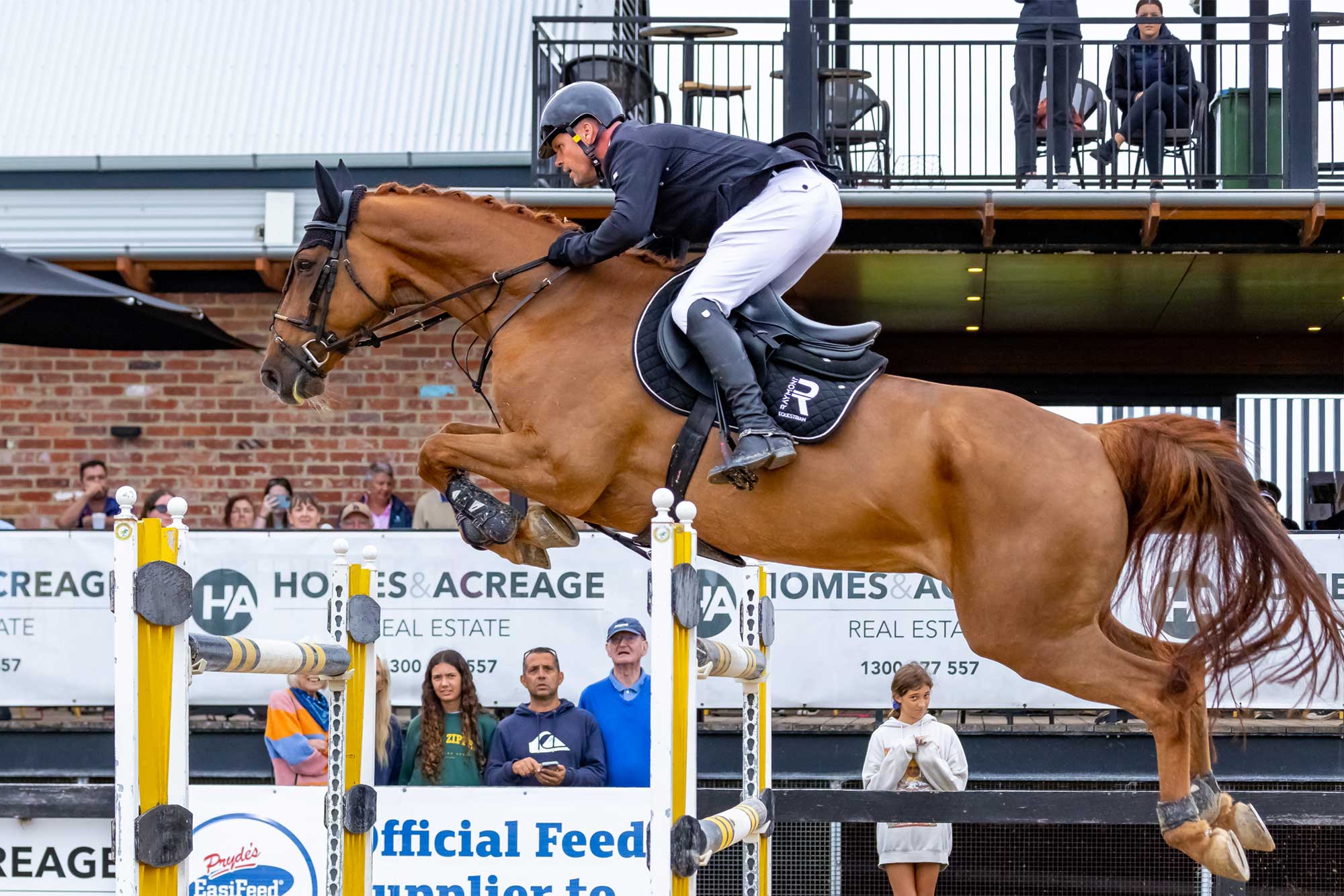 One Eyed Frog Photography
Above: Billy Raymont and Caprino. Photo Credit: One Eyed Frog Photography
Three days of competitive jumping wrapped up yesterday at the 2023 Homes & Acreage World Wetlands Jumping Championships, held at the wonderful Boneo Park Equestrian Centre on Victoria's Mornington Peninsula. With action across three arenas over three days, there was a plethora of viewing for jumping enthusiasts, topped off by a day full of Championship classes on Sunday.
Advertisement


The feature class of the show was the Browns Sawdust Grand Prix with the rails set at 1.45-1.50m. This class saw 16 combinations entered and eight of these were invited back to compete in a second round, at the end of which there were four double clears. The fastest of these and the win in the class went to Queensland superstar Billy Raymont and Caprino in a time of 46.06 seconds. Second place sent to another Queensland combination Stuart Jenkins and Fairview Alicana in 49.16 seconds. Preventing a Queensland clean sweep was Victorian rider Ally Lamb and Eagle Rock in third place in a second round time of 50.45 seconds. Australian World Cup Qualifying Series winners Sam Overton and Oaks Cassanova were fourth as they prepare for their upcoming trip to the World cup finals in the United States.
Advertisement


The victory by Raymont was part of a wonderful day for him as the Grand Prix victory followed his win with Beltana Quintessential in the Horseland Mini-Prix. This gelding is a relatively new mount for Raymont as it was competitive in the Future Stars competition at the Australian Championships last November, where it was ridden by Brooke Campbell.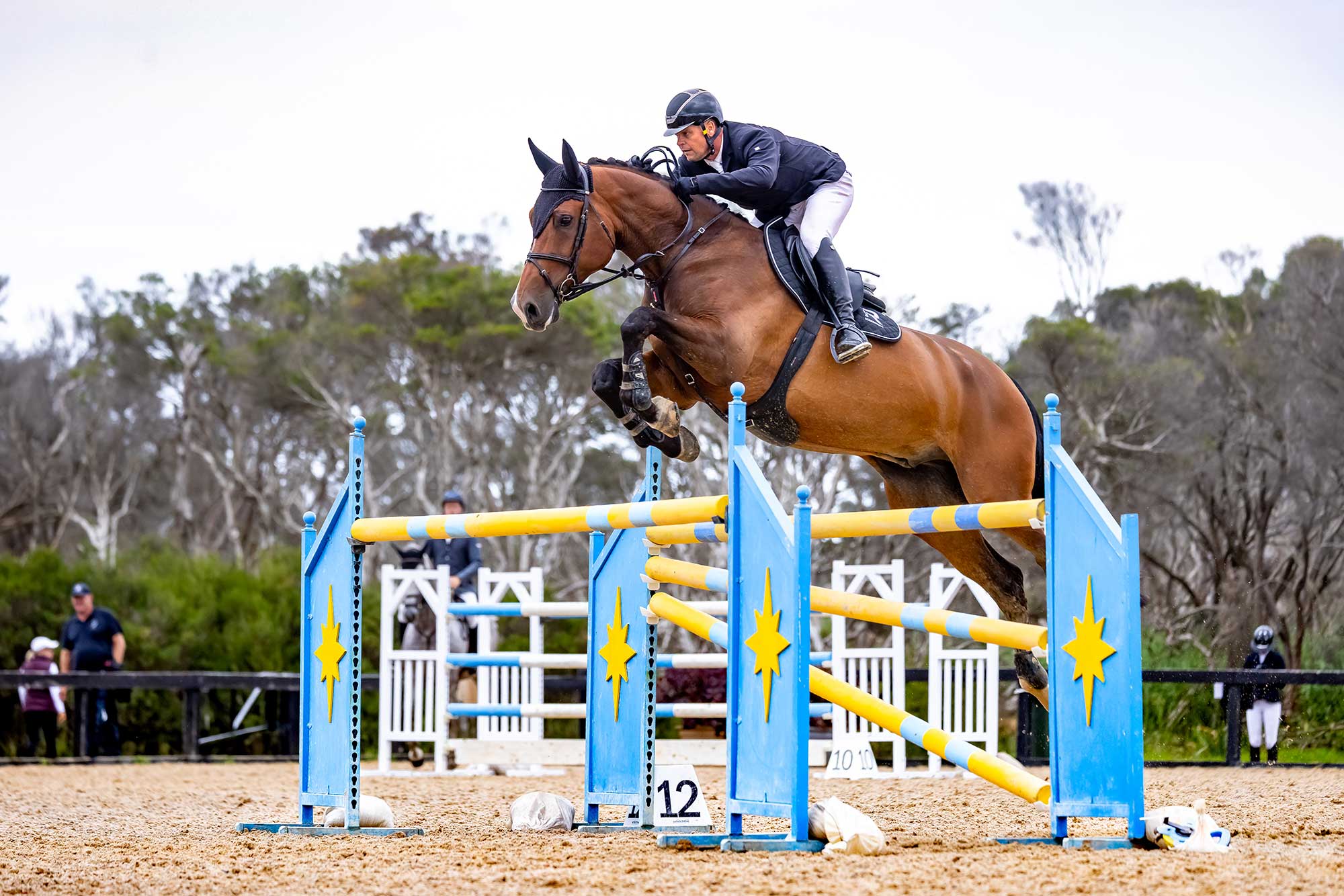 Above: Billy Raymont and Beltana Quintessential. Photo Credit: One Eyed Frog Photography
To round off things, Raymont was also victorious in the last class of the day, an Open 1.20m competition with Castro.
Earlier in the day it was Andrew Lamb and Oaks Ever Red victorious in the Pryde's EasiFeed Future Stars Championship with the fastest jump-off time out of the six double clear combinations. Second place went to Tori Stuckey and Jaybee Ballon D'or with NSW rider Madeline Sinderberry and Balentino in third.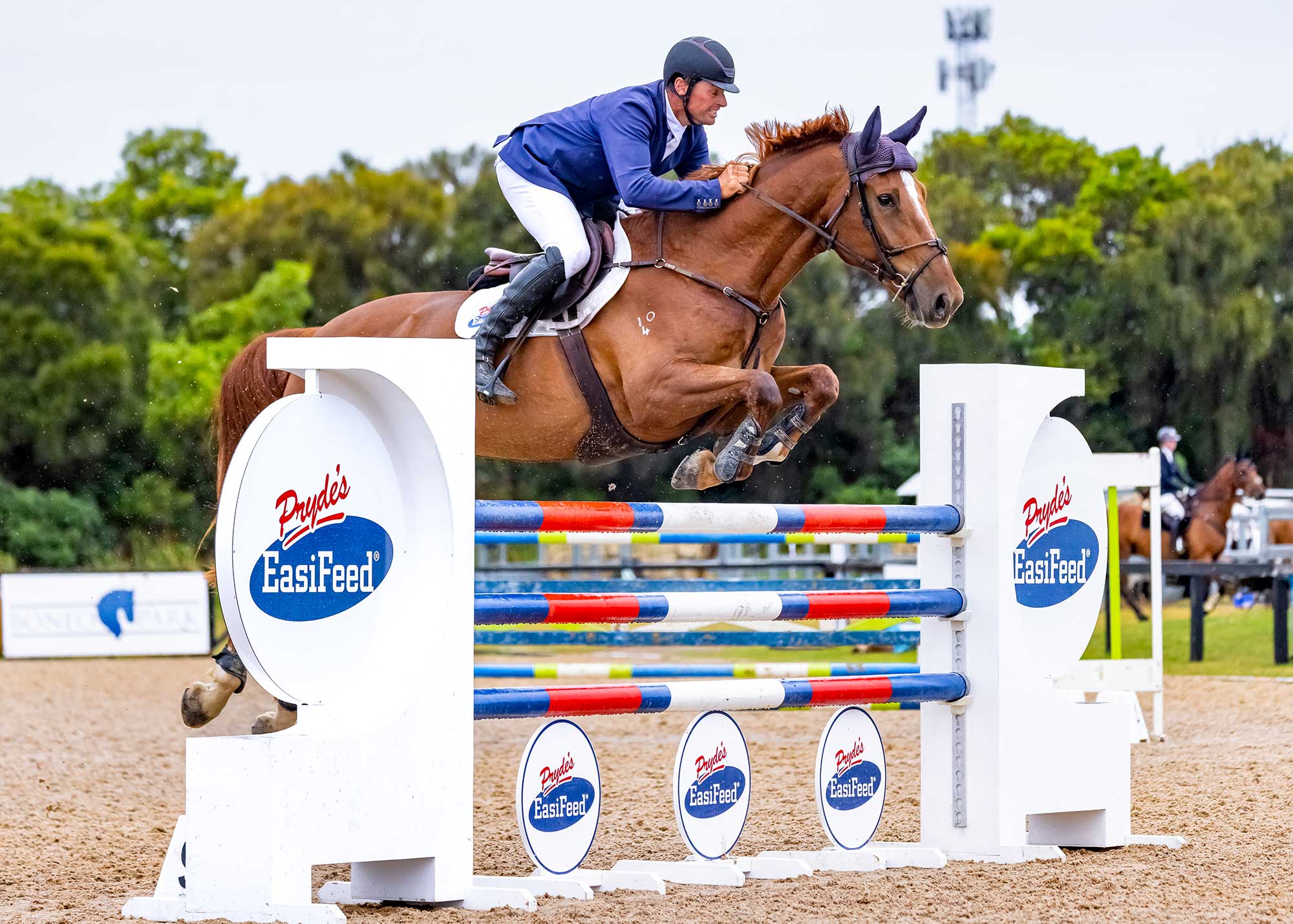 Above: Andrew Lamb and Oaks Ever Red. Photo Credit: One Eyed Frog Photography
Out in Ring 2, the Junior Championship was won by Coolart Farm Short Torque, ridden by Victorian High Performance Squad member Sienna Holdsworth-Rose as the fastest of eight double clear performances.
Fresh from their third placing in the Young Rider competition at the Magic Millions on the Gold Coast three weeks ago, the Young Rider Championship was won by Jack Barker and Tulara Colchic. They were almost 2.5 seconds clear of the reigning Australian Junior Championships Claire Zylstra and Harvey B.
The Racing Victoria Off The Track Championship was won by University Student Paris Wilkinson and the lovely gelding Konquest K.
It was a great weekend of jumping and we don't have to wait long until the next show at Boneo Park, the 2023 GDP classic which kicks-off in just three days time.
Congratulations to all the winners and placegetters over the course of the show who are all listed below.
FRIDAY RESULTS
RING 1
CLASS 1: OPEN – 1.15m
| | | |
| --- | --- | --- |
| PLACE | RIDER | HORSE |
| 1st | Tanner Robinson | Vidacious |
| 2nd | Wes Joyce | Cera Ducati |
| 3rd | Billy Raymont | Castro |
| 4th | Kelly Lees | Wildon Park Tulouch |
| 5th | David Boulton | Little Arrow |
| 6th | Tanner Robinson | Cracker |
CLASS 2: OPEN – 1.25m
| | | |
| --- | --- | --- |
| PLACE | RIDER | HORSE |
| 1st | Jack Barker | Tulara Colchic |
| 2nd | Russell Johnstone | Cantara |
| 3rd | Carly Overton | Pabello |
| 4th | Olivia Price | Le Bam |
| 5th | Jamie Winning-Kermond | Tulara On Trend |
| 6th | Jamie Colman | Oaks Kaleidascope |
CLASS 3: OPEN – 1.35m
| | | |
| --- | --- | --- |
| PLACE | RIDER | HORSE |
| 1st | Russell Johnstone | Dondersteen |
| 2nd | Russell Johnstone | Daprice |
| 3rd | Kristy Bruhn | James' Bentley |
| 4th | Frida Lindgren | Mabobri De Mabribo |
| 5th | Sam Overton | Oaks Cassanova |
| 6th | Conor Reed | Alpha Activity |
RING 2
CLASS 4: OPEN – 1.00m
| | | |
| --- | --- | --- |
| PLACE | RIDER | HORSE |
| 1st | Olivia Curtain | Xcella |
| 2nd | Claudia Grant | Buckwell Park Archer |
| 3rd | Aylsa Blachos | Opie Masquarade |
| 4th | Alice Lawrence | Mucho Mucho Deniro |
| 5th | Anabelle Klintberg | Eye Catcher |
| 6th | Rodney Mitchell | Tulara For Chico |
CLASS 5: OPEN – 1.04m
| | | |
| --- | --- | --- |
| PLACE | RIDER | HORSE |
| 1st | Zara Adnams | Dingmac Disco King |
| 2nd | Madeline Sinderberry | Quintell |
| 3rd | Clyde Shera-Jones | Koyuna Izzy |
| 4th | Megan Joyce | Tulara For Quinar |
| 5th | Tim Haworth | Wondaree Sparkle |
| 6th | Rachael Gane | Minnamurra Park Calatol |
CLASS 6: OPEN – 1.10m
| | | |
| --- | --- | --- |
| PLACE | RIDER | HORSE |
| 1st | Kelly Lees | Ohio Silver |
| 2nd | Chelsea Hair | Cassie |
| 3rd | Tinky Konecny | Hot And Spicey |
| 4th | Zoe Waller | Bequest |
| 5th | Billy Raymont | Denison Park Poppy |
| 6th | Billy Raymont | Bo O'Reilly |
RING 3
CLASS 7: OPEN – 0.60m
| | | |
| --- | --- | --- |
| PLACE | RIDER | HORSE |
| 1st | Caitlyn Duncan | Soap Opera |
| 2nd | Timothy Clarke | Dolly |
| 3rd | Holly Webb | Dolly |
| 4th | Winnie Coventry | Highland Jig |
| 5th | Rose Baillieu | Mr Chai Latte |
| 6th | Chelsea Hair | Ash |
CLASS 8: OPEN – 0.70m
| | | |
| --- | --- | --- |
| PLACE | RIDER | HORSE |
| 1st | Sophie Jackson | Heez Our Wonder |
| 2nd | Hannah Lionnet | Maple |
| 3rd | Timothy Clarke | Dolly |
| 4th | Zoe Harrington | Space Invader |
| 5th | Eleri Dear | More Bounce Per Ounce |
| 6th | Zara Tiepermann | Leonardos Puzzle |
CLASS 9: OPEN – 0.80m
| | | |
| --- | --- | --- |
| PLACE | RIDER | HORSE |
| 1st | Marly Wright | Maeve Keeva Castiel |
| 2nd | Eliza Baird | Comet |
| 3rd | Eliza Baird | Bling Du Rouet |
| 4th | Rosemary Sutherland | Tres Bonne NZ |
| 5th | Charlie Ross | JB Little Gun |
| 6th | Sophie Jackson | Heez Our Wonder |
CLASS 10: OPEN – 0.90m
| | | |
| --- | --- | --- |
| PLACE | RIDER | HORSE |
| 1st | Eliza Baird | Bling Du Rouet |
| 2nd | Marly Wright | Maeve Keeva Castiel |
| 3rd | Olivia Curtain | Indi's Mr Zorba Jones |
| 4th | Zara Yunghanns | Snowy River Nutwood |
| 5th | Isabel Dijkstra | Calveston Gossip Girl |
| 6th | Esther Foley | Mr Marvellous |
SATURDAY RESULTS
RING 1
CLASS 11: OPEN – 1.20m
| | | |
| --- | --- | --- |
| PLACE | RIDER | HORSE |
| 1st | Elissa Stephens | Da Vince |
| 2nd | Tanner Robinson | Vidacious |
| 3rd | Charlee Dobbin | Glenshea Riversong |
| 4th | Kelly Lees | Ohio Silver |
| 5th | David Boulton | Little Arrow |
| 6th | Dakota Pinton | Heartline NZ |
CLASS 12: OPEN – 1.30m
| | | |
| --- | --- | --- |
| PLACE | RIDER | HORSE |
| 1st | Jamie Winning-Kermond | Tulara On Trend |
| 2nd | Sam Williams | Oaks Kiribati |
| 3rd | Jack Barker | Tulara Colchic |
| 4th | Tori Stuckey | Jaybee Ballon D'or |
| 5th | Russell Johnstone | Cantara |
| 6th | Sam Overton | Cha Cha Blue GHP |
CLASS 13: OPEN – 1.40m
| | | |
| --- | --- | --- |
| PLACE | RIDER | HORSE |
| 1st | Phillip Lever | Lomachenko |
| 2nd | Frida Lindgren | Mabobri De Mabribo |
| 3rd | Madeline Sinderberry | Gredstedgaards Number One |
| 4th | Madeline Sinderberry | Camie Z |
| 5th | Jamie Winning-Kermond | Tulara Stolensky |
| 6th | Billy Raymont | Caprino |
RING 2
CLASS 14: OPEN – 1.04m
| | | |
| --- | --- | --- |
| PLACE | RIDER | HORSE |
| 1st | Simone Tanis | Peter Rabbit |
| 2nd | Michael Mordue | Jasmine De Alma Terra |
| 3rd | Isabella Czajka | Rafael |
| 4th | Brooke Hickey | Vanilla |
| 5th | Georgia Solomon | Dynamite Bay |
| 6th | Paris Wilkinson | Konquest K |
CLASS 15: OPEN – 1.10m
| | | |
| --- | --- | --- |
| PLACE | RIDER | HORSE |
| 1st | Madeline Sinderberry | Quintell |
| 2nd | Brook Dobbin | Little Miss Trouble |
| 3rd | Tinky Konecny | Hot And Spicey |
| 4th | Rachael Gane | Bandido |
| 5th | Lucy Borrack | Mighty Tosca |
| 6th | Lyla Ferrari | Prince Calaf |
CLASS 16: OPEN – 1.15m
| | | |
| --- | --- | --- |
| PLACE | RIDER | HORSE |
| 1st | Nellie Rogers | Valiant Star |
| 2nd | Billy Raymont | Denison Park Poppy |
| 3rd | Sienna Holdsworth-Rose | Coolart Farm Short Torque |
| 4th | Zoe Waller | Kanfly GHP |
| 5th | David Middleton | WEC In The Ditch |
| 6th | Kate Beadel | Charlotte Elmare |
RING 3
CLASS 17: OPEN – 0.65m
| | | |
| --- | --- | --- |
| PLACE | RIDER | HORSE |
| 1st | Caitlyn Duncan | Soap Opera |
| 2nd | Grace Hamilton | Buddy |
| 3rd | Danni Moran | Excellenor |
| 4th | Zara Tiepermann | Leonardos Puzzle |
| 5th | Sophie Phillips | Isle Of Huntington |
| 6th | Winnie Coventry | Highland Jig |
CLASS 18: OPEN – 0.75m
| | | |
| --- | --- | --- |
| PLACE | RIDER | HORSE |
| 1st | Hannah Lionnet | Maple |
| 2nd | Timothy Clarke | Dolly |
| 3rd | Holly Grant | RBH Mr Image |
| 4th | Harry Borrack | Benmore Pizazz |
| 5th | Kyra Dimopoulos | Ruby |
| 6th | Pat Holian | Muscat |
CLASS 19: OPEN – 0.85m
| | | |
| --- | --- | --- |
| PLACE | RIDER | HORSE |
| 1st | Marly Wright | Maeve Keeva Castiel |
| 2nd | Eliza Baird | Bling Du Rouet |
| 3rd | Sophie Jackson | Heez Our Wonder |
| 4th | Eliza Baird | Comet |
| 5th | Rosemary Sutherland | Tres Bonne NZ |
| 6th | Sunday Borrack | Windward Kiri |
CLASS 20: OPEN – 0.95m
| | | |
| --- | --- | --- |
| PLACE | RIDER | HORSE |
| 1st | Eliza Baird | Bling Du Rouet |
| 2nd | Olivia Curtain | Indi's Mr Zorba Jones |
| 3rd | Zara Yunghanns | Snowy River Nutwood |
| 4th | Charlie Ross | JB Little Gun |
| 5th | Katelyn Puls | Little Duco Pop |
| 6th | Cassie Palm | Koko Jets |
SUNDAY RESULTS
RING 1
CLASS 21: PRYDE'S EASIFEED FUTURE STARS CHAMPIONSHIP – 1.25-1.30m
| | | |
| --- | --- | --- |
| PLACE | RIDER | HORSE |
| 1st | Andrew Lamb | Oaks Ever Red |
| 2nd | Tori Stuckey | Jaybee Ballon D'or |
| 3rd | Madeline Sinderberry | Balentino |
| 4th | Jamie Winning-Kermond | Yandoo Honolulu |
| 5th | Ally Lamb | Glenara Chacco DP |
| 6th | Jamie Winning-Kermond | Benthen's Balou |
CLASS 22: HORSELAND MINI-PRIX – 1.35-1.40m
| | | |
| --- | --- | --- |
| PLACE | RIDER | HORSE |
| 1st | Billy Raymont | Beltana Quintessential |
| 2nd | Nina Griffiths | Zamorra S |
| 3rd | Kate Rowe | Tulara Connekta |
| 4th | Ginger Jilly | Diamond B Vancouver |
| 5th | Jamie Winning-Kermond | Tulara Stolensky |
| 6th | Max Height | Castlederg |
CLASS 23: BROWNS SAWDUST GRAND PRIX – 1.45-1.50m
| | | |
| --- | --- | --- |
| PLACE | RIDER | HORSE |
| 1st | Billy Raymont | Caprino |
| 2nd | Stuart Jenkins | Fairview Alicana |
| 3rd | Ally Lamb | Eagle Rock |
| 4th | Sam Overton | Oaks Cassanova |
| 5th | Madeline Sinderberry | Gredstedgaards Number One |
| 6th | Frida Lindgren | Mabobri De Mabribo |
CLASS 24: OPEN – 1.20m
| | | |
| --- | --- | --- |
| PLACE | RIDER | HORSE |
| 1st | Billy Raymont | Castro |
| 2nd | Kelly Lees | Wildon Park Tulouch |
| 3rd | Madeline Sinderberry | Quintell |
| 4th | Jamie Hewitt-Toms | Balou Du Rose |
| 5th | Sarah Cork | Valeska |
| 6th | Danielle Marwood | Wild Child |
RING 2
CLASS 25: JUNIOR CHAMPIONSHIP – 1.20m
| | | |
| --- | --- | --- |
| PLACE | RIDER | HORSE |
| 1st | Sienna Holdsworth-Rose | Coolart Farm Short Torque |
| 2nd | Zoe Waller | Bequest |
| 3rd | Dakota Pinton | Heartline NZ |
| 4th | Cecilia Clements | Southern Stars Ferrari |
| 5th | Charlee Dobbin | Glenshea Riversong |
| 6th | Tanner Robinson | Charlie |
CLASS 26: YOUNG RIDER CHAMPIONSHIP – 1.30m
| | | |
| --- | --- | --- |
| PLACE | RIDER | HORSE |
| 1st | Jack Barker | Tulara Colchic |
| 2nd | Claire Zylstra | Harvey B |
| 3rd | Chase Naylor | Misty Blue Ego Z |
| 4th | Tilley Fair | Oaks Constantino |
| 5th | Lorna Reilly | Bellhaven Jazz |
| 6th | Chase Naylor | Check Book |
CLASS 27: RACING VICTORIA OFF THE TRACK CHAMPIONSHIP – 1.10m
| | | |
| --- | --- | --- |
| PLACE | RIDER | HORSE |
| 1st | Paris Wilkinson | Konquest K |
| 2nd | Rachael Gane | Bandido |
| 3rd | Kaylee Stephens | Burnside |
| 4th | Robyn Todd | That's Not It |
| 5th | Tinky Konecny | Hot And Spicey |
| 6th | Alice Lawrence | Mucho Mucho Deniro |
CLASS 28: OPEN – 1.10m
| | | |
| --- | --- | --- |
| PLACE | RIDER | HORSE |
| 1st | Bek Carrolan | Chatham Park Quigley |
| 2nd | Kate Beadel | Charlotte Elmare |
| 3rd | Hannah Conlon | Emma Peel GNZ |
| 4th | Kaylee Stephens | Corocat Xtreme |
| 5th | Robert Palm | Phantom Bronte |
| 6th | Katie Moll | Quelle Vie LS |
RING 3
CLASS 29: OPEN – 0.70m
| | | |
| --- | --- | --- |
| PLACE | RIDER | HORSE |
| 1st | Hannah Lionnet | Maple |
| 2nd | Caitlyn Duncan | Soap Opera |
| 3rd | Johanna Morgan | Solveig |
| 4th | Lisbeth Height | Sommerwaters Petite |
| 5th | Sophie Phillips | Isle Of Huntington |
| 6th | Winnie Coventry | Highland Jig |
CLASS 30: OPEN – 0.80m
| | | |
| --- | --- | --- |
| PLACE | RIDER | HORSE |
| 1st | Marly Wright | Maeve Keeva Castiel |
| 2nd | Katelyn Puls | Little Duco Pop |
| 3rd | Harry Borrack | Benmore Pizazz |
| 4th | Johanna Morgan | Solveig |
| 5th | Paul Ormrod | Superclass |
| 6th | Emmy Fraser | LH Dolci |
CLASS 31: OPEN – 0.90m
| | | |
| --- | --- | --- |
| PLACE | RIDER | HORSE |
| 1st | Marly Wright | Maeve Keeva Castiel |
| 2nd | Olivia Curtain | Xcella |
| 3rd | Olivia Curtain | Indi's Mr Zorba Jones |
| 4th | Zara Yunghanns | Snowy River Nutwood |
| 5th | Olivia Weatherhead | NV Rafael |
| 6th | Sunday Borrack | Windward Kiri |
CLASS 32: OPEN – 1.00m
| | | |
| --- | --- | --- |
| PLACE | RIDER | HORSE |
| 1st | Charli Ross | JB Little Gun |
| 2nd | Sunday Borrack | Get Rhythm |
| 3rd | Lyla Ferrari | Material Gurl |
| 4th | Chloe Dougherty | Emmaville Countess |
| 5th | Charli Hill | Mt Robinson Romance |
| 6th | Harry Gault | Havelock Mistletoe |
Results sourced from Equipe.online.com
View Comments