Rowan Willis – Australian Jumping International Rider of 2019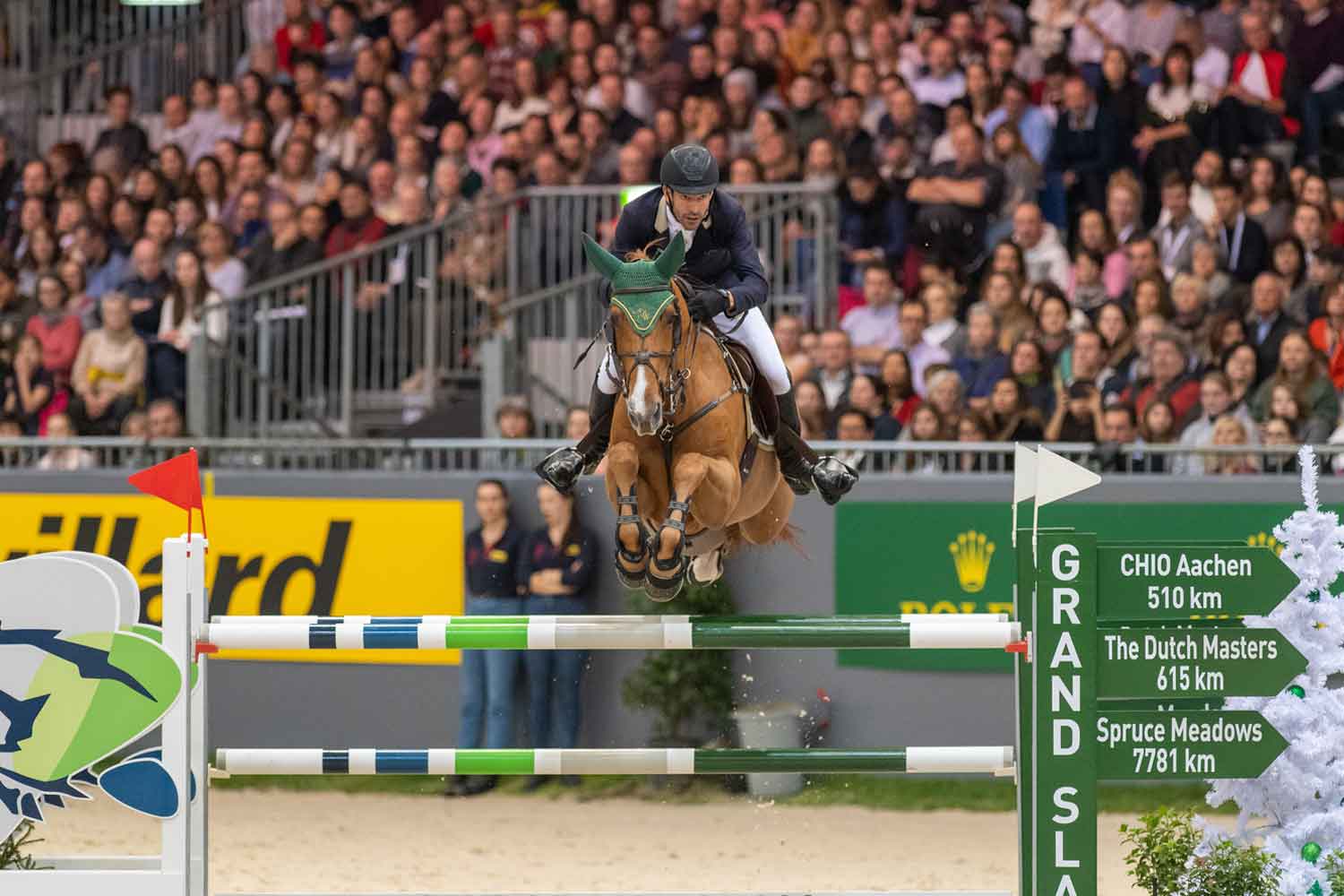 Thomas Reiner
He was our Australian Jumping International Rider of 2018, and Rowan Willis has had another great year, standing out once more as a shining light of our sport. With a great team of horses and his usual hard work and patience, Willis has had some great results in 2019, highlights of which must include but are certainly not limited to the following:
JULY 2019:  Winner Spruce Meadows CSIYH1* 8yo Champion – Wellington Grandorie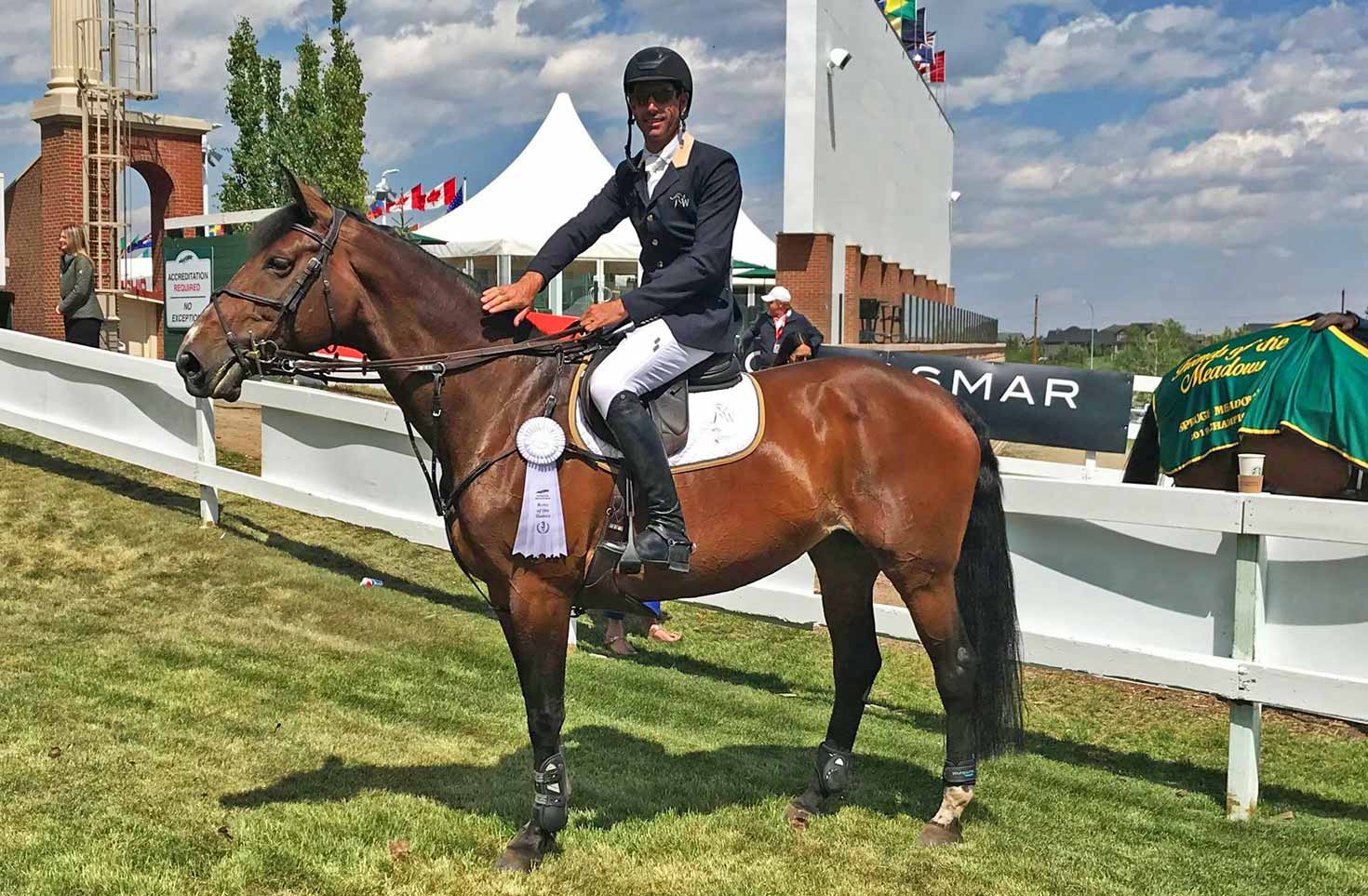 Rowan Willis and Wellington Grandorie
Advertisement

JULY 2019:  Winner (back to back) of the Spruce Meadows Derby – Everse W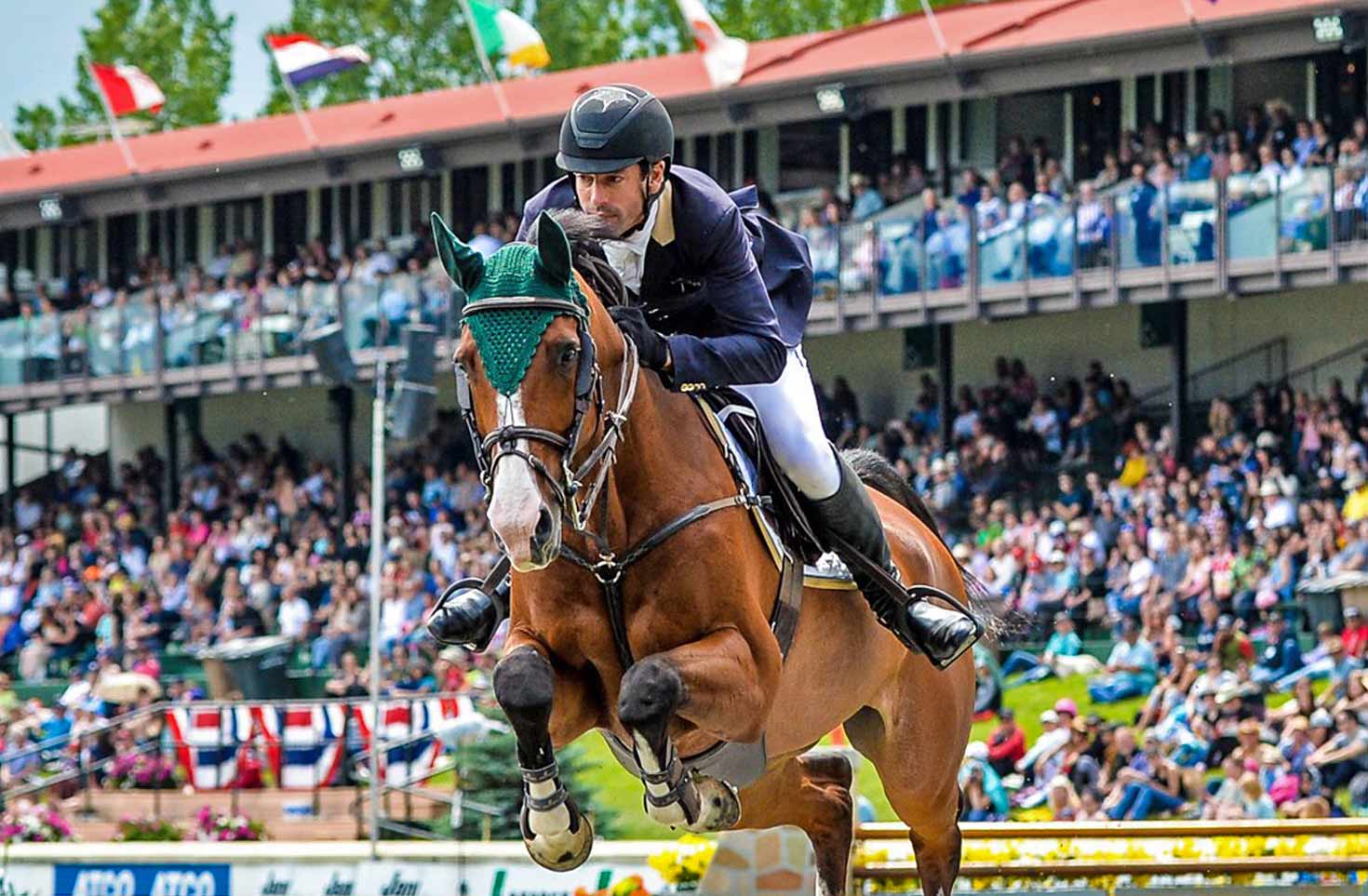 Rowan Willis and Everse W
SEPTEMBER 2019: Second in the  CP 'International' Grand Prix Spruce Meadows  –  Blue Movie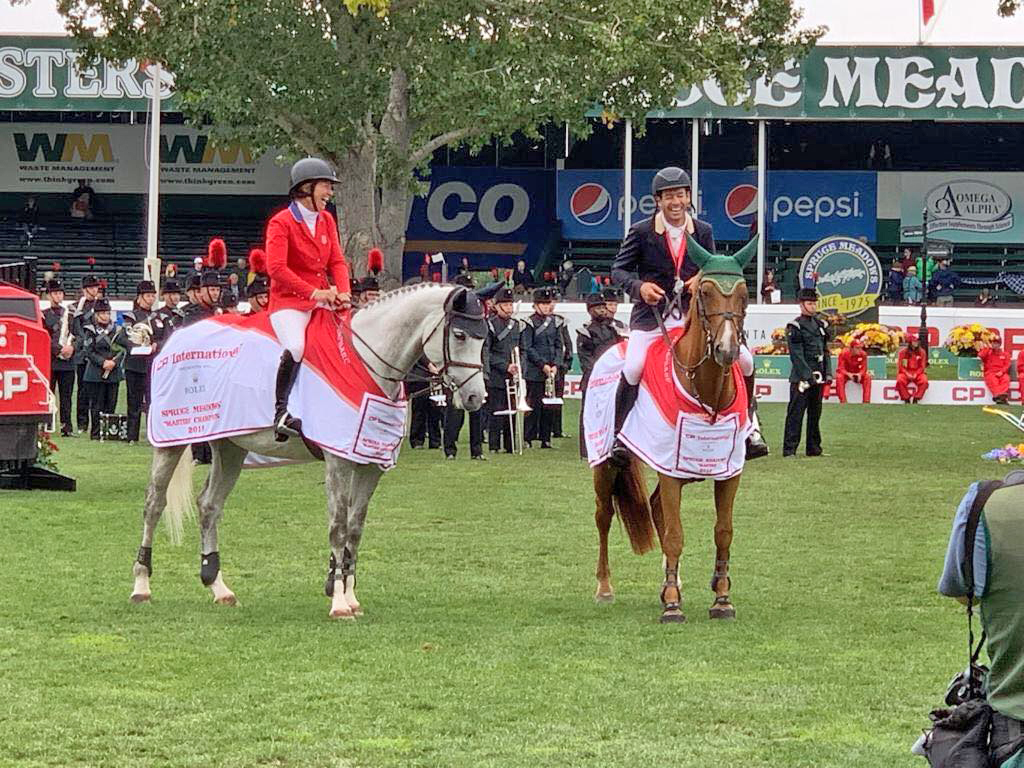 Rowan Willis and Blue Movie
OCTOBER 2019: Winner of 1.40m Winning Round Split Rock – Baccus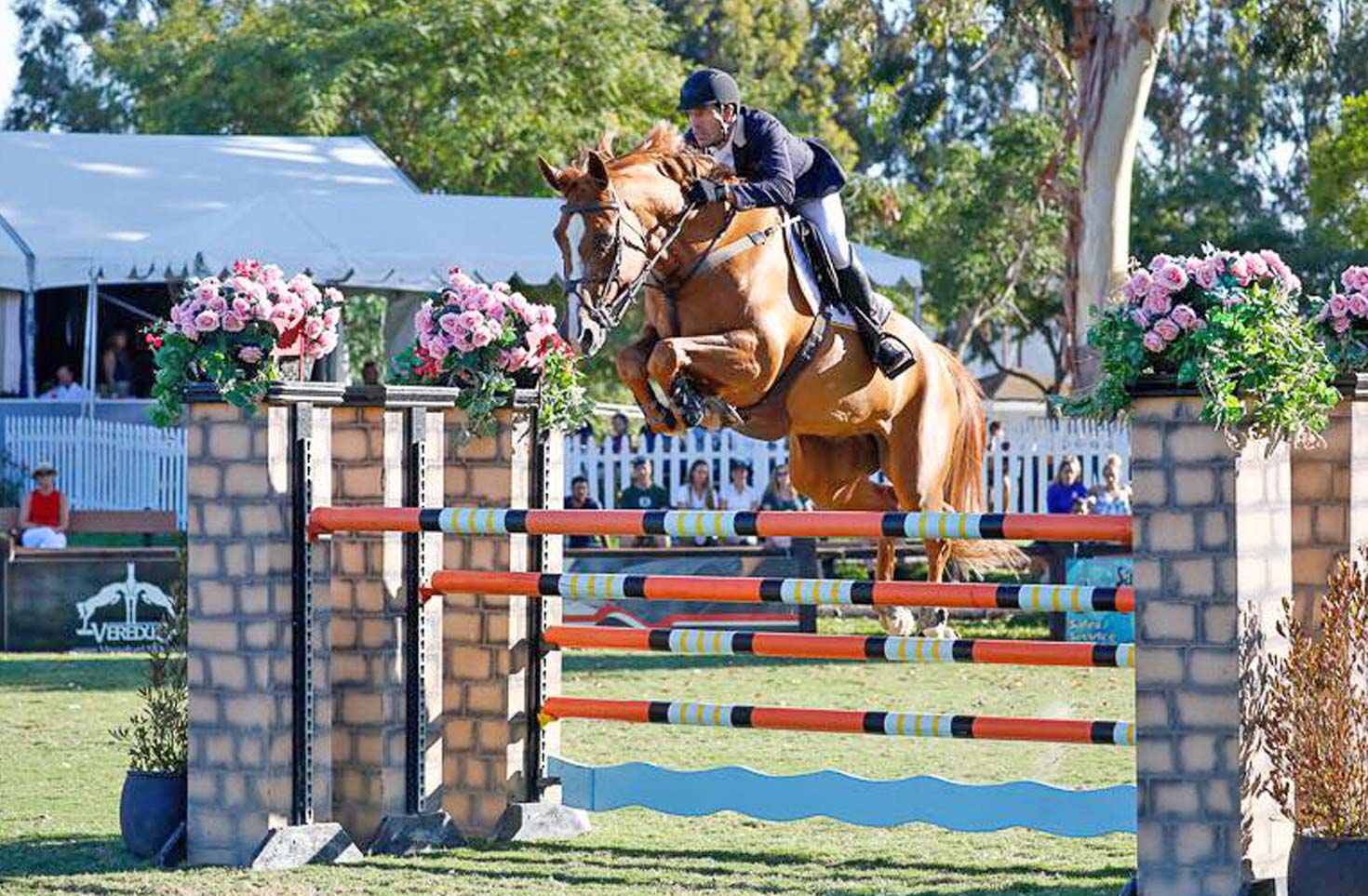 Rowan Willis and Baccus in Del Mar, Santiago in August this year. Image supplied

NOVEMBER 2019: Winner of the 1.50m Toronto CSI4*-W – Blue Movie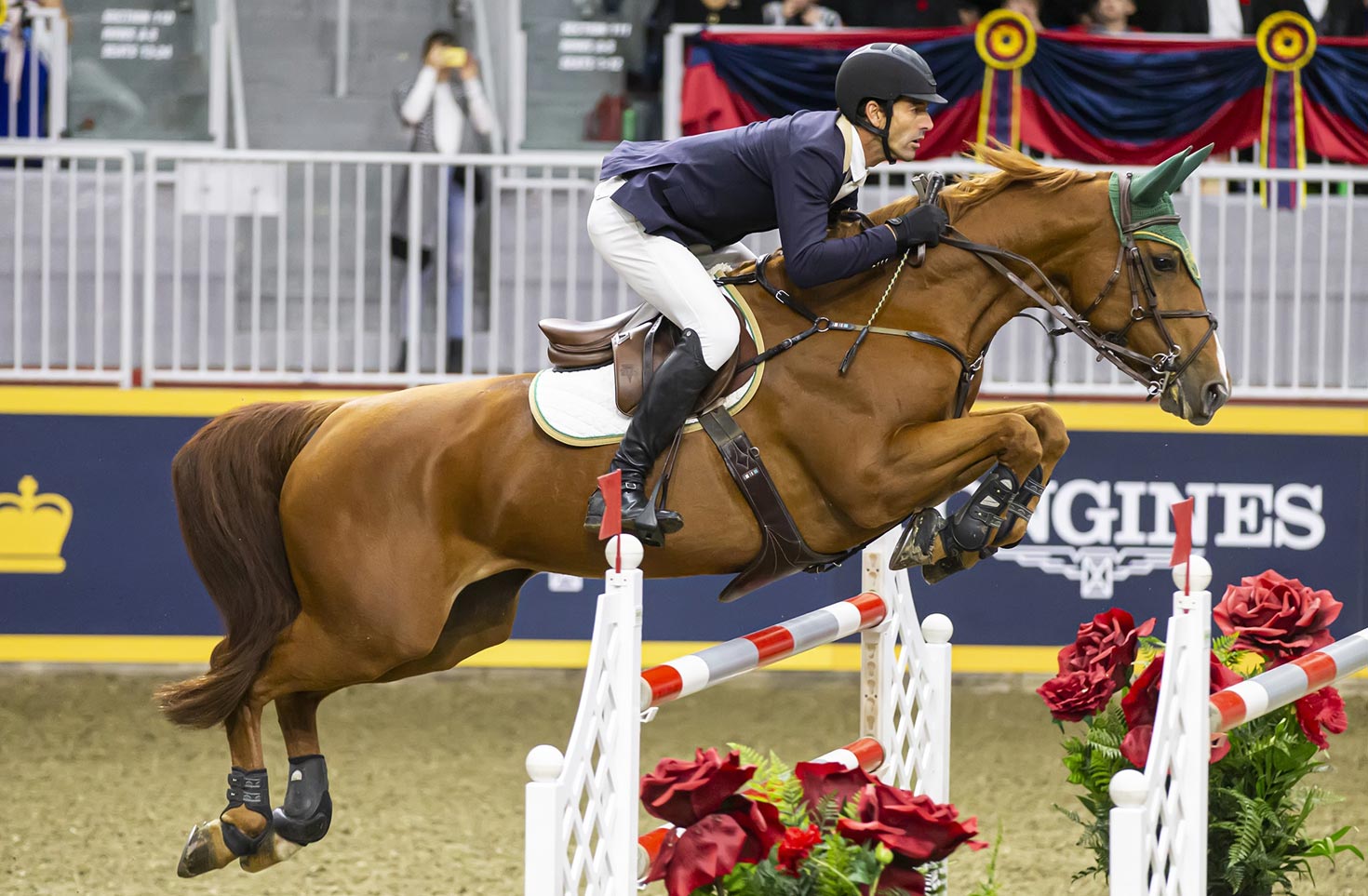 Rowan Willis and Blue Movie
Advertisement


DECEMBER 2019: Geneva CSI5* 1.55m Credit Suisse Challenge  – Blue Movie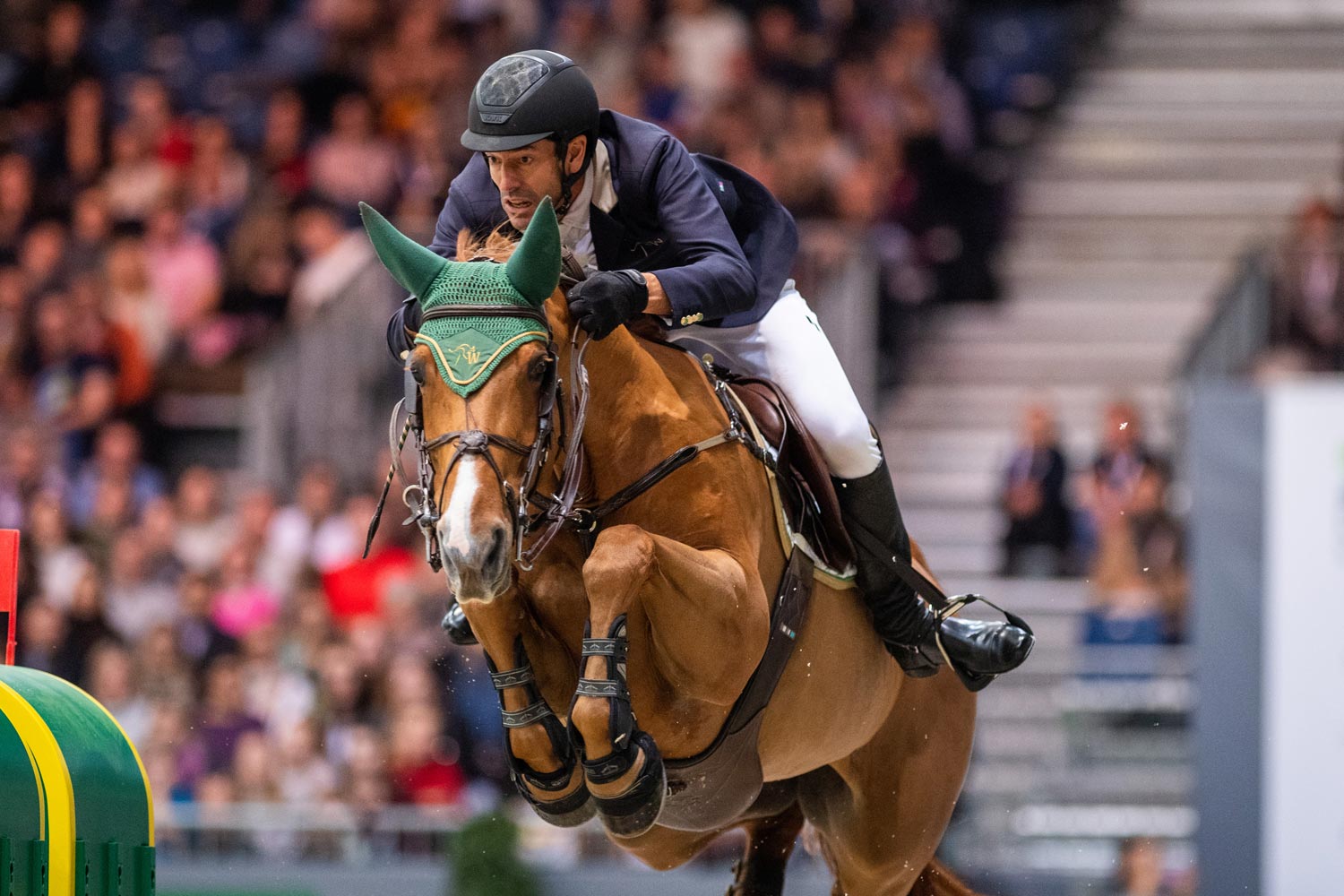 Rowan Willis and Blue Movie. Photo Credit Thomas Reiner.
Next year is going to be a big one as we head towards Tokyo 2020 and we wish Rowan all the best in his journey towards his goal of representing Australia at his first Olympic Games.
See below for Rowan's impressive list of FEI results from 2019:
| | | | | | | |
| --- | --- | --- | --- | --- | --- | --- |
| Date | Show | Event | Competition | Obs. Height | Horse | Position |
| 15/12/2019 | Geneva | CSI5* | Prix de l'Institut International de Lancy | 140 | Cartouch III | 4 |
| 15/12/2019 | Geneva | CSI5* | Rolex Grand Prix | 160 | Blue Movie | 24 |
| 14/12/2019 | Geneva | CSI5* | Coupe de Genève | 155 | Diablo Vii | 19 |
| 14/12/2019 | Geneva | CSI5* | Credit Suisse Challenge | 155 | Blue Movie | 1 |
| 13/12/2019 | Geneva | CSI5* | Prix des Communes Genevoises | 150 | Cartouch III | 50 |
| 12/12/2019 | Geneva | CSI5* | Prix des Vins de Genève | 145 | Blue Movie | 34 |
| 12/12/2019 | Geneva | CSI5* | Prix Radio Lac | 140 | Cartouch III | 42 |
| 12/12/2019 | Geneva | CSI5* | Trophée de Genève | 155 | Diablo Vii | 33 |
| 30/11/2019 | Wellington FL | CSI4* | Grand Prix Two Rounds | 160 | Diablo Vii | 5 |
| 29/11/2019 | Wellington FL | CSI4* | Table A | 150 | Cartouch III | 9 |
| 27/11/2019 | Wellington FL | CSI4* | Two Phases | 140 | Diablo Vii | 10 |
| 27/11/2019 | Wellington FL | CSI4* | Two Phases | 145 | Calisto 26 (imp) | |
| 09/11/2019 | Toronto ON | CSI4*-W | Table C | 140 | Calisto 26 (imp) | 6 |
| 09/11/2019 | Toronto ON | CSI4*-W | World Cup Table A | 160 | Blue Movie | 5 |
| 08/11/2019 | Toronto ON | CSI4*-W | Table A | 150 | Blue Movie | 1 |
| 07/11/2019 | Toronto ON | CSI4*-W | Table A | 145 | Calisto 26 (imp) | 3 |
| 07/11/2019 | Toronto ON | CSI4*-W | Table A | 155 | Cartouch III | 10 |
| 06/11/2019 | Toronto ON | CSI4*-W | Table A | 145 | Calisto 26 (imp) | 3 |
| 06/11/2019 | Toronto ON | CSI4*-W | Two Phases | 145 | Cartouch III | 8 |
| 02/11/2019 | Lexington, Horse Park KY | CSI4*-W | World Cup Table A | 150-160 | Blue Movie | 5 |
| 01/11/2019 | Lexington, Horse Park KY | CSI4*-W | Accumulator | 145 | Wellington Grandorie | 5 |
| 31/10/2019 | Lexington, Horse Park KY | CSI4*-W | Table A | 150-155 | Blue Movie | 23 |
| 31/10/2019 | Lexington, Horse Park KY | CSI4*-W | Table C | 145 | Wellington Grandorie | 12 |
| 30/10/2019 | Lexington, Horse Park KY | CSI4*-W | Table A | 145 | Wellington Grandorie | 31 |
| 26/10/2019 | Washington DC | CSI4*-W | World Cup Table A | 140-160 | Diablo Vii | 15 |
| 25/10/2019 | Washington DC | CSI4*-W | Table C | 150 | Everse W | 2 |
| 24/10/2019 | Washington DC | CSI4*-W | Winning Round | 150 | Diablo Vii | 23 |
| 24/10/2019 | Washington DC | CSI4*-W | Accumulator | 145 | Everse W | 18 |
| 20/10/2019 | Tryon NC | CSI5* | Table A | 150 | Cartouch III | 45 |
| 19/10/2019 | Tryon NC | CSI5* | Grand Prix Table A | 160 | Blue Movie | 16 |
| 17/10/2019 | Tryon NC | CSI5* | Table A | 150 | Diablo Vii | 3 |
| 17/10/2019 | Tryon NC | CSI5* | Table A | 150 | Cartouch III | 40 |
| 16/10/2019 | Tryon NC | CSI5* | Two Phases | 145 | Blue Movie | 56 |
| 16/10/2019 | Tryon NC | CSI5* | Two Phases | 145 | Cartouch III | 87 |
| 12/10/2019 | Tryon NC | CSI3* | Table A | 150 | Diablo Vii | 3 |
| 10/10/2019 | Tryon NC | CSI3* | Table A | 145 | Everse W | 59 |
| 09/10/2019 | Tryon NC | CSI3* | Two Phases | 140 | Diablo Vii | 50 |
| 06/10/2019 | Columbus – Johnstown, OH | CSI3*-W | World Cup Table A | 160 | Diablo Vii | 14 |
| 04/10/2019 | Columbus – Johnstown, OH | CSI3*-W | Table A | 150 | Diablo Vii | 9 |
| 03/10/2019 | Columbus – Johnstown, OH | CSI3*-W | Table A | 145 | Diablo Vii | |
| 29/09/2019 | Columbus – Johnstown, OH | CSI2* | Grand Prix Table A | 145 | Wellington Grandorie | 22 |
| 29/09/2019 | Columbus – Johnstown, OH | CSI2* | Grand Prix Table A | 145 | Everse W | 29 |
| 27/09/2019 | Columbus – Johnstown, OH | CSI2* | Table A | 145 | Wellington Grandorie | 45 |
| 27/09/2019 | Columbus – Johnstown, OH | CSI2* | Table A | 145 | Everse W | |
| 26/09/2019 | Columbus – Johnstown, OH | CSI2* | Table A | 140 | Everse W | 18 |
| 26/09/2019 | Columbus – Johnstown, OH | CSI2* | Table A | 140 | Wellington Grandorie | 43 |
| 08/09/2019 | Calgary, Spruce Meadows AB | CSIO5* | Two Rounds | 160 | Blue Movie | 2 |
| 06/09/2019 | Calgary, Spruce Meadows AB | CSIO5* | One Jump Off | 160 | Diablo Vii | 12 |
| 05/09/2019 | Calgary, Spruce Meadows AB | CSIO5* | One Jump Off | 150 | Everse W | 27 |
| 05/09/2019 | Calgary, Spruce Meadows AB | CSIO5* | One Jump Off | 160 | Diablo Vii | 2 |
| 04/09/2019 | Calgary, Spruce Meadows AB | CSIO5* | One Jump Off | 150 | Everse W | 59 |
| 04/09/2019 | Calgary, Spruce Meadows AB | CSIO5* | One Jump Off | 160 | Diablo Vii | 8 |
| 04/09/2019 | Calgary, Spruce Meadows AB | CSIO5* | One Jump Off | 160 | Blue Movie | 13 |
| 25/08/2019 | Vancouver – Langley BC | CSI4*-W | World Cup Table A | 140-160 | Diablo Vii | 11 |
| 24/08/2019 | Vancouver – Langley BC | CSI4*-W | Winning Round | 145 | Everse W | 2 |
| 24/08/2019 | Vancouver – Langley BC | CSI4*-W | Winning Round | 145 | Diablo Vii | |
| 23/08/2019 | Vancouver – Langley BC | CSI4*-W | Table A | 150 | Blue Movie | 43 |
| 23/08/2019 | Vancouver – Langley BC | CSI4*-W | Table A | 150 | Everse W | 51 |
| 22/08/2019 | Vancouver – Langley BC | CSI4*-W | Table A | 140 | Diablo Vii | 46 |
| 21/08/2019 | Vancouver – Langley BC | CSI4*-W | Table A | 150 | Blue Movie | 9 |
| 21/08/2019 | Vancouver – Langley BC | CSI4*-W | Table A | 150 | Diablo Vii | 31 |
| 21/08/2019 | Vancouver – Langley BC | CSI4*-W | Table A | 150 | Everse W | |
| 18/08/2019 | Vancouver – Langley BC | CSI3* | Grand Prix Table A | 150 | Blue Movie | 11 |
| 17/08/2019 | Vancouver – Langley BC | CSI3* | Winning Round | 145 | Everse W | 2 |
| 17/08/2019 | Vancouver – Langley BC | CSI3* | Winning Round | 145 | Baccus | 4 |
| 16/08/2019 | Vancouver – Langley BC | CSI3* | Table A | 150 | Baccus | 20 |
| 16/08/2019 | Vancouver – Langley BC | CSI3* | Table A | 150 | Everse W | |
| 15/08/2019 | Vancouver – Langley BC | CSI3* | Table A | 140 | Blue Movie | 24 |
| 14/08/2019 | Vancouver – Langley BC | CSI3* | Table A | 145 | Everse W | 35 |
| 03/08/2019 | Del Mar, Horse Park CA | CSI2* | Grand Prix Table A | 145 | Baccus | 3 |
| 01/08/2019 | Del Mar, Horse Park CA | CSI2* | Table A | 145 | Baccus | 10 |
| 27/07/2019 | Del Mar, Horse Park CA | CSI2* | Grand Prix Table A | 145 | Baccus | 8 |
| 27/07/2019 | Del Mar, Horse Park CA | CSI2* | Table A | 135 | Zipiro | 33 |
| 25/07/2019 | Del Mar, Horse Park CA | CSI2* | Table A | 145 | Baccus | 4 |
| 25/07/2019 | Del Mar, Horse Park CA | CSI2* | Table A | 145 | Zipiro | 27 |
| 24/07/2019 | Del Mar, Horse Park CA | CSI2* | Two Phases | 140 | Baccus | 18 |
| 24/07/2019 | Del Mar, Horse Park CA | CSI2* | Two Phases | 140 | Zipiro | 19 |
| 07/07/2019 | Calgary, Spruce Meadows AB | CSI5* | One Jump Off | 150 | Everse W | 1 |
| 07/07/2019 | Calgary, Spruce Meadows AB | CSI5* | One Jump Off | 150 | Zipiro | 13 |
| 07/07/2019 | Calgary, Spruce Meadows AB | CSIYH1* incl. 8yo | Table A | 145 | Wellington Grandorie | 1 |
| 06/07/2019 | Calgary, Spruce Meadows AB | CSI5* | Winning Round | 150 | Blue Movie | 4 |
| 04/07/2019 | Calgary, Spruce Meadows AB | CSI5* | One Jump Off | 155 | Zipiro | 65 |
| 04/07/2019 | Calgary, Spruce Meadows AB | CSI5* | One Round | 150 | Blue Movie | 2 |
| 04/07/2019 | Calgary, Spruce Meadows AB | CSIYH1* incl. 8yo | Two Phases | 145 | Wellington Grandorie | 2 |
| 03/07/2019 | Calgary, Spruce Meadows AB | CSIYH1* incl. 8yo | One Round | 145 | Wellington Grandorie | 20 |
| 03/07/2019 | Calgary, Spruce Meadows AB | CSI5* | One Round | 150 | Zipiro | 66 |
| 03/07/2019 | Calgary, Spruce Meadows AB | CSI5* | Table A | 145 | Everse W | 41 |
| 30/06/2019 | Calgary, Spruce Meadows AB | CSI5* | One Jump Off | 145 | Baccus | 38 |
| 30/06/2019 | Calgary, Spruce Meadows AB | CSI5* | One Jump Off | 145 | Everse W | 69 |
| 30/06/2019 | Calgary, Spruce Meadows AB | CSI5* | One Jump Off | 160 | Zipiro | 38 |
| 29/06/2019 | Calgary, Spruce Meadows AB | CSI5* | One Jump Off | 150 | Everse W | 27 |
| 29/06/2019 | Calgary, Spruce Meadows AB | CSI5* | One Jump Off | 150 | Baccus | 31 |
| 29/06/2019 | Calgary, Spruce Meadows AB | CSIYH1* incl. 8yo | Two Phases | 145 | Wellington Grandorie | 13 |
| 28/06/2019 | Calgary, Spruce Meadows AB | CSI5* | One Jump Off | 155 | Zipiro | 55 |
| 28/06/2019 | Calgary, Spruce Meadows AB | CSIYH1* incl. 8yo | Two Phases | 145 | Wellington Grandorie | 18 |
| 27/06/2019 | Calgary, Spruce Meadows AB | CSI5* | One Round | 150 | Zipiro | 10 |
| 27/06/2019 | Calgary, Spruce Meadows AB | CSIYH1* incl. 8yo | Table A | 145 | Wellington Grandorie | 2 |
| 27/06/2019 | Calgary, Spruce Meadows AB | CSI5* | Two Phases | 145 | Everse W | 11 |
| 27/06/2019 | Calgary, Spruce Meadows AB | CSI5* | Two Phases | 145 | Baccus | 40 |
| 22/06/2019 | Calgary, Anderson Ranch AB | CSI2* | Grand Prix Table A | 145 | Zipiro | 7 |
| 16/06/2019 | Calgary, Spruce Meadows AB | CSIYH1* incl. 8yo | One Jump Off | 135-140 | Wellington Grandorie | 29 |
| 16/06/2019 | Calgary, Spruce Meadows AB | CSI5* | One Jump Off | 160 | Blue Movie | 6 |
| 15/06/2019 | Calgary, Spruce Meadows AB | CSI5* | One Jump Off | 150 | Zipiro | 18 |
| 15/06/2019 | Calgary, Spruce Meadows AB | CSI5* | One Jump Off | 150 | Diablo Vii | 31 |
| 15/06/2019 | Calgary, Spruce Meadows AB | CSI5* | One Round | 145 | Baccus | 22 |
| 15/06/2019 | Calgary, Spruce Meadows AB | CSI5* | One Round | 145 | Everse W | 27 |
| 14/06/2019 | Calgary, Spruce Meadows AB | CSI5* | One Jump Off | 155 | Diablo Vii | 53 |
| 14/06/2019 | Calgary, Spruce Meadows AB | CSI5* | One Jump Off | 155 | Zipiro | 54 |
| 14/06/2019 | Calgary, Spruce Meadows AB | CSI5* | One Jump Off | 145 | Everse W | 19 |
| 14/06/2019 | Calgary, Spruce Meadows AB | CSIYH1* incl. 8yo | Two Phases | 135-140 | Wellington Grandorie | 6 |
| 13/06/2019 | Calgary, Spruce Meadows AB | CSI5* | One Jump Off | 150 | Everse W | 49 |
| 13/06/2019 | Calgary, Spruce Meadows AB | CSI5* | One Jump Off | 150 | Zipiro | 50 |
| 13/06/2019 | Calgary, Spruce Meadows AB | CSIYH1* incl. 8yo | One Round | 135-140 | Wellington Grandorie | 8 |
| 13/06/2019 | Calgary, Spruce Meadows AB | CSI5* | Two Phases | 145 | Baccus | 6 |
| 13/06/2019 | Calgary, Spruce Meadows AB | CSI5* | Two Phases | 145 | Blue Movie | 35 |
| 09/06/2019 | Calgary, Spruce Meadows AB | CSIYH1* incl. 8yo | Table A | 135 | Wellington Grandorie | 15 |
| 09/06/2019 | Calgary, Spruce Meadows AB | CSI5* | Table A | 150 | Everse W | 50 |
| 09/06/2019 | Calgary, Spruce Meadows AB | CSI5* | Table C | 150 | Zipiro | 18 |
| 08/06/2019 | Calgary, Spruce Meadows AB | CSI5* | Grand Prix Table A | 160 | Blue Movie | 28 |
| 08/06/2019 | Calgary, Spruce Meadows AB | CSI5* | Winning Round | 145 | Everse W | 20 |
| 07/06/2019 | Calgary, Spruce Meadows AB | CSI5* | Table A | 150 | Zipiro | 7 |
| 07/06/2019 | Calgary, Spruce Meadows AB | CSIYH1* incl. 8yo | Two Phases | 135-140 | Wellington Grandorie | 25 |
| 06/06/2019 | Calgary, Spruce Meadows AB | CSI5* | Table A | 145 | Everse W | 7 |
| 06/06/2019 | Calgary, Spruce Meadows AB | CSI5* | Table A | 145 | Zipiro | 36 |
| 06/06/2019 | Calgary, Spruce Meadows AB | CSI5* | Table A | 155 | Diablo Vii | 3 |
| 06/06/2019 | Calgary, Spruce Meadows AB | CSI5* | Table A | 155 | Blue Movie | 12 |
| 05/06/2019 | Calgary, Spruce Meadows AB | CSI5* | One Round | 150 | Diablo Vii | 2 |
| 05/06/2019 | Calgary, Spruce Meadows AB | CSI5* | One Round | 150 | Blue Movie | |
| 05/06/2019 | Calgary, Spruce Meadows AB | CSIYH1* incl. 8yo | Table A | 135-140 | Wellington Grandorie | 3 |
| 05/06/2019 | Calgary, Spruce Meadows AB | CSI5* | Two Phases | 145 | Everse W | 54 |
| 05/06/2019 | Calgary, Spruce Meadows AB | CSI5* | Two Phases | 145 | Zipiro | 67 |
| 26/05/2019 | Chengdu | CSI2*-W | Special | 120 | Casimir 155 | 3 |
| 26/05/2019 | Chengdu | CSI2*-W | Team | 110 | Casimir 155 | 2 |
| 25/05/2019 | Chengdu | CSI2*-W | Table A | 145 | Casper B | |
| 25/05/2019 | Chengdu | CSI2*-W | Table C | 120 | Casimir 155 | 15 |
| 24/05/2019 | Chengdu | CSI2*-W | Table A | 140 | Casper B | 9 |
| 18/05/2019 | Lexington, Horse Park KY | CSI3* | Grand Prix Table A | 150 | Zipiro | 27 |
| 16/05/2019 | Lexington, Horse Park KY | CSI3* | Table A | 145 | Zipiro | 12 |
| 16/05/2019 | Lexington, Horse Park KY | CSI3* | Table A | 145 | Everse W | 44 |
| 15/05/2019 | Lexington, Horse Park KY | CSI3* | Table A | 145 | Zipiro | 18 |
| 15/05/2019 | Lexington, Horse Park KY | CSI3* | Table A | 145 | Everse W | 32 |
| 27/04/2019 | Lexington, Horse Park KY | CSI3* | Table A | 160 | Blue Movie | 3 |
| 26/04/2019 | Lexington, Horse Park KY | CSI3* | Table A | 145 | Blue Movie | 6 |
| 20/04/2019 | Miami FL | CSI5* GCT/GCL | Grand Prix Table A | 160 | Blue Movie | 17 |
| 20/04/2019 | Miami FL | CSI5* GCT/GCL | Table A | 155-160 | Blue Movie | 18 |
| 19/04/2019 | Miami FL | CSI5* GCT/GCL | Table A | 150 | Diablo Vii | 22 |
| 18/04/2019 | Miami FL | CSI5* GCT/GCL | Two Phases | 145 | Diablo Vii | 10 |
| 18/04/2019 | Miami FL | CSI5* GCT/GCL | Two Phases | 145 | Blue Movie | |
| 30/03/2019 | Wellington FL | CSI5* | Grand Prix Table A | 160 | Diablo Vii | 28 |
| 28/03/2019 | Wellington FL | CSI5* | Table A | 155 | Diablo Vii | 32 |
| 27/03/2019 | Wellington FL | CSI5* | Two Phases | 140 | Diablo Vii | |
| 10/03/2019 | Ocala, Live Oak Plantation FL | CSI3*-W | World Cup Table A | 160 | Everse W | |
| 09/03/2019 | Ocala, Live Oak Plantation FL | CSI3*-W | Table A | 150 | Baccus | |
| 08/03/2019 | Ocala, Live Oak Plantation FL | CSI3*-W | Table A | 150 | Everse W | 43 |
| 08/03/2019 | Ocala, Live Oak Plantation FL | CSI3*-W | Two Phases | 140 | Baccus | 4 |
| 03/03/2019 | Wellington FL | CSIO4* | Grand Prix Table A | 160 | Everse W | |
| 01/03/2019 | Wellington FL | CSIO4* | Table A | 145 | Baccus | |
| 28/02/2019 | Wellington FL | CSIO4* | Table A | 150 | Everse W | 9 |
| 27/02/2019 | Wellington FL | CSIO4* | Table A | 145 | Baccus | 28 |
| 27/02/2019 | Wellington FL | CSIO4* | Table A | 145 | Everse W | |
| 23/02/2019 | Wellington FL | CSI5* | Grand Prix Table A | 160 | Blue Movie | 10 |
| 20/02/2019 | Wellington FL | CSI5* | Table A | 155 | Blue Movie | 19 |
| 15/02/2019 | Wellington FL – Deeridge Farm | CSIO5*-NC NAm | Grand Prix Table A | 160 | Blue Movie | 32 |
| 15/02/2019 | Wellington FL – Deeridge Farm | CSIO5*-NC NAm | Table A | 140 | Baccus | 21 |
| 14/02/2019 | Wellington FL – Deeridge Farm | CSIO5*-NC NAm | Table A | 145 | Baccus | 28 |
| 13/02/2019 | Wellington FL – Deeridge Farm | CSIO5*-NC NAm | Table A | 140 | Blue Movie | 8 |
| 02/02/2019 | Wellington FL | CSI4* | Grand Prix Table A | 160 | Blue Movie | 15 |
| 31/01/2019 | Wellington FL | CSI4* | Table A | 155 | Blue Movie | 6 |
View Comments