Russell Johnstone and Daprice soar to Adelaide World Cup victory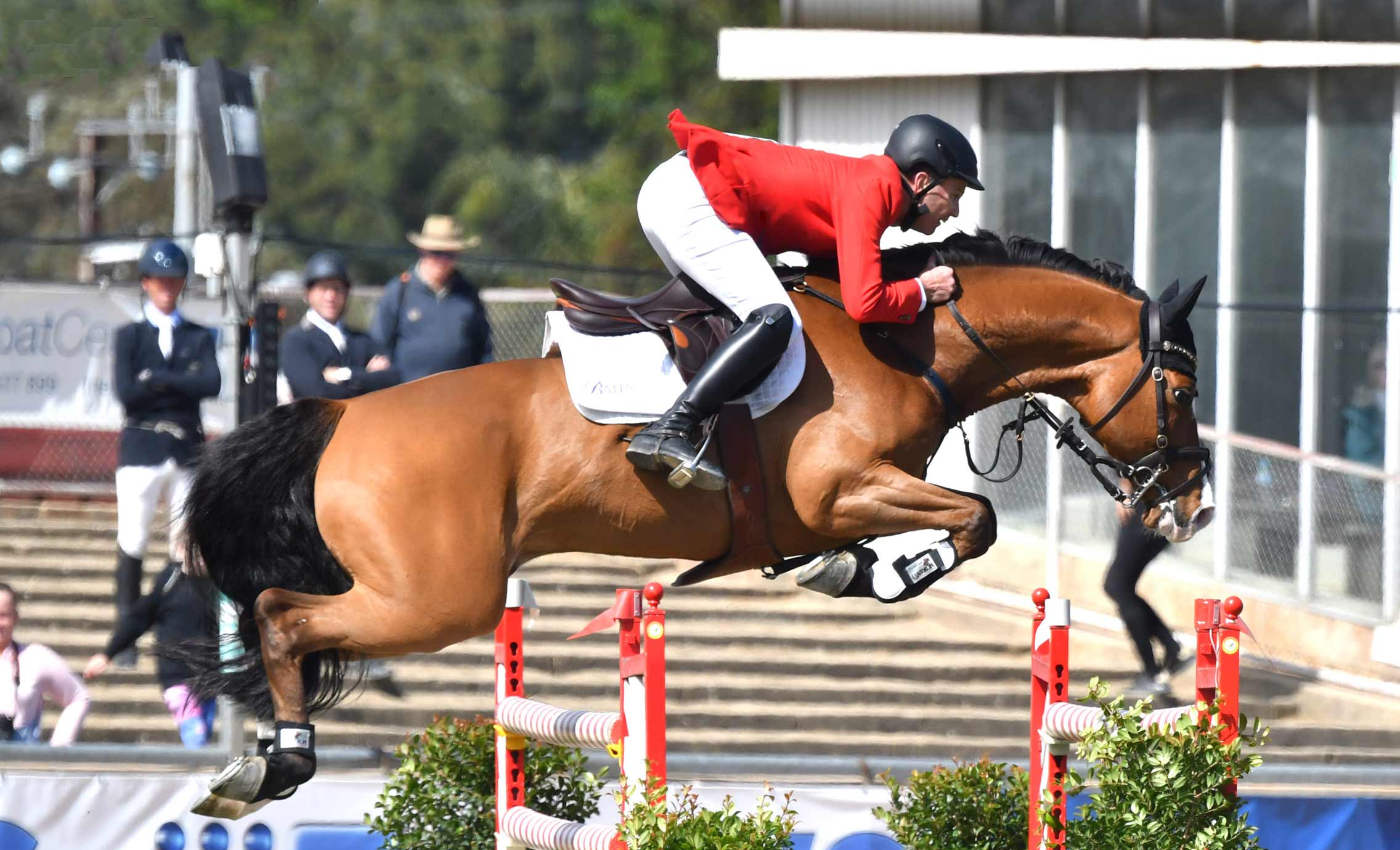 Julie Wilson
The fourth event in the Australian World Cup Qualifying Series for 2019-20 was held this afternoon at the Royal Adelaide Show. Sponsored by Princess Royal Station, eighteen high class combinations tackled a challenging course designed by Dutch course designer Louis Konickx, who attended straight from working at the recent European Championships.
Advertisement

First to attempt the course was the experienced Russell Johnstone with Daprice, who went clear in 88.39 seconds. We saw the next five combinations all take at least one rail, so it wasn't until local pair Jessica Barton and Celso, came out, that we saw the next clear round. They completed the course quicker than Johnstone to take the lead in Round One. By the end of Round One, we had seen a further four clears, recorded by equine dentist James Harvey and Tyrone VDL, Rhys Stones and Tulara Colmar, Stephen Dingwall and Cavalier Du Rouet and the youngest rider in the field, 20-year-old Erin Buswell with her lovely little gelding Quero Quero.
Twelve combinations were invited back to compete in Round Two. The six clear combinations were joined by four 4-faulters, Adam Metcalfe and MEC Aston, Jess Stones and Diamond B Vermont, Matthew Afford and Kaluna Salute and Brook Dobbin with Gina MVNZ, and the two fastest 8-faulters, current second place holder in the Series, Billy Raymont and Anton and another local pairing of Briony Temby and Fieldbrook Corunia.
With faults from Round One being carried forward to Round Two, it meant that ten combinations were within one rail of the lead and the spectators knew that it was going to be an enthralling Round Two.
First out was Briony Temby and Fieldbrook Corunia, however, a couple of refusals saw them eliminated from the competition. Billy Raymont and Anton, who had won Round Three, less than a fortnight ago at the Waratah Showjumping event were next, however a further two rails meant a total of 16 penalties which put them out of contention.
First of the 4-faulters on course was Brook Dobbin and Gina MVNZ, who took rails to add to their Round One total. Winners of the World Cup Qualifier at the Adelaide 3DE last year, Adam Metcalfe and MEC Aston were next. They went clear in 66.64 seconds to finish with 4 faults and sit clearly in the lead with eight combinations to come.
Neither of the remaining four-faulters, Matthew Afford and Kaluna Salute, who placed second in this event last year and Jess Stones with Diamond B Vermont, were able to go clear, thereby leaving Metcalfe in the lead on 4 penalties.
The first of the Round One clears to chase Metcalfe was Erin Buswell and Quero Quero. The took two rails and a time penalty, which saw their chances of victory evaporate. Next was Rhys Stones and the stallion, Tulara Colmar. They looked like going clear until the second last jump, however just the single rail and a time almost 2.5 seconds quicker then Metcalfe, allowed them to take the lead. Stephen Dingwall and Cavalier Du Rouet saw their chance of double clear disappear early with a rail at the second jump, however no further issues and a time of 64.89 seconds saw them slot into provisional second place.
Next to tackle the track was Russell Johnstone and Daprice. Johnstone drew on all his experience to get around the tough Round Two course clear, to record the only double clear to date and propel them into the lead. With only two combinations to come, Johnstone had at least secured a place on the podium, with only clear rounds by either of these able to challenge him.
Second last on course was James Harvey and Tyrone VDL. They attacked the course, finishing some 5 seconds faster than Johnstone, however, it was a single rail at the second last jump which meant they had to settle behind Johnstone.
The last pair of Jessica Barton and Celso were the only ones standing between Johnstone and victory. Unfortunately for Barton, they took a rail in the process of completing the course in a very fast time, which was good enough to secure second place.
Congratulations goes to Russell Johnstone and Daprice for taking out the fourth round of the Australian World Cup Qualifying Series for 2019-20. As the sole competitors to achieve double clear they are deserved winners. We look forward to the fifth round of the series to be held at the Royal Melbourne Show at the end of September.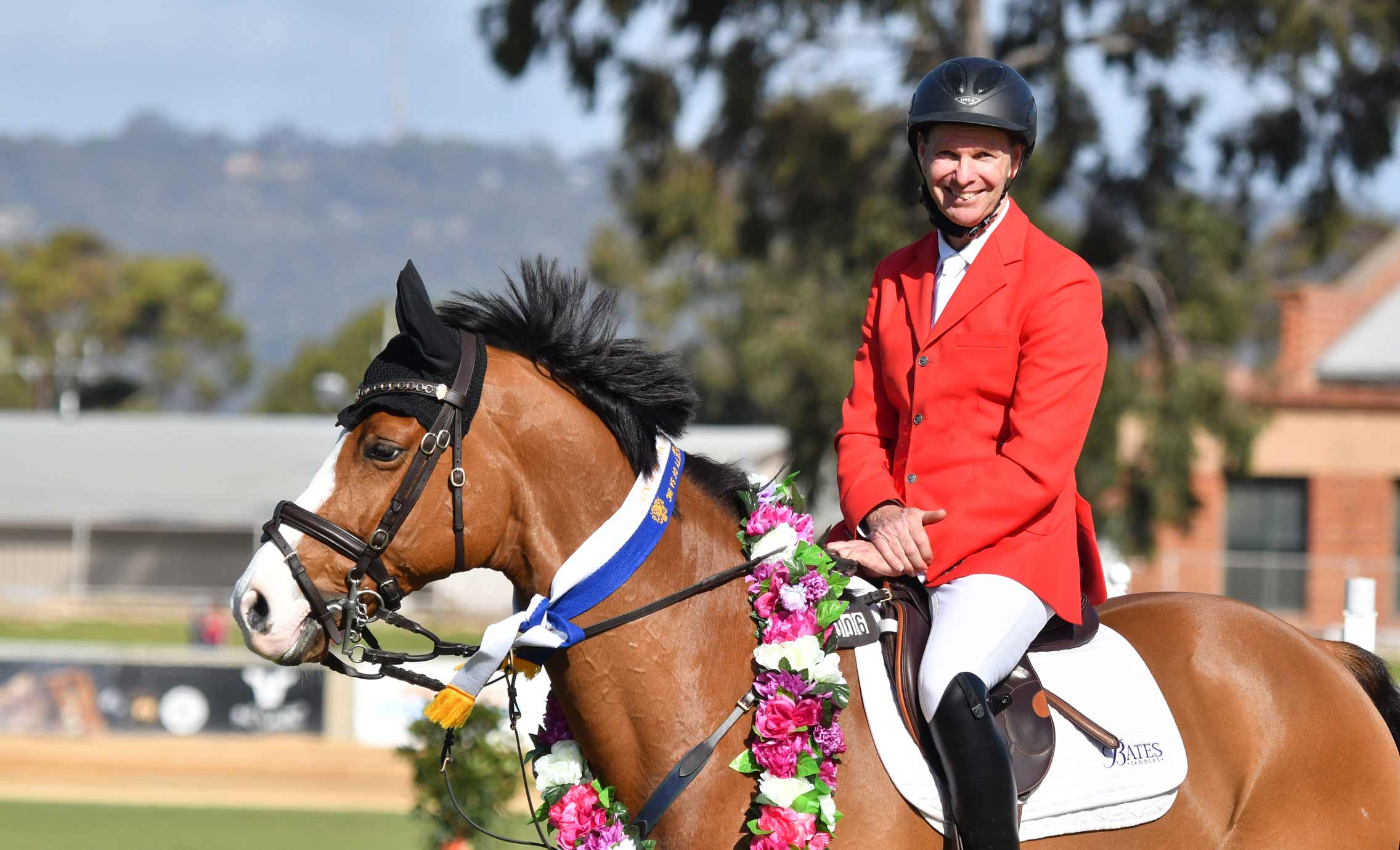 Russell Johnstone and Daprice
The full placings from this class are listed below*:
| | | |
| --- | --- | --- |
| PLACE | RIDER | HORSE |
| 1st | Russell Johnstone | Daprice |
| 2nd | Jessica Barton | Celso |
| 3rd | James Harvey | Tyrone VDL |
| 4th | Rhys Stones | Tulara Colmar |
| 5th | Stephen Dingwall | Cavalier Du Rouet |
| 6th | Adam Metcalfe | MEC Aston |
| 7th | Brook Dobbin | Gina MVNZ |
| 8th | Jessica Stones | Diamond B Vermont |
| 9th | Erin Buswell | Quero Quero |
| 10th | Billy Raymont | Anton |
| 11th | Matthew Afford | Kaluna Salute |
| 12th | Briony Temby | Fieldbrook Corunia |
*Final placings 9th to 12th not official at time of publishing
Advertisement

View Comments