Senior Riders take over the Sydney Royal Jumping Program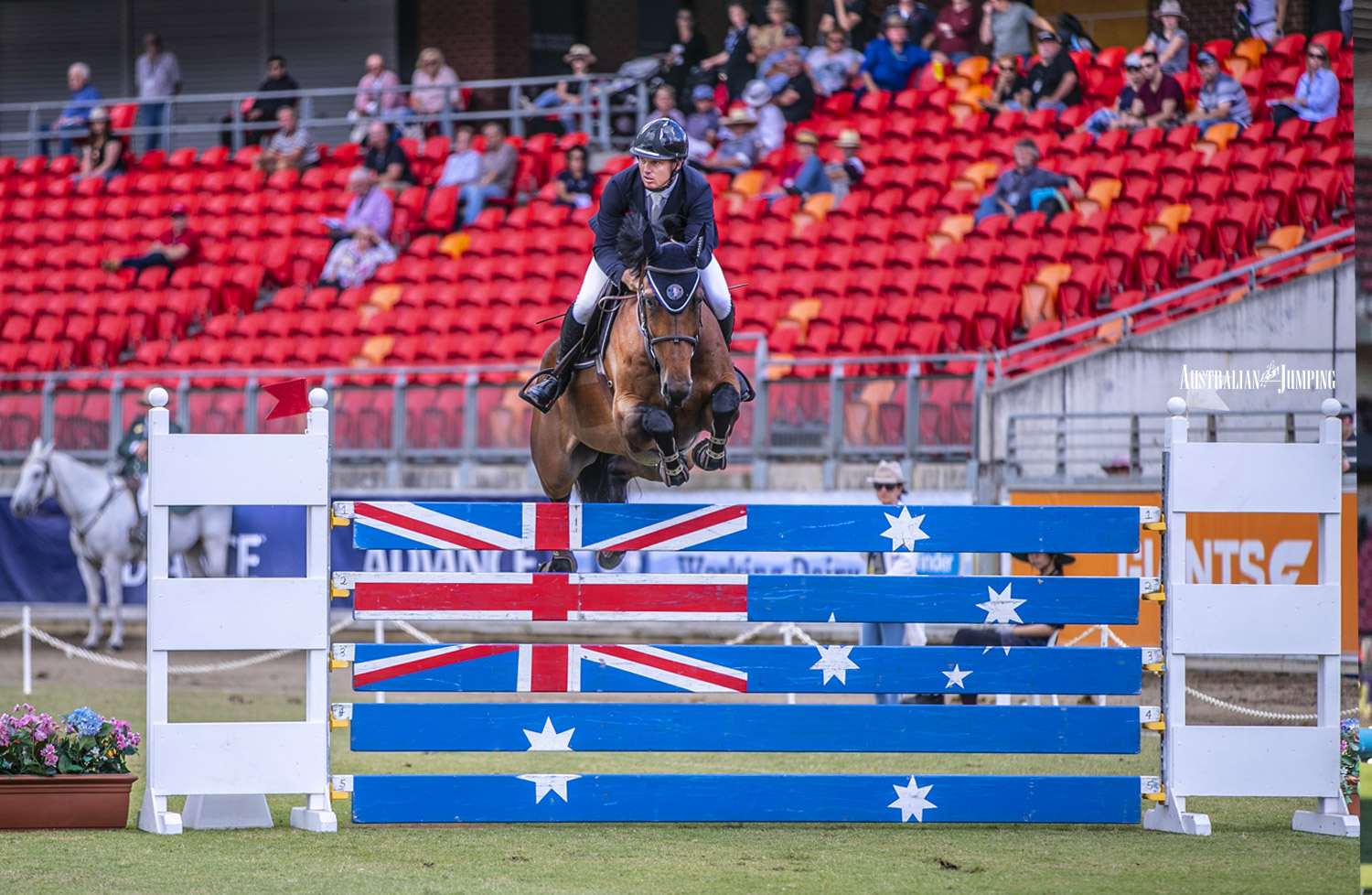 Australian Jumping
Above: Jamie Kermond and MS Galliano
Yesterday was Day 6 of the Jumping program at the Sydney Royal Easter Show and it was the first day that there were three classes of competition scheduled. Last week we witnessed the best of the Junior and Young Riders perform, while this week the program switched over to Sections 1, 2 and 3 of the Seniors competition. For the competitors in Sections 2 and 3, Day 6 was their first outing in the arena, however, the Section 1 combinations held their first round of competition on Monday, with the placegetters as follows:
CLASS 856: Section 1 Competition – Round 1 (238.2.1)
| | | |
| --- | --- | --- |
| PLACE | RIDER | HORSE |
| 1st | Tom McDermott | Elegance De La Charmille |
| 2nd | Russell Johnstone | Daprice |
| 3rd | Jamie Kermond | Yandoo Oaks Constellation |
| 4th | Izabella Stone | Lincoln MVNZ |
| 5th | Stephen Dingwall | Cavalier Du Rouet |
By taking the win, the owners of Elegance De La Charmille, Tom and his parents Greg and Jenny McDermott, were awarded The Bob Chittick Memorial Perpetual Cup, which was donated by the late T A Field and Mr R A Field and Tom was awarded a medallion for the rider of the winning horse in Class 856 (supported by the Royal Agricultural Society of NSW).  It was a great way for McDermott from Mulgoa, near Penrith, to start off the Senior program at the Show and sets him up for a successful week.
Advertisement

The first class on the main arena on Tuesday was for the Section 2 combinations, of which there were 33 entered and although in a speed class clear rounds are not an imperative, with the competition so hot it would have been hard to imagine that anything other than a clear round would be competitive.
The first clear round in the competition was achieved by Victorian visitor Brook Dobbin and Gabriel MVNZ, with a time of 67.71 seconds. Their time in the lead was short lived however, when the next combination out of Jamie Kermond and MS Galliano, from Ebenezer also went clear, in 65.40 seconds.
A new combination were next out and they quickly got the attention of the crowd and the rest of the competition alike. Black Jack IXE, a lovely black Stallion, was formerly ridden by Brook Langbecker, but was a recent purchase by Queensland visitor, Billy Raymont who combined with him to go clear in 62.85 seconds. It was going to take a fantastic effort for any of the combinations following them to snatch the lead and that fantastic effort was delivered shortly afterwards.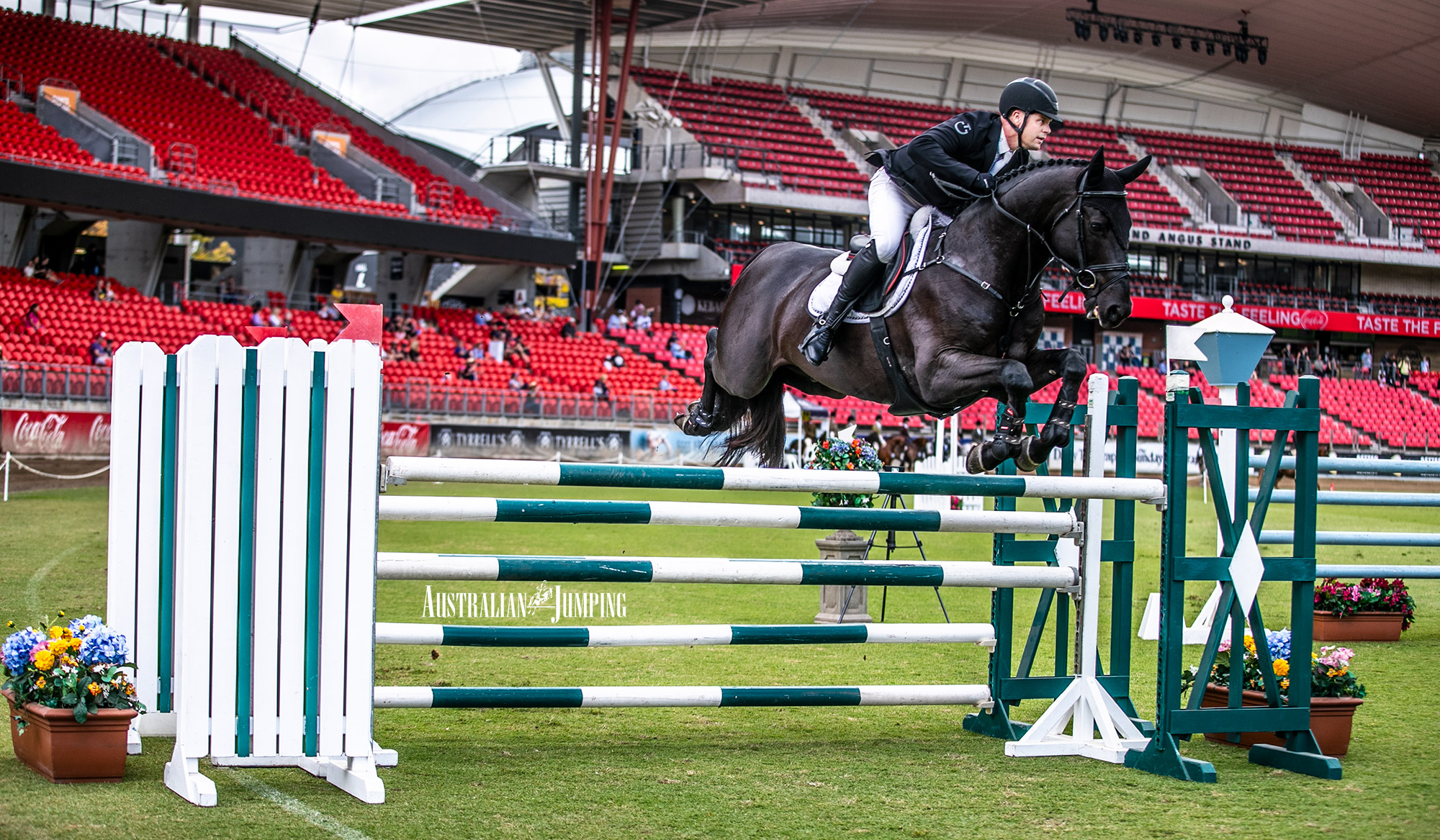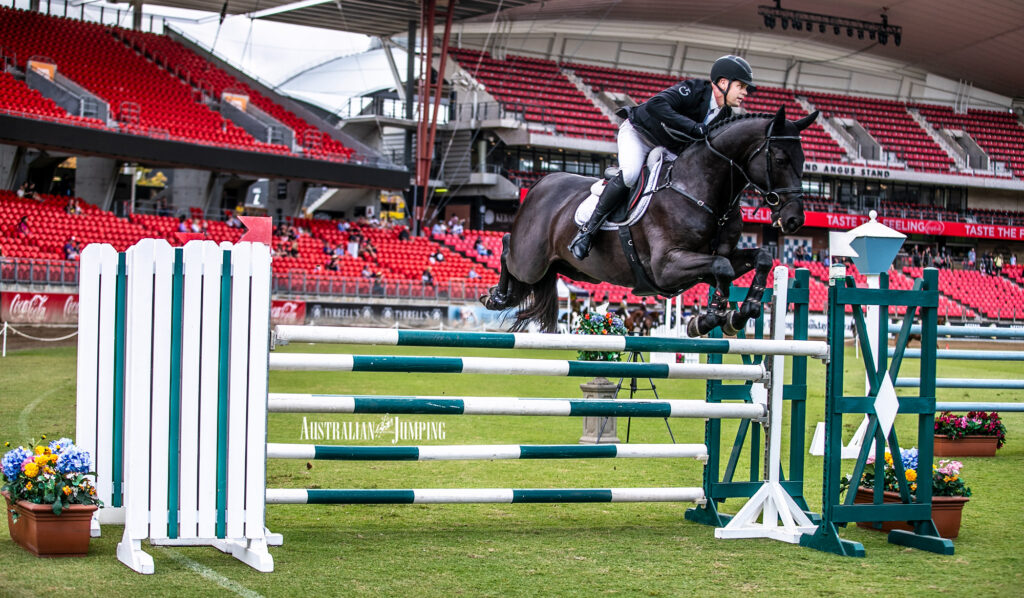 Billy Raymont and Black Jack IXE
David Cameron, in combination with Beijing LS La Silla, a catch ride from Laura Sloey, came out and sizzled around the course clear in just 62.70 seconds to take over the lead, however, with still half the field to come, it was going to be a long wait the combination from Wilberforce.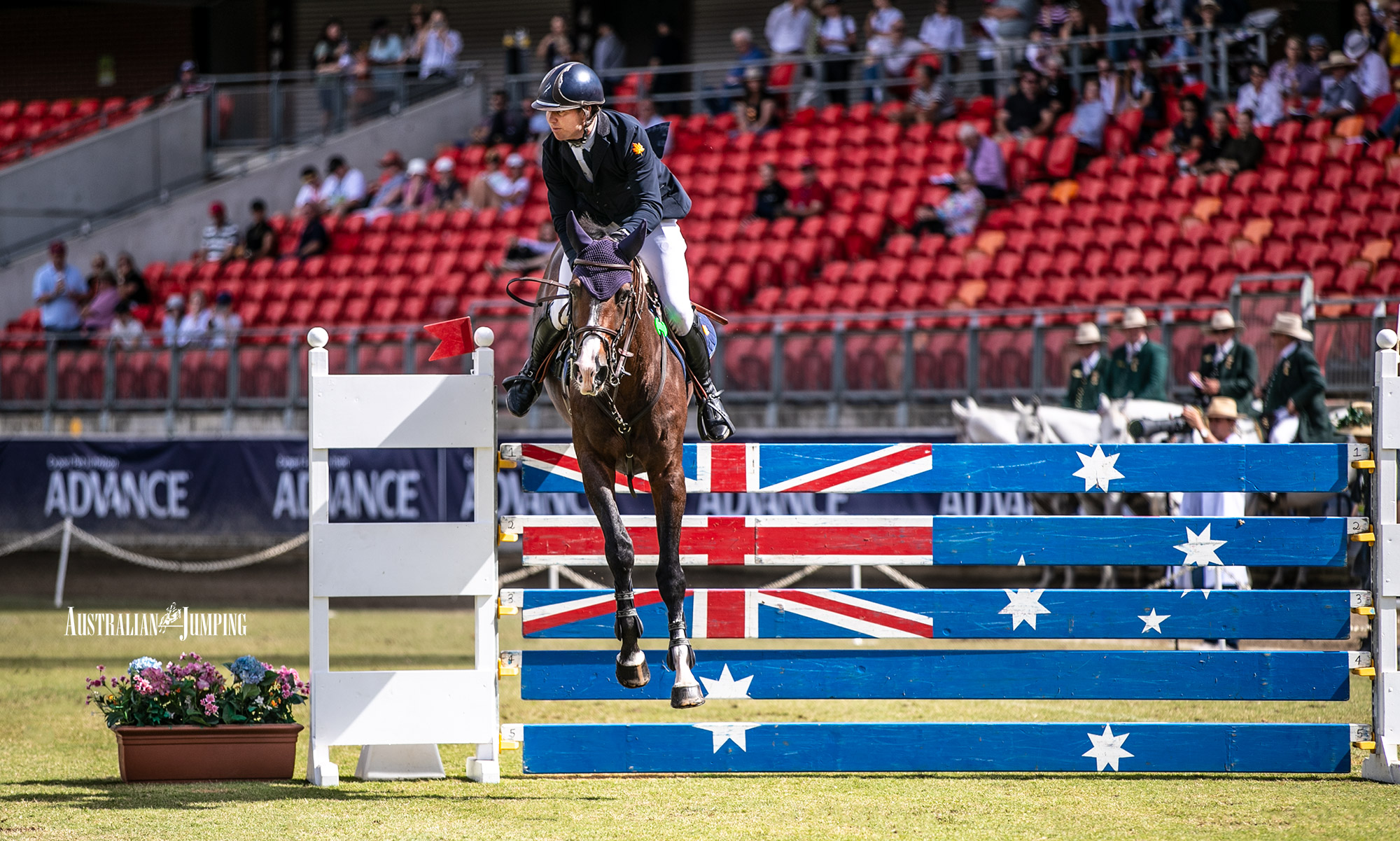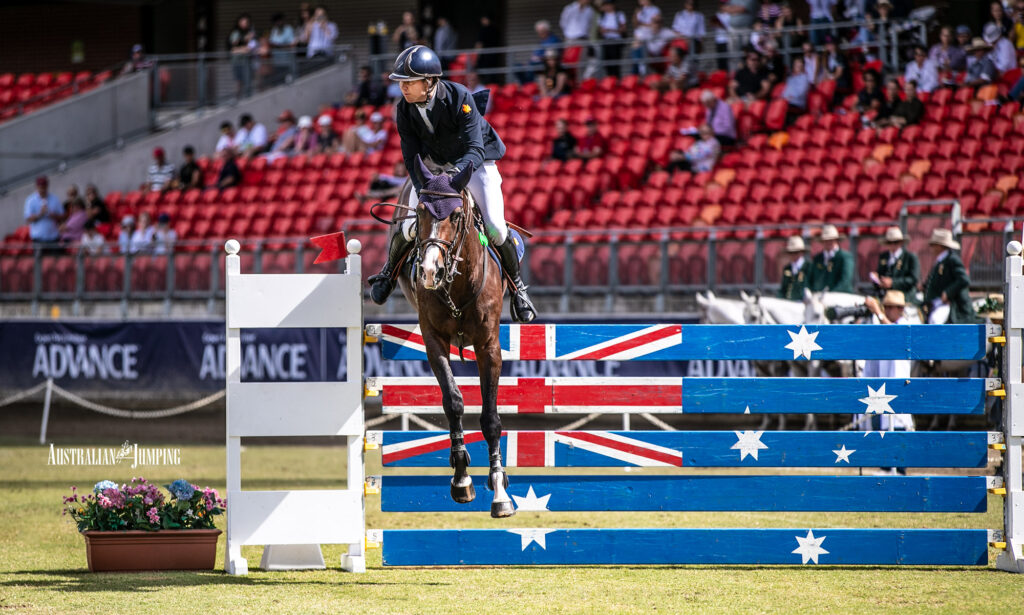 David Cameron and Beijing LS La Silla
Unfortunately for them, the wait was much shorter than they would have liked as only three places in the draw after them came Tom McDermott and Yalambi's Finnigan. McDermott, in his usual style, attacked the course and it payed off for them when they broke the line in just 62.10 seconds to take the lead. The rest of the field came and went, however, not one combination was able to give McDermott's time a shake and he was declared the winner.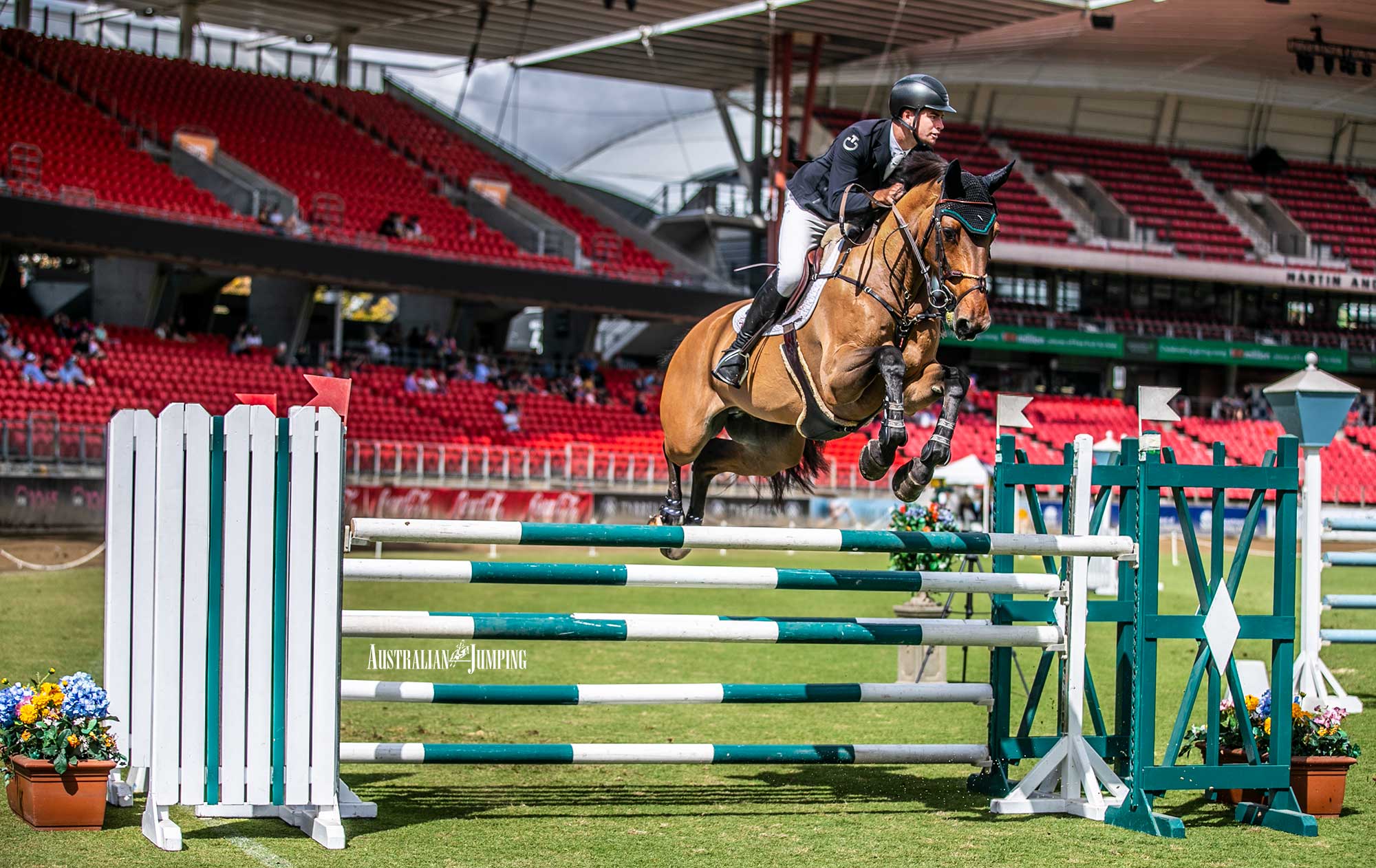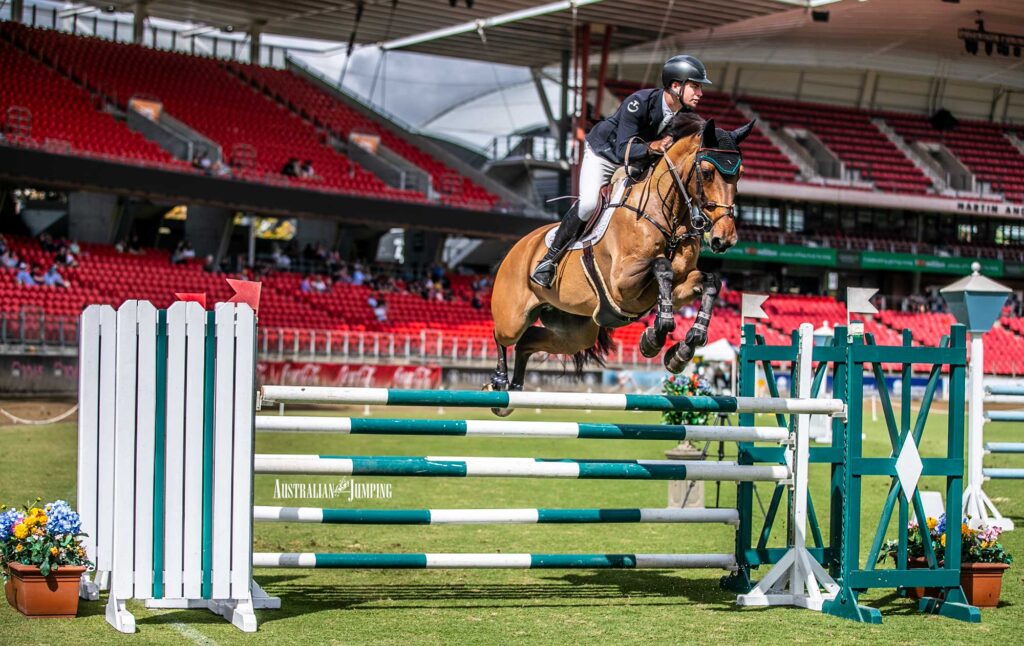 Tom McDermott and Yalambi's Finnigan
Advertisement


Following on from his victory in Monday's Section 1 class, it is clear that McDermott and his team are in fine form and will be solid chance in any class they enter for the rest of the week.
The first five placegetters in this class were:
CLASS 863: Section 2 Competition – Round 1 (Speed Class)
| | | |
| --- | --- | --- |
| PLACE | RIDER | HORSE |
| 1st | Tom McDermott | Yalambi's Finnigan |
| 2nd | David Cameron | Beijing LS La Silla |
| 3rd | Billy Raymont | Black Jack IXE |
| 4th | Jamie Kermond | Galliano MS |
| 5th | Maddison Stephen | Yalambi's Grazi |
There was a short break in the Jumping program which allowed the crowds to enjoy the spectacle of a different type of jumping. A series of Motor-Cycle stunt riders put on an exciting exhibition. Soon the ramps were removed from the arena, a certain tranquility returned and the horse jumping program recommenced with an Accumulator class for Section 3 combinations.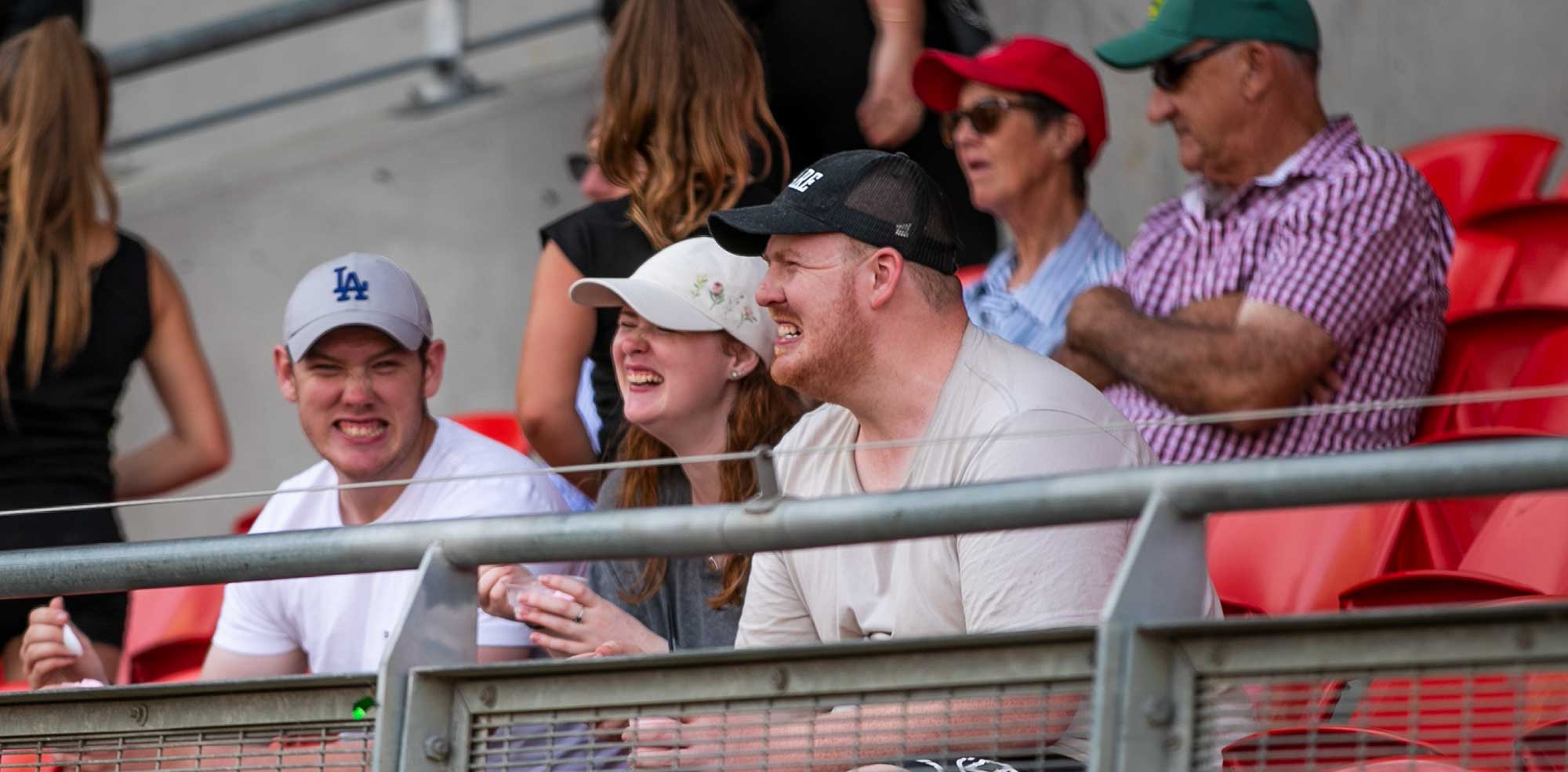 For those not familiar with how an Accumulator class works, here is a brief explanation. This class was held over a course of eight fences, where combinations score points for each fence they clear, so in the end, the highest score is the winner. In Accumulator classes, the fences become progressively more difficult, so the first fence is worth one point, the second worth two, the third worth three etc, up to and including the seventh fence. By the time a combination has cleared the first 7 fences they would have accumulated a maximum of 28 points. Now it is decision time! There were three versions of fence 8, all lined up in a row and the rider must decide which of these to take. One version of Fence 8 was the easiest and worth eight points. A more difficult version of Fence 8 was worth 12 points, while the most challenging option (yesterday in the form of Ned Kelly) was worth 16 points. However, in trying to score either 12 or 16 points, there is a catch! If the combination attempts the 12 point fence and takes a rail, the combination loses 12 points. The same goes for the 16 point fence. Take a rail and take off 16 points. So whether or not a combination attempting the 16 point fence successfully negotiates it, or fails to do so, the difference is 32 points! And, of course, if points are equal then it comes down to the fastest time.
First out on the course, were Rhys Stones from the Oaks in the Macarthur region of South-Western Sydney, and Conolly's Blue Diamont. They showed the other 25 combinations in the field exactly how it should be done by getting to fence 8 with a perfect score of 28 points and then scoring the maximum 16 on fence 8 for a total of 44 points, the maximum for the course. This of course, set the standard and to have a chance of winning, the rest of the field had no choice but to go for the 16 points. Even Stones' time of 41.92 seconds looked like it would be very competitive.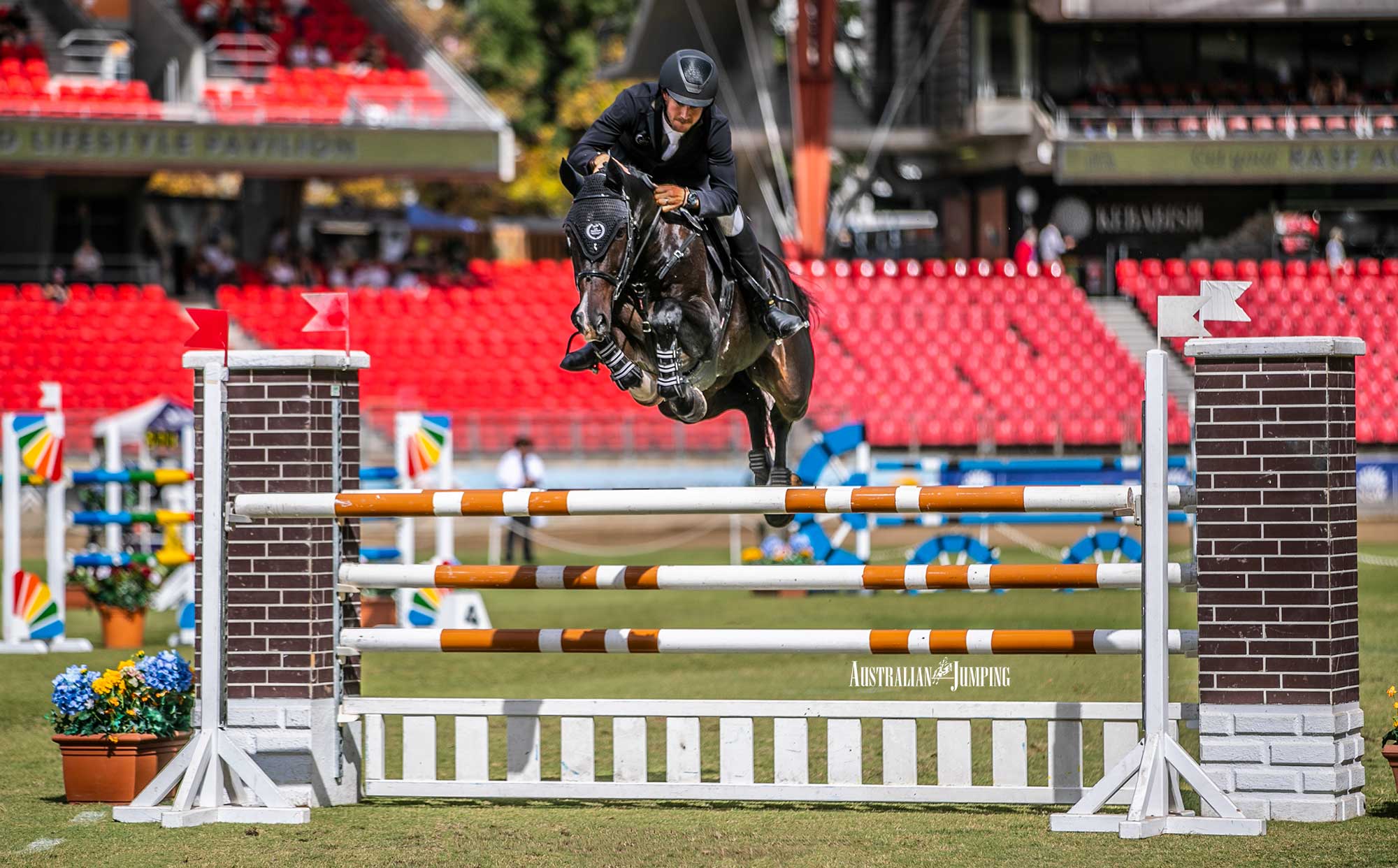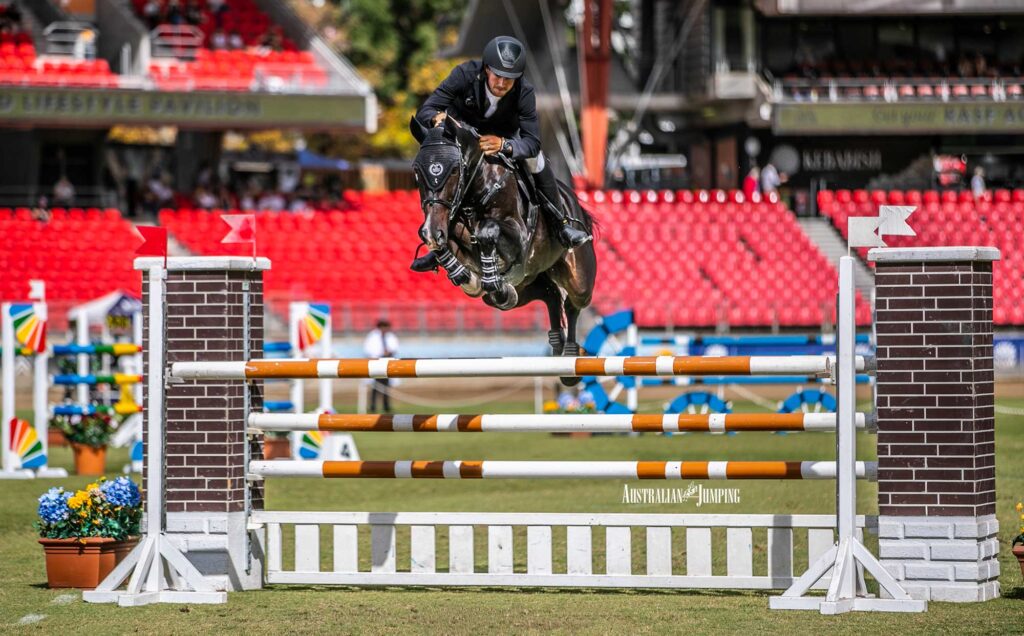 Rhys Stones and Connollys Blu Diamont
As the competition unfolded, for many combinations, their success or failure in the class came down to whether or not they could successfully negotiate the difficult version of Fence 8. Quite a few combinations (10 in total) were successful, scoring the maximum of 44 points. However, there were also a few that finished on 12 points, having lost 16 on a failed attempt at glory.
Of all those that finished on 44 points there was only one faster than Stones and Connolly's Blue Diamont and for their efforts, they were awarded the win. Victorian visitors Brook Dobbin and Miranda MVNZ were the victors finishing in a time of 41.60 seconds, taking the win by 0.32 seconds.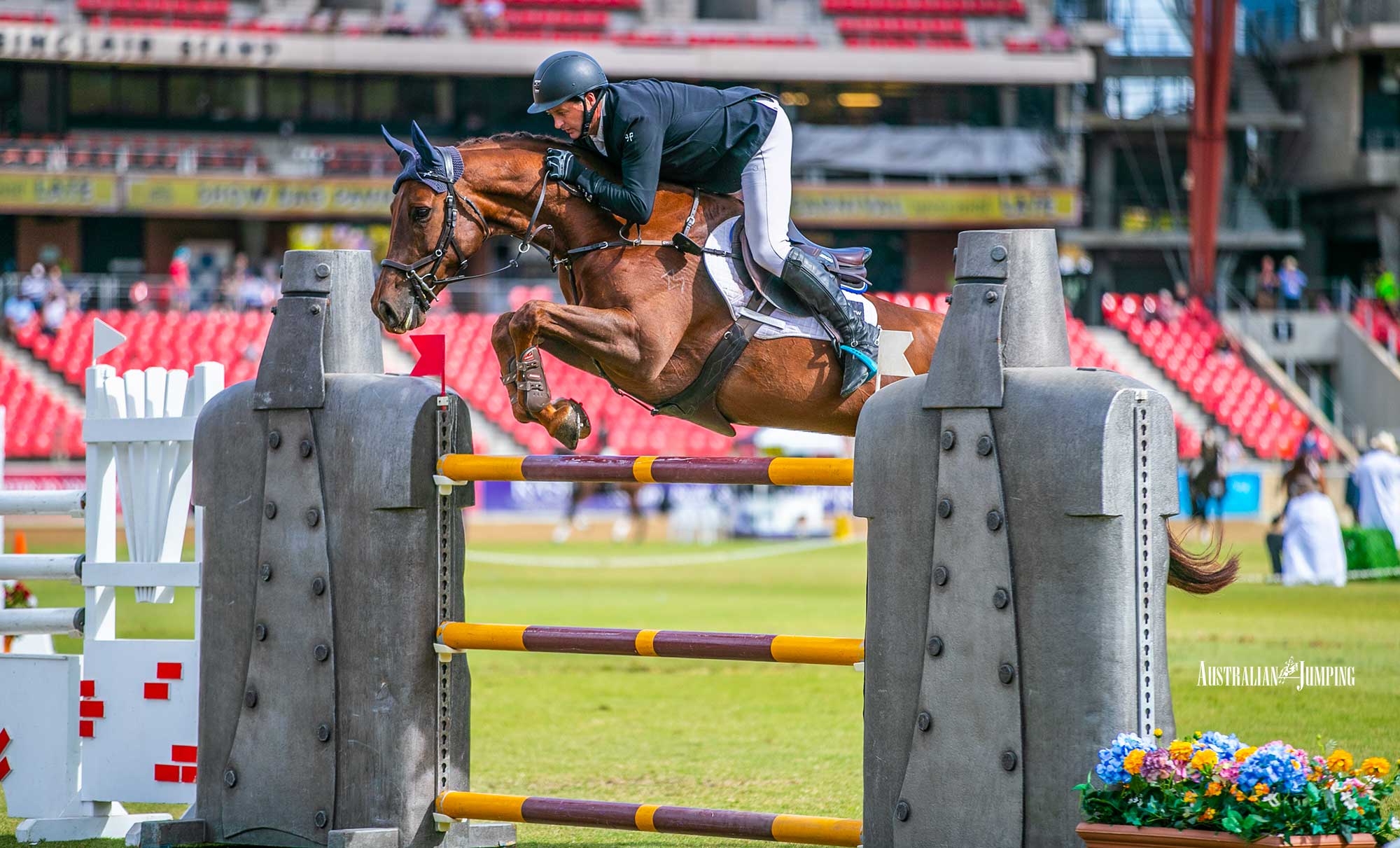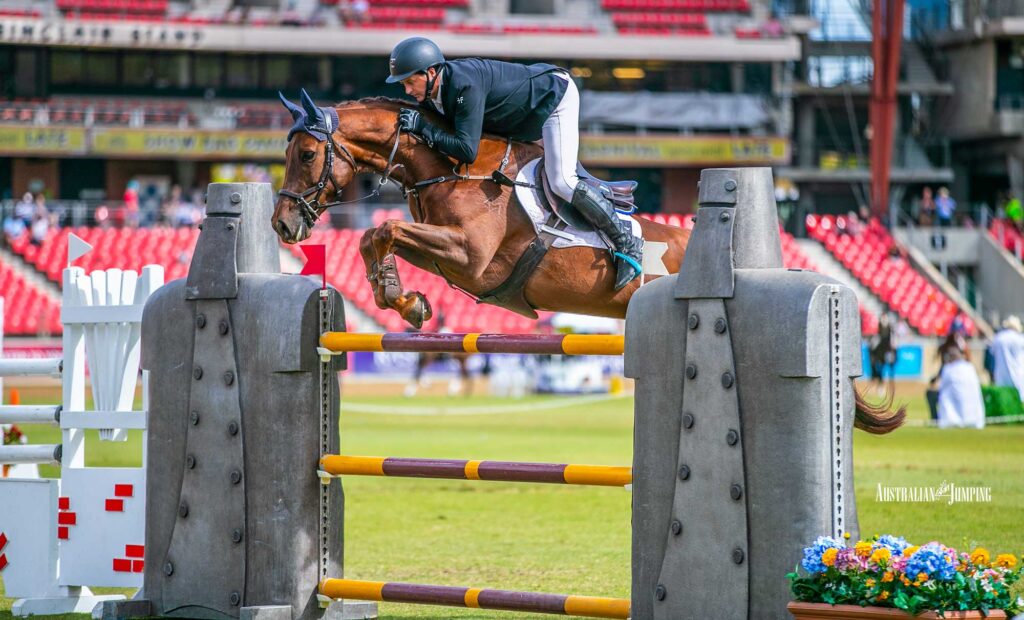 Brook Dobbin and Miranda MVNZ
Third place went to the ever-successful Tom McDermott in combination with the Sharon Slater owned stallion Cachassini II, with a time of 42.64 seconds. Also accumulating the maximum 44 points but with slightly slower times were the fourth placed James Arkins from Moss Vale and WP Grandiamo and in fifth place, making it a successful day for the family was the Jess Stones, wife of Rhys, and Chatina.
It was a very interesting format for a class and it kept the large crowd, enjoying the wonderful autumn sunshine, enthralled right to the finish.
The placegetters in this class were as follows:
CLASS 868: Section 3 Competition – Round 1 (Accumulator)
| | | |
| --- | --- | --- |
| PLACE | RIDER | HORSE |
| 1st | Brook Dobbin | Miranda MVNZ |
| 2nd | Rhys Stones | Connolly's Blue Diamont |
| 3rd | Tom McDermott | Cachassini II |
| 4th | James Arkins | WP Grandiamo |
| 5th | Jess Stones | Chatina |
The final class of the Jumping schedule for the day was for Section 1 combinations over fences which were higher than they had been throughout the day.
Only a small but elite field of combinations were entered which is befitting the status of Section 1 competition being for the best horses and riders around.
First out was Tom McDermott and the mare he has had great success with, Alpha Activity. They set the standard, going clear in a fast time of 77.38 seconds.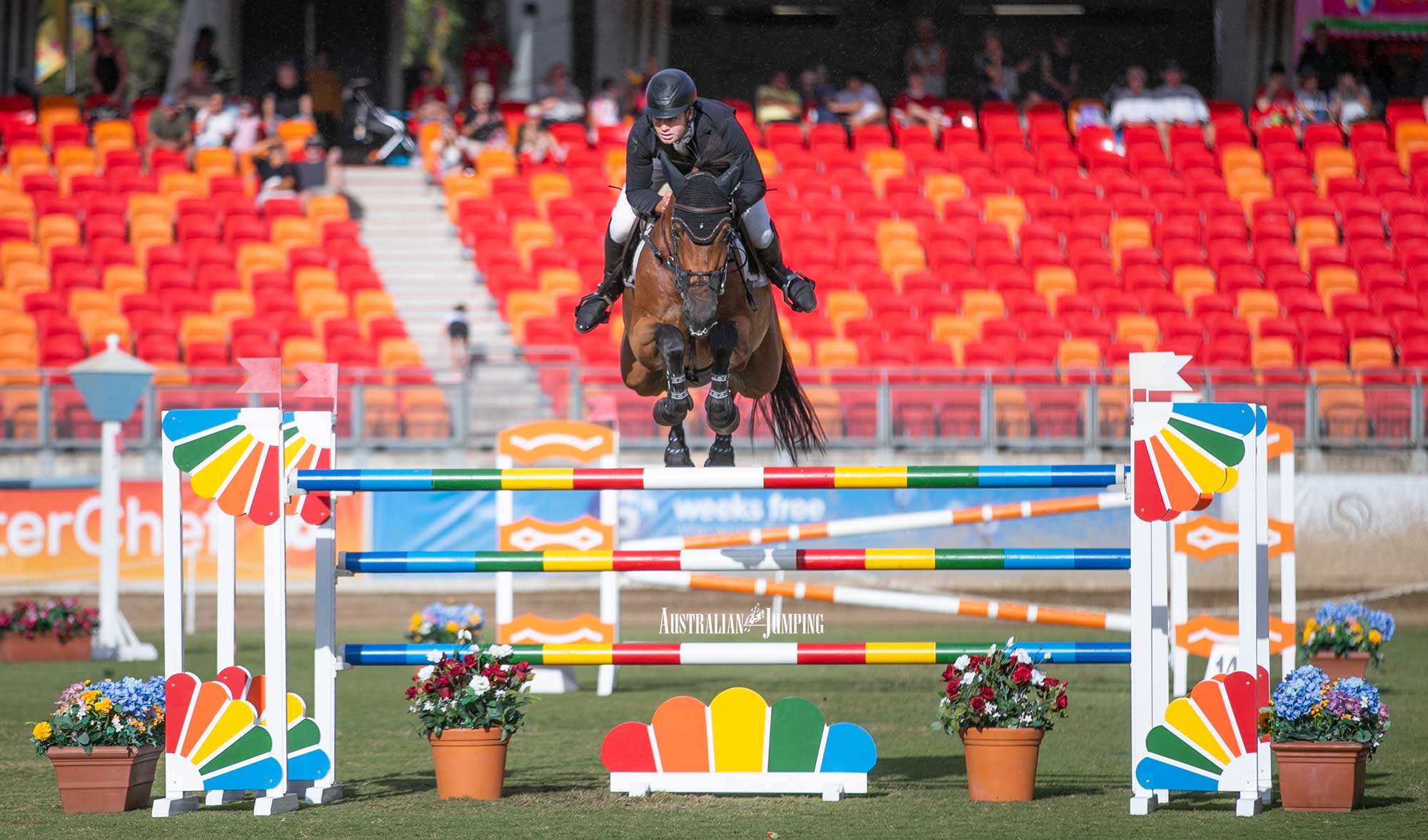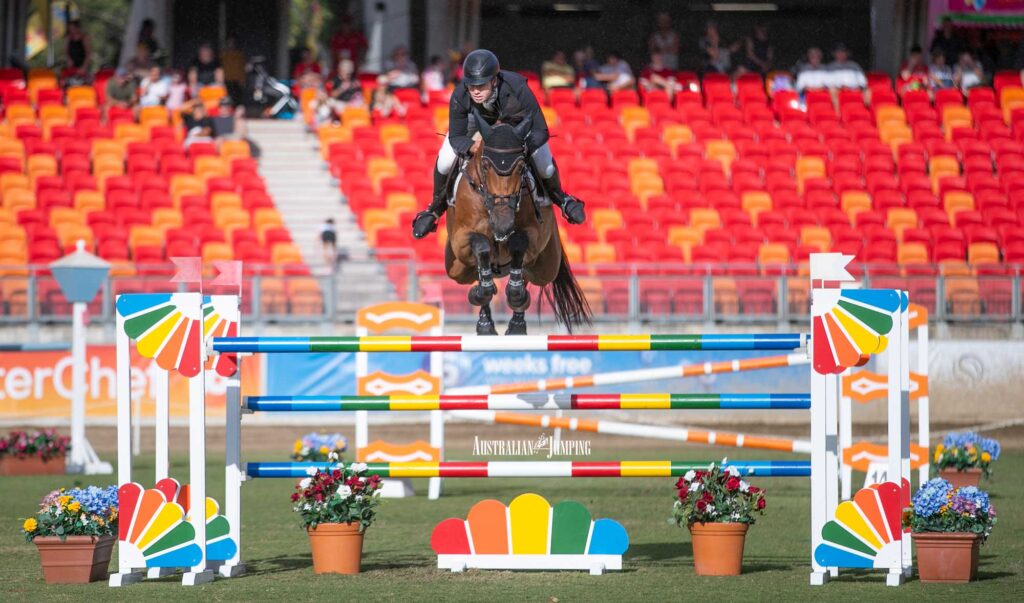 Tom McDermott and Alpha Activity
Only two other combinations were able match their clear round, Amber Fuller and CP Aretino (77.93 seconds) and Jamie Kermond and Yandoo Oaks Constellation (77.47 seconds).
This was high class jumping and set up a classic jump off. Not only were their times within 0.5 seconds of each other, but it pitted the last three Australian Senior Champions (Kermond in 2017, Fuller in 2018 and McDermott in 2019) against each other.
First out were Tom McDermott and Alpha Activity, who again went clear to put the pressure on the other two. Amber Fuller and CP Aretino were next. Keeping up the extraordinary standard of jumping, they also went clear, however, their time of 45.06 seconds was not as quick as McDermott so she had to settle for a podium position, rather than the win.
The final combination of the day was Jamie Kermond and Yandoo Oaks Constellation. They attacked the course with real intent and with a clear round in 41.05 seconds were almost 2.5 seconds quicker than McDermott.
The first five placegetters in this class were:
CLASS 855: Section 1 Competition – Round 2 (238.2.1)
| | | |
| --- | --- | --- |
| PLACE | RIDER | HORSE |
| 1st | Jamie Kermond | Yandoo Oaks Constellation |
| 2nd | Tom McDermott | Alpha Activity |
| 3rd | Amber Fuller | CP Aretino |
| 4th | Izabella Stone | Lincoln MVNZ |
| 5th | Amanda Madigan | Diamond B Vivienne |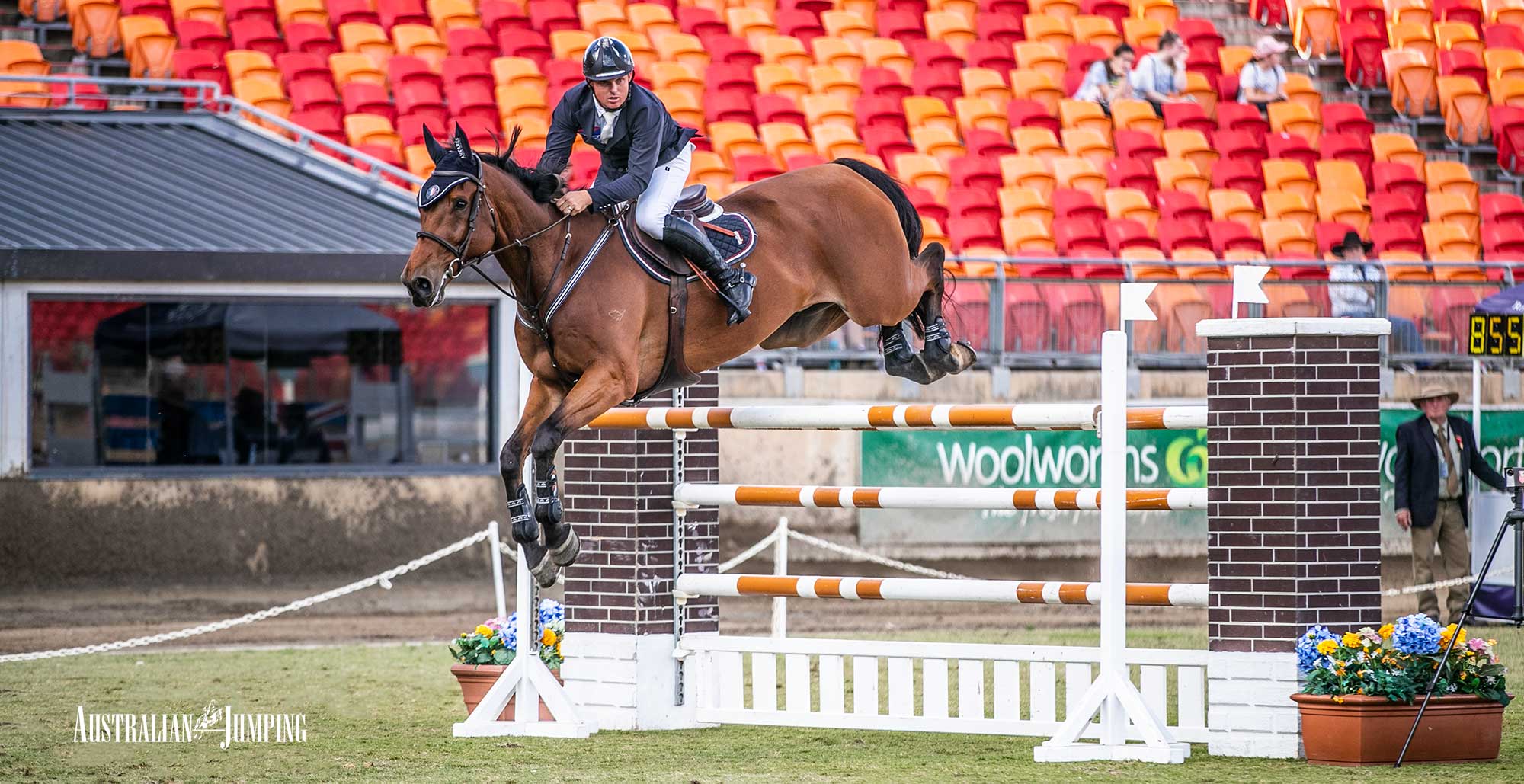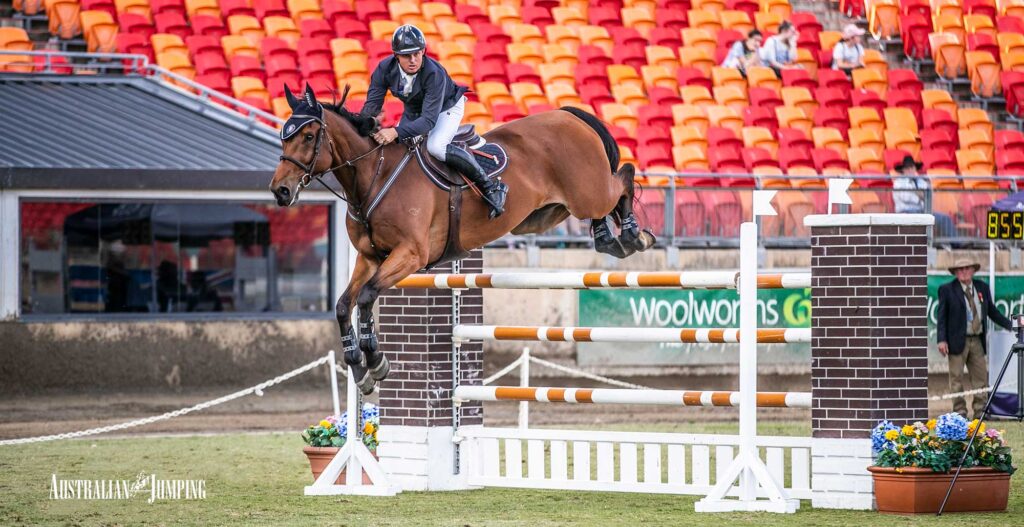 Jamie Kermond and Yandoo Oaks Constellation
It was an exciting class and if it is anything to go by, the Jumping program for the rest of the week promises to be a fantastic spectacle.
View Comments