Spark goes out on Australia's Tokyo 2020 campaign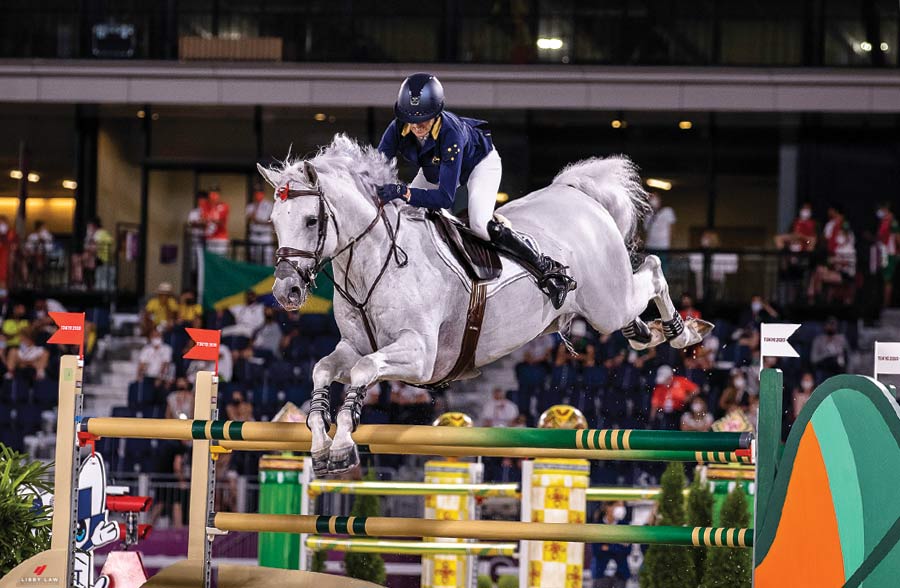 Libby Law Photography
Above: Katie Laurie and Casebrooke Lomond. Photo credit: Libby Law Photography
With the normal four-year gap between Olympic Games being extended to 5 years, the long wait to see Australian combinations in the Jumping competition ended last night as Edwina Tops-Alexander and Katie Laurie started their quest for Olympic medals.
Australia has never won a medal in jumping at the Olympics and with the Games returning to Tokyo after a gap of 57 years, hopes were high that we could go at least one place better than our best ever Olympic performance when John Fahey and Bonvale placed fourth in 1964.
Advertisement


After more than a week of watching the Dressage and then the Eventing (where our team finished in second place) it was time for the Jumping to take centre stage. A warm humid evening saw 73 of the best combinations in world jumping, from a total of 35 countries, line up in the qualifying round with all vying for a coveted spot in the top 30 who will return this evening for a shot at the medals.
As would be anticipated, the course was not for the feint-hearted and at first, clear rounds were few and far between, however, soon they started to flow. By the time our first combination, Edwina Tops-Alexander and 13-year-old mare Identity Vitseroel appeared in the arena there had been 49 combinations tackle the course with 19 clear rounds, meaning that almost certainly a clear round would be required to guarantee a start in the final. While it might have been Identity Vitseroel's first Olympic experience, Tops-Alexander was back in familiar territory, this being her fourth Olympics having finished in ninth place in the Individual competition at both Beijing and Rio, sandwiching a 20th place in London in 2012.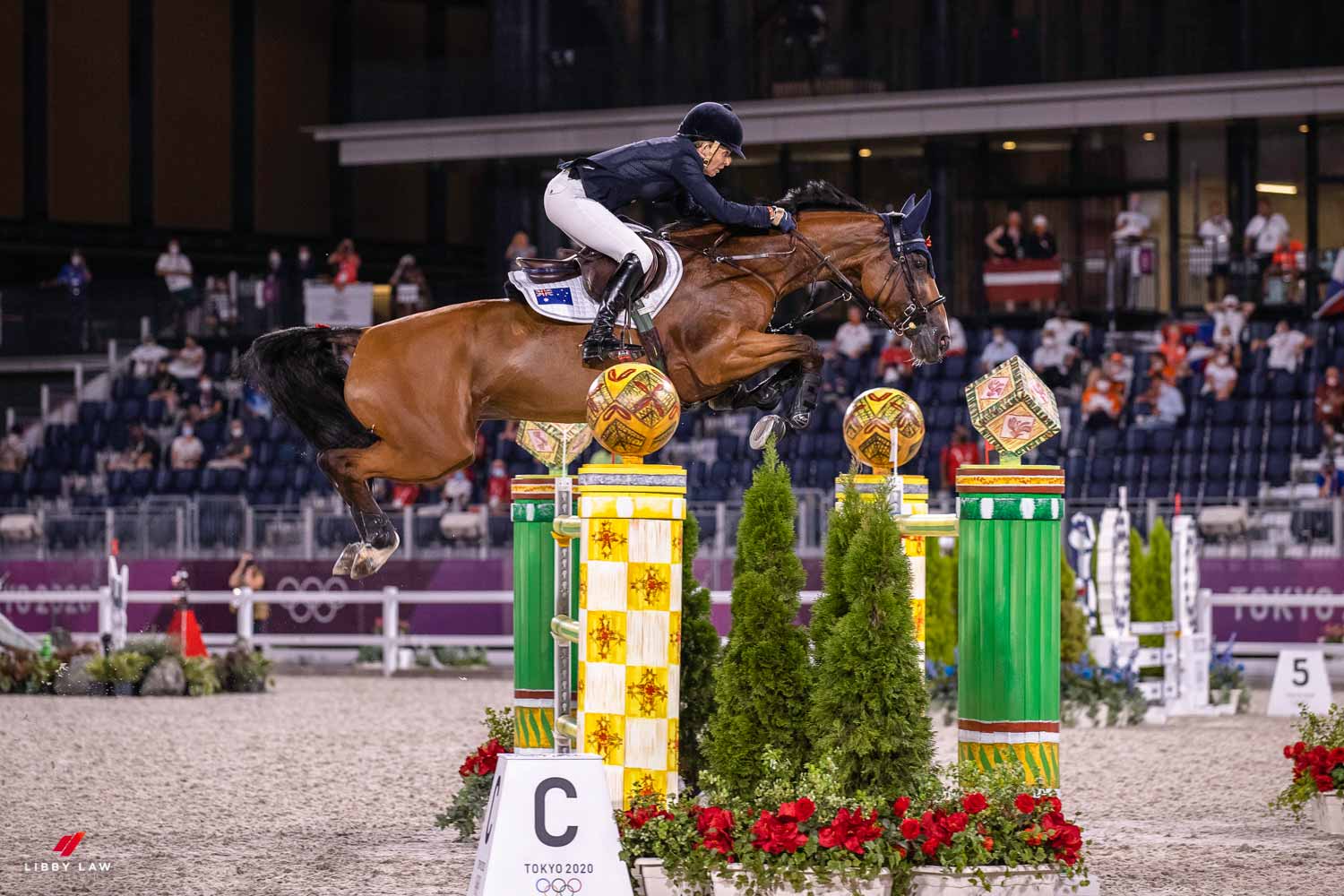 Edwina Tops-Alexander and Identity Vitseroel. Photo credit: Libby Law Photography
Tops-Alexander started her round well, safely negotiating the first six fences, but it was at the seventh that she and Identity Vitseroel had a problem. At the so called "bamboo fence" the very light and flimsy top rail, that was balanced on a pair of flat cups could not withstand being clipped and tumbled to the ground below. The rest of their round was perfect, however, when they finished in 87.93 seconds, they joined three other 4-faulters and so a nervous wait started. One-by-one, the following combinations came out and with each clear or swift one rail round, Tops-Alexander slipped down the rankings, before sliding out of the top 30 with 16 combinations to go. It had been a valiant effort, however Tops-Alexander and Identity Vitseroel eventually finished up in 39th place.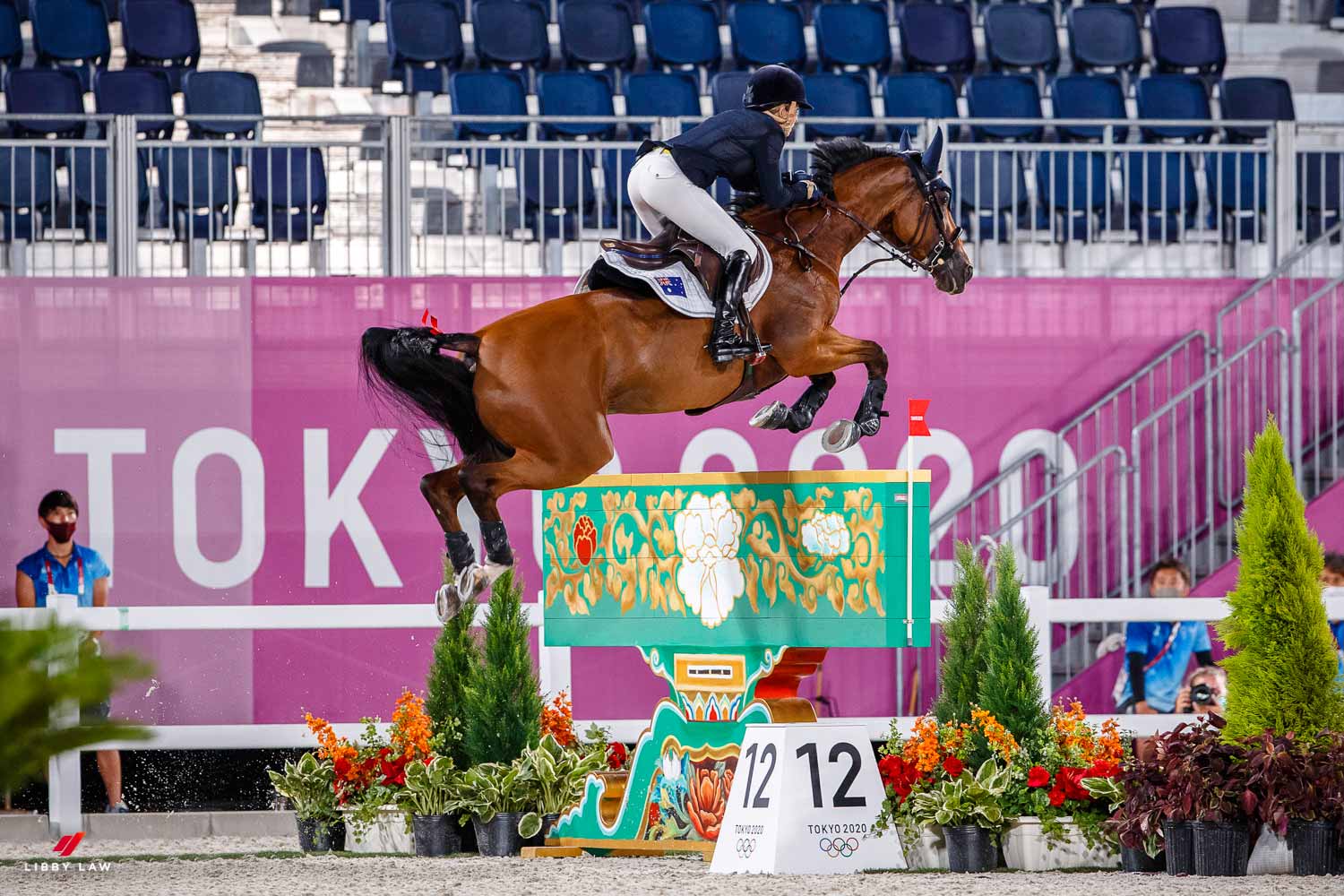 Edwina Tops-Alexander and Identity Vitseroel. Photo credit: Libby Law Photography
Australia's second rider in the Individual Competition, Katie Laurie come out 10 places later in what was her second Olympic appearance, the first representing New Zealand in 2008. Laurie combined with her magnificent looking grey stallion Casebrooke Lomond but it was not their day. In just the first half of the course, they took four rails and made a huge splash at the water jump. Laurie, perhaps feeling that something was not quite right with Sparky decided to retire from the competition.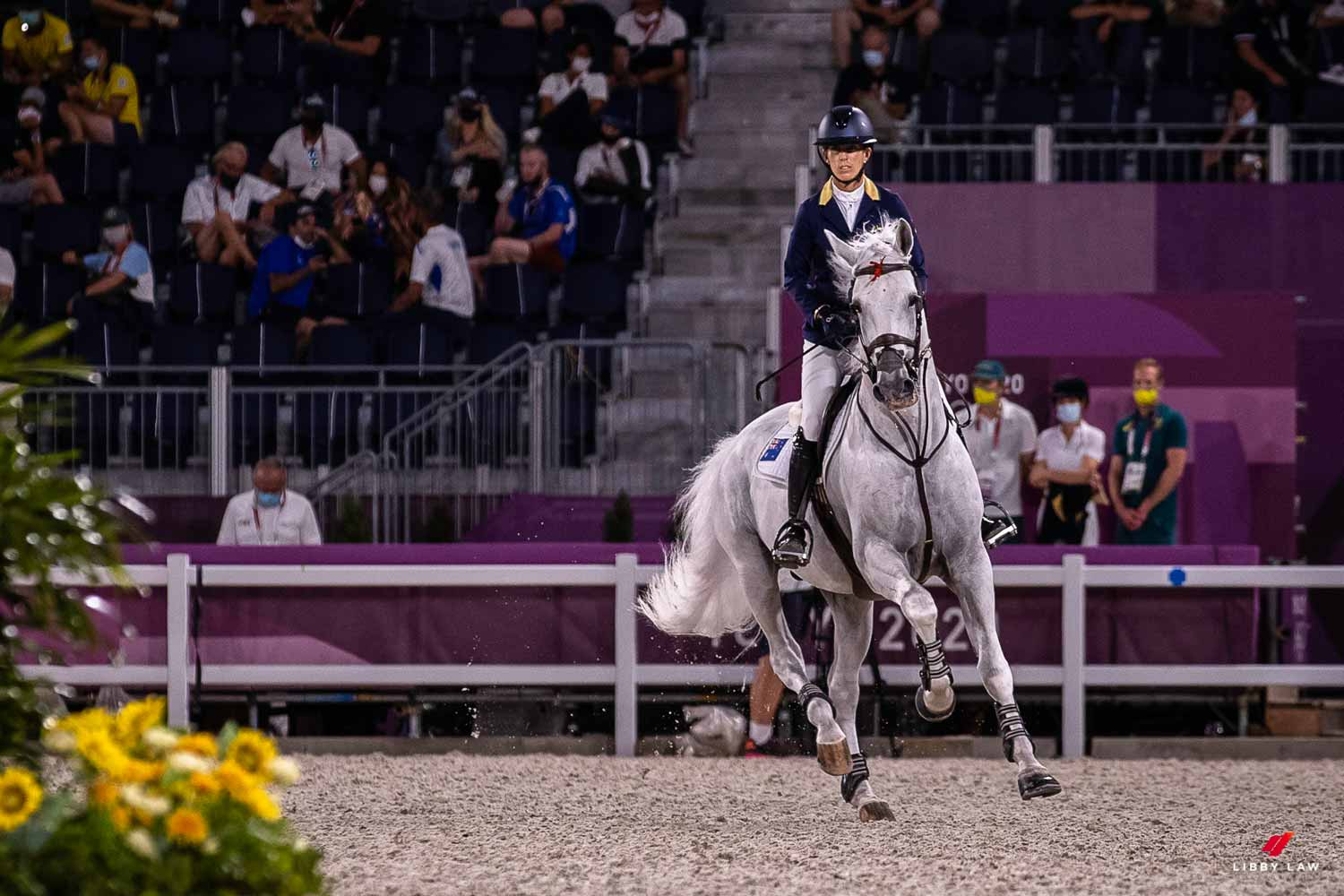 Katie Laurie and Casebrooke Lomond. Photo credit: Libby Law Photography
In the end, there were 25 clear rounds which will all go through to tomorrow night's final. These will be joined by four combinations who had a single time fault and one combination with two time faults. In the end it turned out that any combination that took a rail you missed out on qualifying for the final, however, those combinations that left all the rails in place, will be back for the final. We look forward to this evening to see how the competition pans out, when all the combinations start on an equal footing on a score of zero.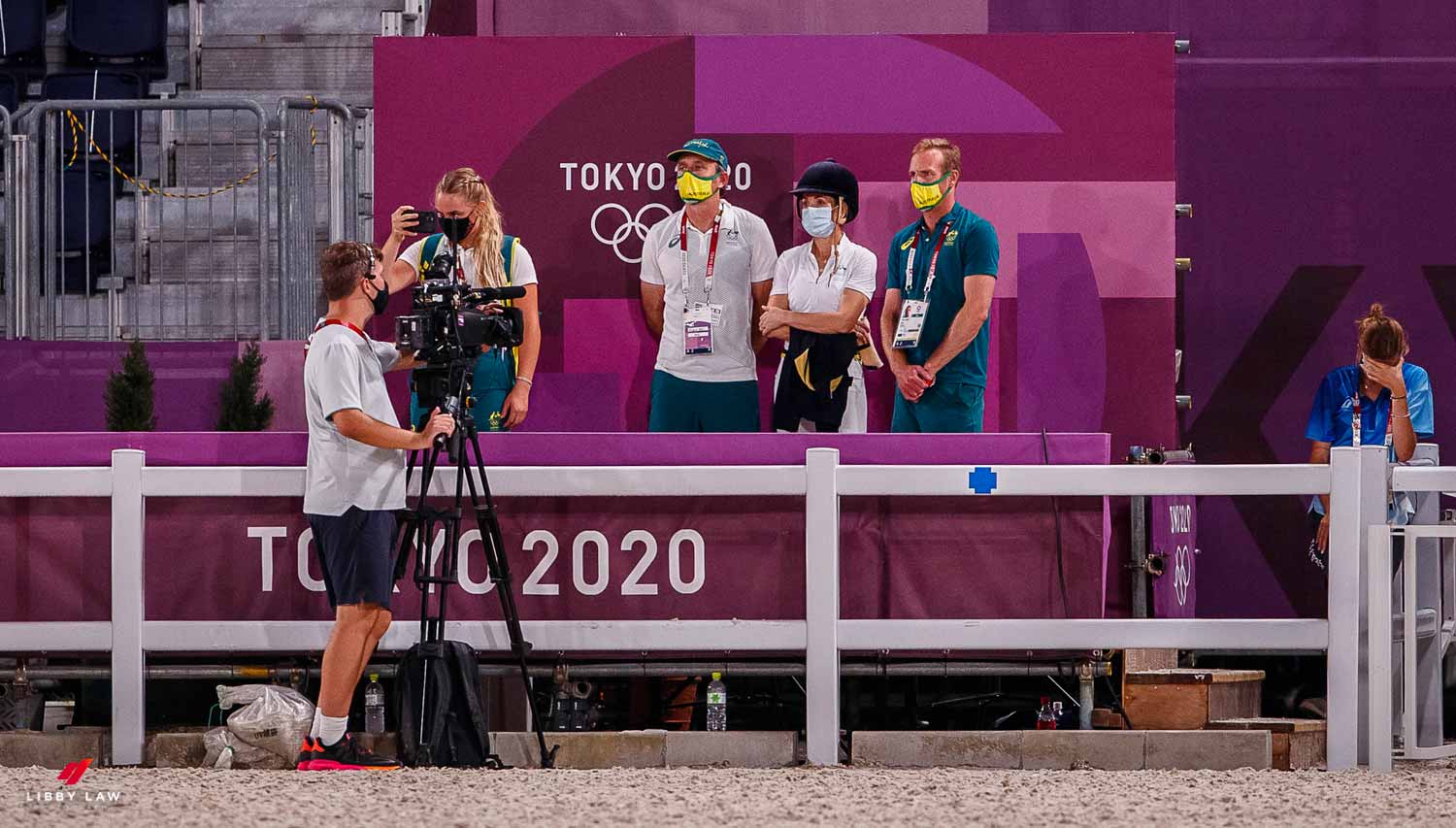 Tokyo 2020 Olympics – Jumping Individual Qualifier – Top 5 and Australian Combinations
| | | |
| --- | --- | --- |
| PLACE | RIDER | HORSE |
| 1st | Ben Maher (GBR) | Explosion W |
| 2nd | Darragh Kenny (IRL) | Cartello |
| 3rd | Ashlee Bond (ISR) | Donatello 141 |
| 4th | Maikel van der Vleuten (NED) | Beauville Z |
| 5th | Mario Deslauriers (CAN) | Bardolina 2 |
| 39th | Edwina Tops-Alexander (AUS) | Identity Vitseroel |
| RET | Katie Laurie (AUS) | Casebrooke Lomond |
Katie on her round.
"It wasn't our best day. He just felt like he got a little bit stuck to the ground and he just wasn't himself".
Edwina on her round.
"To be honest I didn't have the greatest warm up, she is a bit horse-shy and she spotted another horse coming behind the fence and we had a little bit of a crash and I had to change my spurs. I rode a little bit different than I like to ride her, normally I don't really need much spur at all, she likes to take me and she was taking me a bit more." 
"I have had a bit of an issue with my thumb so I have got a cast on there, I was losing my reins all the time and it just felt a bit messy and to be quite honest considering the circumstances I was very happy with the way she jumped. She tried very, very, very hard."
"It was a really, really light touch, really delicate. I will have to go back and review the video and have a good look at it but my husband said it was unlucky which makes me feel better. But it is not lucky enough because it won't get me back for tomorrow, so it is a shame."
Advertisement


View Comments