Stal Tops – a top influence on Jumping in Australia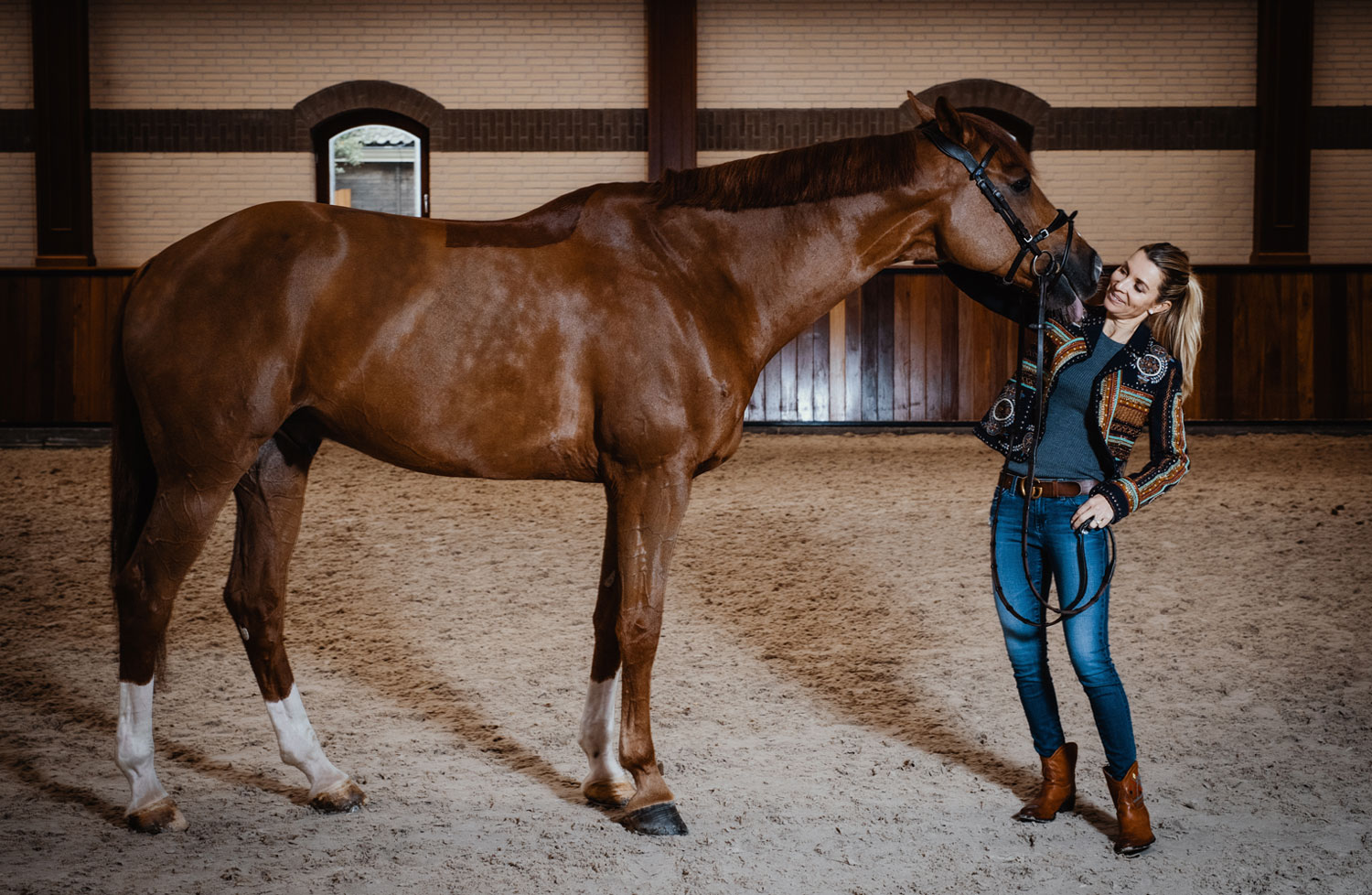 Lena Saugen / Tess & Lena
As the third season of the Stal Tops Australian Young Rider Series approaches, this is a great moment to focus on the revolutionary impact and influence Stal Tops has had on the show jumping scene in Australia.
Throughout the past 20 years, Stal Tops has sold many horses that have gone on to win Australian Championships in all divisions and the offspring of those horses are now having an influence. We continue to see great results from young horses through to those at Grand Prix level.
Advertisement


Stal Tops has progressed under the inspired entrepreneurial management of Jan Tops, a four-time Olympic representative for The Netherlands and gold medallist in the 1992 Barcelona Olympics, and his Australian born wife and Australian Olympian, Edwina Tops-Alexander, from a competition and dealing operation to one of the finest breeding operations in Europe.

Situated at Valkenswaard in the southern part of The Netherlands, Stal Tops combines not only a breeding program of the highest quality but a world class permanent International jumping facility, Tops International Arena, which each year hosts a stage of the Longines Global Champions Tour, the premier global circuit which was the brainchild of Jan. The superb purpose-built facility has 565 permanent stables, a state-of-the-art stadium and media facilities, luxurious hospitality and top level training facilities.  
The influence that Stal Tops has had on the sport of Jumping in Australia has been immense. Benefitting from the excellence of the stallions and the best mares from the world renowned Stal Tops, a significant number of horses have been bred and produced and sold to Australia where they have performed at the highest levels. Stal Tops currently breeds over 25 horses a year with some of the best mares in the world such as Olympic horse Lintea Tequila, Pialotta, Fair Light, and California to name a few. With a breeding program with some of the best stallions in the world such as Bacardi VDL and Cinsey, the progeny is proving to have a worldwide influence on the  International Showjumping circuit. Finding the right horse for the right rider is never easy, but Stal Tops have certainly managed to outfit some of the best combinations in Australian showjumping. 
Further Stal Tops has, for years, been nurturing young Australian riding talent, by giving a number of riders the opportunity to base themselves in Valkenswaard for periods of time to benefit from the coaching experience of both Jan and Edwina, as well as providing a base for competing throughout Europe, bringing with it all the benefits that consistent competition at the highest levels can bring.
Advertisement

The story starts almost 20 years ago in 2003 when George Sanna and Charles Blinkworth imported a mare called CP Argentina (Chiron Z x Graf Granny Z  by Graf Dagobert Z). CP Argentina was ridden with great success in the early years by Emily Blinkworth. Together the pair were the NSW Young Rider Champions of 2003 and 2004, the 2006 Australian Young Rider Champions, and in 2005 they won the Sydney CDI Grand Prix. In 2008, they were the Australian Young Rider Champions and were runners-up in 2009 after being crowned NSW Young Rider Champions earlier that year.
Other horses followed soon after, to establish what is now a well-worn path from Valkenswaard to Australia. In 2006 two stallions CP Qualified (Quite Capitol x Mareike II by Corofino I) and CP Ulixes (Lux x Ischya by Jasper) trod this path as well as the five year old mare CP Aprilla.
CP Qualified was brought to Australia as a three year old who had never been ridden over a jump, with a view to him having a career in the sport. In what turned out to be a very versatile career, in 2007 he won the Four Year Old Young Horse Championship at the Sydney CDI. After this he was turned from Dressage to Jumping where he was competitive at Futurity level. After being gelded, he made the transition to Eventing where his all-round ability came to the fore. Shane Rose ended up turning him into a star eventer with wins in Sydney CCI3* in 2013 and 2014, Taupo CCI3* in 2015, Adelaide CCI4* in 2015 and the Melbourne CCI3* in 2016. After the disappointment of a foot issue prevented them from attending the 2014 WEG, after they were selected to do so, the highlight for Shane Rose and CP Qualified was a bronze medal as part of the Australian Olympic Eventing team at Rio in 2016.
CP Aprilla (Heartbreaker x Kinnette Van De Heffinck by Pachat II) was a mare with which George had great success, winning the third of his three Australian Senior Titles in 2010 with CP Aprilla. Later he took CP Aprilla overseas where Edwina Tops-Alexander and Daniel Deusser rode her with success, winning the CSI2* Global Champions Tour event in Dubai. Later, upon return to Australia CP Aprilla was ridden with great success by Sharon Slater where they competed in World Cup Qualifiers for a couple of seasons, culminating in a win at CSI2* level at the Showcase of Showjumping at Richmond in NSW.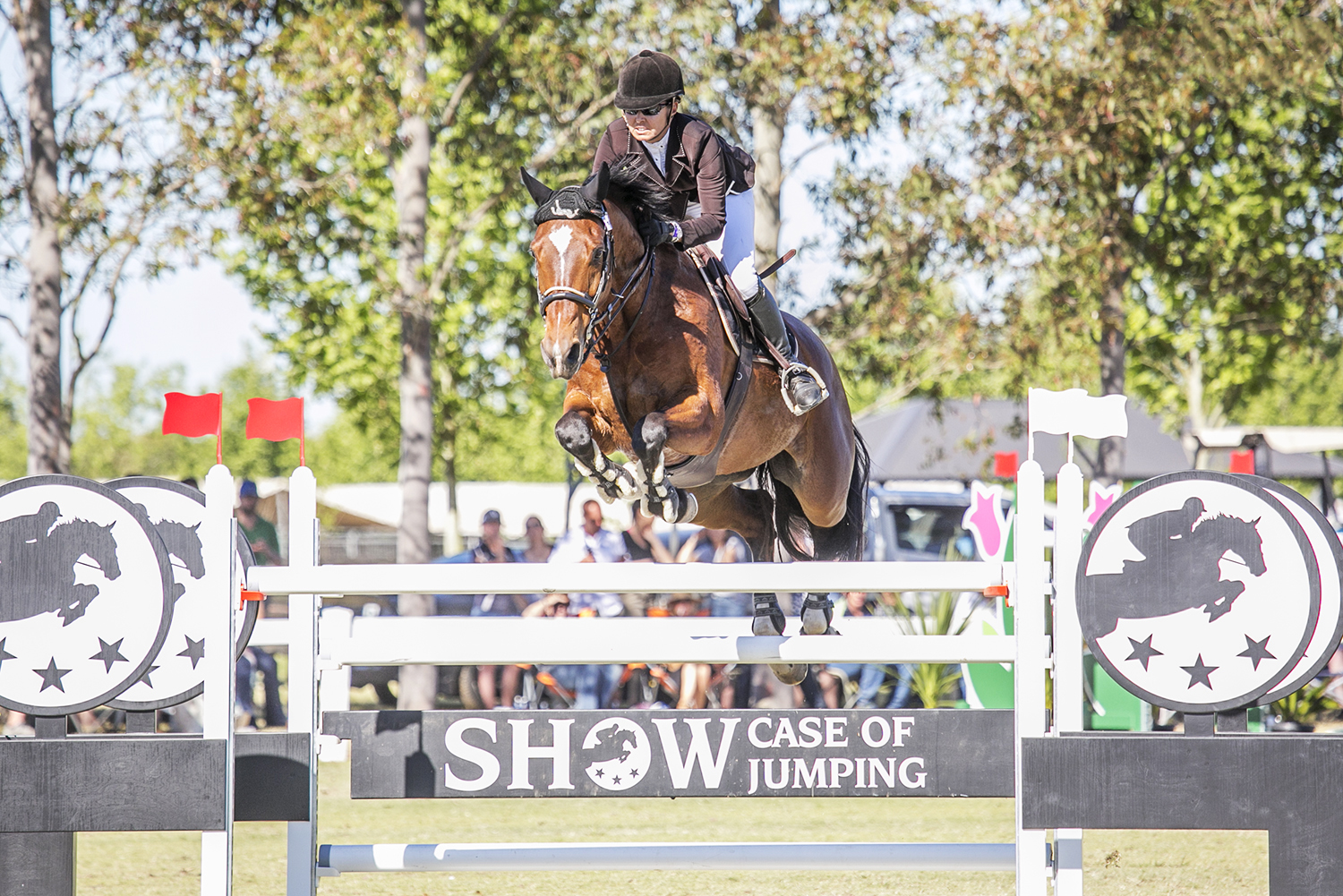 Sharon Slater and CP Aprilla
CP Ulixes went a different way. Ridden initially by Emily Blinkworth and George Sanna, he was to be ridden for most of his career by Sharon Slater. CP Ulixes competed on the Australian World Cup Qualifier circuit in 2012 and 2013 taking wins at the Sydney Summer Classic in 2012, then at the Sydney Royal in 2013, among a number of minor placings. Sharon and CP Ulixes were also placed second in the Australian Senior Championship, missing out on the win by a single fault, ironically behind another Stal Tops import, but we will come to that later. CP Ulixes was the NSW Jumping Horse of the year in 2012 and 2013, before injury brought about a premature retirement.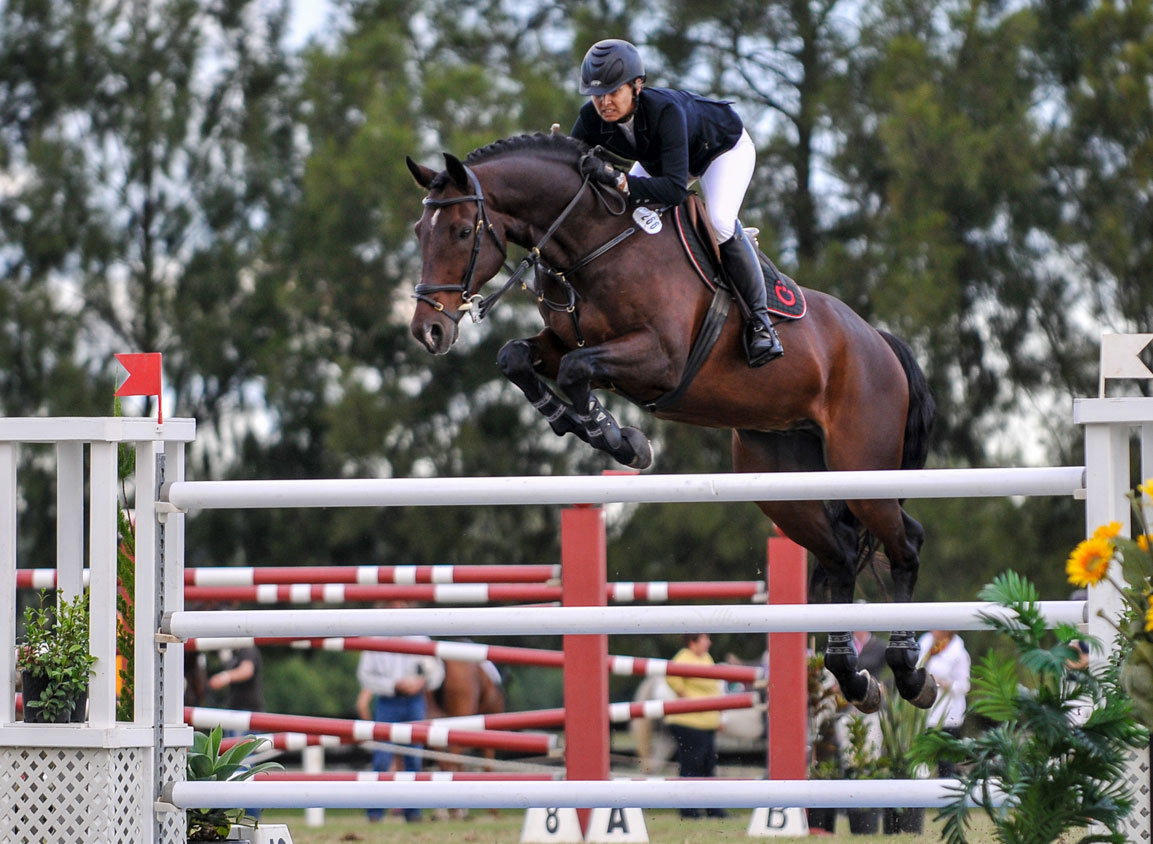 Sharon Slater and CP Ulixes
However, it was not just as one of Australia's best jumpers that CP Ulixes has a claim to fame. In the breeding world, Ulixes has become a major player in the production of the next generation of Jumping stars. The union of stallion CP Ulixes and the first horse from Stal Tops, mare CP Argentina, has had a remarkable impact in the world of Australian Jumping, producing a number of horses that have carried their riders to Australian Championships.
Probably the most successful progeny of the pair is CP Aretino, which been ridden by Amber Fuller throught his career. His pair were the NSW Senior Champions in 2017, but in 2018, went on to win the Australian Senior Title. They have been a strong force in Jumping at the top level in Australia for the past five years with a number of podium finishes in CSI1* and CSI2* level competition. CP Aretino and Amber Fuller won the first 2021 World Cup Qualifying event at Werribee back in March.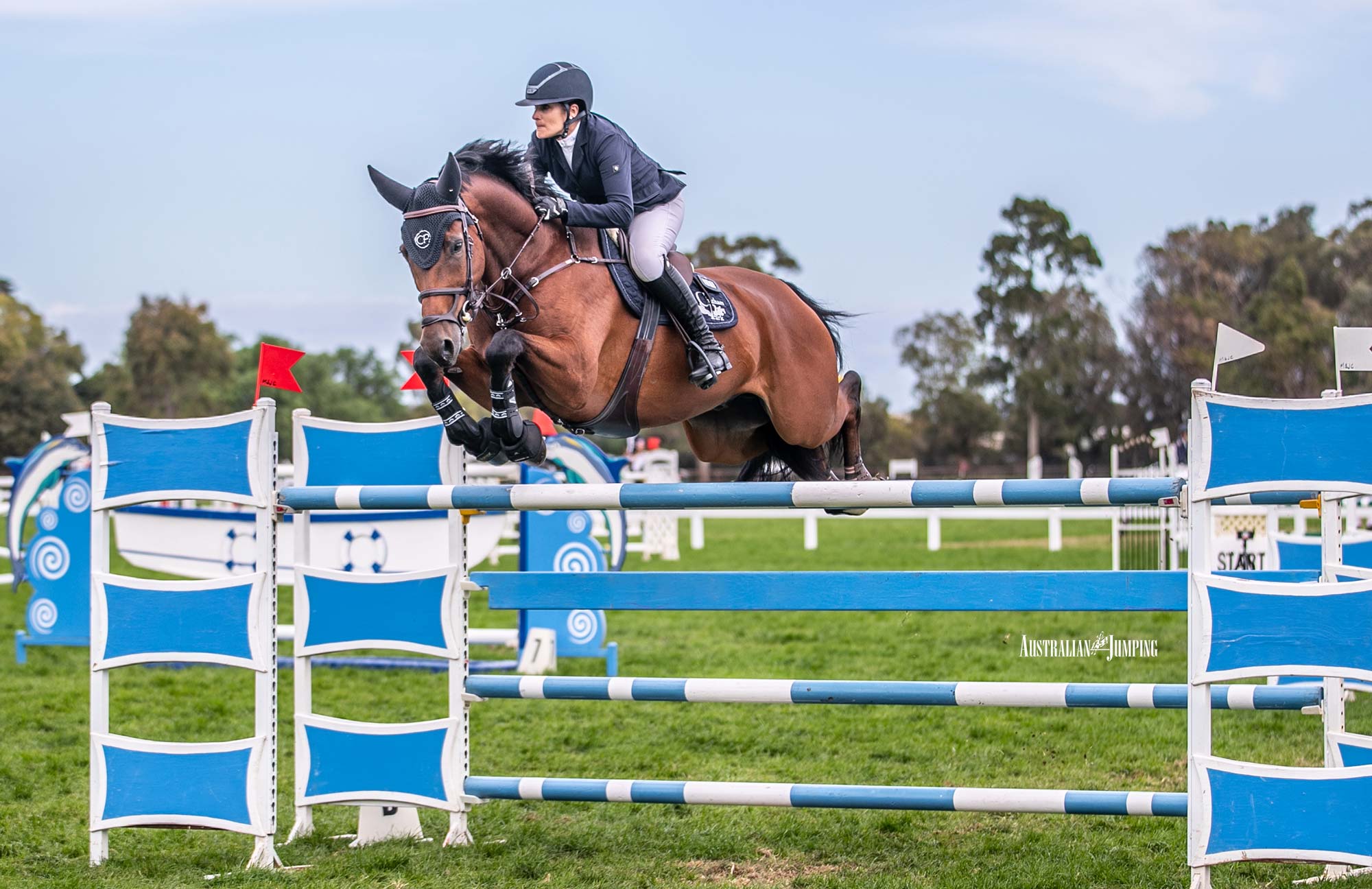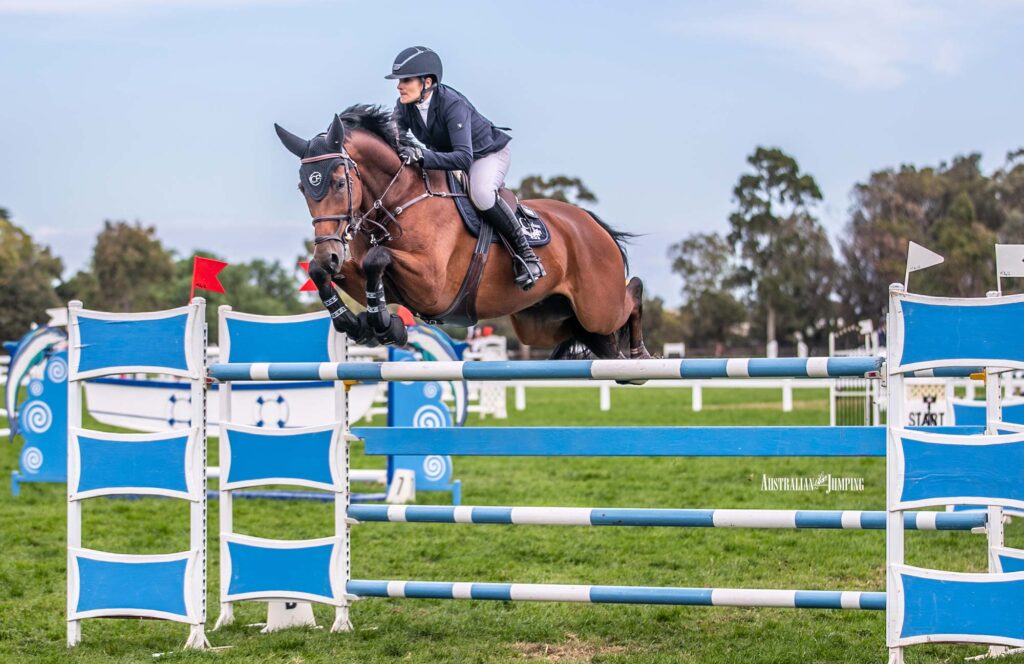 Amber Fuller and CP Aretino
Another success of the Ulixes/Argentina breeding initiative has been Fernhill Zinzan. Initially jumped by Tom McDermott, the ride on Zinzan was taken over by top NSW Junior Madeline Sinderberry, taking out the Australian Junior Championship in 2014 and 2015. Zinzan was the Champion 7-year-old at the Australian Championship and carried Sinderberry to the Most Successful Young Rider award at the 2016 Sydney Royal. 2016 was a great year for the pair. They were the winners of the National Young Rider Selection Series, winning all 5 rounds in which they competed. Things only got better from there. The pair were crowned NSW Young Rider Champions in 2016 and also later in the same year, Australian Young Rider Champions – a feat repeated in 2017.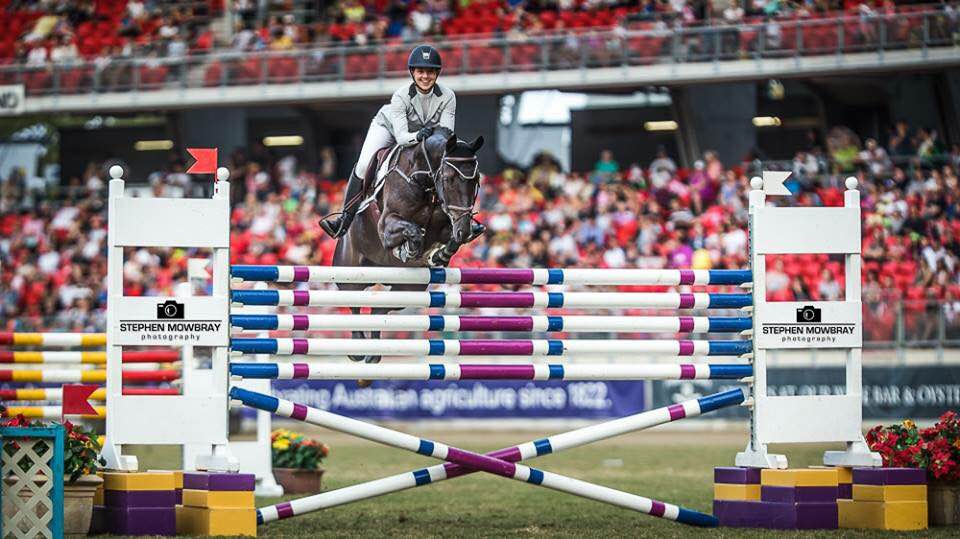 Madeline Sinderberry and Fernhill Zinzan. Photo credit: Stephen Mowbray
JT Valentina was another successful progeny of Ulixes and Argentina and again ridden by Madeline Sinderberry. In 2018 JT Valentina carried Sinderberry to victory in the Junior Championship at the Australian Titles.
Another horse out of CP Argentina, but this time by Vivant was CP Argento, who has had a long and distinguished career in World Cups and also runner up in the Australian Championships, ridden by Andrew Lamb.
Another horse of significance which was sourced from Stal Tops was the grey mare, CP Romantic Dream. Soon after arriving, Emily Blinkworth rode CP Romantic Dream to two Australian Young Rider Championships in 2006 and 2008. This combination competed at World Cup level in 2009 with mixed success. It wasn't until 2012 did we see the very best of this horse, when the mare was taken over by a young Tom McDermott. They took first place in the World Cup round at Sydney Royal with a number of good performances before another win at Tonimbuk towards the end of 2012. The highlight for the year was a win by the pair in the Australian Senior Championship by a single fault from another Stal Tops import CP Ulixes which we mentioned earlier.
Advertisement


This was not the only success that Tom McDermott has had at the Australian Championships on horses bred and sold by Stal Tops. In 2010 he won the Australian Young Rider Championship aboard CP Rolex (Nonstop x Olivia Van Berkenbroeck by Feinschnitt Van De Richter). 2010 turned out to be a great year for these imports at the Australian Championships. Not only did George Sanna take the Senior Title (CP Aprilla) and McDermott the Young Rider Title (CP Rolex), but Sharon Slater piloted CP Ulixes to victory in the Futurity Championship.
While all these victories and successes occurred a decade ago or longer, the production line has continued through to more recent times.
In 2015, Tom McDermott imported Quintago 1 (Quidam De Revel x N-Cassina by Capitol I) to Australia and after a couple of starts at World Cup level, on-sold the stallion to young Queensland star, Brooke Langbecker. Quintago 1 was Langbecker's regular World Cup mount for several years before breaking through for a win in the World Cup round held at the Sydney Summer Classic in 2018.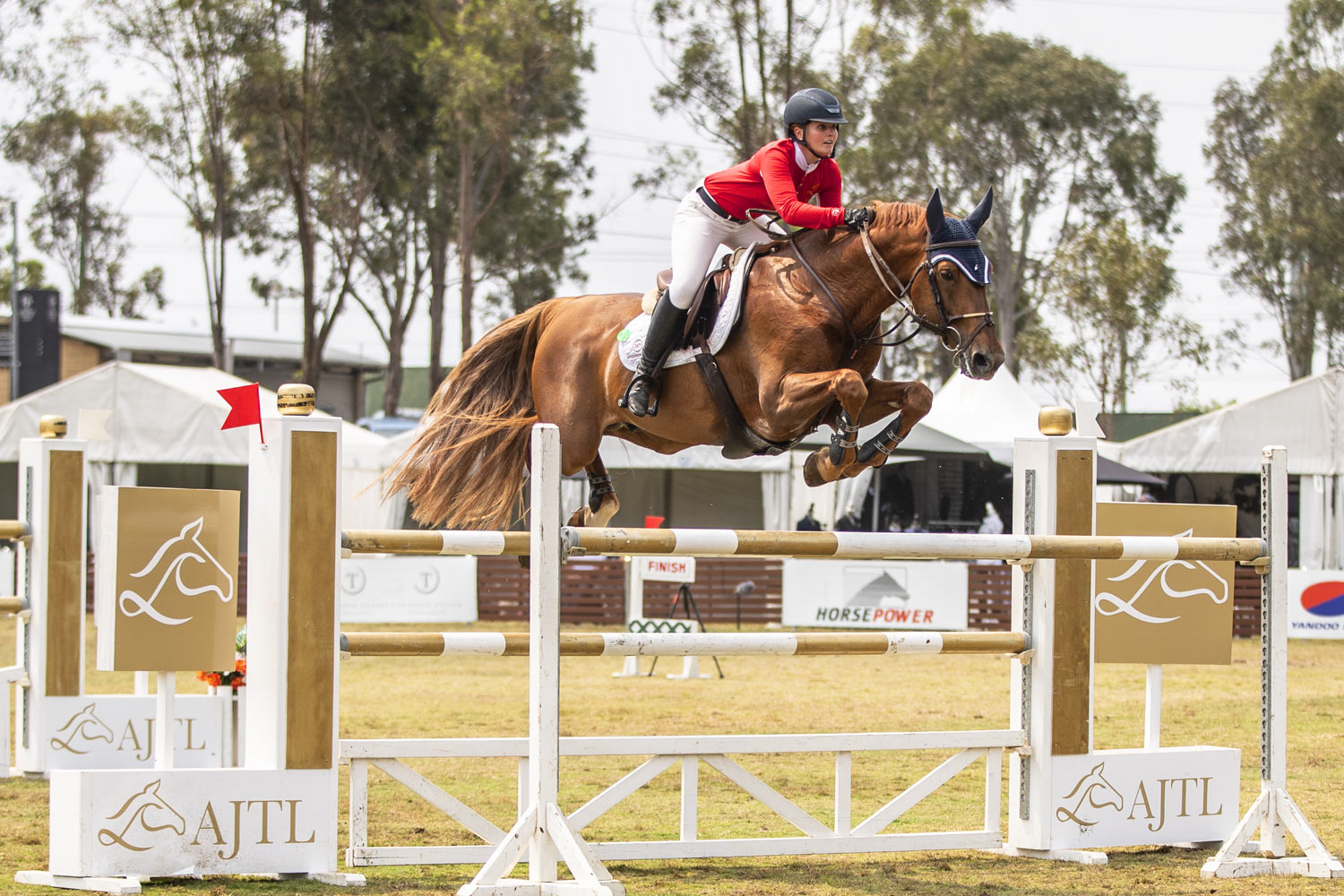 Brooke Langbecker and Quintago 1
Sirius Du Granit (Orlando x Melisse Du Granit by Calypso De Moyon) was campaigned briefly in Europe in 2017 by Edwina Tops-Alexander before the gelding was sold to Australia and has been ridden to CSI 1* level by Amelia Douglass.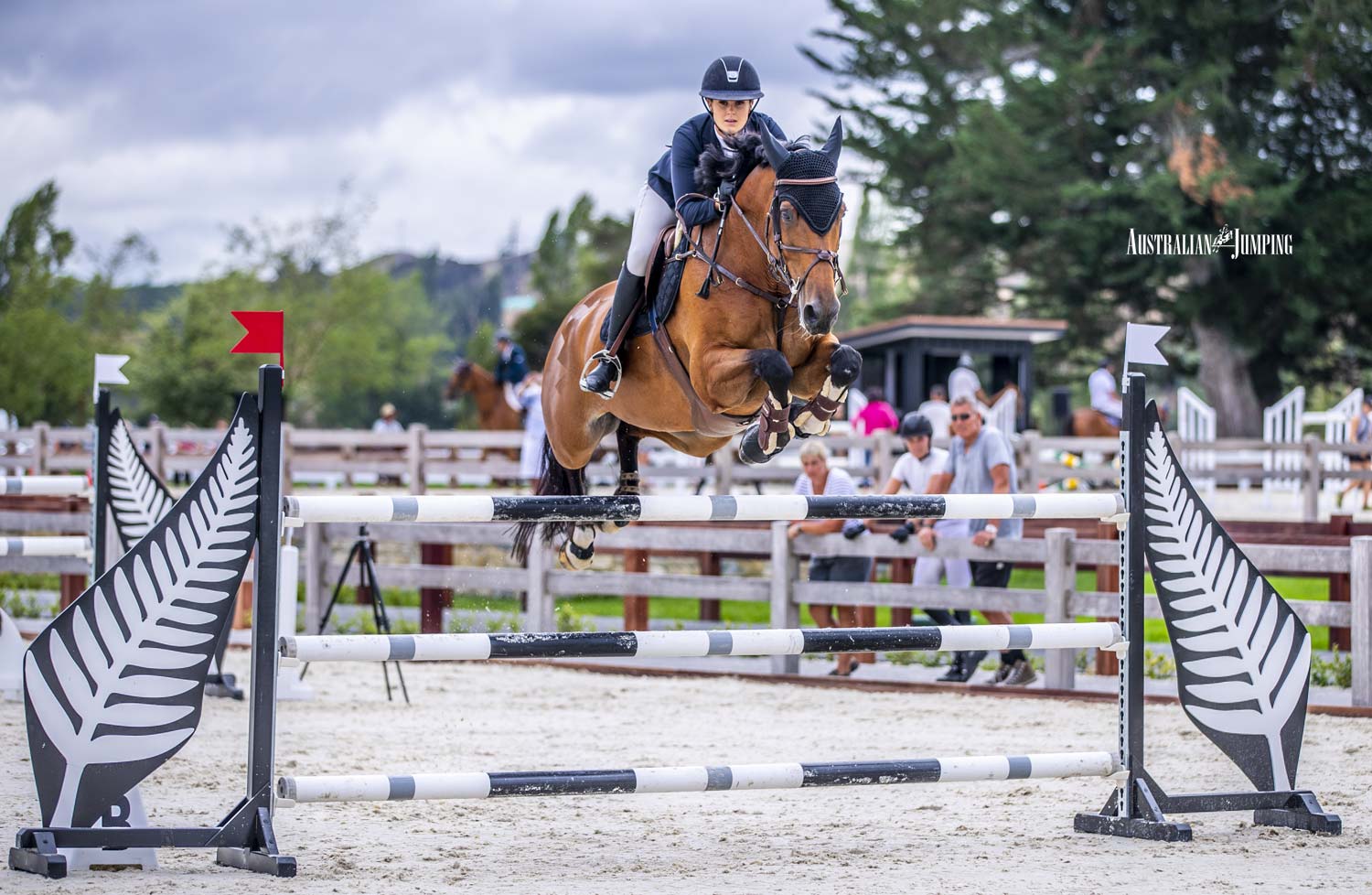 Amelia Douglass and Sirius Du Granit competing at Takapoto Estate, New Zealand in 2020
Another Stal Tops import to find their way into the hands of Amelia Douglass is the mare Cassis Z Ten Halven (Crown Z x Chablis Van Het Meulenhof  by Kannan). First ridden in Australia by Jessie O'Connell, where they won the Young Rider final at Elysian Fields in 2018, Douglass has since had her share of success with this horse. To complete a lovely circle of circumstance, the pairing of Cassis Z Ten Halven and Amelia Douglass were successful in taking out the second Stal Tops Australian Young Rider Series in 2019. Also, ironically, the horse that Edwina herself had previously ridden, Sirius Du Granit, paired with Douglass to also take second place in the 2019 series.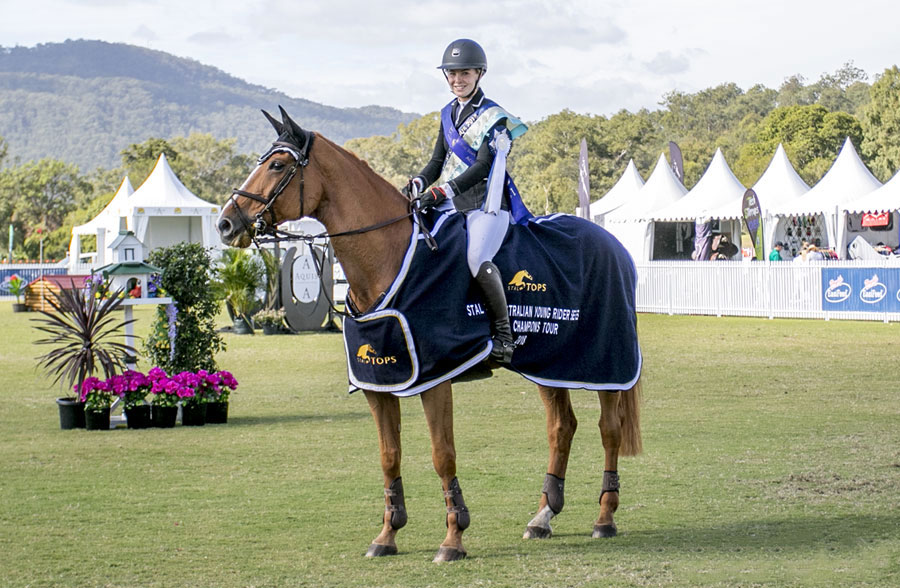 Jessie O'Connell and Cassis Z Ten Halven
Yet another horse purchased from Stal Tops, the mare Upperclass Z (Untouchable x Evita XIII by Capitol) has been ridden by Amelia Douglass in recent times. This pair were second in the NSW Young Rider Championship (won by Douglass and Cassis Z Ten Halven) as well as having success in the Annual Takapoto Festival, taking a heat of the Silver Tour class.
Amelia Douglass and Upperclass Z
Congo Z (Chellano Z x Savannah Z by Sandro Z), initially ridden by Jamie Winning, then combined with Australian multiple Olympian Vicki Roycroft in over 20 World Cup starts between 2014 and 2017, taking a win in the Greater Sydney World Cup Qualifier in May of 2015.
Anssioso Z  is another amazing horse from Stal Tops, bought by David and Bridget Willis for their daughter Suzy and later ridden by Billy Raymont and Josh Collins.
Just to round things off, another pair of horses purchased from Stal Tops that are making their mark in Australia, are the mare Zidora (VDL Zirocco Blue x Lidora by Burggraaf) and the gelding Gigant Z (Glasgow Vh Merelsnest x Letizia ). Both ridden by Melissa Blair, Zidora has been competing at World Cup level for the past couple of years while Gigant Z has been doing well at Future Stars/Futurity level.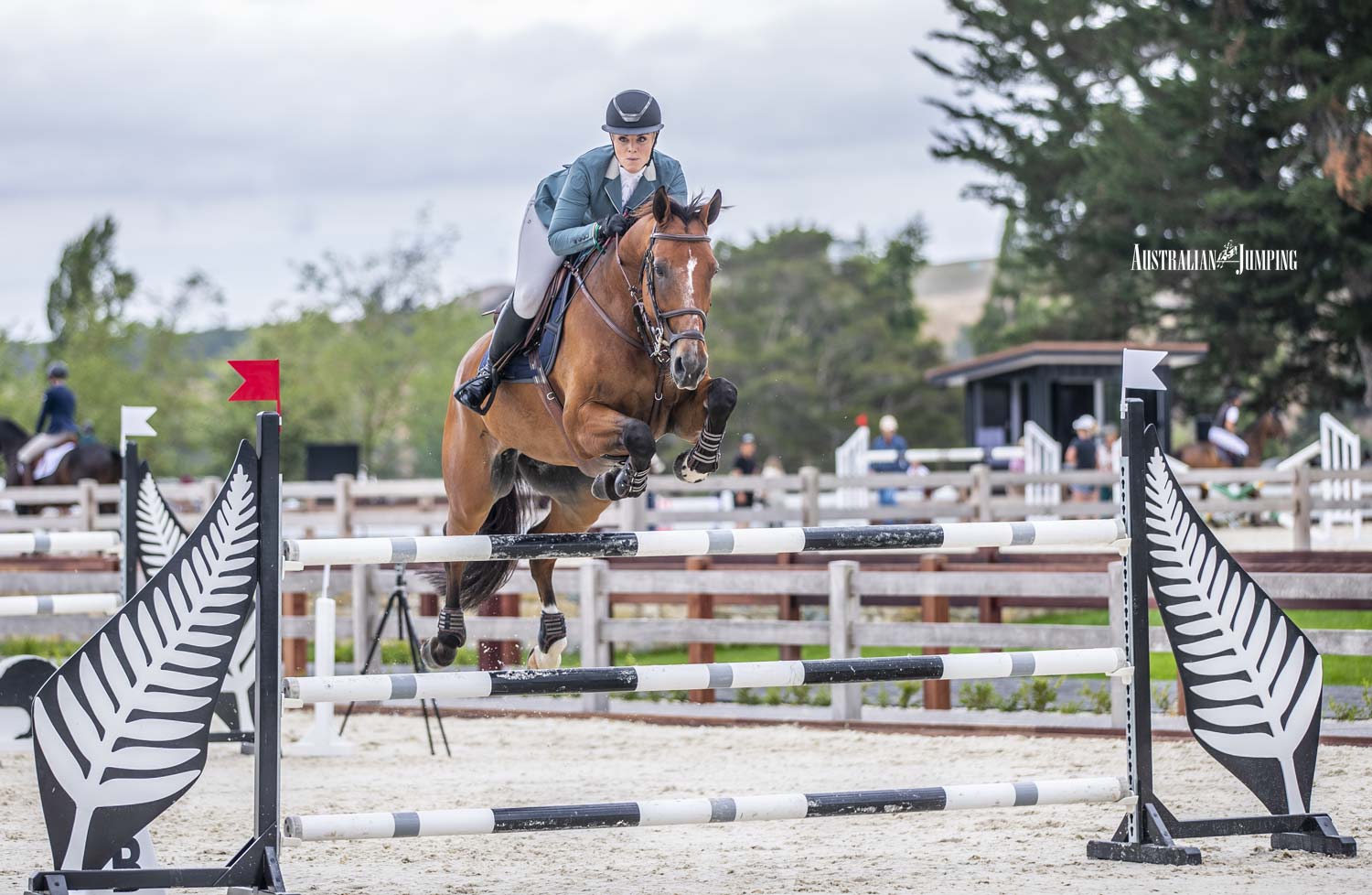 Melissa Blair and Gigant Z competing at Takapoto Estate, New Zealand in 2020
Nopal Van Talaert (Diamont De Semilly x Ivoline Vede by Pommeau Du Heup) was, until mid 2019 competing in Europe, however since being transferred to Australia, here he is ridden by Amber Fuller at Futurity and Mini-Prix level. An ever improving 8-year-old, he may well prove to be a highlight of the Stal Tops/Chatham Park relationship.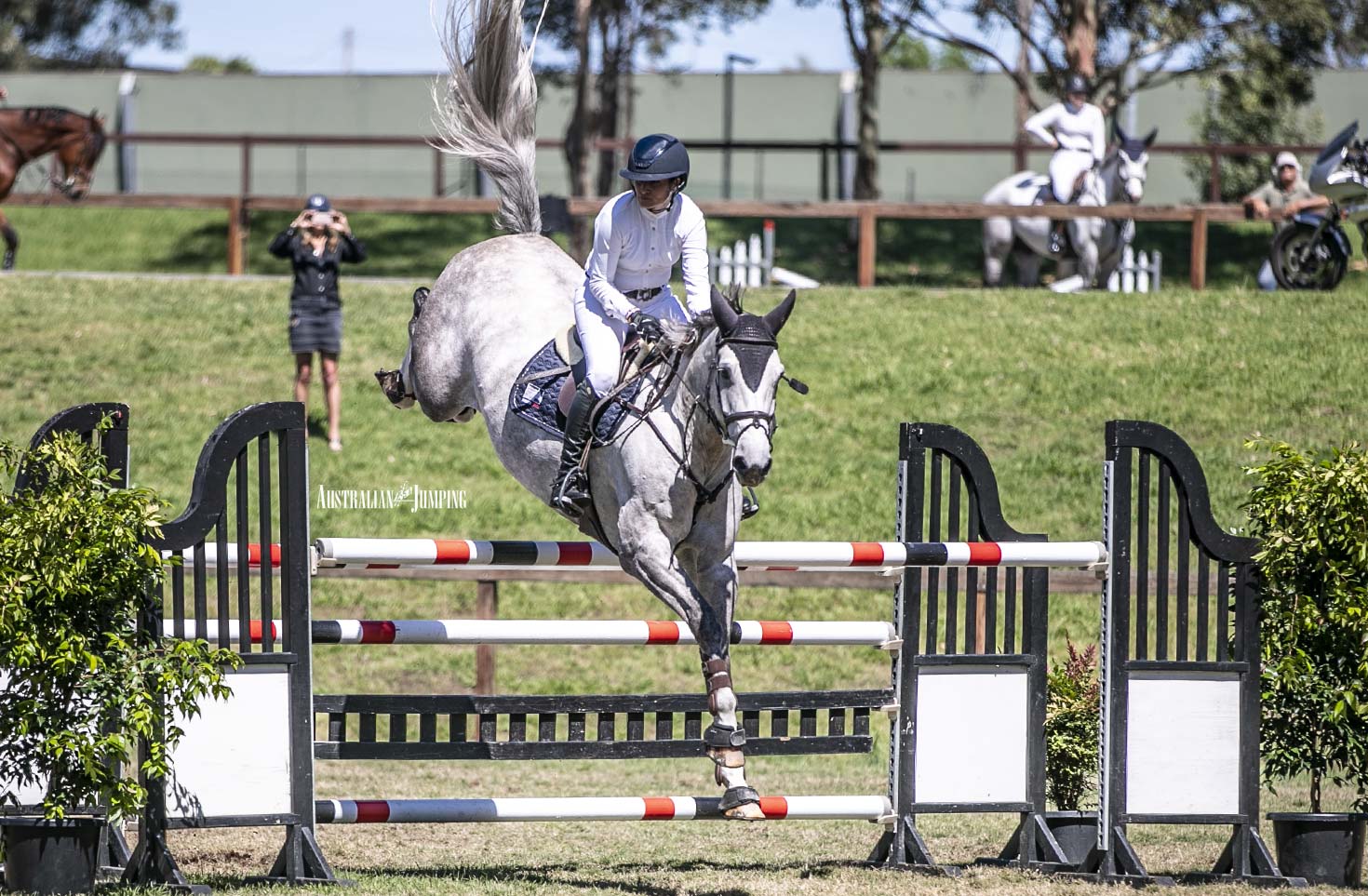 Amber Fuller and Nopal Van Talaert
Another horse that was not only purchased from Stal Tops, but is an example of the way Stal Tops assist in the development of young Australian riders, is the mare Bonaire (Vigo D Arsouilles STX x Viva by San Patrignano Corrado). Bonaire previously competed in Europe, however was sold by Stal Tops and sent to Australia in early 2018. During 2019 Bonaire, ridden by young Victorian rider Shimona Fraid, has competed at World Cup Qualifier level and was awarded the FEI World Cup Jumping Australian League 2019/20 Rookie of the Year. Now, in 2021, Fraid and Bonaire find themselves based at Valkenswaard at Stal Tops developing her riding under the coaching of Tops-Alexander. This fantastic opportunity sees the pair having competed in recent weeks at Valkenswaard and at St Tropez.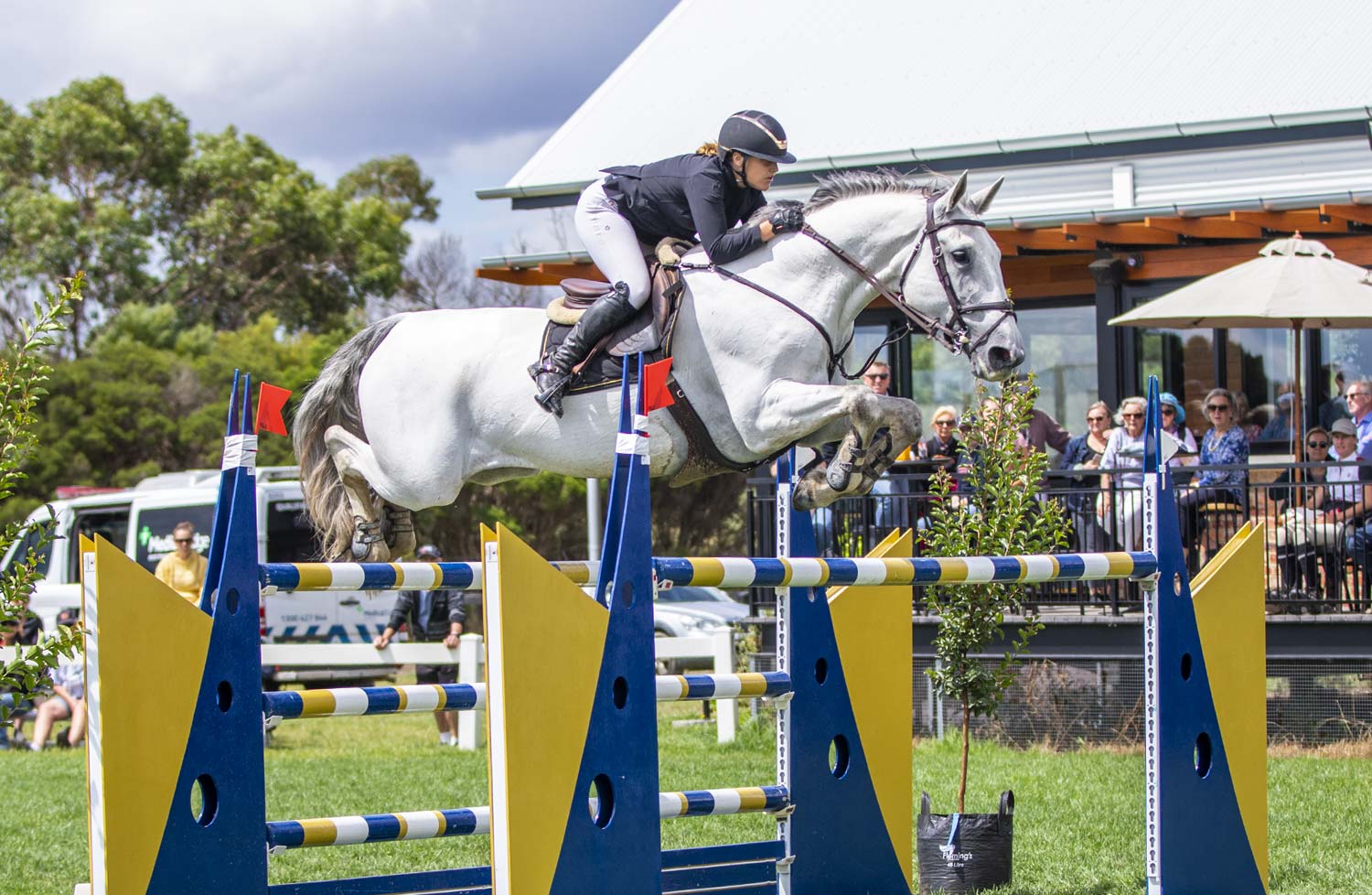 Shimona Fraid and Bonair
Another young Victorian rider, Jacob Wells has been at Stal Tops for a couple of years, gaining valuable international experience under the guidance of the Tops.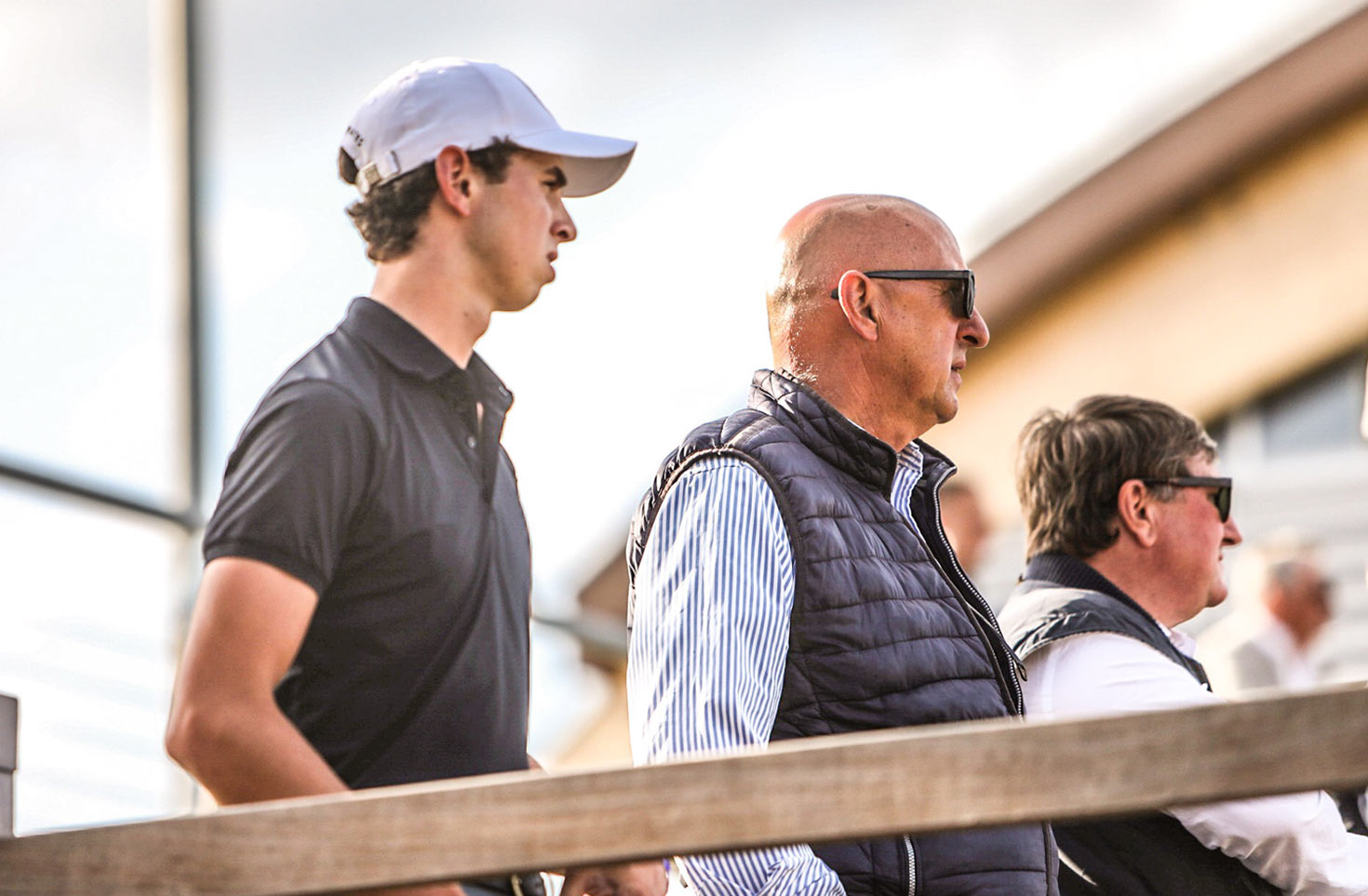 Jacob Wells learning from the best at Stal Tops
Previously, a stay at Stal Tops has been an invaluable stop on the path to successful international careers for a number of young Australian riders. Julia Lynch (Hargreaves) was a young rider from Australia who travelled to Europe in May 2011 to train at Stal Tops. In 2012, she was selected to attend the London Olympics in both the individual and teams competition and in doing so, at the age of 26, became Australian youngest ever Jumping competitor at the Olympics. This was achieved on a horse named Vedor (Indoctro x Maaike by Fedor) which was sourced through Stal Tops and travelled back to Europe with her. Interestingly, Julia's debut into the Grand Prix ranks in Australia was with another Stal Tops horse, the amazing Haymen.
Jamie Winning was another Australian Young Rider to benefit from a stint at Stal Tops, the Winnings had purchased two horses from Stal Tops in 2008, the stallion Quincy Z, and the nine year old gelding Vangelo Des Hazalles, with whom Jamie had a lot of success, including a memorable win in the Shepparton World Cup. The following year she went to Europe with Vangelo and based herself with Edwina and Jan.
Another way that Stal Tops has influenced the sport of jumping in Australia was Jan's development of GCL, the Global Champions League team series which runs parallel with Longines Global Champions Tour. This successful team format attracting corporate and private investors has been replicated in Australia by the Australian Jumping Teams League (AJTL), which held its inaugural season in 2019.
Between providing the model for the AJTL competition, breeding, sourcing and selling a consistent production line of top class horses to us and providing professional tutelage and experience for some of Australia's best young riders, the impact that Stal Tops has had on Australian Jumping has been massive. Hopefully, the relationship continues for many years to come.
View Comments