Stonewall Success for Tom McDermott and Cooley Gangster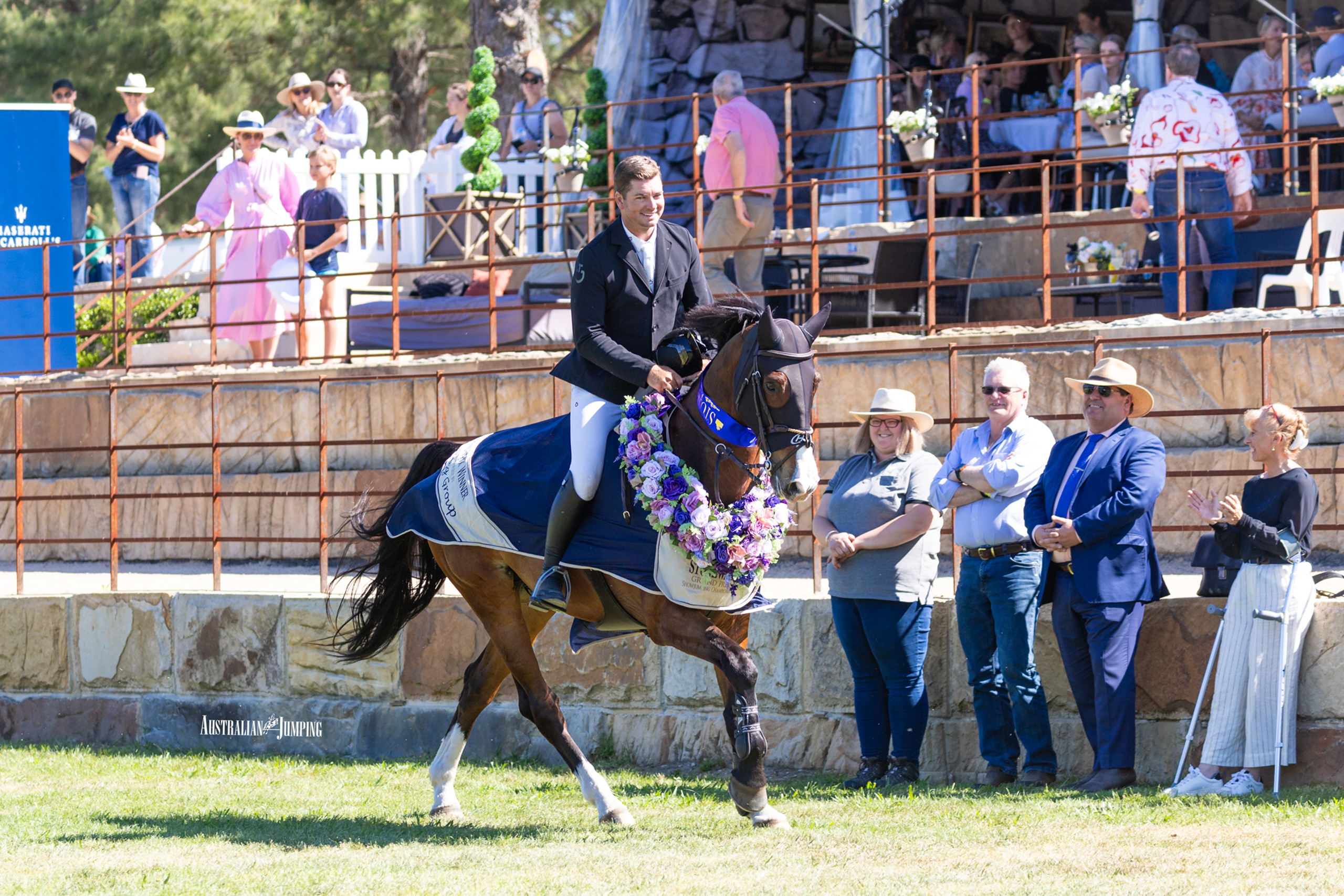 Australian Jumping
Above: Tom McDermott and Cooley Gangster. Shugg Group Grand Prix winners.
The magnificent Stonewall Equestrian Centre, situated at Mangrove Mountain on the beautiful NSW Central Coast conducted their annual Grand Prix Jumping Championships last weekend. Held over four days and with two grass arenas in action, Krissy Harris put together a wonderful program which drew competitors from around NSW as well as a strong Queensland contingent.
Advertisement


With a setting of an international standard for competitors and spectators alike, this is an event on the Australian Jumping calendar not to be missed.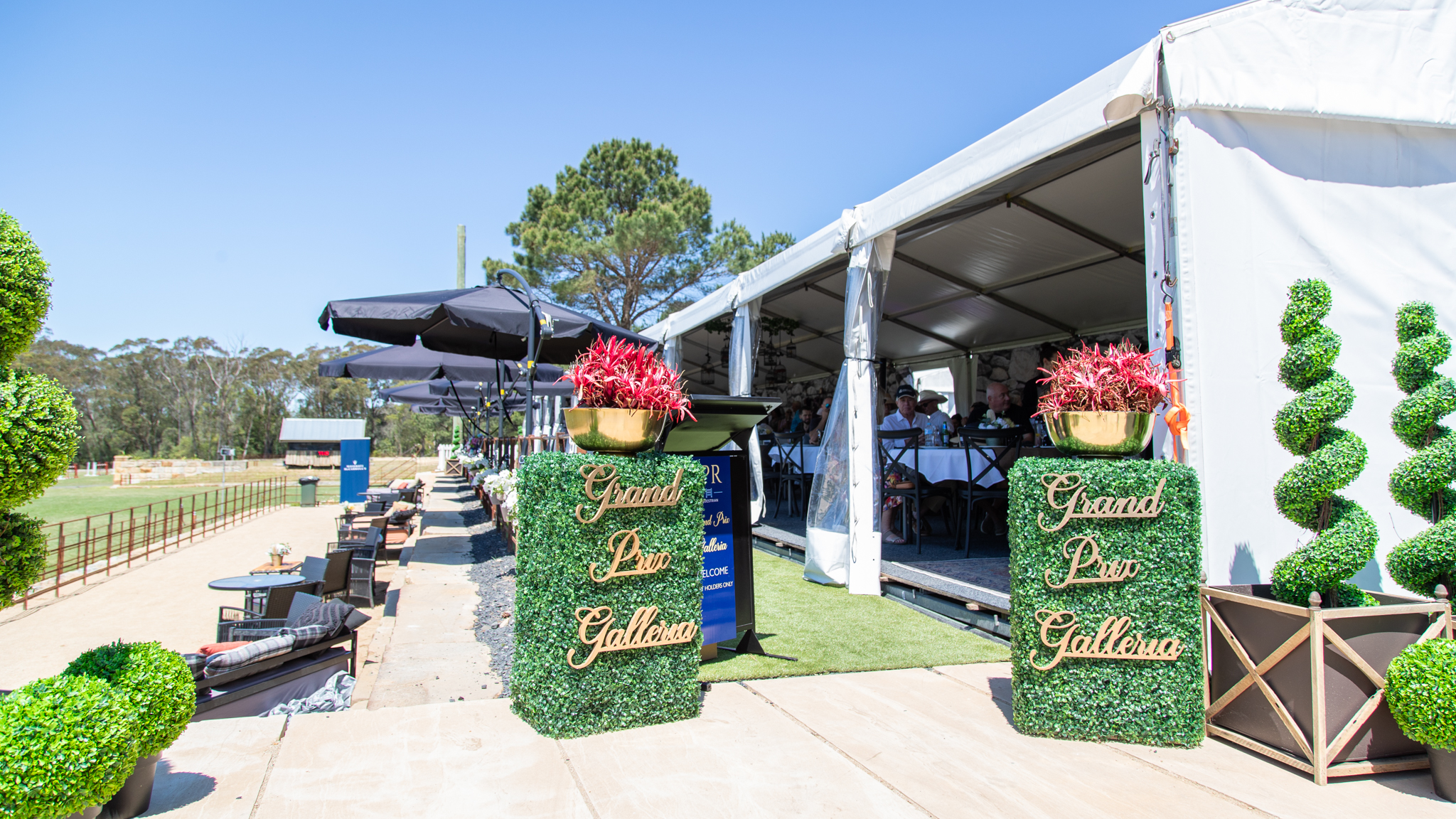 The feature class of the show was the Shugg Group Grand Prix and with $20,000 on the line, the competition was hot as well as the weather. Tom McDermott and Cooley Gangster, who recently were crowned NSW State Champions continued their rich vane of form by taking out the win with an impressive double clear performance over the two-round competition. Two other combinations also went double clear, with times separating Queensland visitors, Rebecca Jenkins and Incredible C into second place and Amber Fuller and Nopal Van Tallaert into third.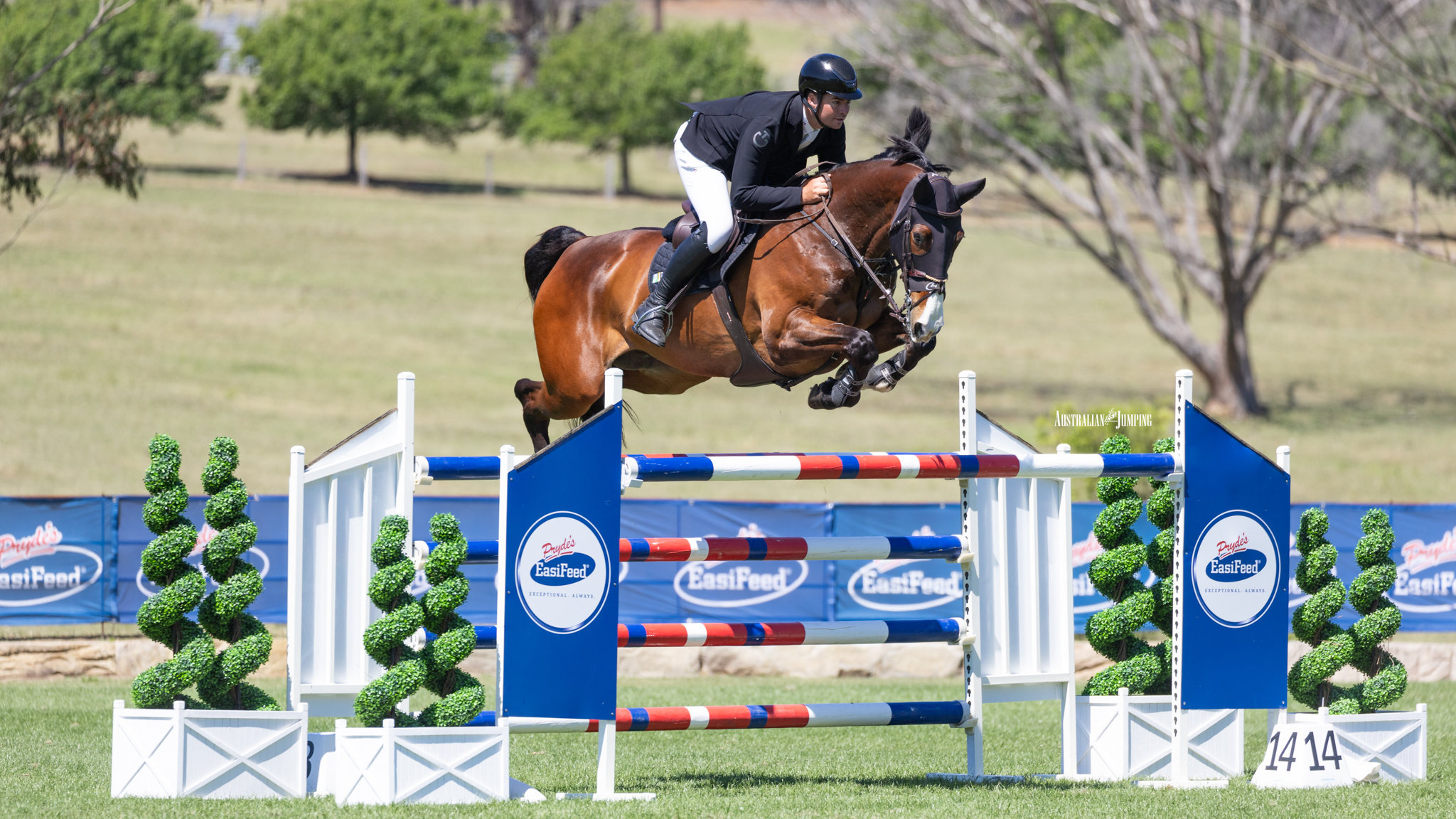 Above: Tom McDermott and Cooley Gangster.
The Wyong Equine Clinic and Emma Mason Equestrian sponsored Speed Championship was an exciting affair, with just over half a second separating first and second. The win went to New England based William Wood and Powerhouse Park Ego Roc, just beating home the experienced Andrew Inglis his mare Alillie into second. Third place went to Tyrone Latham and Arion Carasun.
In other finals, the junior Grand Slam was won by Queensland visitors Emmy Ravenscroft and Dornamour, who were the fastest of seven double clear combinations. The Stonewall Plate, was taken out by dual Olympian James Patterson-Robinson with Connollys Karuba under saddle in a solid double clear performance.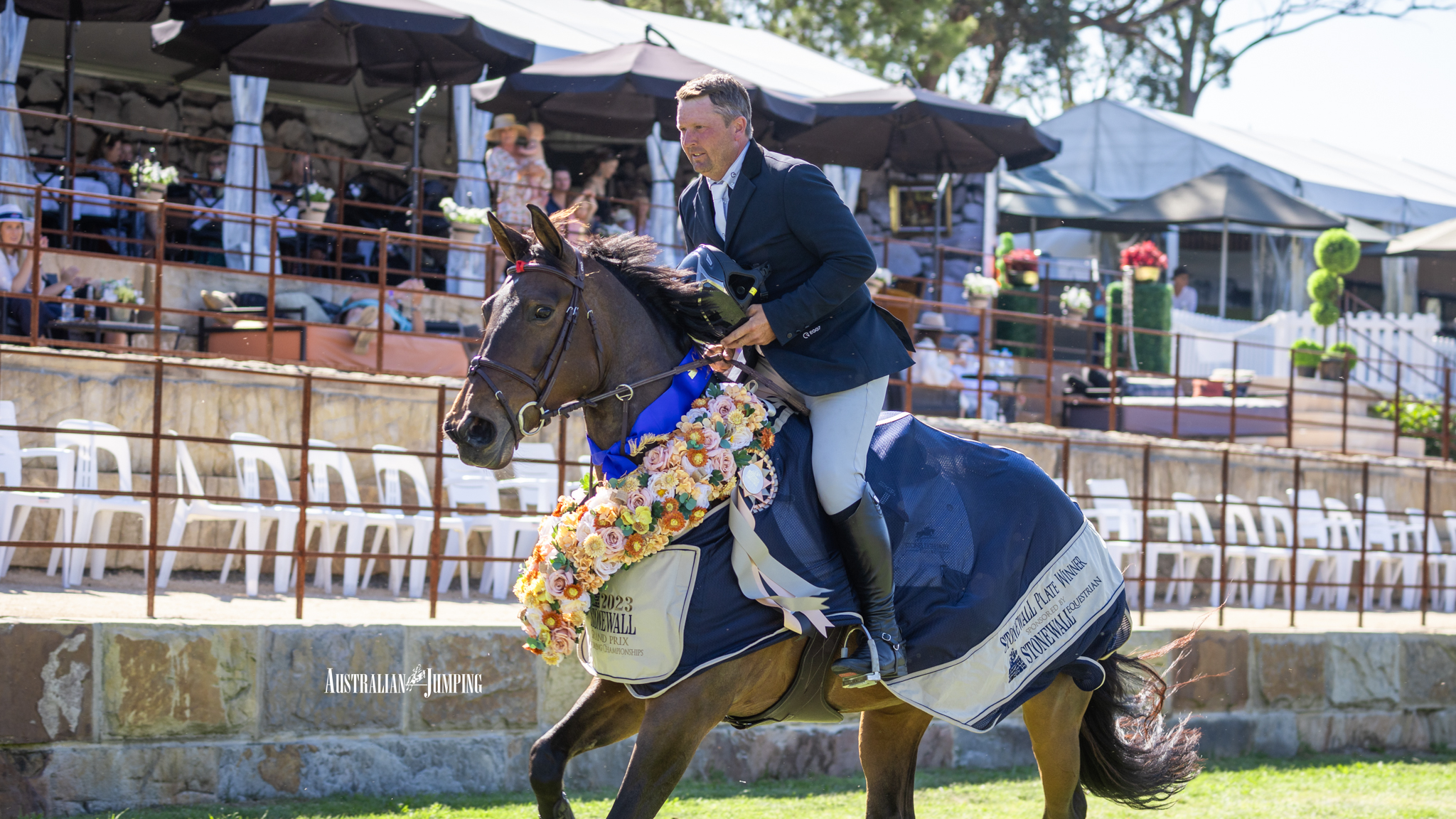 Above: James Patterson-Robinson with Connollys Karuba
The Amateur Grand Slam went to Courtney Cusack and Sandhills Swing which follows on from their recent success in the Amateur competition at the Jumping@Willinga show just a couple of weeks ago.
Advertisement


However, despite most of their performances occurring on the second arena, the stars of the show were the Queensland based combination of Tom Sedger and Stir It Up. They entered four classes over the course of the show and won them all, including a win at 1.05m, two at 1.10m and one at 1.15m. To top things off, Tom also took a win with Maxima in a 1.15m TSHA class. It doesn't get much better than that!
Also faring well and following on from her success in the Equimillion weekend just a fortnight earlier, young locally based rider Makaylah Fenwick and her OTT thoroughbred Grace and Glory picked up a pair of wins. Makaylah also picked up numerous placings over the show with her other two horses.
It was a fantastic four days of jumping and we look forward to the next chapter in the ongoing story which is Stonewall, when they host the TSHA Australian Titles in mid-November
Congratulations goes to all the winners and placegetters across the four days of competition.
A full listing of the top six finishers in all classes held over course of the show appears below.
THURSDAY RESULTS
PRYDES EASIFEED GRASS ARENA 1
CLASS 1: MAXIMUM MATERIALS AND HAULAGE: STAR SPOTTER QUALIFIER (HORSES 9 YEARS and UNDER) – 1.25-1.30m
| | | |
| --- | --- | --- |
| PLACE | RIDER | HORSE |
| 1st | Samantha Dernee | Laurel Glen Quintessence |
| 2nd | Andrew Inglis | Indiana Goodtimes |
| 3rd | Aaron Hadlow | Yalambi's Kandy Ripple |
| 4th | James Paterson-Robinson | Oaks Evergreen TS |
| 5th | Amanda Madigan | Diamond B Chinook |
| 6th | Ross Smith | Valentino QSH |
CLASS 2: ESSENTIAL EQUESTRIAN WEAR, RJ3 SPORTHORSES and BELUGA PARK: 1.30m
| | | |
| --- | --- | --- |
| PLACE | RIDER | HORSE |
| 1st | Sarah Duggan | Oaks Diamantina |
| 2nd | James Paterson-Robinson | Connollys Karuba |
| 3rd | Tyrone Latham | Yirrkala Harriett |
| 4th | Gemma Creighton | It's Silkbridge |
| 5th | Andrew Inglis | Alillie |
| 6th | Daniel Blundell | Cadenza NZPH |
CLASS 3: ORANGEVILLE PERFORMANCE HORSES and EQUACARE: OPEN – 1.40m
| | | |
| --- | --- | --- |
| PLACE | RIDER | HORSE |
| 1st | Stuart Jenkins | Fairview Alicana |
| 2nd | William Wood | Celerity Park Veestar |
| 3rd | Billy Raymont | Caprino |
| 4th | Jamie Kermond | Tulara Watcoblensky |
| 5th | Nicholas Taliana | Adesman |
| 6th | Josh Collins | Cornel |
GRASS ARENA 2
CLASS 4A: MANGROVE MOUNTAIN MEMORIAL CLUB & GOLF COURSE: OPEN – 1.05m
| | | |
| --- | --- | --- |
| PLACE | RIDER | HORSE |
| 1st | Tom Sedger | Stir It Up |
| 2nd | Juan Hercberg | Rosthwaite Vigilante II |
| 3rd | Alexis Clark | Oaks Visionary |
| 4th | Tom Sedger | Coolboy FPH |
| 5th | Michael Hirons | Spruce Bruce |
| 6th | Tyrone Latham | Marocchino |
CLASS 4B: DIAMOND B FARM: JUNIOR – 1.05m
| | | |
| --- | --- | --- |
| PLACE | RIDER | HORSE |
| 1st | Jorja Lenehan | Centeria Vos |
| 2nd | Harriet Smith | Spring Rain |
| 3rd | Harriet Smith | I'm A Cowboy |
| 4th | Emmy Ravenscroft | Its Pandora |
| 5th | Jake McEvoy | Volador |
| 6th | Makaylah Fenwick | Rainbow Man |
CLASS 4C: EQUISSAGE: TSHA – 1.05m
| | | |
| --- | --- | --- |
| PLACE | RIDER | HORSE |
| 1st | Makaylah Fenwick | Grace And Glory |
| 2nd | Makaylah Fenwick | The Garret |
| 3rd | Naomi Miller | Partly Cloudy |
| 4th | Ashton Wiliams | Sea Pirate |
| 5th | Bryia Anderson | DP Sichuan Chief |
| 6th | Cade Hunter | Boombenny |
CLASS 5A: JEMALONG PARK: OPEN – 1.15m
| | | |
| --- | --- | --- |
| PLACE | RIDER | HORSE |
| 1st | Tom Sedger | Stir It Up |
| 2nd | Hayley Morris | Ngahiwi Storm |
| 3rd | Anna White | Body Builder |
| 4th | Billy Raymont | Mountain View Our Balou |
| 5th | Sarah Duggan | Carina 1 |
| 6th | Michael Hirons | Spruce Bruce |
CLASS 5B: VIEWS EQUESTRIAN: AMATEUR – 1.15m
| | | |
| --- | --- | --- |
| PLACE | RIDER | HORSE |
| 1st | Gwenaelle Lecerf | Asdecoeur Dhigginson |
| 2nd | Courtney Cusack | Sandhills Swing |
| 3rd | Victora Montano | Jellystone Park Cinzano |
| 4th | Sarah Crossen | Vermoral RJ3 |
| 5th | Abby West | Aniklas |
| 6th | Drew Hawkins | BP Black Russian |
CLASS 5C: TRUCK TRADES AUSTRALIA: TSHA – 1.15m
| | | |
| --- | --- | --- |
| PLACE | RIDER | HORSE |
| 1st | Tom Sedger | Maxima |
| 2nd | Anna White | Row Boat |
| 3rd | Makaylah Fenwick | The Garret |
| 4th | Gaby Herbosa | Lord Melbourne |
| 5th | Naomi Miller | Partly Cloudy |
| 6th | Makaylah Fenwick | Grace And Glory |
FRIDAY RESULTS
PRYDES EASIFEED GRASS ARENA 1
CLASS 6: TRAILRACE: OPEN – 1.30m
| | | |
| --- | --- | --- |
| PLACE | RIDER | HORSE |
| 1st | Clemency Hughes | YPH Capulet |
| 2nd | James Arkins | Rosthwaite Cover Girl |
| 3rd | Andrew Inglis | Indiana Goodtimes |
| 4th | Tom Sedger | Elmo |
| 5th | Sarah Duggan | Oaks Diamantina |
| 6th | James Paterson-Robinson | Oaks Evergreen TS |
CLASS 7: SONSEN THOROUGHBREDS: OPEN – 1.40m
| | | |
| --- | --- | --- |
| PLACE | RIDER | HORSE |
| 1st | James Paterson-Robinson | Connollys Karuba |
| 2nd | Rebecca Jenkins | Incredible C |
| 3rd | Tom McDermott | Cooley Gangster |
| 4th | Daniel Blundell | Cadenza NZPH |
| 5th | Tessa Lill | Yalambi's Hugo Boss |
| 6th | Billy Raymont | Dakardo |
CLASS 8: CHATHAM PARK and CMF EQUESTRIAN: OPEN – 1.50m
| | | |
| --- | --- | --- |
| PLACE | RIDER | HORSE |
| 1st | Amber Fuller | Nopal Van Tallaert |
| 2nd | Billy Raymont | Caprino |
| 3rd | Amelia Douglass | Quel Filou 16 |
| 4th | James Mooney | KPH Cavatina |
| 5th | Tessa Lill | Yalambi's Key Largo |
| 6th | Stuart Jenkins | Fairview Alicana |
GRASS ARENA 2
CLASS 9A: AXIOM: OPEN – 1.10m
| | | |
| --- | --- | --- |
| PLACE | RIDER | HORSE |
| 1st | Tom Sedger | Stir It Up |
| 2nd | Lori James | Restauranter SHP |
| 3rd | Jessie Knight | Pippins Mini Cooper |
| 4th | Philip Knight | Pippins Casallco |
| 5th | Samantha Dernee | Legato Bon Concerto |
| 6th | Lori James | Bond Girl SHP |
CLASS 9B: CATHEDRAL PASTORAL COMPANY: JUNIOR – 1.10m
| | | |
| --- | --- | --- |
| PLACE | RIDER | HORSE |
| 1st | Harriet Smith | I'm A Cowboy |
| 2nd | Jorja Lenehan | SR Barnaby |
| 3rd | Harriet Smith | Spring Rain |
| 4th | Zenniah Albonetti | Sorento |
| 5th | Jorja Lenehan | Centeria Vos |
| 6th | Jett Newman | Wanda |
CLASS 10A: SABI EQUESTRIAN and RMB STEEL FABRICATIONS: OPEN – 1.20m
| | | |
| --- | --- | --- |
| PLACE | RIDER | HORSE |
| 1st | Charlie Magnier | Master Stevie G |
| 2nd | Andrew Inglis | Indiana Goodtimes |
| 3rd | Tom Sedger | Maximus Prime |
| 4th | Billy Raymont | Mountain View Our Balou |
| 5th | Emmy Ravenscroft | Dornamour |
| 6th | Billy Raymont | Callina |
CLASS 10B: WILLOW WOOD STABLES, DALKARA PARK and THE WHITE FAMILY: AMATEUR – 1.20m
| | | |
| --- | --- | --- |
| PLACE | RIDER | HORSE |
| 1st | Victora Montano | Jellystone Park Cinzano |
| 2nd | Lori James | Bond Girl SHP |
| 3rd | Courtney Cusack | Sandhills Swing |
| 4th | Sarah Crossen | Bamira |
| 5th | Gwenaelle Lecerf | Asdecoeur Dhigginson |
| 6th | Paris Endersby | Tinka's Bay |
SATURDAY RESULTS
PRYDES EASIFEED GRASS ARENA 1
CLASS 11: RILEY HORSEBOXES, YIRRKALA STUD and REDLEAF LODGE: OPEN – 1.30m
| | | |
| --- | --- | --- |
| PLACE | RIDER | HORSE |
| 1st | William Wood | Powerhouse Park Ego Roc |
| 2nd | James Paterson-Robinson | Team Priestley Leda Ego Z |
| 3rd | Stuart Jenkins | Cachassini II |
| 4th | Paige McBain | Greengrove Caspian |
| 5th | Sophie Scarce | Christella |
| 6th | James Mooney | KPH Kingfisher |
CLASS 12: GREENGROVE, COURTNEY WONG and MASERATI: STAR SPOTTERS FINAL – 1.30-1.40m
| | | |
| --- | --- | --- |
| PLACE | RIDER | HORSE |
| 1st | Hayley Morris | On The Point Laurent Perrier |
| 2nd | Aaron Hadlow | Kosmos |
| 3rd | Andrew Inglis | Indiana Goodtimes |
| 4th | Ross Smith | Valentino Qsh |
| 5th | Billy Raymont | Blue Balou PS |
| 6th | James Paterson-Robinson | Oaks Evergreen TS |
CLASS 13: STONEWALL EQUESTRIAN: OPEN – 1.40-1.45m
| | | |
| --- | --- | --- |
| PLACE | RIDER | HORSE |
| 1st | James Paterson-Robinson | Connollys Karuba |
| 2nd | Aaron Hadlow | Cera Stiletto |
| 3rd | Billy Raymont | Dakardo |
| 4th | Melissa Blair | Zidora |
| 5th | Nicholas Taliana | Adesman |
| 6th | Brad Frankum | Oaks Calypso |
GRASS ARENA 2
CLASS 14: EQUIDAE BOTANICAL HORSE CARE and AGW EQUESTRIAN: OPEN – 1.10m
| | | |
| --- | --- | --- |
| PLACE | RIDER | HORSE |
| 1st | Tom Sedger | Stir It Up |
| 2nd | Makaylah Fenwick | Grace And Glory |
| 3rd | Harriet Smith | Spring Rain |
| 4th | Valentina Hercus | RBH Chaccarla |
| 5th | Philip Knight | Pippins Casallco |
| 6th | Tyla Smith | Game Player |
CLASS 15A: FREEJUMP AUSTRALIA: OPEN – 1.20m
| | | |
| --- | --- | --- |
| PLACE | RIDER | HORSE |
| 1st | Sarah Duggan | Carina 1 |
| 2nd | Madeline Sinderberry | Molinda JB |
| 3rd | Michael Hirons | Spruce Bruce |
| 4th | Paris Endersby | Tinka's Bay |
| 5th | Tara Sheridan | Views Reflection |
| 6th | Chloe Hughes | Cil Dara Dainty |
CLASS 15B: ANNABEL ZEISLER PHOTOGRAPHY: TSHA – 1.20m
| | | |
| --- | --- | --- |
| PLACE | RIDER | HORSE |
| 1st | Makaylah Fenwick | Grace And Glory |
| 2nd | Jorja Lenehan | Sr Barnaby |
| 3rd | Rebecca Swinton | Moonwalk |
| 4th | Elissa Schneider | Carve It Up |
| 5th | Lori James | Restauranter SHP |
| 6th | Makaylah Fenwick | The Garret |
Advertisement


SUNDAY RESULTS
PRYDES EASIFEED GRASS ARENA 1
CLASS 16: STONEWALL EQUESTRIAN and FAIRVIEW PERFORMANCE HORSES: AMATEUR – 1.20m
| | | |
| --- | --- | --- |
| PLACE | RIDER | HORSE |
| 1st | Courtney Cusack | Sandhills Swing |
| 2nd | Paris Endersby | Tinka's Bay |
| 3rd | Victora Montano | Jellystone Park Cinzano |
| 4th | Melanie Heygate | Oaks Quebec |
| 5th | Rebecca Bates | WHF Colin Frissell |
| 6th | Abby West | Aniklas |
CLASS 17: WYONG EQUINE CLINIC and EMMA MASON EQUESTRIAN: OPEN SPEED CHAMPIONSHIP – 1.30-1.35m
| | | |
| --- | --- | --- |
| PLACE | RIDER | HORSE |
| 1st | William Wood | Powerhouse Park Ego Roc |
| 2nd | Andrew Inglis | Alillie |
| 3rd | Tyrone Latham | Arion Carasun |
| 4th | Ella Silk | Redgum Conan |
| 5th | Matt Irvine | Yalambis Isodora |
| 6th | Andrew Inglis | Indiana Goodtimes |
CLASS 18: SHUGG GROUP: GRAND PRIX – 1.50-1.55m
| | | |
| --- | --- | --- |
| PLACE | RIDER | HORSE |
| 1st | Tom McDermott | Cooley Gangster |
| 2nd | Rebecca Jenkins | Incredible C |
| 3rd | Amber Fuller | Nopal Van Tallaert |
| 4th | Aaron Hadlow | Cera Stiletto |
| 5th | Billy Raymont | Caprino |
| 6th | Amelia Douglass | Quel Filou 16 |
GRASS ARENA 2
CLASS 20: M.R BREECHES, STORM PARK PRODUCE and AUSSIE FARRIER: JUNIOR GRAND SLAM – 1.15m
| | | |
| --- | --- | --- |
| PLACE | RIDER | HORSE |
| 1st | Emmy Ravenscroft | Dornamour |
| 2nd | Charlie Magnier | Master Stevie G |
| 3rd | Zenniah Albonetti | Sorento |
| 4th | Harriet Smith | Spring Rain |
| 5th | Alexandra Inglis | Glenara Affogato |
| 6th | Molly Mooney | JB Evolution |
Results sourced from global entries online
View Comments