Susie Verco takes out Gold Cup at Adelaide Hills Showjumping Spectacular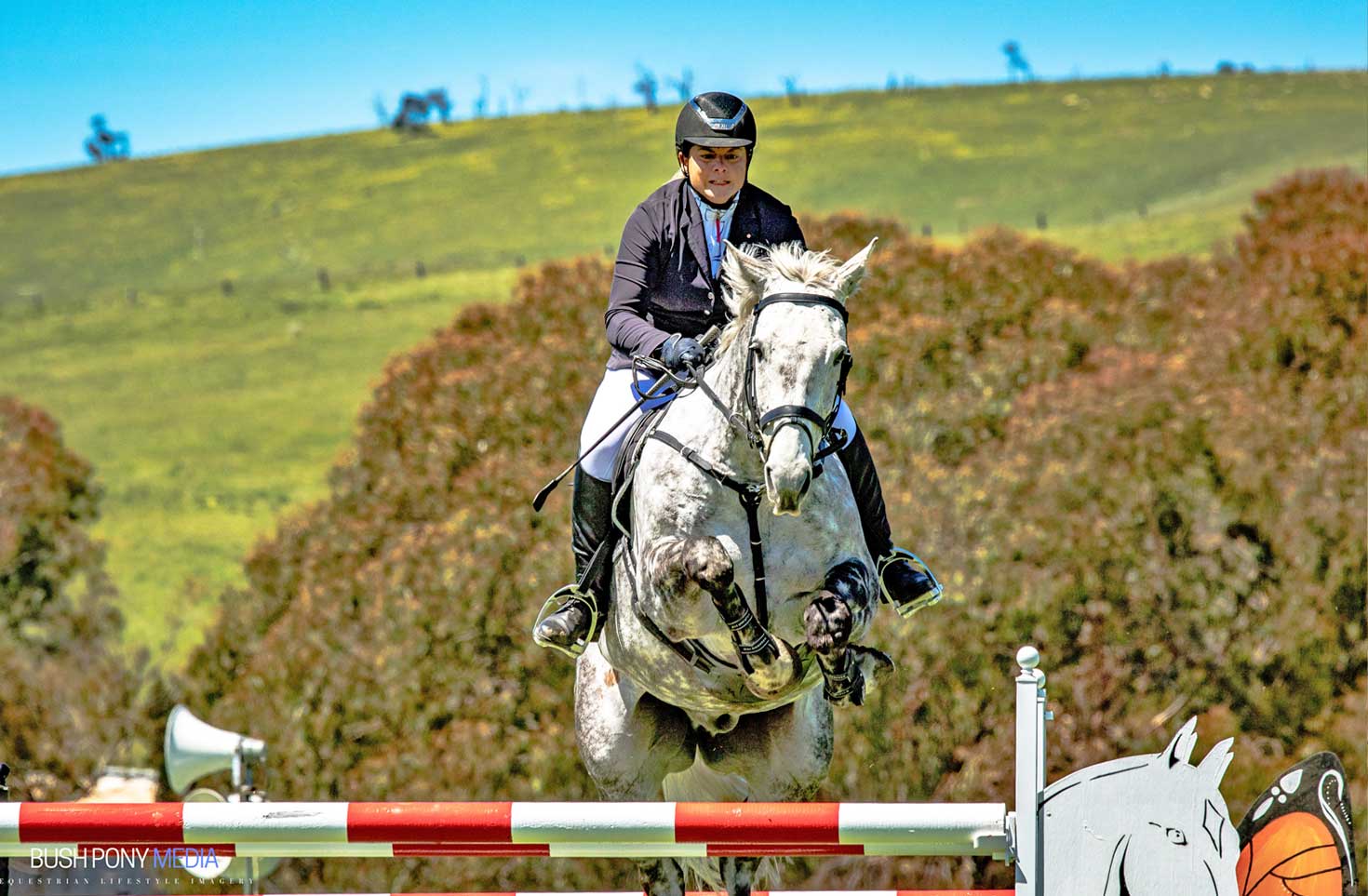 Bush Pony Media
Above: Susie Verco and Captivate. Photo Credit: Bush Pony Media
The very first show conducted by the newly formed Adelaide Hills Show Jumping Club was held last weekend at the beautiful Wirrina Cove. The action took place over two rings on both Saturday and Sunday under perfect sunny skies. By all accounts, their Showjumping Spectacular was a resounding success in every way.
The feature event of the weekend was the Hann's Horse Transport Gold Cup over 1.40m. Susie Verco and Captivate took out the victory over the experienced Anthony Thomas and SL Donato, a gelding formerly ridden by Clint Beresford at World Cup Qualifier Level.
Sunday's action also saw the Thompson and Redwood Silver Cup decided. Equestrian SA Life member and 1996 Atlanta team eventing Gold Medalist Wendy Schaeffer lead the way on her 9-year-old mare Gitta Bella. Ashleigh Westcott and Land Of The Free came in second while Kurt Siviour and Gringo rounded out the podium.
Advertisement


2019 State Squad member Conor Reed riding Dollar Girl MS won the Jolley Farms Bronze Cup from Rachelle Verma and Gizella. One again, Wendy Shaeffer found herself on the podium after coming third with a horse whose name summed up the weather for the weekend; Sparkling Sun.
Yvonne Forrest was the very generous sponsor of The Caitlin Forrest Memorial Junior Championship Class. Caitlin was a jockey who sadly passed away as a result of a racing accident almost five years ago. Abigail Lewis, who was on the 2019 Jumping SA Junior Development Squad, took out the win aboard MEC Gossip, with Lisa Dewhurst and Wolverine coming second. Third place went to Hannah Conlon and Metal Edge.
The win topped off a great weekend for Lewis and MEC Gossip, who on Saturday won the Snappy Spurs – Just Gus Memorial Speed Championship. Second and Third place were filled by Jasmin Dawe riding Turn It Up and Ashley Westcott in combination with Con Brio.
Advertisement

Australian Jumping would like to congratulate Adelaide Hills Show Jumping Club on an outstanding inaugural show and with them all the best for the future. We would also like to acknowledge all the winners and placegetters for their fine performances.
See below for a full listing of all the results from the weekend.
SATURDAY RESULTS
Evolution Animal Care RING 1 – (Course Builder: Anthony Thomas)
CLASS 1: The Hahndorf Old Mill Hotel – Open – (238.2.2) – 0.90m
The first three placings in this class were:
| | | |
| --- | --- | --- |
| PLACE | RIDER | HORSE |
| 1st | Adam Beckel | Ballantyne Hunter |
| 2nd | Janeth Flowers | Grandview Fox In Sox |
| 3rd | Taliah Daniels | Lamperds Stella |
CLASS 2: Envirodog Pest Control – Open – (238.2.2) – 1.00m
The first three placings in this class were:
| | | |
| --- | --- | --- |
| PLACE | RIDER | HORSE |
| 1st | Alexandra Morris | Starlight Razzle Dazzle |
| 2nd | Kaitlyn Smith | Classico |
| 3rd | Conor Reed | ES Casello |
CLASS 3: Olympic Trailers – Open – (238.2.2) – 1.10m
The first three placings in this class were:
| | | |
| --- | --- | --- |
| PLACE | RIDER | HORSE |
| 1st | Nick Whyntie | Geoff |
| 2nd | Adam Beckel | MEC Armani |
| 3rd | Hannah Conlon | Metal Edge |
CLASS 4: Vivarchie Equestrian – Open – (238.2.2) – 1.20m
The first four placings in this class were:
| | | |
| --- | --- | --- |
| PLACE | RIDER | HORSE |
| 1st | Sarah Clark | LV Balou Jeanz |
| 2nd | Hannah Hardy | Great Gatsby K1 |
| 3rd | Anthony Thomas | SL Donato |
| 4th | Susie Verco | Captivate |
CLASS 5: My Aus Horse – Open – (238.2.2) – 1.20m
The first four placings in this class were:
| | | |
| --- | --- | --- |
| PLACE | RIDER | HORSE |
| 1st | Anthony Thomas | SL Donato |
| 2nd | Sarah Clark | LV Balou Jeanz |
| 3rd | Conor Reed | Leopoldo MVNZ |
| 4th | Susie Verco | Captivate |
CLASS 6: Snappy Spurs – Just Gus Memorial Speed Championship – (239) – 1.15m
The first four placings in this class were:
| | | |
| --- | --- | --- |
| PLACE | RIDER | HORSE |
| 1st | Abigail Lewis | MEC Gossip |
| 2nd | Jasmin Dawe | Turn It Up |
| 3rd | Ashley Westcott | Con Brio |
| 4th | Susie Verco | Gargamel |
RING 2 – (Course Builder: Geoffrey Pannell)
CLASS 13: Open – (245.3) – 0.45m
The first three placings in this class were:
| | | |
| --- | --- | --- |
| PLACE | RIDER | HORSE |
| 1st | Sasha Smith | Kirby Park Jasmine |
| 2nd | Jen Kay | Rivington Benjamin |
| 3rd | Millie Taylor | Bannon Park Specialist |
CLASS 14: Bush Pony Media – Open – (245.3) – 0.60m
The first four placings in this class were:
| | | |
| --- | --- | --- |
| PLACE | RIDER | HORSE |
| 1st | Sasha Smith | Kirby Park Jasmine |
| 2nd | Mia Ozlins | Rivington Zaza |
| 3rd | Julie Day | Keipa Apollo |
| 4th | Alexandra Vertue | Splendida II |
CLASS 15: Senturion Steel Supplies – Open – (245.3) – 0.75m
The first four placings in this class were:
| | | |
| --- | --- | --- |
| PLACE | RIDER | HORSE |
| 1st | Ella Manning | Redline Classic |
| 2nd | Julie Day | Keira Apollo |
| 3rd | Troy Willard | Danson Don Delight |
| 4th | Georgia Cheeseman | Havenlieigh Park Icarus |
CLASS 16: Open – (245.3) – 0.90m
The first four placings in this class were:
| | | |
| --- | --- | --- |
| PLACE | RIDER | HORSE |
| 1st | Lingling Yuan | Belhaven Jtaime |
| 2nd | Alexia Datsopoulos | Oxlea Oscar |
| 3rd | Troy Woolard | Danson Don Delight |
| 4th | Caitlyn Worthington | Rockingham Second Guess |
CLASS 17: Open – (245.3) – 1.00m
The first four placings in this class were:
| | | |
| --- | --- | --- |
| PLACE | RIDER | HORSE |
| 1st | Ella Manning | Wychwood |
| 2nd | Sophie Compton | Desert Dusk |
| 3rd | Trevor Day | Hunter |
| 4th | Georgia Cheeseman | Oratarios Pride |
SUNDAY RESULTS
Evolution Animal Care RING 1 – (Course Builder – Anthony Thomas)
CLASS 7: Belle Property Adelaide Hills – Open One Round Stakes – (239) – 1.05m
The first four placings in this class were:
| | | |
| --- | --- | --- |
| PLACE | RIDER | HORSE |
| 1st | Emily Nettle | Cash Cab |
| 2nd | Millicent Quigley-Smith | Eabs Moretti |
| 3rd | Maisy Davies | Bella Bellini |
| 4th | Sophie Compton | Desert Dusk |
CLASS 8: Jolley Farms – Bronze Cup – (273.3.3.1) – 1.10m
The first four placings in this class were:
| | | |
| --- | --- | --- |
| PLACE | RIDER | HORSE |
| 1st | Conor Reed | Dollar Girl MS |
| 2nd | Rachelle Verma | Gizella |
| 3rd | Wendy Schaeffer | Sparkling Sun |
| 4th | Chloe Wedd | Forrest Gumpp |
CLASS 9: Hann's Horse Transport – Gold Cup (Round of the Balharry Cup) – (273.3.3.1) – 1.40m
The only two placings in this class were:
| | | |
| --- | --- | --- |
| PLACE | RIDER | HORSE |
| 1st | Susie Verco | Captivate |
| 2nd | Anthony Thomas | SL Donato |
CLASS 10: Thompson and Redwood – Silver Cup – (273.3.3.1) – 1.25m
The first four placings in this class were:
| | | |
| --- | --- | --- |
| PLACE | RIDER | HORSE |
| 1st | Wendy Schaeffer | Gitta Bella |
| 2nd | Ashleigh Westcott | Land Of The Free |
| 3rd | Kurt Siviour | Gringo |
| 4th | Mark Lindh | Caboom |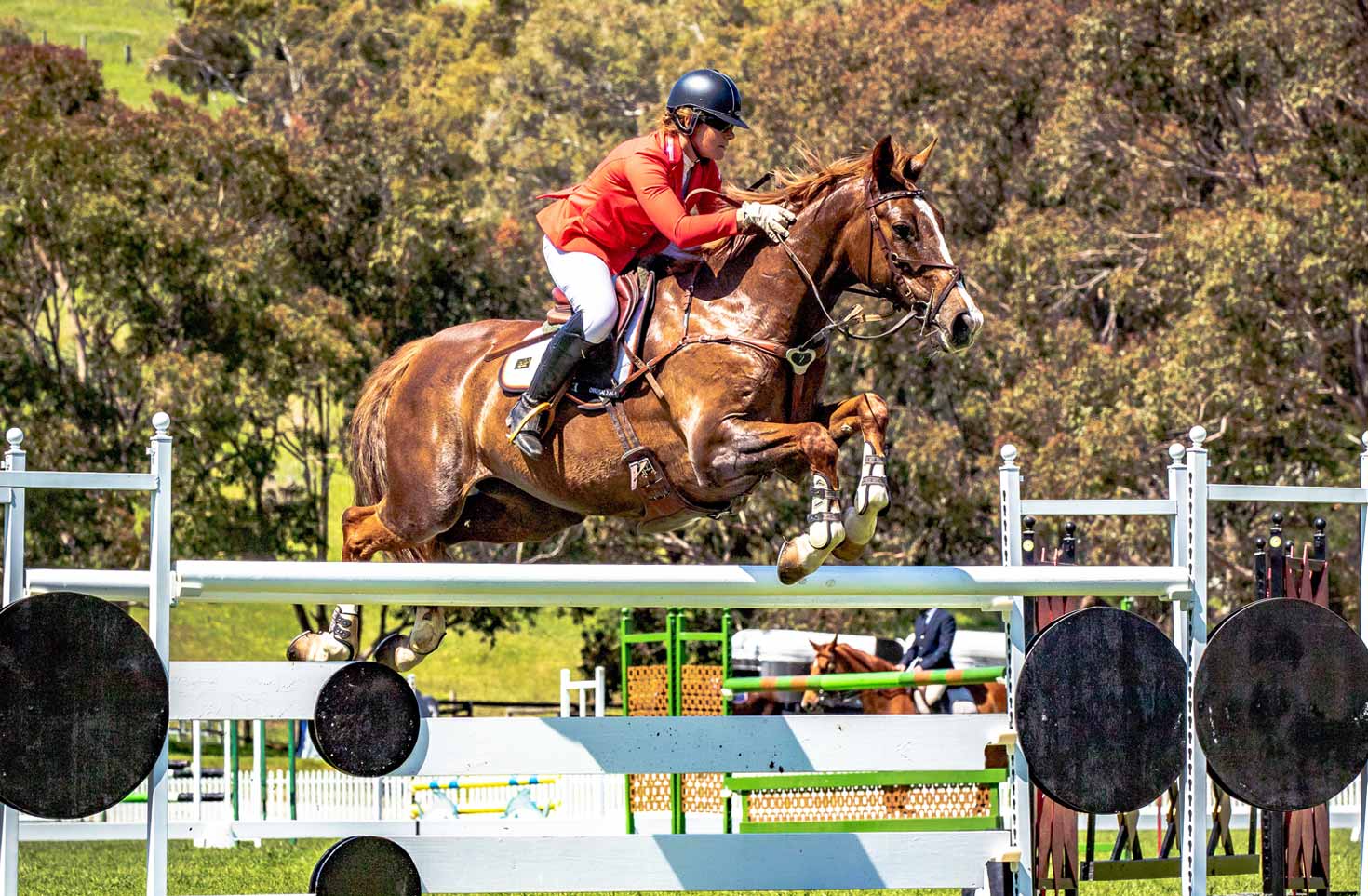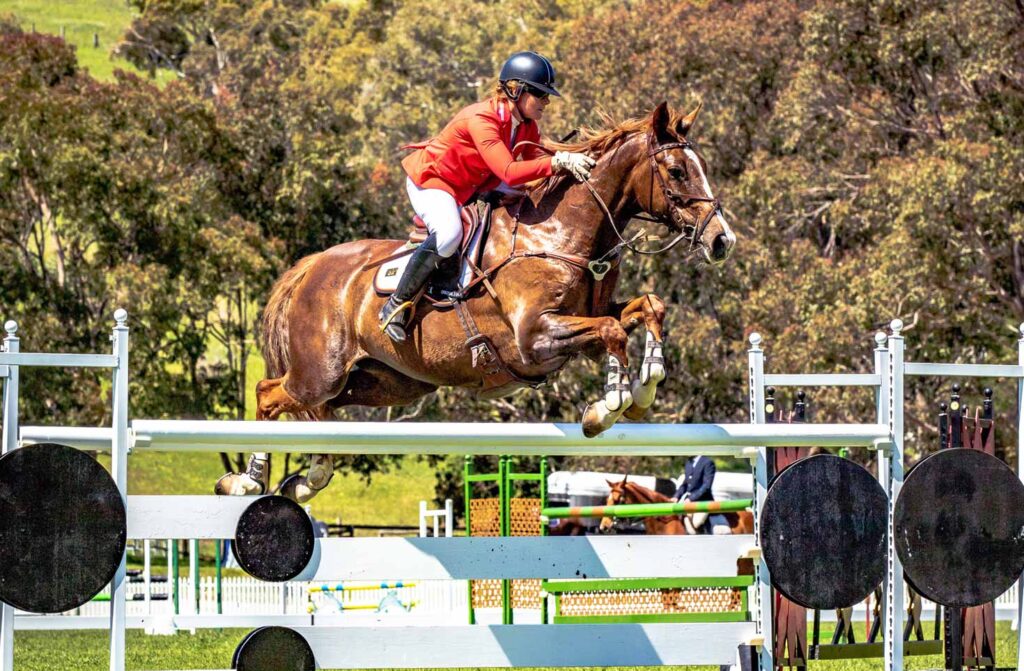 Above: Wendy Schaeffer and Gitta Bella. Photo Credit: Bush Pony Media
CLASS 11: Caitlin Forest Memorial Junior Championship – (273.3.3.1)
The first five placings in this class were:
| | | |
| --- | --- | --- |
| PLACE | RIDER | HORSE |
| 1st | Abigail Lewis | MEC Gossip |
| 2nd | Lisa Dewhurst | Wolverine |
| 3rd | Hannah Conlon | Metal Edge |
| 4th | Gabrielle Thomas | Gothenburg |
| 5th | Maisy Davies | Bella Bellini |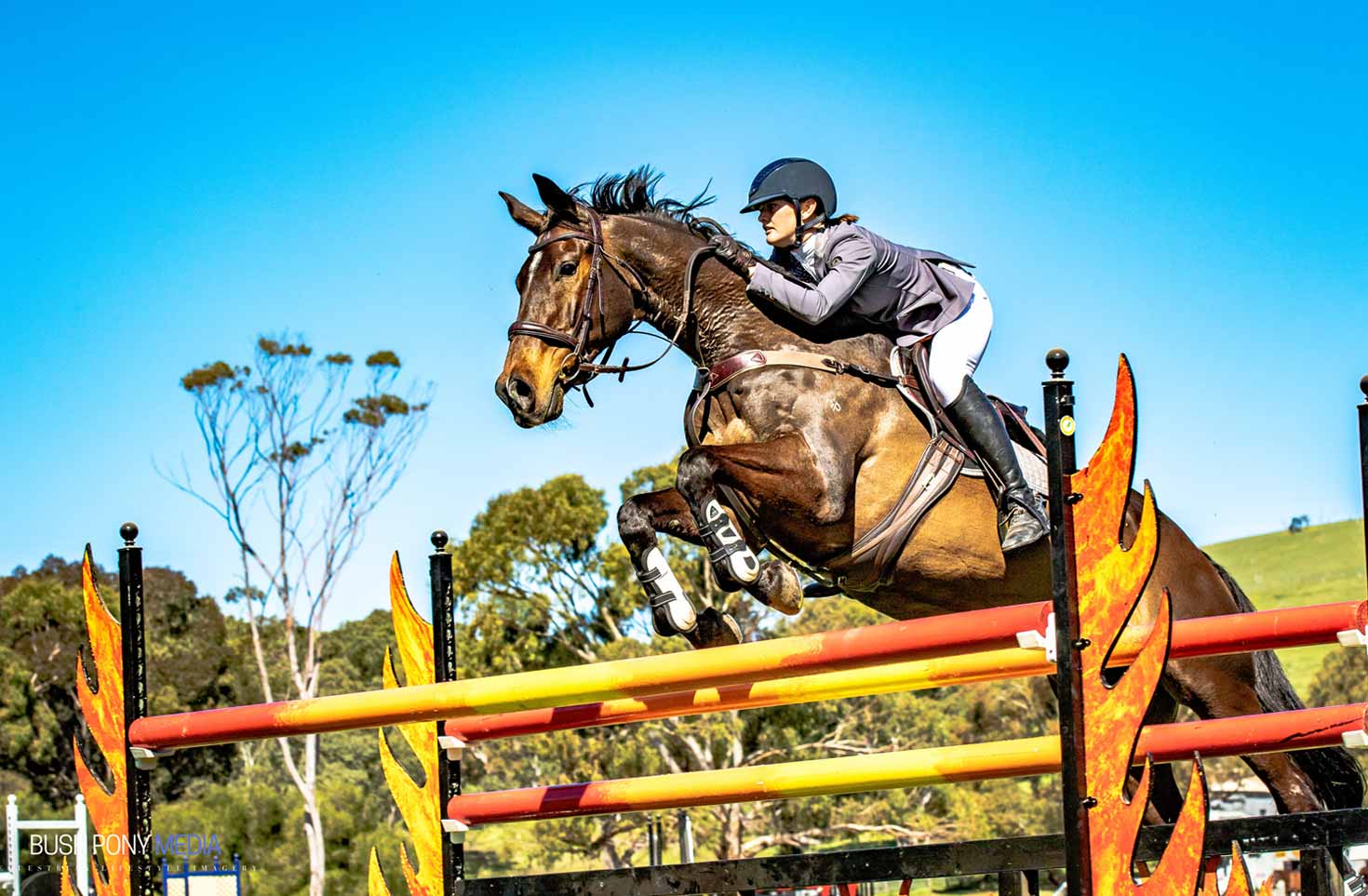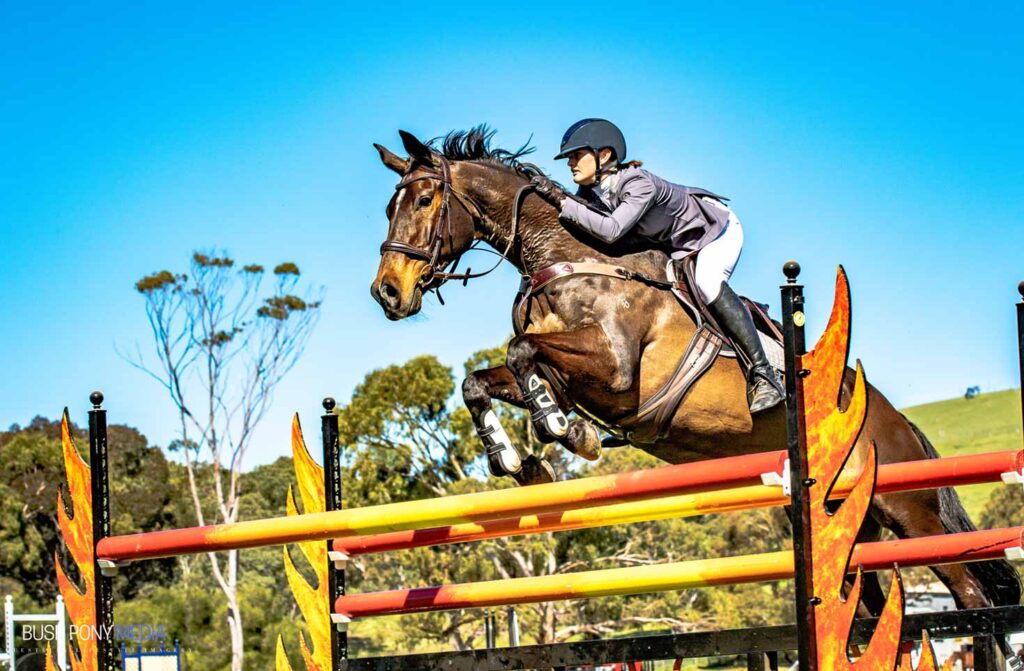 Abigail Lewis and MEC Gossip. Photo Credit: Bush Pony Media
CLASS 12A: Thompson and Redwood Junior Series – (238.2.2) – 0.80m
The first five placings in this class were:
| | | |
| --- | --- | --- |
| PLACE | RIDER | HORSE |
| 1st | Millicent Quigley-Smith | EABS Moretti |
| 2nd | Lingling Yuan | Belhaven Jtaime |
| 3rd | Zara Young | Captain Lightning Bolt |
| 4th | Alexia Datsopoulos | Oxley Oscar |
| 5th | Ella Manning | Wychwood |
CLASS 12B: The Bridgewater Inn – Open – (238.2.2) – 0.80m
The first four placings in this class were:
| | | |
| --- | --- | --- |
| PLACE | RIDER | HORSE |
| 1st | Elizabeth Hayman | Statford Diamonte |
| 2nd | Trevor Day | Royal Romeo |
| 3rd | Jessica Lee | Southern Mystery |
| 4th | Carsten Graetz | CP Hilfiger |
RING 2 – (Course Builder – Geoffrey Pannell)
CLASS 18: Open – (245.3) – 0.50m
The first four placings in this class were:
| | | |
| --- | --- | --- |
| PLACE | RIDER | HORSE |
| 1st | Ella Manning | Rivington Little Bird |
| 2nd | Jonquil Whyntie | Wilson |
| 3rd | Ruby Vears | Scotland |
| 4th | Makayla Doecke | Miss Mojo |
CLASS 19: Open – (245.3) – 0.65m
The first four placings in this class were:
| | | |
| --- | --- | --- |
| PLACE | RIDER | HORSE |
| 1st | Ella Manning | NM Leopold |
| 2nd | Carsten Graetz | CP Hilfiger |
| 3rd | Judith Newton | Sea Sprite |
| 4th | Makayla Doecke | Miss Mojo |
CLASS 20: Prancing Pony Brewery – Open – (245.3) – 0.80m
The first four placings in this class were:
| | | |
| --- | --- | --- |
| PLACE | RIDER | HORSE |
| 1st | Emma Crowder | Valeurs |
| 2nd | Lucy Harkness | Reilly |
| 3rd | Samuel Haywood | Simply Destiny |
| 4th | Mia Ozolins | Fourwinds Peppermint |
CLASS 21: Chiropractic First Hahndorf – Open – (245.3) – 0.95m
The first four placings in this class were:
| | | |
| --- | --- | --- |
| PLACE | RIDER | HORSE |
| 1st | Ella Manning | Wychwood |
| 2nd | Trevor Day | Royal Romeo |
| 3rd | Troy Woollard | Danson Don Delight |
| 4th | Sophie Compton | Desert Dusk |
CLASS 22: Open – (245.3) – 1.00m
The first three placings in this class were:
| | | |
| --- | --- | --- |
| PLACE | RIDER | HORSE |
| 1st | Georgia Cheeseman | Oratarios Pride |
| 2nd | Adam Beckel | Ballantyne Hunter |
| 3rd | Sophie Compton | Desert Dusk |
Results sourced from the Adelaide Hills Show Jumping Club Inc Facebook page
View Comments