Sydney farewells the 2021 season at Waratah Showjumping
Australian Jumping
Above: Amber Fuller and Nopal van Tallaert.
Summer finally arrived in Sydney, just in time for the last Jumping event of the year. Originally slated for August, the Waratah Showjumping event was held in sweltering conditions at the Sydney International Equestrian Centre (SIEC) over the past three days.
Advertisement


The hottest day was Saturday which coincided with the main two classes of the show and it is probably fair to say that the scorching temperature was the winner.
The Caliera Performance Horse Futurity saw only nine combinations entered, four of which achieved clear rounds. Remarkably three of these were ridden by young-gun Madeline Sinderberry (with Balentino, Camie Z and Keilor Bamboo). The other clear combination was Izabella Stone and Conchita Ven De Helle. Before the jump-off could commence, to avoid another round in the heat, the riders called a truce and decided to split the first to fourth prizemoney and call all four combinations as equal first.
The Chatham Park Grand Prix was the next class scheduled and a series of scratchings saw just 10 combinations front up for the competition. In what was planned to be a competition over two rounds, only three recorded clear rounds, namely Emma Smith and Cordelia Ego Z, Amber Fuller and Finch Farm Cadel and Gabrielle Chugg and PSS Levilensky. These three would have been in great position, starting the second round equal on zero faults, however, by agreement, due to the heat, the riders decided that there would be no second round and that the GP would be decided on what had gone before. Due to their great time of 93.31 seconds, Emma Smith and Cordelia Ego Z were declared the winners with a gap of 2.3 seconds over Amber Fuller and Finch Farm Cadel and Gabrielle Chugg and PSS Levilensky awarded third, just 0.84 seconds slower. Well done to all the riders involved for making sensible decisions which kept the welfare of their horses a priority.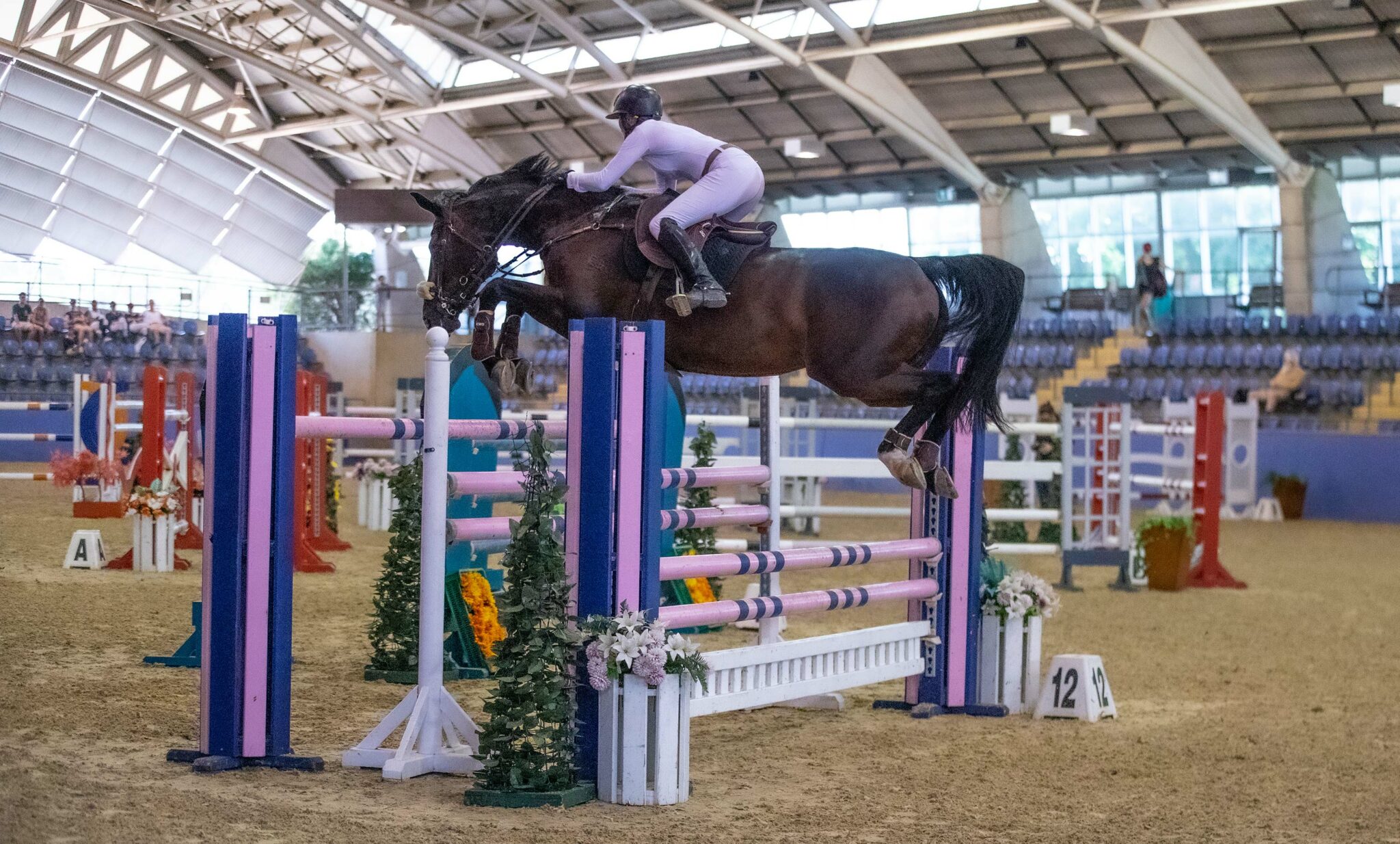 Emma Smith and Cordelia Ego Z.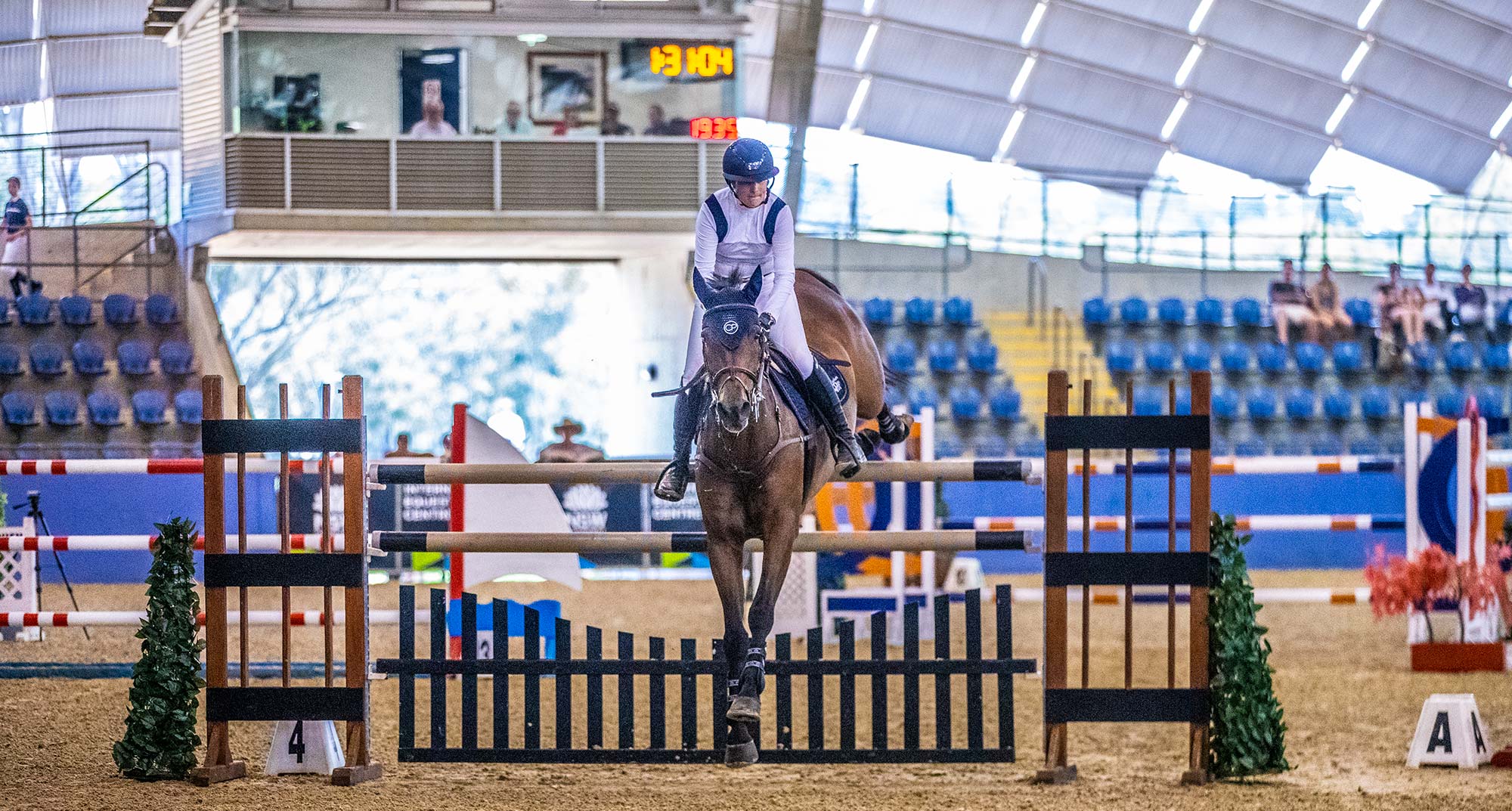 Amber Fuller and Finch Farm Cadel.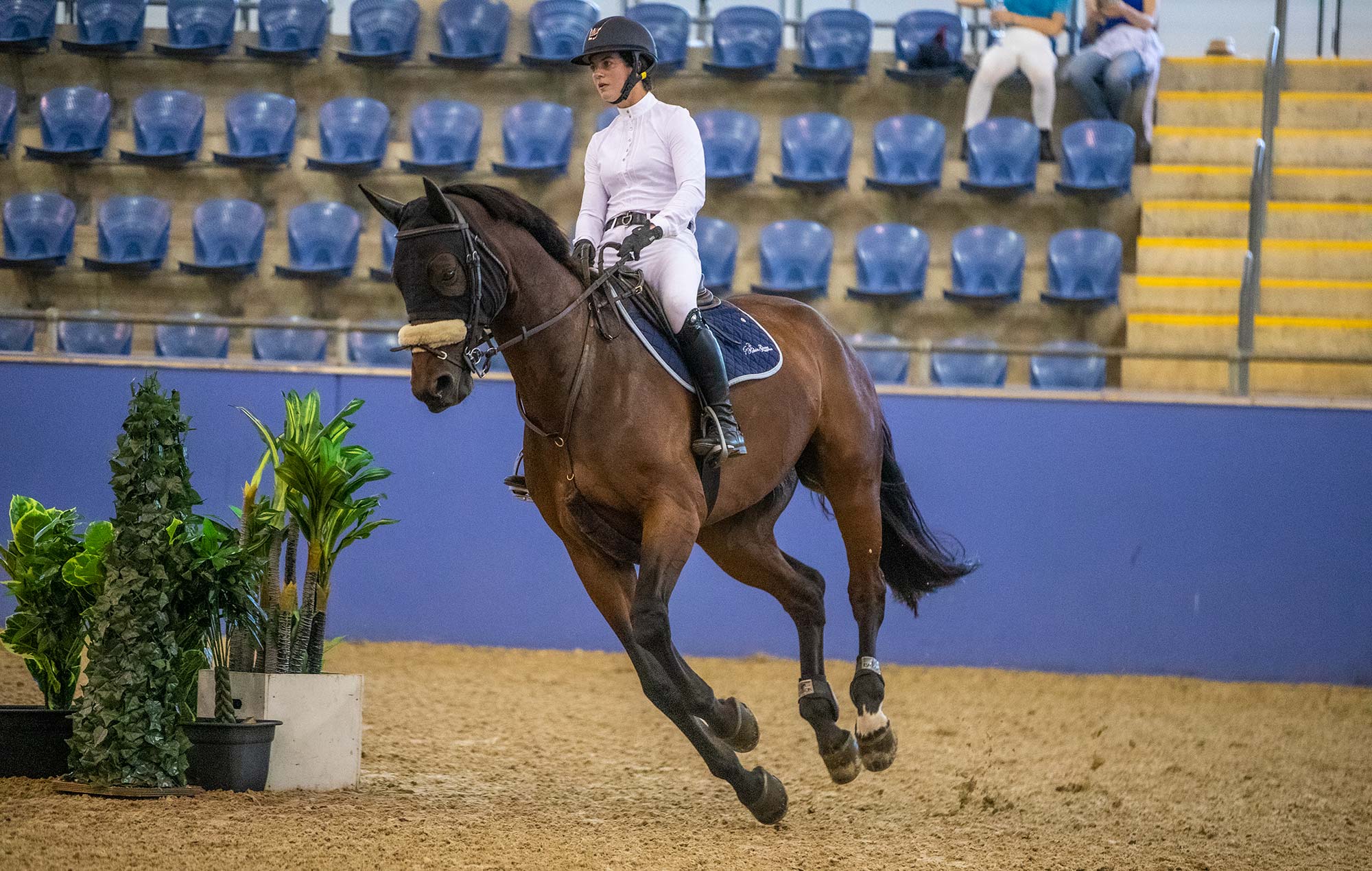 Gabrielle Chugg and PSS Leveliensky.
Congratulations to all the winners and placegetters from the show. Placegetters in all classes are listed below.
FRIDAY RESULTS
INDOOR ARENA
CLASS 1A: GEM MCGUFFICK & THE WOODHOUSE FAMILY – OPEN – 1.20m
| | | |
| --- | --- | --- |
| PLACE | RIDER | HORSE |
| 1st | Jess Stones | PPP Seductor |
| 2nd | Andrew Inglis | Alillie |
| 3rd | Gaby Herbosa | Kaloona Virago |
| 4th | Jamie Priestley | Kolora Stud Optimus |
| 5th | Maverick Miles | Cavalier Ludicrous |
| 6th | Claudia Beer | Riverton Affirmation |
CLASS 1B: ORANGEVILLE PERFORMANCE HORSES – JUNIOR – 1.20m
| | | |
| --- | --- | --- |
| PLACE | RIDER | HORSE |
| 1st | Anneliese Wansey | Bling Du Rouet |
| 2nd | Jordyn Lee-Madgwick | Cera Cadett |
| 3rd | Lucy Locke | Quero Quero |
| 4th | Jordyn Lee-Madgwick | Copabella Cashmir |
| 5th | Anneliese Wansey | Kolora Stud St Patrick |
| 6th | Mikayla Hogg | Bellhaven Coringa |
CLASS 1C: HHSA – Horses 6 & 7 years – 1.20m
| | | |
| --- | --- | --- |
| PLACE | RIDER | HORSE |
| 1st | Andrew Inglis | Indiana Goodtimes |
| 2nd | Andrew Ellis | Glenn Hill Volant |
| 3rd | Monique Barrett | Dusky Farm Duncan |
| 4th | Vicki Roycroft | Kenny Casino |
| 5th | Josh Collins | Tulara Lady Zirocca |
| 6th | Matt Irvine | Greengrove Calle I |
CLASS 2A: GEOPRO FOOTING – OPEN – 1.30m
| | | |
| --- | --- | --- |
| PLACE | RIDER | HORSE |
| 1st | Andrew Inglis | Alillie |
| 2nd | James Paterson-Robinson | Will Do |
| 3rd | Vicky Roycroft | Licaviv |
| 4th | Tess McInerney | Yalambi's Fair Diamond |
| 5th | Jamie Priestley | Oaks Diamantina |
| 6th | Emma Smith | Casting |
CLASS 2B: STRATHMERTON DRILLING – YOUNG RIDER – 1.30m
| | | |
| --- | --- | --- |
| PLACE | RIDER | HORSE |
| 1st | Matt Irvine | Yirrkala Darcy |
| 2nd | Amelia Douglass | Upper Class Z |
| 3rd | Hayley Cox | Tulara Zane |
| 4th | Jess Rice-Ward | Dinero |
| 5th | Hayley Cox | Eclipsis |
| 6th | Anneliese Wansey | Aveden Indigo |
CLASS 3: LIZ WATSON – FUTURITY – 1.30m
| | | |
| --- | --- | --- |
| PLACE | RIDER | HORSE |
| 1st | Rhys Stones | Othello MVNZ |
| 2nd | Amelia Douglass | Yalambi's J'adore |
| 3rd | Madeline Sinderberry | Camie Z |
| 4th | Aaron Hadlow | Bellhaven Coolibah |
| 5th | Jamie W Kermond | Yandoo Honolulu |
| 6th | Mikayla Hogg | Bellhaven Coringa |
CLASS 4: EDWINA MITCHELL CATERING – 1.40m
| | | |
| --- | --- | --- |
| PLACE | RIDER | HORSE |
| 1st | Sarah Duggan | Dublin |
| 2nd | Josh Collins | Cornel |
| 3rd | Jamie Priestley | Courage |
| 4th | Gabrielle Chugg | PSS Levilensky |
| 5th | Amber Fuller | CP Aretino |
| 6th | Aaron Hadlow | Vahlinvader |
GRASS ARENA
CLASS 5A: RODNEY'S PLANTS PLUS – ADULT – 1.05m
| | | |
| --- | --- | --- |
| PLACE | RIDER | HORSE |
| 1st | Elizabeth Koob | Diamond B Corino |
| 2nd | David Robertson | Queno 4 |
| 3rd | Andrew Inglis | Napoleon |
| 4th | Brooke Richardson | Finch Farm Fed X |
| 5th | Lola Bretag | Emcee Street Wise |
| 6th | Jamie Priestley | Team Priestley Everdeen |
CLASS 5B: BOREE EQUINE – JUNIOR – 1.05m
| | | |
| --- | --- | --- |
| PLACE | RIDER | HORSE |
| 1st | Sophie Baldwin | Alcheringa Tradition |
| 2nd | Jorja Lenehan | Reinforcement |
| 3rd | Harriet Stratton | Asham Riverman |
| 4th | Katelyn Staples | Yaramlea Poindexter |
| 5th | Adelaide Niven | Emmaville Countess |
| 6th | Charly Robinson-Smith | Our Peace Maker |
CLASS 5C: BOURKE SECURITIES – Horses 4 & 5 years-old – 1.05m
| | | |
| --- | --- | --- |
| PLACE | RIDER | HORSE |
| 1st | Jess Rice-Ward | Al Fonso |
| 2nd | Nathan Wood | Carons B |
| 3rd | Rod McQueen | Oaks Q |
| 4th | Josh Collins | KG Dreamliner |
| 5th | Jamie W Kermond | Yandoo Providence |
| 6th | Izabella Stone | Bellhaven Toulon Blue |
CLASS 6A: THE CURETON FAMILY – ADULT – 1.10m
| | | |
| --- | --- | --- |
| PLACE | RIDER | HORSE |
| 1st | Natalie Mohr | Talbot Cece |
| 2nd | Georgia Rodgers | Tannith Park Cansas |
| 3rd | Tess McInerney | Yalambi Kandy Ripple |
| 4th | Laura Harland | Keillor Quiz |
| 5th | Coco Miles | Emcee Icarus |
| 6th | Ludovic Bernadat | Merlin Junior |
CLASS 6B: THE EMPRINGHAM FAMILY – JUNIOR – 1.10m
| | | |
| --- | --- | --- |
| PLACE | RIDER | HORSE |
| 1st | Gemma Silk | Oscar Bosciola |
| 2nd | Ella Hayward | Barrabadeen Calypso |
| 3rd | Harriet Stratton | Asham Riverman |
| 4th | Jorja Lenahan | Malvasia |
| 5th | Carlyle Bellotti | Finn MVNZ |
| 6th | Charlotte Inglis | Diamond B Babybel |
CLASS 7A: KHONKE'S OWN – OPEN – 1.15m
| | | |
| --- | --- | --- |
| PLACE | RIDER | HORSE |
| 1st | Charlotte Inglis | Diamond B Babybel |
| 2nd | Andrew Inglis | Cavalier Carlus |
| 3rd | Natalie Mohr | Talbot Cece |
| 4th | Abbey Kuiper | KS Vakarra Champagne |
| 5th | Charly Robinson-Smith | Carisma II |
| 6th | Heidi Stewart | Oaks Tinkabelle Tap |
CLASS 7B: Horses 5 & 6 years-old – 1.15m
| | | |
| --- | --- | --- |
| PLACE | RIDER | HORSE |
| 1st | Victoria Hoy | Tulara Forini |
| 2nd | Caden Weaver | KPH Calypso |
| 3rd | Ned Calcraft | Platinum Ego Z |
| 4th | Josh Collins | Jon Snow |
| 5th | Brooke Richardson | Finch Farm Fed X |
| 6th | Aaron Hadlow | Bellhaven Nevada |
SATURDAY RESULTS
INDOOR ARENA
CLASS 8: H R FORESTRY – OPEN – 1.25m
| | | |
| --- | --- | --- |
| PLACE | RIDER | HORSE |
| 1st | Andrew Inglis | Alillie |
| 2nd | Jess Stones | PPP Seductor |
| 3rd | Andrew Inglis | Indiana Goodtimes |
| 4th | Isabella Hughes | Beethoven |
| 5th | Natalie Mohr | Dylano |
| 6th | Charly Robinson-Smith | Martabgo |
CLASS 9A: PROFESSOR BRAD & DR ANETT FRANKUM – OPEN – 1.35m
| | | |
| --- | --- | --- |
| PLACE | RIDER | HORSE |
| 1st | Jamie Priestley | Oaks Diamantina |
| 2nd | Jamie Priestley | Kolora Stud Optimus |
| 3rd | Maverick Miles | Verdasco |
| 4th | Sarah Beale | Wonpasset |
| 5th | Kathy O'Hara | Vesper Martini |
| 6th | Kate Hinschen | Oaks Ventriloquist |
CLASS 9B: YOUNG RIDER – 1.35m
| | | |
| --- | --- | --- |
| PLACE | RIDER | HORSE |
| 1st | William Dight | Thea |
| 2nd | Lucie Aldridge | Ollie Olae |
| 3rd | Anneliese Wansey | Aveden Indigo |
| 4th | Anneliese Wansey | Grandiamo |
| 5th | Hayley Cox | Eclipsis |
| 6th | Amelia Douglass | Yalambi's J'adore |
CLASS 10: CALIERA PERFORMANCE HORSES – FUTURITY – Horses less than 9 years-old – 1.35m
| | | |
| --- | --- | --- |
| PLACE | RIDER | HORSE |
| =1st | Madeline Sinderberry | Balentino |
| =1st | Madeline Sinderberry | Camie Z |
| =1st | Madeline Sinderberry | Keilor Bamboo |
| =1st | Izabella Stone | Conchita Van De Helle |
| 5th | Rhys Stones | Othello MVNZ |
| 6th | Emma Smith | Bittern Park Karmen |
CLASS 11: CHATHAM PARK – GRAND PRIX – 1.50m
| | | |
| --- | --- | --- |
| PLACE | RIDER | HORSE |
| 1st | Emma Smith | Cordelia Ego Z |
| 2nd | Amber Fuller | Finch Farm Cadel |
| 3rd | Gabrielle Chugg | PSS Levilensky |
| 4th | Tess McInerney | Alpha Centauri |
| 5th | Jamie Priestley | Courage |
| 6th | Josh Collins | Cornel |
CLASS 12: THE REDLANDS STABLES, OLIVIER AND BALDWIN FAMILIES – CHILDRENS SERIES (ROUND 1) – 1.05m
| | | |
| --- | --- | --- |
| PLACE | RIDER | HORSE |
| 1st | Jorja Lenehan | Malvasia |
| 2nd | Sophie Baldwin | Station Master |
| 3rd | Harriet Stratton | Asham Riverman |
| 4th | Lily-Rose Baxter | Foxhill Cruise |
| 5th | Jasmine Spira | Quin Marvel |
| 6th | Jorja Lenehan | Reinforcement |
GRASS ARENA
CLASS 13A: THEAULT SOUTH PACIFIC – ADULT – 1.10m
| | | |
| --- | --- | --- |
| PLACE | RIDER | HORSE |
| 1st | Anna White | Body Builder |
| 2nd | Aaron Hadlow | Bellhaven Seacrest |
| 3rd | Jess Stones | Riverton Kanntador |
| 4th | Tara Sheridan | Views Reflection |
| 5th | Ned Calcraft | Rosthwaite Belvedere |
| 6th | Kate Edwards | Pompous |
CLASS 13B: THE EMPRINGHAM FAMILY – JUNIOR – 1.10m
| | | |
| --- | --- | --- |
| PLACE | RIDER | HORSE |
| 1st | Alexandra Inglis | Diamond B Babybel |
| 2nd | Ella Hayward | Barrabadeen Calypso |
| 3rd | Jorja Lenehan | Malvasia |
| 4th | Emma Peters | Liniano ML |
| 5th | Josephine Connors | Oaks Kestrel |
| 6th | Harriet Stratton | Asham Riverman |
CLASS 14A: EMCEE APPAREL – OPEN – 1.15m
| | | |
| --- | --- | --- |
| PLACE | RIDER | HORSE |
| 1st | Natalie Mohr | Talbot Cece |
| 2nd | Andrew Inglis | Cavalier Carlus |
| 3rd | James Paterson-Robinson | Lewis |
| 4th | Jack Haynes | She's a Diva |
| 5th | Heidi Stewart | Oaks Tinkerbelle Tap |
| 6th | Molly Stubberfield | Dalwin Artiste |
CLASS 14B: AUSTRALIAN JUMPING – AMATEUR – 1.15m
| | | |
| --- | --- | --- |
| PLACE | RIDER | HORSE |
| 1st | Sienna Weir | Carisma |
| 2nd | Shannon O'Meara | CP Starlight's Murphy |
| 3rd | Gaby Herbosa | Kaloona Virago |
| 4th | Natalie De Souza | Romley Corsair |
| 5th | Ned Calcraft | Rosthwaite Belvedere |
| 6th | Deleni Walters | Copabella Valor |
CLASS 15A: OPEN – 1.20m
| | | |
| --- | --- | --- |
| PLACE | RIDER | HORSE |
| 1st | Jess Stones | PPP Quinten |
| 2nd | Andrew Inglis | Cavalier Carlus |
| 3rd | Rhys Stones | ES Ella |
| 4th | Tess McInerney | Quintation |
| 5th | Anneliese Wansey | Yalambi's Jaguar |
| 6th | Tara Sheridan | Sandhills Sensation |
CLASS 15B: ORANGEVILLE PERFORMANCE HORSES – JUNIOR – 1.20m
| | | |
| --- | --- | --- |
| PLACE | RIDER | HORSE |
| 1st | Anneliese Wansey | Bling Du Rouet |
| 2nd | Anneliese Wansey | Kolora Stud St Patrick |
| 3rd | Clemency Hughes | Diamond B Corvina |
| 4th | Katelyn Staples | KC Spotabug |
| 5th | Abbey Kuiper | VS Vakarra Champagne |
| 6th | Charly Robinson-Smith | Carisma II |
SUNDAY RESULTS
INDOOR ARENA
CLASS 16A: JUNIOR – 0.60m
| | | |
| --- | --- | --- |
| PLACE | RIDER | HORSE |
| 1st | Grace Vassallo | Little Valley X Factor |
| 2nd | Hannah Doolan | Royal Romance Jewels |
| 3rd | Evie Magnier | Pencader Recital |
| 4th | Valentina Hercus | Valentine |
| 5th | Courtney Roberts | ESB Golden Goblin |
| 6th | Dax Cooley | BP Converte |
CLASS 16B: ADULT – 0.60m
| | | |
| --- | --- | --- |
| PLACE | RIDER | HORSE |
| 1st | Chaquemia Davis | She's A Gem |
| 2nd | Matilda McCarroll | Phisher Park All Too Royal |
| 3rd | Linda Dicmanis | Fax |
| 4th | Elizabeth Koob | Caribbean CJB |
| 5th | Aiden Gilbert | Tally Venus |
| 6th | Sheridan McCarroll | Indianna Macca |
CLASS 17A: JUNIOR – 0.75m
| | | |
| --- | --- | --- |
| PLACE | RIDER | HORSE |
| 1st | Hannah Doolan | Royal Romance Jewels |
| 2nd | Valentina Hercus | Valentine |
| 3rd | Valentina Hercus | Foxground Kahtia |
| 4th | Emily Mohrmann | Tintagel Girl |
| 5th | Emerson Stuchbery | Fern |
| 6th | Iliana Hercus | Diva |
CLASS 17B: ADULT – 0.75m
| | | |
| --- | --- | --- |
| PLACE | RIDER | HORSE |
| 1st | Natalie Mohr | Mac |
| 2nd | Zara Watson | Elias C |
| 3rd | Kristen Atkinson | Millendon Prophecy |
| 4th | Emma Smith | Cora |
| 5th | Claudia Studdert | Donjolie DN |
| 6th | Aimee Taylor | Shark Tank |
CLASS 17C: TSHA – 0.75m
| | | |
| --- | --- | --- |
| PLACE | RIDER | HORSE |
| 1st | Michelle Penza | Eli Lamar |
| 2nd | Sienna Hlavaty | Jeddore |
| 3rd | Ruby Cale | Fidem Elpis Amor |
| 4th | Matilda McCarroll | Phisher Park All Too Royal |
| 5th | Patrick Carraro | Coola King |
| 6th | Aria Baker | Solloway |
CLASS 18A: JUNIOR – 0.90m
| | | |
| --- | --- | --- |
| PLACE | RIDER | HORSE |
| 1st | Savannah Steel | Crestfields Waiting Game |
| 2nd | Olivia Carter | Flowervale Maserati |
| 3rd | Kate Partridge | Nandeye Fame |
| 4th | Emerson Stuchbery | Indiana Goodtimes |
| 5th | Charlie Anne Smith | Nugget |
| 6th | Clare Vandewater | Lazuli |
CLASS 18B: ADULT – 0.90m
| | | |
| --- | --- | --- |
| PLACE | RIDER | HORSE |
| 1st | Vicki Roycroft | Yirkala Cubica |
| 2nd | Jeremy Inglis | Porscha |
| 3rd | Samantha Vassallo | Fabienne |
| 4th | Lori James | Bond Girl Shp |
| 5th | Jacqueline Henderson | Capulet Ego Z |
| 6th | Samantha Cheney Butt | GPS I'm A Celebrity |
CLASS 18C: TSHA – 0.90m
| | | |
| --- | --- | --- |
| PLACE | RIDER | HORSE |
| 1st | Aimee Taylor | Shark Tank |
| 2nd | Jeremy Williams | Dalton |
| 3rd | Nikita Moore | Moon Landing |
| 4th | Vicki Roycroft | The Dood |
| 5th | Lori James | Balboa |
| 6th | Lily-Rose Baxter | Marco |
CLASS 19: THE REDLANDS STABLES, OLIVIER AND BALDWIN FAMILIES – CHILDRENS SERIES (ROUND 2) – 1.10m
| | | |
| --- | --- | --- |
| PLACE | RIDER | HORSE |
| 1st | Jorja Lenehan | Malvasia |
| 2nd | Lily-Rose Baxter | Foxhill Cruise |
| 3rd | Tia Kennett | Kenlock Park Bluestone |
| 4th | Emily Mohrmann | The Radish |
| 5th | Jorja Lenehan | Reinforcement |
| 6th | Jasmine Spira | Quin Marvel |
GRASS ARENA
CLASS 20A: JUNIOR – 1.00m
| | | |
| --- | --- | --- |
| PLACE | RIDER | HORSE |
| 1st | Georgia Tutt | Romatal Colours |
| 2nd | Alexandra Inglis | Glenara Affogato |
| 3rd | Tia Kennett | Kenlock Park Bluestone |
| 4th | Alexandra Inglis | Prince Shamar William |
| 5th | Clare Vandewater | Lazuli |
| 6th | Gigi Ulvert | Ready Set Go |
CLASS 20B: ADULT – 1.00m
| | | |
| --- | --- | --- |
| PLACE | RIDER | HORSE |
| 1st | Krissy Harris | RR Corakai |
| 2nd | Kristen Atkinson | Jaldary Wolkensun |
| 3rd | Emily Pursehouse | Monaco PH |
| 4th | Emily Pursehouse | Contessa PH |
| 5th | Jess Brown | Oaks Sierra |
| 6th | Samantha Vassallo | Fabienne |
CLASS 20C: TSHA – 1.00m
| | | |
| --- | --- | --- |
| PLACE | RIDER | HORSE |
| 1st | Lori James | Balboa |
| 2nd | Kate Edwards | Pompous |
| 3rd | Hannah Bokanovic | Repete |
| 4th | Nikita Moore | Moon Landing |
| 5th | Gem McGufficke | Indeed |
| 6th | Jeremy Williams | Dalton |
CLASS 21A: JUNIOR – 1.10m
| | | |
| --- | --- | --- |
| PLACE | RIDER | HORSE |
| 1st | Alexandra Inglis | Prince Shamar William |
| 2nd | Sienna Bellis | Xcella |
| 3rd | Emma Galea | Excals Romance |
| 4th | Harriet Stratton | Asham Riverman |
| 5th | Katelyn Staples | Yaramlea Poindexter |
| 6th | Coco Guberina | All Riled Up |
CLASS 21B: ADULT – 1.10m
| | | |
| --- | --- | --- |
| PLACE | RIDER | HORSE |
| 1st | Victoria Hoy | Tulara Forini |
| 2nd | Laura Harland | Oaks 007 |
| 3rd | Laura Harland | Keillor Quiz |
| 4th | Nathan Wood | Carona B |
| 5th | Alex Wald | JEP Texas |
| 6th | Abby West | Aniklas |
CLASS 21C: TSHA – 1.10m
| | | |
| --- | --- | --- |
| PLACE | RIDER | HORSE |
| 1st | Kate Edwards | Pompous |
| 2nd | Vicki Roycroft | The Dood |
| 3rd | Hannah Bokanovic | Repete |
| 4th | Matilda McCarroll | Cosmic Cube |
| 5th | Sophie Baldwin | Station Master |
| 6th | Leila Wyrill | Jadan Park Acapella |
CLASS 22A: JUNIOR – 1.15m
| | | |
| --- | --- | --- |
| PLACE | RIDER | HORSE |
| 1st | Carlyle Bellotti | Finn MVNZ |
| 2nd | Gracie Dawes | Castell |
| 3rd | Abbey Kuiper | KS Vakarra Champagne |
| 4th | Abbey Kuiper | Cera Carlina |
| 5th | Aria Baker | That's Limo |
| 6th | Molly Stubberfield | Dalwin Artiste |
CLASS 22B: ADULT – 1.15m
| | | |
| --- | --- | --- |
| PLACE | RIDER | HORSE |
| 1st | Victoria Hoy | Tulara Forini |
| 2nd | Andrew Inglis | Cavalier Carlus |
| 3rd | Rod McQueen | Hark |
| 4th | Amanda Madigan | (horse name unavailable) |
| 5th | Natalie Mohr | Dylano |
| 6th | Krissy Harris | Corvette GHP |
CLASS 22C: AMATEUR – 1.15m
| | | |
| --- | --- | --- |
| PLACE | RIDER | HORSE |
| 1st | Ned Calcraft | Rosthwaite Belvedere |
| 2nd | Sienna Weir | Carisma |
| 3rd | Anna White | Body Builder |
| 4th | Ysolde Okumura-Jones | Valkyrja |
| 5th | Annabelle Hoy | KBL Arlo |
| 6th | Ned Calcraft | Platinum Ego Z |
Results sourced from globalentriesonline.com.au
View Comments