JNSW Sydney Summer Classic off to a great start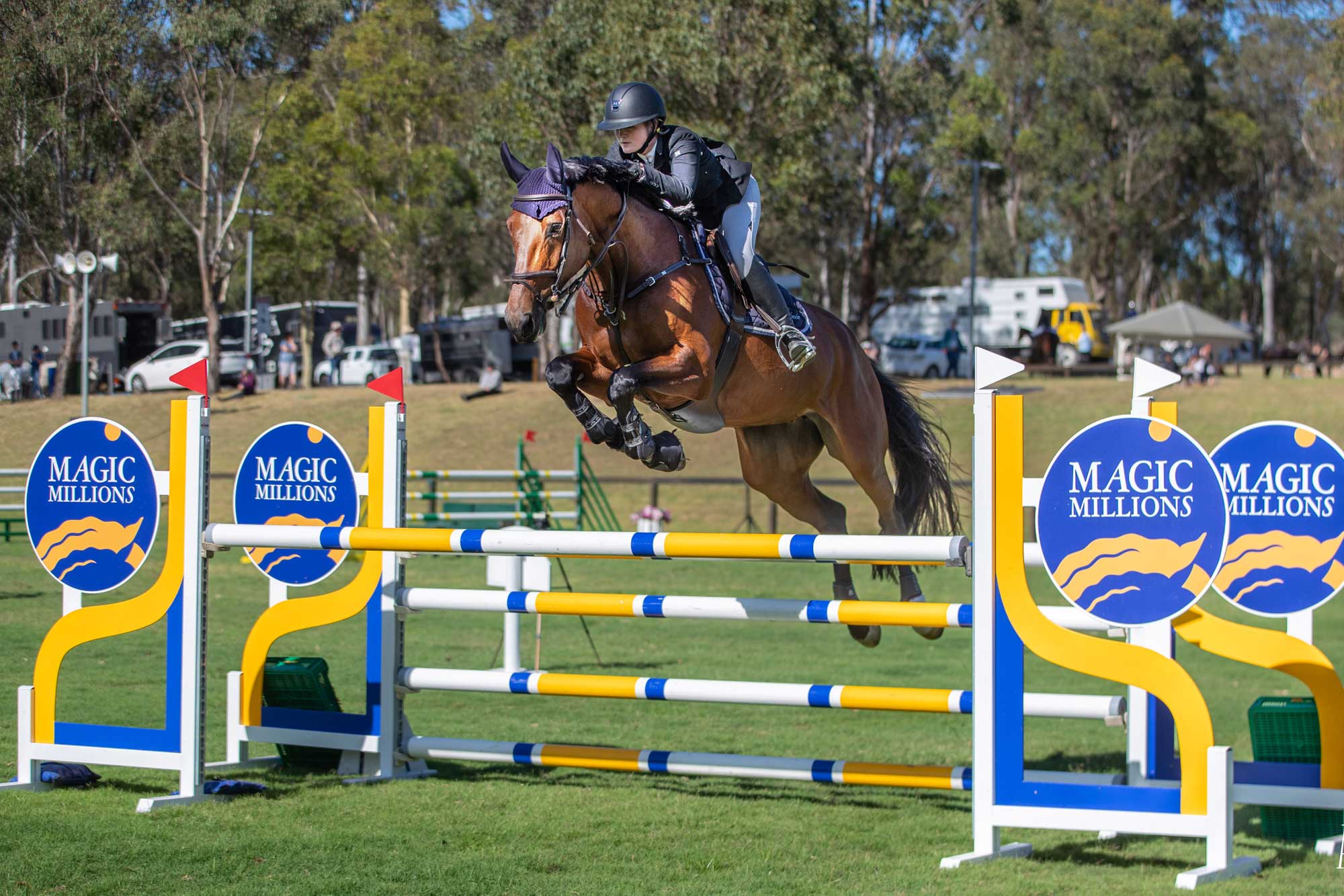 Australian Jumping
The Jumping NSW Summer Classic Show is well underway at the Sydney International Equestrian Centre (SIEC). The first two days of competition have wrapped up with all in readiness for a big weekend of finals headlined by the Chatham Park CSI1* World Cup Qualifier, scheduled for Saturday afternoon. We are also looking forward to the final leg for 2022 of the Stal Tops Australian Young Rider Series, also set down for decision on Saturday.
The winners of the feature class on Thursday were Olivia Hamood and Knock Out 111, who were the fastest of 11 double clear performances. This win was the continuation of the great form this pair are in, having taken out the Grand Prix at the Sydney Showjumping Club Championship weekend, just four days earlier.
Advertisement


Chase Naylor and Misty Blue Ego Z will go into the Stal Tops Final Leg full of confidence after taking the win in today's Young Rider Qualifier. Aaron Hadlow and Cera Stiletto were successful in the Futurity Qualifier, the final of which will be held on Sunday.
Kate Hinschen and Conchita Van De Helle won today's Mini Prix Qualifier, just stopping Olivia Hamood and Knock Out 111 from recording wins on consecutive days. Husband and wife team Stuart Jenkins with Fairview Alicana and Rebecca Jenkins with Fairview Cambridge were first and second in the Open 1.45m-1.50m class today. Both are engaged in tomorrow's World Cup Qualifying class.
We are very much looking forward to seeing what unfolds over the next two days, and in particular who can take out the World Cup Qualifying Series (click HERE for a full preview) and qualify for a trip to the Finals in the US next April.
Advertisement


Congratulations to all the winners and placegetters over the first two days of competition who are all listed below.
THURSDAY RESULTS
MAGIC MILLIONS ARENA
CLASS 1: MAGIC MILLIONS: OPEN – 1.30m
| | | |
| --- | --- | --- |
| PLACE | RIDER | HORSE |
| 1st | Jamie Priestley | Oaks Diamantina |
| 2nd | Jamie Priestley | Courage |
| 3rd | Aaron Hadlow | Cera Stiletto |
| 4th | Frida Lindgren | Van Damme |
| 5th | James Paterson-Robinson | Monte Carlo MVNZ |
| 6th | Jamie Priestley | Team Priestley Leda Ego Z |
CLASS 2: JUMPING NSW WELCOME STAKES: OPEN – 1.40m
| | | |
| --- | --- | --- |
| PLACE | RIDER | HORSE |
| 1st | Olivia Hamood | Knock Out 111 |
| 2nd | Stuart Jenkins | Fairview Alicana |
| 3rd | Phillip Lever | Lomachenko |
| 4th | Amber Fuller | Nopal Van Tallaert |
| 5th | Jess Stones | Chatina |
| 6th | Amelia Douglas | Upper Class Z |
CLASS 3: EQUESTRIAN NSW: OPEN – 1.20m
| | | |
| --- | --- | --- |
| PLACE | RIDER | HORSE |
| 1st | Andrew Inglis | Indiana Goodtimes |
| 2nd | Rebecca Jenkins | Incredible C |
| 3rd | Olivia Price | Lafayette MVNZ |
| 4th | Olivia Hamood | Boseda |
| 5th | Savanna Hopkinson | Quin Marvel |
| 6th | Andrew Inglis | Laracas |
ENSW ARENA 2
CLASS 4: Horses 5-years-old – 1.05m
| | | |
| --- | --- | --- |
| PLACE | RIDER | HORSE |
| 1st | Aaron Hadlow | KS Thomas |
| 2nd | Samantha Dernee | Glenara Leonardo Z |
| 3rd | Billy Raymont | Bo O'Reilly |
| 4th | Suzie Williams | Coralina |
| 5th | Aria Baker | Solloway |
| 6th | Jess Brown | Oaks Sierra |
CLASS 5: Horses 6-years-old – 1.15m
| | | |
| --- | --- | --- |
| PLACE | RIDER | HORSE |
| 1st | Jess Kiernan | Amenadiel |
| 2nd | Victoria Hoy | Tulara Forini |
| 3rd | Thomas Sedger | Stir It Up |
| 4th | Tesse Raymont | Jaheta Hilary |
| 5th | Erin Buswell | LG Amarillo |
| 6th | Billy Raymont | Castro |
CLASS 6: Horses 7-years-old – 1.25m
| | | |
| --- | --- | --- |
| PLACE | RIDER | HORSE |
| 1st | Phillip Lever | Bonita |
| 2nd | Olivia Hamood | Boseda |
| 3rd | Samantha Dernee | Laurel Glen Quintessence |
| 4th | Samantha Dernee | Glenara Luxury Z |
| 5th | Jennifer Wood | Oaks 007 |
| 6th | Billy Raymont | Tulara Dakchico |
CLASS 7: STRAWBERRY HILLS STUD: TSHA (GROUP 1) – 1.20m
| | | |
| --- | --- | --- |
| PLACE | RIDER | HORSE |
| 1st | Cade Hunter | Boombenny |
| 2nd | Elissa Schneider | Carve It Up |
| 3rd | Samantha Dernee | Raise An Angel |
| 4th | Kate Edwards | Pompous |
| 5th | Penelope Lancaster | AP Ninja |
| 6th | Gemma Silk | Oscar Boscaiola |
FRIDAY RESULTS
MAGIC MILLIONS ARENA
CLASS 8: GEOPRO FOOTING: YOUNG RIDER QUALIFIER – 1.30-1.35m
| | | |
| --- | --- | --- |
| PLACE | RIDER | HORSE |
| 1st | Chase Naylor | Misty Blue Ego Z |
| 2nd | Anneliese Wansey | Kolora Stud St Patrick |
| 3rd | Clemency Hughes | Diamond B Corvina |
| 4th | Jess Rice-Ward | Dinero |
| 5th | Ginger Jilly | Diamond B Vancouver |
| 6th | Nina Hvejsel | Kinnordy Ronsard |
CLASS 9A: WINNING GROUP: FUTURITY QUALIFIER – 1.30m
| | | |
| --- | --- | --- |
| PLACE | RIDER | HORSE |
| 1st | Aaron Hadlow | Cera Stiletto |
| 2nd | Samantha Dernee | Laurel Glen Quintessence |
| 3rd | Olivia Hamood | Diamond B Bedazzled |
| 4th | Jess Kiernan | Amenadiel |
| 5th | Andrew Lamb | Oaks Ever Red |
| 6th | Frida Lindgren | Van Damme |
CLASS 9B: TUMUT FREIGHT: OPEN – 1.30m
| | | |
| --- | --- | --- |
| PLACE | RIDER | HORSE |
| 1st | Charlie Eason | Oaks Coolangatta |
| 2nd | James Paterson-Robinson | Bolong Park Cervarchi |
| 3rd | Rod McQueen | Yirrkala Cassey |
| 4th | Ashley Cutler | Kinnordy Rhena |
| 5th | Nicholas Taliana | Revelwood Wynston Street |
| 6th | Rhys Stones | KG Queenie |
CLASS 10: EQUESTRIAN NSW: MINI PRIX QUALIFIER – 1.40m
| | | |
| --- | --- | --- |
| PLACE | RIDER | HORSE |
| 1st | Kate Hinschen | Conchita Van De Helle |
| 2nd | Olivia Hamood | Knock Out 111 |
| 3rd | Frida Lindgren | Mabobri De Mabribo |
| 4th | Madeline Sinderberry | Camie Z |
| 5th | Jess Brown | Yirrkala Miss Darcy |
| 6th | Jennifer Wood | Cocaine Ego Z |
CLASS 11: MAGIC MILLIONS: OPEN – 1.45-1.50m
| | | |
| --- | --- | --- |
| PLACE | RIDER | HORSE |
| 1st | Stuart Jenkins | Fairview Alicana |
| 2nd | Rebecca Jenkins | Fairview Cambridge |
| 3rd | Amelia Douglass | Upper Class Z |
| 4th | Olivia Hamood | Jane Fonda DVD |
| 5th | Josh Collins | Cornel |
| 6th | Phillip Lever | Lomachenko |
ENSW ARENA 2
CLASS 12A: EMCO: OPEN – 1.10m
| | | |
| --- | --- | --- |
| PLACE | RIDER | HORSE |
| 1st | Emma Galea | Noonamah Valentina |
| 2nd | Billy Raymont | Denison Park Poppy |
| 3rd | Billy Raymont | Calourbond |
| 4th | Isabella Hughes | Beethoven |
| 5th | Andrew Inglis | Indiana Goodtimes |
| 6th | Jacqueline Basquil | Converse |
CLASS 12B: STRAWBERRY HILLS STUD: TSHA (GROUP 2) – 1.10m
| | | |
| --- | --- | --- |
| PLACE | RIDER | HORSE |
| 1st | Cass Moyes | Go Tommo |
| 2nd | Kate Edwards | Pompous |
| 3rd | Lori James | Restauranter SHP |
| 4th | Mark Atkins | Elite Partners |
| 5th | Vicki Roycroft | The Dood |
| 6th | Krissy Harris | Blue Flame |
CLASS 13: BOREE EQUINE: RISING STARS SERIES QUALIFIER – 1.15m
| | | |
| --- | --- | --- |
| PLACE | RIDER | HORSE |
| 1st | Victoria Hoy | Tulara Forini |
| 2nd | Madeline Sinderberry | Oaks Kestrel |
| 3rd | Coco Miles | Emcee Ezra |
| 4th | Amber Fuller | Bickleys Leviosa |
| 5th | Charlee Dobbin | Sweet Dreams |
| 6th | David Cooper | WPH Chaccaro |
CLASS 14: KOHNKE'S OWN: OPEN – 1.20m
| | | |
| --- | --- | --- |
| PLACE | RIDER | HORSE |
| 1st | Samantha Dernee | Raise An Angel |
| 2nd | Isabella Hughes | Beethoven |
| 3rd | Charly Robinson-Smith | Carisma II |
| 4th | Jacqueline Basquil | Converse |
| 5th | Billy Raymont | Denison Park Poppy |
| 6th | James Paterson-Robinson | Kolora Stud Capulet Ego Z |
Results sourced from Global Entries Online
View Comments