Team battles the elements to keep JNSW Summer Show on track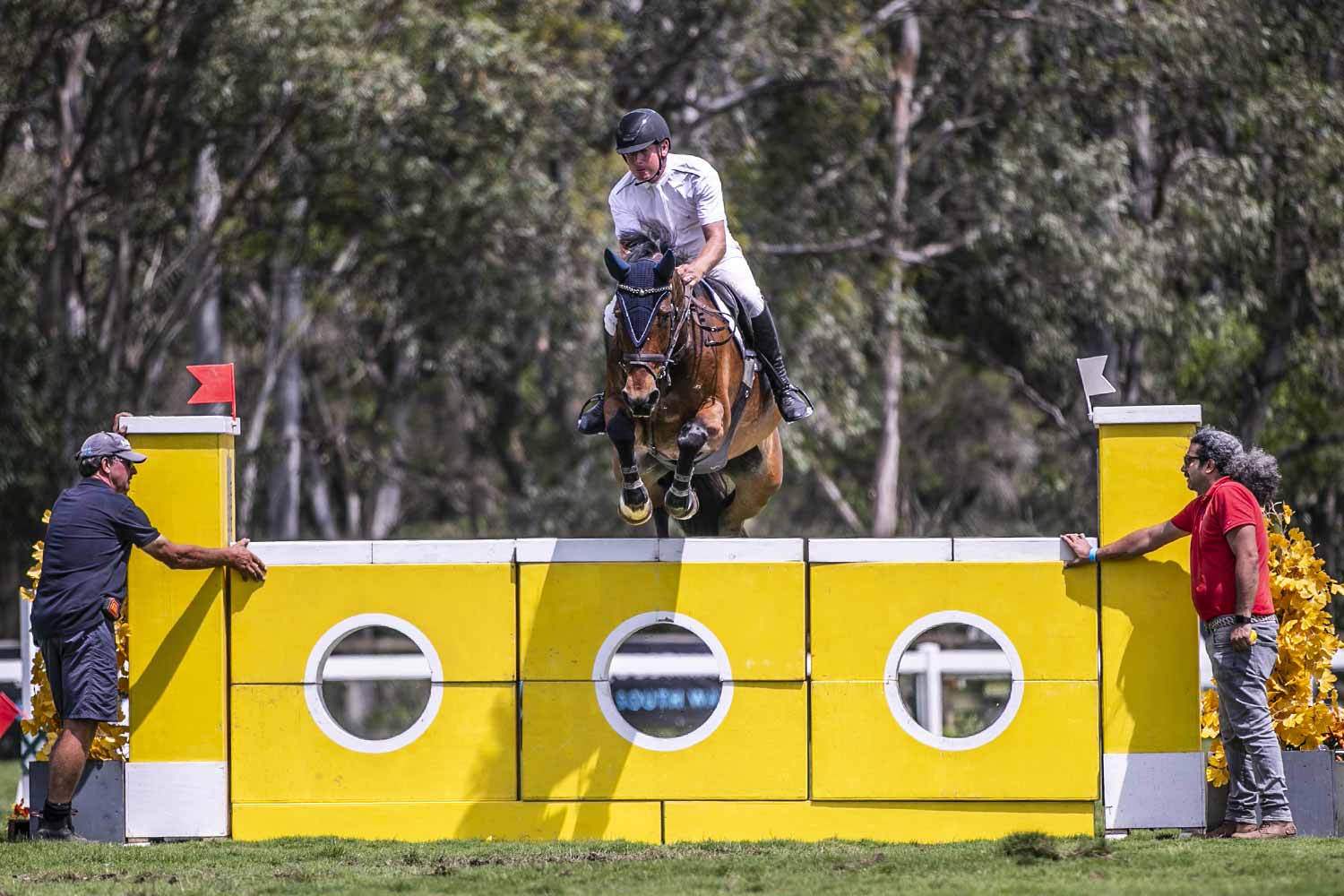 Australian Jumping
Today saw Day 1 action in the Jumping NSW (JNSW) Summer Show, held at the Sydney International Equestrian Centre (SIEC). Starting in perfect conditions, with clear skies and warm summer sun, competitors had travelled from both Queensland and Victoria in what is the largest program since the borders re-opened. By the middle of the day however, the wind had seriously picked up and it was proving a challenge to keep the course standing.
Advertisement


The first class scheduled on the main arena was the Leading Edge Life Skills sponsored Open 1.25m. A total of 69 combinations were in the mix and high quality jumping saw 39 of them go clear, the fastesd of which was Maverick Miles and Emcee Holly Golightly in 64.24 seconds, more than 10 seconds quicker than the time allowed. In the jump-off, 23 combinations returned for their chance at victory, 14 of which again recorded clear rounds. Fastest of these, in a time of 37.77 seconds was the Victorian combination of Brook Dobbin and Miranda MVNZ, which was enough to secure the win. Jumping legend Vicki Roycroft and her 13-year-old mare Licaviv, were squeezed back into second place by a margin of just 0.07 seconds. Third place was filled by another Victorian based combination, Shimona Fraid and Dassina, by a margin of almost 1.5 seconds.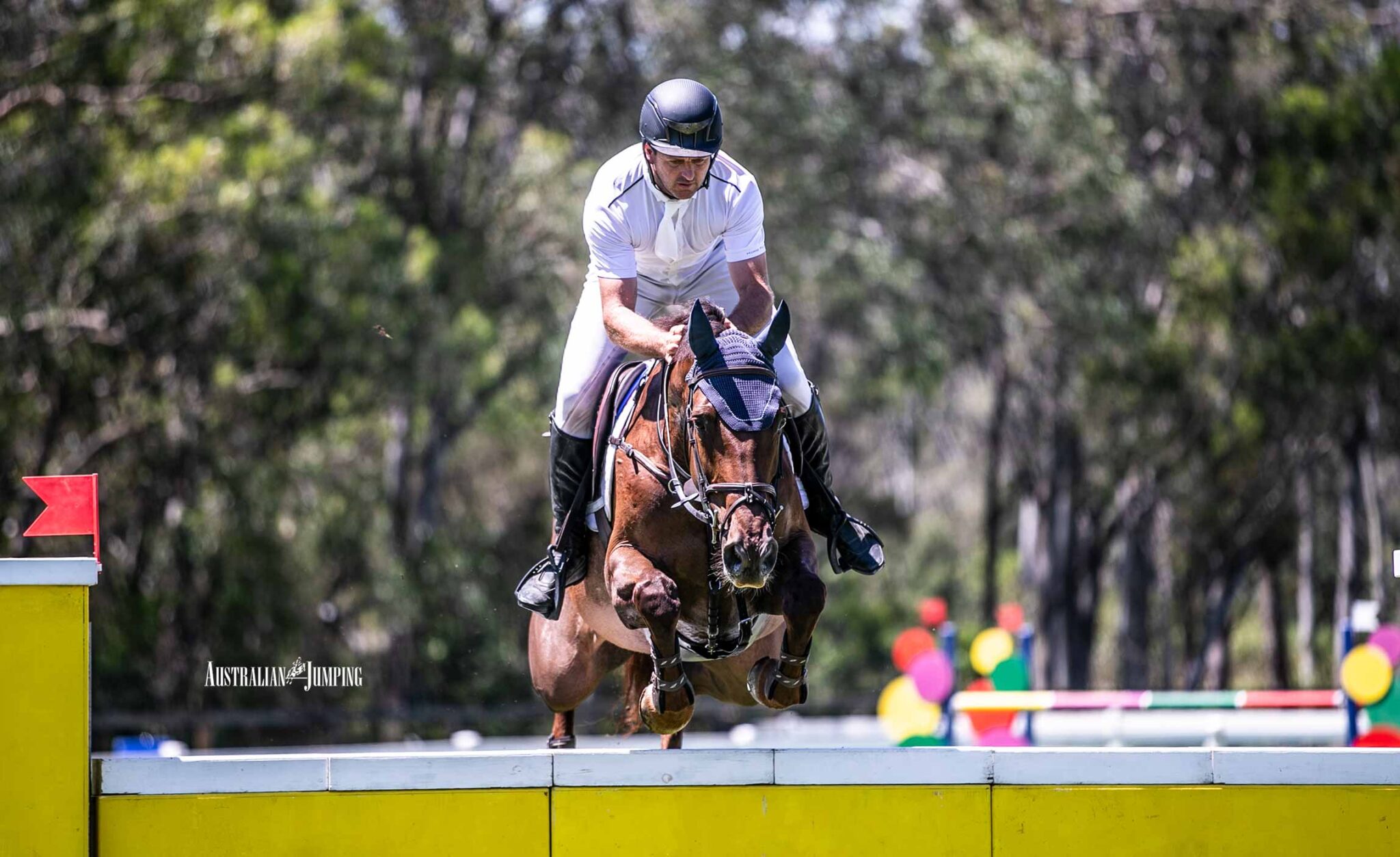 Brook Dobbin and Miranda MVNZ
The next class scheduled for decision was the Equestrian NSW sponsored open 1.35m class. A classy field of 45 combinations were entered and saw 18 of these record a clear round.  With no jump-off for this class, it came down to the fastest of the 18, which was Australian WEG representative and Queenslander visitor Billy Raymont and YPH Capulet who took the win. Second place went to young gun Clay Simmonds with Oaks Castanza (Vivant x Oaks Maisie by Ahorn), with a time of 68.40 seconds, over 4 seconds outside Raymont's time. Third place, just 0.19 seconds off the second place time was reigning Australian Senior Champion Tom McDermott with Alpha Activity (Animate x Alice by Aggasi). Brook Dobbin, winner of the 1.25m class earlier in the day finished fourth, this time with Gina MVNZ (Chin Chin x Charming Princess by Cordeur).
Advertisement

The final class on the main grass arena this afternoon was the open 1.45m class, sponsored by the Winning group. A small but elite number of combinations, 10 to be exact, tackled what appeared to be a testing course with only three combinations recording clear rounds and qualifying for a jump-off. First out in the jump-off was Aaron Hadlow and Vahlinvader (Valhalla 3 x Glenregal by Brilliant Invader), who was clear until the very last fence, where they took a costly rail to record a time of 40.79 seconds. Next to go was Billy Raymont and Anton (Abke x Hauptstutbuch Gragentina by Argentinus) who could only clear the first before a rail was taken at the second fence. Fortunately, for them, it was the only one they took, but a time just 0.10 seconds slower than Hadlow, placed them in second with just Tom McDermott and Yalambis Harvard to come. Like the two combinations that went before them, they also took a single rail, however, a time almost five seconds slower than Raymont and Anton, saw them have to settle for third place, leaving Hadlow and Vahlinvader victorious.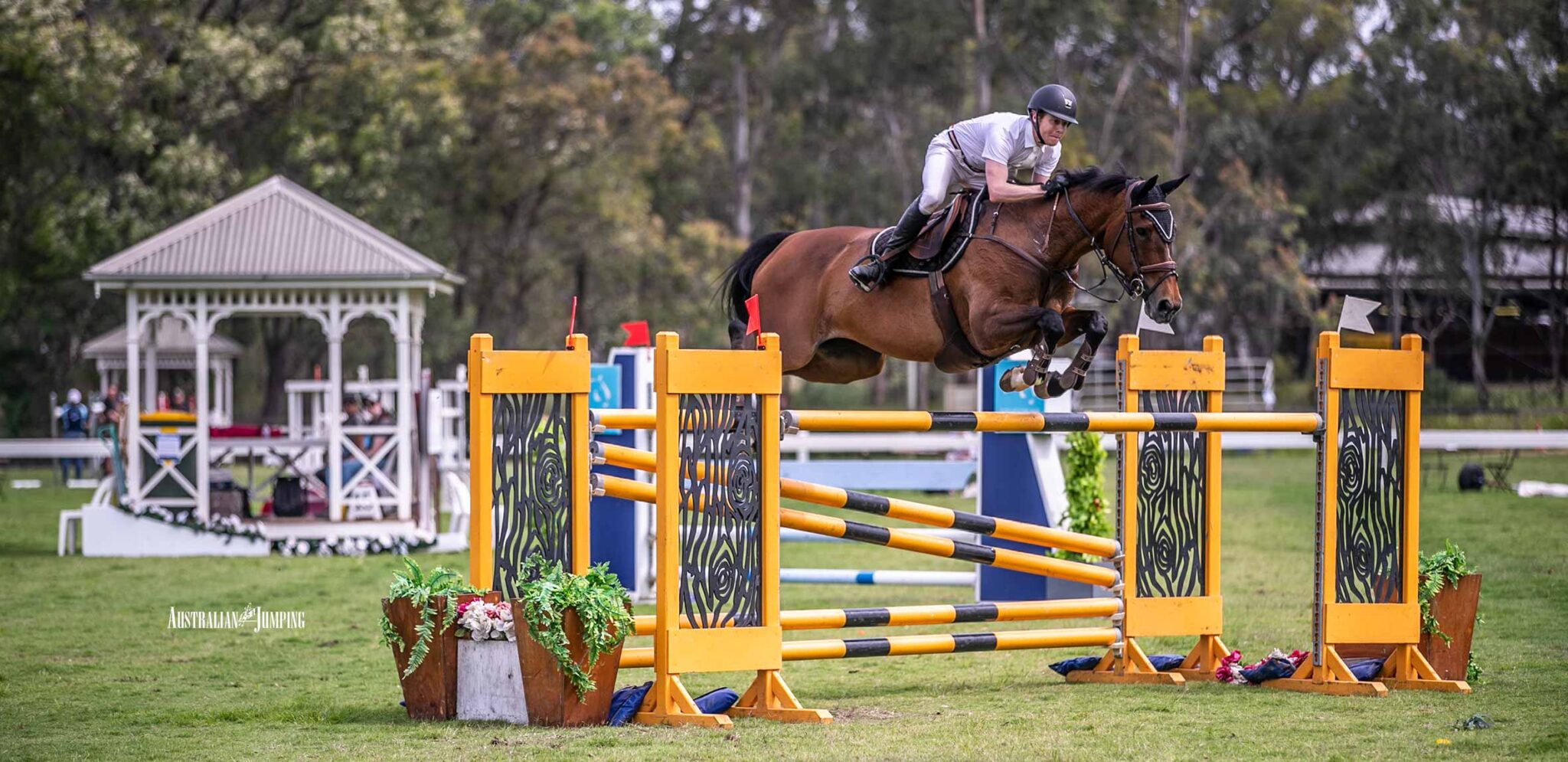 Aaron Hadlow and Vahlinvader
Congratulations to all the winners and placegetters from the day. See below for a full listing of all today's results for both arenas.
GRASS ARENA
CLASS 1: Leading Edge Life Skills – (AM5) – Open – 1.25m
The first twelve placings in this class were:
| | | |
| --- | --- | --- |
| PLACE | RIDER | HORSE |
| 1st | Brook Dobbin | Miranda MVNZ |
| 2nd | Vicki Roycroft | Licaviv |
| 3rd | Shimona Fraid | Dassina |
| 4th | Tesse Cook | Rimfire Park Vogue |
| 5th | Sarah Duggan | Yandoo Honolulu |
| 6th | Tesse Cook | Allwynds Valherro |
| 7th | Clay Simmonds | Hillbreeze Chacco De Lux |
| 8th | Jessica Spence | Classic Andor |
| 9th | Kate Crauford | Oaks Cairo |
| 10th | Andrew Inglis | Alillie |
| 11th | Bonnie Martin | RR Amoretus |
| 12th | Vicki Roycroft | Converse |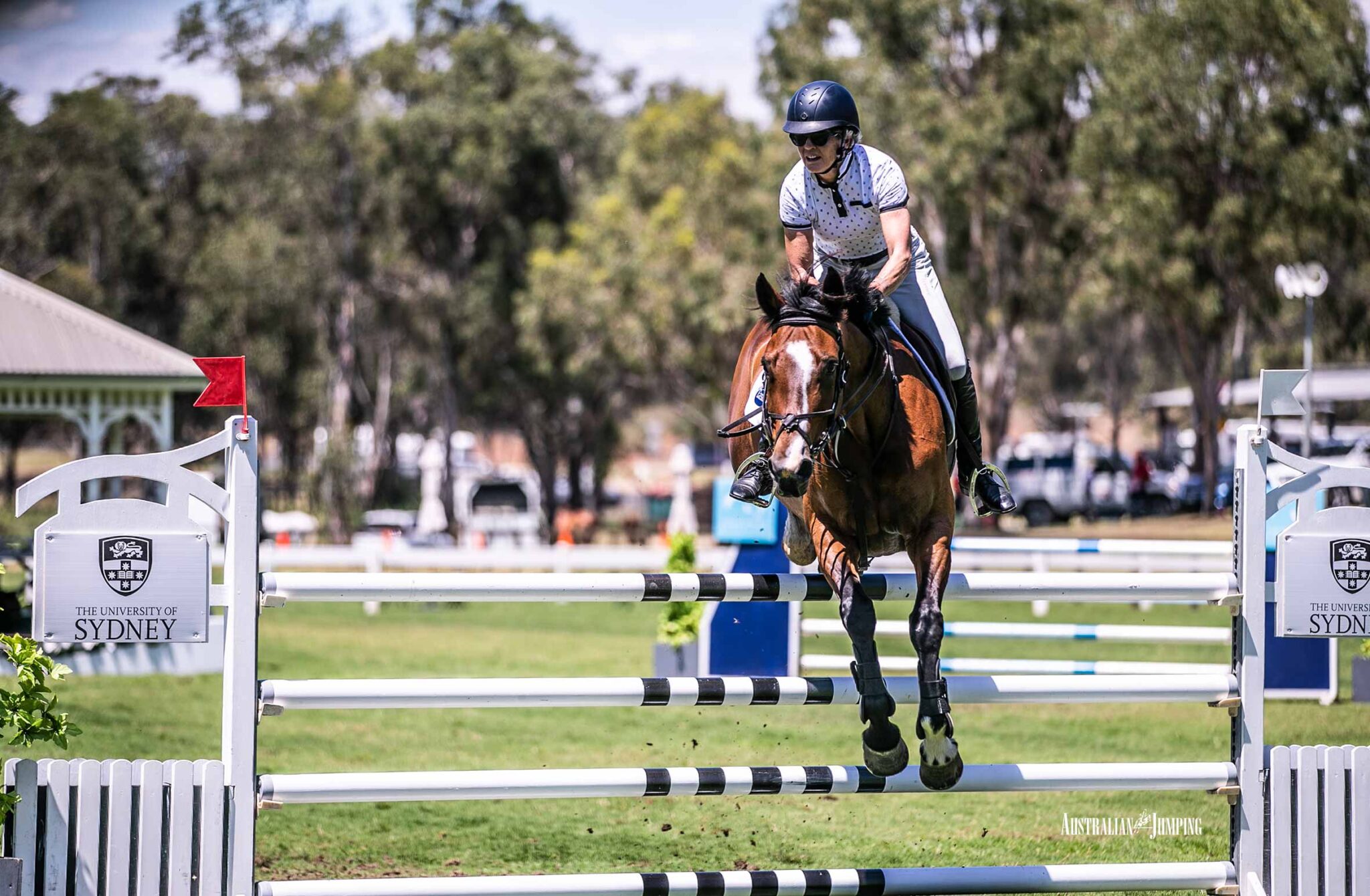 Vicki Roycroft and Licaviv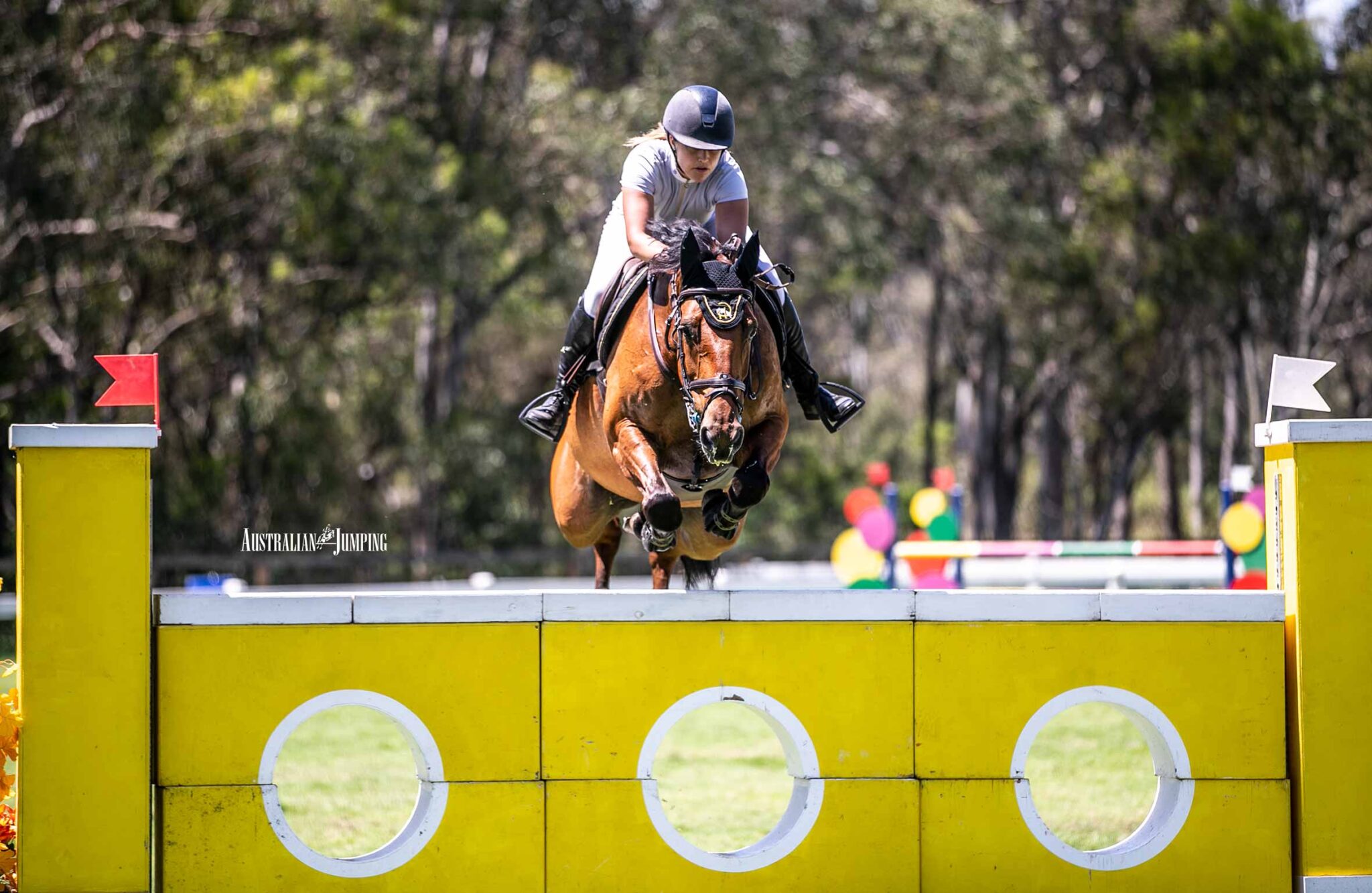 Shimona Fraid and Dassina

CLASS 2: Equestrian NSW – (A2) – Open – 1.35m
The first twelve placings in this class were:
| | | |
| --- | --- | --- |
| PLACE | RIDER | HORSE |
| 1st | Billy Raymont | YPH Capulet |
| 2nd | Clay Simmonds | Oaks Castanza |
| 3rd | Tom McDermott | Alpha Activity |
| 4th | Brook Dobbin | Gina MVNZ |
| 5th | Tom McDermott | Warraleigh Park Cortez |
| 6th | Tess McInerney | Alpha Centauri |
| 7th | Gabrielle Chugg | KG Queenie |
| 8th | Alyssa Ho | Equador MVNZ |
| 9th | Vicki Roycroft | Dynamite Bay |
| 10th | Jamie Priestley | Oaks Diamantina |
| 11th | Jessica Spence | Fiorella 104 |
| 12th | Andrew Ellis | Chumbawumba |
CLASS 3: Winning Group – (AM5) – Open – 1.45m
The full listing of placings in this class were:
| | | |
| --- | --- | --- |
| PLACE | RIDER | HORSE |
| 1st | Aaron Hadlow | Vahlinvader |
| 2nd | Billy Raymont | Anton |
| 3rd | Tom McDermott | Yalambis Harvard |
| 4th | Tom McDermott | Yalambis Finnigan |
| 5th | Amber Fuller | CP Aretino |
| 6th | Vicki Roycroft | Dynamite Bay |
| 7th | Shimona Fraid | Bonaire |
| 8th | Paul Brent | Fontaine Blue VDL |
| 9th | James Mooney | JB Evolution |
| 10th | Kate Hinschen | Finch Farm Cadel |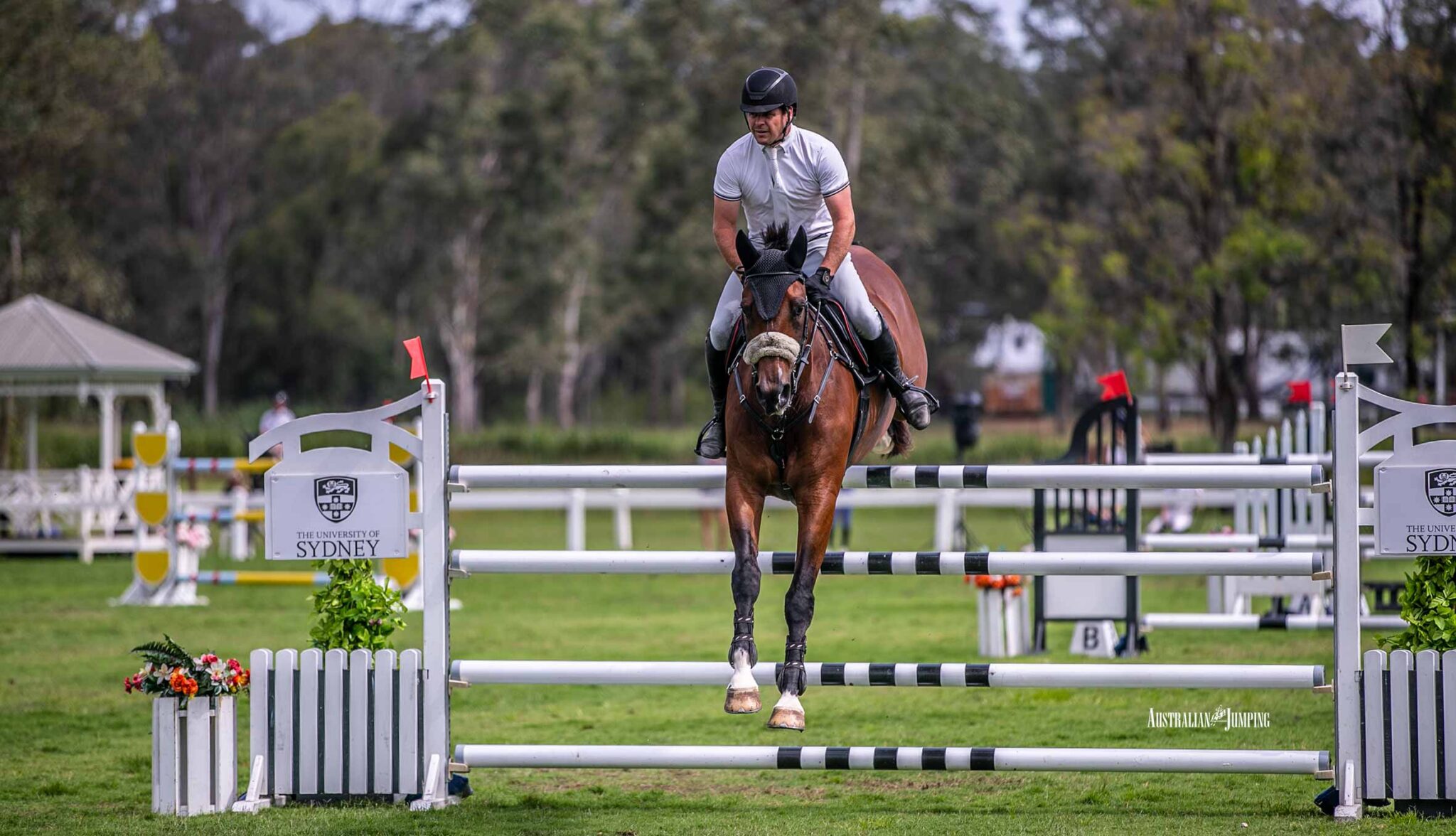 Billy Raymont and Anton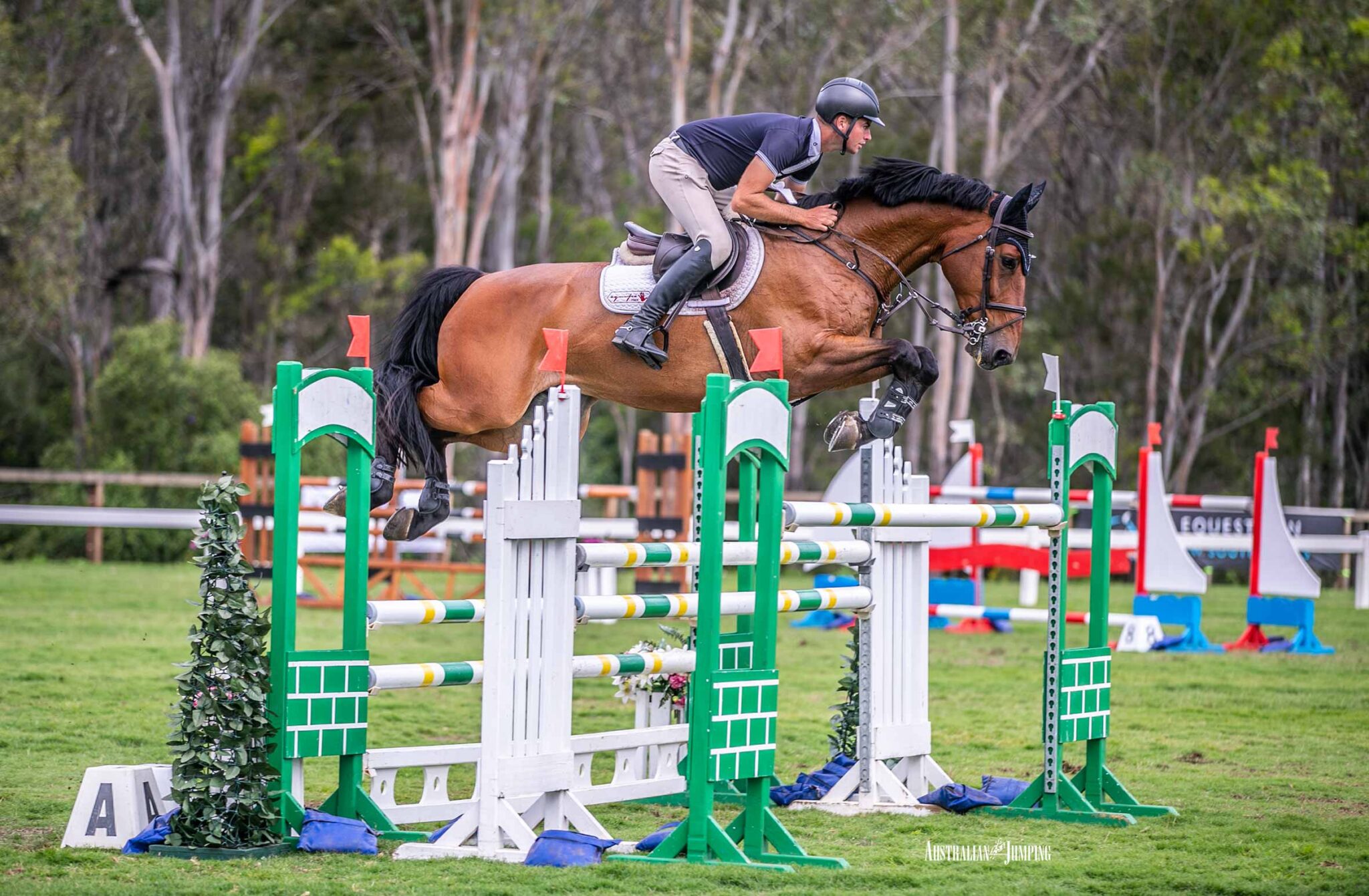 Tom McDermott and Yalambis Harvard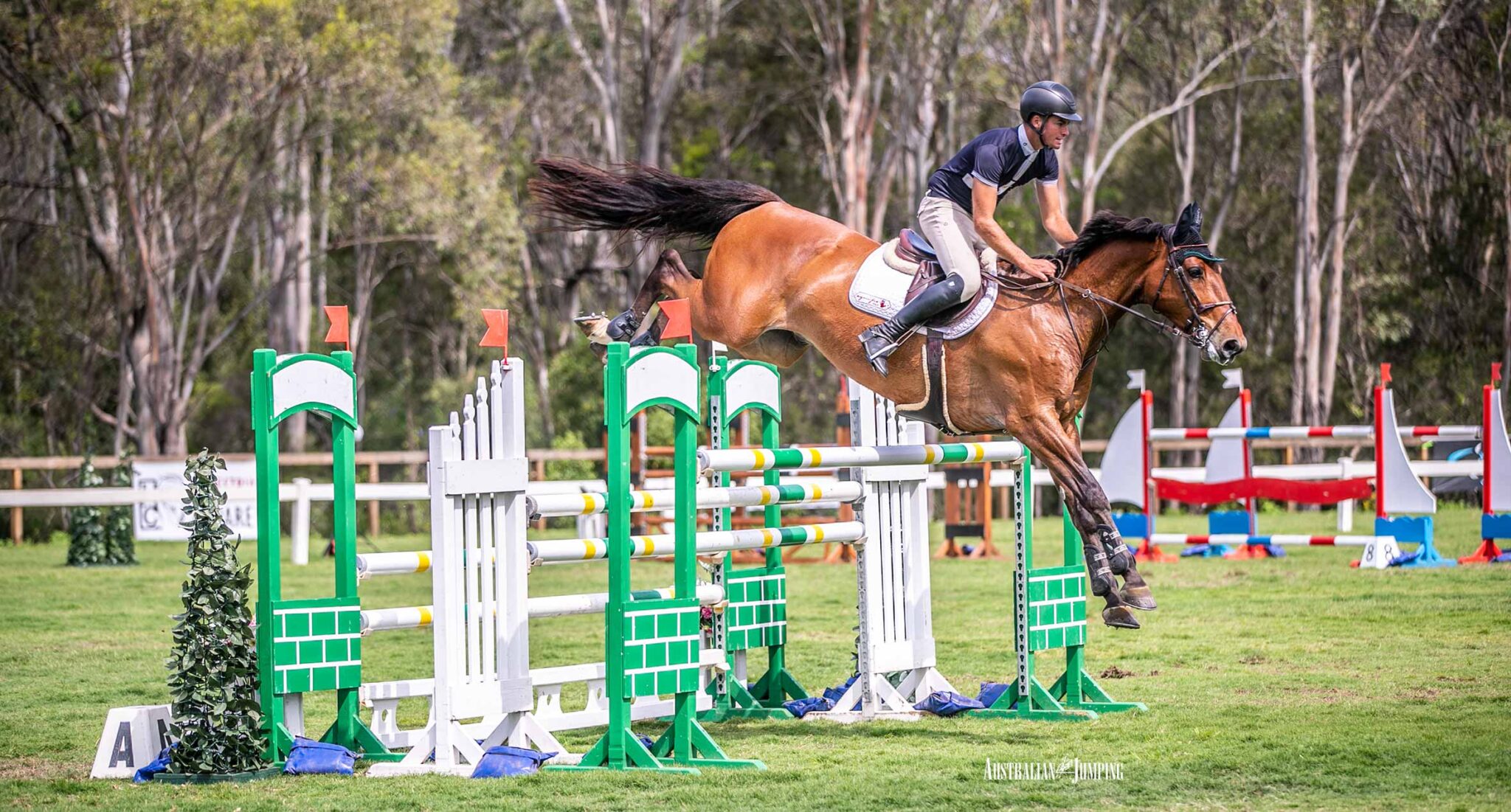 Tom McDermott and Yalambis Finnigan 
SAND ARENA
CLASS 4A: Waratah/Edwena Mitchell Catering – (AM5) – Open – 1.10m
The first six placings in this class were:
| | | |
| --- | --- | --- |
| PLACE | RIDER | HORSE |
| 1st | Chloe Mannell | CP Fleur De Lyse |
| 2nd | Andrew Inglis | Laracas |
| 3rd | Andrew Inglis | Kalysta |
| 4th | Andrew Inglis | Indiana Goodtimes |
| 5th | Krissy Harris | RR Corakai |
| 6th | Lauren Routledge | Tamingas Bellhaven Colletto |
CLASS 4B: TMD Training and Sales – (AM5) – Horses 16 points and less – 1.10m
The first six placings in this class were:
| | | |
| --- | --- | --- |
| PLACE | RIDER | HORSE |
| 1st | James Paterson-Robinson | Tulara Spangenberg |
| 2nd | Vicki Roycroft | Kenny Casino |
| 3rd | Bonnie Martin | Boseda |
| 4th | Jeff Penza | Fireball |
| 5th | Kathy O'Hara | Emissary Lass |
| 6th | Alexandra Inglis | Crestfields Waiting Game |
CLASS 5: Windarra Park Equestrian – (AM7) – Open – 1.15m
The first six placings in this class were:
| | | |
| --- | --- | --- |
| PLACE | RIDER | HORSE |
| 1st | Andrew Inglis | Kalysta |
| 2nd | Vicki Roycroft | Converse |
| 3rd | Molly Stubberfield | Wallawest Kaos |
| 4th | Andrew Inglis | Indiana Goodtimes |
| 5th | Emma Smith | Baloubell |
| 6th | Charlie Brister | Beatrix |
Results sourced from Global Entries Online
View Comments