The FEI World Championships 2026 to be held in Aachen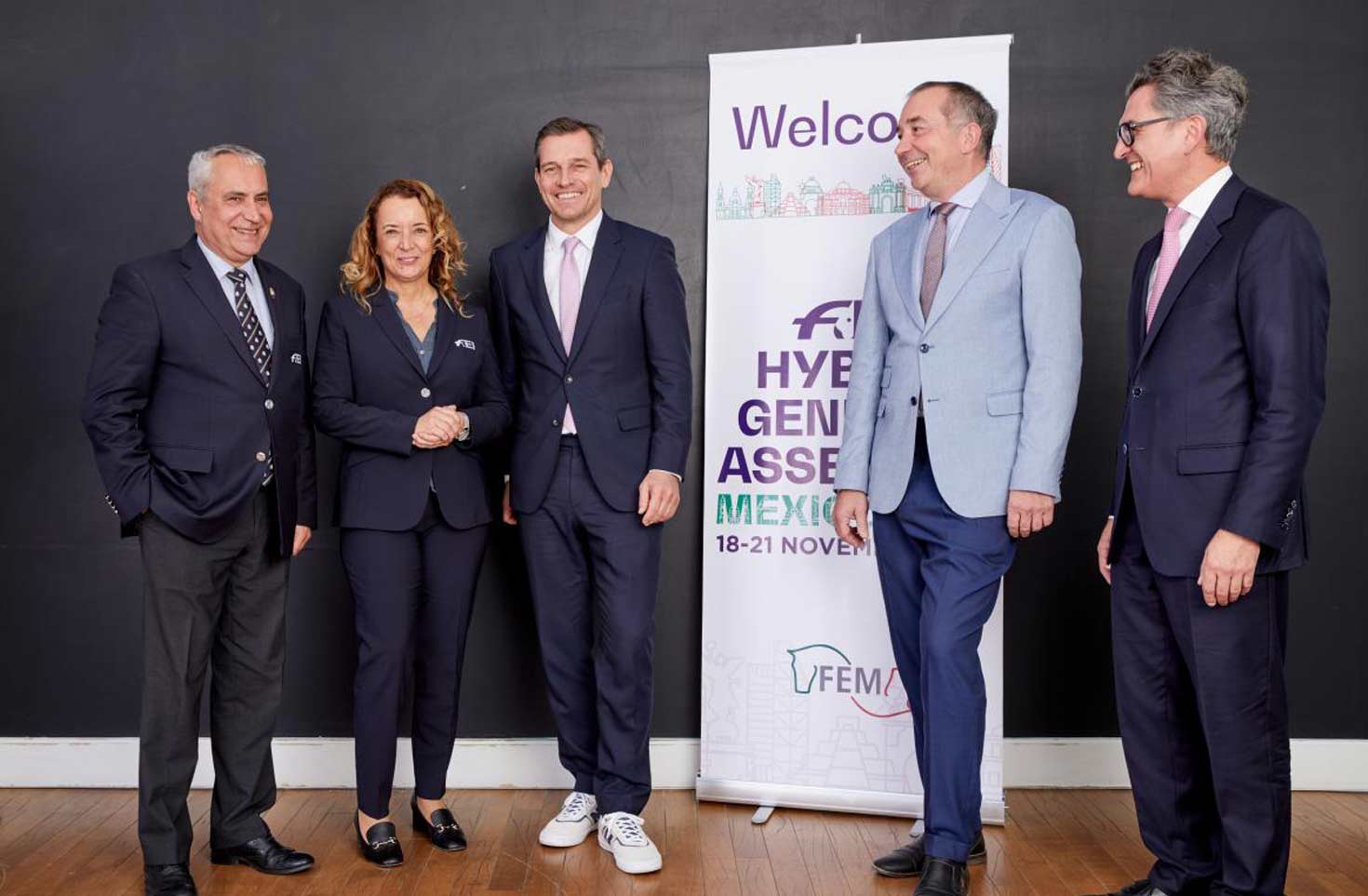 FEI/Liz Gregg
Above:  From left to right – FEI President Ingmar De Vos, FEI Secretary General Sabrina Ibáñez, General Manager CHIO Aachen Michael Mronz, President German Equestrian Federation Hans-Joachim Erbel and Secretary General of the German Equestrian Federation Soenke Lauterbach. (FEI/Liz Gregg)
The Fédération Equestre International (FEI) have announced the decision at their Annual General Meeting in Mexico City.
There will be two destinations in 2026 if you are looking to attend an FEI World Championship; Aachen in Germany for the lion's share with Jumping, Dressage, Para Dressage, Eventing, Driving and Vaulting set to take place from 10 to 23 August 2026; and Al Ula in Saudi Arabia for Endurance on 17 October 2026.
Advertisement


Aachen is renowned internationally for its CHIO, which dates back almost a hundred years and offers excellent facilities and flawless organisation to the world's best riders and thousands of spectators, who flock to the Soers venue evey summer. In 2006 – exactly 20 years prior to the FEI World Championships 2026 – Aachen hosted the fifth edition of the FEI World Equestrian Games™, the major event where from 1990 to 2018 World Championships in all the FEI disciplines were held at the same time at the same venue. The Aachen Games were a remarkable public and sporting success and attracted no less than 576,000 spectators generating unprecedented media coverage.
Advertisement


"We thank the FEI for their trust," CHIO Aachen General Manager Michael Mronz said. "We feel honoured and pleased to host, together with the German Equestrian Federation, the FEI World Championships Aachen 2026 in six disciplines: Jumping, Dressage, Eventing, Driving, Vaulting and Para Dressage. Already today we would like to invite the entire world of equestrian sport to Aachen so that we can celebrate an unforgettable event together in 2026."
View Comments