Tom Mc Dermott flies to victory in two big classes on Day 2 of Waratah Showjumping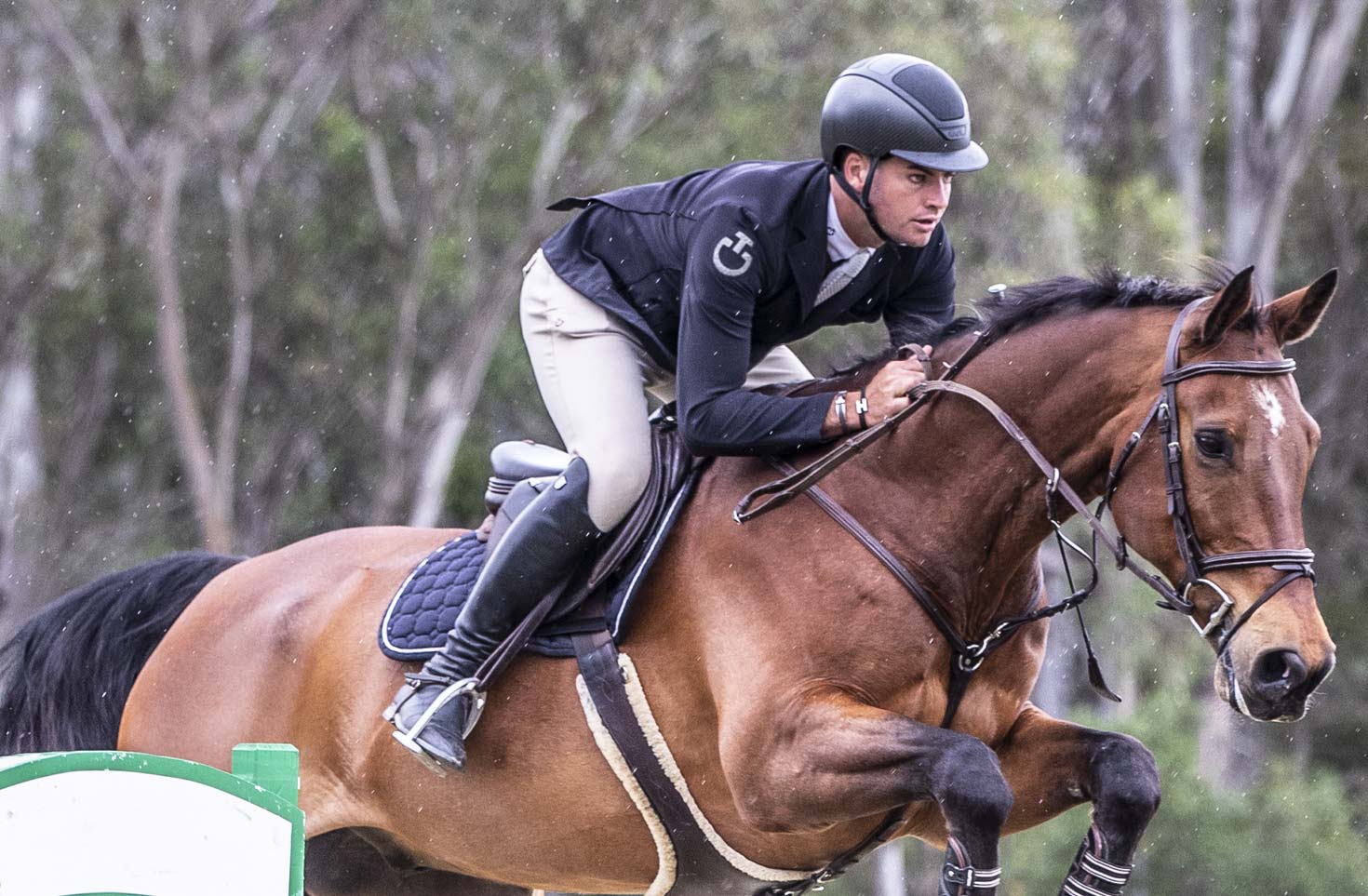 Australian Jumping
The sun shone on the second day of Waratah Showjumping, with some great competition in both arenas. James Arkins and WP Grandiamo took out the Chic Management 1.20m. Lucy Locke had another great day taking out the Junior competition again, this time on Diamont, and a delighted Maddie Cox won the Young Rider class today with Eclipsis.
Tom McDermott was on form as usual and took out the two biggest classed of the day, the Chugg Equestrian 1.30m with BS on Air and the Chatham Park 1.40m with Warraleigh Park Cortez.
Advertisement


The show wraps up tomorrow and we are looking forward to reporting on all the action from the final day.
Click below for all the results from today:
SATURDAY'S RESULTS
Class 8a Chic Management Open 1.20m
The first six placegetters in this class were:
| | | |
| --- | --- | --- |
| PLACE | RIDER | HORSE |
| 1st | James Arkins | WP Grandiamo |
| 2nd | Sienna Weir | Carisma |
| 3rd | Gaby Herbosa | Kaloona Virago |
| 4th | James Arkins | Joevaro R |
| 5th | Sarah-Louise McMillan | Texas |
| 6th | Sarah Duggan | Yandoo Honolulu |
Class 8b Caliera Performance Horses Junior 1.20m
The first six placegetters in this class were:
| | | |
| --- | --- | --- |
| PLACE | RIDER | HORSE |
| 1st | Lucy Locke | Diamont |
| 2nd | Aria  Baker | That's Limo |
| 3rd | Lucy Locke | Quero Quero |
| 4th | Molly Stubberfield | Dalwin Artisie |
| 5th | Lara Christoffelsz | Bellhaven Catatani |
| 6th | Hayley Cox | Tulara Zane |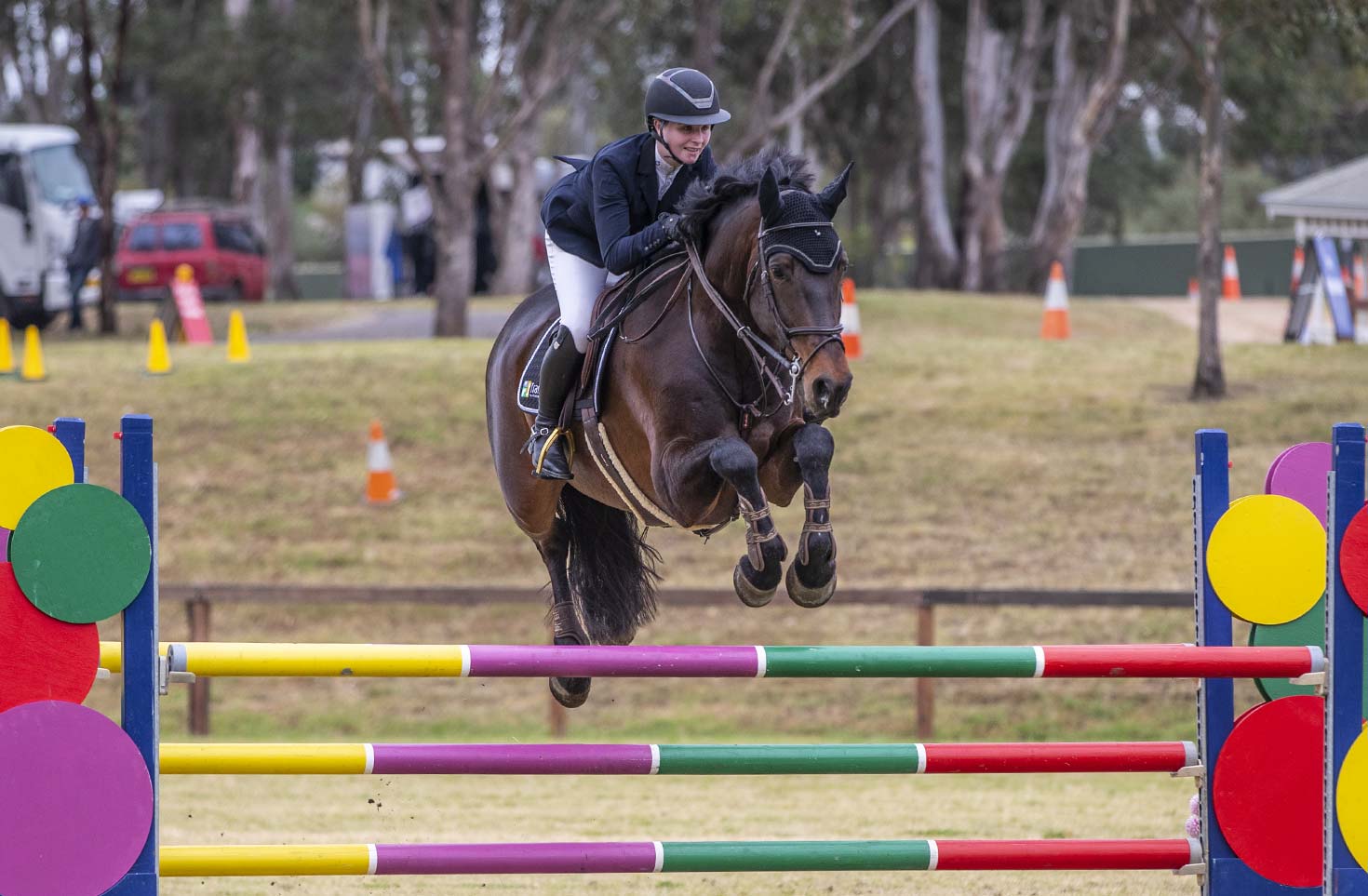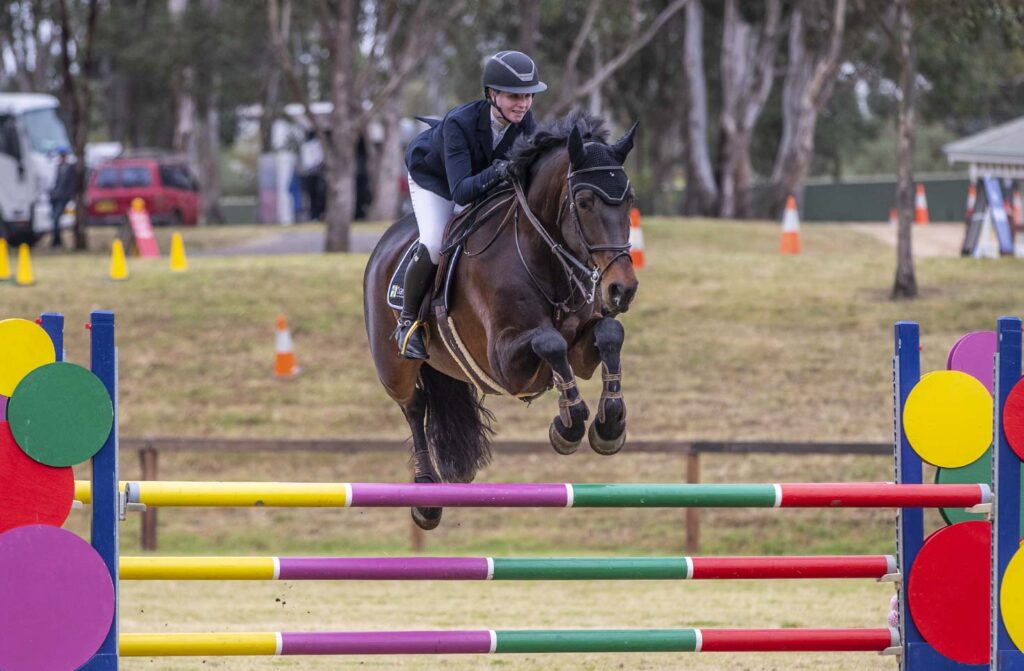 Lucy Locke and Diamont
Class 9a Chuggy Equestrian Open 1.30m
The first six placegetters in this class were:
| | | |
| --- | --- | --- |
| PLACE | RIDER | HORSE |
| 1st | Tom McDermott | BS on Air |
| 2nd | Clay Simmonds | Oaks Castanza |
| 3rd | Tess McInerney | Alpha Centauri |
| 4th | James Hetherington | Killara Park Sentaro |
| 5th | Jamie Kermond | Tulara Colchic |
| 6th | Jess Brown | Redgum Conan |
Class 9b 1.30m Simmonds Family Young Rider
The first six placegetters in this class were:
| | | |
| --- | --- | --- |
| PLACE | RIDER | HORSE |
| 1st | Maddie Cox | Eclipsis |
| 2nd | Sally Simmonds | Chio MS |
| 3rd | William Dight | Thea |
| 4th | Milly Fisher | Laurel Glen Brandy Man |
| 5th | Lucie Aldridge | Ollie Olae |
| 6th | Clemency Hughes | Diamond B Corvina |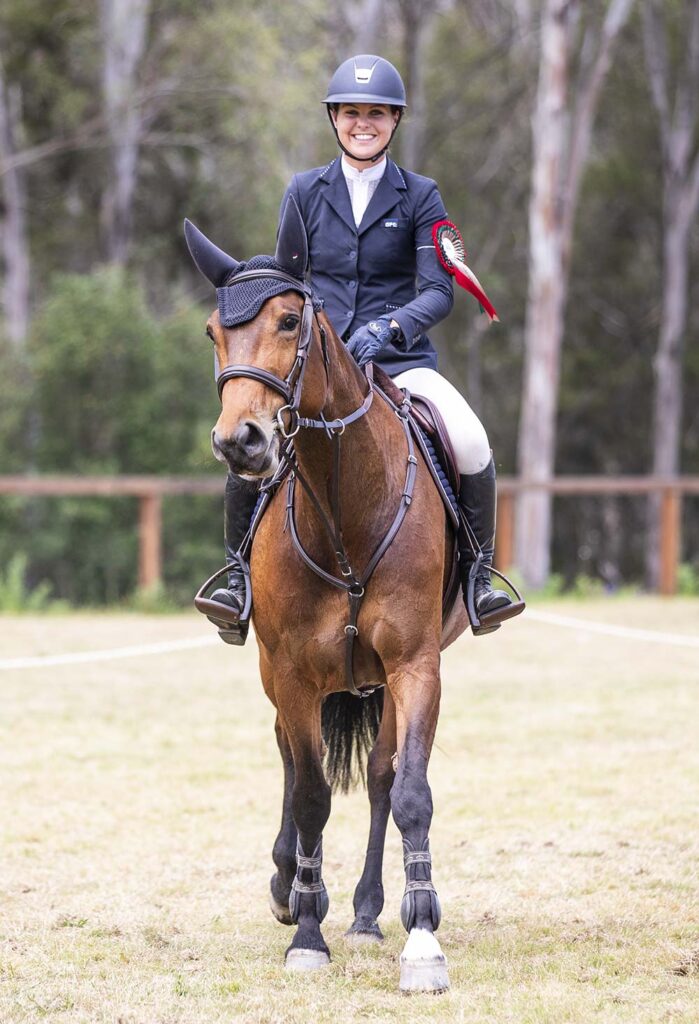 Maddie Cox and Eclipsis
Class 10 Chatham Park 1.40m
The first four placegetters in this class were:
| | | |
| --- | --- | --- |
| PLACE | RIDER | HORSE |
| 1st | Tom McDermott | Warraleigh Park Cortez |
| 2nd | Amber Fuller | Armani Z |
| 3rd | Jamie Priestley | Oaks Diamantina |
| 4th | Emma Smith | Cera Charisma |
| 5th | Laura Sloey | Copabella Cashmir |
| 6th | Tallara Cameron | Oaks Come By Chance |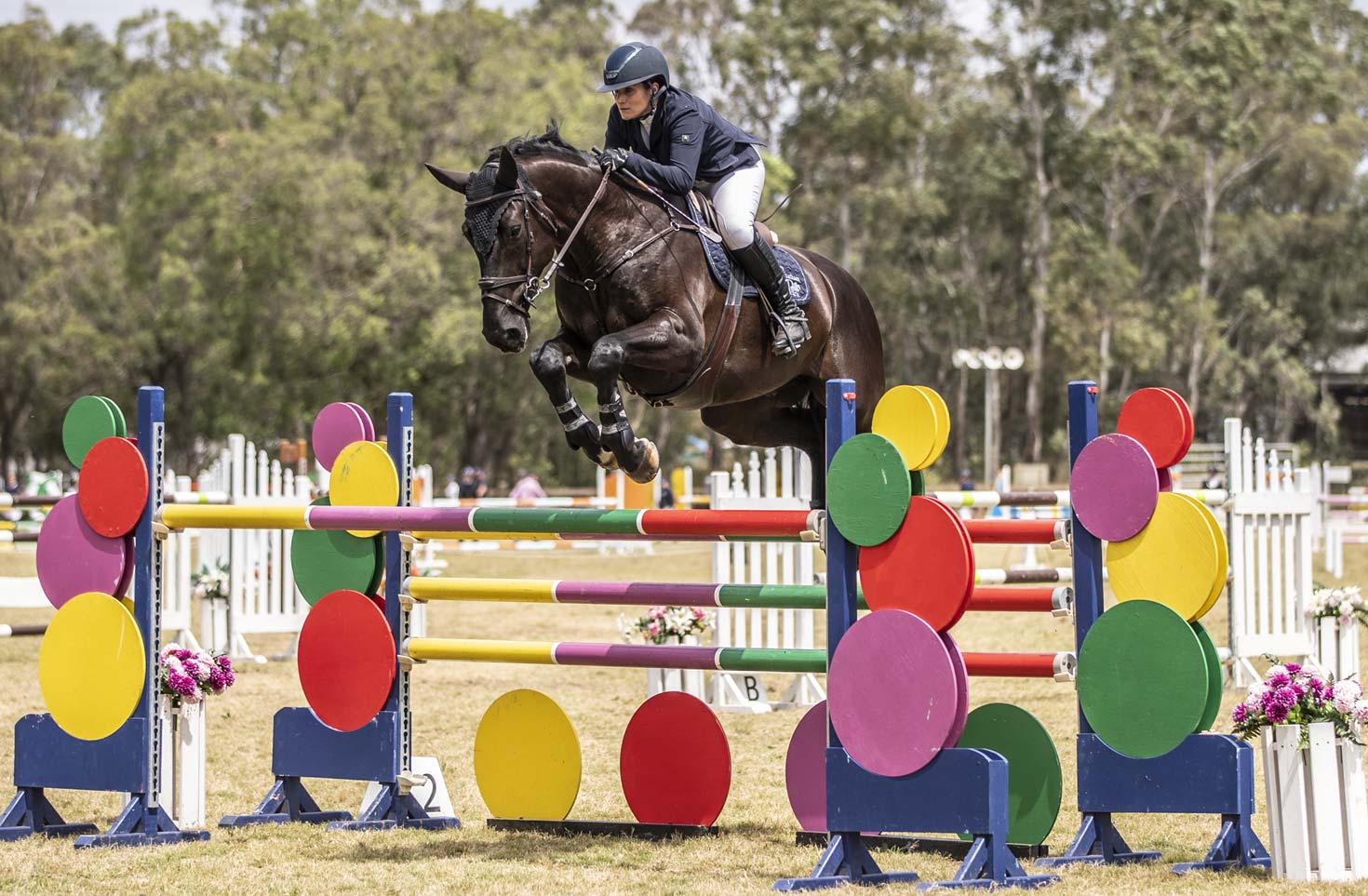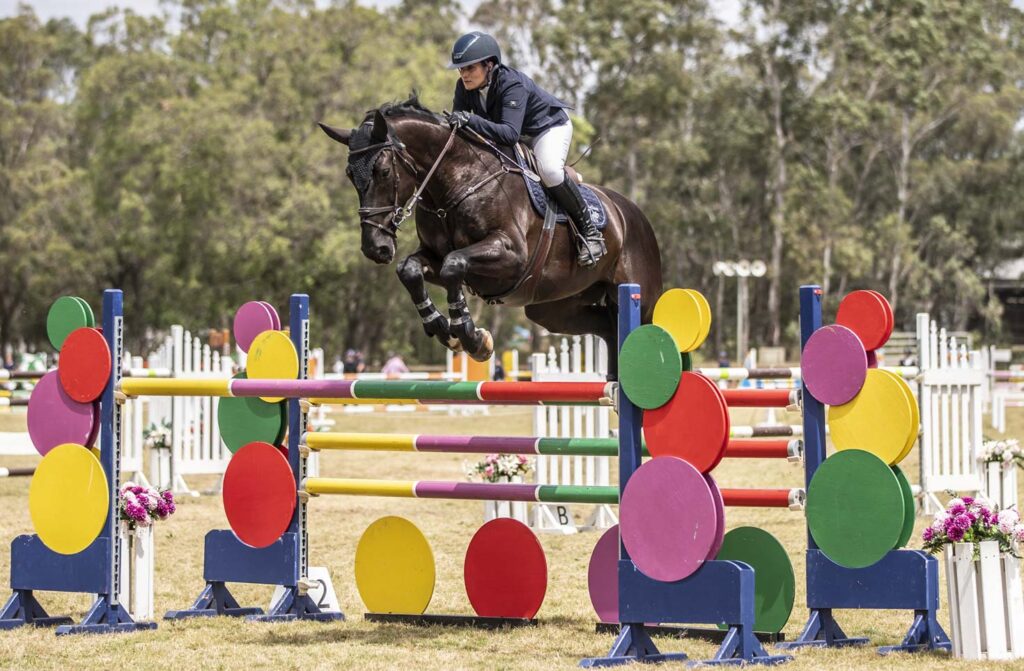 Amber Fuller and Armani Z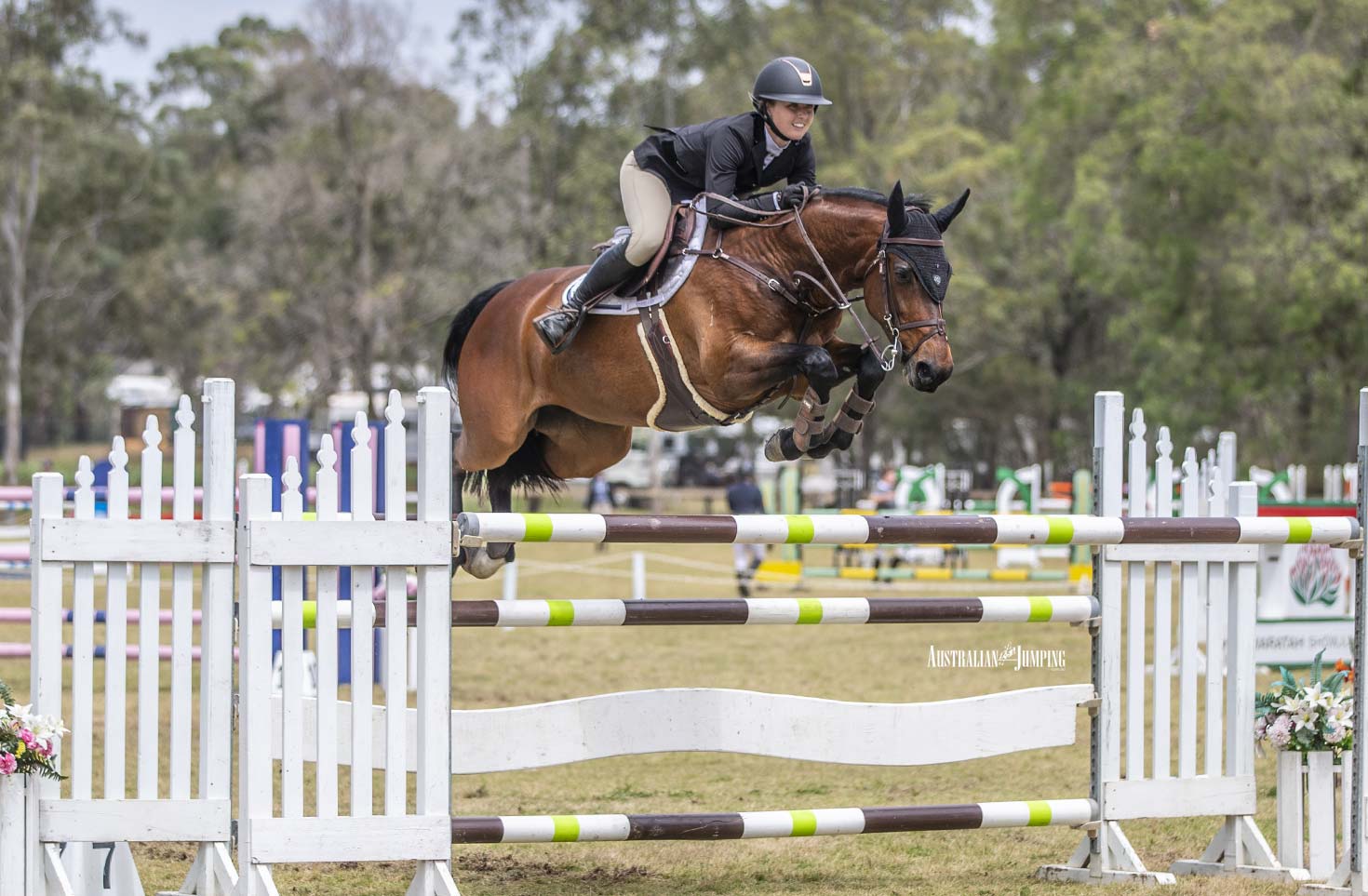 Jamie Priestley and Oaks Diamantina
Class 14a Open 1.10m – 1.15m
The first six placegetters in this class were:
| | | |
| --- | --- | --- |
| PLACE | RIDER | HORSE |
| 1st | Alicia Daly | Navarra Eclipse |
| 2nd | Tori Cureton | Equus Archer |
| 3rd | Sarah-Louise McMillan | Bellhaven Cordina |
| 4th | Bonnie Martin | RR Magnifique |
| 5th | James Hetherington | Keilor Kurrajong |
| 6th | Nina Hvejsel | Kinnordy Ronsard |
Class 14b – Junior 1.10m – 1.15m
The first six placegetters in this class were:
| | | |
| --- | --- | --- |
| PLACE | RIDER | HORSE |
| 1st | Alexandra Inglis | Xcella |
| 2nd | Callum Wald | JEP Texas |
| 3rd | Lucy Waddell | LV Just Joe |
| 4th | Ella Hayward | Barrabadeen Calypso |
| 5th | Alexandra Inglis | Crestfields Waiting Game |
| 6th | Estella Dinnigan Wilkins | Cobra De Capello |
Advertisement

Class 14c – Amateur 1.10m – 1.15m
The first six placegetters in this class were:
| | | |
| --- | --- | --- |
| PLACE | RIDER | HORSE |
| 1st | Nathan Wood | Castell |
| 2nd | Kylie Hawkins | Callidor |
| 3rd | Phillipa Lawson | My Buddy |
| 4th | Jacqui Kennett | Yalambis Illawarra |
| 5th | Kate Lee | Rosthwaite Balouna |
| 6th | Georgia Leva | Redleaf Caprioska |
Trailrace Ring 2
Class 11a Adult 90cm
The first six placegetters in this class were:
| | | |
| --- | --- | --- |
| PLACE | RIDER | HORSE |
| 1st | Aoife Crotty | Play Luck |
| 2nd | Christie Westlake | Yandoo Chat |
| 3rd | Sharon Beahan | Tichino Fiorucci |
| 4th | Emma Smith | Cera Carinya |
| 5th | Courtney Stubberfield | Saynomore D |
| 6th | Bronte Webb | Cal |
Class 11b Junior 90cm
The first six placegetters in this class were:
| | | |
| --- | --- | --- |
| PLACE | RIDER | HORSE |
| 1st | Sophie Baldwin | Alcheringa Tradition |
| 2nd | Lochie Colquhoun | Tarampa View Patterson |
| 3rd | Savannah Nuttall | Uptown Girl |
| 4th | Pippa Walsh | Wonder Woman |
| 5th | Elvire Ernst | Django |
| 6th | Georgia Tutt | Romantal Colours |
Class 11c 90cm Diamond B Farm Horses 4 Years Old
The first six placegetters in this class were:
| | | |
| --- | --- | --- |
| PLACE | RIDER | HORSE |
| 1st | Sarah Duggan | Gem |
| 2nd | Amanda Madigan | Diamond B Bleubry |
| 3rd | Madi Sinderberry | Blueberry R |
| 4th | Bronte Web | Cera Dakira |
| 5th | James Arkins | Kitara Krug |
| 6th | Jess Brown | Oaks Conspiracy |
Class 12a 1.00m Open
The first six placegetters in this class were:
| | | |
| --- | --- | --- |
| PLACE | RIDER | HORSE |
| 1st | Charlie Magnier | KEC Sofia |
| 2nd | Faith Banks | Greengrove Indeed |
| 3rd | Christie Westlake | Yandoo Chat |
| 4th | Zara Watson | Elias C |
| 5th | Coralie Christie | Volt |
| 6th | Melanie Heygate | Oaks Quebec |
Class 12b Oaks Sporthorses Horses 5 Years Old
The first six placegetters in this class were:
| | | |
| --- | --- | --- |
| PLACE | RIDER | HORSE |
| 1st | Amanda Madigan | Diamond B Beyonce |
| 2nd | Paige McBain | Greengrove Callie |
| 3rd | Sarah Duggan | Tulara On Trend |
| 4th | Kate Lee | Caralina |
| 5th | Sarah-Louise McMillan | Kakadu BHV |
| 6th | Monique Barrett | Dusky Farm Duncan |
Class 13a BJW Equine Open 1.05m – 1.10m
The first six placegetters in this class were:
| | | |
| --- | --- | --- |
| PLACE | RIDER | HORSE |
| 1st | Lucie Aldridge | The Comet |
| 2nd | Charlotte Chambers | Amaretto MVNZ |
| 3rd | Eleanor Farrell | River |
| 4th | Sarah Lawley | Copabella Valor |
| 5th | Kylie Hawkins | Callidor |
| 6th | Lauren Daly | River Side Antique |
Class 13b Junior 1.05m-1.10m
The first six placegetters in this class were:
| | | |
| --- | --- | --- |
| PLACE | RIDER | HORSE |
| 1st | Charlie Magnier | KEC Sofia |
| 2nd | Charlie Magnier | Master Stevie G |
| 3rd | Alexandra Inglis | Crestfields Waiting Game |
| 4th | Claire Zylstra | Finn MVNZ |
| 5th | Ella Hayward | Bartabadeen Calypso |
| 6th | Teigan Matthews | Equus Hooroo |
Class 13c Diamond B Farm 1.05m-1.10m Horses 5 & 6 Years Old
The first six placegetters in this class were:
| | | |
| --- | --- | --- |
| PLACE | RIDER | HORSE |
| 1st | Amanda Madigan | Diamond B Blitzen |
| 2nd | Isabella Du Plessis | Caprioska II |
| 3rd | Courtney Stubberfield | Our Jessie |
| 4th | Melanie Heygate | Oaks Quebec |
| 5th | Tori Cureton | Equus Archer |
| 6th | Amanda Madigan | Diamond B Bittersweet |
View Comments