Tom McDermott and Warraleigh Park Cortez – Australian Speed Champions 2022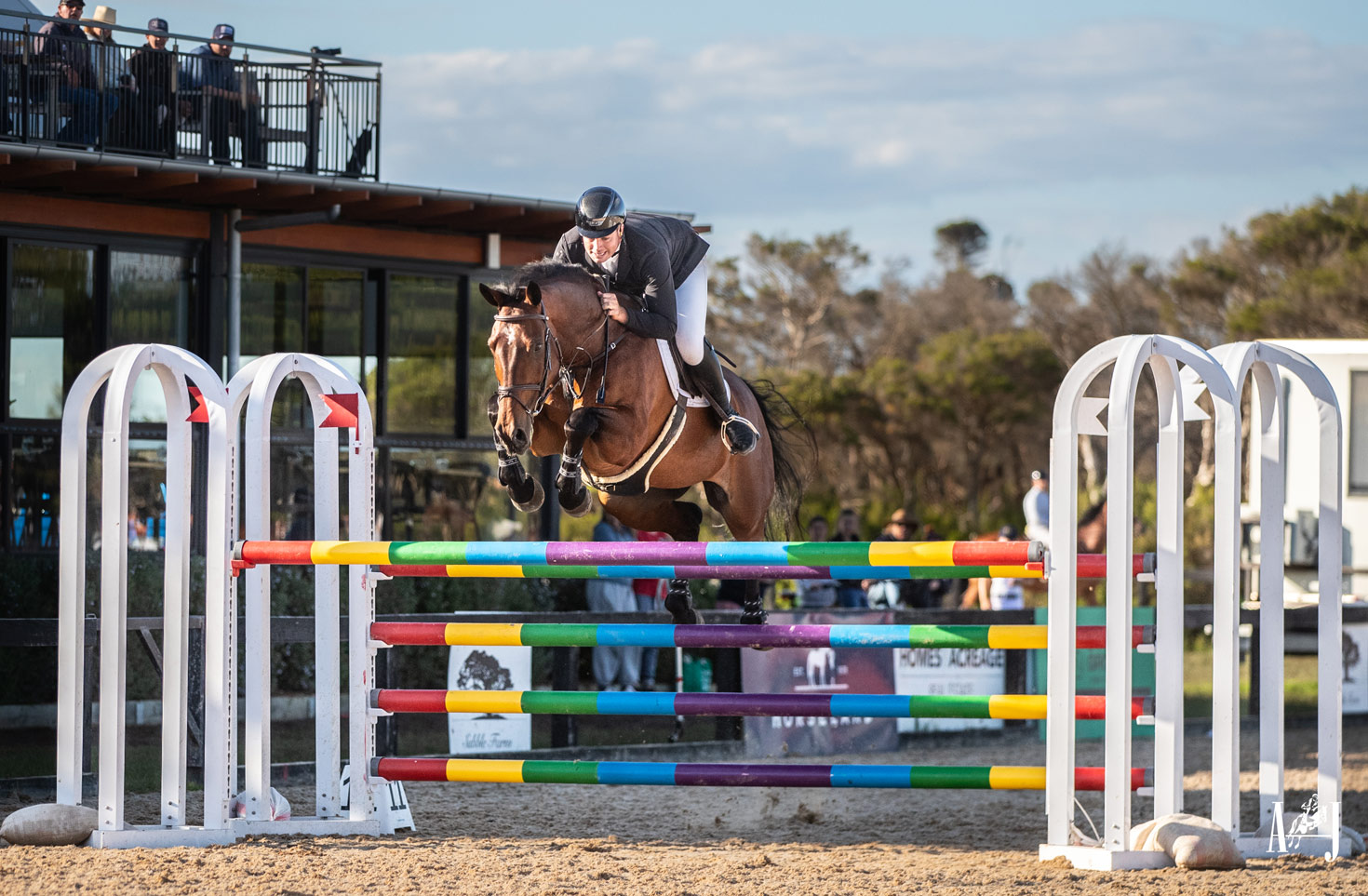 Australian Jumping
The Racing Hearts Australian Speed Championship has wrapped up competition on Day 4 of the Pryde's EasiFeed Australian Jumping Championships. In a spectacular class enjoyed by the many spectators who gathered to watch, Tom McDermott and Warraleigh Park Cortez set the standard by being the first combination on course. They finished clear in a scintillating time of 60.36 seconds and after that it was just a matter of each combination in turn trying to match their round. They all tried. Some came close. However, nobody succeeded.
Advertisement


Young Charlie Magnier and Quinn Z were the first to give it a real shake. They rode with determination and looked to be matching McDermott's efforts, but their chances were cruelled by a rail at the last. If it were not for that rail, they would have missed Tom's time by just 0.5 seconds.
After a few more combinations came and went, Clem Smith, the 2018 speed champion rider make a valiant effort. He and Whimsical WDS went fast and clear in 64.17 to slot into second place behind Tom and in front of Charlie. Soon afterwards, Clem's time was eclipsed by another Queensland combination, Courtney Scott and Second Chance. The crowd got very excited when it looked as if they might do it, but in the end, a time of 62.81 seconds, didn't quite cut it.
Advertisement


It came down to the last combination; Clem Smith and Alite we the only ones who could knock Tom from the top of the tree, and wow, they certainly tried. They gave it everything they had and as the crowd cheered them on, it looked like they were going to do it. The crossed the finish and all eyes turned to the big screen, only to see the time of 61.09 seconds. Very fast, but not quite fast enough!
Clem Smith and Alite had to settle for second and Courtney Scott and Second Chance were third.
It was Jumping at its best and the night will live long in the memory of those that were fortunate enough to be there.
Congratulations to the winner and all the placegetters.
CLASS 34: RACING HEARTS – AUSTRALIAN SPEED CHAMPIONSHIP – MINIMUM 1.30m
| | | |
| --- | --- | --- |
| PLACE | RIDER | HORSE |
| 1st | Tom McDermott | Warraleigh Park Cortez |
| 2nd | Clem Smith | Alite |
| 3rd | Courtney Scott | Second Chance |
| 4th | Clem Smith | Whimsical WDS |
| 5th | Charlie Magnier | Quinn Z |
| 6th | Robert Goodwin | Oaks Costa Rica |
| 7th | Courtney Scott | Quinzella Z |
| 8th | Tom McDermott | Elegance De La Charmile |
View Comments