Tom McDermott in line for $50,000 NSW Triple Crown Bonus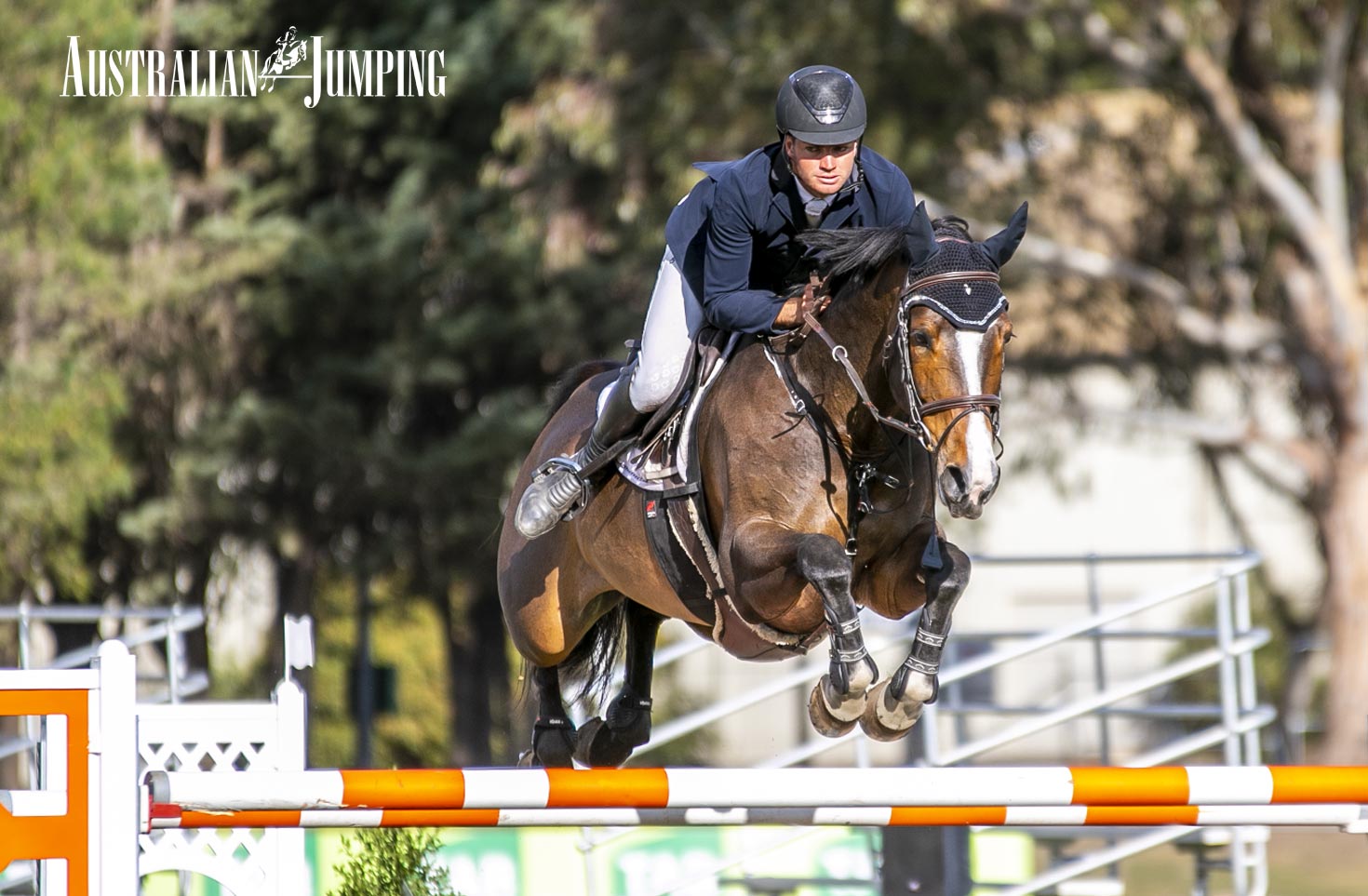 Australian Jumping
We knew he wasn't going to let this opportunity slip through his fingers and he certainly made his intentions very clear at the NSW State Showjumping Championships the weekend before last. After winning both the NSW Country Senior Title and the NSW State Senior Title, Tom McDermott is well and truly on his way to being $50,000 richer and claiming the much talked about Triple Crown Bonus – to be decided at the Willinga Park Grand Final Jumping, 13 – 16 December 2018. If McDermott and Elegance de la Charmille are named the Willinga Park Senior Champions he will secure the massive NSW Triple Crown bonus.
Advertisement

With more than $110,000 in cash and prizes up for grabs, the Willinga Park Grand Final Jumping, hosted at the world-class equestrian facility in Bawley Point, NSW will be a highlight of the Australian jumping calendar for 2018. It is not only the Senior Title up for grabs, the NSW Triple Crown has a further $15,000 in total bonus money on offer. Prize money includes $1000 and $500 to the best performed and runner up Junior/ Young Rider / Amateur / Futurity / Mini Prix combinations respectively. $5000 and $2500 prizes will also be awarded for the best performed and runner up Senior combination.
The top 15 placed riders were decided at the completion of the NSW State Titles and are listed below. Willinga Park are also opening up a further 15 spots per division and riders can nominate their interest to be considered for selection by clicking HERE.
Advertisement

Below are the Top 15 combinations from each division. Source: Willinga Park
Junior
| | | |
| --- | --- | --- |
| Horse | Rider | Points |
| DUSKY FARM CAVALIER | JESS RICE-WARD | 82 |
| GLENARA MUDSLIDE | SOPHIE HATCH | 80 |
| ROSTHWAITE BELVEDERE | SOPHIE HATCH | 79 |
| FAIRBANKS LULU | GEORGIA PRICE | 73 |
| APH MERLIN | HAYLEY COX | 72 |
| REDFOO | HAYLEY COX | 69 |
| BEETHOVEN | ISABELLA HUGHES | 66 |
| WAT FLEUR DES LIS | GEORGIA PRICE | 60 |
| BERLUCCI | GEORGIA PRICE | 55 |
| PP MASTERCLASS | GEORGIA APPS | 52 |
| BARRABADEEN CALYPSO | GRACIE DAWES | 46 |
| DINERO | JESS RICE-WARD | 42 |
| POLLYANNA | BRONTE HUTCHISON | 41 |
| K.S SOVEREIGN'S CADEL | MALEAH LANG-MCMAHON | 40 |
| OAKS CHIFLEY | SALLY SIMMONDS | 37 |
Young Riders
| | | |
| --- | --- | --- |
| Horse | Rider | Points |
| AMARETTO MVNZ | JAMIE PRIESTLEY | 52 |
| QUERO QUERO | ERIN BUSWELL | 52 |
| SIRIUS DU GRANIT | AMELIA DOUGLASS | 52 |
| CP SOUTHERN CROSS | JESS RICE-WARD | 50 |
| KOLORA STUD OPTIMUS | JAMIE PRIESTLEY | 42 |
| COBRA DE CAPELLO | JACOB WELLS | 41 |
| BEIJING LS LA SILLA | BROOKE LANGBECKER | 39 |
| VIVA JOY | LUCY EVANS | 35 |
| MUKOORAS JUVENILE | STEPHANIE JUDD | 29 |
| FLOWERVALE DIAMOND | BROOKE LANGBECKER | 26 |
| SIMPLICITY | JASMINE RITTER | 23 |
| ALPHA CENTAURI | TESS MCINERNEY | 22 |
| BELLHAVEN JAZZ | SOPHIE SMITH | 22 |
| BARRICHELLO | AMELIA DOUGLASS | 21 |
| CASSIS Z TEN HALVEN | JESSIE OCONNELL | 20 |
Amateur
| | | |
| --- | --- | --- |
| Horse | Rider | Points |
| FRANKLINS PEACE | DAMIEN CHURCHILL | 98 |
| ANIGREY | ALISA WILLIAMS | 89 |
| CAVALIER WINSOM | NIKI DINGWALL | 87 |
| DIAMOND B VALENCIA | SARAH DODD | 76 |
| CELEBORN EGO Z | CAITLIN BREWER | 73 |
| OAKS DEBUTANTE | NADIA GRONOW | 69 |
| MS. MOONLIGHT | ELLA FISHER | 67 |
| RR AMORETUS | BONNIE MARTIN | 65 |
| CHEVAL DE DIEU | MIKAELA MAISANO | 57 |
| KIRMINGTON CASPER | CALE RUSHTON | 47 |
| DEVIL WEARS PRADA | EVA RASMUSSEN | 47 |
| PACIFIC ODYSSEY | MELANIE HEYGATE | 47 |
| WOODSEND MERLOT | MELISSA JASPRIZZA | 46 |
| APH RHYTHM | JENELLE WATERS | 45 |
| PEACE DESTINY | GEORGINA LUCAS | 43 |
Futurity
| | | |
| --- | --- | --- |
| Horse | Rider | Points |
| BLACKALL PARK PENNY LANE | STUART JENKINS | 119 |
| MCCAW MVNZ | KATIE LAURIE | 110 |
| OAKS DIAMANTINA | JAMIE PRIESTLEY | 109 |
| YAKAMBIS CONFIDANT | TOM MCDERMOTT | 100 |
| GILLIE | DEON WILLIAMS | 96 |
| MIA CATALINA | LEON CARROLL | 92 |
| CAVALIER CAROLOUS | STEPHEN DINGWALL | 90 |
| GIGANT Z | MELISSA BLAIR | 87 |
| CALAVINO | BILLY RAYMONT | 86 |
| LINCOLN MVNZ | IZABELLA STONE | 83 |
| YALAMBIS CASSINI ROSSO | TOM MCDERMOTT | 82 |
| ARMANI Z | AMBER FULLER | 74 |
| CHARLIE'S BOY HH | ERIN RODDY | 71 |
| BELCAM CACHI | EMILY MANN | 65 |
| BATMAN XTREME | GEORGIA PRICE | 64 |
| LEOPOLDO MVNZ | BROOK DOBBIN | 61 |
Mini Prix
| | | |
| --- | --- | --- |
| Horse | Rider | Points |
| CASSANDO B | JENNIFER WOOD | 99 |
| EQUUS ECHO | ROD MCQUEEN | 94 |
| HARVEY B | JENNIFER WOOD | 92 |
| YALAMBI'S FAIR DIAMOND VDL | TOM MCDERMOTT | 92 |
| COSMOREX COFFEE VIENETTA | JESSICA GRANT | 89 |
| ZIDORA | MELISSA BLAIR | 81 |
| COLINA 54 | IZABELLA STONE | 80 |
| MEDUSA | ROD MCQUEEN | 74 |
| COURAGE | JAMIE PRIESTLEY | 72 |
| OAKS VISIONARY | ALISON ROWLAND | 61 |
| ISLE OF HINCHENBROOK | SHIMONA FRAID | 60 |
| CASCO | ROD MCQUEEN | 58 |
| VERSACE VISION | DEON WILLIAMS | 56 |
| DIAMOND B VERMONT | JESS STALLING | 54 |
| DELISCH | LEON CARROLL | 53 |
Senior
| | | |
| --- | --- | --- |
| Horse | Rider | Points |
| ELEGANCE DE LA CHARMILLE | TOM MCDERMOTT | 82 |
| QUINTAGO 1 | BROOKE LANGBECKER | 73 |
| CAVALIER DU ROUET | STEPHEN DINGWALL | 72 |
| DIAMONT | TOM MCDERMOTT | 72 |
| CERA CARUSO | KATIE LAURIE | 68 |
| CP ARETINO | AMBER FULLER | 59 |
| RHAPSODY IN BLUE | EMILY RILEY | 59 |
| COCAINE EGO Z | JENNIFER WOOD | 58 |
| GLENARA COGNAC | ALISON ROWLAND | 52 |
| ALPHA ACTIVITY | TOM MCDERMOTT | 45 |
| SL DONATO | CLINT BERESFORD | 44 |
| PSS LEVILENSKY | CHRIS CHUGG | 37 |
| AVEDEN INDIGO | ELLIOTT REEVES | 36 |
| YALAMBIS FINNIGAN | TOM MCDERMOTT | 36 |
| FLAIRE | GABRIELLE KUNA | 34 |
View Comments