Training Tips from the Top – James Arkins and Elliott Reeves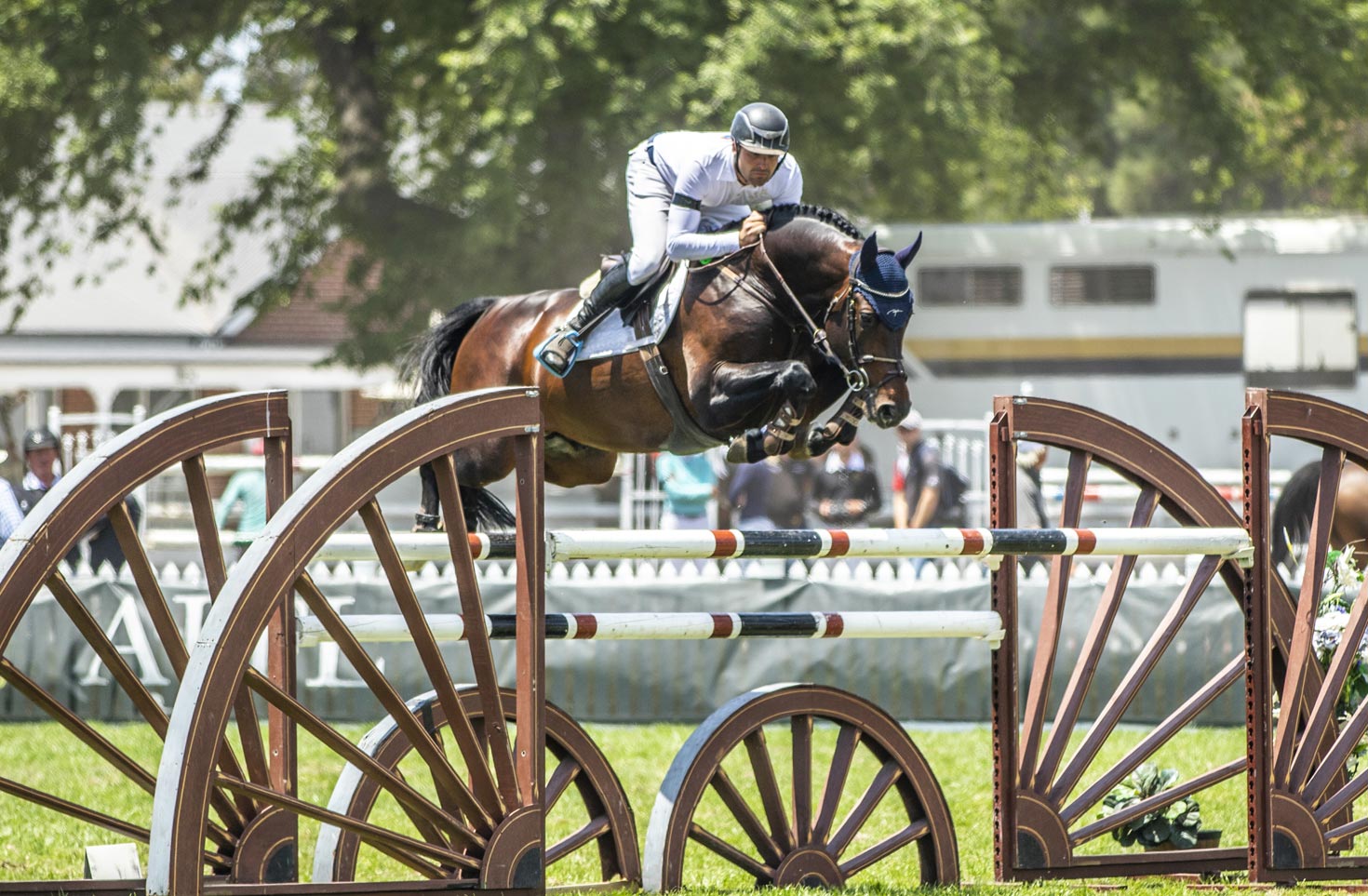 Australian Jumping
James Arkins is one of Australia's most consistent and successful riders. In 2016 he campaigned overseas, winning the Silver Fern Stakes at the New Zealand HoY show, then travelled to Europe where he placed third in a CSI3* event in France. In Australia, he has won four World Cup classes, also placing second at Tamworth in 2018 as well as third at Gatton earlier in that year. In 2019, the highlight of his year was winning the Mini-Prix class at the Australian Championships, whilst helping Team Equine International Airfreight into overall fourth position in the inaugural Australian Jumping Teams League (AJTL). James and his British partner Elliott Reeves run Rosthwaite Farm which provides a range of services to the industry, including coaching, agistment and breeding. Situated near Moss Vale in the NSW Southern Highlands, more information can be found here
https://rosthwaitefarm.com.au
. Elliott himself is also an extremely successful rider, placing in Grand Prix classes all around the country, last year winning the Senior Title at the Victorian Country Championships, placing equal 6th in the NSW Senior Title, 9th in the Australian Senior Championship and also a valued member of AJTL Team Equine International Airfreight.
We thank James and Elliott for these great training exercises.
"We love this exercise as it is an exercise you can practice all the time and we can have students easily set up at home, the only equipment you need is some poles or even lengths of timber. You can't train this too much as there are so many variations and you can't over jump your horse! It is an amazing exercise for training your eye and understanding related and curving lines. It is also very adaptable and is easy to adjust the difficulty for the level of rider, you can use it for beginners through to Grand Prix riders. It teaches riders to count strides, ride in a rhythm, understand how riding an inside or outside line will affect your distance. It also trains you to have your horse connected, off the aids, and adjustable, the more difficult you get."

Set up
"Simple! place poles (in this case 6) around your arena 6 strides apart (4 steps for every stride without taking any steps for take off or landing). We like to walk the distance and not have an exact measurement as then each section is not exactly the same and it adds to the difficulty of using your eye and adjusting the stride accordingly. We like to have the poles on curving and straight lines and to make it more difficult you can even have a change of rein across the diagonal"

Variations
There are so many variations to this exercise.
Firstly the amount of poles – for beginners start with just 2 poles and increase once you feel ready.
Secondly the amount of strides – learn to ride the exercise in 6 strides, once mastered, you can try it in 7 strides by adding a stride or 5 strides by cutting one out. For the more advanced try 8 or 9 strides, and for even more difficulty alternating strides, e.g; 6 in the 1st section 7 in the 2nd, 6 in the third, 7 in the forth….
You can be as creative as you want and adjust the exercise to fit your riding arena, or any area you ride. Add or take poles out. Have them on straight lines or curves. for smaller or bigger spaces adjust the distance between poles, e.g; stepped 4 strides apart, or stepped 8 strides apart.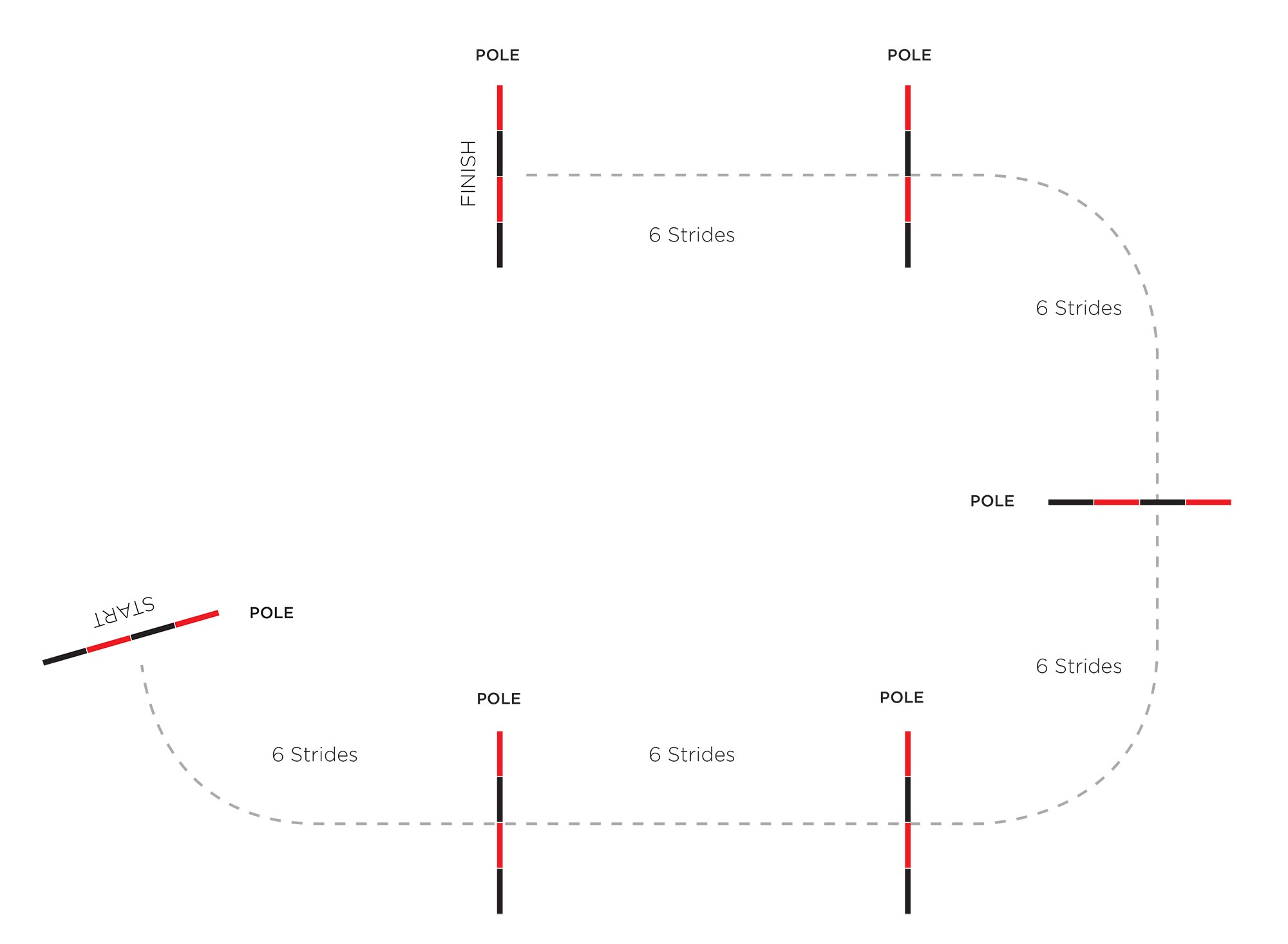 Advertisement


Exercise Two 
"This is a great exercise to switch your horse on and get them thinking. They start to learn to read the fence on their own. It is also very good when training students to work on their position as they don't need to worry about setting up for the fence, as the grid sets the horse up."
Simple Grid
Pole – cross rail – bounce – cross rail – one stride with pole – vertical – one stride with pole – oxer
How to ride this exercise
Approach in trot (for less experienced) or canter. Start with jumps quite small so your horse can read and work out the grid. Slowly progress bigger to the level you feel comfortable. It is the riders job to have a good approach, keeping straight and getting the horse into the grid. It is then the horses job to jump the jumps.
Tip: if approaching in canter, keep your eye on the first pole and ride a distance to the pole not the cross rail.

Variations
Adjusting the height for the level of horse and rider. You can also start with the last fence being a vertical and add the back rail when the combination is ready.

View Comments